How to Record Screen on Windows 10 without Xbox Free
With this effective and free screen recorder, you can easily record screen on Windows 10 without Xbox Game Player. You can choose to record the full screen, the specific area, the system sound, and the microphone. The output video quality and format are optional as well. You can export HD videos with clear audio. Moreover, you can post-produce the recorded video with it. It is completely free for all its functions and editing tools. Just have a free trial right now.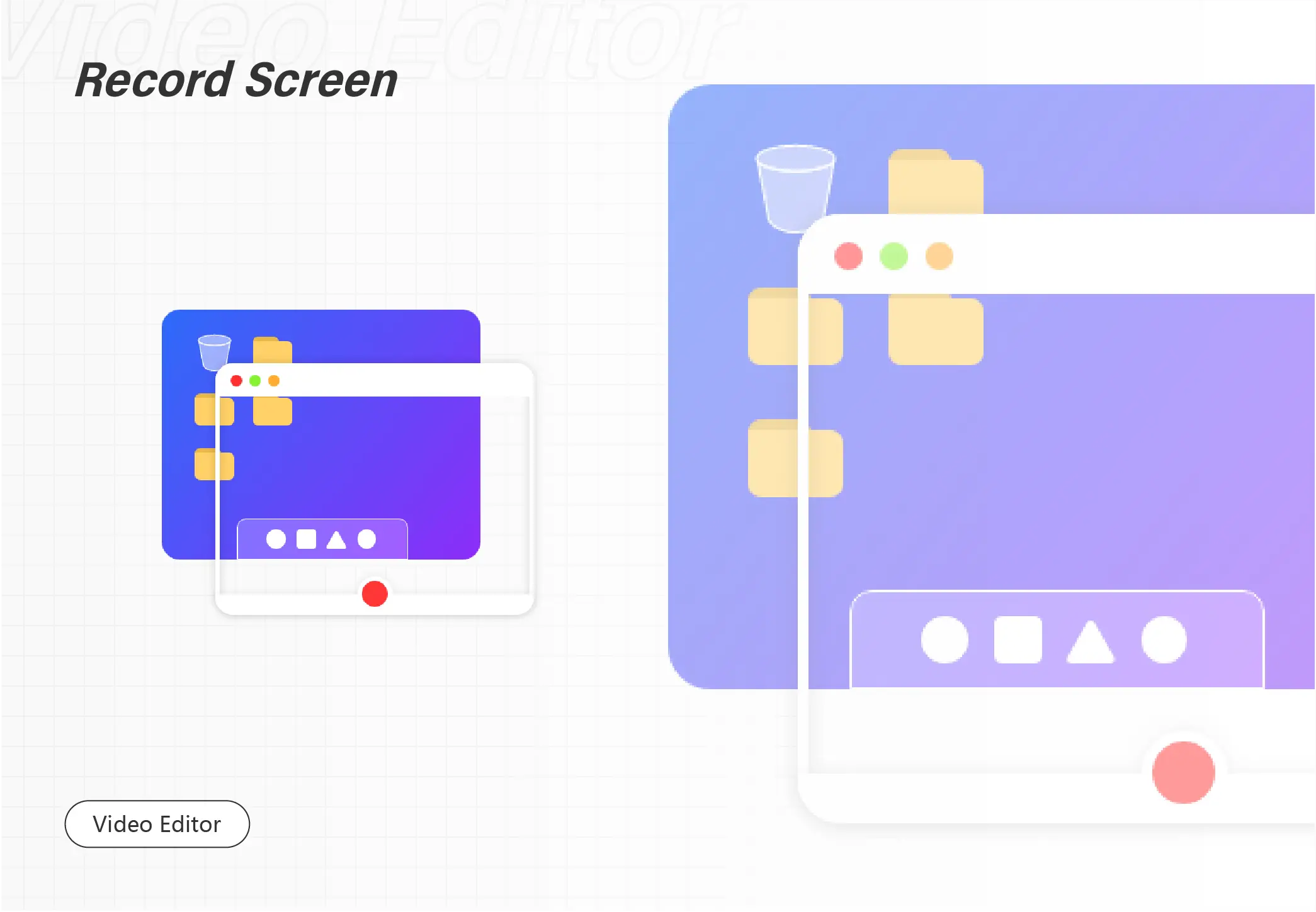 How to Record Screen on Windows 10 without Xbox Free
When recording screen on Windows 10 with Xbox, we may encounter these cases: the computer does not possess an Xbox program; Xbox is not suitable for the screen we want to capture; Xbox cannot record the specific area. Then what should we do? How to record screen on Windows 10 without Xbox Game Bar? If you also have this kind of trouble, I'd like to recommend you effective and FREE screen recorders to figure it out.
What is Xbox Game Bar
Xbox Game Bar is the game toolbar software that comes with Win 10, which can realize game recording, game screenshots, game monitoring, and other functions. By default, you can press the "Win+G" key to open it. Though it is quick and simple, the screen recording function that comes with Win10 is actually set for Xbox games, so when we want to record non-game interfaces, we need to add this interface to the game menu in advance. Moreover, Xbox can only record a single application. The screen cannot be cut during recording, and similarly, it cannot record the specified screen.
📌 How to Record Screen on Windows 10 without Xbox 
✅ Screen Record on Windows 10 with WorkinTool VidClipper
If you want to record screen on Windows 10 without Xbox for free, I highly recommend you this effective and completely free screen recorder – WorkinTool VidClipper. This software has prominent merits, including almost all the needs of users. Timing, post-editing, editing during recording, etc. are very user-friendly. Although this software was on the market not long ago, it has accumulated a good reputation because it is completely free, easy to operate, and the effect is brilliant.
With it, You can choose to record the full screen or the specific screen area, select to record system sound and microphone sound, and decide the output video quality like HD, SD, and ordinary. Even the export format, such as MP4, FLV, and AVI, is optional. It is equipped with functions that more than 80% of screen recording software on the market do not have. For instance, it is in favor of editing with a brush, line, highlighter, text, during recording, post-producing the recorded video with filters, subtitles, background music, transitions, reducing the file size of the video, converting the video format, and more.
Now let's find out how to screen record on Windows 10 with WorkinTool VidClipper step by step.
Step1. Launch it, then select Screencast in the main interface.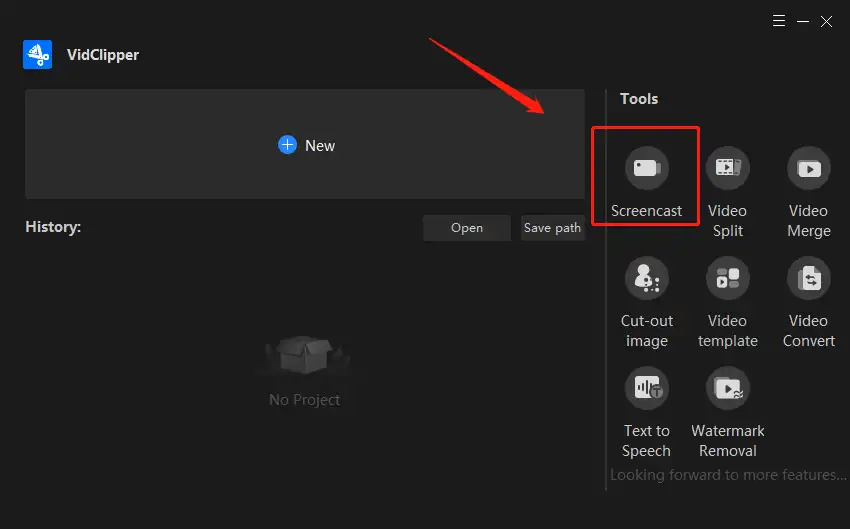 Step2. Set record the entire screen or the specific area, and how to export the video. Change the saving path of the new video if you want.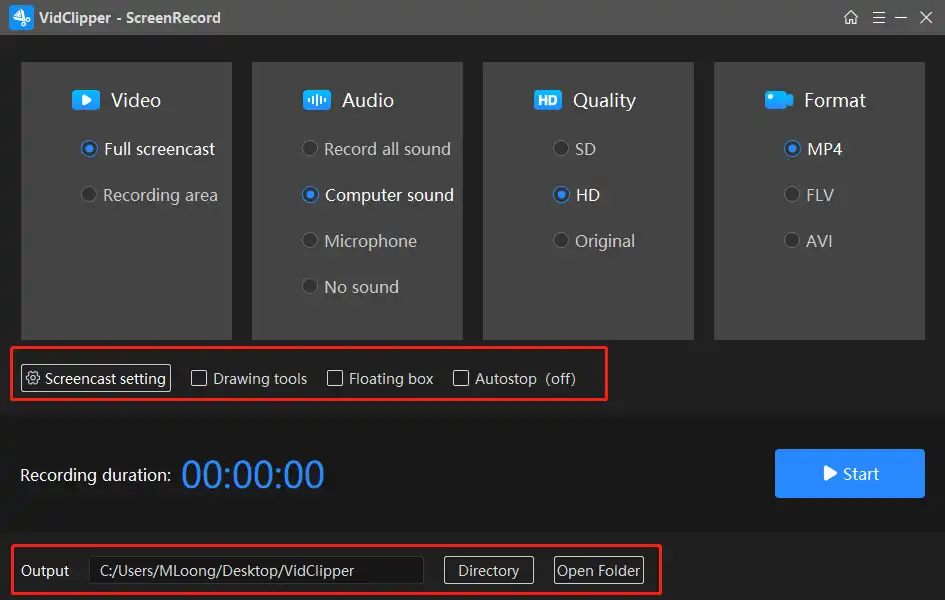 Step3. Click Start to capture the screen. Edit or stop with the flowing toolbar.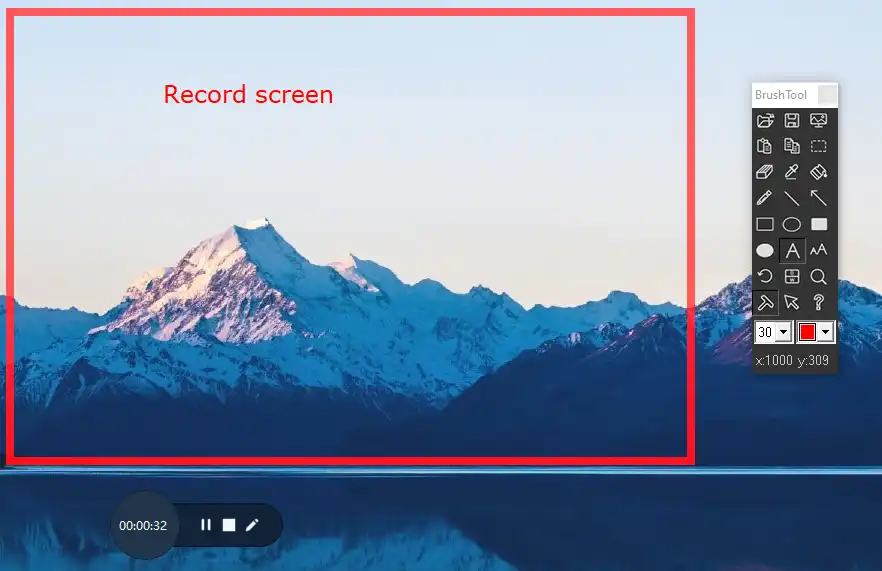 Step4. Check the result by tapping the Play button, or post-edit it by pasting Add to Clip.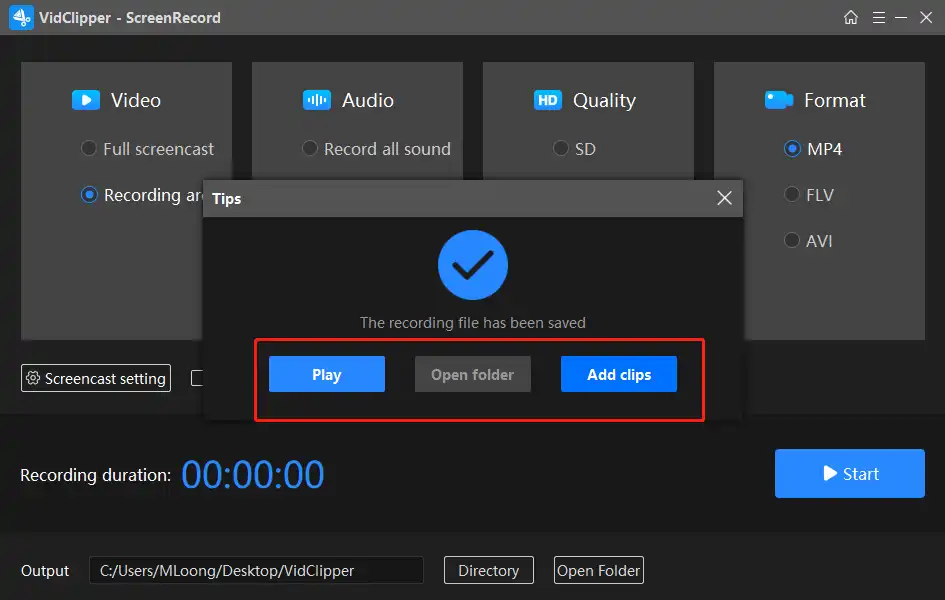 Tips: As for timing recording, just turn on the Autostop button, then you can set the recording duration, recording frequency, and the instructions that the computer needs to execute after capturing.
Other Q & A about Recording Screen on Windows 10 with WorkinTool
Q: How can I edit the recorded video with it?
A: When you click Add to clip, the recorded video will be uploaded to the editing interface automatically. Just click +New on the main interface to check it.
Q: How can I turn off the editing toolbar during recording?
A: If you turn it on, it is in the brush mode by default. You can switch it by clicking the mouse arrow icon; close it by tapping the turn-off icon, or right-click directly.
Q: Where can I find the recorded video on my PC?
A: It will generate a folder called VidClipper directly on your computer where all files produced by it are saved. You can change the saving path before recording if you need.
Q: How to add transitions, effects, and animations to the recorded video?
A: You can add it to the editing interface, then choose what you want to add. There are plenty of elements provided for you.
✅ Why Choose WorkinTool VidClipper
The reason WorkinTool VidClipper is outstanding among numerous screen recorders is that it can combine the advantages of much useful software and avoid their disadvantages. Here is a summary of its key benefits.
| | |
| --- | --- |
| | It has a long-term free trial without any request for new users. All its functions and editing tools are free. There are no extra task quotas to use them. |
| | You can record the entire screen or the specific screen, select to record with system audio or microphone sound. Selecting the output format and quality is feasible. You can export HD videos. |
| | It is feasible to edit the recorded video during the recording process and after recording. It is helpful if you want to record teaching lessons, operating steps, and other video tasks. |
| | It might be a hassle for you if an image or video you produced has a brand watermark on it. Don't worry about it. WorkinTool does not make a watermark on the recorded video. |
| | For free users, there are no limits on the recording time and use times. You can use it no matter how long and how many times. |
| Timing recording available | It is available to set the recording time and frequency. It is useful if you need to screen record frequently. |
| | It is powerful with numerous functions but lightweight. The program is no more than 2 MB, so don't be concerned that it will take up too much. |
| | WorkinTool focuses on your personal privacy. It doesn't ask for registration. And it guarantees your data information and promises not to save or share any of your files, in its privacy policy. |
Wrapping Up
Although the Xbox Game Bar is a screen recording feature that comes with Windows 10, it may not work in many cases. In my opinion, capturing screens with professional screen recording software should be a better choice. If you are also looking for a free tool that can record screen on Windows 10 without Xbox, you can have a trial of WorkinTool VidClipper. It is free to download right now.
Products Reviews:
TrustScore
4
|
323
reviews