[New Solution] How to Record a Video on Windows 10
Video is better than a picture a thousand times. If you have methods to record a lecture or gameplay on PC, don't you want to be a trendy YouTuber to share your videos with everyone around the world. Here in this post, you will get to know how to record a video on Windows 10 for free. Among these methods, WorkinTool VidClipper comes top due to its remarkable recording features and user-friendly interface. Most of all, all the functions inside are 100% free without limitations or watermarks. Don't wait and come download to enjoy the magic now!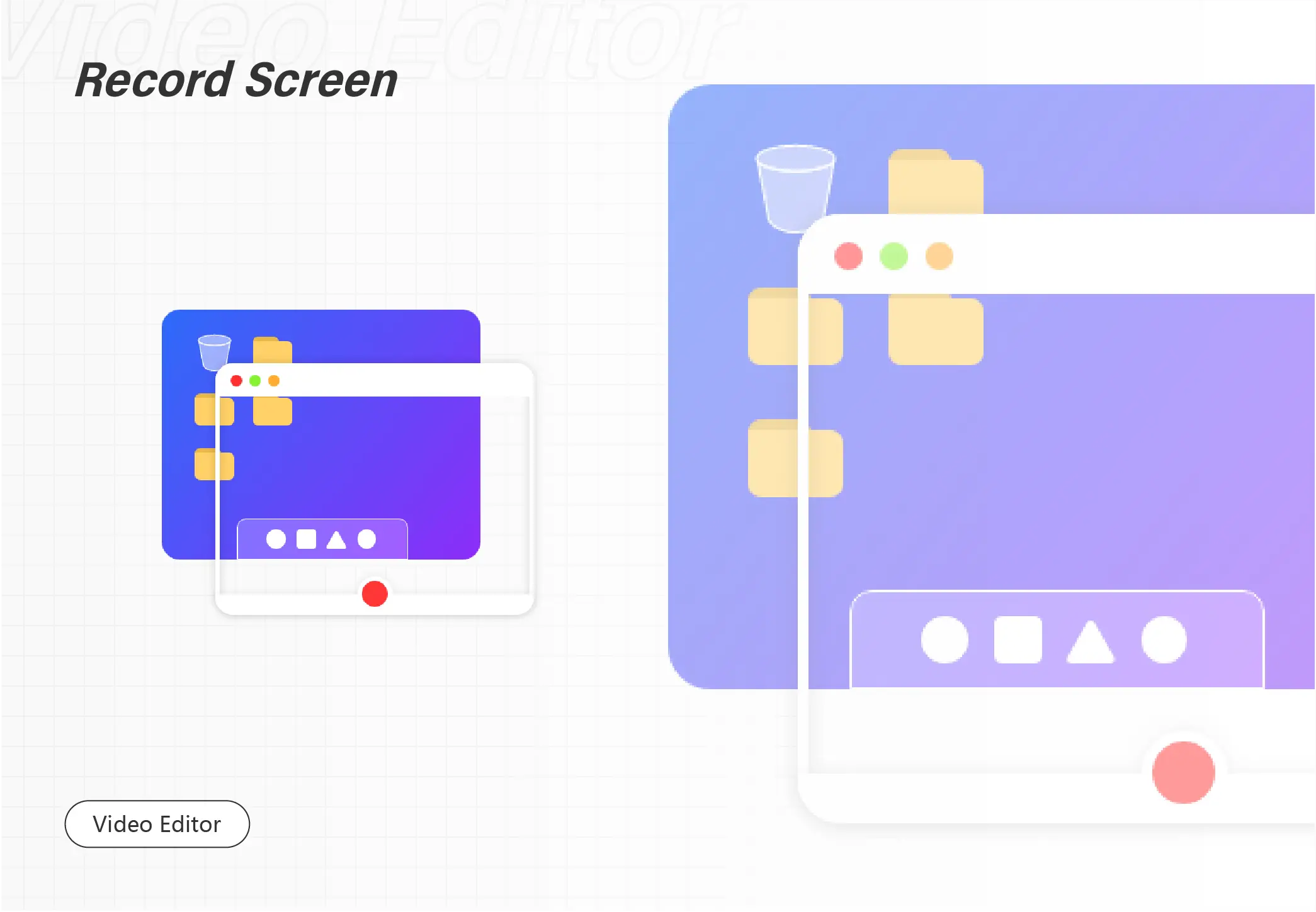 [New Solution] How to Record a Video on Windows 10
People always say that a picture is worth a thousand words. But don't you think a video is even better than a picture? When watching a live-streaming video on your computer, you may have to leave when it is on. Want to save them for later when you head back? Well, regardless if you are teaching someone how to perform a great job on the computer or you want to show how amazing you are in gameplay, it is best for you to know how to record a video on Windows 10.
The easiest way to record a video on Windows 10 is to use free video recording software to capture video clips. This can help users record all the video screens they want on Windows in the best quality. Fortunately, both third-party screen recorders and built-in applications are all available on Windows 10 and 11. However, the problem is that there are too many options on the market, as a user, you don't know which one is the best for you. After our thorough testing and experience, we would like to introduce you to a new free but powerful video recorder method for Windows 10 and walk you through each step to record a video on Windows 10.
In this article you will be reading:
🎯 How to Screen Record on Windows 10?
💖 How to Record a Video on Windows 10 or any PC?
📌 Can You Edit Your Video Like a Pro?
---
How to Screen Record on Windows 10?
WorkinTool Video editor – VidClipper is an all-in-one video editing software. Although it is a video clip software, it also has a recording function, and this function is no less than any other professional software. With the powerful feature it has, you are allowed to record any content on the computer full screen or a certain part of the screen area. This screen recorder offers users four different audio recording selections. Here you can decide if you want to screen record with voice, or only record the computer sound, even mute it all the time. There are also some specific recording settings like video quality and video format for users to customize. As far as I think, it already meets all the users' needs.
However, comprehensive video processing software like this is still lightweight on Windows 10. More importantly, you don't need to worry about how much it will cost you. Because there is none. You can totally use all the features inside without a penny. It also won't require a membership account login or to put a watermark when exporting. You can ensure that.
🎓 Easy Solution 🎓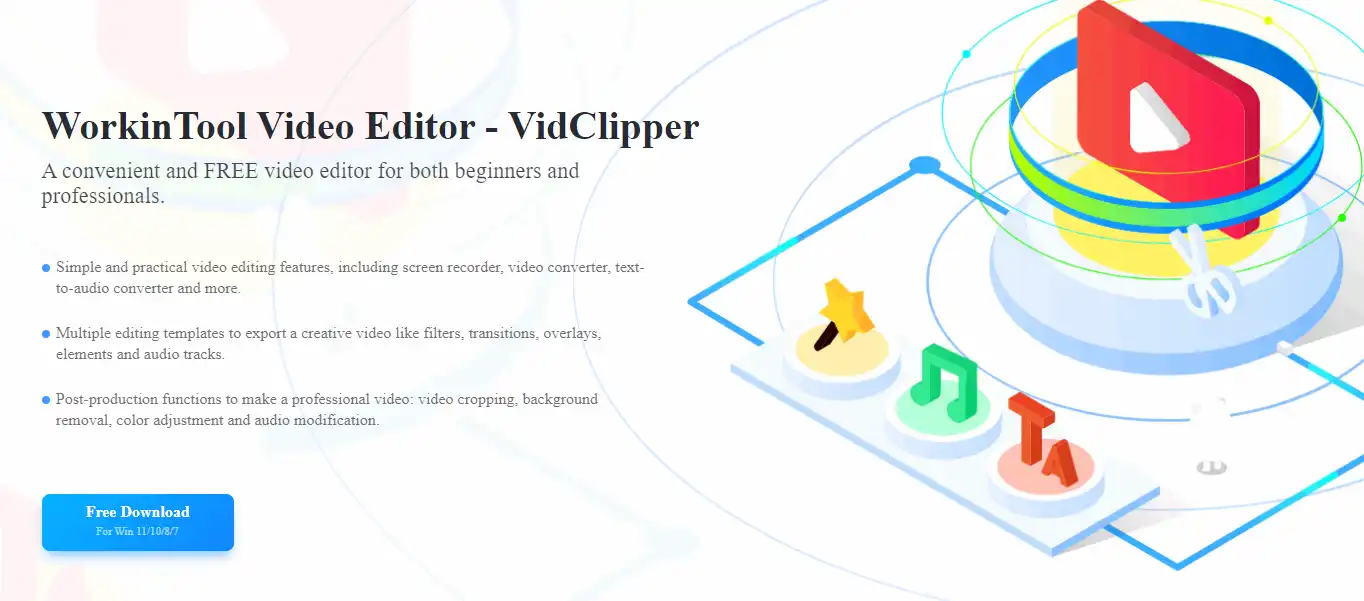 1. First, download and install this WorkinTool VidClipper on your computer. Open it and click Screencast and go to the screen recording page.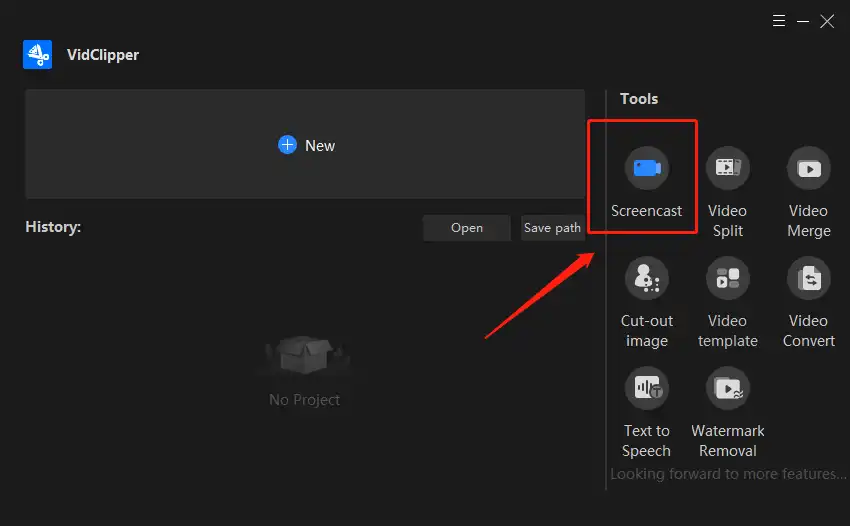 2. Then you need to customize the recording settings according to your needs. Here are four different sections for you to select: Video screen, Audio, Quality, and Format.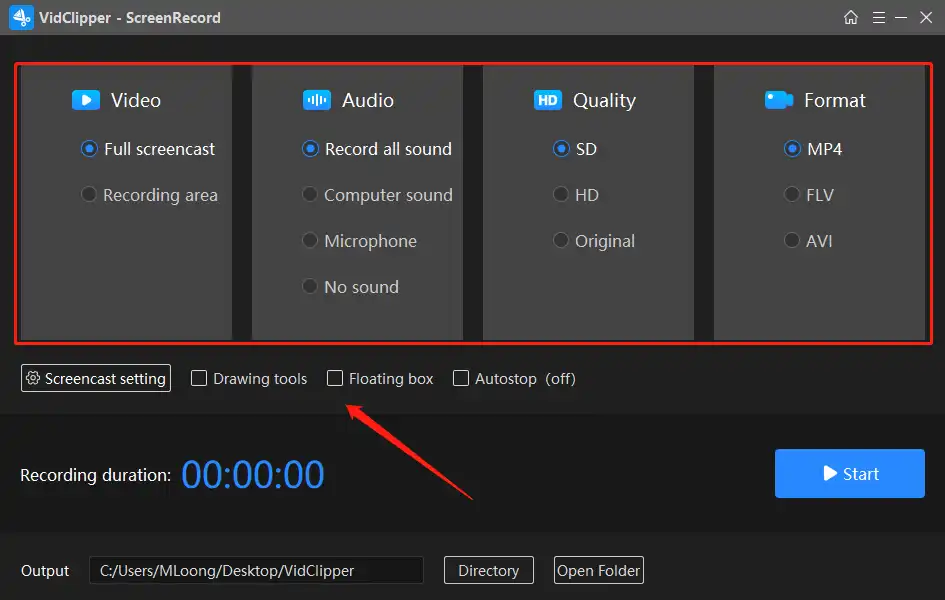 🚩 Basic Recording Options 🚩
Video:
Full Screencast: You can capture the entire screen if you choose this mode to record the screen content.
Recording Area: You will be able to select a certain area of the screen on the computer.
Audio:
Record all sounds: Your video recording will include all the sounds that happen during the recording.
Computer Sound: The audio on the computer will be exclusively recorded in your video.
Microphone: Nothing else except for your microphone sound will be included in your recorded video.
No Sound: Your recorded video will not contain any sound at all during recording. You will have a muted video instead.
Quality:
SD: The standard video definition for most video platforms. AKA 1280×720.
HD: 1080P, it is a higher definition for SD. 1080P AKA 1920×1080. (about 2 million pixels)
Original: It stays the same definition as your recording video.
Format:
MP4: Set MP4 as your exported video format, suitable for most video platforms.
FLV: FLV format is the exportation video format, it is for small video clips.
AVI: Convert screen recording video with audio to AVI format, fit for large and lossless videos.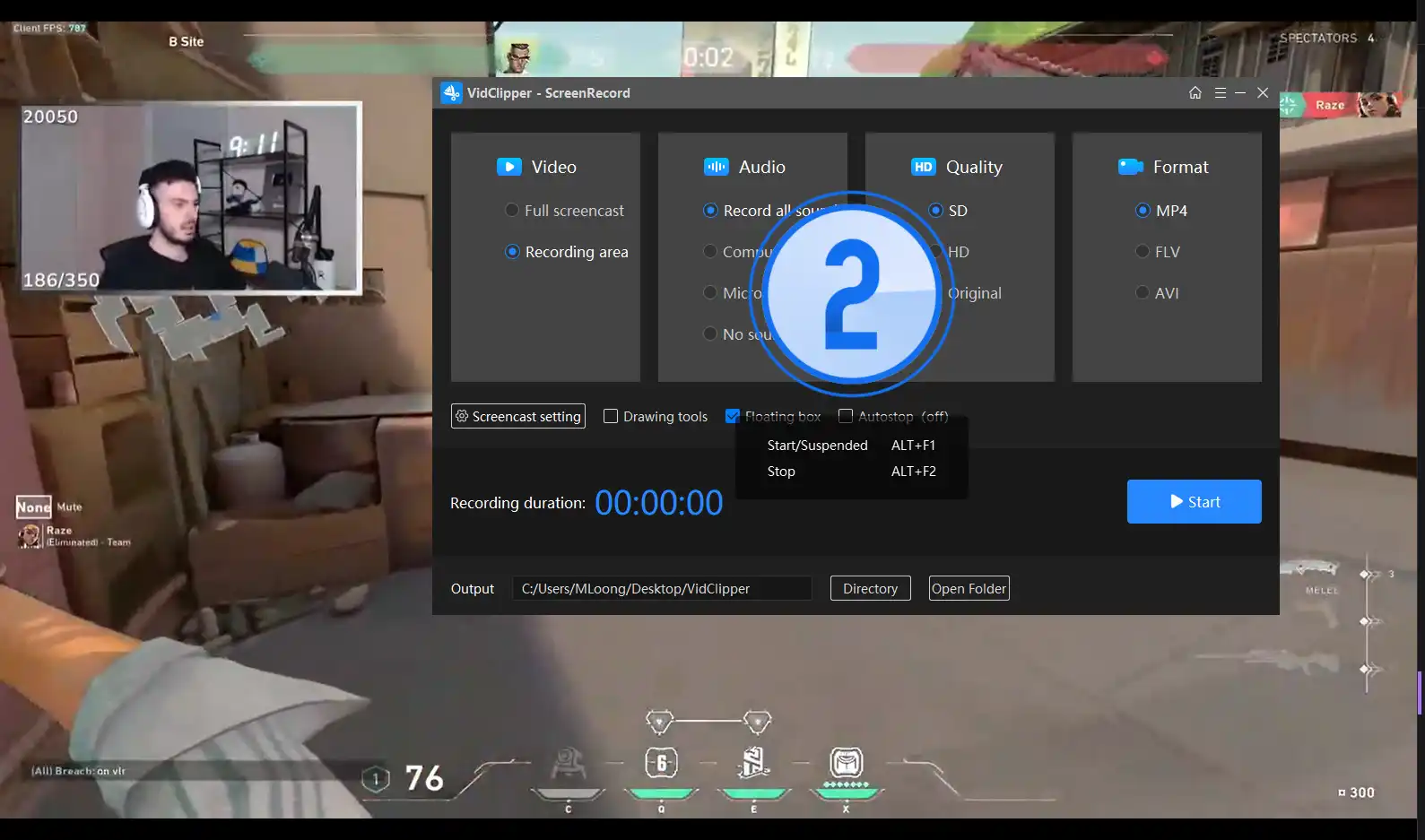 (tarik playing Valorant)
3. Lastly, you can start recording. Click the Start button to record or use the hotkey ALT+F1, or ALT+F2 to start/suspend/stop the recording. You are also allowed to change the save folder location if needed.
4. Once the recording is over, a notice like the one below will inform you that you can play the video, open the saving folder to check it, or directly add it to the editing function for further process.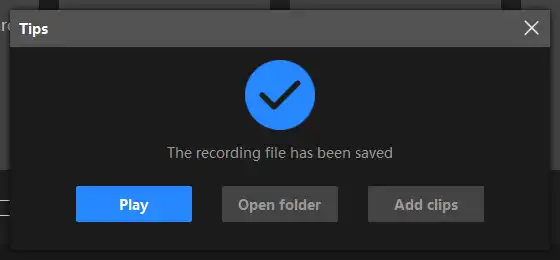 🎓 Why You Should Use WorkinTool 🎓
As we said at the beginning, WorkinTool VidClipper is more than just a screen recorder. In addition to this, it also carries a number of video-related features you can use. When you're done recording a video, you can always import it into the editor for secondary processing. It works just as well as any professional paid editor on the market. But it's completely free here. cutting video clips, adding background music, adding video titles, etc. All these useful features are completely tailored to the needs of the user. You can enjoy it as much as you can.
🎉 More VidClipper Features 🎉
---
How to Record a Video on Windows 10 or any PC?
Now that we have already covered the part on how to record the screen on Windows 10. Let's move to the next part: How to Record a Video on Windows 10 with the built-in camera.
In this way, you can record everything that is outside the camera. Now just follow these simple steps to see how it is done: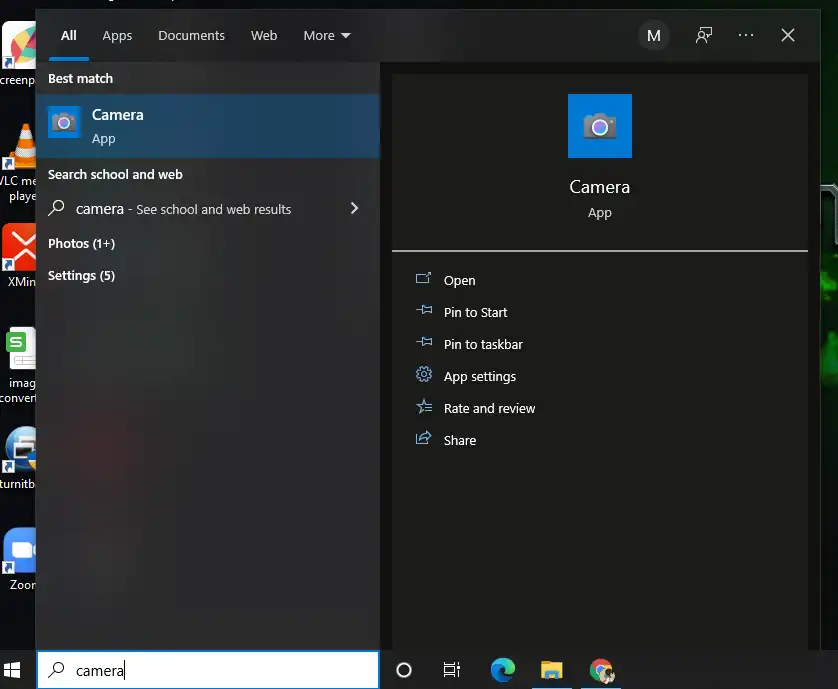 First, type in Camera in the search bar and launch the application. You may also find it in the start menu.
Once it is open, switch the mode to video recording mode. The maximum recording time limit is up to three hours long.
Once you have finished the process on how to record a video on Windows 10, your videos will be saved by default to the Camera Roll folder.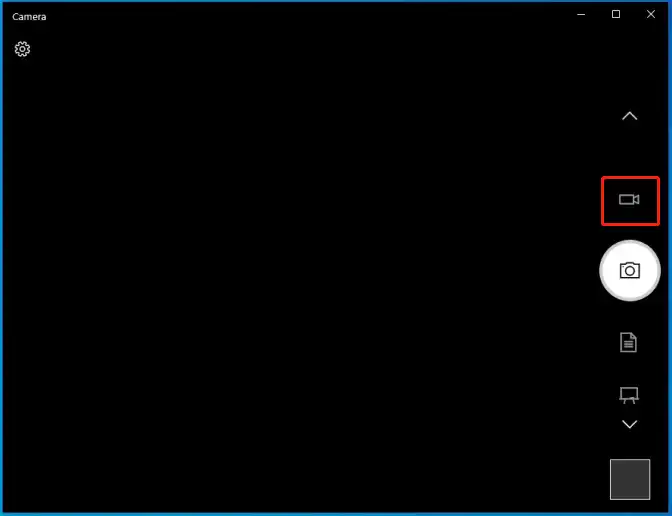 Notice:
Say you're using a computer that doesn't have a built-in camera, or that doesn't work. Generally speaking, desktop computers in a suit do not come with a camera. Laptops usually have a built-in camera instead. For security reasons, most users who do not normally use the camera will choose to disable it. Tape it, so the hackers won't be able to record their lives through it. In that case, you may need to purchase an external camera for assembly to use this feature.
---
Can You Edit Your Video Like a Pro?
Nonsense, of course, you can. Now that you've seen this section, you must also know a thing or two about the WorkinTool VidClipper. Yes, let's say you want to decorate the video you just recorded. Take the raw video and re-process it to get a high-throughput video on YouTube, with an intro, background music, subtitles, and so on, just go straight to the WorkinTool VidClipper editing feature. This is where the function of how to edit your video is like a pro shine.
Open the tool and click the Plus button on the editing function. (If you have recorded a video using WorkinTool, you can use the add to clip button to directly upload the clip to the editing page.)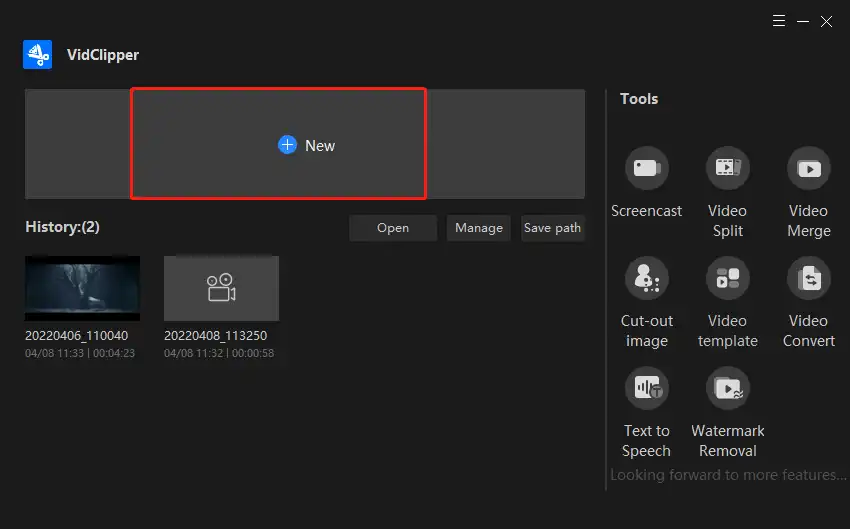 Upload your recorded videos to this page and drag them to the timeline so that you can edit them.
Select the edit option that displays on the left bar. It is totally up to you.
Lastly, once you complete this step, tap Export to save it back to your computer for sharing.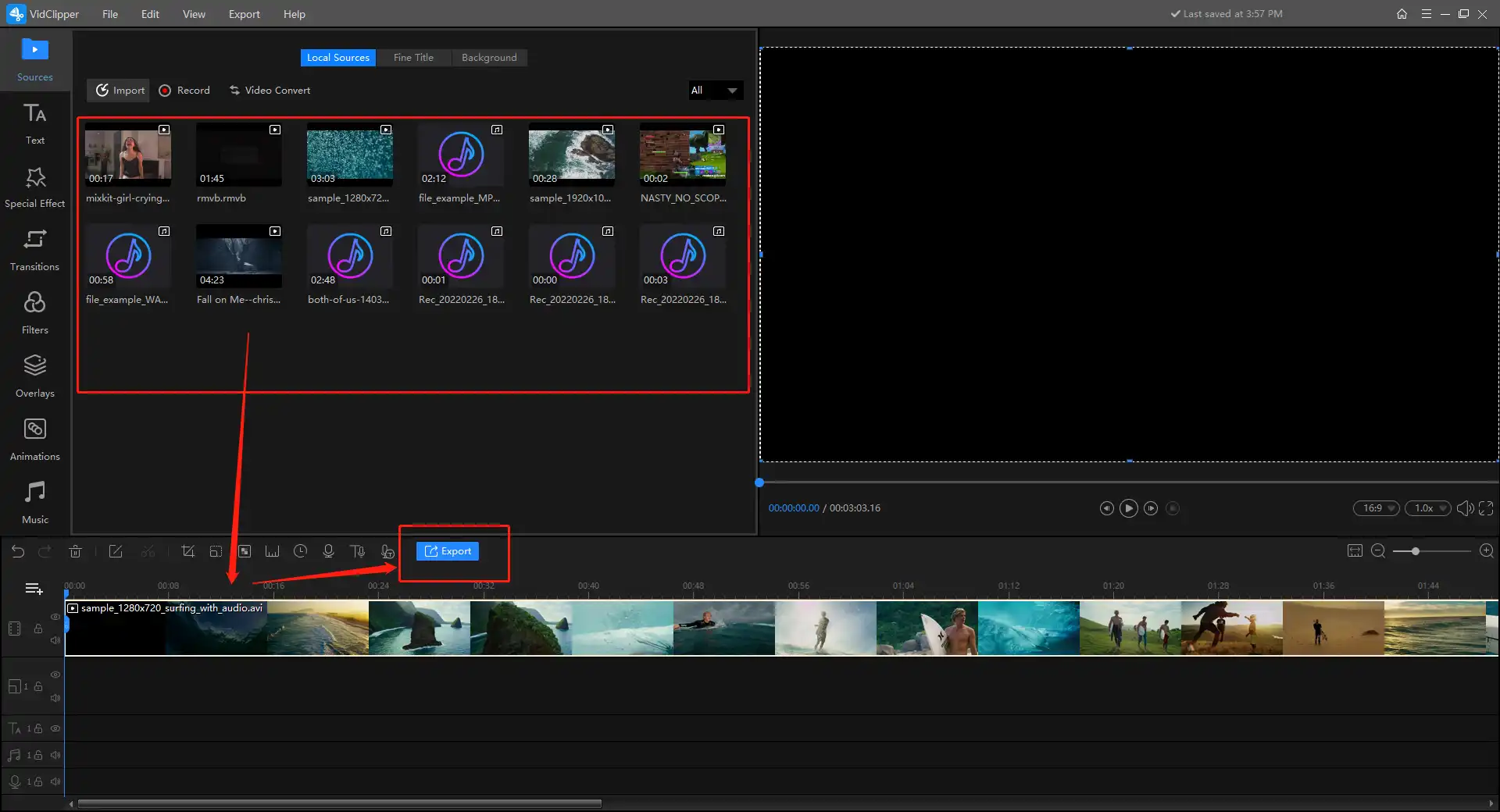 See the links to our previous articles for more feature details, or you can download the experience directly. All the functions are ready to use. You only need to spend a little time to enjoy the comprehensive good video processing software together.
---
More to Share
Now you have it all. We have covered all the free and convenient methods and tools that you can use to record a video on Windows 10 and together with how to use WorkinTool VidClipper to edit a video for sharing. If you are interested in the software then don't wait, just download and use it. I promise that you won't regret your decision.
If you have a better idea or problem, feel free to contact us for discussion.
Products Reviews:
TrustScore
4
|
323
reviews