The Best Way to Download YouTube to MP3 You Must Know
Because of some inevitable restrictions, we are only able to listen to the audio sometimes. So we need to find out how to download YouTube to MP3. And with the help of WorkinTool Video Downloader, it's much easier to do this. In this article, I've written about all the features and operation steps of WorkinTool with all the details. Just check it carefully and download it now. It will definitely help you get the MP3 file easily!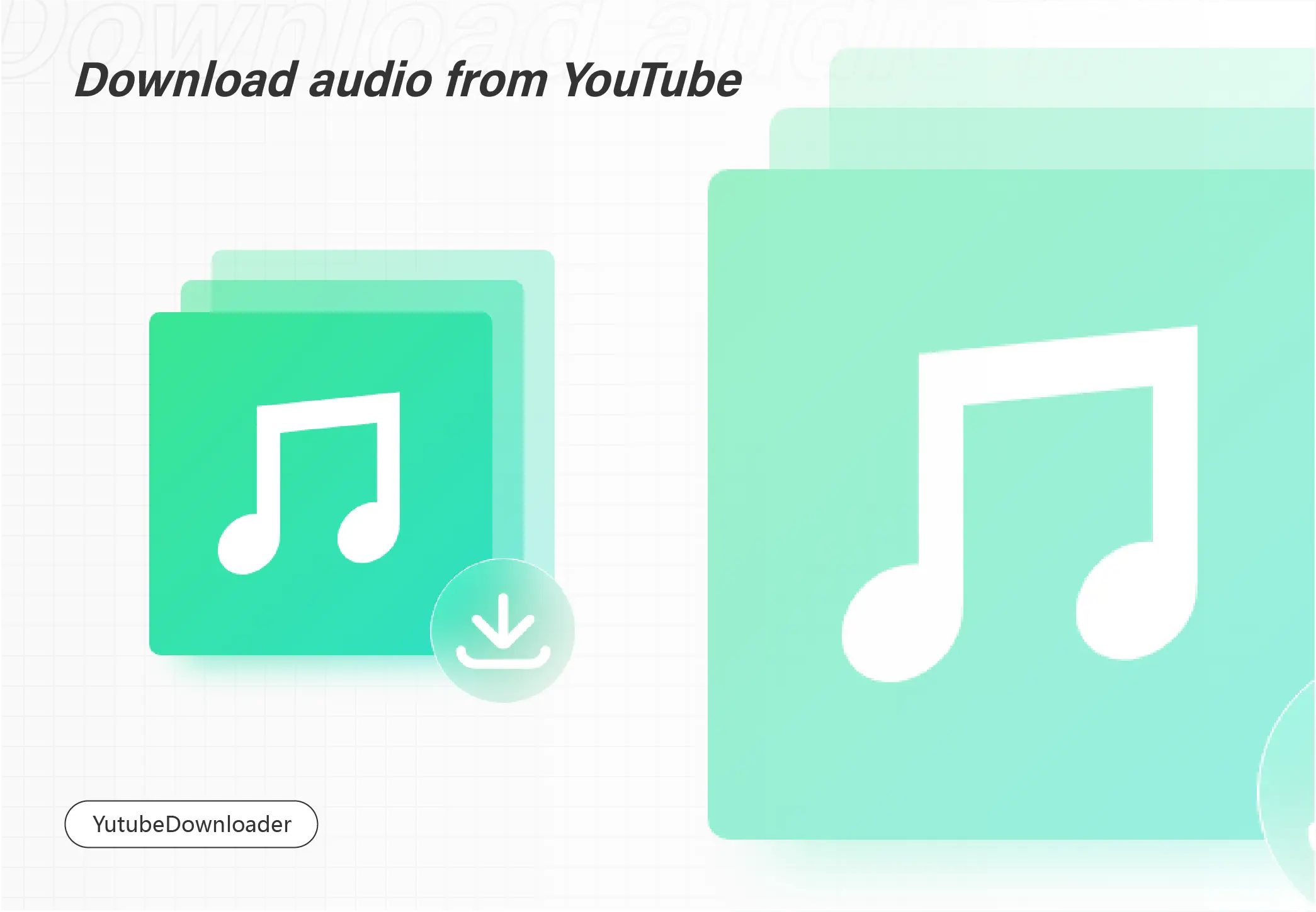 There are a lot of people using YouTube to kill time every day, in which they could watch all the videos they like, including stories, music, history, etc. But sometimes, there's no network connection, or you can't watch videos but just listen to them. What would you do if things like this happened? You may have an answer to this question. That is, to download YouTube to MP3. But how? Did you get an ideal solution up till now? If you're still confused about this, well, congratulations! I have offered you clear guidance in this article, which could solve all your problem for sure.
Actually, you can look for a tool to download YouTube videos or get a YouTube converter to turn YouTube videos into MP3. These tools could be a great help when needed. However, you must be aware of one important thing: downloading any copyrighted videos without permission from their creators is not allowed on YouTube.
Why Downloading YouTube Videos to MP3?
MP3 is a coding format for digital audio that can be distributed very easily over the web because of its smaller size. It requires no patents, so everyone can use it without payment. What's more, the quality is pretty good in terms of consumption. Unless you have a relatively high requirement for sound quality, an MP3 can meet your daily needs for sure.
You cannot avoid occasions like this, where there's no network connection, or when you cannot watch the videos when driving or running. And under these circumstances, you must view them offline or download YouTube to MP3 so that you can listen to them randomly. Downloading YouTube videos offers convenience when there aren't enough conditions to support you watching them online.
How to Download YouTube Videos to MP3 – WorkinTool
Downloading YouTube videos to MP3 is never such a difficult issue as you may have thought before. Find a tool that works well, and you're halfway there. And in this part, I introduced you to the perfect YouTube downloader so far, which is WorkinTool Video Downloader. It's a free and all-in-one converter to help you download YouTube to MP3 easily. Released recently, it has successfully downloaded more than a thousand YouTube videos. All WorkinTool products charge no fees from users, but they still provide users with the best service. With simple commands and a clear interface design, it saves a lot of time for users to accomplish their tasks.
WorkinTool Video Downloader, mainly for YouTube videos now, downloads videos at a fast speed and with high quality reserved. And it protects the privacy of users to a large extent. It asks for no permission when installed and won't share users' information on any occasion.
How to use it?
Here are the detailed steps for you to use this video downloader to turn YouTube videos to MP3:
Step 1. Download and install WorkinTool Video Downloader on your PC, then launch it.
Step 2. Open the YouTube video that you want to download and copy the link address.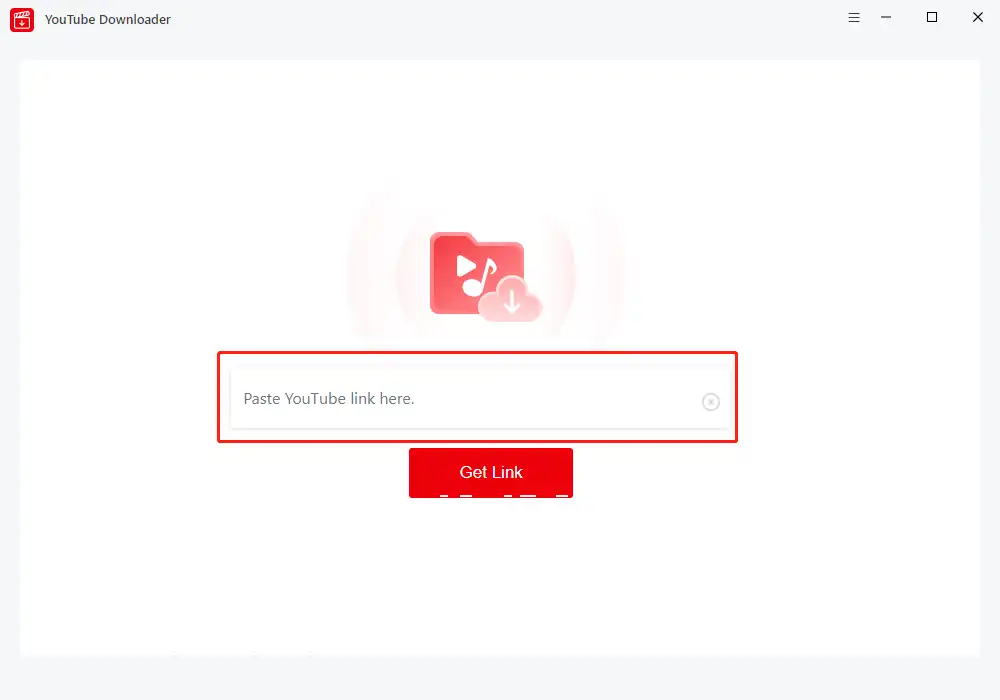 Step 3. Paste the link to WorkinTool Video Downloader. The tool also reads links automatically, so you only need to check if they're right. When the processing is finished, select MP3 format, then press the download button.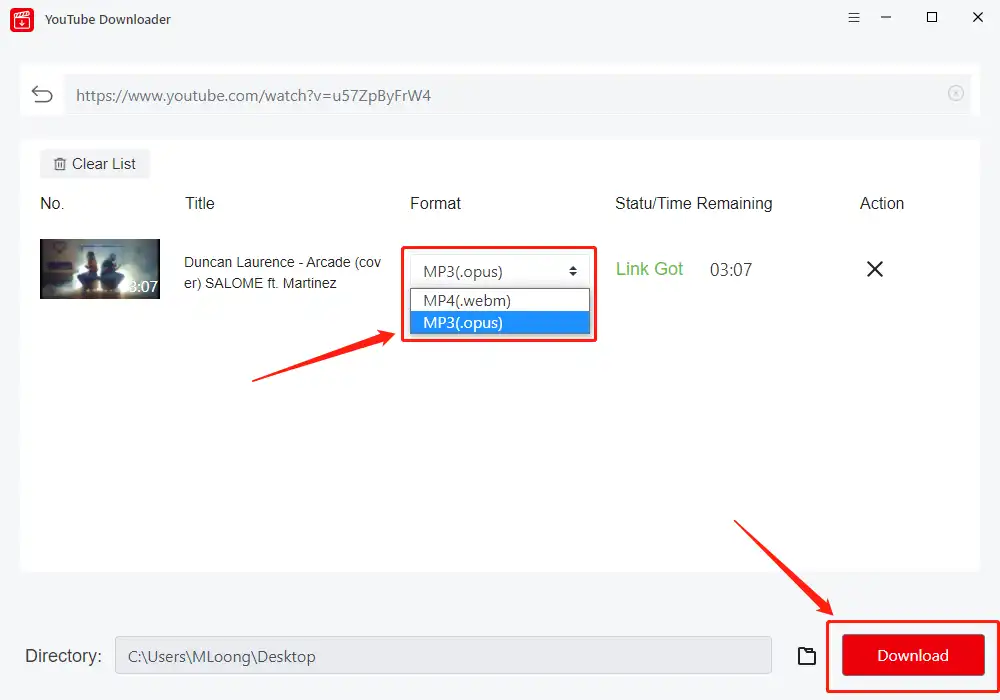 Tips: You can also choose the MP4 format, which depends on your actual needs. WorkinTool Video Downloader promises that the video quality will not be damaged in any way. There's also another way for you to turn the YouTube video to MP3, which is to get an audio recorder for YouTube. And WorkinTool Audio Recorder can also help you get an MP3 file of the YouTube video.
Reasons Why You Should Choose WorkinTool
With so many YouTube downloaders on the market, why do I recommend WorkinTool best to download YouTube to MP3? You're maybe wondering about this now. Don't worry, I will list all the features in this part.
Unlimited Downloads. You can download as many videos as you want, and there are no limits on the video size or the quantity.

No Payment Required.

 All products under WorkinTool do not charge users any fees. People are able to use all the products as long as they download them successfully. 

100% Safe & Secure.

It requires no unnecessary permission when installing and using it. And it won't store users' information. Any operations within WorkinTool are highly protected.

Fast-speed Processing.

Fast video link access and download speeds are offered to users. No matter how large the video is, they don't need to wait for a long time to download it.

Batch Downloading.

The Video Downloader supports users' getting multiple videos with one click. Users can copy the video links one by one, and the tool will read them automatically. Once the links are successfully downloaded, the videos can be downloaded at the same time.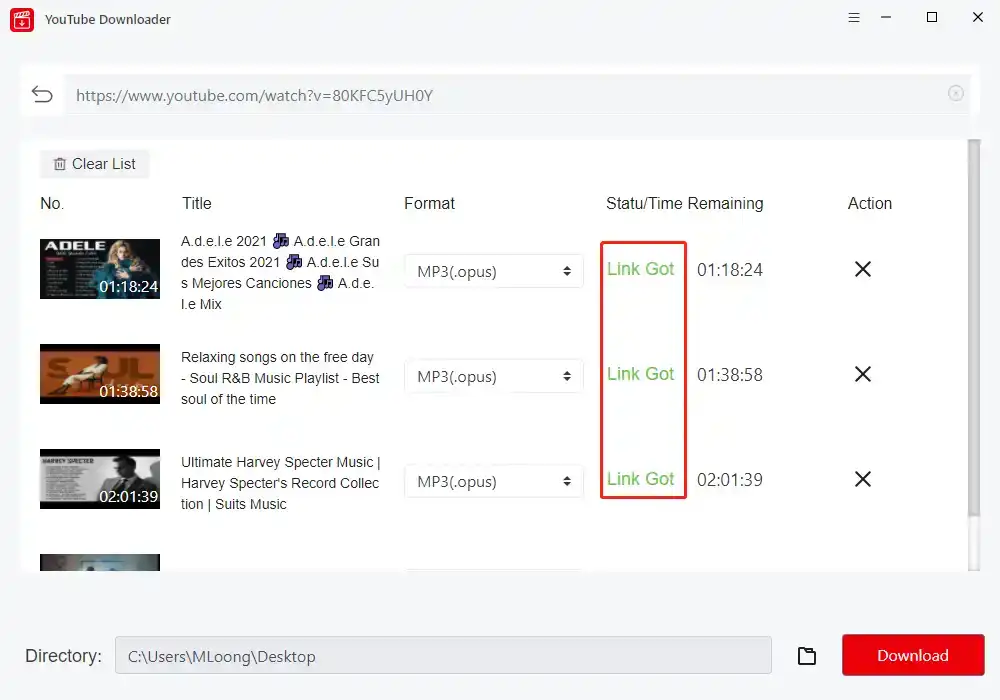 The Bottom Line
Because of some inevitable restrictions, we are only able to listen to the audio sometimes. But it is never a challenge in this era of rapid technological development. And with the help of WorkinTool Video Downloader, it's much easier to download YouTube to MP3. In this article, I've written about all the features and operation steps of WorkinTool with all the details. You don't need to download YouTube videos to MP3 with Python anymore, which is super difficult for most people. But WorkinTool, on the contrary, offers the easiest way to obtain videos without paying. What's more, though it only supports YouTube video downloading, more platforms will be supported in the upcoming new release. After all, it is more likely a video downloader than just a YouTube downloader. So don't be hesitant anymore. Just download and use it now, which will help you a lot!
Products Reviews:
TrustScore
4
|
323
reviews