How to Add Music to a Video for Free [Easy Tutorial]
Want to add music to a video but don't know how? There are tons of video editors but as an amateur, you don't know each one is best for you? Well, in this post, you will get the easiest way to insert a track into your desired video by this power video editing software – VidClipper. It is a very handy editing tool for beginners. There are more than three hundred songs you can pick. And it supports users to upload music from the local computer. Moreover, it is totally free to use all the built-in functions. Come and download this software to experience yourself right now.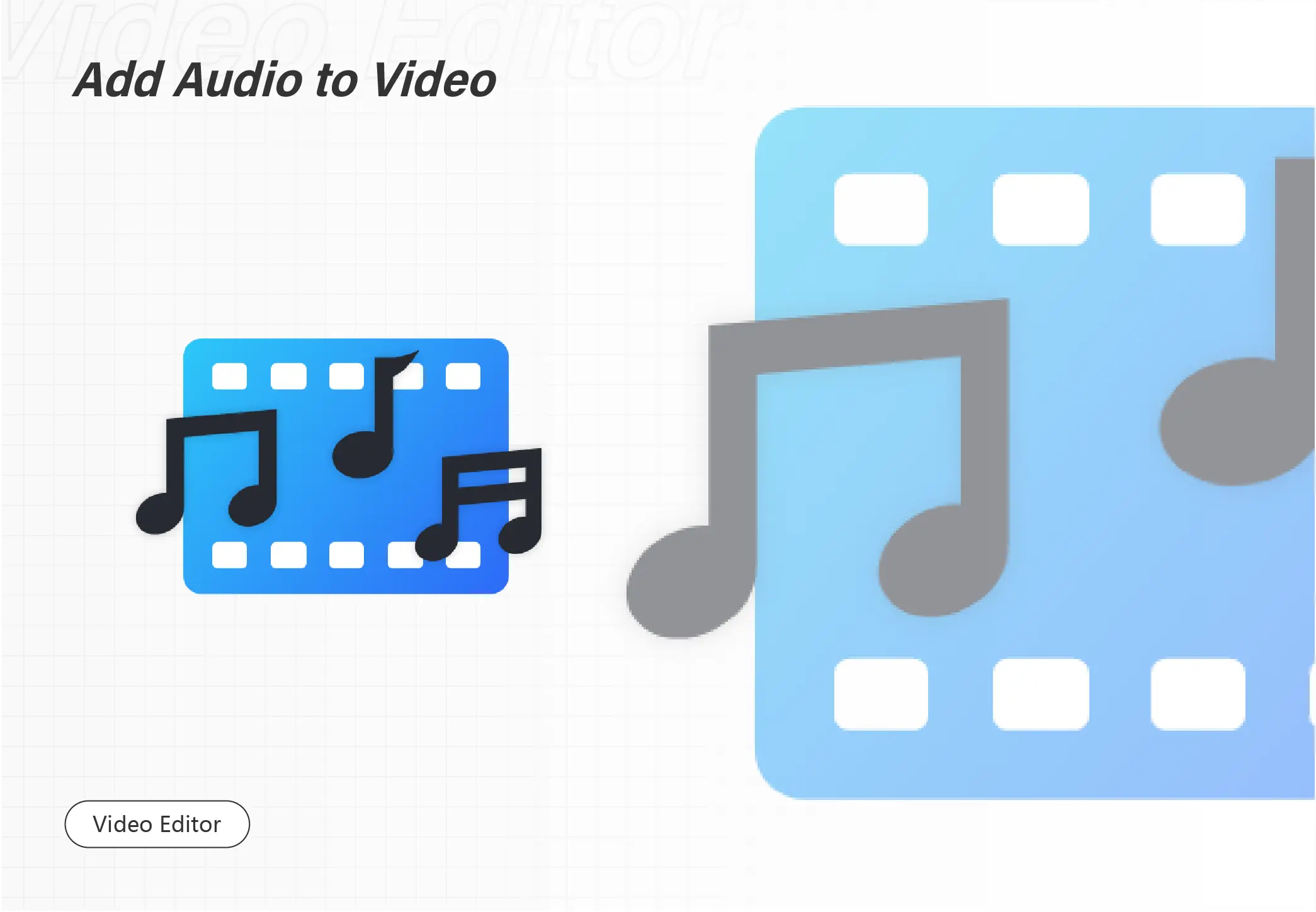 I don't think I need to emphasize the importance of music in movies. It is not difficult to find that in the current film, whether it is a Hollywood popcorn blockbuster or a literary film, it is unacceptable that there is no background music that is consistent with the theme of the film. A good piece of background music can light up the main idea of the film, and even elevate the theme. So now in this era of vigorous development from the we-media, it is also a very important step to add music to a video.
Well, I will not be going to tell you what great music is. But I can show you how to add your music to your self-made movies when you have the perfect track.  A good piece of music can be a major element just as the visual content that comes from the camera. If it weren't for that, there wouldn't be an Award for best original song at a major film festival like the Oscars or Cannes. It's not hard to add background music to a video, we just need video editing software to make the job done.
So let me show you how to add music to a video with the VidClipper, a professional video editor.
---
🥇 Add Music to a Video – VidClipper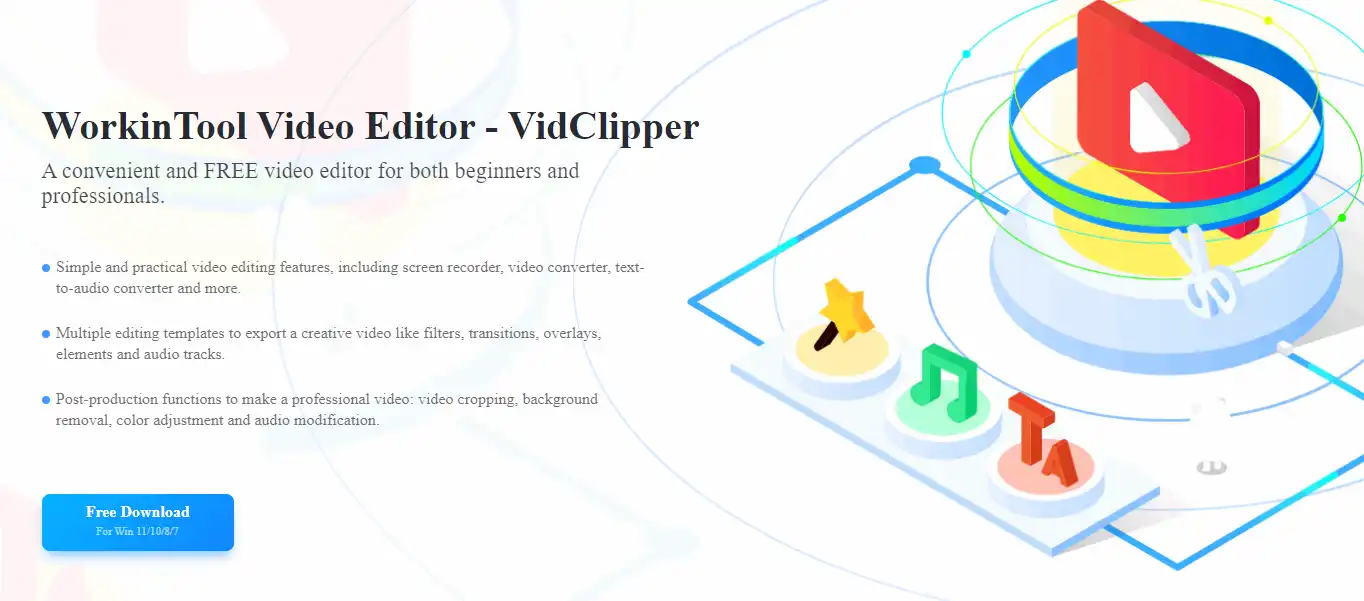 In fact, when I say VidClipper is a professional video editor I actually mean that it has professional functions like other editing software. When you open it, you will see the cleanest home page and interface. User-friendly navigation is also where it differs from other video editing tools. Of course, the most important thing for video editing software is if the function is complete. You can rest assured at this point. Basically, it's a fusion of all the useful features on the market. From the basic video editing functions like combing videos, making video clips to advanced functions like adding subtitles to videos, text to speech features, you name it, VidClipper has it. Most importantly, unlike Adobe Premiere Pro, it is completely free to use without any limitation.
Certainly, the above-mentioned features are also in line with the function of adding music. Literally, you can find three different functions in this VidClipper to add music to a video. But the background music for each function will also be different. There are hundreds of music templates in each feature. And it supports manual upload of the local music library. Several clicks can modify the track's detail in the video. It's all up to you to decide how you want it to be in your video.
So let's take a look at how you can add music to a video to make it even richer by VidClipper.
---
🎉

Video Editor
The first approach is also the simplest and most practical. We can directly add any music when we are editing a video. Of course, you can select a track from your local computer or from the music template. either way, as long as it suits your video theme. Here is what I do.
First, go download and install this powerful editor on your local computer.
Open it and find the editing function. Click the "Import" button to insert your desired video.
📢 Notice: If you want to add music from your local music library, you also use this import button to insert the track into this video editor.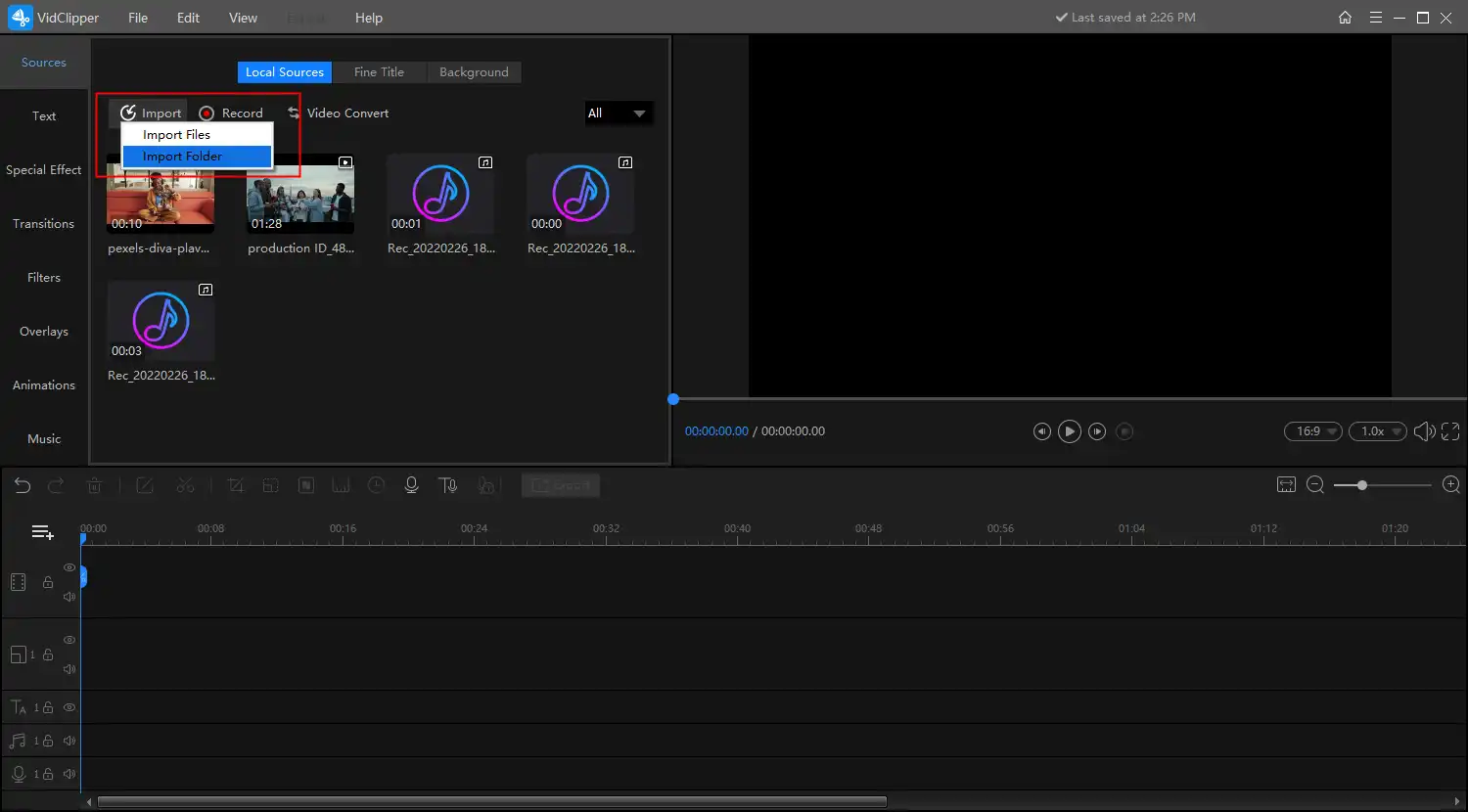 Then you will see the music or video has been uploaded in the Media section. You need to drag the video and music into the lower timeline so that you can play it on the canvas. You can adjust the playing time by moving the place in the timeline.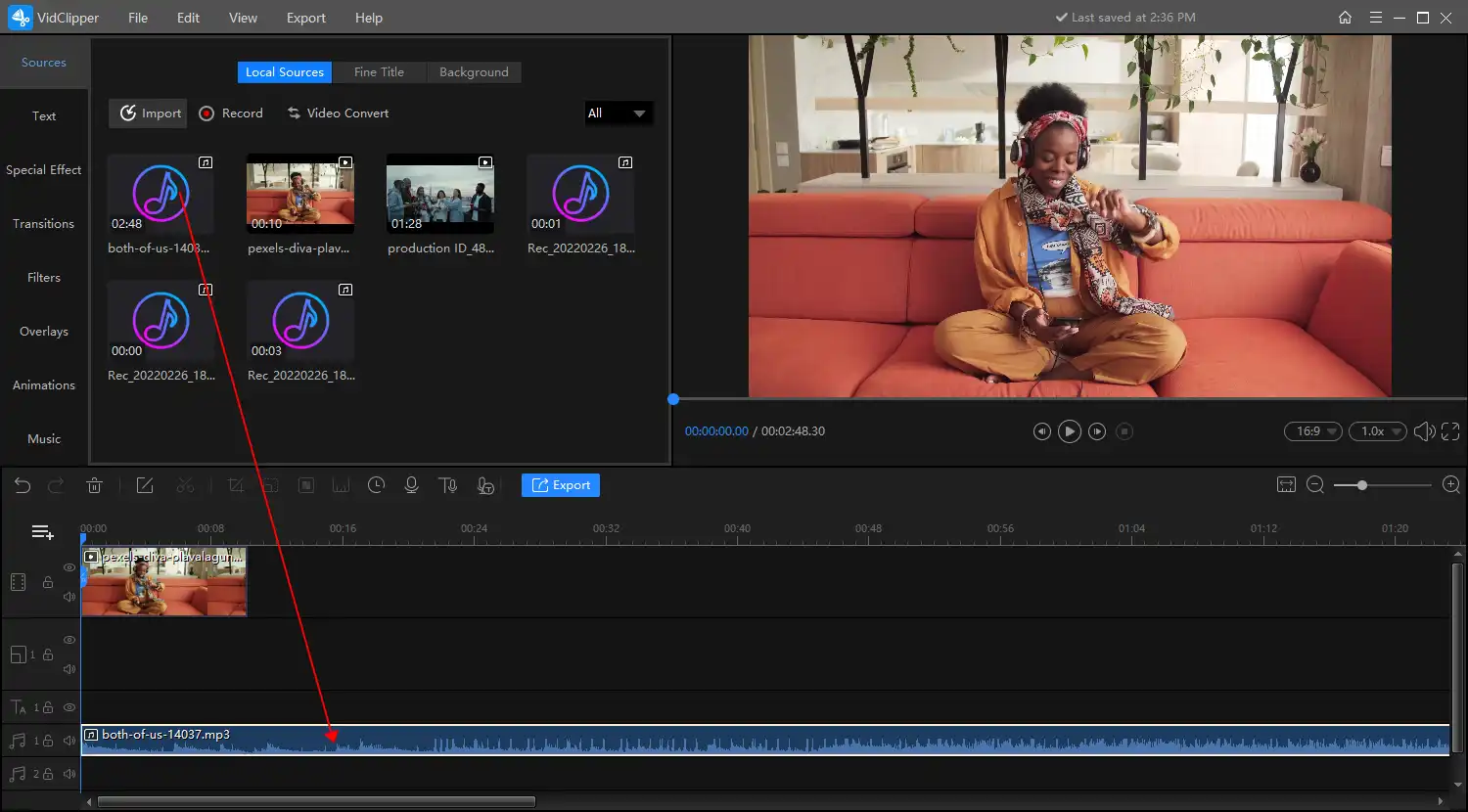 After placing them in the right order. Click the track in the timeline and you can modify the music details in the upper area. It supports users to customize playing speed, volume, fading in and out. You even can decide if you want to give it another vibe and if you want to set a noise reduction.
By this point, you've basically finished the job of adding the music to a video. All That's left is for you to keep it to your computer.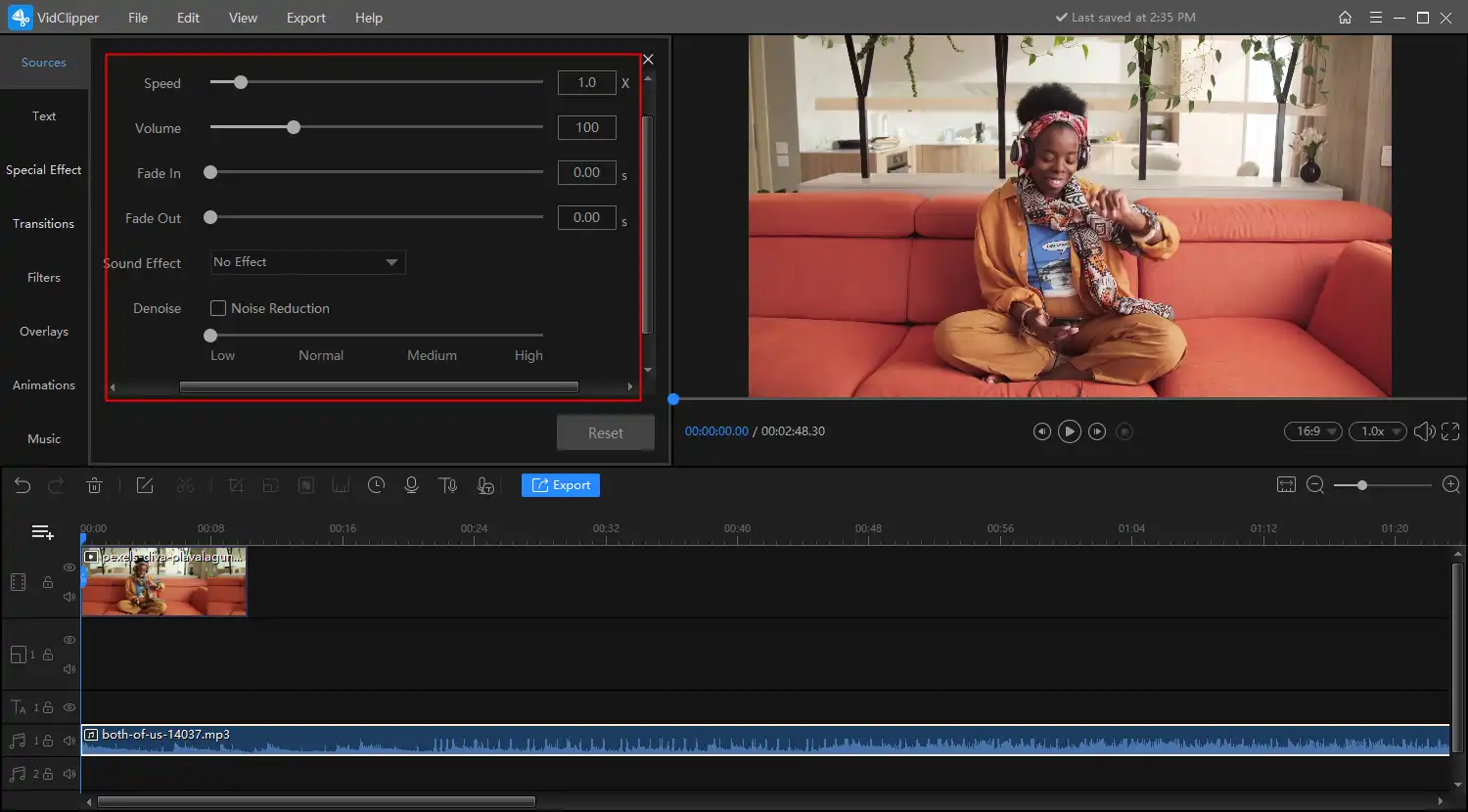 Additional Part:
Of course, if you don't want to add your own music, there are as many as three hundred music templates available for user reference. Except for the normal background music, you can additionally add sound effects to your videos. For example, if your video contains the element of medieval duels, you can add some sounds like swords and armors. If you have a video in the forest, you can add some sounds of animals and plants.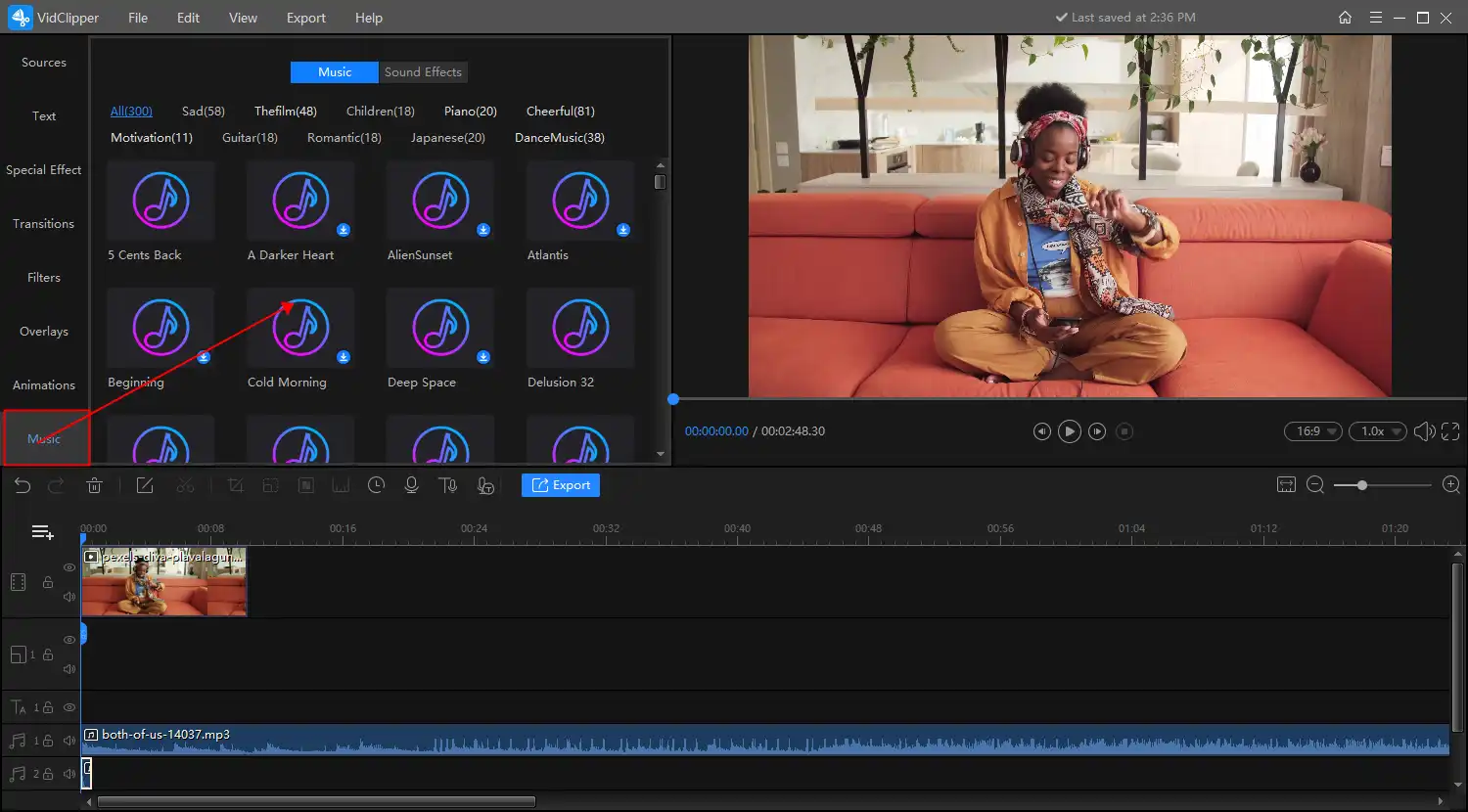 ---
🎊

Advanced Feature
Add Music to a Video
In addition to the editing feature, you can add your Background music in the other two places. Those are Background Remover and Text to Audio.
In the function Background Remover, you will see that the third step is to add BGM (stands for background music). Right here, you can pick one music from the music library or upload it on your own. As an added feature to the background removal function, it can be said the icing on the cake.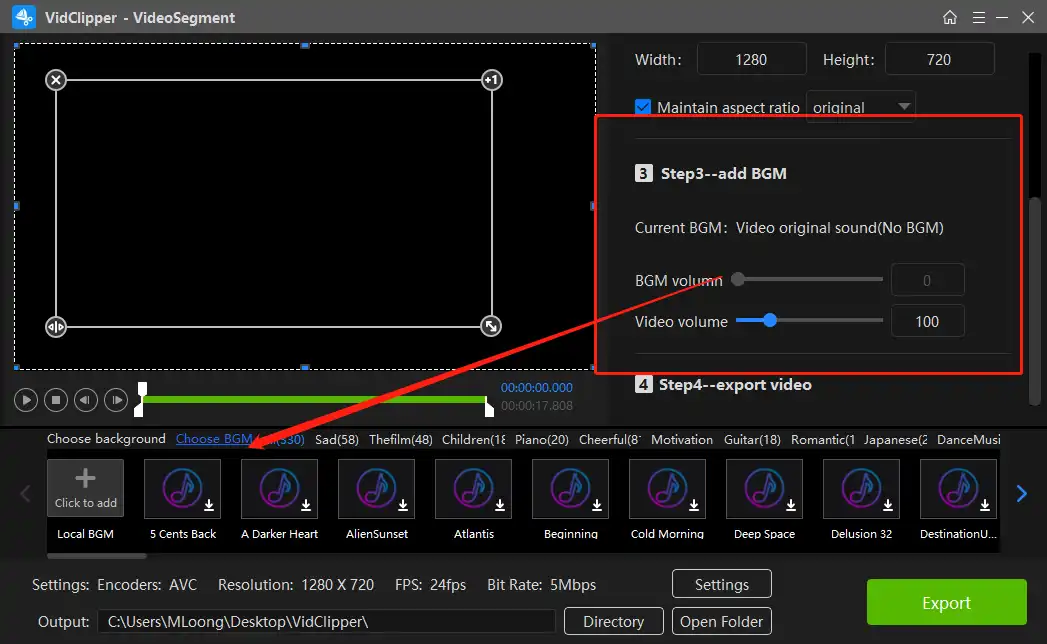 Another one is in the Text to Audio. The basic function is to convert your script to a speaking video. However, it also supports users to insert a piece of background music as a match. Just click the BGM button and you will see the music library.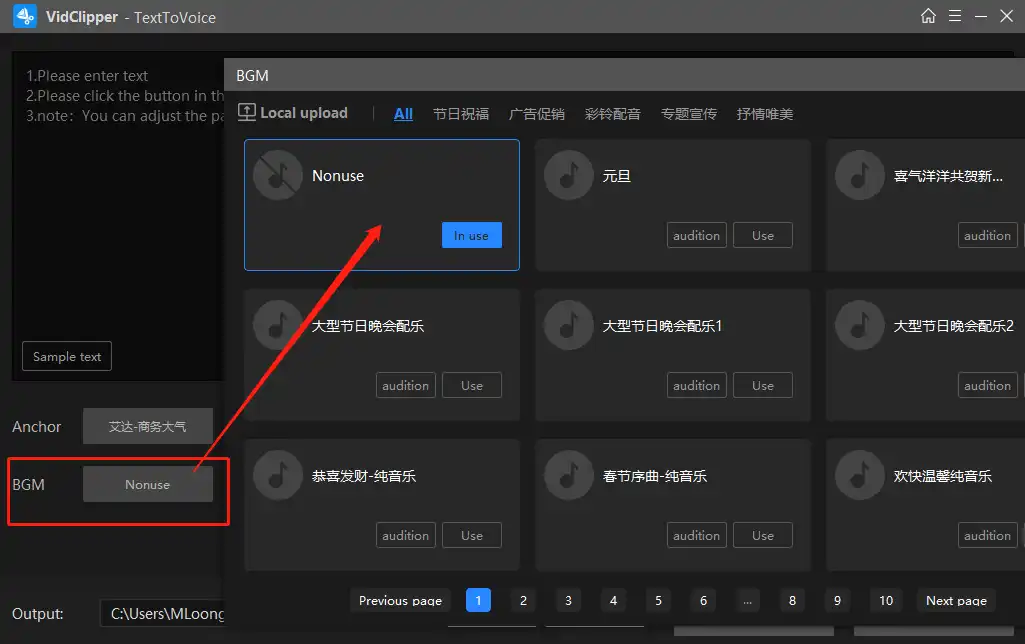 📣 Notice: The built-in libraries are mentioned in all three of the above ways of adding music. But you need to know that all three music libraries are not the same, which means that you can find more than nine hundred different songs from this tool.
---
More to Share
After this post, I am sure you can add music to a video on your own now. It is fairly easy and convenient if you use WorkinTool Video Editor – VidClipper. If you have any suggestions or questions, feel free to contact us at any time.
Products Reviews:
TrustScore
4
|
323
reviews