How to Brighten Video for Free without Losing Quality 2022
WorkinTool Video Clipper is an all-featured video editor helps you change the video brighteness, exposure, shadow, etc. With it, you can preview the changes and choose to export the video to HD resolution. Nearly all kinds of video formats arer compatible with it.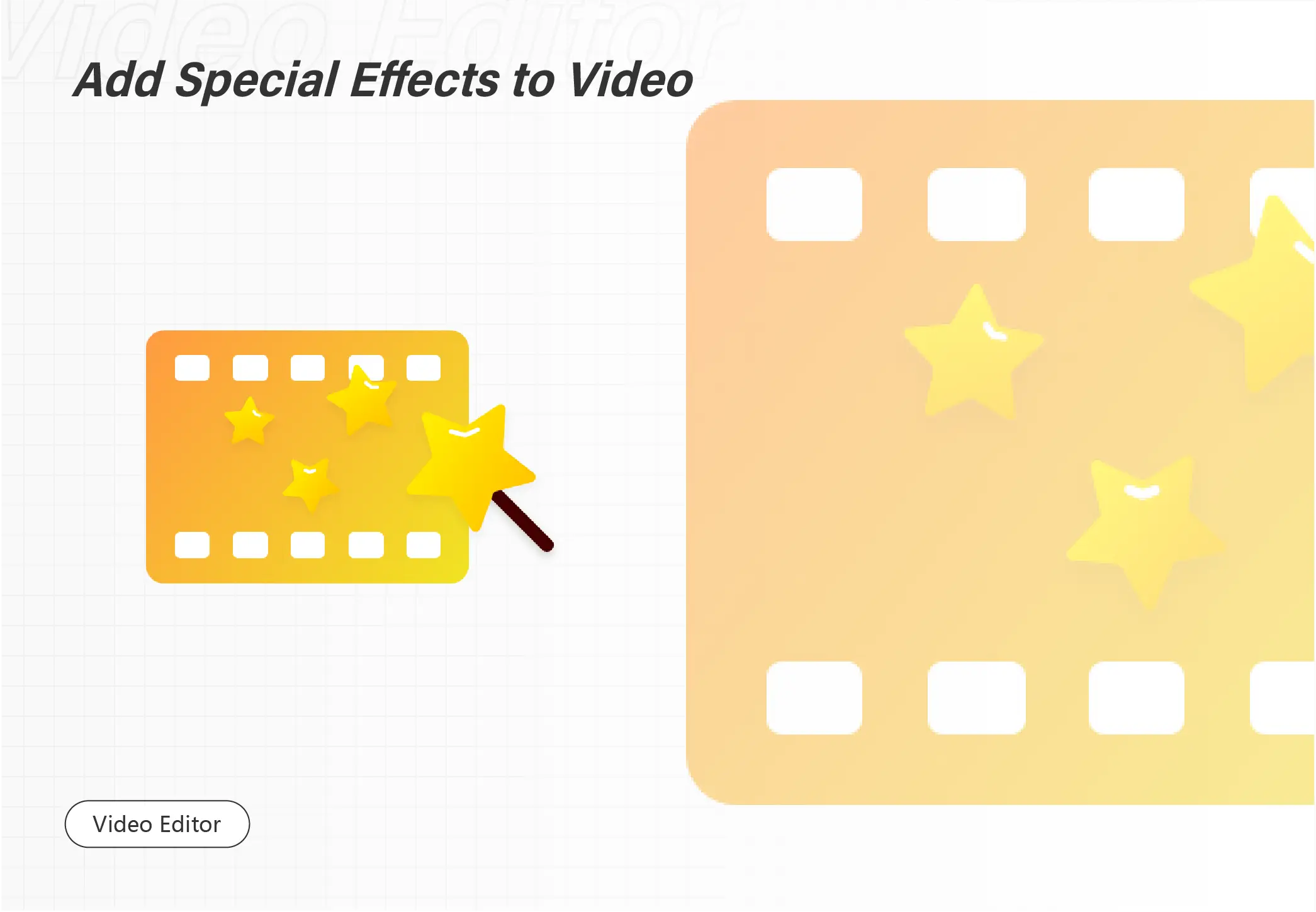 How to Brighten Video for Free without Losing Quality 2022
Due to the increasing popularity of video-sharing platforms such as YouTube and TikTok, more and more people start to make videos and post them on their social accounts. However, video editing is not that easy, and you may encounter problems of one kind or another during the production process. Sometimes we may encounter the situation that the video lacks brightness due to the shooting environment and lighting issues. This article will mainly discuss how to brighten video for free with professional video editing tools for Windows, Mac, iPhone, and Android.
How to Brighten Video on Windows
There are various video editors for Windows. But it is difficult to find one that works and is indeed free. Some video editors, under the banner of free, either have restrictions on the number of uses and functions or have some hidden charges. This WorkinTool VidClipper is one of the most effective video editors for Windows that I'd like to recommend. It is all-featured, easy-to-operate and most importantly, it is utterly free for all functions.
As for increasing video brightness, WorkinTool makes it a piece of cake. The video editor can effortlessly brighten a dark video and adjust the video saturation, sharpness, and more. It supports importing hundreds of file formats such as MP4 MOV, MKV, AVI, FLV, WEBM, etc. At the same time, you can use it to edit video, add watermarks, crop video ratios, change video speed, and so on. Except for the above features, you can also use this software to:
Edit Video with subtitle, background music, filter, transition, etc.
Merge and split video clips.
Convert video formats to MP4, MOV, MKV, AVI, GIF, MP3, etc.
Record the screen of your computer with system audio and microphone sound.
Cut out objects or figures from a video and change the background.
How to Brighten a Video with WorkinTool VidClipper
Step 1. Open the WorkinTool official website, then find Utilities> Video Editor to download the software. Run it and click + New project on the first user interface.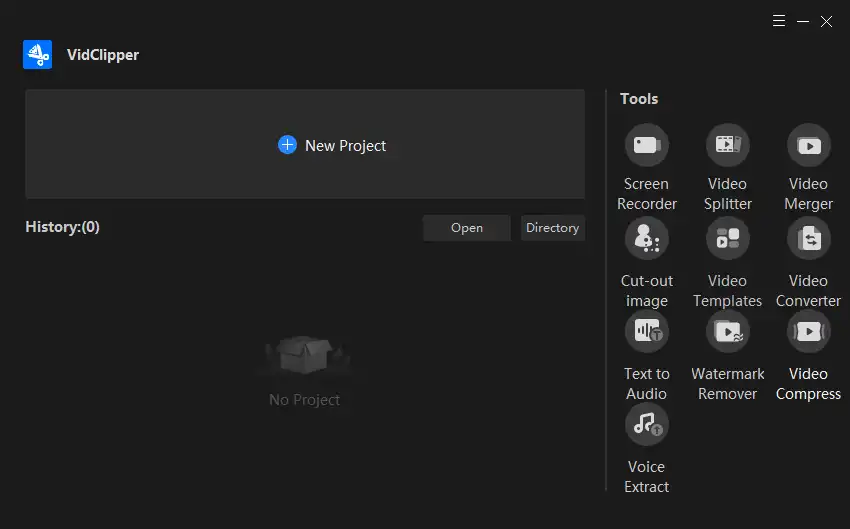 Step 2. Import your video from the folder or drag and drop it. Then click the add button to put it on the video timeline.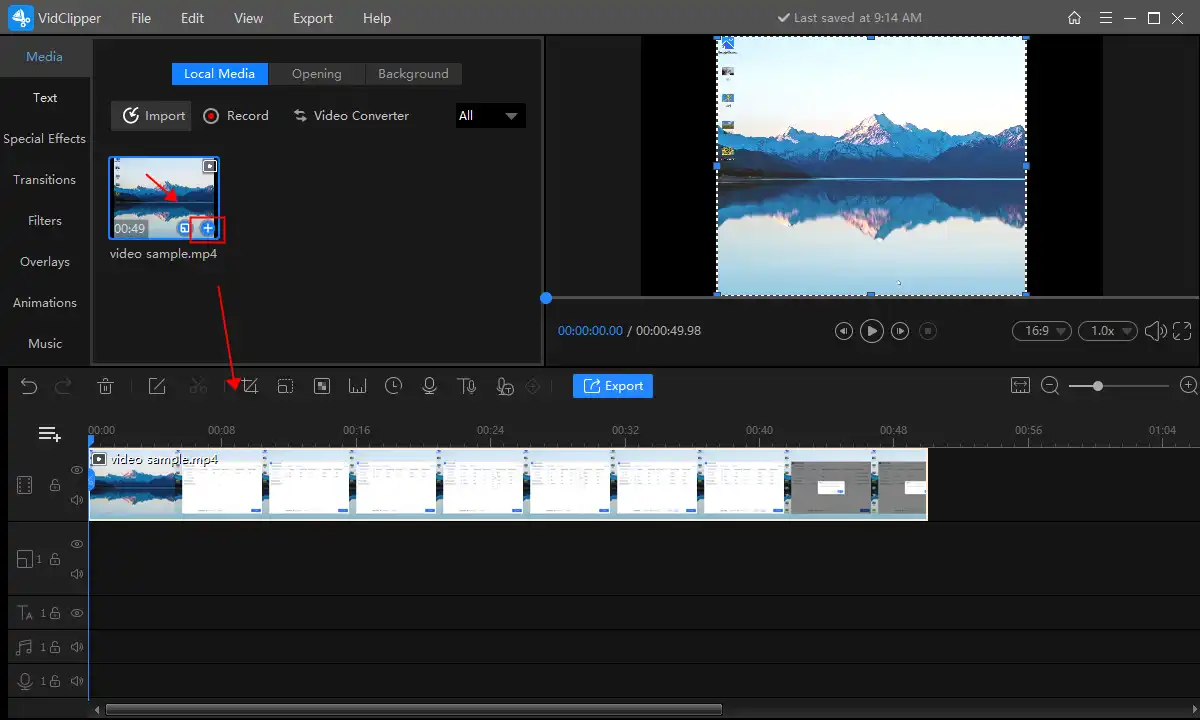 Step 3. Left-click the video on the video track and select the Color Mix>Brightness tool. Then drag the progress bar to adjust the brightness of your video. During this process, you can preview the result.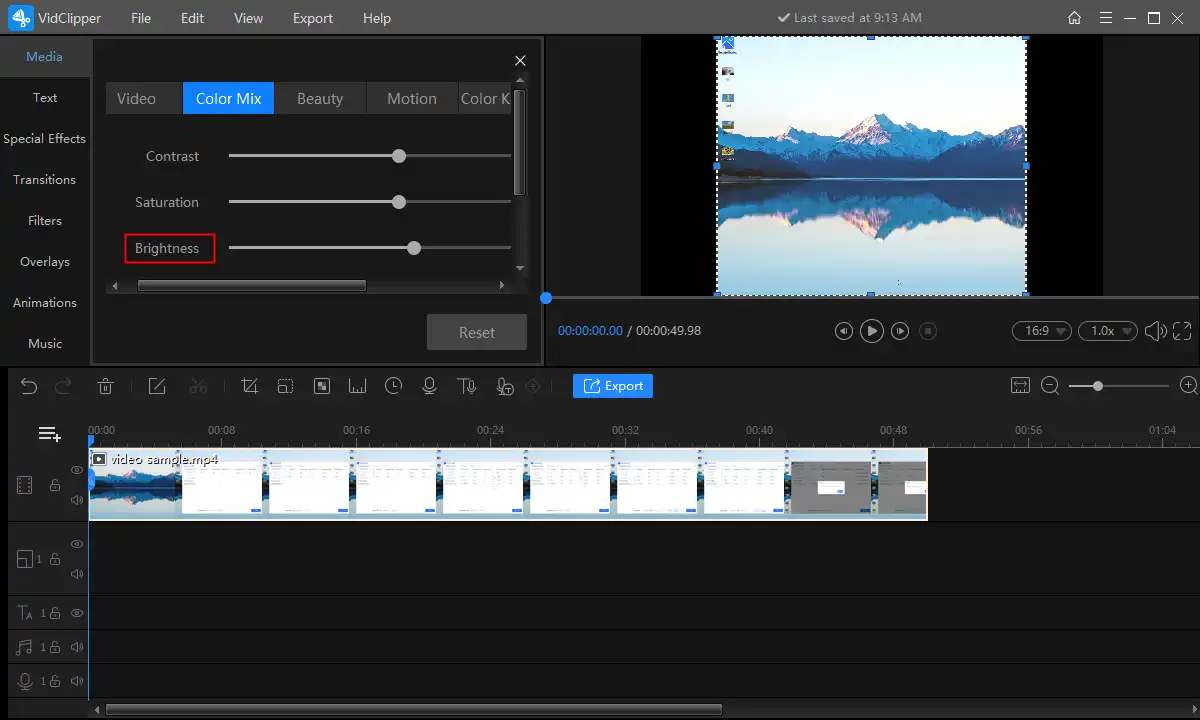 Step 4. After adjusting, press the export button and select the output format, quality, location, etc. Then press Export again to save the edited video to your computer.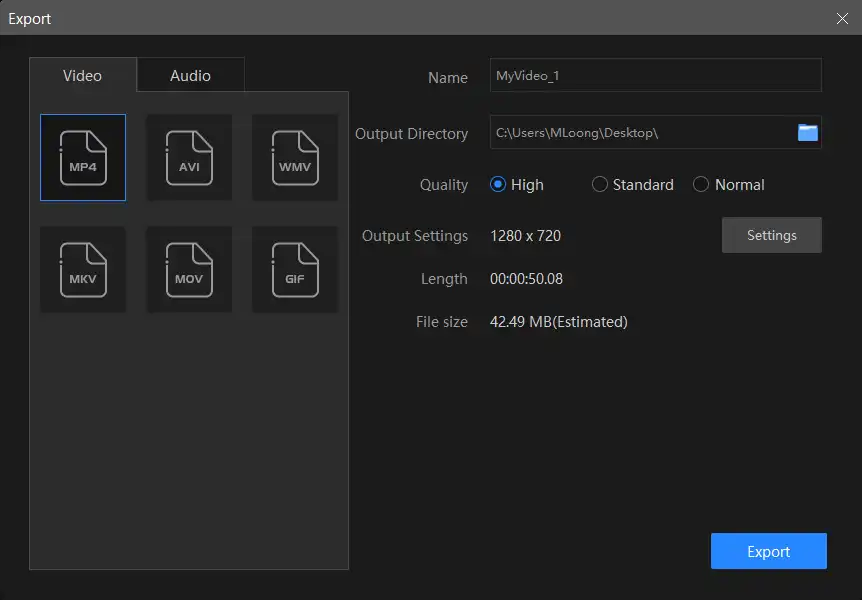 Prominent pros & cons of WorkinTool VidClipper
😆 Pros:
100% free to use without restrictions on the uploaded video file size and usage times
Clear and simple toolbars; friendly for beginners in video producing
Plentiful video editing features and materials
Able to output the edited video in HD resolution
Update their tools and fix bugs regularly
😞 Cons:
Only available on Windows devices
Note: As you can see, WorkinTool VidClipper helps you brighten a dark video automatically without losing quality within only a few steps. Apart from this feature, its multi-functionality is beyond your expectation. Here are the other helpful instructions for this video editor that you can refer to:
How to Increase Video Brightness on Mac
If you want to adjust the brightness of a video on a Mac computer, it's a lot easier. The video editor that comes with the Mac system, iMovie, helps you avoid the trouble of finding and installing video editing software.
iMovie is one of the iLife series of applications for Mac computers. Its biggest feature is that it has a simple and beautiful interface and is easy to operate so that anyone can get started. iMovie has rich and interesting video editing functions, enabling users to produce high-definition, beautiful videos for whatever purpose. At the same time, the video quality it exports is also exceptional. It supports exporting up to 4k quality videos. Both video picture details and sound are well-preserved.
Now you may have a basic understanding of iMovie, let's have a look at how to brighten video on Mac with it.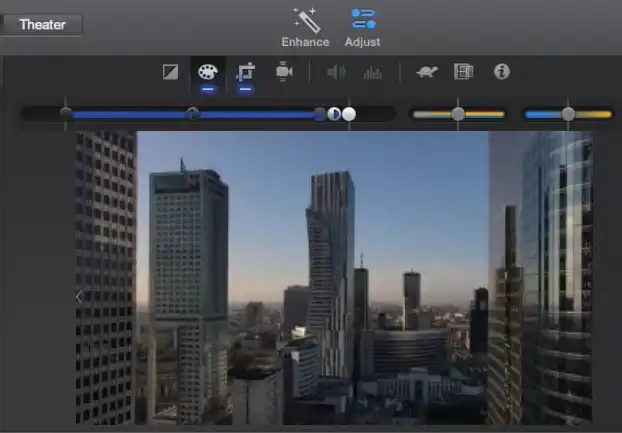 Step1. Open iMovie and import your video to it.
Step2. Find Adjust in the top menu bar and click the brightness button to adjust.
Step3. Save the edited video to your folder.
How to Make a Video Brighter on Mobile Phones
If you want to edit videos on your phone, regardless of the iPhone or Android phone, then you can try the video editing function that comes with your phone album. Some video editing features of mobile phone albums are not as comprehensive as professional video editors. But some simple operations, such as adjusting video brightness, saturation, exposure, etc., are relatively easy to do.
How to Brighten a Video on iPhone
The operations to brighten video on iPhone are quite easy. I'll take show you the detailed steps with clear pictures here.

Step1. Find the video in your phone album.
Step2. Click Edit in the top right corner and select the brightness tool to adjust the light.
Step3. Save the changes.
How to Increase Video Brightness on Android
Some Android phones provide you with built-in video editing tools in the photo album. If yours is not, you can resort to professional video editing apps for Android. Here I'll show you how to operate with the inbuilt tool on Android.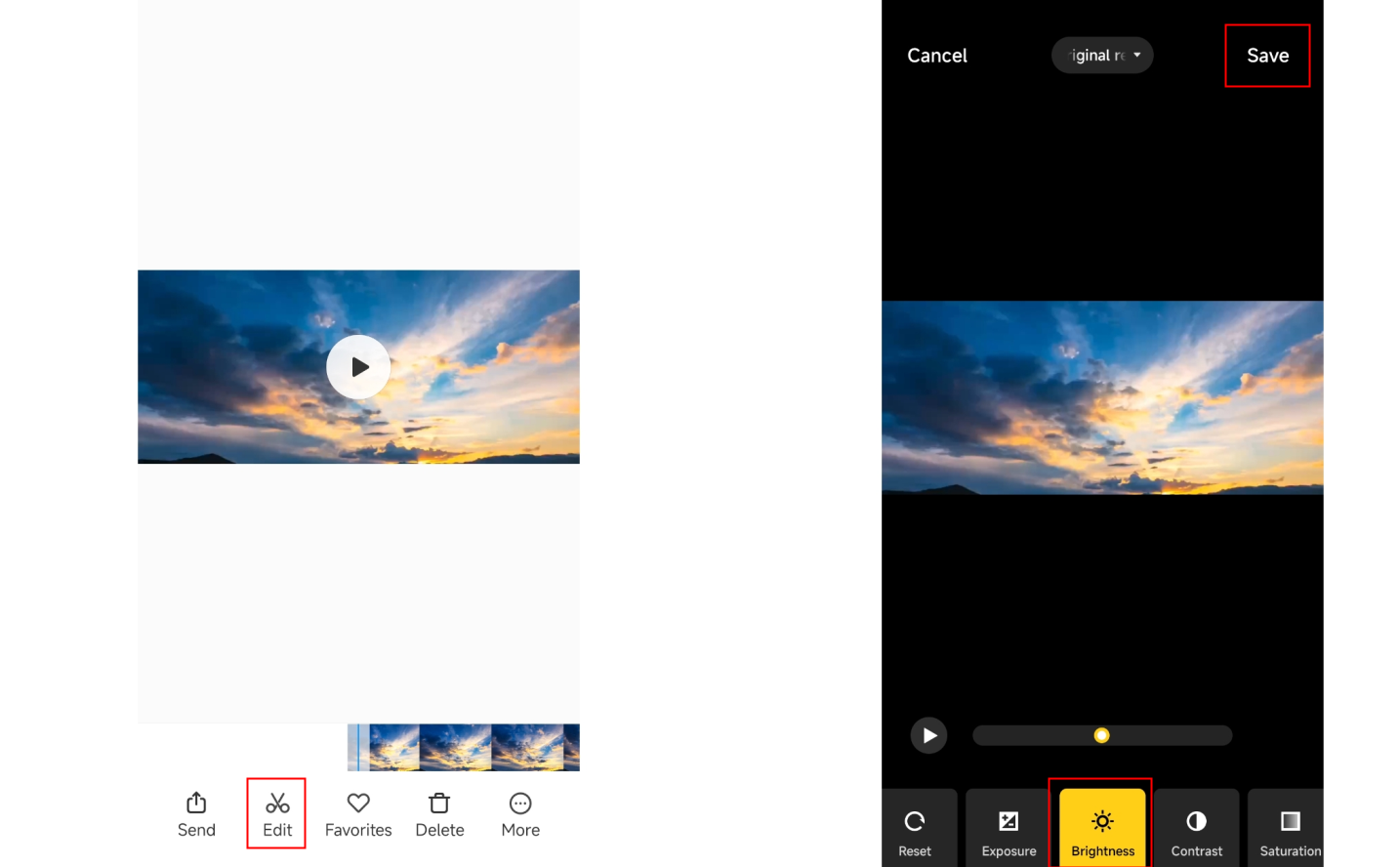 Step1. Find the video in Photos.
Step2. Click Edit> Enhance> Brightness to make the video brighter.
Step3. Press the Save button to save the edited video.
Wrapping Up
In this guide, I have shown you effective and effortless methods to brighten a video on Windows, Mac, iPhone, and Android. All video editors can help you change the video brightness without losing the quality and formatting of your file. Just have a trial of the tools and make delicate videos.
Products Reviews:
TrustScore
4
|
323
reviews