Two Fast FREE Ways of How to Convert MP4 to WMV
MP4 and WMV are both popular video formats. But compared to MP4, which is a lossy compression file, clearly, WMV has a lossless conversion in quality. So, it is a great solution to convert MP4 to WMV to play on the Windows-based media players. Well, for that, you have to find a great tool to do that. We here recommend you try WorkinTool Video Editor – VidClipper. It is a very mature video processor. With it, you can easily convert it to any wanted video format, and adjust the details as you wish. Moreover, it is 100% free to use. Come and experience its magic now.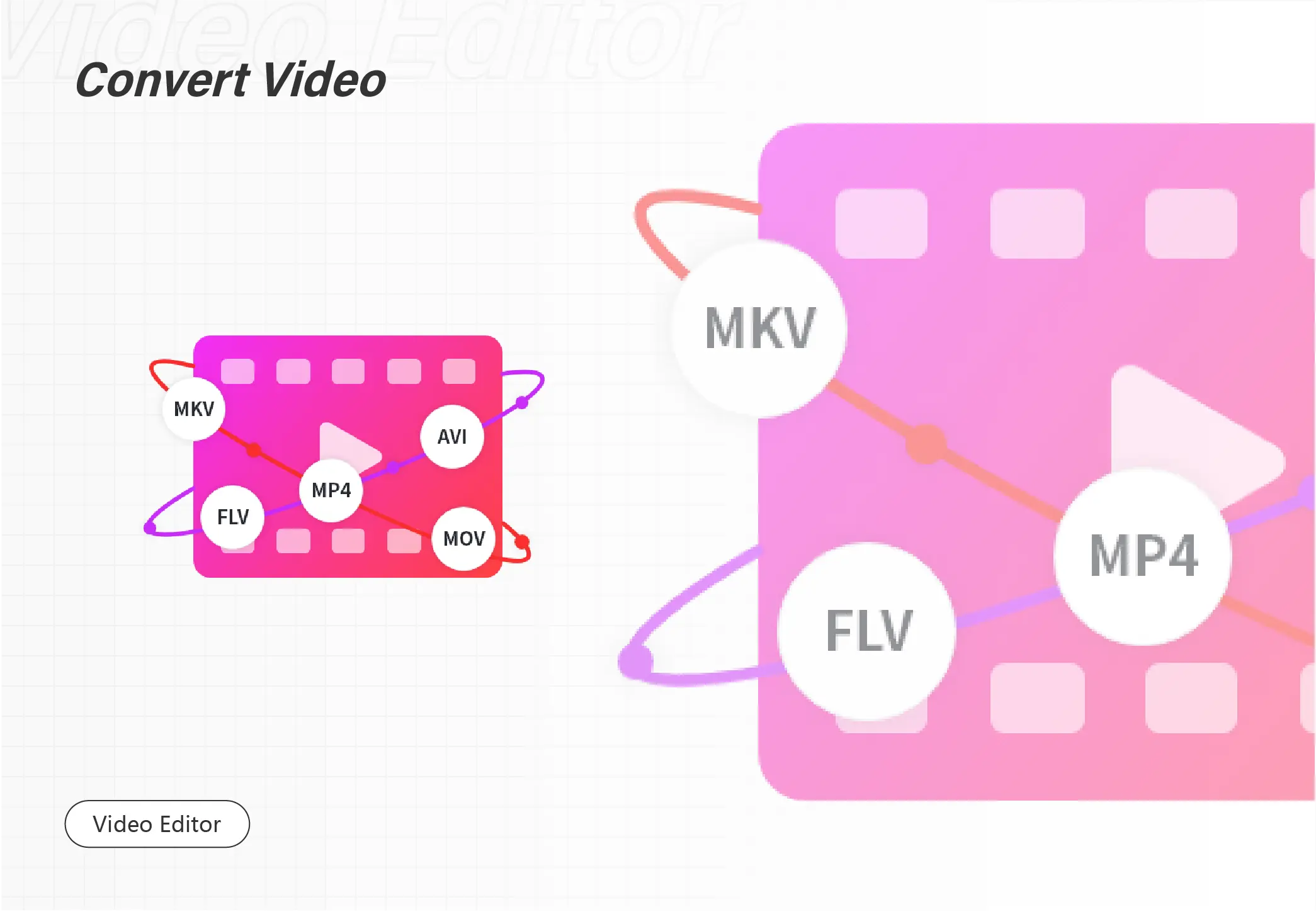 How to Convert MP4 to WMV | Two FREE Solutions
MP4 and WMV are both high-quality video formats. You can see MP4 as a  comprehensive container for a variety of video content on multiple devices, including Windows, macOS, Android, Linux, and so on. However, it comes with a compression function which will make it become lossy so that it will lose the video quality. And WMV, on the other hand, is better in quality savings. The main reason to know how to convert MP4 to WMV is that, compared with MP4, WMV does not lose quality when making a compression. And it is also suitable for different devices. It is of vital importance to grab the method how to convert MP4 to WMV. So, in this article, we will take your consideration and give you the best solutions.
---
How to Convert MP4 to WMV – Practical

 Method
Well, in order to convert MP4 to WMV, you need a video format converter that is both easy to use and convenient. But now the market is full of all kinds of converters, you want to rely on yourself to try them one by one until you get the perfect one, it is no doubt finding a needle in a haystack. Before you get the idea to quit and go with a random tool, we are here to recommend you try WorkinTool Video Editor – VidClipper.
It is an all-in-one video editor. Users can use it for video editing, recording screen, text to speech, and so on. Now, let's see how to use this tool to make converting work.
📚 Simple Steps to Change The Format
1. First, go launch this tool and click  + New on the main page.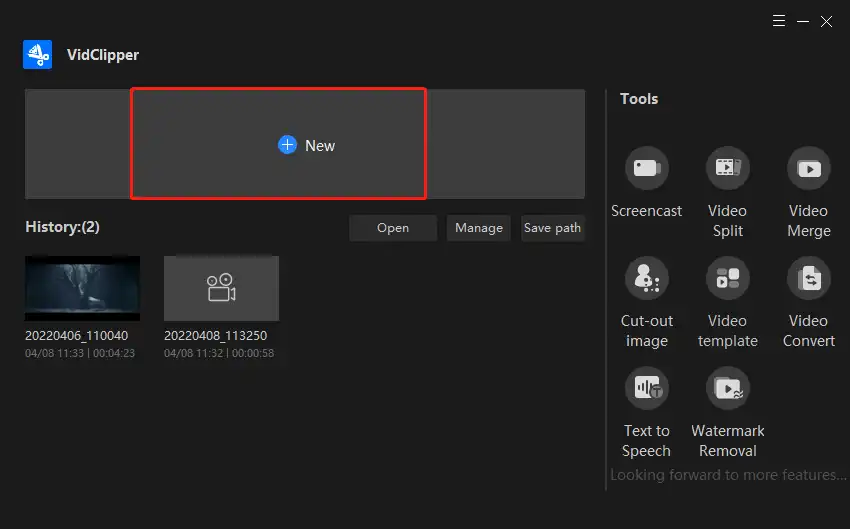 2. Click Import to get your MP4 videos uploaded into the source library and drag them to the timeline > Hit Export to convert the format.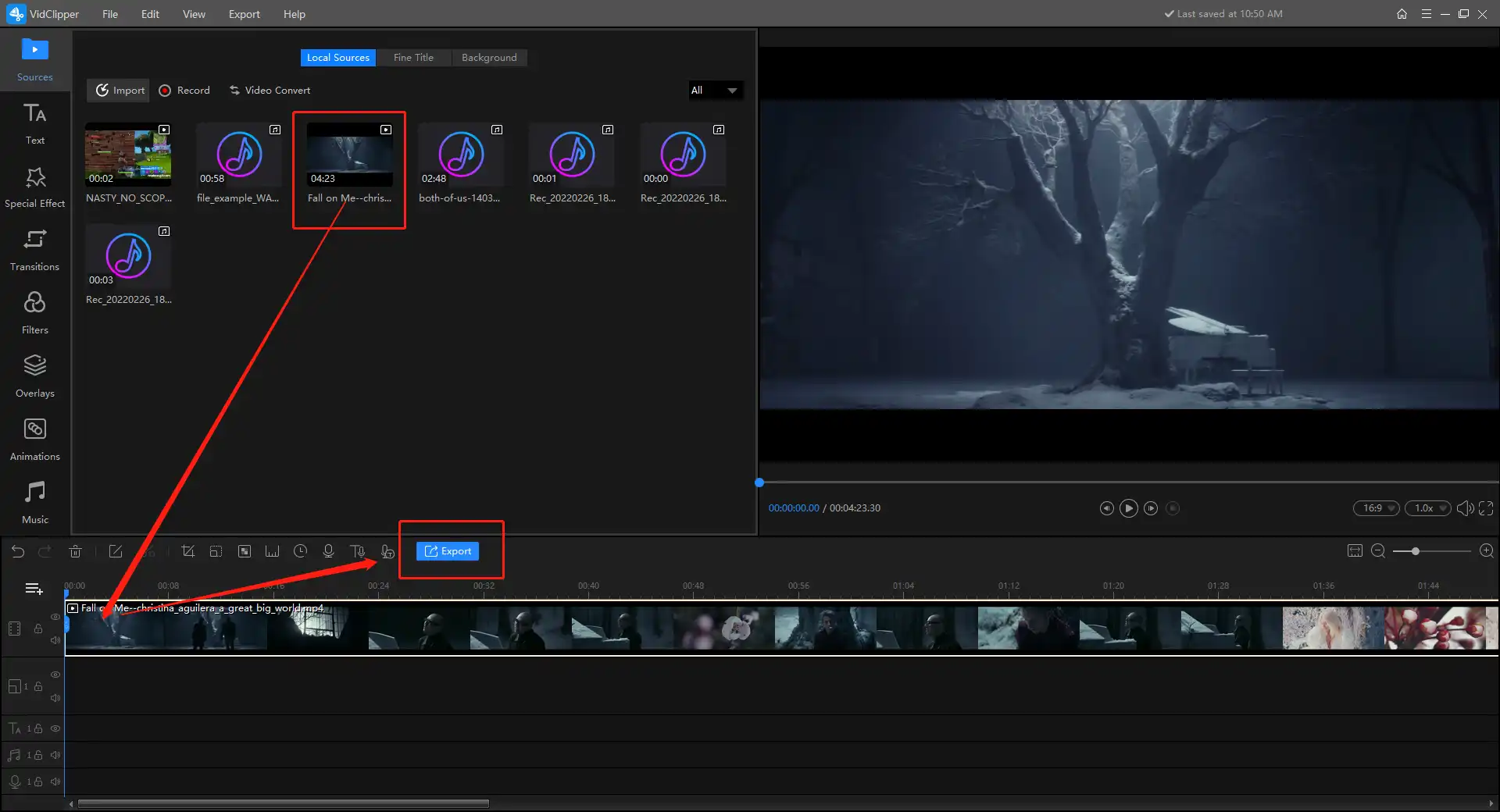 3. Then comes the converting part. On the Export operation page, you can customize the exporting options. Select WMV and check the quality, resolutions, length, and file size. If these figures are correct, press Export to start converting.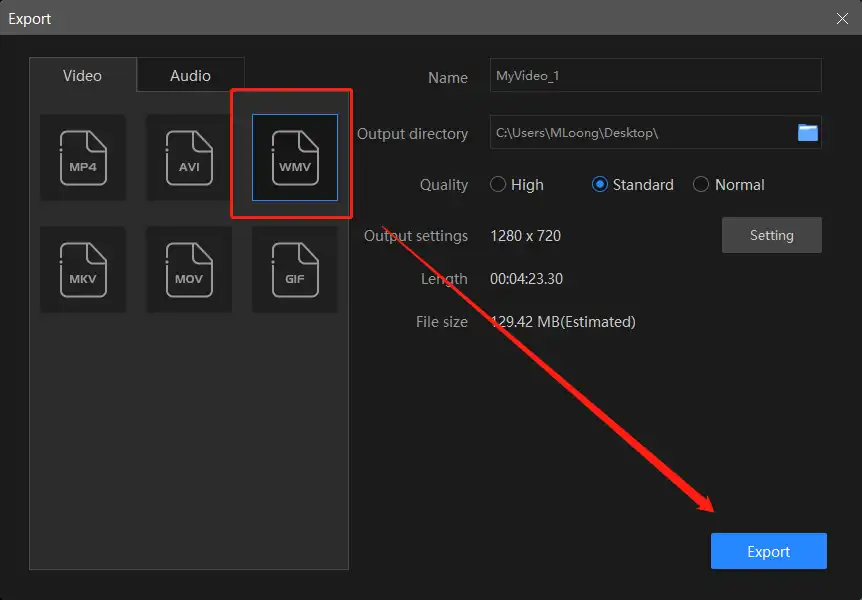 📣 Additional Settings
Except for the basic format checking, you are allowed to adjust the details from video quality to sample rate, which greatly facilitated the user for the video output format requirements.
Quality: To decide the output video displaying quality. Three options for High, Standard, and Normal.
Frame Rate: To decide how many images will be processed per unit of time. The higher it is, the better the video you will get.
Sample Rate: It is the number of samples of audio carried per second, it is also the higher, the better.
Bit Rate: To control how many bits will be processed per unit of time. The higher the bit rate, the better your video quality will be.
Resolution: To control the displaying screen size of your video. Normally the wider, the clearer, but also the bigger in size.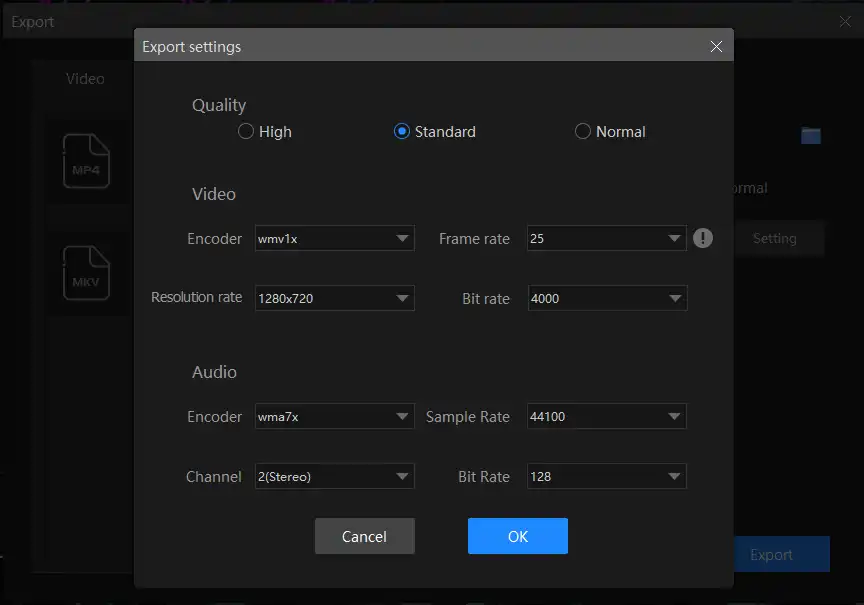 ---
How to Turn MP4 into WMV—Alternative Solution
In addition to video converters, there are some media players out there that are also taking on the responsibility of converting video formats. You should know that Windows Media Player, though it works as a great tool to support multiple video formats, does not work as a video converter. So, you might need to try the VLC media player. It is also a free multimedia player. If you are new to this tool, you have to spend some time finding the converting function in the hidden menu. Now, follow me, let me show you where exactly it is.
📖 VLC's Hidden Menu
First, go to Media > Convert / Save…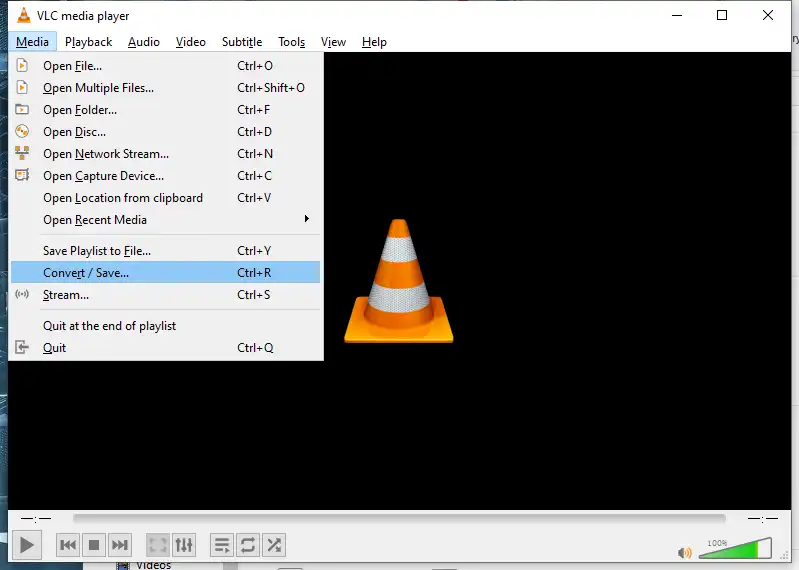 Then click + Add… to import your MP4 files > Convert / Save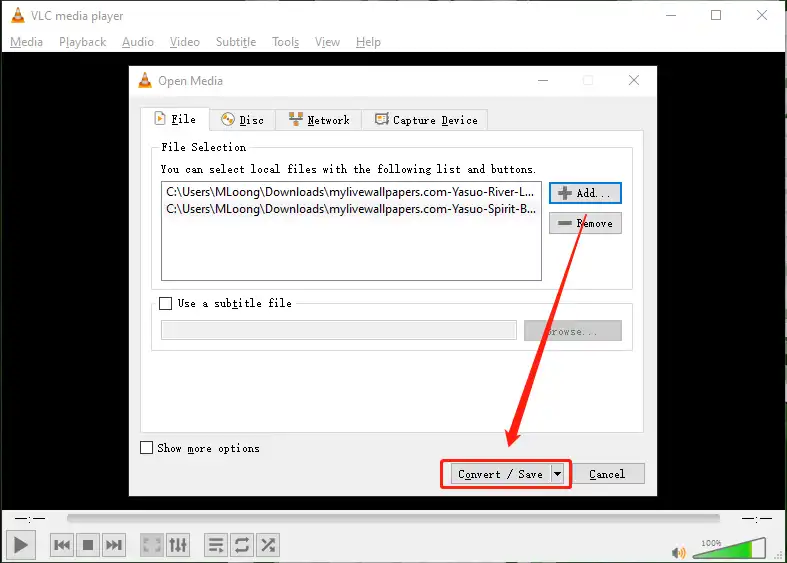 Next, go to Profile > Select Video – WMV + WMA (ASF) > Browse a saving location >Hit Start to convert.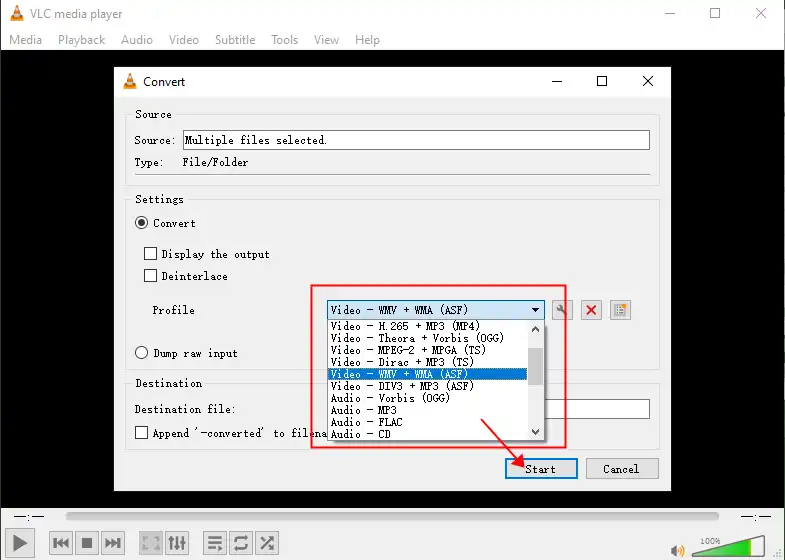 Something You Should Know Before Transforming
❓ Is WMV a Good Format?
The answer is an affirmative yes. not only because it is great for the lossless feature when getting a compression, which is very convenient for sharing through emails, but also because the quality will remain fabulous. Moreover, it is available for various versions of software. So compatibility is not an issue either.
❓ Which format is Better—MP4 or WMV?
It is very hard to tell which one is better in quality. Both MP4 and WMV can contain a quantity of video and audio data. The video quality is often not just a matter of coding, but also of the resolution, bit rate, and Frame rate. If we keep the video at the same bit rate, we will see MP4 is slightly better in quality compared with WMV. Well, that is because quality is not the only factor that can differentiate these two formats. WMV was initially designed for Windows devices. And when it comes to MP4, on the other hand, focus on cross-platform standards.
❓

Why Convert MP4 to WMV?
Even though we know that MP4 is one of the most commonly used formats for a variety of media players and devices on the market, it is still a lossy compression file and it is not playing very well on Windows-supported devices. WMV, on the contrary, is lossless and plays well on Windows. So, it is best to convert MP4 to WMV. Besides, converting MP4 to WMV can make it easier to edit on Windows PC and other devices like Android and Linux.
---
More to Share
As you can see from above, knowing how to convert MP4 to WAV is not very difficult once you have the right tool. And lucky you, after this post, you already have at least two free and available video-converting methods in hand. Of course, WorkinTool Video Editor – VidClipper has the best conversion features. Its built-in settings allow users to customize many other unsupported options. But no matter which tool you will use, I guarantee that you will have a great compression experience.
Now is the very moment you can join the ride to convert your MP4 to WMV. Have you prepared for it?
Products Reviews:
TrustScore
4
|
323
reviews