How to Edit a Video Free for Beginners 2022| (Step by Step Tutorials)
Even though there are tons of posts about how to edit a video online, seldom has one that can really help users. Therefore, in this article, I have thoroughly summarized several tips users might need. And I have provided users with a powerful video editing software – VidClipper, which is perfect for beginners. Because it is equipped with practical editing tools and doesn't charge a penny. Just as users wish. So don't hesitate, go download and install this video editor on your computer to explore the magic now.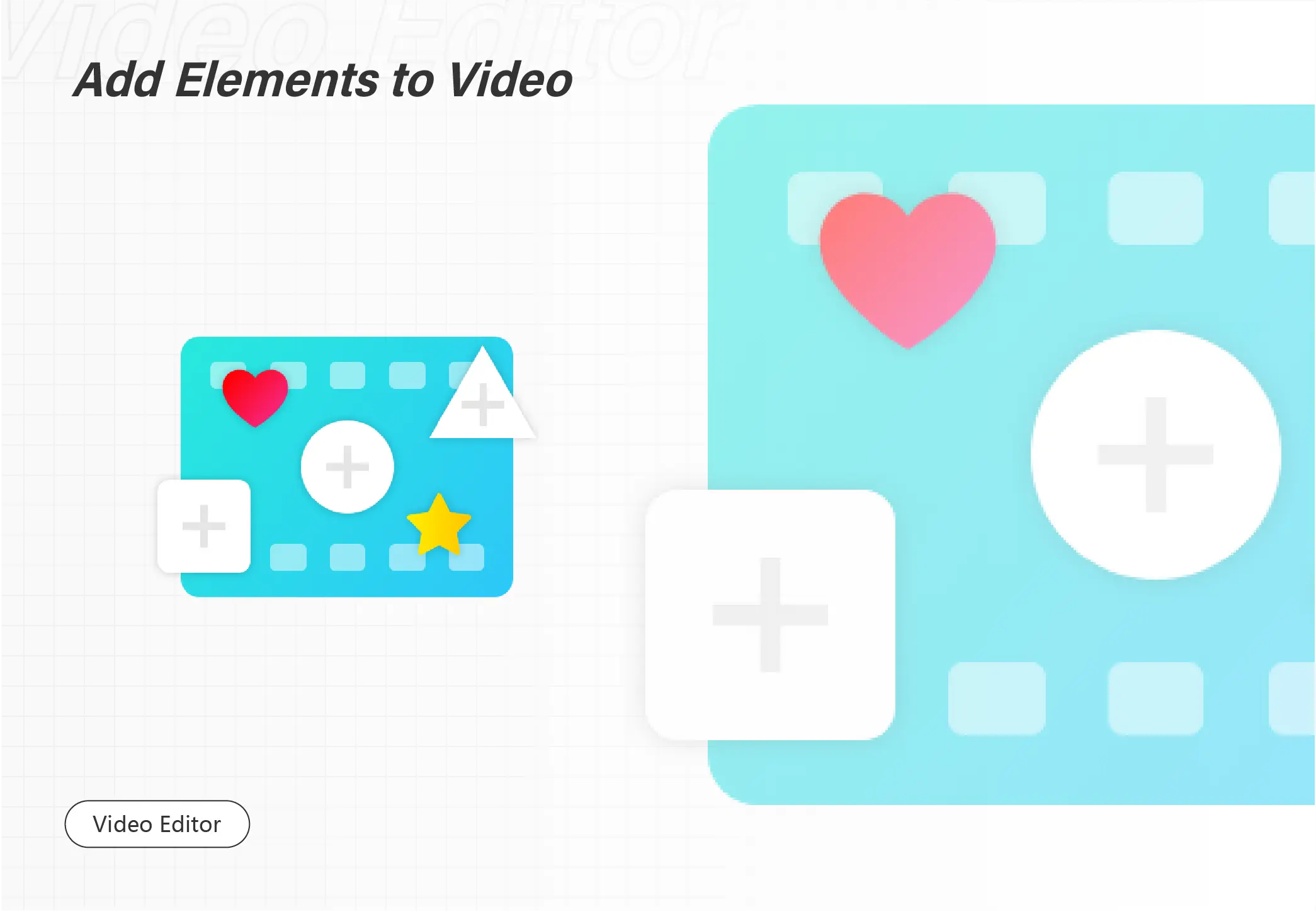 Just like others, you probably have seen or searched this question "how to edit a video" like a hundred times. But despite the growing number of online articles and blogs on how to edit video, there is little real learning that is worth paying attention to. What you need to know is that while the content of the job requires different video editing, from Large-scale commercial film production to homemade family union footage, the basics – simple video processing – remain largely the same.
Therefore, in order to help you with this editing video job, I personally have gathered the most professional article and tutorials online. And then I combined the highlights with my own personal experience of editing the video to write this article. I present it to you in the simplest and most understandable way, so that you want to know is how to make a great video as a beginner. You will also see the simple steps of how to edit a video by the all-in-one and super simple WorkinTool Video Editor – VidClipper.
---
How to Edit a Video For Beginners
For starters, video editing software that is too specialized and complex is often the least appropriate. In this case, you typically need software that is simple enough to do the job of video editing. So, here I highly recommend WorkinTool Video Editor – VidClipper. It includes enough video editing to satisfy anyone who has needs to edit videos. Users are allowed to convert text to speech, add music to videos, remove the background, etc. more Simple designs and functions also enable amateur users to quickly get started.  Download and install the VidClipper video editor and continue following the instructions to finish the setup.
🎥 Add Media into VidClipper
After opening, you will see the editing interface like below.  Hit the "New" icon.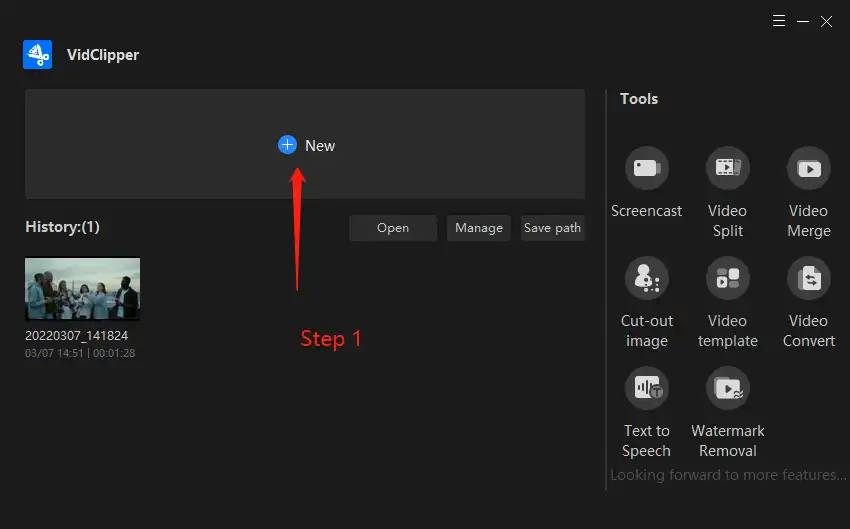 Then, import your videos. it could be films or audio. You can do this by clicking the "Import" button and navigating to the saving folder to add your media. Or, you could directly drag and drop your target videos from your computer into this workspace window.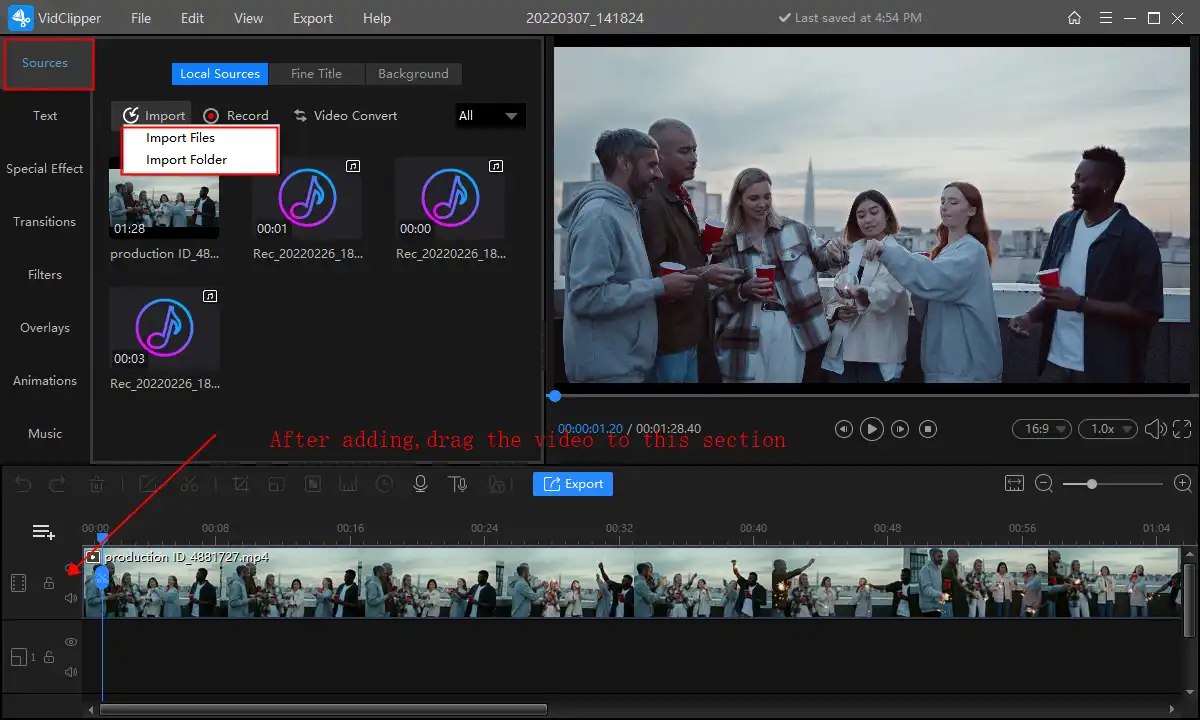 🎬 How to

Edit a Video
In order to edit the video, again, drag the video into the lower timeline section for a later process. Once you have put your video into the timeline, you can directly review the video effect on the canvas. There is an "Edit" button for users to quickly customize the video. Here, you can adjust the brightness, playing speed, contrast, and much more. You will also see the navigating bar on the left. Functions like adding text, filters, animations, audios are in that navigation area. Every time you have adjusted some elements in your video, you can hit the "Play" button to show the result. If it is not satisfying, click the "Redo" button on the left of Edit.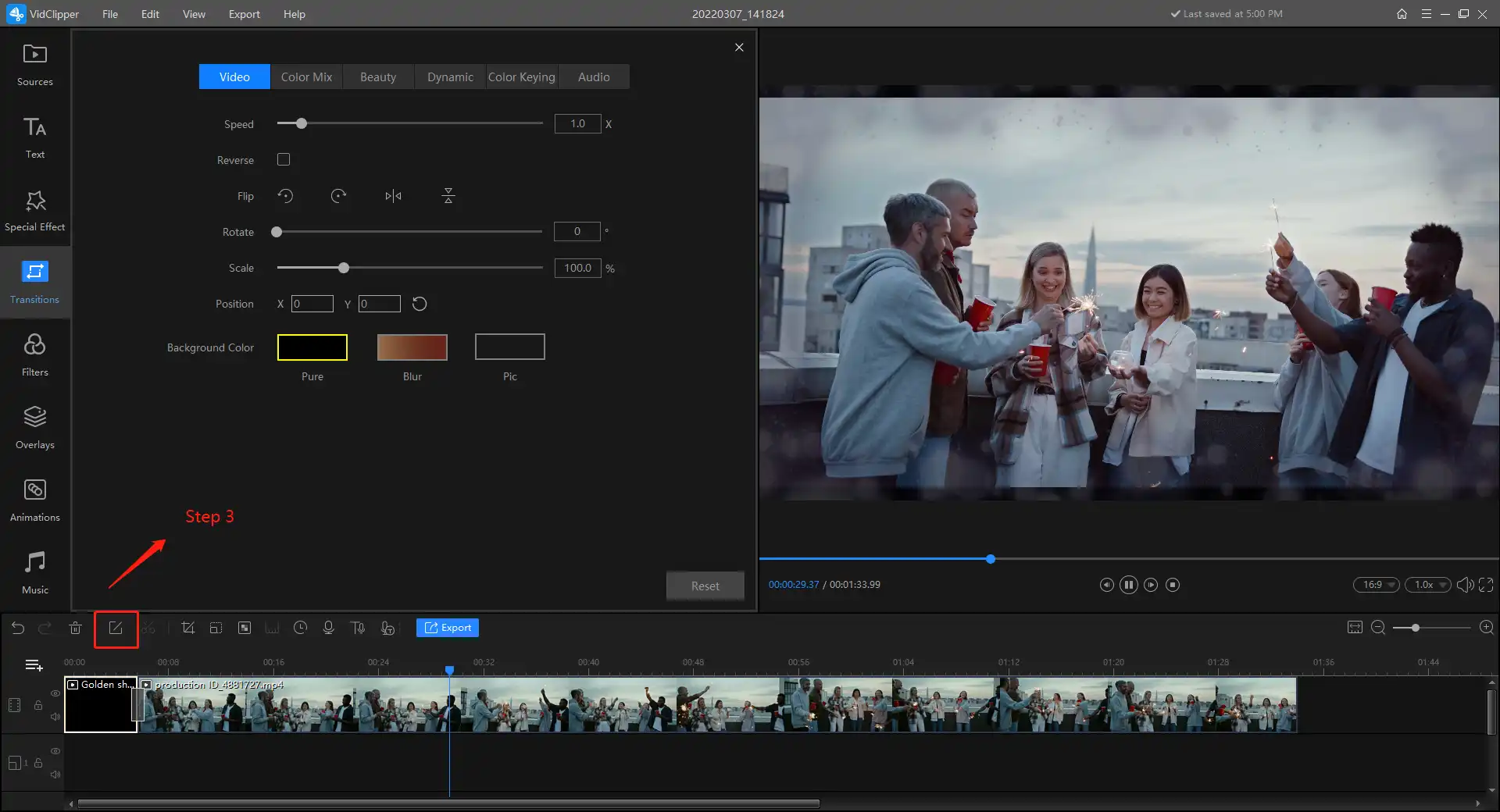 📽

Insert Text
After knowing the basic editing feature, it's time to explore more detailed parts. The first feature we are going to talk about is adding text. You can select more than sixty different text templates to add to your video. In the canvas, you can control its place and size by dragging the text box to adjust.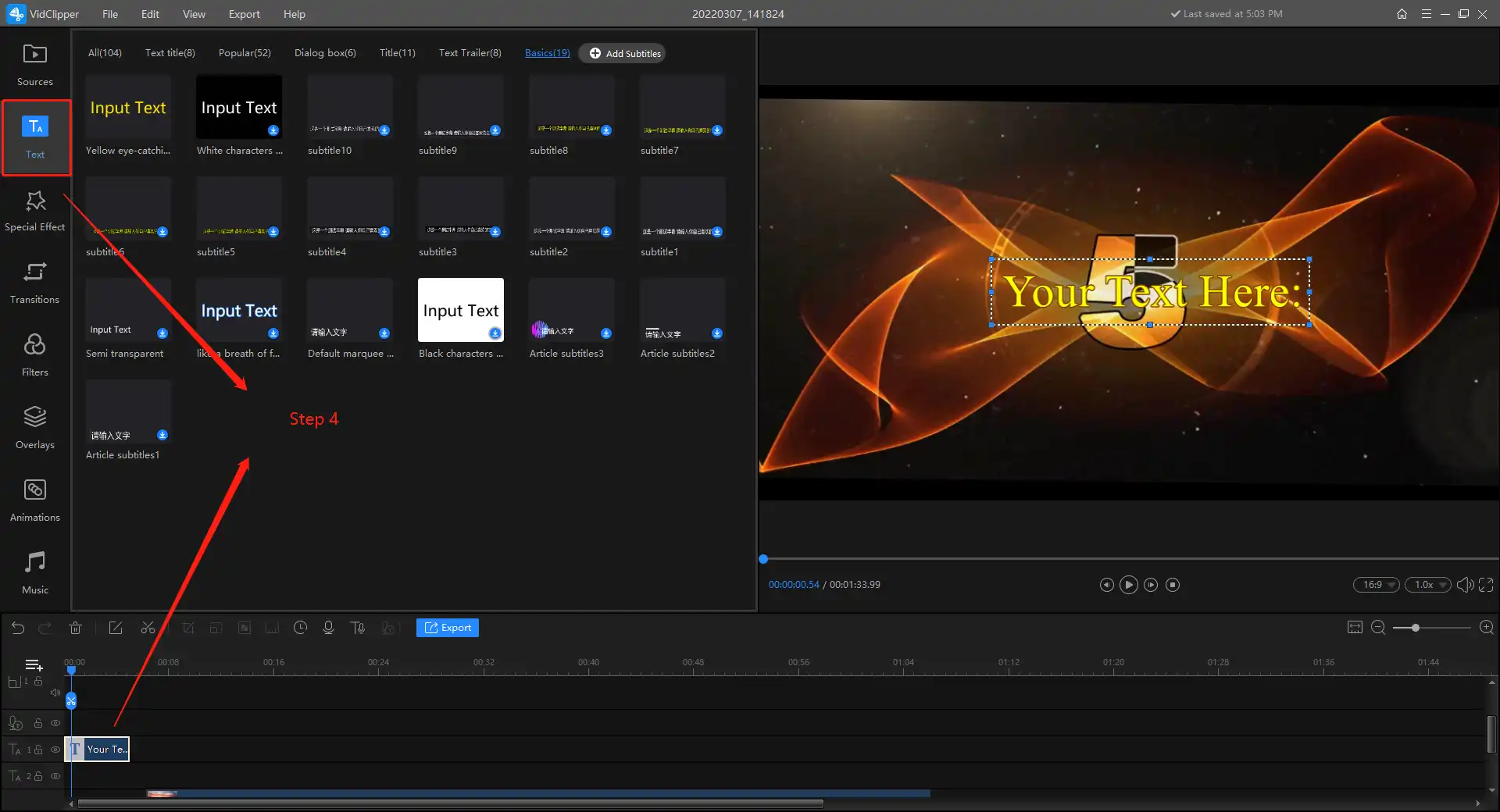 Double-click the template you have picked and it is added successfully. In the timeline section, you will also see the text option. Click it and modify the text content and other options like font, color, transparency, and effects.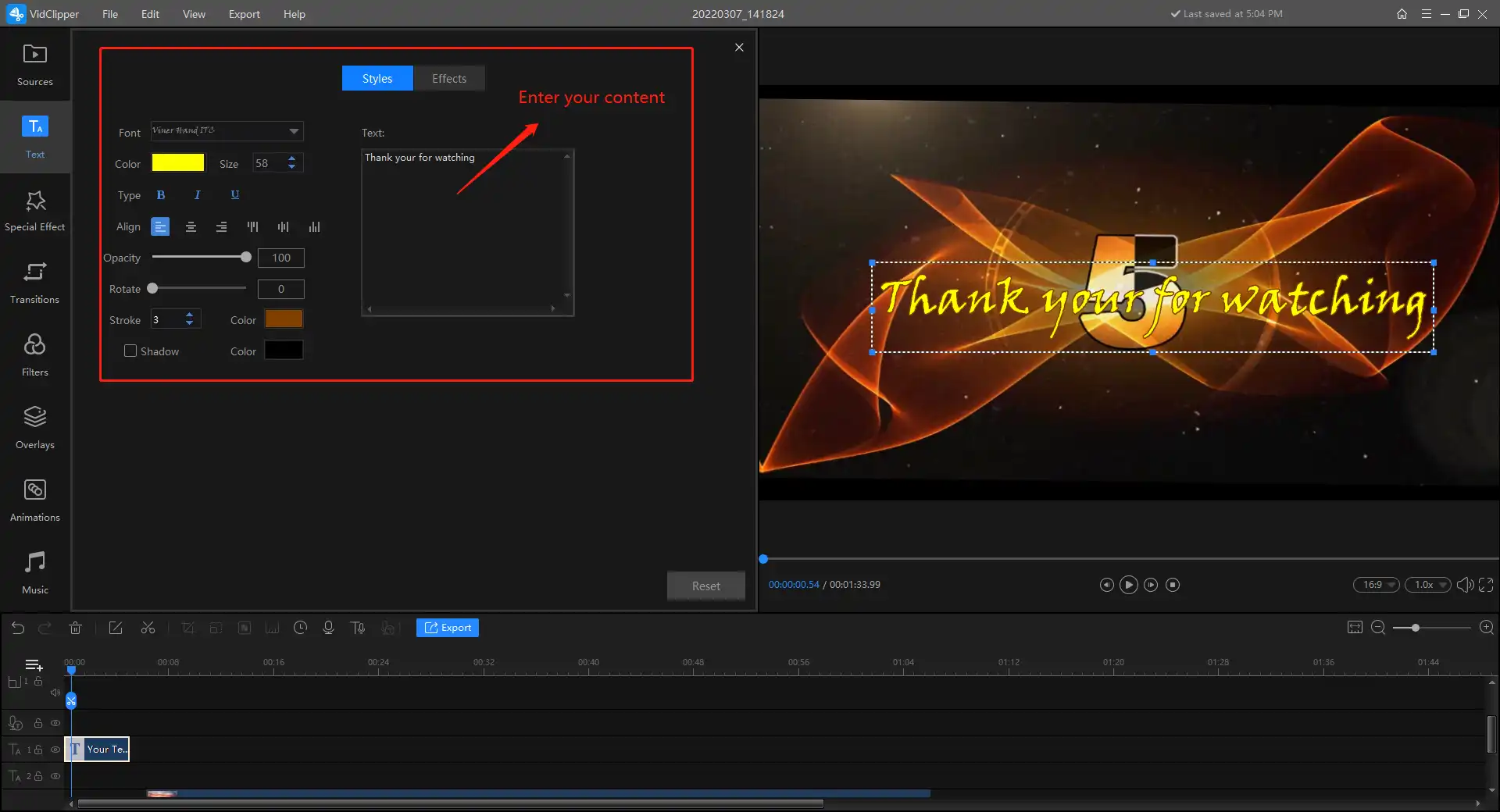 📡 Add Transitions and Filters
Same as before, you can add transitions and filters by the left option bar.  You can put the transitions between films or clips for a softer viewing experience. They are specialized for bringing the previous shot gently into the next. There are more than 70 different options for you to decide how do you want your video to look like. But be aware, you can only add a transition into two clips. Otherwise, it will fail to add. Or, you can cut your video in half and add the transition.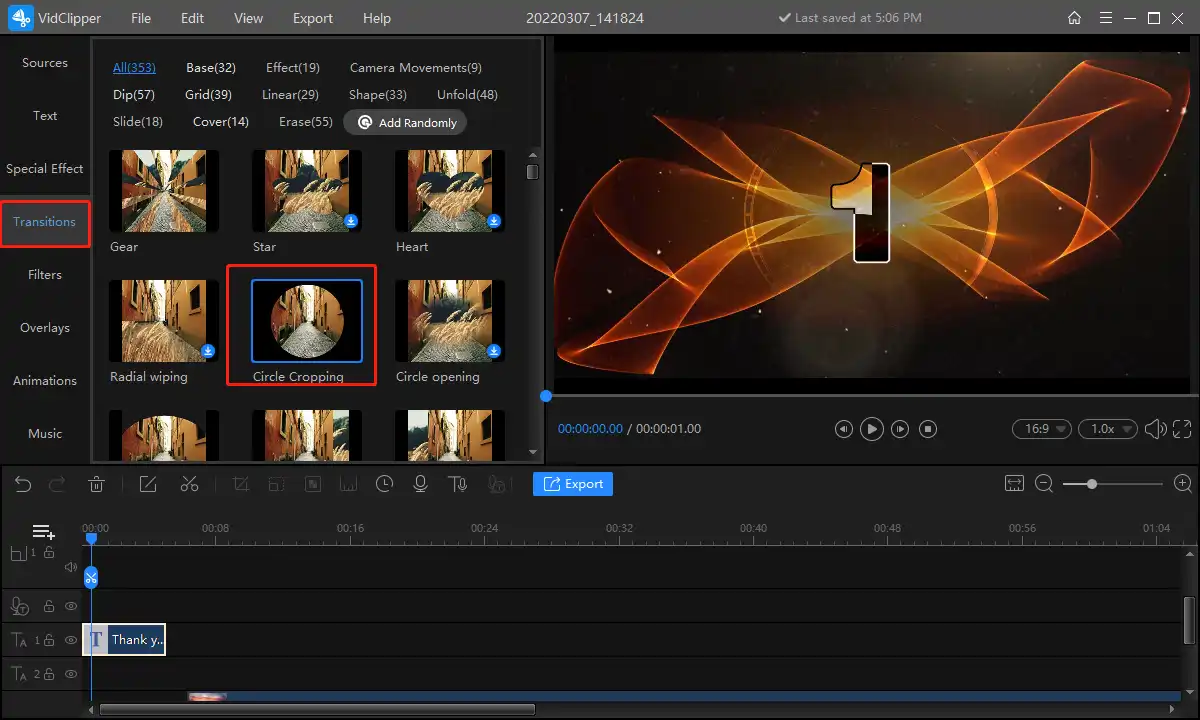 Same reason here. You can find different filters to stress the image on the video. Simply drag the filter you want in the library down to the timeline. You can extend the filter time to fit in the video.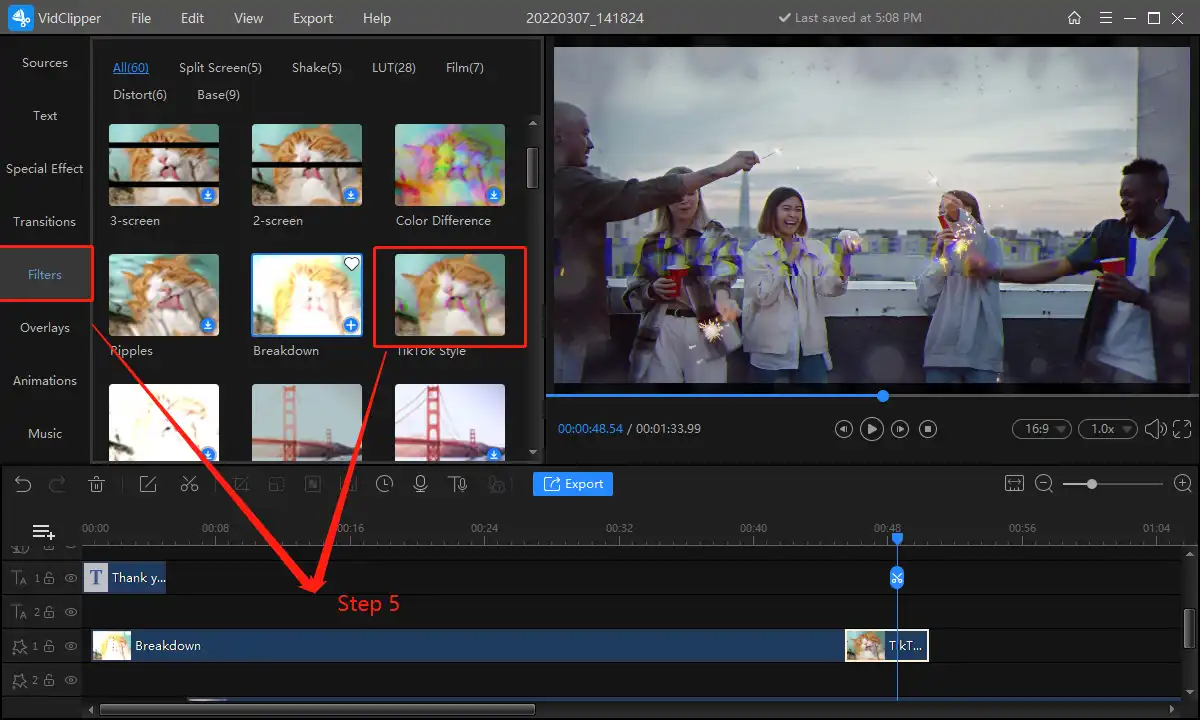 🎶 Add music to your video
Wanna give your video a different vibe? It is easy. How about inserting songs in your film? You only need to drag music from the library into the Music timeline. Double-click to play the music right away. All the music in the library is totally free to try.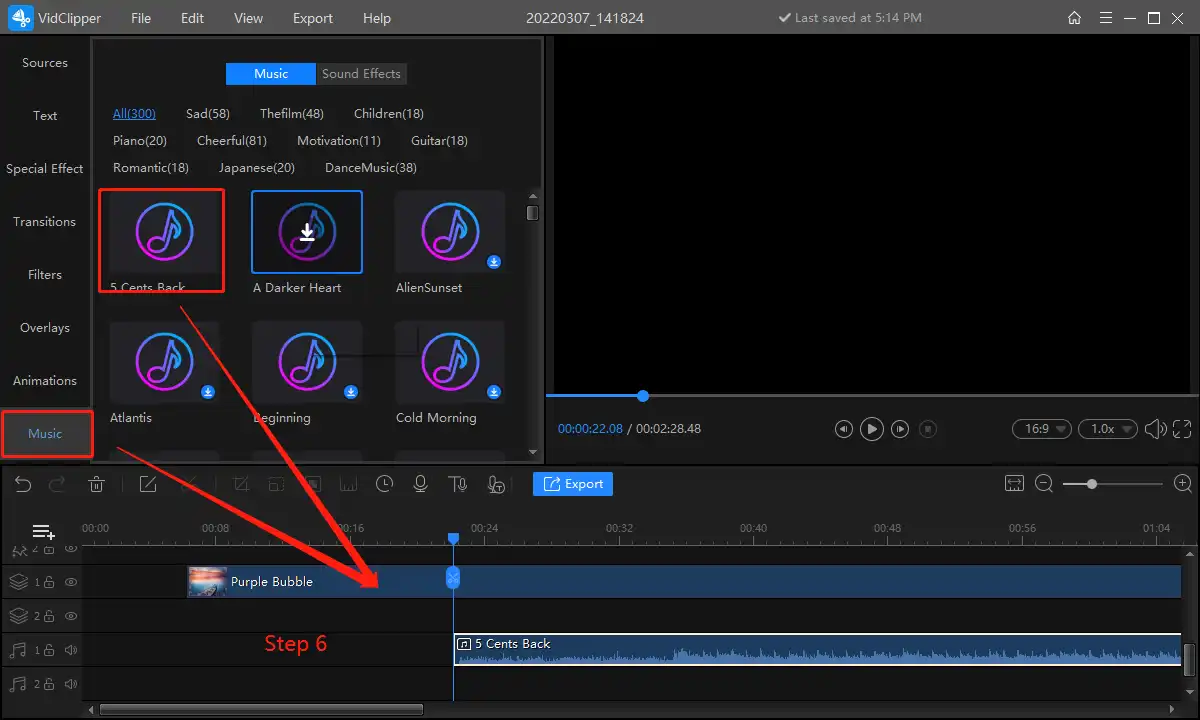 When you hit the soundtrack timeline, you will see several adjusting options like below. Here you are free to modify the music you pick to insert in your video. from the speed of sound effects. Add emotion to your video that belongs only to you.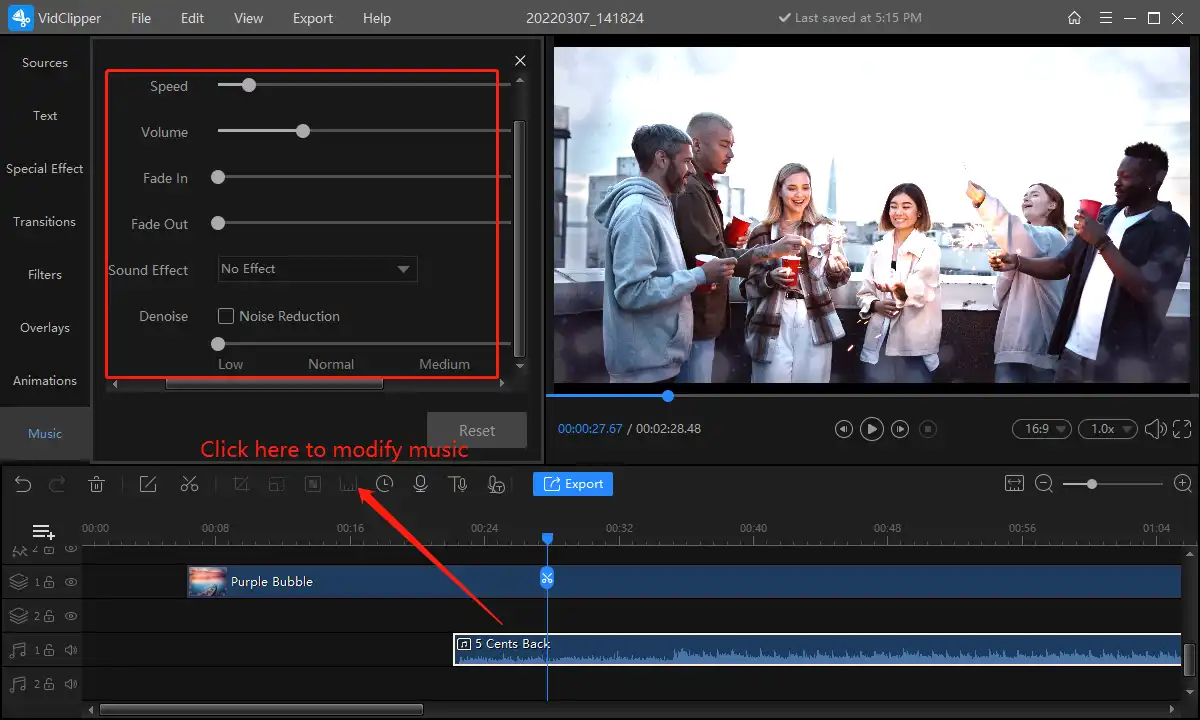 💾 Save Your Video
If you are satisfied with the video, now it is time to export the video to your computer for later sharing, But you have to know that there are many saving options to choose from. The default save format is PVE format. It is a format that is easier to edit and output to a different format. However, it is not a commonly used format. Go to "Export" and find the format you want it to be. Change the file name and saving folder. Adjust the video quality and size. When everything is on set, hit "Export" to save the video to your computer.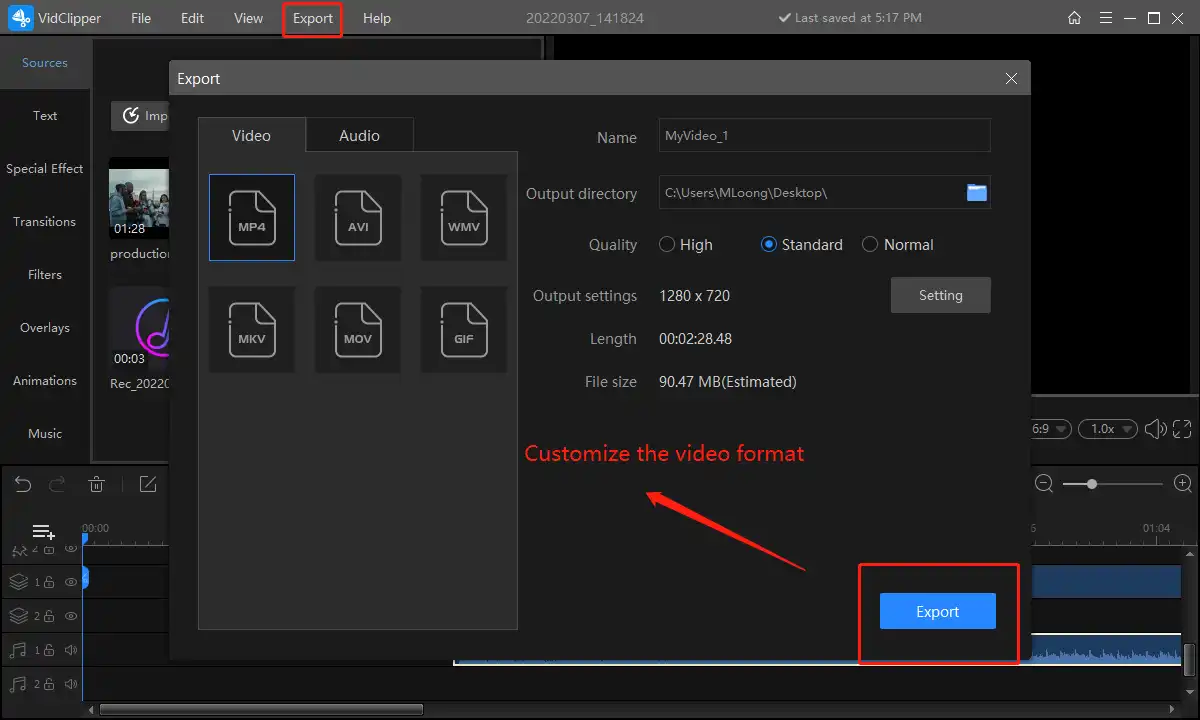 ---
More to Share About How to Edit a Video
Even though you can do some basic video editing on PC, like trimming and adding text, you cannot get your video to an upper level. So you need a video editor that is easy for beginners with complete functions. That is also why I recommend this VidClipper. With this powerful Video editing software, as long as you follow this instruction to trim your video, I guarantee that you will master the tricks of how to edit a video in no time.
Products Reviews:
TrustScore
4
|
323
reviews