How to Add Logo to Video on Windows in 2022
WorkinTool Watermark Eraser not just helps users remove unnecessary watermarks, it also gives them manageable ways to add text and images to pictures and videos. And of course, you can also add logo to video as you please. When speaking of logos, you can simply insert a pre-made logo right into your video with no fuss. Or you could combine text and images together as a whole logo to add to it. As long as to create a perfect effect for branding, customizing the logo to make it a unique one only for you.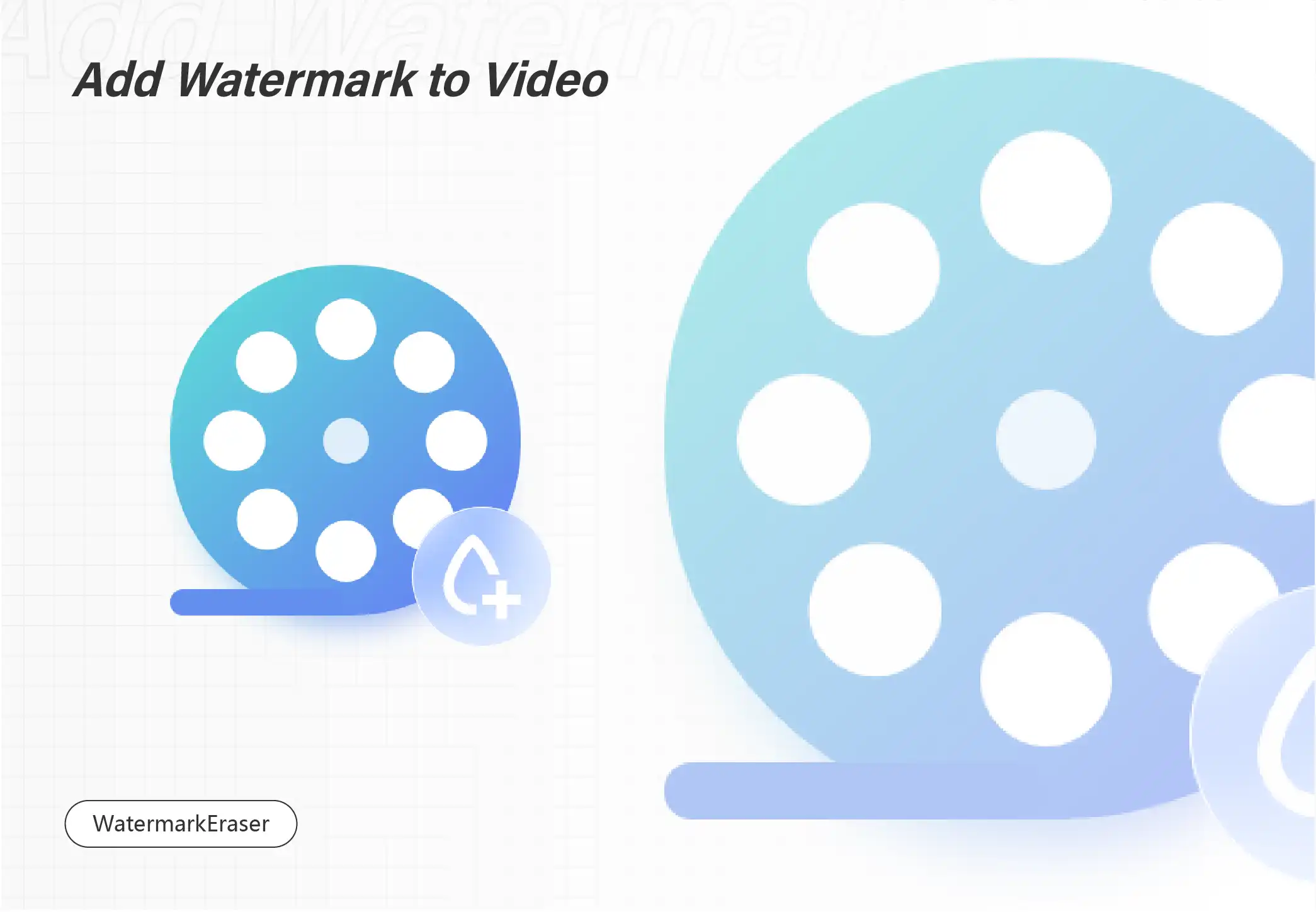 Now and then, when you use social applications or browse online media platforms, you will always see their logos hanging there. Logos can help audiences remember the brand, and next time if they want to find similar content, your brand will be the first one that comes to their mind. Adding proper logos can also tell people that you are the experts in this business area, making your content more professional. I mean, look at how successful Instagram and YouTube are. So no matter you work in a company or as an individual businessman, even an online influencer, adding logo to video on the background can make a big difference.
So here comes the question. How to add logos to your videos? Well, we strongly recommend this powerful Watermark tool – WorkinTool Watermark Eraser. Don't let the name fool you. Though it is called a watermark eraser, it is also acquired with fabulous inserting watermark functions. With this tool, you can simply drag and drop your targeted videos, and paste the logo onto the video, wherever you want. You no longer need to worry about troubles like video copyright infringement.
---
Add Logo to Video Via WorkinTool Watermark Eraser
I bet you must have tried dozens of similar software. Some of them require memberships. Otherwise, they will leave another watermark except for the one you operate. Some of them will not give you the satisfied logo effect as you expect. That is why, my friend, I recommend this super practical and light-weighted software to use.
When using WorkinTool Watermark Eraser, you will find out that it already has all the must-have functions. As a free watermark tool, you can add a logo to photos and add logo to video whenever and wherever you want.  If you think that is all it can do, then you are wrong. It provides users alternatives to change text fonts, size, color, layouts. Even transparency and rotation can be adjusted by the built-in operations. So that's why I want you to have a try. For inserting logos, it is farther than enough already.
Add Logo Picture to Video
First, you can use an already-made picture as your logo to add. I know normal in the case, most of you would have processed your logo before inserting it. So, here I am going to demonstrate how to do this ok?
First, open the WorkinTool Watermark Eraser and choose the "Add watermark to video" button.
Then you can either select your video from the computer or simply drag and drop the targeted video into this window.
And you need to upload the logo picture as a watermark insert.
From here, you can customize the logo:
When you want to move around the logo on the canvas, just click and drag it to anywhere you want it to be. shaping the logo only requires you to click and drag the sideways of the orange dot. There is another dot arrow, which is for users to rotate the image to a perfect angle.
Generally speaking, one logo is enough for one video. However, this tool supports adding multiple watermarks. For each watermark, you will find one yellow box corresponding to it. That is to show the time of the logo appearing. So you can set the exact second you want it to show on the video according to your needs.
Except you can drag to shape the logo, there are other options available to adjust the effect. For example, you can modify the size, transparency, and rotation of the logo, including three types of position layouts.
After you are done shaping the logo, just tap the "Save" button to seal the deal.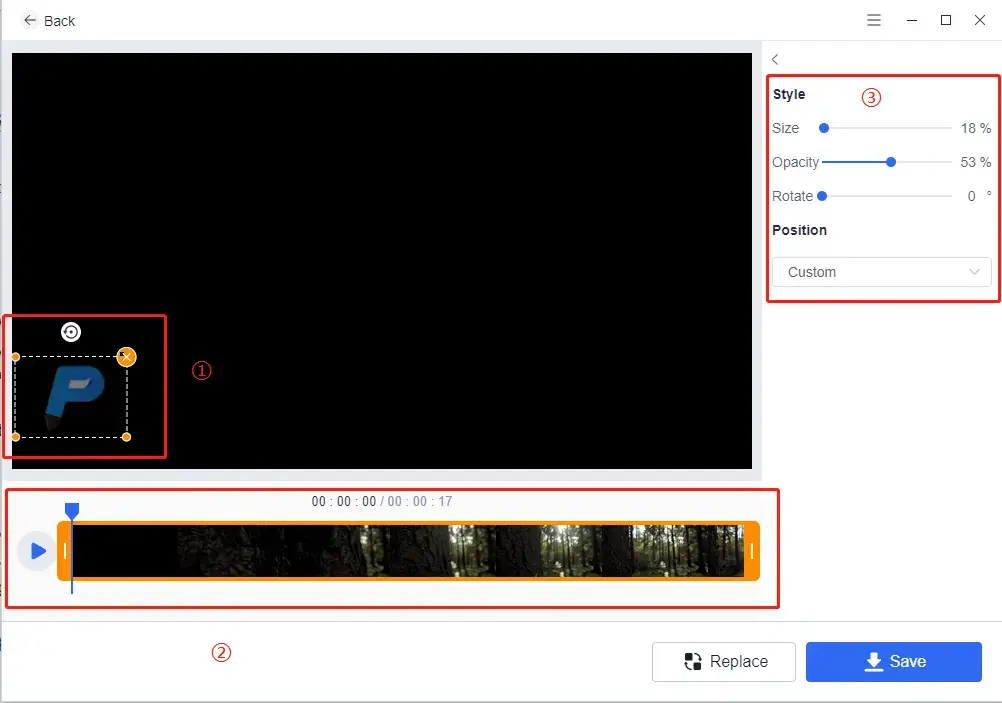 Combine Icon and Text
It is also possible if you want to manually make a simple logo while inserting. As we have mentioned, it supports adding multiple watermarks, and that includes text. By combing an icon and short text, you can add a special logo just for you.
The first two steps are the same as inserting pictures. You need to open the tool and put the video in it.
Then you can decide if you want to add text or icon first. Either one will not affect the final result.  Inserting an icon is just like inserting a whole logo, check method one if necessary.
Adding text to video is equally easy. You only need to enter the content into the text box. Besides the image watermark option, for text, you can change the font, color, making it bold or italics. Just experiment with the chemistry of different combinations by yourself.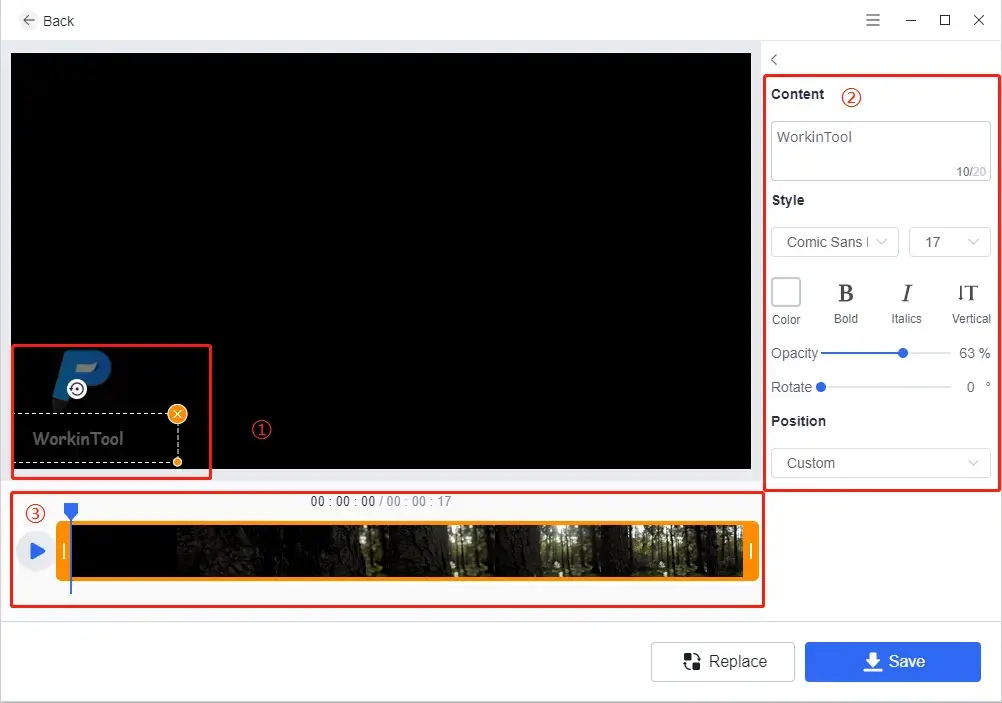 🚨 Notice:
However, this watermark tool doesn't help you paste the icon and text as one. So be sure to set the exact same time to show and end both icon and text. And you need to adjust their positions. You don't want them to appear at different places and times of your video right?
---
Why Choose WorkinToo

l to Add Logo to Video
Easy Interface
WorkinTool Watermark Eraser makes sure that users can easily understand the function of every button, greatly reducing the possibility of using a difficulty. It doesn't require any advanced video editing knowledge at all.
Fast Operation
All the operations in this are effective immediately. You don't have to experience an extremely long time to check the result. Not to mention waiting for lengthy video exports.
Multiple Options
Pictures are just a part of logos. You need to glue text to show what it symbols. WorkinTool Watermark Eraser offers multiple options for users to insert text and combine them together. You can try to shift its font, size, color, or adjust the transparency and rotate to match the icon. So that you can find a special combination to make your brand stand out during the video.
Live Video Preview
WorkinTool Watermark Eraser allows users to preview the effect in real-time on the canvas. That is because WorkinTool always makes sure that users get the best service. A real-time preview can prevent a do-over if the final export is not as good as expected.
If you have read it here, you can just download it and enjoy the journey it gives to you now. I mean what do you expect more for a free but super practical tool. I don't believe there is something it cannot fix for normal watermark problems. Also, if you have any good suggestions or troubles during use, please contact us at any time. Your words can help us to make it better.
Products Reviews:
TrustScore
4
|
323
reviews