Best Video Watermark Software [2023 Reviews]
This article lists 4 best video watermark software and makes comparisons among these video watermark tools.
They are WorkinTool Watermark Eraser, Filmora, Format Factory, and Video Watermark Pro.
Read about 5 minutes and find the best video watermark software for you.
Here is our latest review list of the best video watermark software for 2023. It seems that we have moved into an era of video sharing. More and more people choose to share and get information from video content. For instance, YouTube and TikTok. It is hard to say that video will not become the most popular information carrier very soon.
As more people get in contact with video production, many related issues rise in response. Watermark is one of the important topics. On the one hand, many video producers share original stuff on the internet, and they want to protect their originality if others repost their videos. So they add watermarks to their videos. On the other hand, some people may download videos from the internet and use the videos for some noncommercial purposes. So they demand removing watermarks that cover crucial information from videos.
In short, both of them require a perfect solution to cope with watermark issues.
4 Recommended Best Video Watermark Software 
There are many video watermark tools in the market. We pick 4 of the most competitive options for you in this article. In general, they share rich features and can export high-quality outcomes. However, each of them has uniqueness, so you can compare them and pick the most suitable one for you.
WorkinTool Watermark Eraser
In short, WorkinTool Watermark Eraser is a professional watermark editor. It is lightweight software but with rich features. There are easy and quick accesses to add watermark to video and remove watermark from video. Apart from dealing with video, the platform also supports inserting watermarks into photos and deleting watermarks from images. In addition, the inset supports both text and image. You can put the added watermark to any place you want, and you can adjust their timeline. Moreover, you can add multiple watermarks to video and image, and do a batch removal as well. Meanwhile, it provides a useful tool to resize your video and trim your video to produce a better outcome.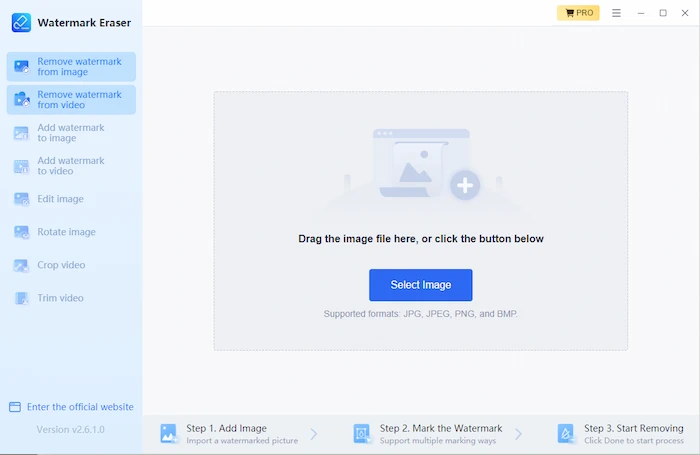 Pros 😘:
Able to add both text and image watermark.
Various styles for the added watermark.
Change the opacity and make your watermark anywhere you wish.'
Lightweight design to save storage.
Provide elementary video editing functions.
Remove watermark smoothly.
Free trial.
Cons 🙄:
Not support online working. You have to download the desktop software.
Format Factory 
Although the Format Factory seems old-fashioned in design, it is a fully-featured multimedia converter that allows you to convert audio, video, and even images, among the most popular formats. It also offers ways to add watermark to your videos for free and quickly. You can simply change the render settings, confirm the signature, size, and logo, position the proper location, etc. The most outstanding point of this software is that it can extract audio or video from a DVD or CD and help you save it on a local computer.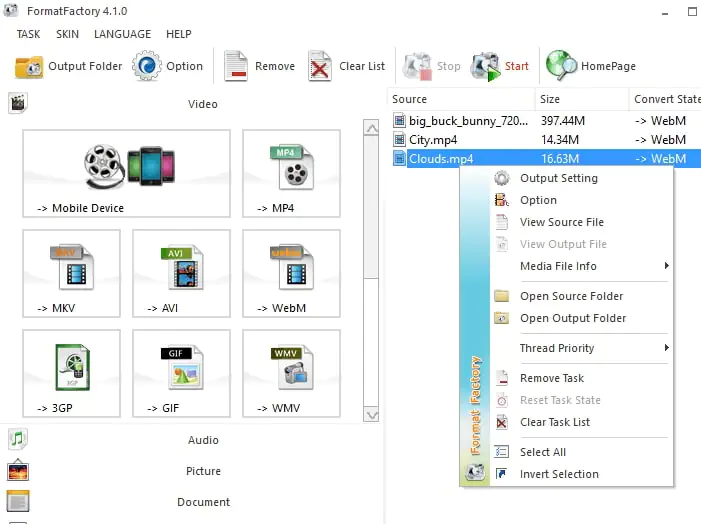 Pros 😘:
Make adding watermark easy and quick.
Able to convert videos to other formats.
Also, capable to extract video from DVDs or CDs.
Free to use.
Cons 🙄:
No online version.
Unattractive user interface.
Wondershare Filmora
In brief, Filmora is one of the best video editors in the market. It provides professional features to deal with video issues, and the watermark is one of them. It supports adding both text and image watermarks to the video. You can simply change the position, duration, and opacity of your watermark. Besides, it is also able to make multiple watermarks. However, although it is a very fully-featured editor for video, it is too large to a large extent, over 1 GB.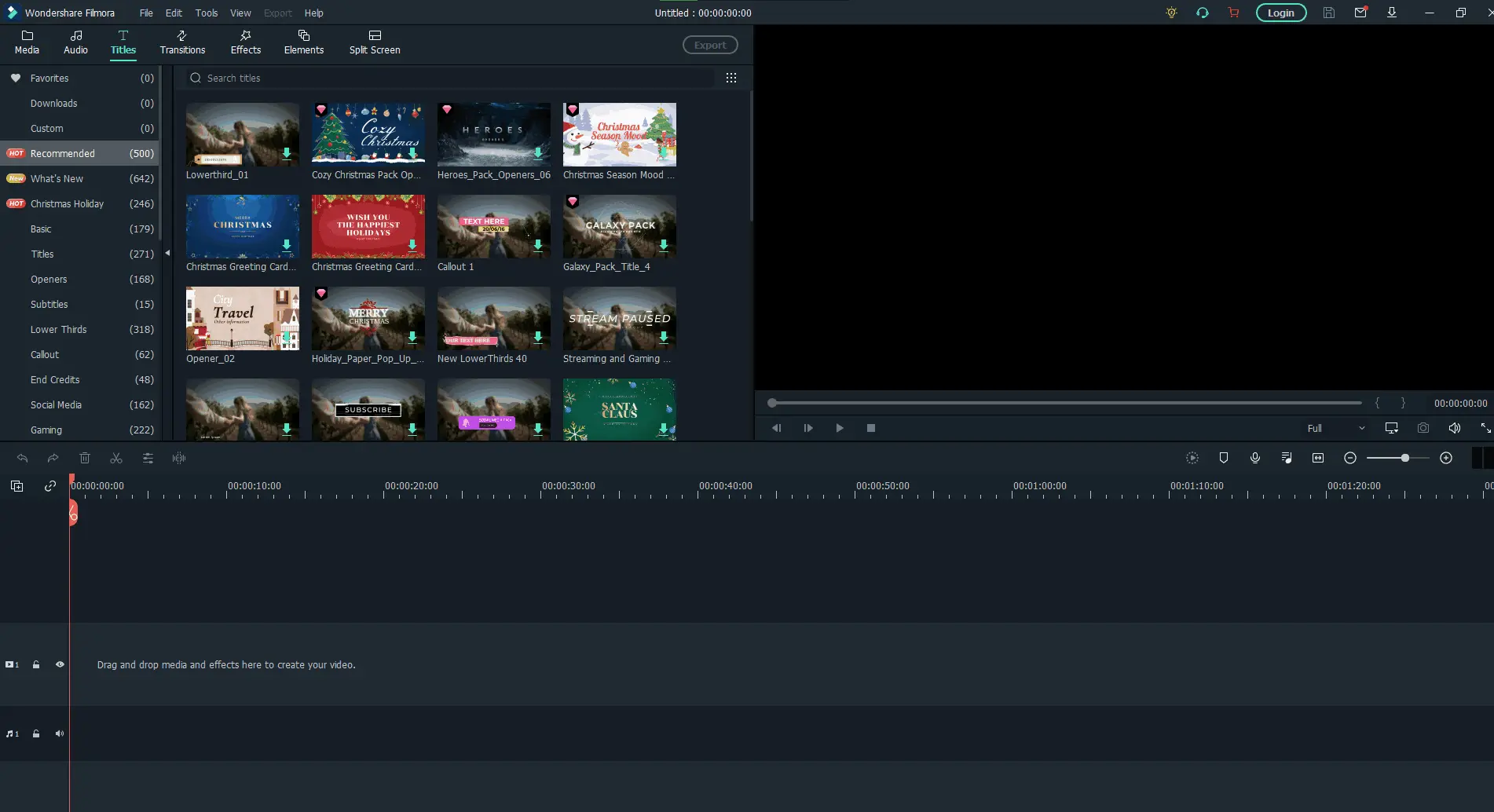 Pros 😘:
Support text, images, and even video watermarks.
Provide many watermark effects.
Able to deal with other video issues effectively.
Free trial.
Cons 🙄:
Too large if you only want to cope with video watermarks.
May not be friendly to new users.
Relatively expensive.
Video Watermark Pro
In short, Video Watermark Pro is a good solution to protect your video copyright. It allows you to add identity signatures, ownership text, company logo, and even geometry graphics on video files. Meanwhile, this software offers over a hundred materials for image watermarks. So it is an easy approach to make an individualized watermark for your video. Moreover, the platform also contains converting features. It can convert video to other formats. Another useful function is that it can capture snapshots from the video.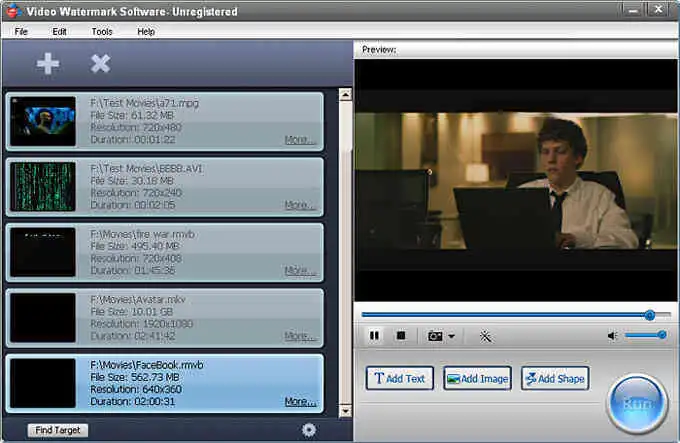 Pros 😘:
Offer various samples of an image watermark.
Easy to make a personalized watermark.
Able to capture snapshots from the video.
Also, capable to convert video into other formats.
Free trial.
Cons 🙄:
Unattractive user interface.
Not able to deal with watermark things for images.
$69.95 for a lifetime license.
Which One is The Best Video Watermark Software?
It is hard to say which is the best video watermark software. But, we can draw some short conclusions for each tool.
WorkinTool is a specialized watermark tool with a lightweight. It provides rich features to add and remove watermarks. You can deal with it in both image and video. Also, it has an easy way to resize your video. You can even trim videos. Last but not the least, it provides a long-term free trial.
Format Factory is a free video format converter that offers watermark features. It is free.
Filmora is a professional video editor. It is large and premium. The watermark feature is only a very little part of it. But it is a perfect choice for video makers, who frequently cut and edit videos.
Video watermark pro is good in many aspects, but it is not able to add a watermark to an image via it. It also offers to convert service and can capture a snapshot from a video.
In conclusion, it is your own choice to decide which is the best. In terms of watermark per se, we suggest WorkinTool for a better experience.