How to Copyright a Video for FREE in 2023
Copyrighting a video becomes increasingly essential for social media lovers in possession of strong awareness of intellectual property. However, you don't have to seek a professional copyright service. All you need to do is to use some useful tools to add copyright protection to your videos. In this article, we introduce you to two ways to copyright a video for free, which are inserting a text watermark and an image watermark to it. Also, we present you three free tools to achieve these goals and attach the tutorials on their usage for your reference. Please start your reading now.
A Guide for Social Media Lovers on How to Copyright a Video for FREE in 2023
Social media now is an indispensable element in almost everyone's life. After you film a clip of your family get-together or create a video log in your journey, the first thing that you want to do is to upload it onto the platforms like YouTube or Instagram. Much as the convenience of the internet makes your "works" shareable, it makes them accessible to everybody, which might subject them to the possibility of being "stolen" or "misused".
Therefore, it is important to copyright your videos even though you are outside the artist world. However, for social media lovers, it is unnecessary to use a professional copyright service offered by Electronic Copyright Office, which is a little cumbersome and money-consuming. So are there any FREE methods of achieving this goal?
Well, yes. Please read this blog to find out some effective and free ways to copyright a video in 2023:
What Is a Copyright And Why Should You Need It?
How to Copyright a Video for FREE Through Text Watermark?
How to Copyright a Video for FREE Through Image Watermark?
Something More to Say.
So let's start our journey.
---
What Is a Copyright And Why Should You Need It?
🙋‍♂️What is a copyright?
According to the U.S. Copyright Office, copyright is a type of intellectual property that protects original works of authorship as soon as an author fixes the work in a tangible form of expression. In simple words, copyright is designed to protect the original tangible works made by you while others will have no access to them without your permission, including direct usage and reproduction.
🙋‍♂️Why Should You Need Copyright?
You are definitely a copyright owner once you have created something tangible, even a short video made for social media. Without copyright, your videos are accessible to everyone and may be misused by them for some illegal purposes. When there is something equivalent to copyright, like a text or a logo, on your videos, most people will shun the idea of taking it as they will understand the meaning when seeing it. Hence, it is essential to place copyright protection over your videos.
So please go on reading this article to know how to copyright a video easily without a payment.
---
How to Copyright a Video for FREE Through Text Watermark?
One of the easy approaches to free video copyright protection is to insert a text watermark. After making your video, you can put your name, a short phrase best representing you or even a warning sentence to copyright protect it.
There are two methods of putting a text watermark in your videos.
1. Use a Desktop Tool–WorkinTool Watermark Eraser.
There is no doubt that a useful desktop tool makes it convenient and simple for you to add a text watermark to your video. Watermark Eraser is such a practical one.
WorkinTool Watermark Eraser is a powerful all-in-one watermark solution provider. Designed with an easy-to-use interface and clear navigation, even beginners will find it friendly to operate. With its help, you can create a text watermark in your video effortlessly, instantly and safely. Moreover, there is NO license payment needed to enjoy all the features of Watermark Eraser currently.
How to add a text watermark to a video via Watermark Eraser?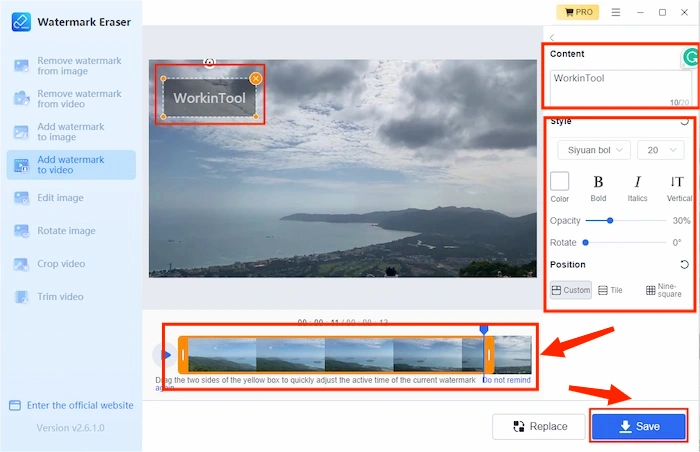 1. Open the tool and find Add watermark to video.
2. Choose Select Video or drop your file in this area to upload your video and then click on Add text watermark.
3. Type your texts in the Content, adjust the Style and Position, select the time span for the watermark.
4. Click on Save to get a copyrighted video.
2. Use Microsoft Photos
If it bothers you to install a third-party tool to copyright your video, you can also resort to a built-in program in Windows 10–Microsoft Photos.
Although it is designed as a photo editor, it integrates the features of Windows Movie Maker in Windows 10. So it is possible to use it to undertake basic video editing. Also, adding texts to a video is not challenging by this free program. Moreover, animated text styles are optional.
A guide for generating a text watermark in a video by Microsoft Photos.
1. Open the video with Microsoft Photos.
2. Select Edit & Create and then find Create a video with text.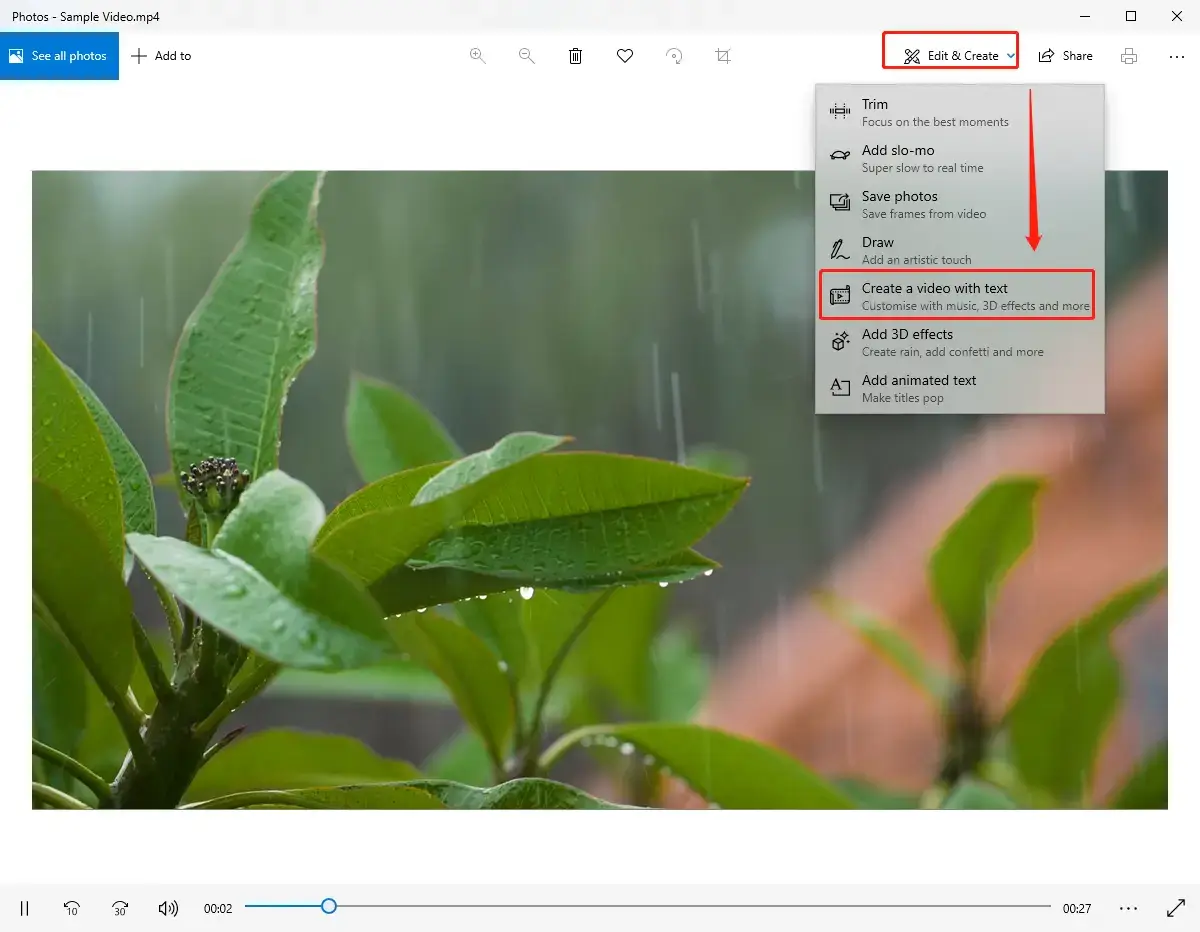 3. Choose Text.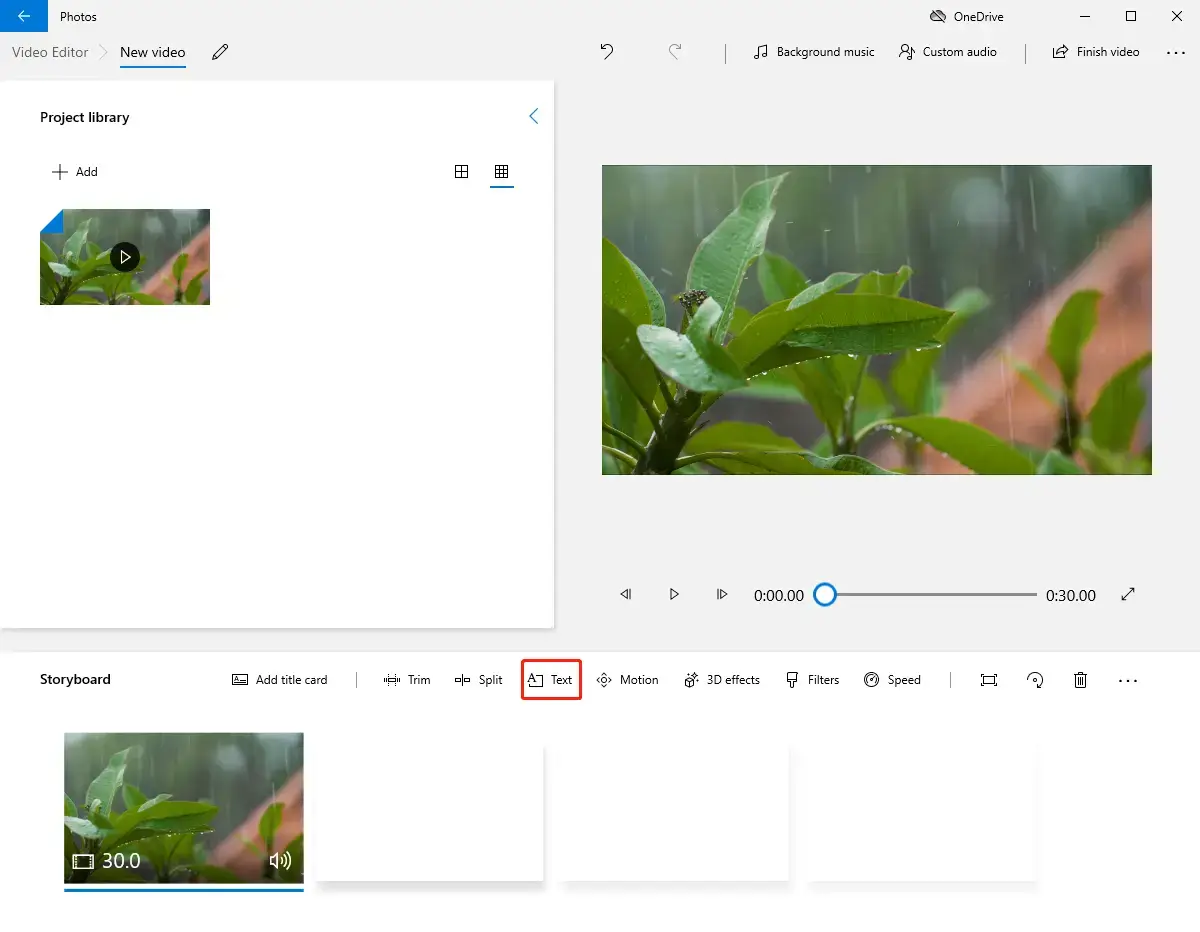 4. Type your words in Text and/or choose the animated text style, adjust its layout, and create a time span selection for the watermark by dragging the progress bar. Then click on Done.
---
How to Copyright a Video for FREE Through Image Watermark?
An image watermark is another solution to free video copyright, such as a logo or an icon. Placing an image watermark you created over your video is also an effective way to show your identification and copyright it after it is uploaded onto your social media platforms.
Here are two proven methods of inserting a logo into a video.
1. Copyright a video through image watermark by WorkinTool Watermark Eraser
Putting an image watermark can be as easy as ABC with the help of WorkinTool Watermark Eraser as it takes you less than four steps. Besides, the features of the image watermark added are adjustable, including its size, transparency, inclination, and position.
A tutorial on adding an image watermark to a video through Watermark Eraser.
Open the tool and find Add watermark to video.
Upload your file by clicking on Select video or dropping it in the designated section and then choose Upload image watermark.
Adjust the Style and Position of the watermark, drag the progress bar to select its time span and then click on Save.
We have a specific blog on video watermark insertion and you can read it for more information.
2. Copyright a video through image watermark via Video Watermark
Video Watermark is a useful watermark solution for videos developed by a Poland-based technology company. With a user-friendly interface, it allows you to insert an image watermark into your video with few efforts. Also, a range of features for the watermark are changeable and the exporting speed is quite fast. However, time span selection is unavailable and an additional watermark will be added to your video by its trial version to remind you to update it to a professional one.
Instruction on putting an image watermark in Video Watermark.
1. Open the tool, upload your video by clicking on Select Videos or dropping it in this area.
2. Choose Next Step after the video is uploaded.
3. Alter the watermark features as you like and then select Next Step.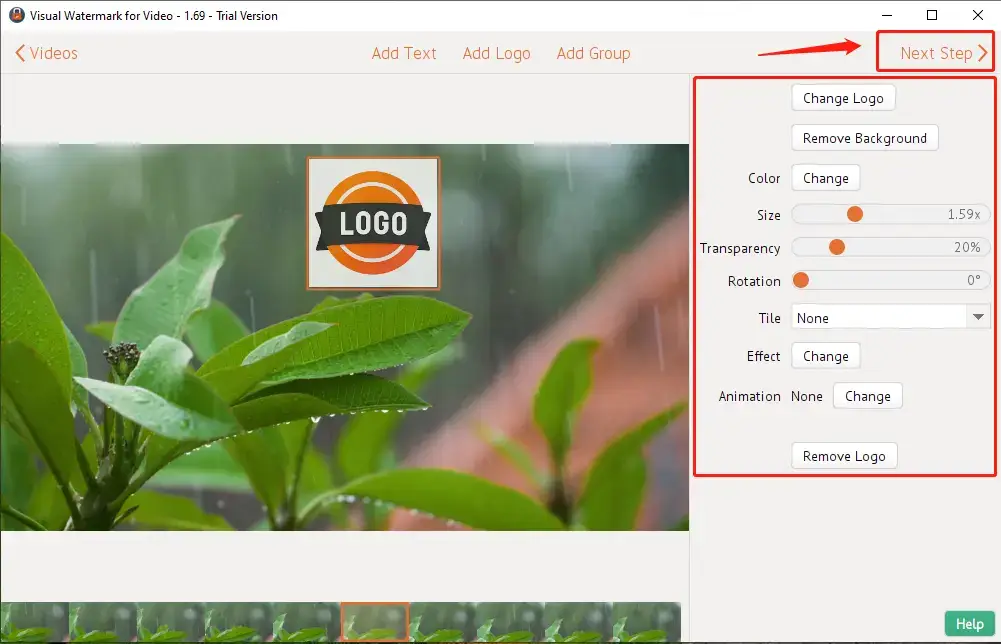 4. Change the outcome features if you want to and click on Watermark Videos.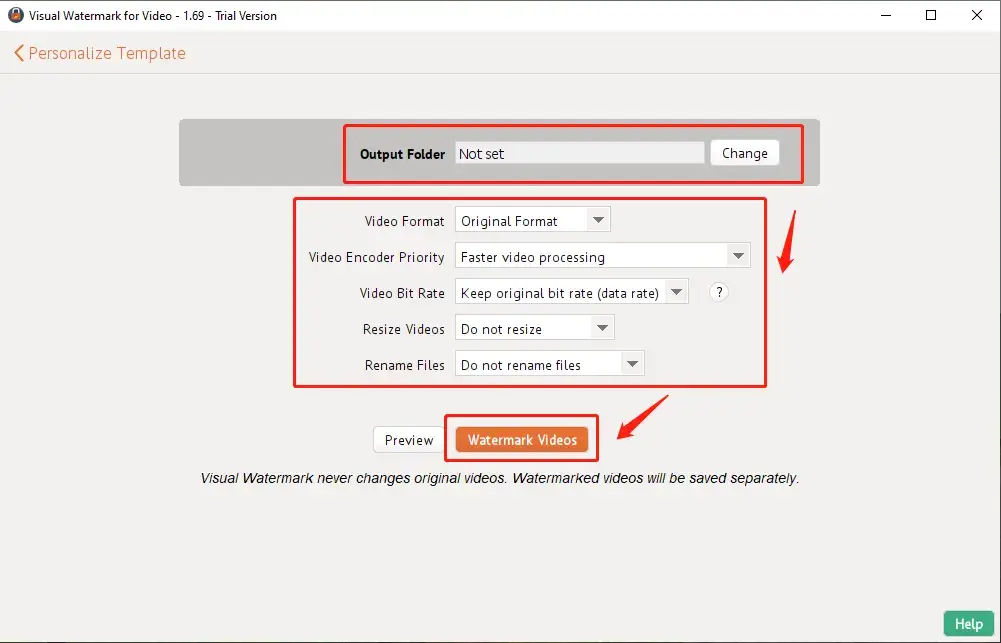 ---
Something More to Say
📌How do I copyright my videos if I need a professional copyright service?
You'd better turn to the U.S. Copyright Office for help if a professional copyright service is what you are looking for. For copyrighting a video, you need to find Electronic Copyright Office (eCO). Here is a brief guide for you:
Complete your registration with the Electronic Copyright Office (eCO).
Finish the electronic form provided by eCO.
Either attach a digital copy of your video to your online form or send its hard copy like a CD by mail.
Pay a processing fee ($35).
(📢Notes: It will usually take approximately one to seven months to get official copyright protection for your video.)
📌Can I copyright an image with the help of WorkinTool Watermark Eraser?
Yes. You can use WorkinTool to copyright an image. Please click the link beside it for more information.
📌What else can Watermark Eraser do, in addition to watermarking a video?
Watermark Eraser also enables users to watermark an image, remove a watermark from a video or image. So as a social media lover, you can make use of it to copyright your image for free.
📌Why Should I choose Watermark Eraser instead of another product?
WorkinTool Watermark Eraser, new in the market, is designed to resolve nearly all of your common watermark-related issues.
These are the specific reasons for making this option:
Professional: Watermark Eraser is developed by Shanghai Hudun-Tech Group, a recognized Hi-Tech company specializing in SaaS solutions for more than eight years. We are exceptionally professional when it comes to office tools that aim for work efficiency improvement.
Powerful: Watermark Eraser is more than a watermark remover designed for pictures. It also allows you to remove a watermark from a video. Meanwhile, no matter a text or an image watermark, it will be easily and instantly eliminated. Moreover, adding a watermark to an image or a video is another powerful built-in feature for Watermark Eraser. Now, you can resize and trim your video with its updated version. Hence, it proves to be a great help in the modern workplace and at school. You can apply this tool to remove Getty images' watermarks easily.
Secure: Your safety is our priority. Therefore, we will spare no effort to protect your data privacy and information security.
User-Oriented: Your voice matters. We will listen carefully to what our customers say, doing our utmost to satisfy all their needs and upgrade our products accordingly.
FREE Trial: You can enjoy a long-term free trial of editing videos within 10 MB without any other limits.
---
Wrapping Up
Copyrighting a video is pretty necessary these days, even for an amateur social media lover, owing to the public's growing concern over intellectual property. However, there is no need for you to seek professional paid copyright help. Therefore, we sincerely hope you can find your ideal solution after reading this article.
You can use any tool to add a watermark to copyright protect your videos. However, we anticipate that you can give WorkinTool Watermark Eraser a try.
Please leave a comment to share your experience with Watermark Eraser or other tools you frequently use.
Looking forward to your reply.