How to Cut Out Parts of a Video for FREE on Windows 10
Cutting out parts of a video is now playing an increasingly important role in the modern era typical of video sharing on social media platforms. However, there is no need for you to use some professional but complex ways. In this article, you will be introduced to 3 proven ways helpful to cut out parts of a video for FREE on Windows, including Microsoft Photos, WorkinTool Watermark Eraser and 123APPS. In addition to the tutorials, you will read the advantages and disadvantages of each methods. Please start your reading now.
How to Cut Out Parts of a Video for FREE on Windows 10 in 2022
As the social media platforms like Instagram and TikTok gain global popularity, videos become an essential part for people to share what they see and how they live online. However, your video might be unable to upload if it is too long, or sometimes you just need one clip of your whole video. So what should you do? The answer is that you should understand the basic methods of trimming a video?
But How? Please read this article to know how to cut out parts of a video for free on Windows 10 in 2022.
---
3 Proven Ways to Cut Out Parts of a Video for FREE on Windows 10 in 2022
1. Microsoft Photos
Taking parts of a video used to be completed via Windows Movie Maker. However, the designers of Windows 10 have added this feature to Microsoft Photos. Since it is a built-in program in Windows 10, you need no third-party tools to chop a video. Hence, it is the most traditional way to realize this goal.
How to get parts of a video using Microsoft Photos?
1. Open your video through Microsoft Photos.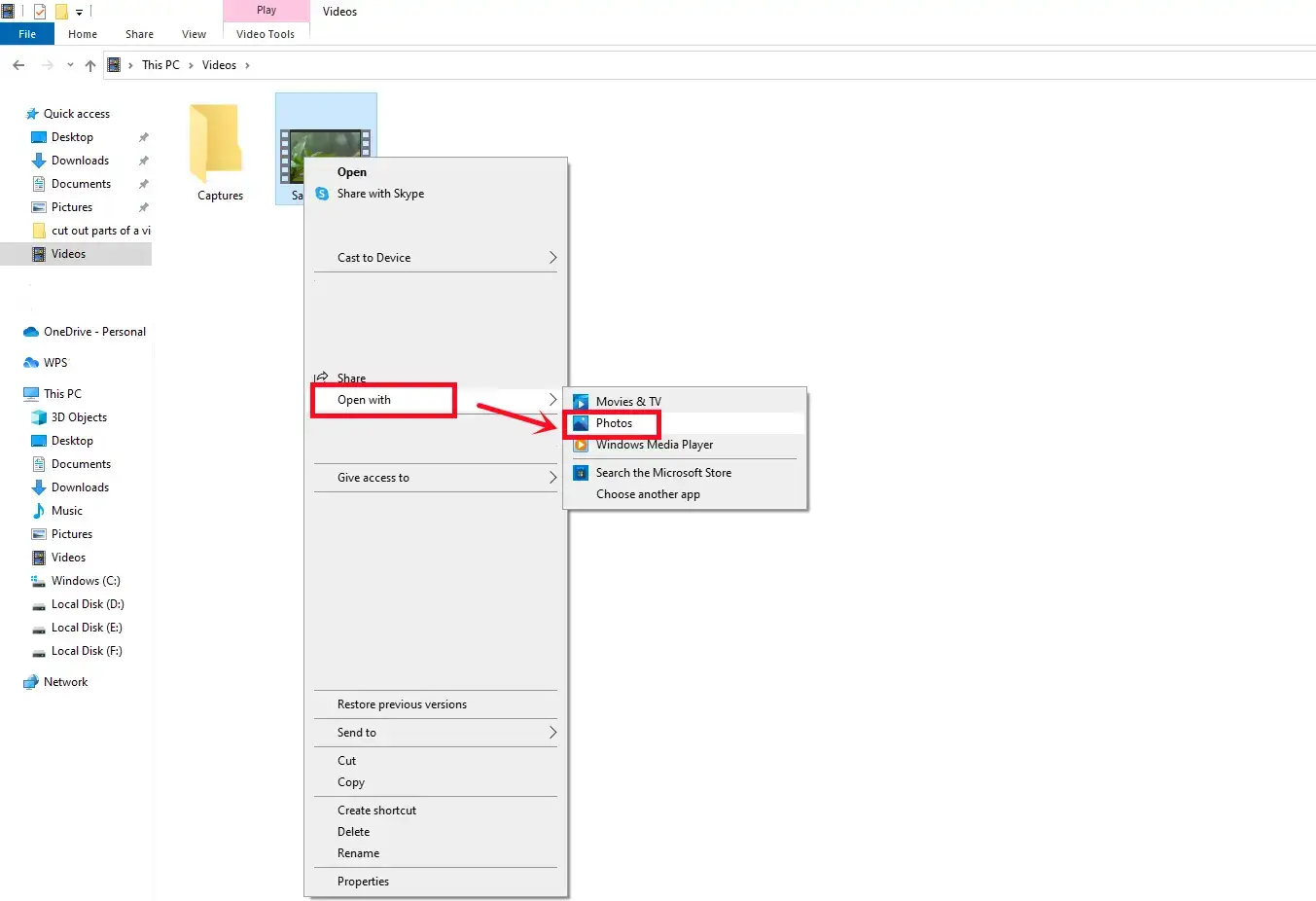 2. Find Edit & Create on the right side of the top and then click on Trim.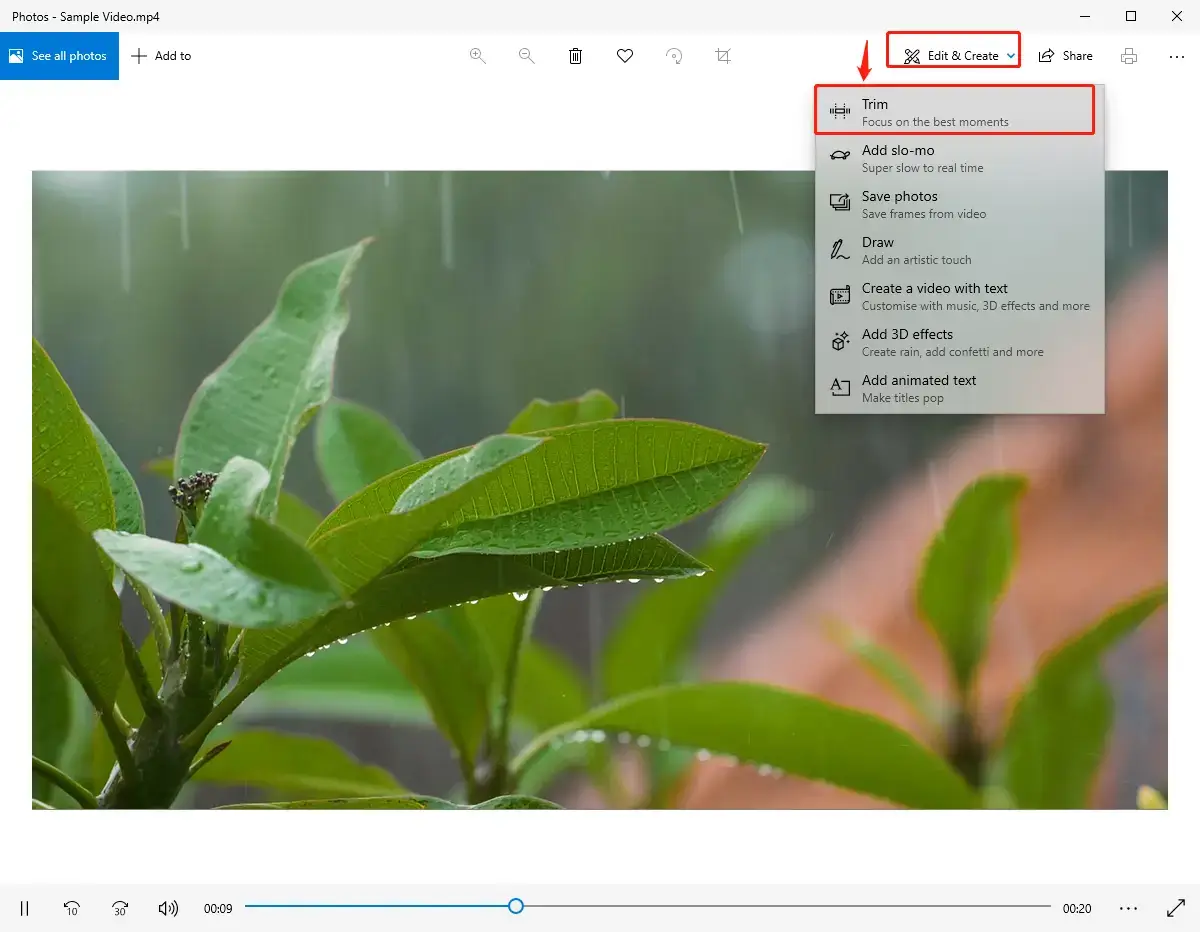 3. Drag the two sides of the progress bar to get your video clip and then tab Save as.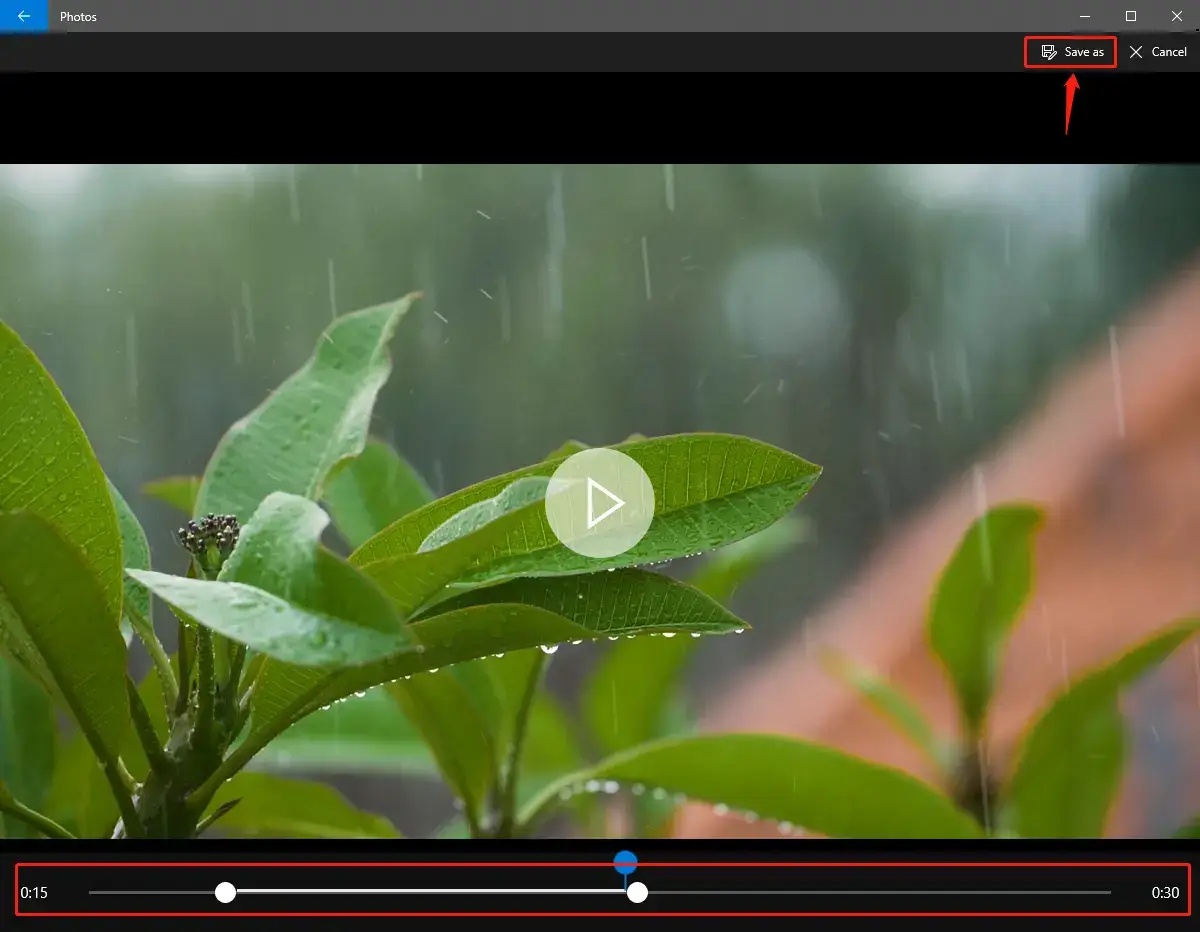 📢Notes: There is no choice to select the time span except the way to drag the progress bars and no preview after the clip is selected.
Here is some specific information for your reference.
😀Pros
😒Cons
🎥Supported Video Formats

No third-party tools involved
Easy steps to split your wanted clip from a video

Unavailable features for cutting the unwanted parts out
Time range selection impossible
No preview after the editing
Exporting format choice unavailable

MP4, AVI, MKV, MPEG, MOV, FLV and 3PG
2. WorkinTool Watermark Eraser
There is no denying that a desktop tool will make it easier for you to trim a video, owing to technological advancement. However, you may have a second thought as you will be afraid that a video-editing tool might be too complex to operate. Yes, you don't need a professional program if you merely plan to post a clip onto your social media platforms. Here, we would like to present you with a lightweight and simple one–WorkinTool Watermark Eraser.
WorkinTool Watermark Eraser is a powerful all-in-one tool new in the market this year. Much as its main features are associated with watermark solutions like removing watermark from video, it is also equipped with the functions regarding basic video editing, such as video resizing and trimming. Besides, as a lightweight video trimmer, it is even friendly for beginners to use with its clear navigation. Hence, you can shorten your video effortlessly and instantly. Additionally, the outcome will be exported in good quality. More importantly, it provides a long-term free trial for all users to edit videos within 10 MB without any other limits.
A guide for cutting out parts of a video through Watermark Eraser.
1. Open the tool and then find Trim video. Then tab Select Video or drop your video in the highlighted area to upload it.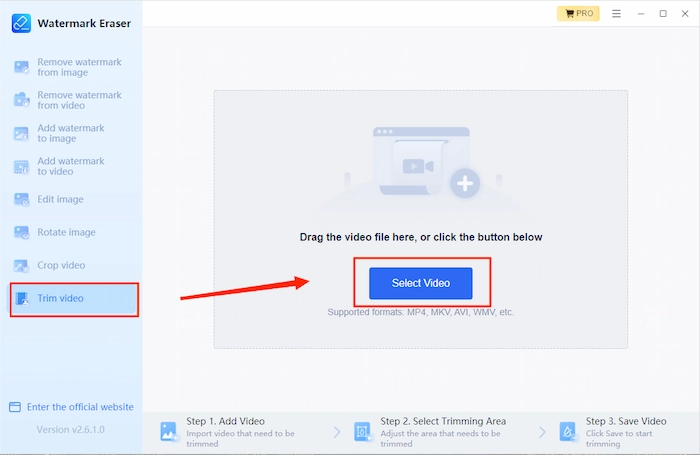 3. You can choose the clip by either dragging the progress bar or adjusting the Time Span selection part on the right.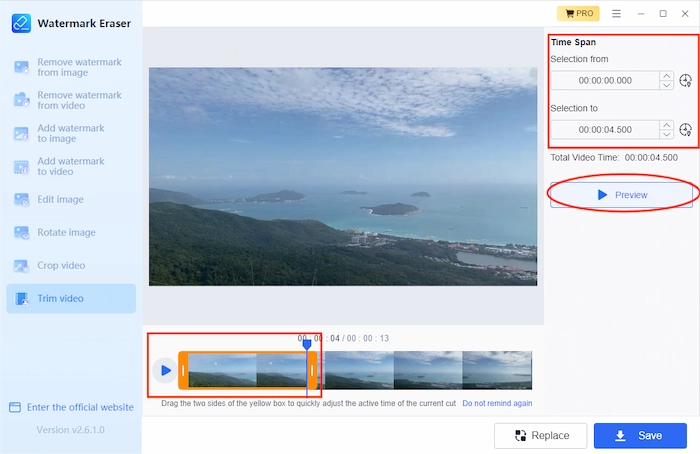 (📢Notes: the clip selected can be viewable by clicking on Preview or the play icon beside the left progress bar.)
4. Then click on Save.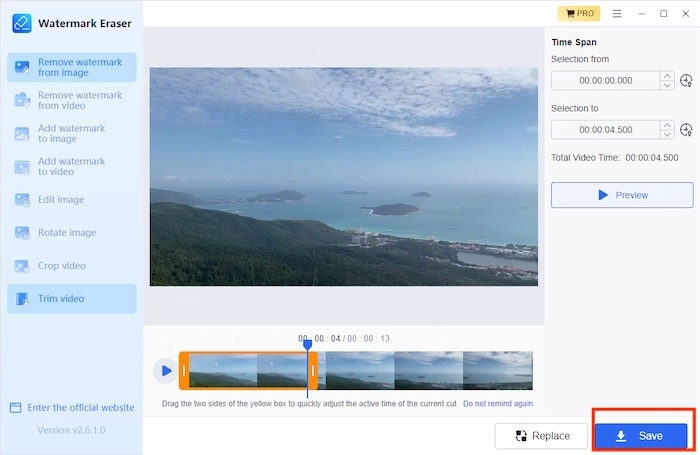 Please see the information below to help you with your judgment.
😀Pros
😒Cons
🎥Supported Video Formats

Easy installation and little PC space occupation
Simple-to-use interface and clear navigation for beginners
Time span selection available
Fast video-trimming speed
Preview possible after clip selection made
High-quality output
Long-term free trial
Guaranteed data privacy and information security

No option for eliminating unwanted parts of a video
Export format option is unavailable

MP4, MKV, and MOV
3. 123APPS
123APPS is an acclaimed online video, audio and office tool provider. With its video cutter, you can make a short video with minimal effort. Also, the results are of good quality and it is nearly free to use.
📣Attention: A daily quota applies to its free versions, such as file numbers to process (10) and total file size (700 MB), so a monthly license payment is required to enjoy the unlimited features.
A tutorial on splitting a video by 123APPS.
1. Open the website and then find Trim in Video Tools.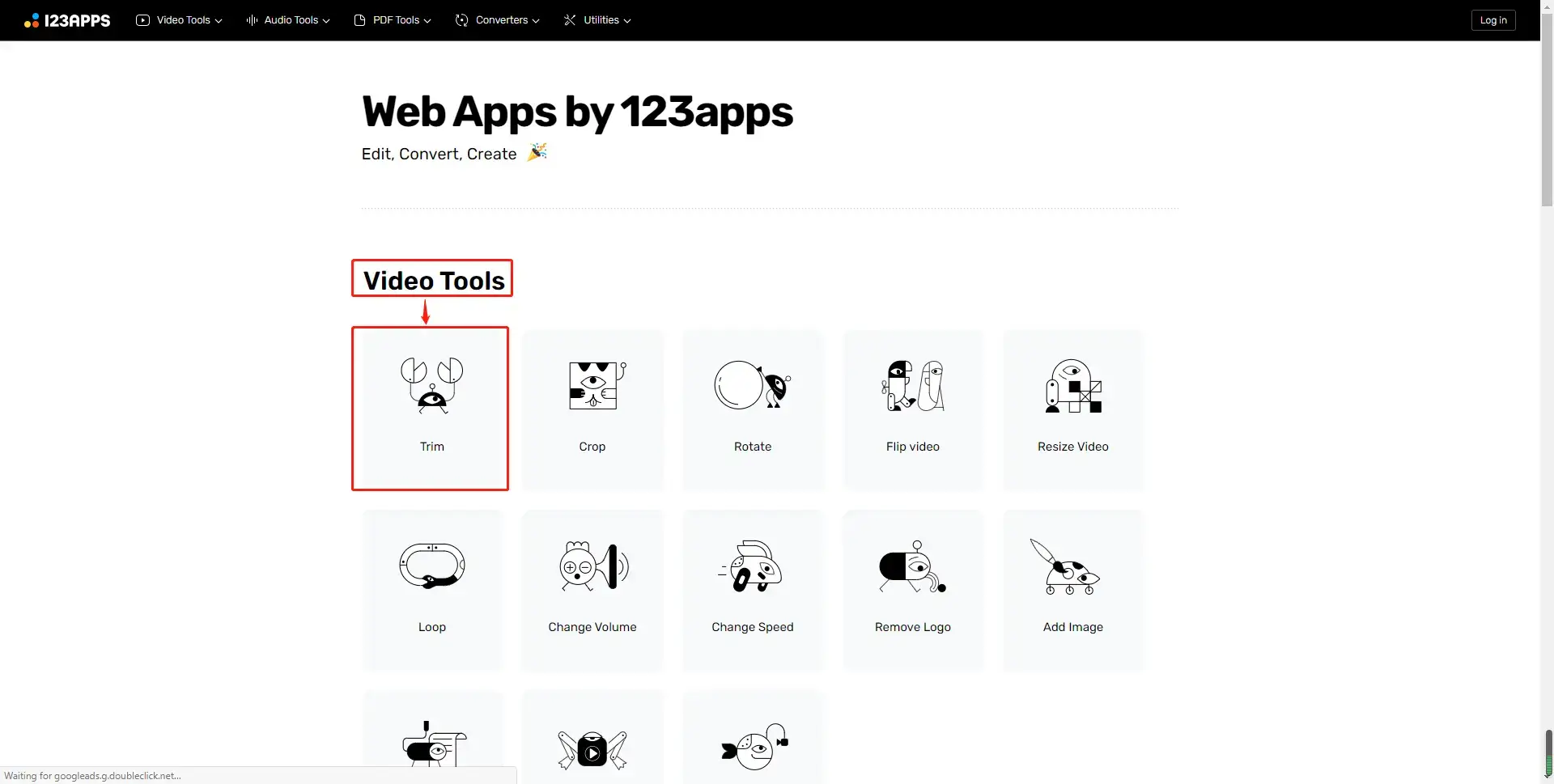 2. Then upload your video by tabbing Open file or dragging it in this section.

3. Select your time span to chop by dragging the progress bar or changing it directly in the time span selection area. Then click on Save.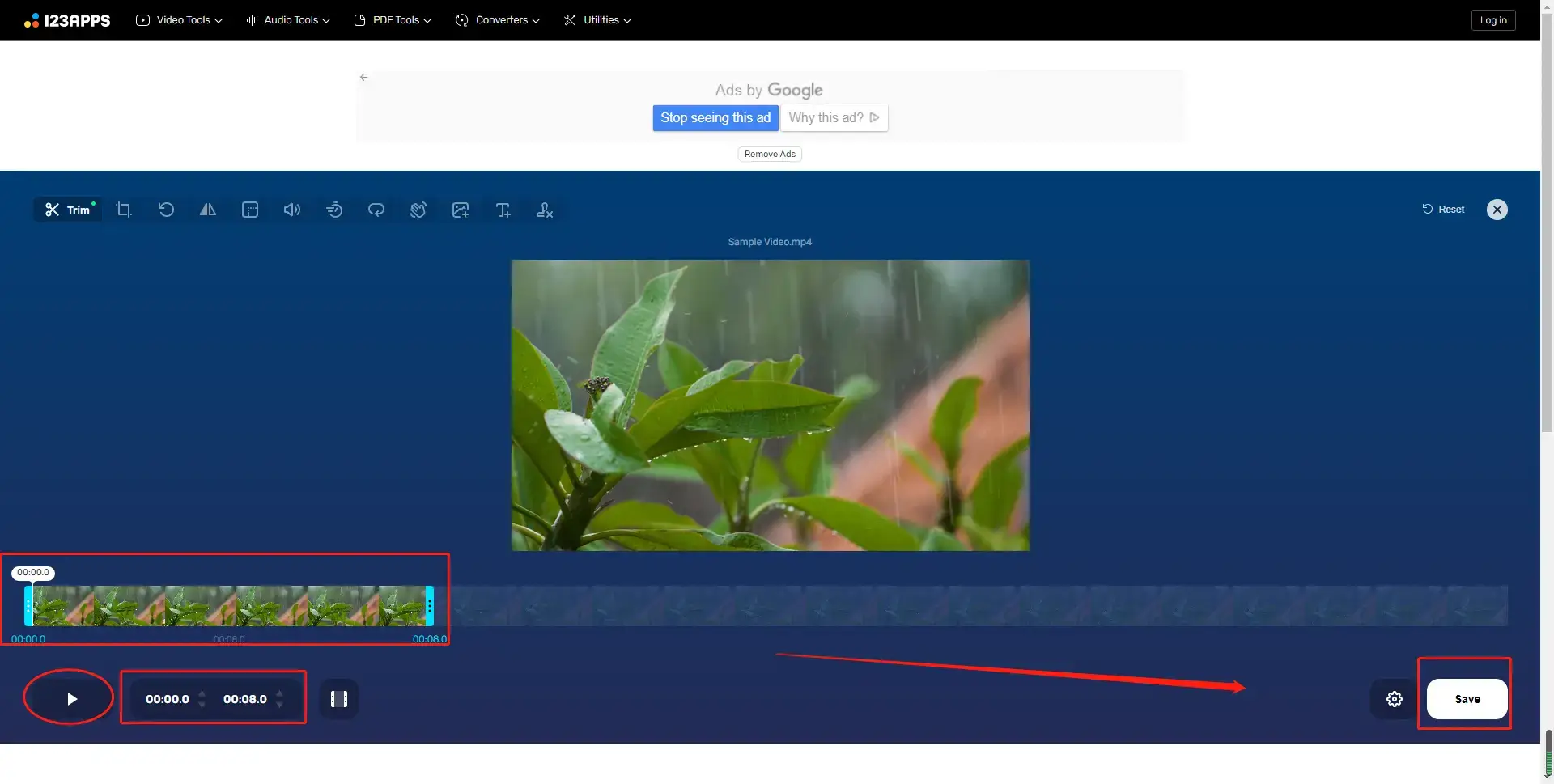 4. Lastly, choose Save to download the trimmed video.

You can make your decision based on the information below.
😃Pros
😒Cons
🎥Supported Video Formats

No need to download and install
User-friendly interface
Time span selection available
Option for removing undesired parts of a video possible
Cut file preview available
Optional video format exported

No file without downloading
Strong limitations on its free version, daily tasks quota, total file size and video editing speed
A license payment applies

MP4, AVI, RMVB, MKV, MPEG, MOV, FLV and 3PG
---
Other Thoughts
Why should you choose WorkinTool Watermark Eraser?
WorkinTool Watermark Eraser, new in the market, is able to resolve your basic video-trimming issues, though it is designed for the purpose of watermark solutions.
These are the specific reasons for making this option:
Professional: Watermark Eraser is developed by Shanghai Hudun-Tech Group, a recognized Hi-Tech company specializing in SaaS solutions for more than eight years. We are exceptionally professional when it comes to office tools that aim for working efficiency improvement.
Powerful: Watermark Eraser is more than a watermark adder and remover. It is also a practical and simple video resizer and trimmer, making basic video editing possible. Hence, it proves to be a great help in the modern workplace and daily life.
Secure: Your safety is our priority. Therefore, we will spare no effort to protect your data privacy and information security.
User-Oriented: Your voice matters. We will listen carefully to what our customers say, doing our utmost to satisfy all their needs and upgrade our products accordingly.
Free Trial: You can enjoy a long-term free trial to edit video within 10 MB.
---
Final Thought
These are the ways to cut out parts of a video for free. We hope you can pinpoint the ideal and start your trial today. However, it is strongly recommended that you give WorkinTool Watermark Eraser a try.
Please leave a comment on your experience with video trimming and video cutters. We would like to hear your voice.
Thank you.