How to Crop an MP4 Video on Windows and Mac for Free
Sometimes cropping a video is the best option to change the video screen dimensions and remove unnecessary parts of the screen. The MP4 file format happens to be the most commonly used video format for strong compatibility and compression capability. Therefore, learning how to crop an mp4 is something you cannot miss for video editing features. In this article, we have prepared you with three easy and free cropping tools on Windows and Mac. If you are a Windows user, we highly recommend that you use the WorkinTool Watermark Eraser. Now, go download and experience the magic yourself.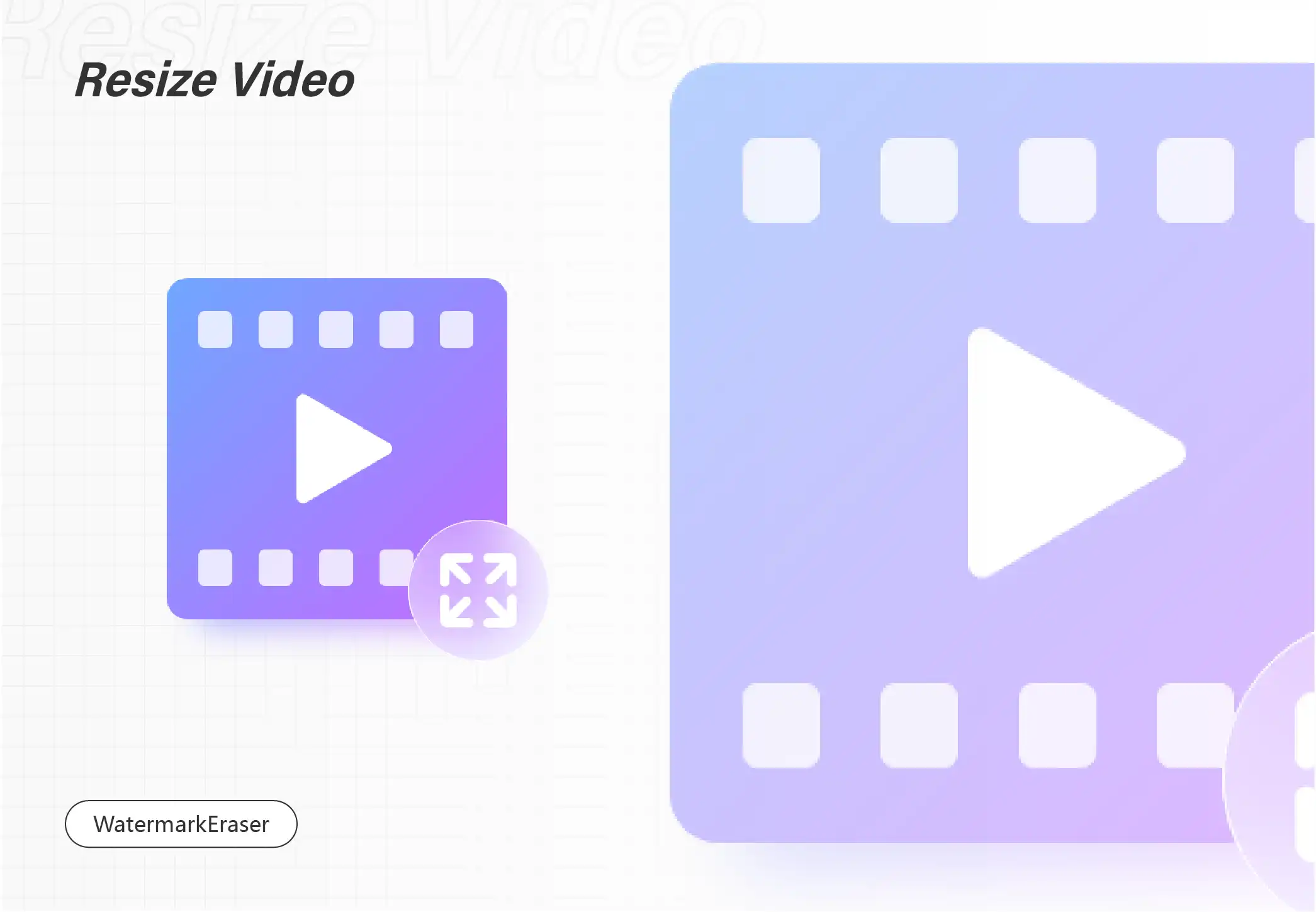 How to Crop an MP4 Video on Windows and Mac for Free
Sometimes you may want to change the video screen dimensions to fit within a particular area or remove unwanted portions of a video clip, like removing unwanted black bars. Cropping could be one of the best editing methods to do that. Whether footage from your life or video recordings of television and computer materials, you will encounter the situations that need to cut these clips. MP4 is one of the most common formats all video editors need to deal with. From time to time, people will search for how to crop an MP4 video on Google.
MP4 format is a video format that contains many data in one tiny file. Though the quality could be slightly lossy, the compatibility and compression capability allow it to save large files in a small size on any operating system. That is why it is so popular and widely used in different fields.
So what do you do? Well, the solution to crop out the edges of an MP4 video is not hard at all. The truth is, if you have a good video editing software that can crop video screens, then it will be pretty straightforward. Now that there are tons of video editing software or online services on the Internet, it is time-consuming to try them out and find the best one for you. Luckily for you, considering this case, we have thoroughly tested those tools and found the most convenient and free cropping methods on Windows, Mac, and a mutual way. Let's dive into the details.
How to Crop an MP4 Video on Windows 10

The first method we want you to know on how to crop an MP4 video on Windows 10 is to use powerful Windows PC software. It is called WorkinTool Watermark Eraser. But don't underestimate it. You are wrong if you think it can only remove watermarks. In addition to watermark-related functions like adding text or logos to images or videos and removing unwanted watermarks, this tool also provides a free service to edit pictures and videos. Not only is it fully functional but in line with user needs, this tool is also suitable for various groups of users. Whether you are a new beginner with zero ideas about video cropping or have already experienced many video editors, this WorkinTool Watermark Eraser will spark your eyes. More importantly, it is free to use all the functions right now.
Now, let's see the instructions on how to crop an MP4: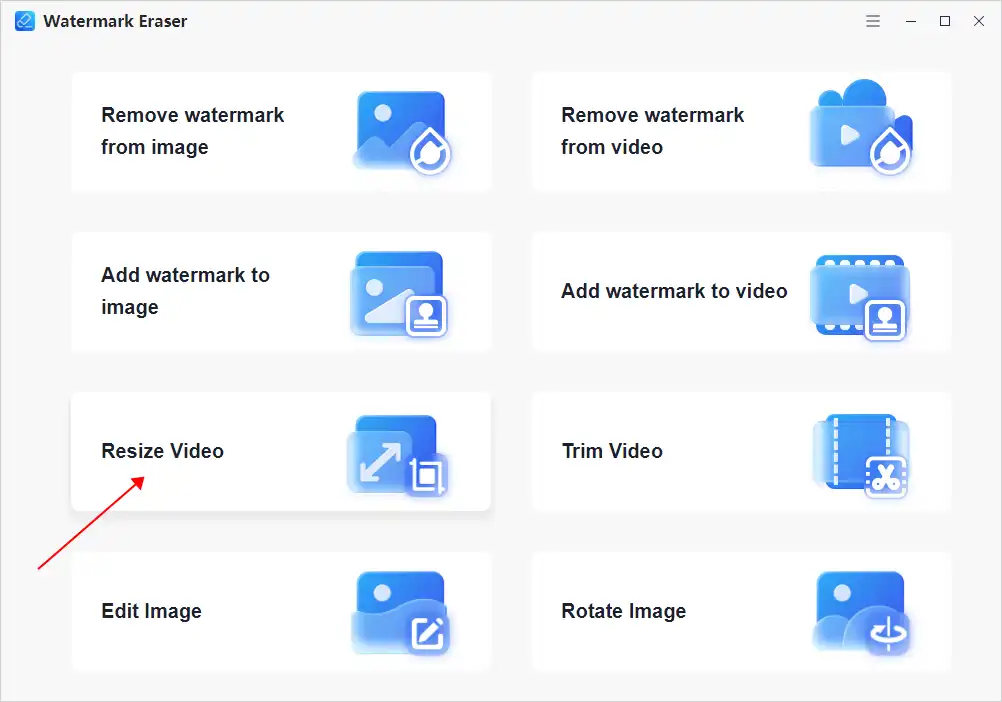 1. Download and install this tool. Please open it and click on the Resize Video button.
2. Select or drag and drop to input your targeted MP4 video. (It also supports many video formats like MOV and MKV files.)
3. Then, you can adjust the screen size to crop the video.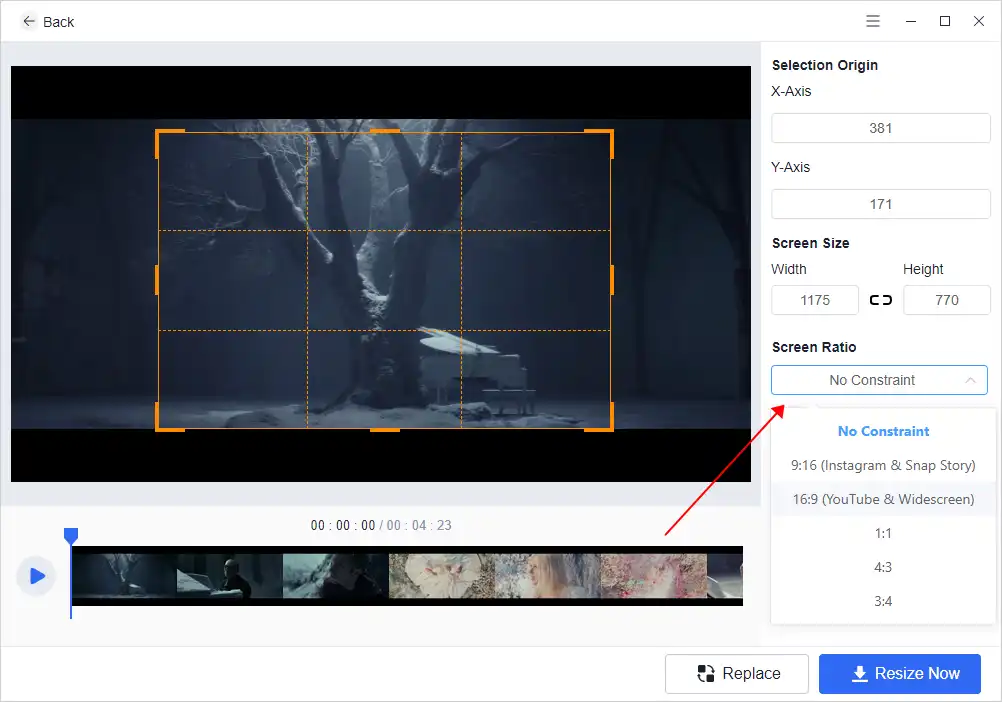 Two resizing modes:
If you are very experienced in video cropping and have a specific need for screen size, I recommend you use the X and Y-Axis to input how much you want to crop the screen manually. Also, the width and height are provided to modify the video screen size.
This tool has five different screen ratio options for people who don't have a specific need to resize it:
No constraints: users can feel free to drag the resizing box 

9:16 (Instagram & Snap story): it is more suitable for videos on smartphone apps like Instagram or TikTok.

16:9 (YouTube & Widescreen): it works best for videos that play on widescreen.
There are more screen ratio options like 1:1, 3:4, and 4:3 for different needs of users to crop. Users can pick the most suitable option to fit the screen.
🎉 More WorkinTool Watermark Eraser Features 🎉
---
How to Crop an MP4 File on Mac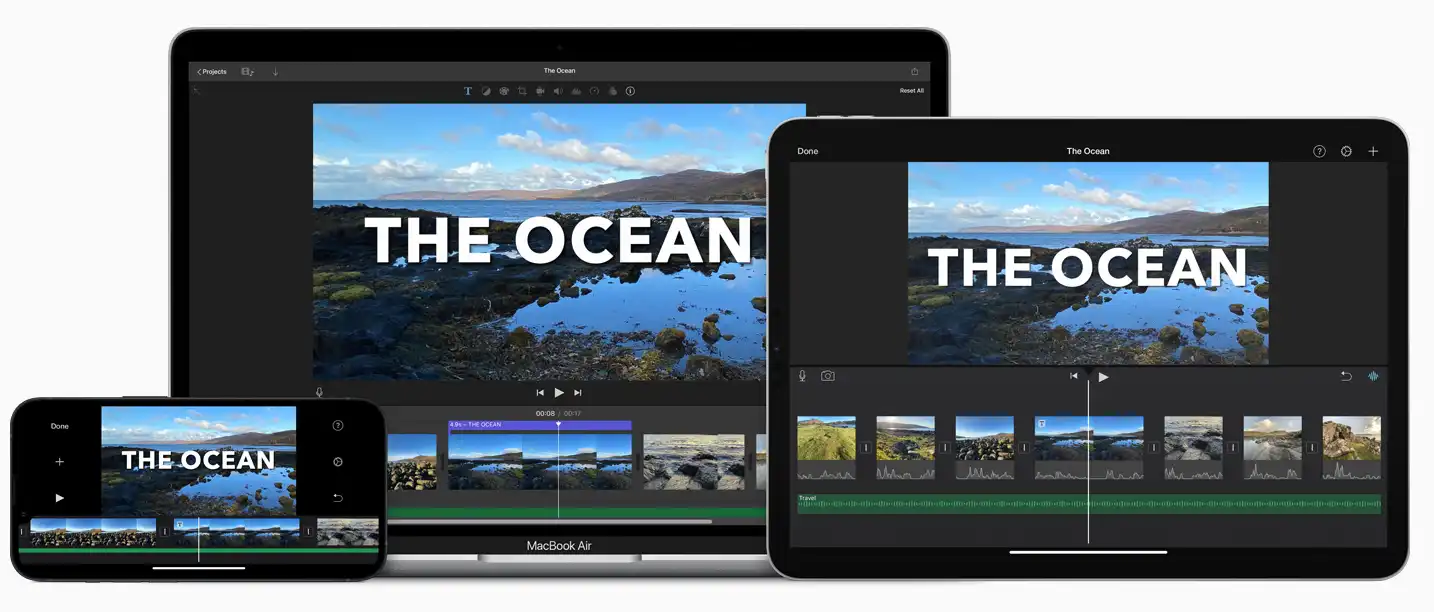 If you are a Mac user, you don't need to download any third-party application. Built-in video editing software – iMovie can help you do it all. Of course, you can crop mp4 videos on iMovie for free. Here are the detailed steps:

1. Launch the iMovie software on your Mac and click on the Cropping icon.
2. An adjustable frame will be at the top of the clip.
3. You can move and resize the frame until you get the best effect you want from the cropping. If you're going to reset the cropping, click the Reset button and do it again.
4. Tap the Apply option in the cropping control to finish resizing the screen.
Bonus: An Alternative Way for Both Devices
Besides those two editing tools we have offered you, there is a third alternative tool that might do the trick. The VLC media player is a multimedia player with various editing functions. It works fine with both Windows and Mac systems. Here I will show you how to crop an MP4 video with a VLC media player. But before that, you have to know that, unlike other video editing software, the cropping feature can be a little bit hard on this software, and you will have to know the exact pixel information you want to crop before doing it.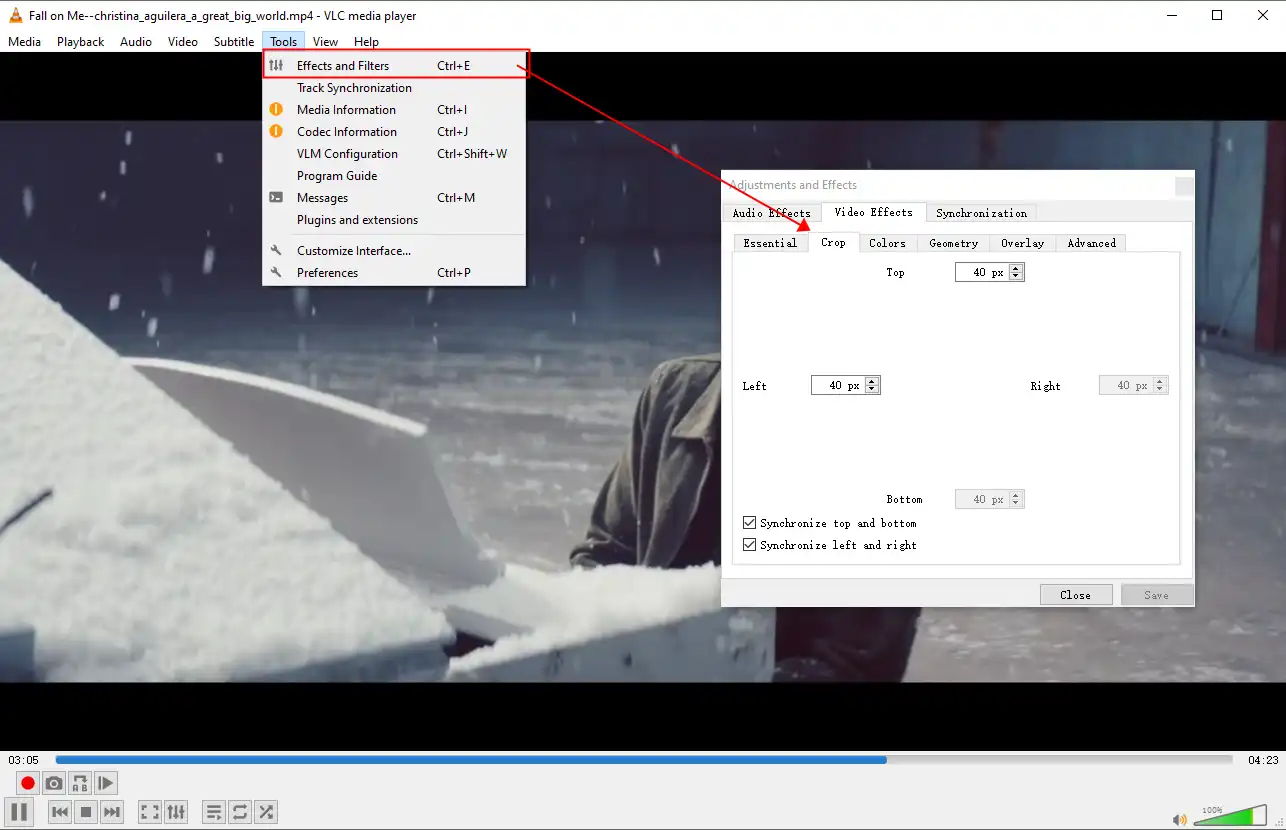 Launch the VLC media player and input your MP4 video.

Find the 

Effects and Filters

 option in the top menu 

Tools

.

Hit the 

Crop

 on the 

Video Effect

 pop-up panel.

Now, you can manually enter the exact cropping pixel on the top, bottom, left, and right. The default values are all 0.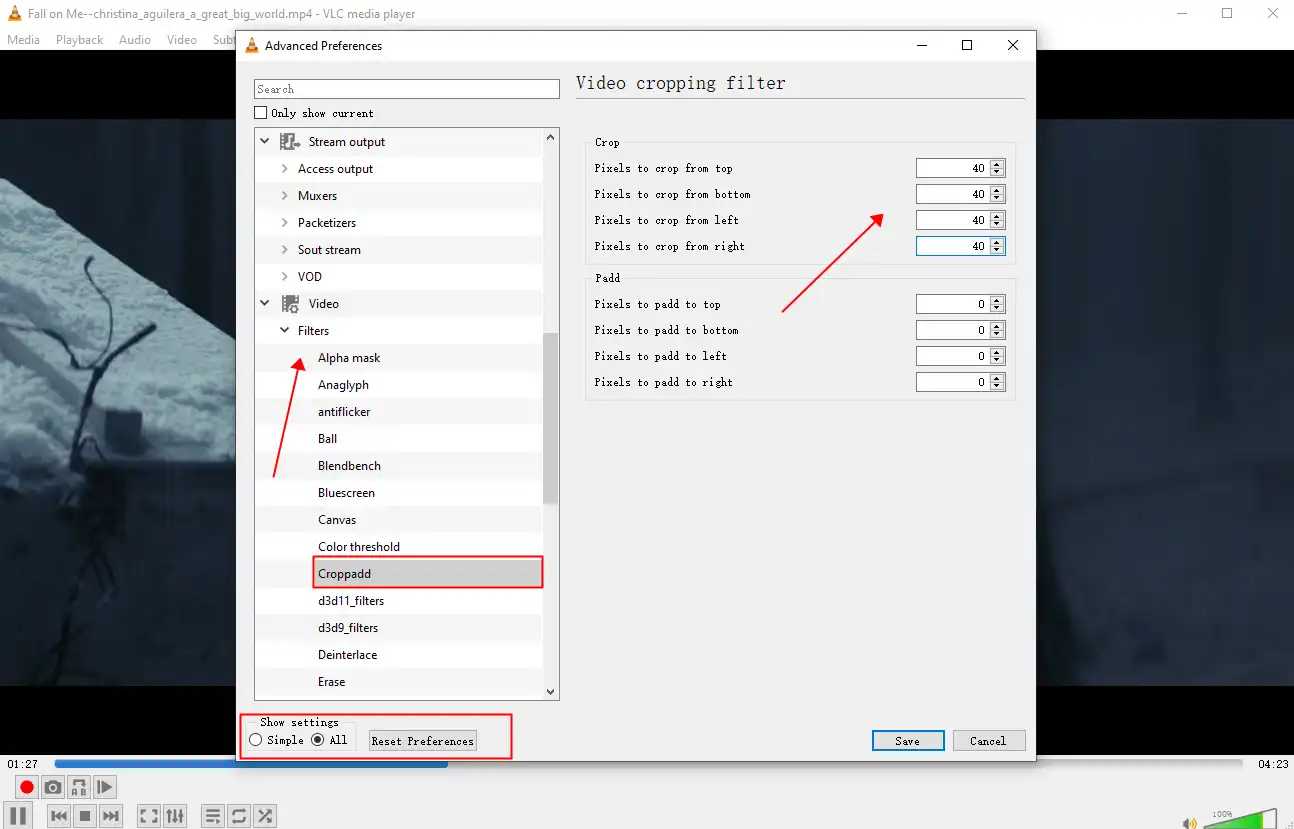 After that, go back to the home page and continue to click 

Tools

 > 

Preference

. Select

 All

 in the Show settings. Find the 

filters

 under the Video section > 

Cropped

.

Next, enter the pixel values again. Then you can save it to return to the main panel.

convert/save

 > 

Add

 to input the MP4 file > 

Convert/Save

.

Edit

 > 

Video codec

 > 

Video cropping filters

.

Hit 

Save

 and set up a savings folder. Lastly, 

start

 to crop the MP4.
Final Thoughts
As you can see, we have provided you with three free and convenient methods to solve the problem of how to crop an MP4 file. Whether you are a new beginner or a well-experienced video editor, whether you use Windows or Mac to do that, in this article, you will find the exact tool that best suits your needs. We promise you that our careful testing makes all three methods and software available. You will get the satisfying cropping effect you want using these tools. You can rest assured of that.
Please contact us anytime if you have any good suggestions or encounter any problems.
Products Reviews:
TrustScore
4
|
323
reviews