How to Remove Date from a Photo on Windows in 2022
Do you feel annoyed when there is a date stamp on your photo? If it is, today is your lucky day as we have summarized three effective ways to remove date from a photo on Windows in this article. You will know one desktop tool called WorkinTool WatermarkEraser, one online tool–Inpaint and one traditional way–Paint. Meanwhile, you will understand the advantages and disadvantages connected with each approach mentioned, so you can make your own decision by reading it.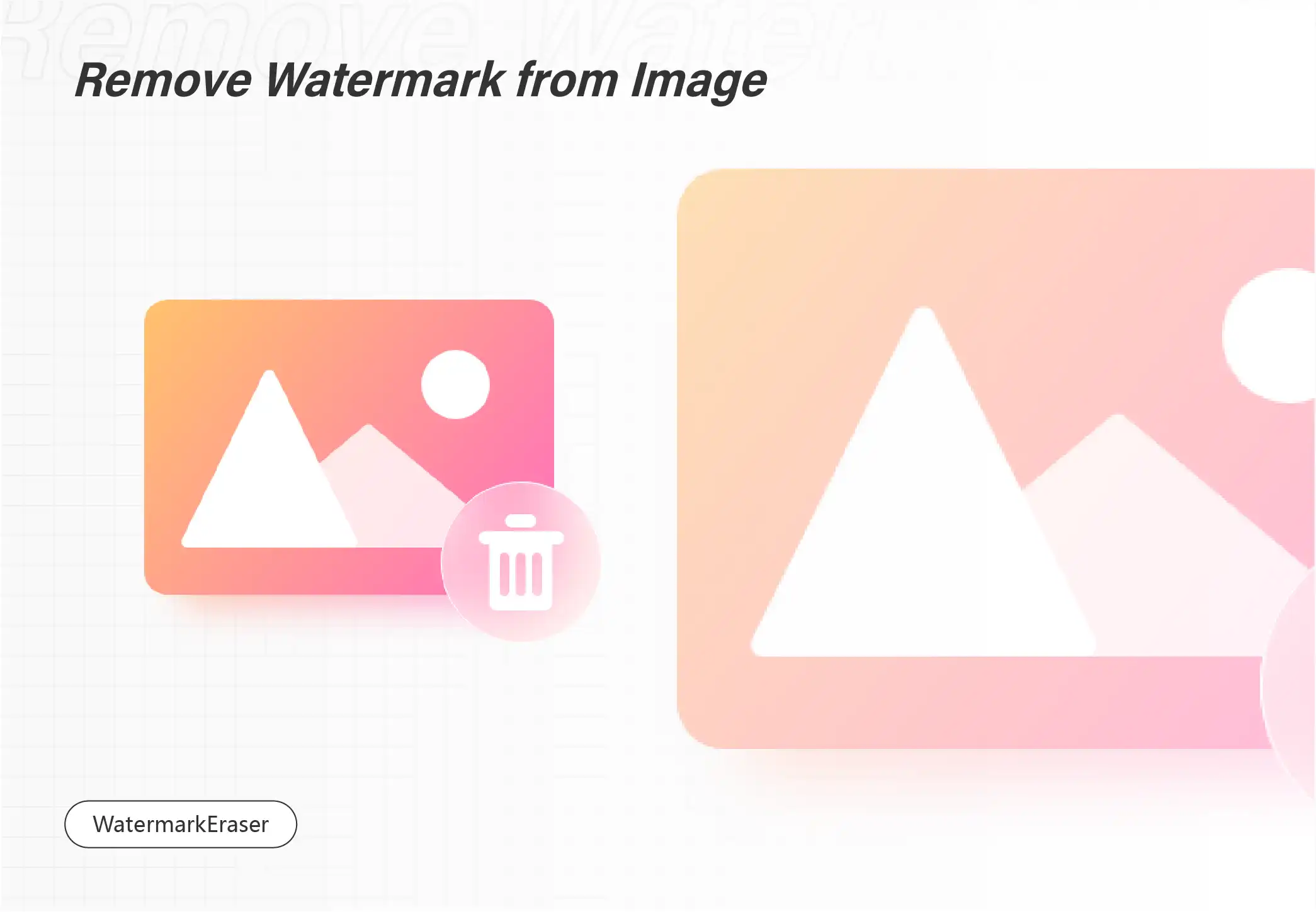 How to Remove Date from a Photo on Windows in 2022
The popularity of smartphones equipped with high-quality cameras, accompanied by the emergence of social media apps like Instagram and Pinterest, has made photos an inseparable part of people's lives.
Sometimes, a date stamp or text will be automatically added to your photos when you forget to cancel the related settings on your phone. It will be annoying if such text or stamp is inserted in the photos you intend to upload onto your social media platforms. Therefore, it is important to delete the date from a photo presently. And are there any solutions to achieving this goal? Yes, here are 3 proven ways to remove date from a photo on Windows in 2021.
Please continue your reading.
---
3 Proven Ways to Remove Date from a Photo on Windows in 2022
1. Crop your photo to delete a date
By using this way, you do not need a tool to get rid of the date on your photo. However, cropping the date stamp will definitely leave a negative impact on the content recorded in your photo.
How to remove date from a photo by cropping it?
1. Open the photo through Paint.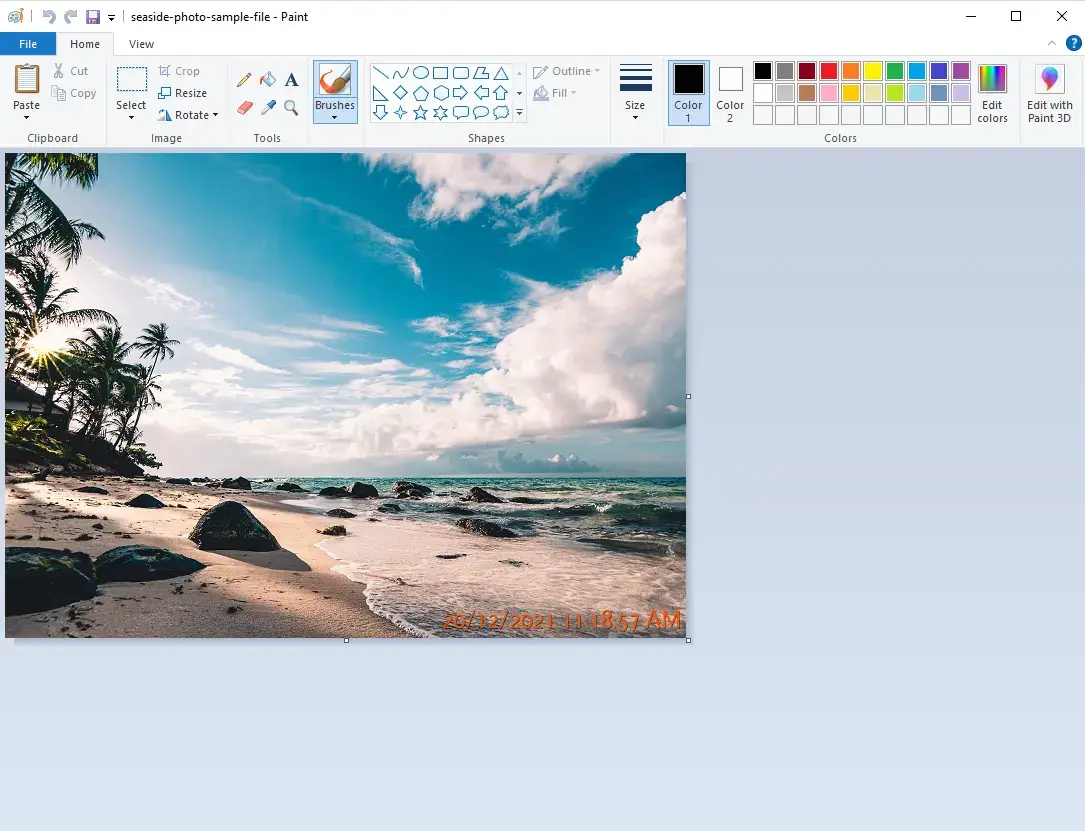 2. Choose Selection and use Rectangular selection (recommended).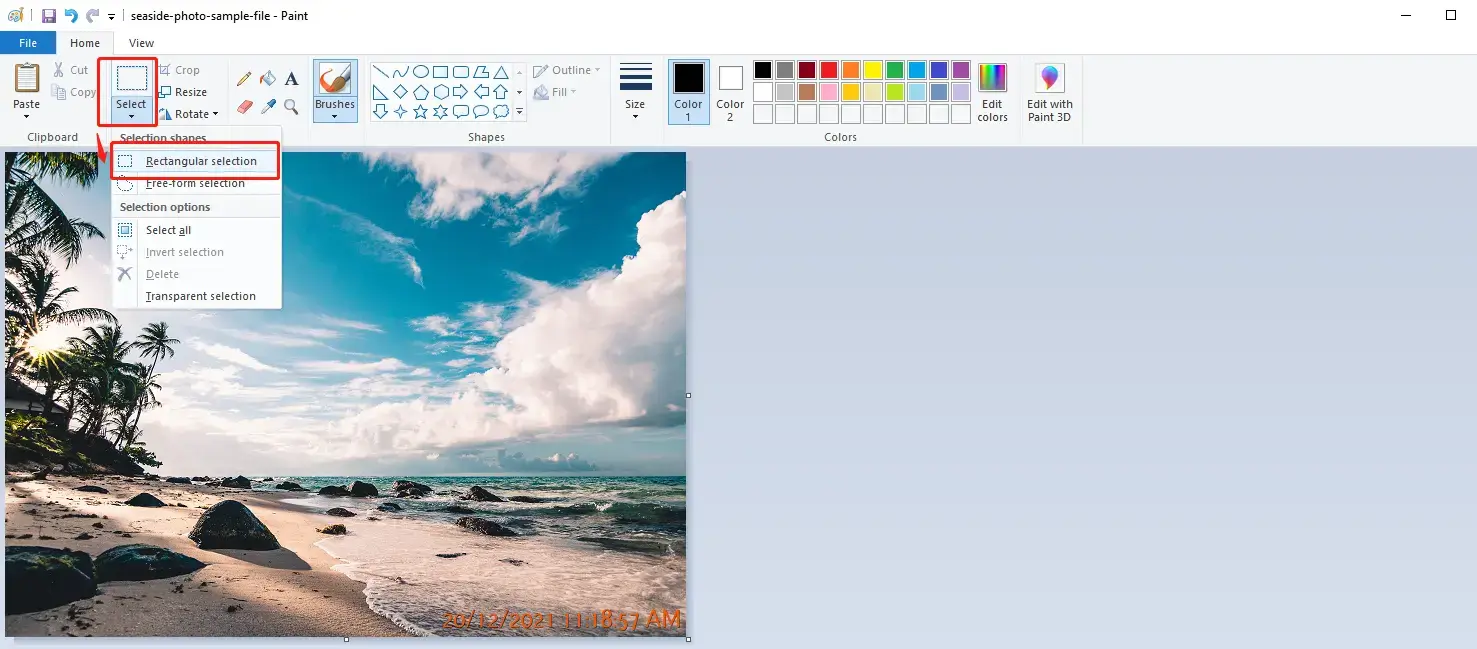 3. Select all the areas without the date information.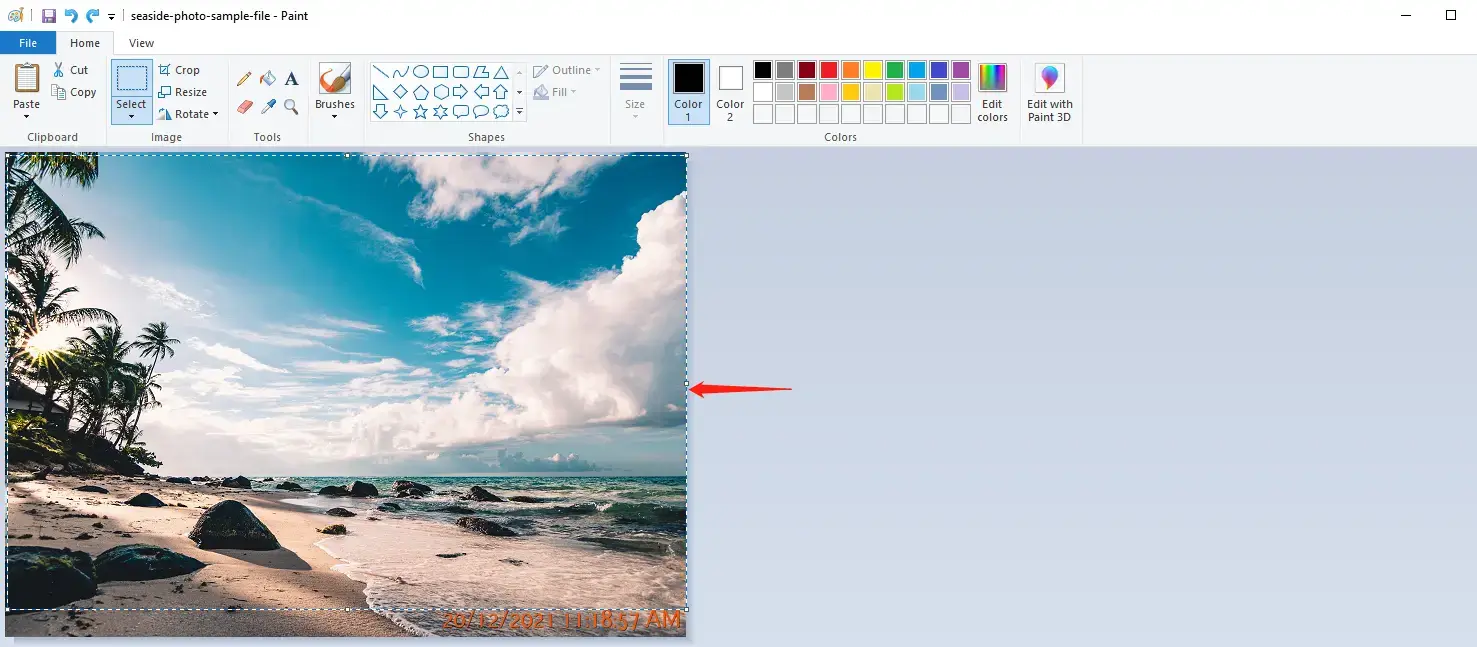 4. Click on Crop to get your new photo.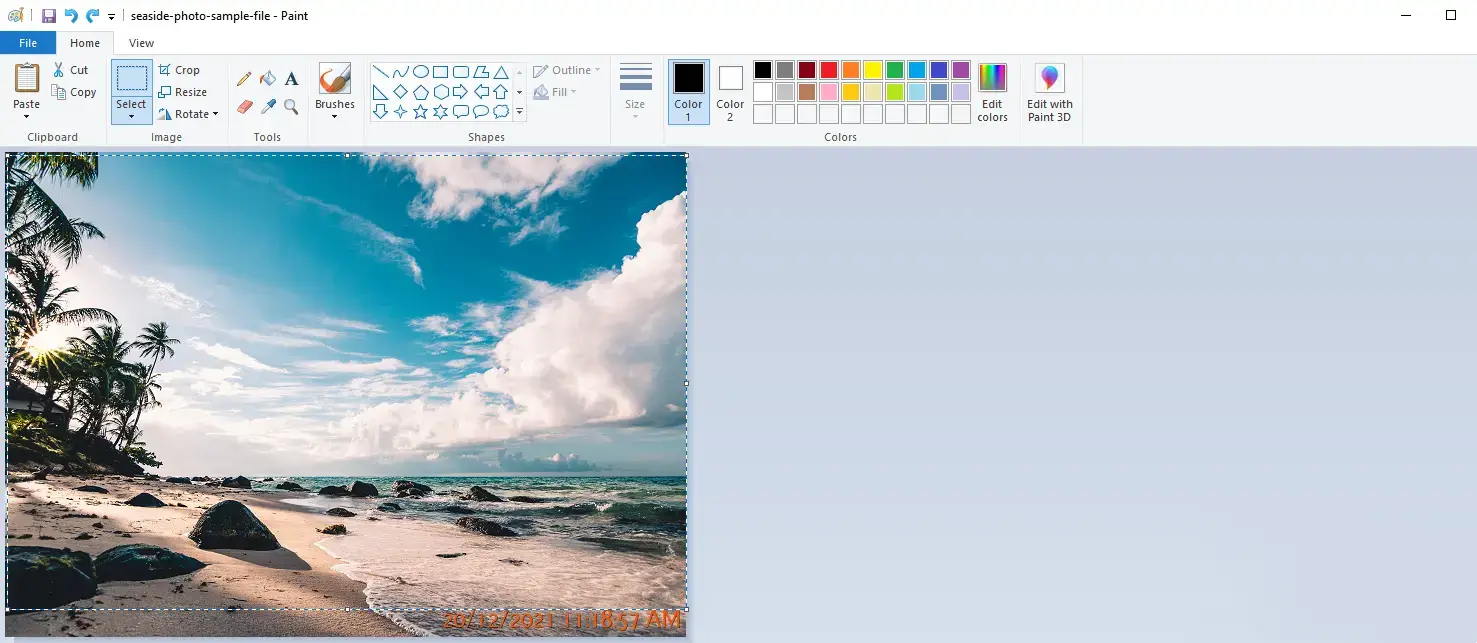 Here is the outcome.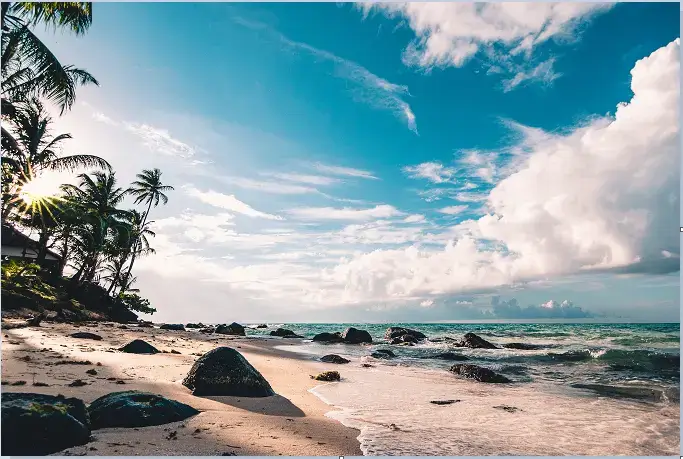 | | |
| --- | --- |
| 💖 Advantages | 💔 Disadvantages |
| | |
2. Use a desktop tool to remove date from a photo
I believe that it is also frustrating to see that the uploaded photo is not complete if you choose the first method. So why not have a desktop tool to help you with your date removal? Here, you can try WorkinTool Watermark Eraser.
WorkinTool Watermark Eraser is a powerful all-in-one watermark solution provider. Equipped with an easy-to-use interface and clear navigation, it will assist you in erasing the date stamp from your photo easily and instantly. You can delete watermarks in photos in various image formats, such as JPG, PNG, and BMP. Also, it allows you to eliminate other text or image watermarks of a picture or a video. More important, it is utterly FREE to use currently.
A guide for deleting date from a photo through WorkinTool Watermark Eraser.
1. Open the tool and then choose Remove watermark from Image.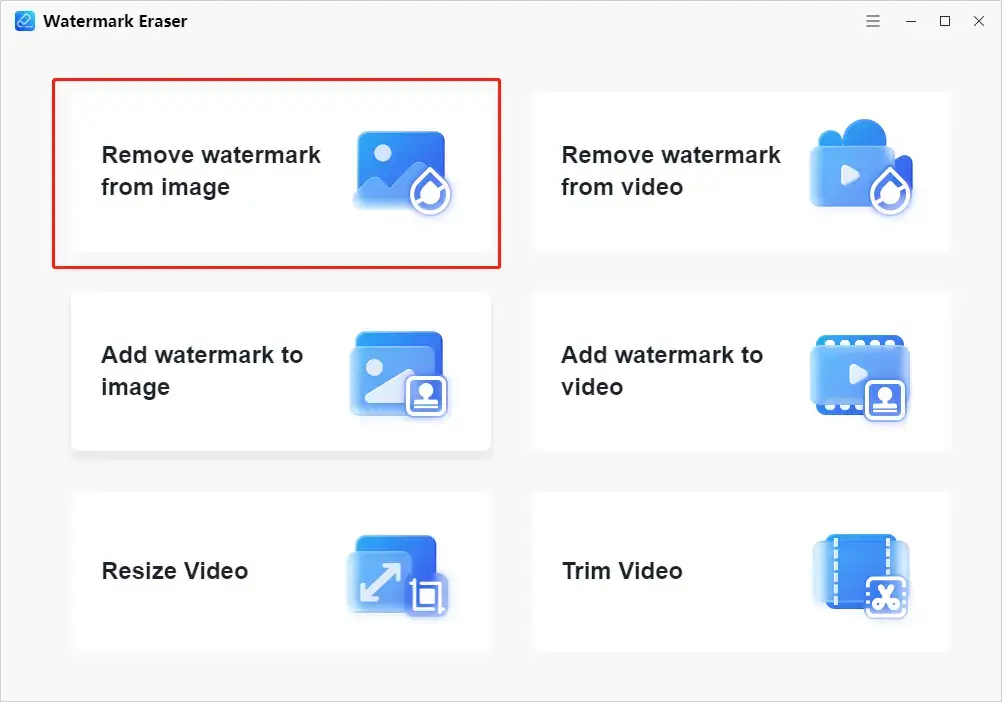 2. Select your photo or drop it in this area.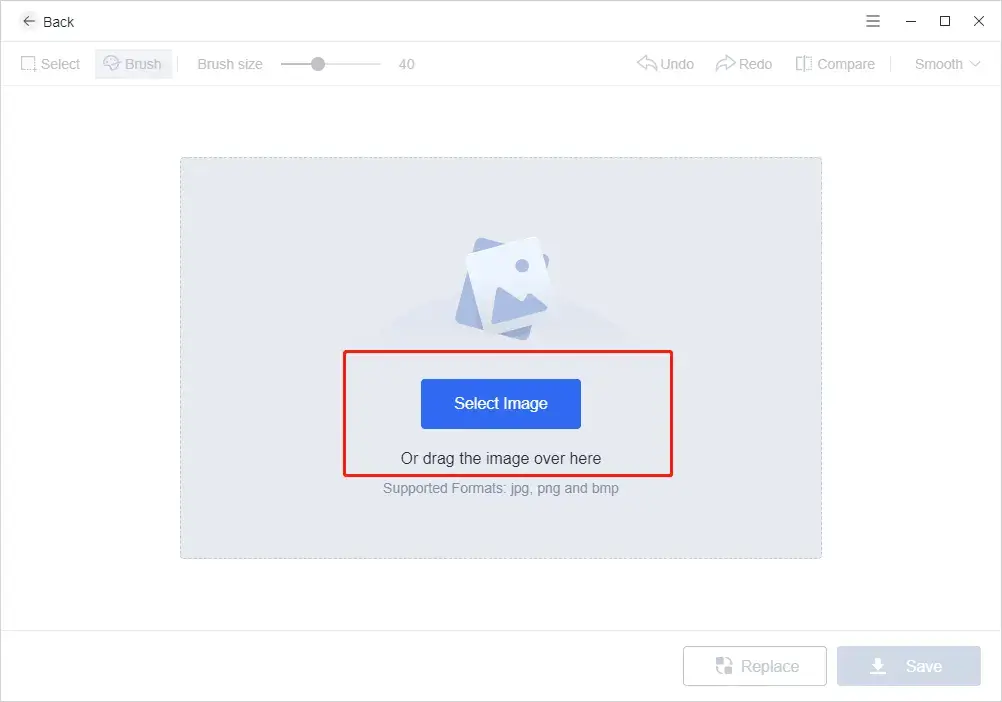 3. *Choose "texture" from the last choice on the right and use the brush or selection to erase or mark the date text.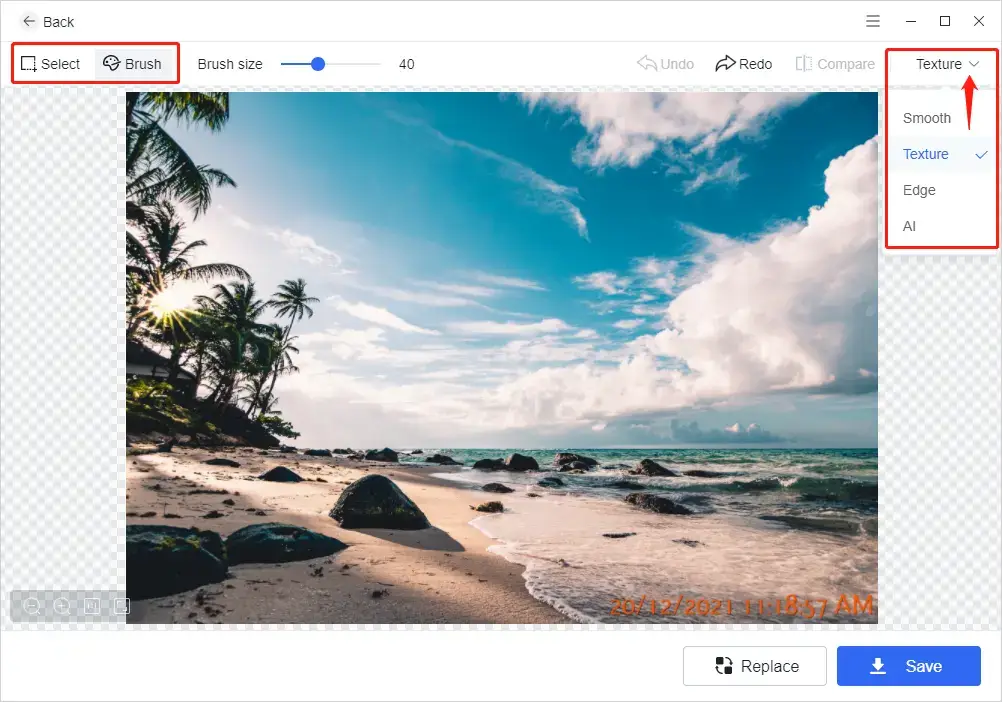 4. Click on Save to get your new picture.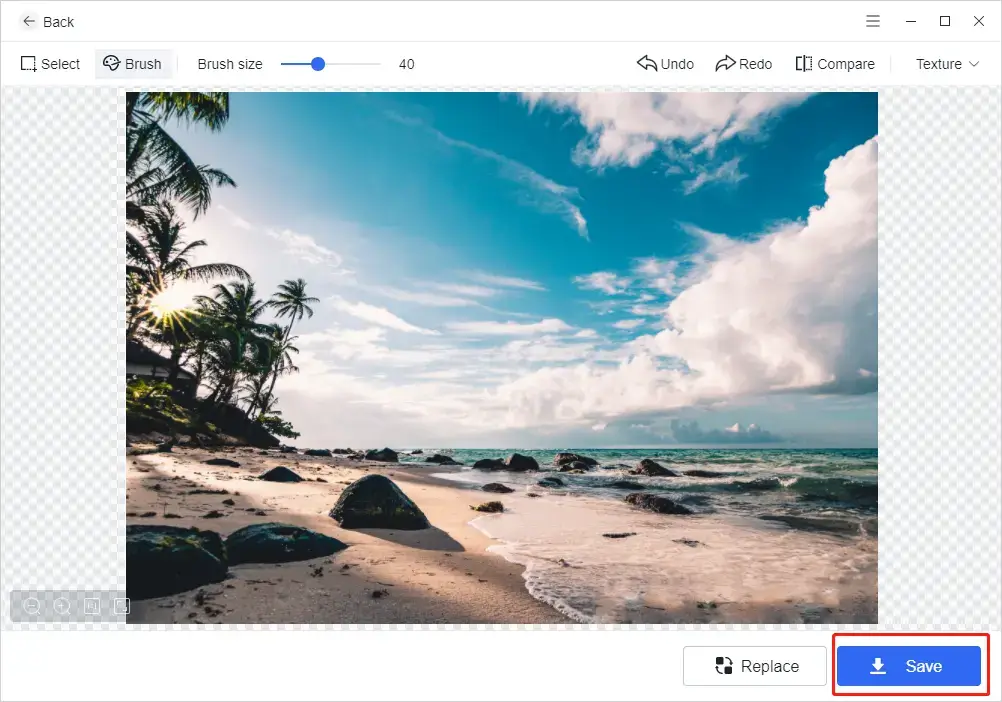 *Notes Four removal modes: Smooth, Texture, Edge and AI.
(The mode needs adjusting to achieve the best deletion effect, according to the content on your photo.)
Please see the result.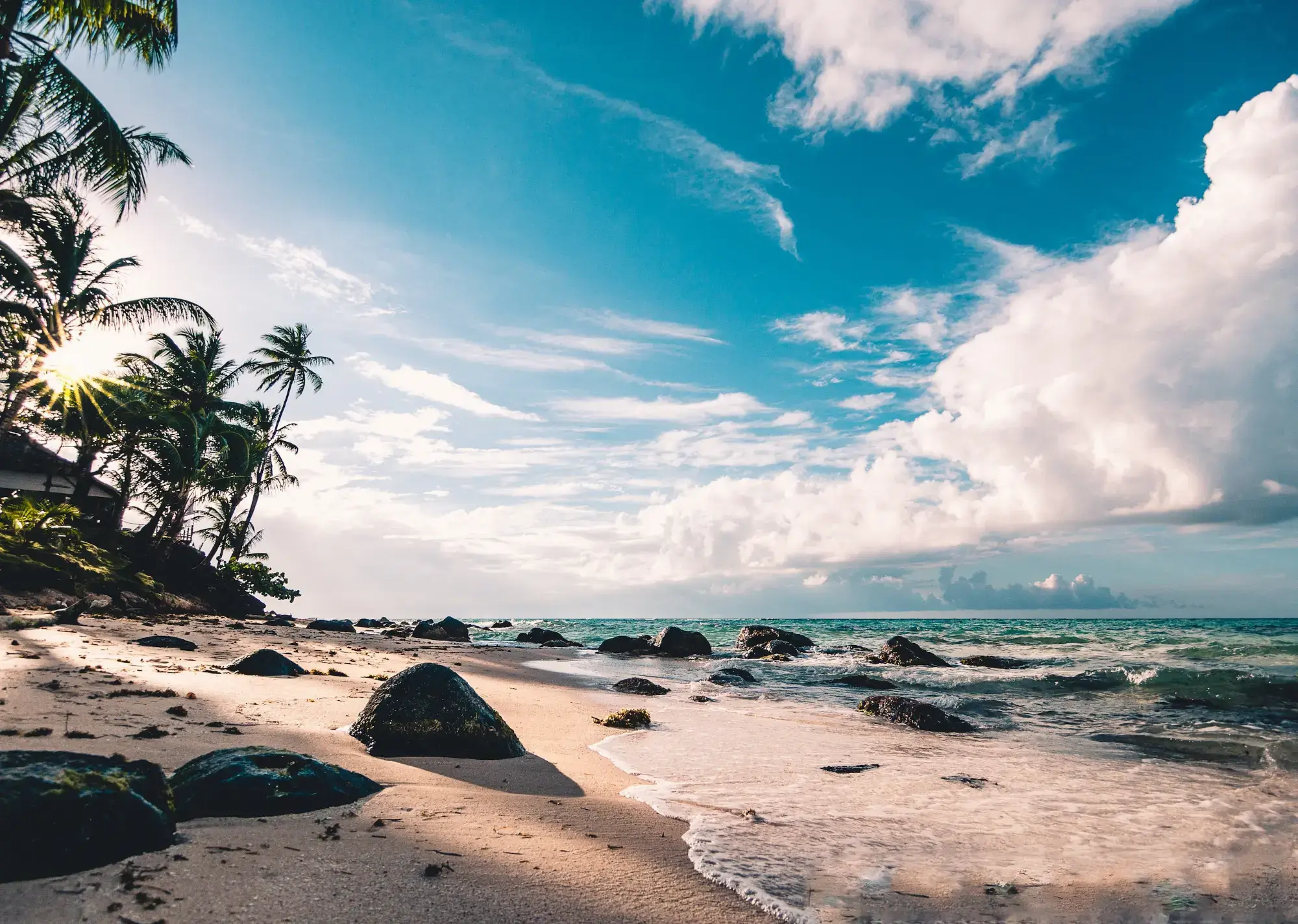 💖 Advantages
💔 Disadvantages

Easy installation and little PC space occupation
Completely FREE currently
Simple-to-use interface and clear navigation
Photo preview available with zoomable and adjustable features
Brush and selection are both available
Four modes of watermark removal
Fast-speed watermark erasing for most modes
High-quality output

Relatively slower removal speed in AI mode
3. Use an online tool to take the date stamp out of your photo
If you find it inconvenient to download and install offline software, you can turn to an online tool for help whenever there is internet access. Here we would like to recommend Inpaint to you.
Inpaint is one of the most acclaimed online tools for watermark removal. Supporting a range of image formats like JPG, PNG, and WebP, enables you to eliminate the date information with ease in a snap. However, watermark deletion is the only feature for this tool and applies to both images and videos. Watermark insertion is unavailable for it and the tool is not entirely free.
Tips for erasing date from a photo via Inpaint
1. Open the Inpaint website and then upload your photo or drag it to the highlighted area.

2. Use the marker or other features on the left to cover or select the date texts.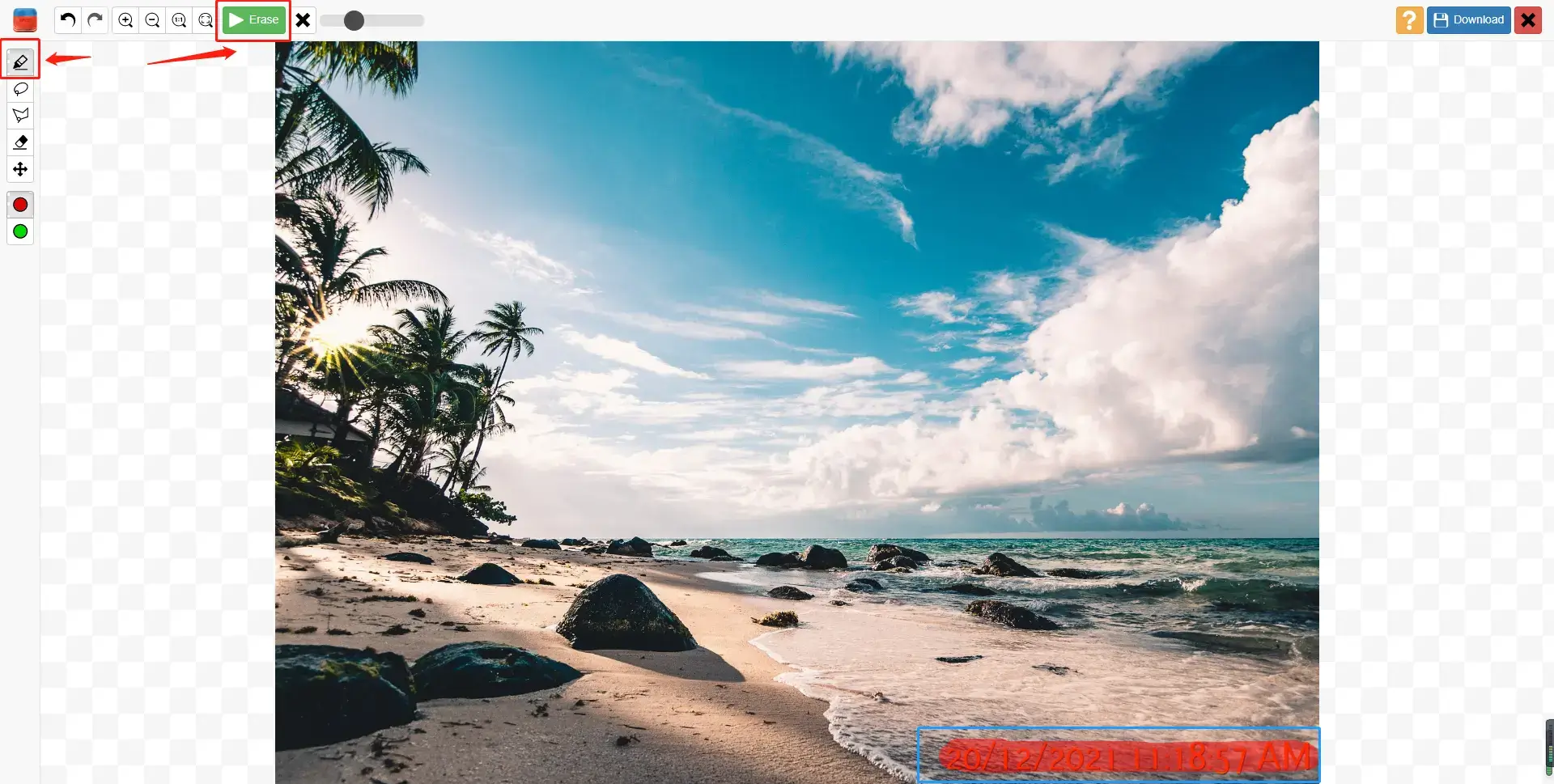 3. Then click on Download to receive your outcome.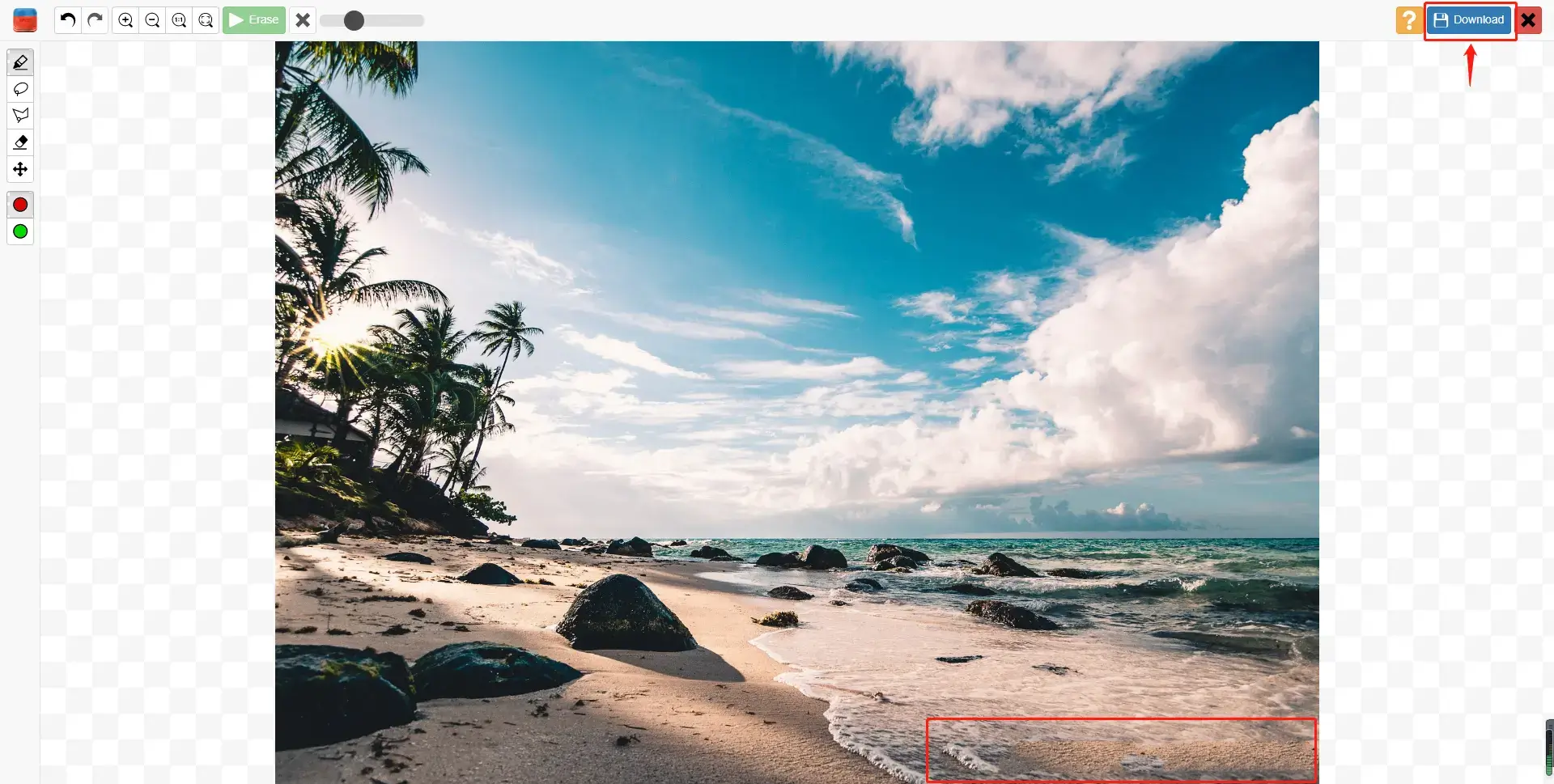 Here comes the outcome.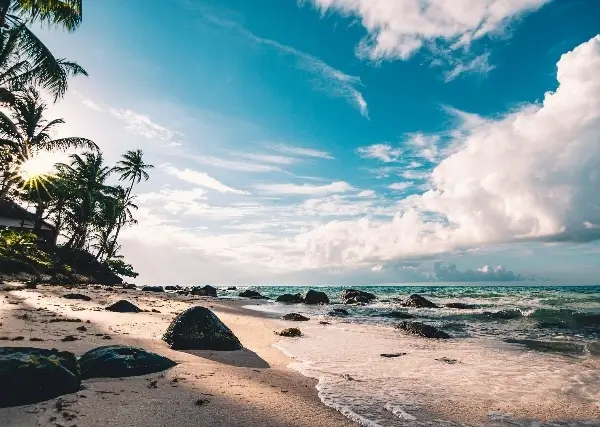 💖 Advantages
💔 Disadvantages

No software downloading and installation involved
User-friendly interface
Photo preview available with zoomable and adjustable features
Multiple modes to select watermark area, including marker, lasso and polygonal lasso
Fast download speed

Slow uploading speed if the file size is too large
No options for watermark removal modes
Unstable watermark erasing speed
Strong limitations in its free trial version, including low-quality outcome downloadable only and file size
Watermark removal only while watermark creation unavailable
---
Other Thoughts
Why should you choose WorkinTool Watermark Eraser
WorkinTool Watermark Eraser, new in the market, is designed to resolve nearly your common watermark-related issues.
These are the specific reasons for making this option:
Professional: Watermark Eraser is developed by Shanghai Hudun-Tech Group, a recognized Hi-Tech company specializing in SaaS solutions for more than eight years. We are exceptionally professional when it comes to office tools that aim for working efficiency improvement.
Powerful: Watermark Eraser is more than a watermark remover designed for pictures. It also allows you to remove a watermark from a video. Meanwhile, no matter a text or an image watermark, it will be easily and instantly eliminated. Moreover, adding a watermark to an image and watermarking a video are other powerful built-in features for Watermark Eraser. Now, you can resize and trim your video with its updated version. Hence, it proves to be a great help in the modern workplace and at school.
Secure: Your safety is our priority. Therefore, we will spare no effort to protect your data privacy and information security.
User-Oriented: Your voice matters. We will listen carefully to what our customers say, doing our utmost to satisfy all their needs and upgrade our products accordingly.
FREE Currently: You are entitled to all the features of Watermark Eraser without a license payment currently.
FAQs about WorkinTool Watermark Eraser
1. Is WorkinTool Watermark Eraser a completely free tool to use?
Yes. Watermark Eraser is utterly accessible to the public without any payment currently, so You can enjoy all its features after downloading and installing it. Therefore, please start your free trial right now.
2. Is WorkinTool Watermark Eraser difficult to install?
No. Watermark Eraser is a lightweight tool, so it occupies only a little space on your PC and it takes merely a snap for you to install it.
---
Final Thought
Erasing a date stamp on a photo is an essential skill in modern society, especially for social media fans. We hope you can find your ideal option when this sort of problem occurs after reading this article. However, it is strongly recommended that you give Watermark Eraser a try.
So please leave a comment to share your experience with these methods or other frequently used ones. Thank you.
Looking forward to your reply.
Products Reviews:
TrustScore
4
|
323
reviews