Two Steps Tell You How to Resize Video for Instagram
When it comes to resizing videos for Instagram, it is all about the effect and convenience. Thanks to our tool WorkinTool Watermark Eraser, all the cropping problems become a matter of a few clicks. As a user of WorkinTool, you don't have to do many things. Two steps are enough to export a qualified video. You only need to put your video into the software and choose the ratio that suits you most. Then you can save the copy for later posting. Just simple as that. More surprise to you, it is totally free to use. So don't wait and download it to experience all the magic here.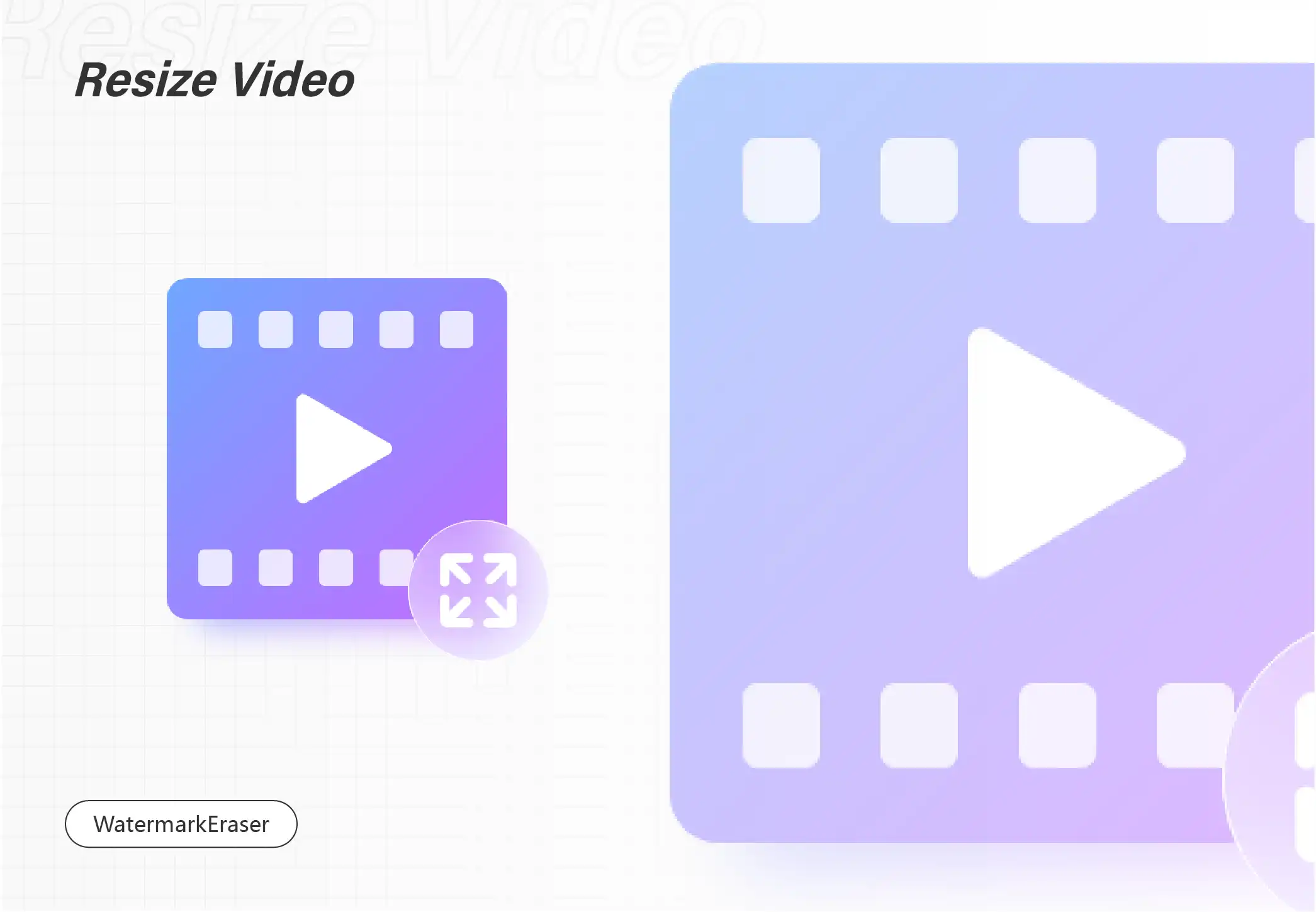 Do you need an easy way to resize video for Instagram but already get tired of overcomplicated steps and rules to make a suitable video? For me personally, there was a long time I found my video size was weird and didn't fit for Instagram after I posted them. And I didn't try to figure out the rules and requirements for Instagram video posting. However, after these years' experience, here is the ultimate Instagram video strategy I have summed up. After reading this article, I guarantee that you will know what is the perfect aspect ratio for different types of videos to post. And more importantly, you can easily crop videos for Instagram according to your needs.
We all know in this new era of we-media, social media platforms like TikTok and Instagram are the places where people get all the attention. In order to get more views, those videos must keep up with the newest trend and post on different platforms. Of course, first, you have to find the best video cropper tool so that you can make perfect Instagram videos. Well, in that case, there is where WorkinTool Watermark Eraser comes in.
---
Resize Video for Instagram: Ratios and Requirements
Although I know you want to jump right to the step of Resizing the video. However, I believe it is necessary to get ourselves acquainted with the Instagram video requirements. After all, if you do want your videos to show in the best condition, These different aspect ratios for Instagram below are what you must know.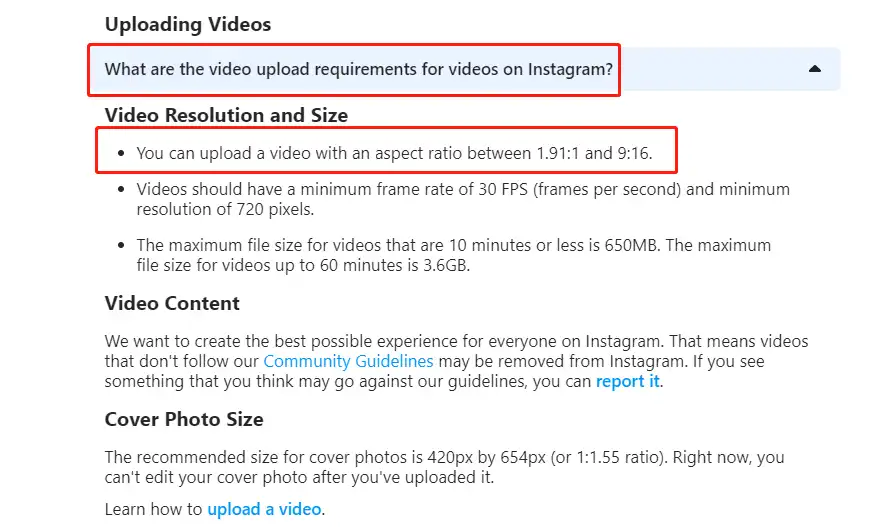 As the official Instagram website has told us, the best ratio for video playing is between 1.91:1 and 9:16. But nothing is completely certain. So let me show you the best aspect ratio for different situations.
(9:16) For Instagram Reels and Stories
There are no doubts that you have to use 9:16 when it comes to Instagram Reels and stories. The best solution for short videos that require users to swipe up and down to the next one is always vertical aspect ratio.  The same reason goes for TikTok videos if you want to post there. Though you may find some space of your content will be reduced once you have cropped a landscape video into this ratio. So, this ratio can also work on TikTok clips.
(16:9) For IGTV Videos
Normally, a 9:16 vertical ratio is more preferred on Instagram. But not all are for the case. If you have some videos that are too long and you don't want to shorten them within two minutes. Then you definitely have to pick this horizontal ratio to post on Instagram.
16:9 is best for videos like outside traveling, family gatherings, or video diaries.
Compared with 9:16, it is better to display content with higher resolutions. And basically, you don't have to crop the video again. Though 16:9 is a little bit outdated for the majority of mobile users.
(1:1) For Animations and Advertisements
The square ratio is evergreen when it comes to Instagram users. Because it is the first ratio to be applied on Instagram. And it is the natural fit for the profile and advertisements.
It is compatible with every orientation when displayed. And because it is the first and the best ratio for Instagram, you won't worry about the compression is going to destroy your content. But you have to know that you will be showing less content than any other ratio of the video.
(3:4 or 4:3) For Tutorials and Vlogs
These two aspect ratios are more optimized for people are viewing content while moving. There will be more screen space to display your content and it leads to more people watching the whole video.
---
How to Resize Video for Instagram
After I have introduced several basic ratios for Instagram, next we will be going to the fundamental element for cropping video, which is the tool. WorkinTool Watermark Eraser is more than qualified for resizing videos. It can automatically set all the ratios we have mentioned. The only thing you need to do is to put your video into this software and set it right to export for posting. Here, let me show you how to make it work.
First, open this tool and choose "Resize Video", put your video into the process window to crop.
After you have customized the video, export it for later posting.
Resize Video for Instagram: Position and Size

When you come to resizing the window, you can manually enter the specific number of X, Y-Axis, width, and height. It allows you to make an accurate cropping operation.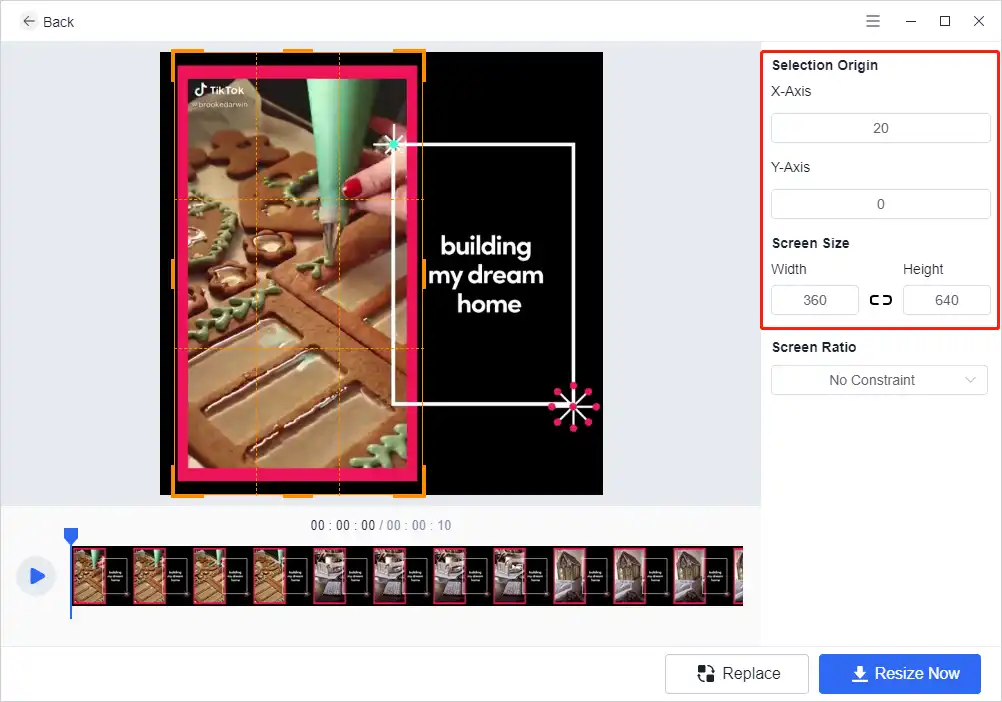 Resize Video for Instagram: Screen Ratio
And of course, we recommend most users try the screen ratio feature. Here you can pick these ratios we have specially introduced. Decide one that suits your video most and move the orange box to find the best place to crop the video. In this way can you use the least time to make the best Instagram video.

---
More to Share
With the help of the WorkinTool Watermark Eraser, you will be saving a lot of time and effort. You can share original video content on different platforms simply by changing the size. Once you have posted videos to various social media platforms, you would get more viewers in different groups, so that you will lengthen the trending time of your content. What's more, you will get more attention by separating diverse sizes of videos into different platforms. And all of these are thanks to the almighty power of cropping.
Of course, cropping is not the only function of video editing. You can also use our tool to trim the video into the best condition for use. Changing the beginning and ending time only requires a few clicks. Plus this tool is totally free to use, go try to experience all the amazing functions right now.
Products Reviews:
TrustScore
4
|
323
reviews