How to Watermark Photos Within a Few Steps in 2023
Do you know how to watermark photos? When you are taking photos or retouching pictures and uploading them to the Internet, there is a risk that other people will steal the photos for profit or some illegal usage, which would be harmful to your interests. So here comes the question: how can you protect your photos from strangers? Is there any useful way to prevent this theft from happening? If you're interested in it, read further to learn how to add watermarks to photos in four easy way!
How to Watermark Photos on PC and Mobiles in 2023
When you are taking photos or retouching pictures and uploading them to the Internet, there is a risk that other people will steal the photos for profit or some illegal usage, which would decrease your interest. So here comes the question: how can you protect your photos from stealing? Is there any useful way to prevent this theft from happening?
If you want to solve the problem, the solution is not to keep the photos alone but to add exclusive private watermarks. Private watermarks are unique for individuals and brands and guarantee the images' originality. Also, a photo with a private watermark is less likely to be used directly by people who don't own the photo.
We'll introduce some efficient and practical methods to you about the question of how to watermark photos, including a powerful watermark tool WorkinTool Watermark Eraser, a professional image editor Photoshop, a convenient Android app Video Eraser, and the built-in tool on iPhone.
How to Watermark Photos on PC
Add Watermark to Photos with WorkinTool Watermark Eraser
WorkinTool Watermark Eraser can solve all your problems with watermarks. It helps you add or remove watermarks for videos and photos and even resize as well as trim videos, which is one of the most effective ways to watermark photos for free. WorkinTool Watermark Eraser does not require any fee from users, and there are no ads. Meanwhile, the design is very simple and easy to operate. Moreover, the watermarking process is instant, meaning you can get your watermarked photos within a few seconds.
WorkinTool Watermark Eraser allows users to add text and image watermarks. You can adjust the watermark font, size, color, thickness, opacity, style, angle, position, and layout to suit your personal tastes. Here is how to watermark photos with WorkinTool.
Click Add watermark to image to import an image in WorkinTool Watermark Eraser.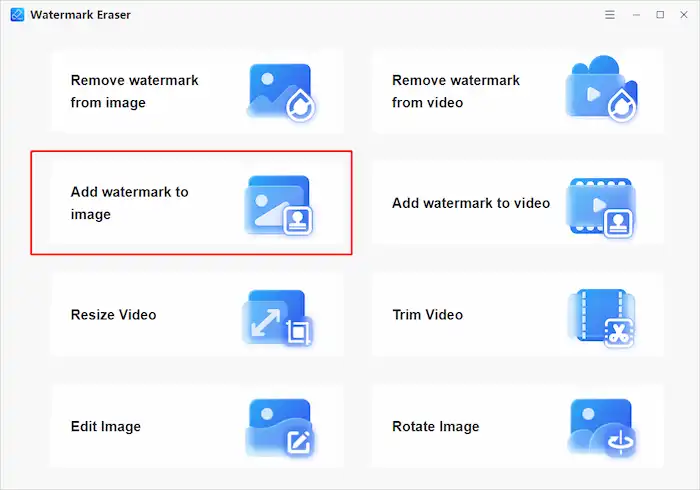 Press Add text watermark or Upload image watermark, and adjust the details of the watermark.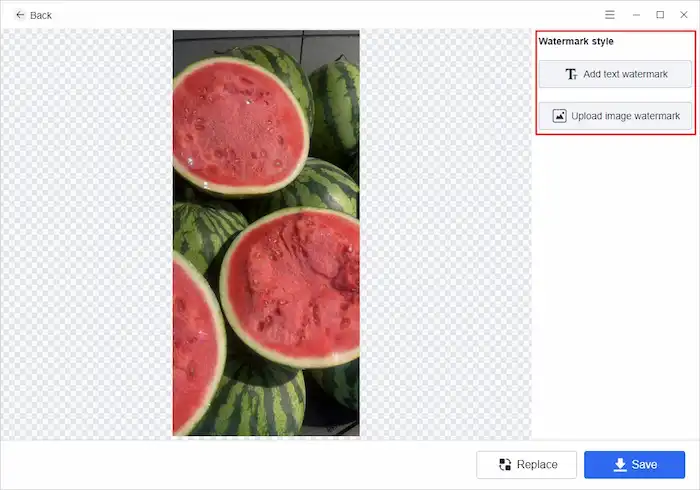 After adjustments, press Save.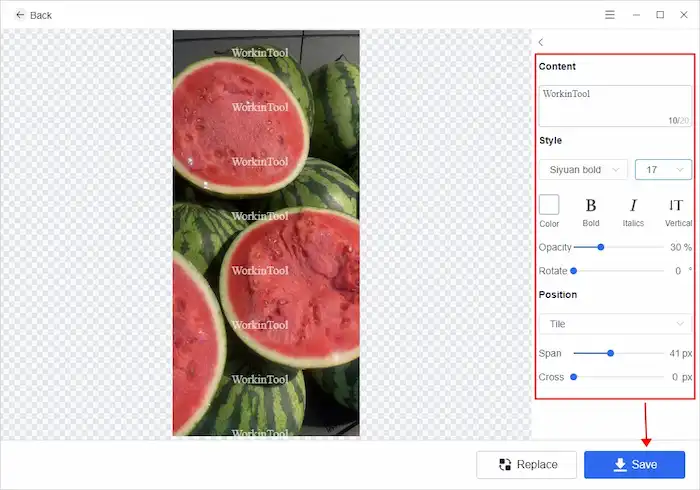 The application offers a large blank space, which helps with convenient operation. But it must be said that the image format is limited. Only JPG, PNG, and BMP formats are proper. If your image is in another format, you can't upload the image file, such as WEBP and TIF.
Watermark Photos with Adobe Photoshop
Regarding editing images, Adobe Photoshop is probably the first thing that hits most people, but it is not that easy to use. However, when it comes to image details and professionalism, few image editors can beat it. In addition, it can save the watermark layer as its own file for future images. If you have bought this software and want to put a watermark on a picture while controlling more parameters and details, you can't miss Photoshop. Here is a step-by-step tutorial.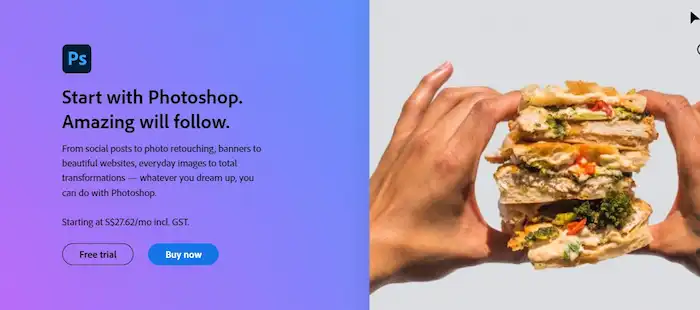 Open a picture in Photoshop, then create a new layer.
Select the Text tool to click anywhere on the image to add a text watermark.
Use the toolbar to change the text font, color, size, and opacity.
Place the watermark and export the watermarked image.
---
How to Watermark Photos on Mobile
Two methods are introduced in this section. We recommend a third-party app called Video Eraser regarding the difference in default settings on Android devices. You can easily get the watermark software from Google Store. For iPhone users, you can easily add text and signatures to your image with the Markup tool in the Photos app.
Watermarks Pictures on Android with Video Eraser
Video Eraser is an Android app. Similarly, it can add watermarks to pictures and videos and remove watermarks from images and videos. You can add both text and image watermarks without any pressure. And there are no quantity limitations. You can put watermarks anywhere and as many as you want. The highlight is that you can add full-screen text watermarks in one go. The text size, color, background, and shadow are at your disposal. Meanwhile, this all-in-one video editor enables you to crop, trim, speed up, slow down, compress, reverse videos, and more. A range of features is free to use. Even the paid ones can be tried once per day. In this case, you can enjoy all the features for free in advance to decide whether to pay for the membership. Here is how to watermark photos with Video Eraser.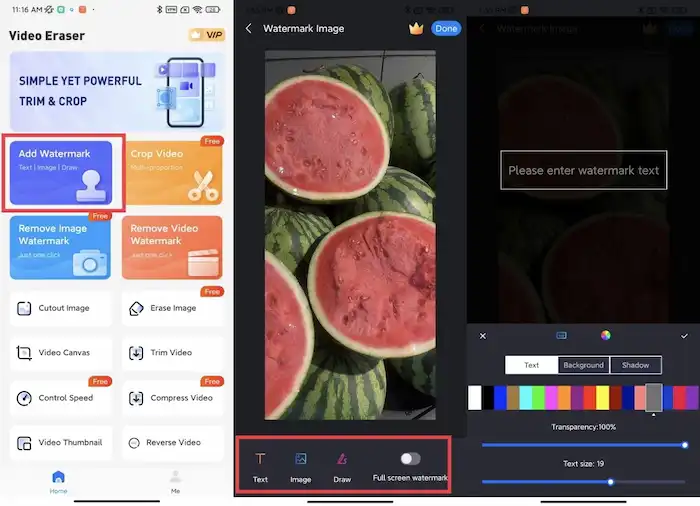 Open Video Eraser on your phone and click Add Watermark.
Tap the options from the bottom menu to add text or image watermarks. You can draw freely as well.
Scale the watermark and drag it to a proper place, then tap Done to save the watermarked image or share it with your friends.
Add Watermarks to Images on iPhone
The easiest way to put watermarks on a photo is using the Markup tool within the Photos app. It works best when you want to add text watermarks, emojis, signatures, and doodles to a picture. But anything more complicated such as adding pictures, logos, or patterns to an image, will become too cumbersome for Photos. In this case, you'd rather install a third-party tool on your iPhone. Here is how to simply add text or doodles to an iPhone image.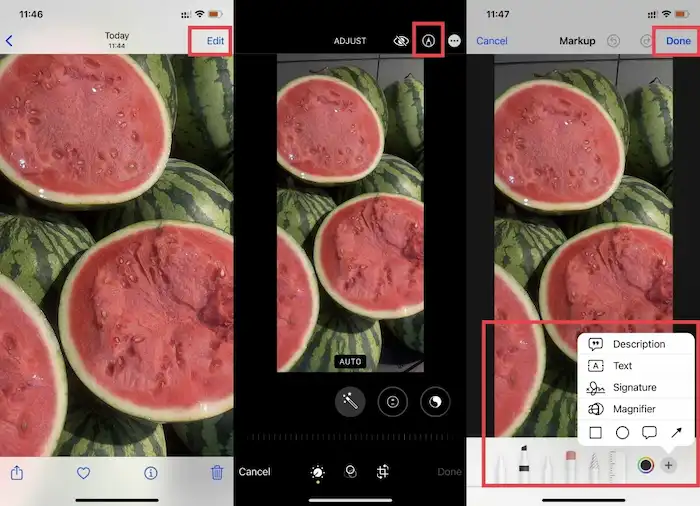 Find a photo in Photos and tap Edit.
Tap the Markup tool in the upper right corner.
Use the drawing tools in the bottom menu, or click the +icon to add descriptions, text, signatures, magnifiers, or shapes as desired.
Resize and reposition the watermark you added and tap Done to save the changes.
---
Tips About Using Watermarks
People who upload and share photos on the Internet are the last people who want their pictures stolen. Learning how to watermark photos may not 100% prevent theft, but it can be a means of self-defense and protection. It also makes it a little more troublesome for strangers to use photos without consent.
What should you pay attention to when adding a watermark?
Unique: The watermark should be unique, which means you should not repeat the watermark content or pictures of others.
Recognizable: Make your watermark as recognizable as possible. It is best to make the content catchy, simple, and easy to remember.
Integrity: If you want to preserve the integrity of the original picture and video without hindering viewing, you should pay attention to the location, size, and ambiguity of the watermark.
What are the benefits of adding a watermark?
Notify copyright: No matter how long the time has passed and how wide the transmission range is, as long as there is a watermark, you can recognize your picture or video at a glance.
Use as evidence: If someone steals your pictures, you can use the watermark as evidence to ask others to delete them and apologize for the abuse.
Improve popularity: If a company adds its unique brand watermarks to the photos of the products, consumers will be more familiar with the company and its products, which brings a high branding effect.
Wrapping up
That's all about how to watermark photos effectively. WorkinTool Watermark Eraser and Video Eraser are easy, efficient, and powerful. Photoshop can make better creations, which is also more suitable for experienced users. No matter if you want to promote the brand or just want to protect your photos, or whatever, you can have a try at one of the methods above. All the operations are instant. A watermark does not guarantee that your images won't be used without your permission, but it does at least add a layer of security and brand recognition to your content.