4 Best Audio Recording Software for PC in 2023
Most people find it challenging to find the best audio recording software for PC. Although you have known a plethora of audio recording software, you don't have a clue about which one to use. This article introduces you 4 best audio recording software, including WorkinTool Audio Recorder, WavePad, Leawo Music Recorder, and EaseUS RecExperts. In this article, you will be informed of a detailed introduction to each recorder. Their pros and cons, compatibility, and recommended users are listed. And this article also provides tutorials on recording sound with each of them. Please start your reading.
Audio Recording Software plays an important role in our life and work. In this article, we list the 4 best audio recording software for PC in 2023, making detailed comparisons in some aspects. They are WorkinTool Audio Recorder, WavePad, Leawo Music Recorder, and EaseUS RecExperts. After reading this article, you will be clear about the pros and cons of each software and the basic ways to record voice through them. Moreover, the compatibility of each one is included.
Now, please start your reading.
---
Things to Know Before Downloading Audio Recording Software
The surging development of technology brings people more chances to use computers. Accordingly, demands for audio recording are on the rise. To record voice from PC, the first step is to choose appropriate software.
Admittedly, an appropriate tool enables you to improve work efficiency. However, as lots of recording software has been developed, which one should you select? The answer is based on your needs. So if you are a professional music worker who needs to edit audio, software with complex functions fits you more. On the contrary, if you only record sound from an online conference, video, or live streaming, a convenient and easy-to-use software is the best choice.
To select a suitable audio recorder, please move to the following 4 best audio recording software we recommend.
---
4 Best Audio Recording Software for PC in 2023
1. WorkinTool Audio Recorder
WorkinTool Audio Recorder is a new audio recorder with a clear interface and navigation. As an all-in-one software, it can generally meet the needs of both beginners and professionals. The reason is that it is a recorder not only with simple recording steps but also high-quality output.
As a professional audio recorder, WorkinTool Audio Recorder provides you with flexible options like system sound recording or recording without system sound, and more. Before recording, you can make output settings such as output quality, output format, and audio noise reduction. Besides, in WorkinTool Audio Recorder, both hotkey and automatic save are available, which helps further improve your work efficiency.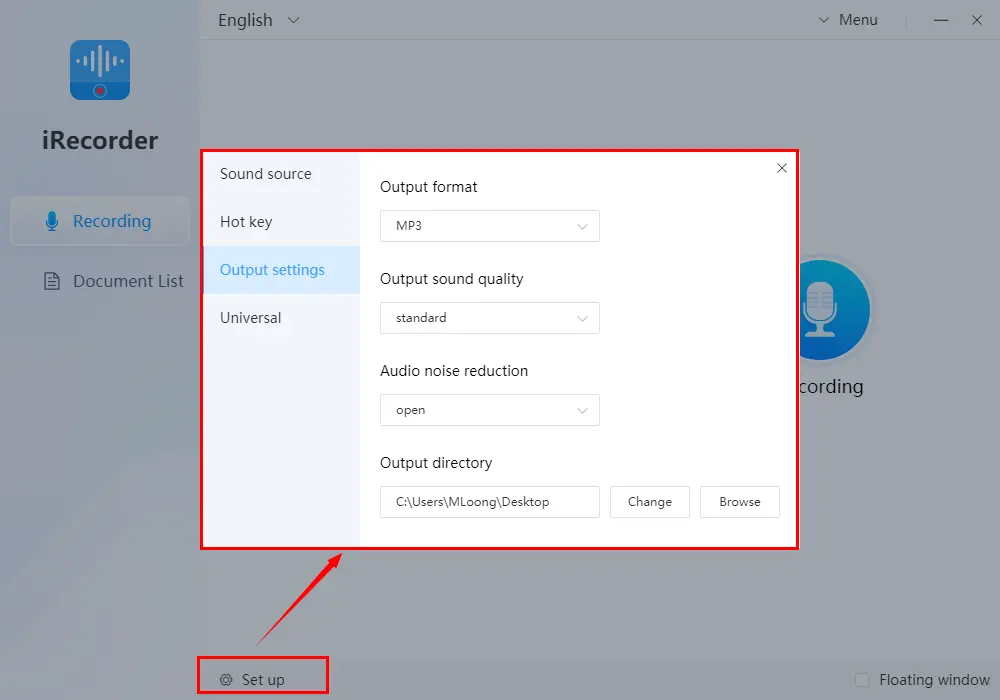 Ways to Record Audio Using WorkinTool Audio Recorder
It's easy to record sound through WorkinTool Audio Recorder. Open the software, make some settings if you need, then click "recording". It allows you to pause or stop at any time.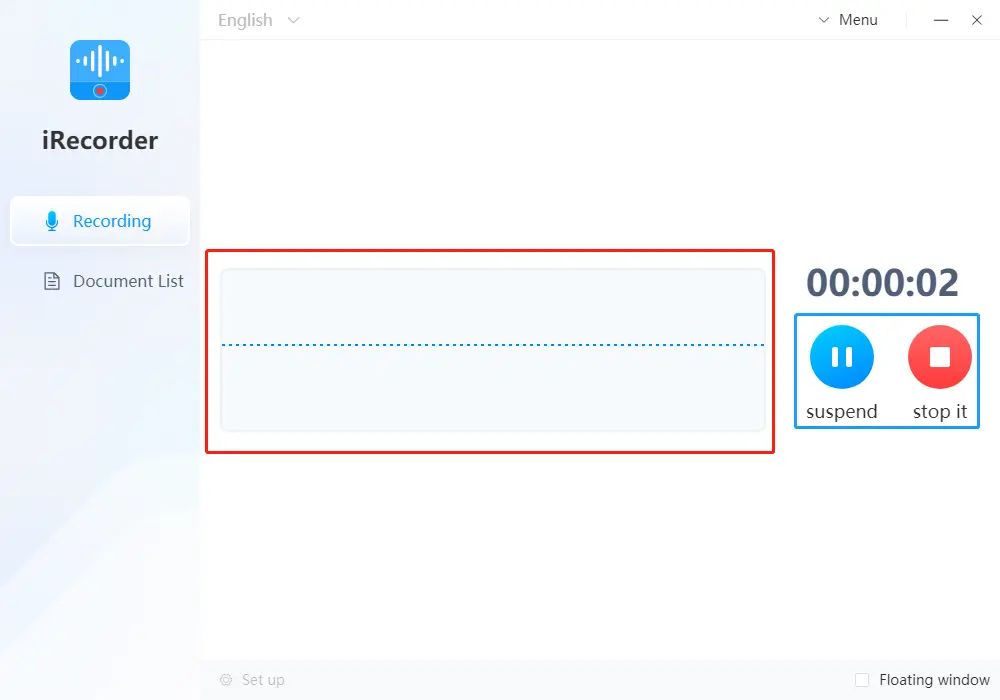 Please look at the chart below to get some specific information.
😍Pros
😅Cons
🤔Compatibility
😊Recommended user

lightweight to take up little space
no limitation of recording time gap
clear interface
clear navigation
optional audio source
hotkey available
automatic save optional
noise reduction accessible
output sound quality optional
currently FREE
under-protected data privacy and information security

music professionals
beginners
2. WavePad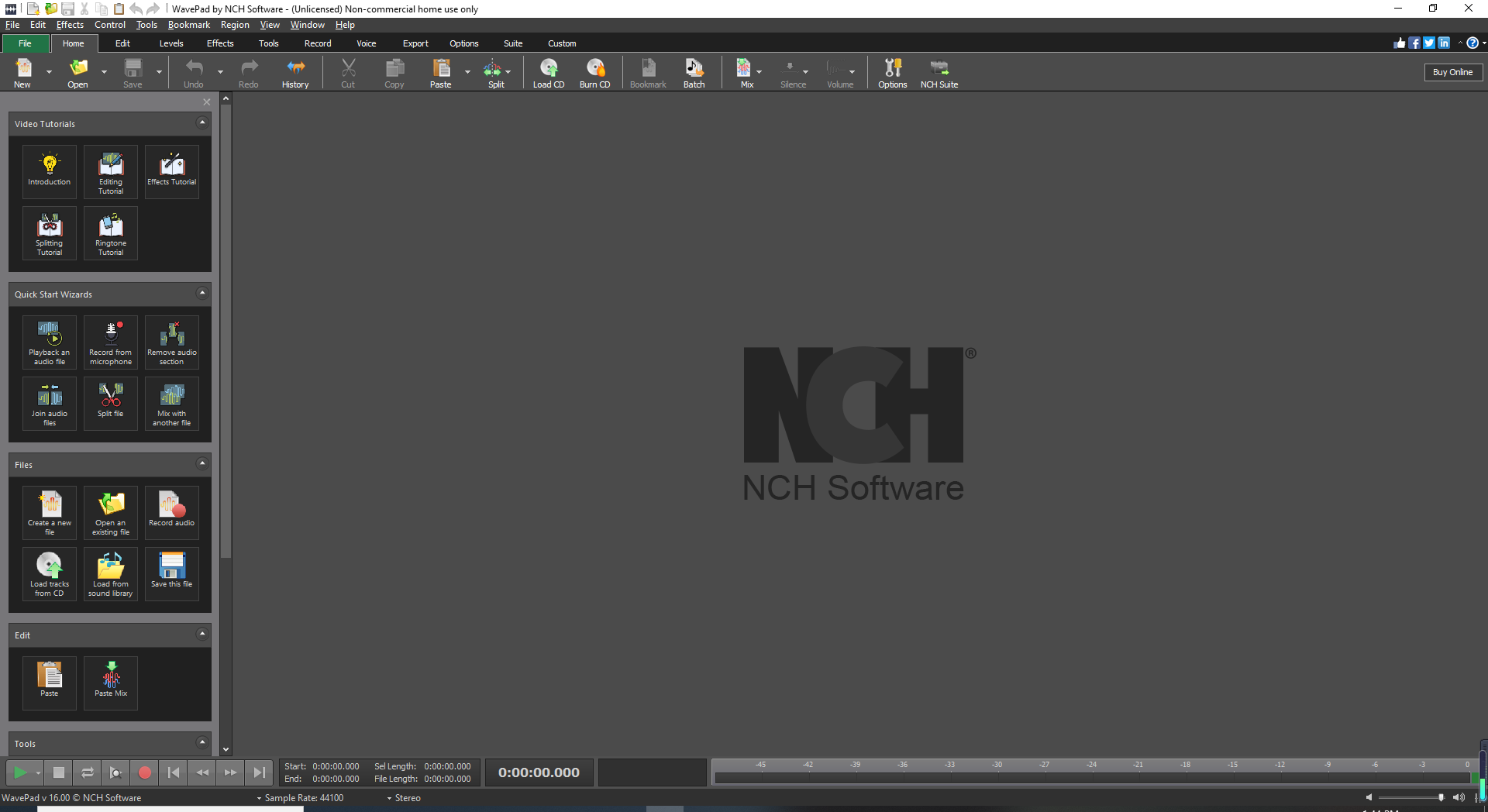 WavePad is a full-featured sound editing software, by which you can cut, record, insert, and compress audio. And it also brings some effects to audio. For instance, amplification, noise reduction, speed change, reverse, and echo are supported. It has many features that music workers might use. Besides, it supports most audio formats like MP3, WAV, MPC, APE, AIF, AMR, and more. With regard to sound recording, it is not difficult to practice. Moreover, it exports high-quality recording.
However, as the sound recording is not the first function, it will take some time to find the recording interface and learn what each icon represents.
Steps of Recording Audio Through WavePad
step 1: Open WavePad and look through the upper menu to find the text "Record"
step 2: Look at the left button in this interface, click the red icon, then the recording starts.
🔔Note: You are allowed to pause by pressing the foursquare icon and stop by pressing the green triangle icon.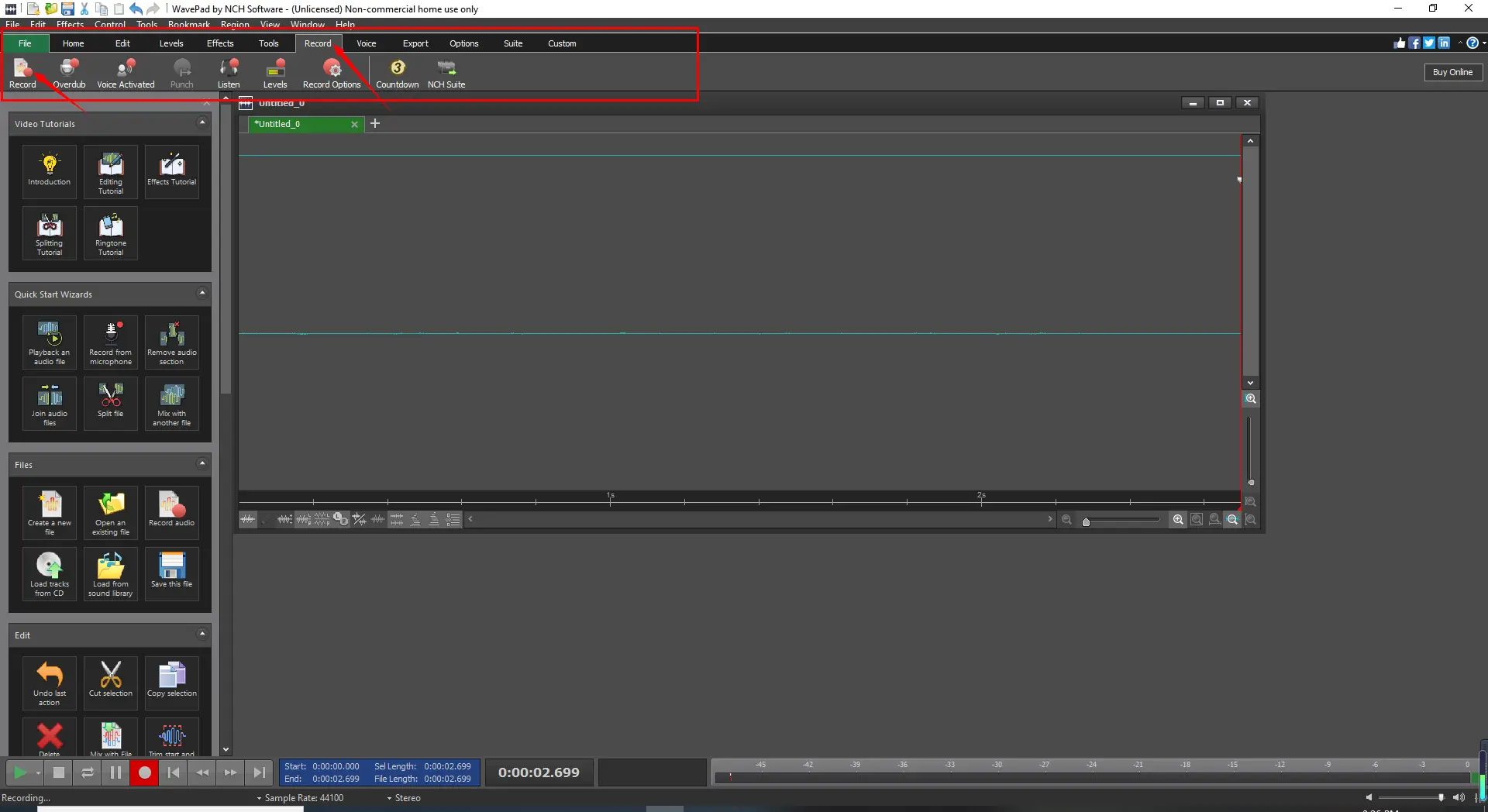 Please look at the chart below to get some specific information.
😍Pros
😅Cons
🤔Compability
😊Recommended user

most formats supported
multiple music effects
high-quality recording
full-featured editing
Auto Trim from the end of the recording
currently free
3. Leawo Music Recorder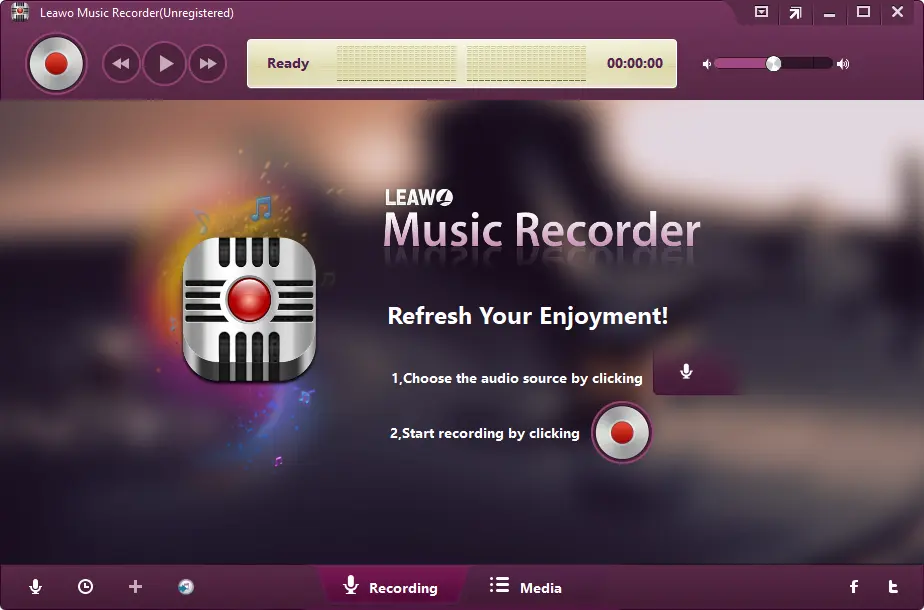 Leawo Music Recorder is a professional music recorder for music lovers who need to record music or audio. It can record both sounds from computers and online music, including Youtube, AOL Music, Last.fm, etc. Besides, it allows you to record microphone sound as well as built-in input audio streams like Realtek High Definition Audio, Realtek Digital Input, etc. And the interface of this software is simple, making new users easily and instantly grasp the way to record sound.
Moreover, it offers a Task Scheduler. Therefore, with this task scheduler, you can set start recording time and duration. This function is suitable for those who have regular meetings during a period of time. What's more, with this software, you can create, edit and delete playlists for recordings.
However, it's not free. There are three options for you to use it:
$19.99 for a 1-year license
$29.99 for a lifetime license
a free trial version which can only record three minutes
A Guide to Record Sound by Leawo Music Recorder 
Firstly, open the software, follow the official navigation.
Then choose the audio source by clicking.
Then start recording by clicking the round icon.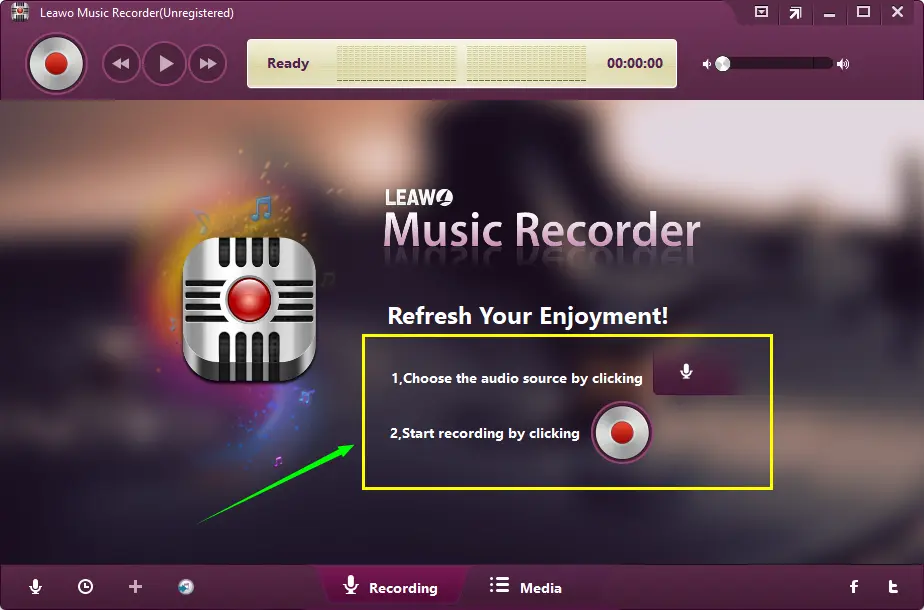 Please look at the chart below to get some specific information.
😍Pros
😅Cons
🤔Compatibility
😊Recommended user

audio source optionable
clear interface and navigation
the start recording time available
automatically split audio
automatic music perfection

not free
limited output formats
4. EaseUS RecExperts

EaseUS RecExperts is the audio recording software that enables users to record both audio and video with sound. It can capture any sound from PC or Mac. Using this software, you are able to record internal and external sounds without downloading any other tools. And this recorder can assist you to capture streaming audio. Namely, it helps you record online streaming sound with high quality. Besides, if you need to record sound in an online conference or audio conversions, EaseUS RecExperts can be an assistance.
Although it is compatible with Windows as well as Mac, its free trial version supports only ten minutes of recording. Therefore, if you want to record for a longer time or use advanced features, you have to buy its full version.
A tutorial on Recording Sound with EaseUS RecExperts
1. First, open the software, find out the audio icon, and click it.

2. Find out the orange round icon with a text of REC, then press it.

3. Pause or stop at any time to save the audio file.

Please look at the chart below to get some specific information.
😍Pros
😅Cons
🤔Compatibility
😊Recommended user

recording without quality loss
both for Windows and Mac
internal and external sound optional
video recording available
various output formats

limited recording time for a free trial
limited features for a free trial

beginners
users who needs to record both sound and video
---
Something More
🔑Can I record sound without downloading any other software?
Actually, there is a way to record audio without downloading audio recording software. If you use Windows OS, the Voice Recorder might help.
Voice Recorder is a built-in program in Windows. With a super-simple interface, it is easy to use and lightweight. Therefore, it has limited audio editing functions. What's more, if you just want to record sound without any need for editing, this built-in software might be a good choice.
However, Voice Recorder only supports recording microphone sound and system sound at the same time. So you must let it gain access to your microphone.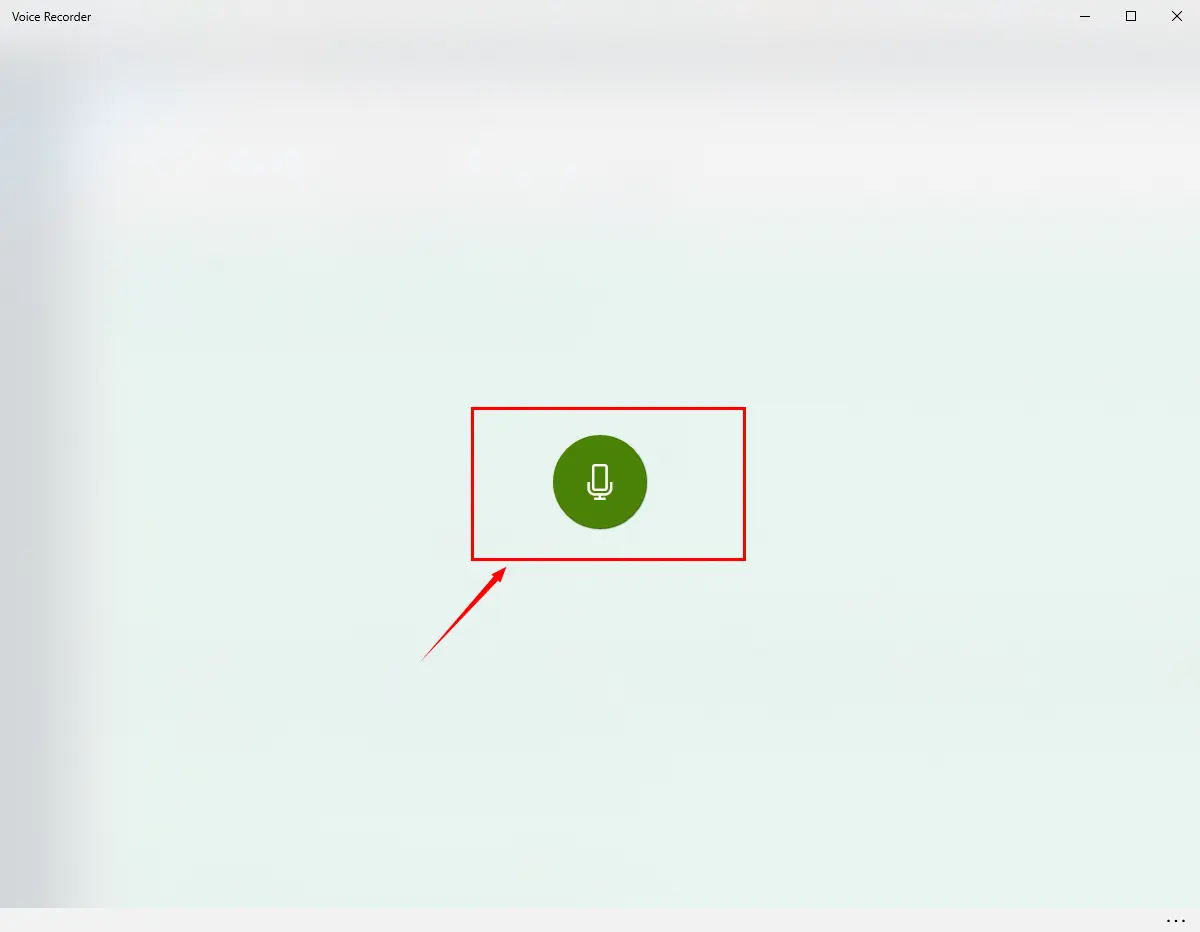 🔑A Guide to Record Sound by Voice Recorder
Firstly, press the keyboard shortcut –Windows+S, then enter voice recorder or audio recorder in the search box.
Then find a Voice Recorder and open it.
Click the icon microphone, then the recording starts.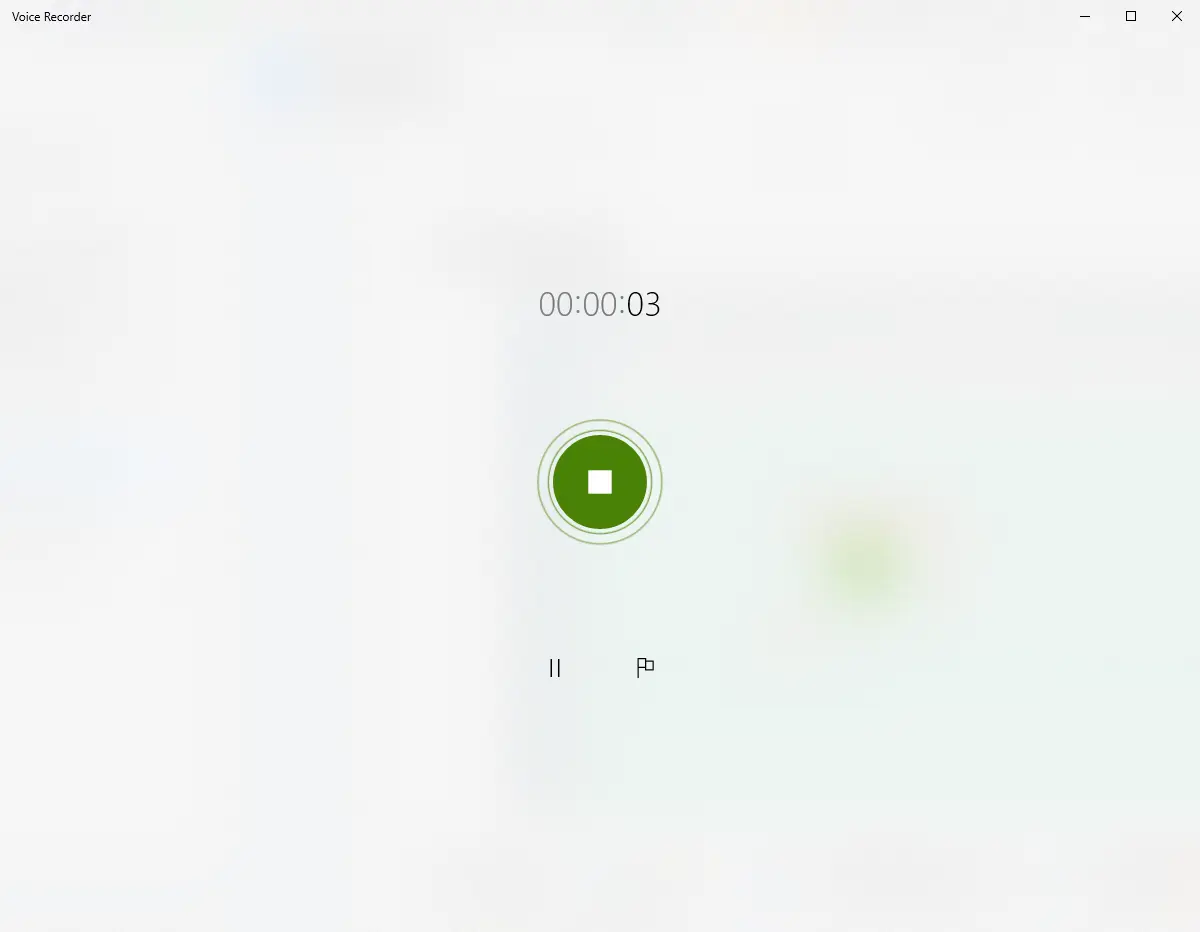 ---
Final Thought
These are four audio recording software we recommend. Each one of them is endowed with particular features. And I have said at the beginning of this article that choosing a good recording tool depends on your needs. Thus, you may know which one you need most after this reading. Hope this article can help you find the best audio recording software for you.
However, I recommend that you can try WorkinTool Audio Recorder. It's currently free. And after that please leave a comment to tell us about your experience with WorkinTool Audio Recorder.
Looking forward to your reply.