Best Audio Recorder for YouTube: A Detailed Guide
Do you often happen upon a piece of heart-touching background music while watching a YouTube video? What if you can not find it online? What would you do if you needed to listen to it offline? Fortunately, I have a solution for you to add the song to your playlist; that is, use an audio recorder for YouTube. And in this article, I have shown you a great audio recorder with detailed information and operation steps. You can also download it directly.
When watching YouTube videos, do you often hear a heart-touching song without knowing its name? Sometimes, it's not an easy task to find it online, or you have no access to it for copyright reasons. Fortunately, there's still a solution for you to add the song to your playlist; that is, use an audio recorder for YouTube. After recording the audio from the video and then converting it to MP3 format, it would be easy for you to listen to the song offline. Audio recorders can be used not only for YouTube but also for many other media platforms.
Maybe you are still confused now. With so many audio recorders on the market, what's the best one to record audio from YouTube? Are there any selection criteria? Are they safe enough to use? Don't worry. In this article, I have shown you a great audio recorder with detailed information and operation steps. You could check and try it within a few minutes. Just take a quick look now!
WorkinTool Audio Recorder – Best Audio Recorder for YouTube
WorkinTool is a fully experienced team that released much practical office software, and it quickly gained popularity on the market. This team has produced a complete product line. It has released PDF Converter, Watermark Eraser, and File Compressor, and they are constantly researching and developing office software to help people. Over the past decade, it has accumulated mature technology and rich market experience.
Although WorkinTool Audio Recorder is relatively new software, it is super helpful for recording audio on your device. And there are no limits to its usage. You can use it to record audio on any platform. In addition, the audio recorder has a simple design, and it is easy to follow. Furthermore, it provides two output formats: MP3 and WAV, which could be used on most occasions. What's more, WorkinTool does not make backups of users' recording files, as they highly protect users' privacy.
Key Features:
Free.

Unlike other software, WorkinTool requires no charges from users. Anyone who downloads and installs it can start recording in a minute without paying a bill.

Simple Design.

WorkinTool offers a simple interface and operations to users. So it is easy to follow for users to

record audio from YouTube

or other media platforms.

No Password Required.

Users don't need to register or log in to any account, and they also don't have to bind any email either, which ensures security to a large degree.

No Ads.

There are no advertisement pop-ups on its official website or software. So you don't need to worry that you will visit any unsafe websites by accidentally clicking on the ad pop-ups.
How to use it to record audio from YouTube?
Step 1. Download and install WorkinTool Audio Recorder on your device.
Step 2. Launch the software, allowing system and microphone sound recording simultaneously.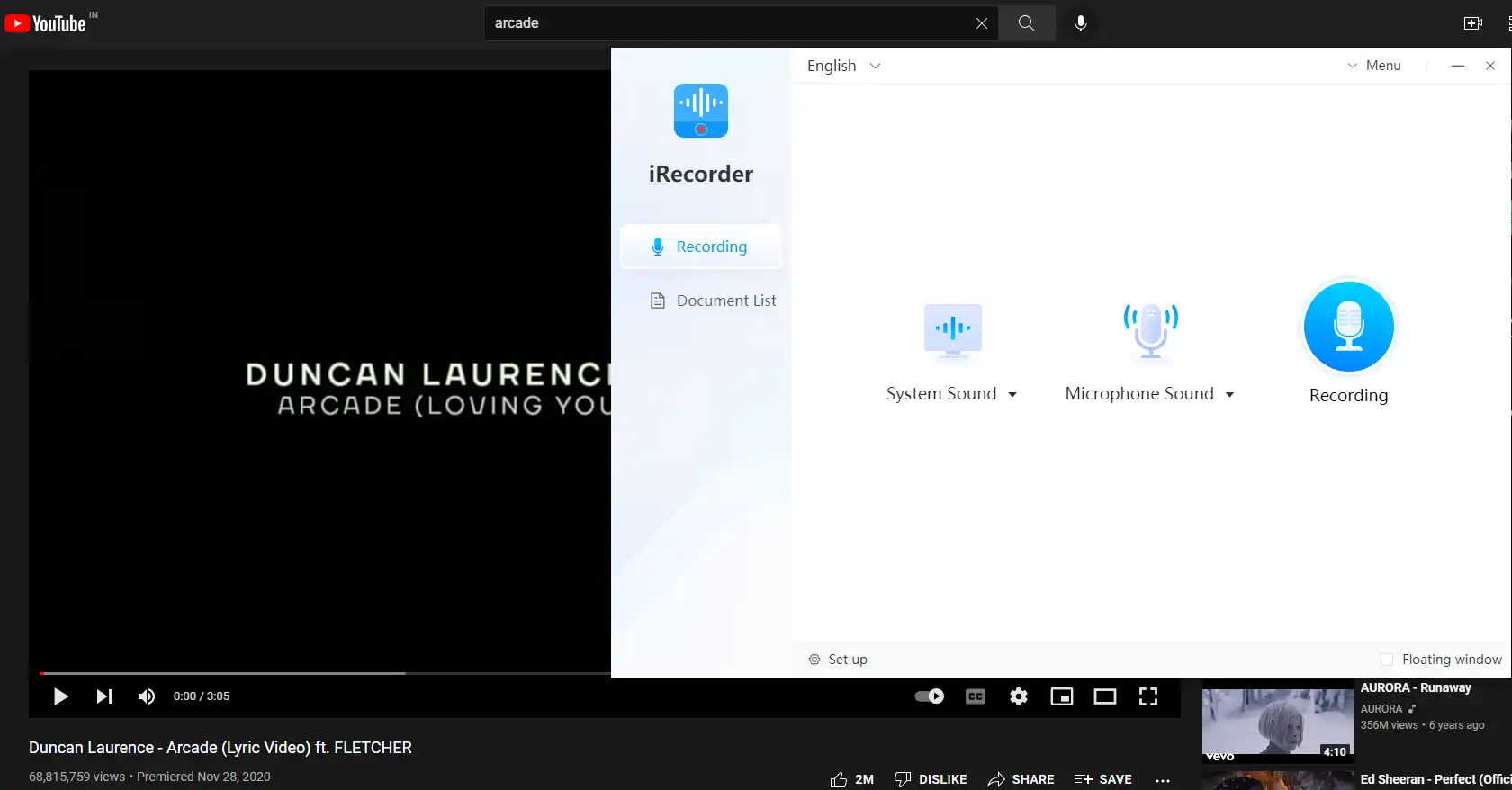 Warm Notice: It's better for you to check the sound source in settings before starting recording. In this way, you can make sure there are no issues. Besides, it's highly recommended that you select the high output sound quality and activate the noise reduction function.
Step 3. Go to YouTube to find and play the target video, then click the Record button.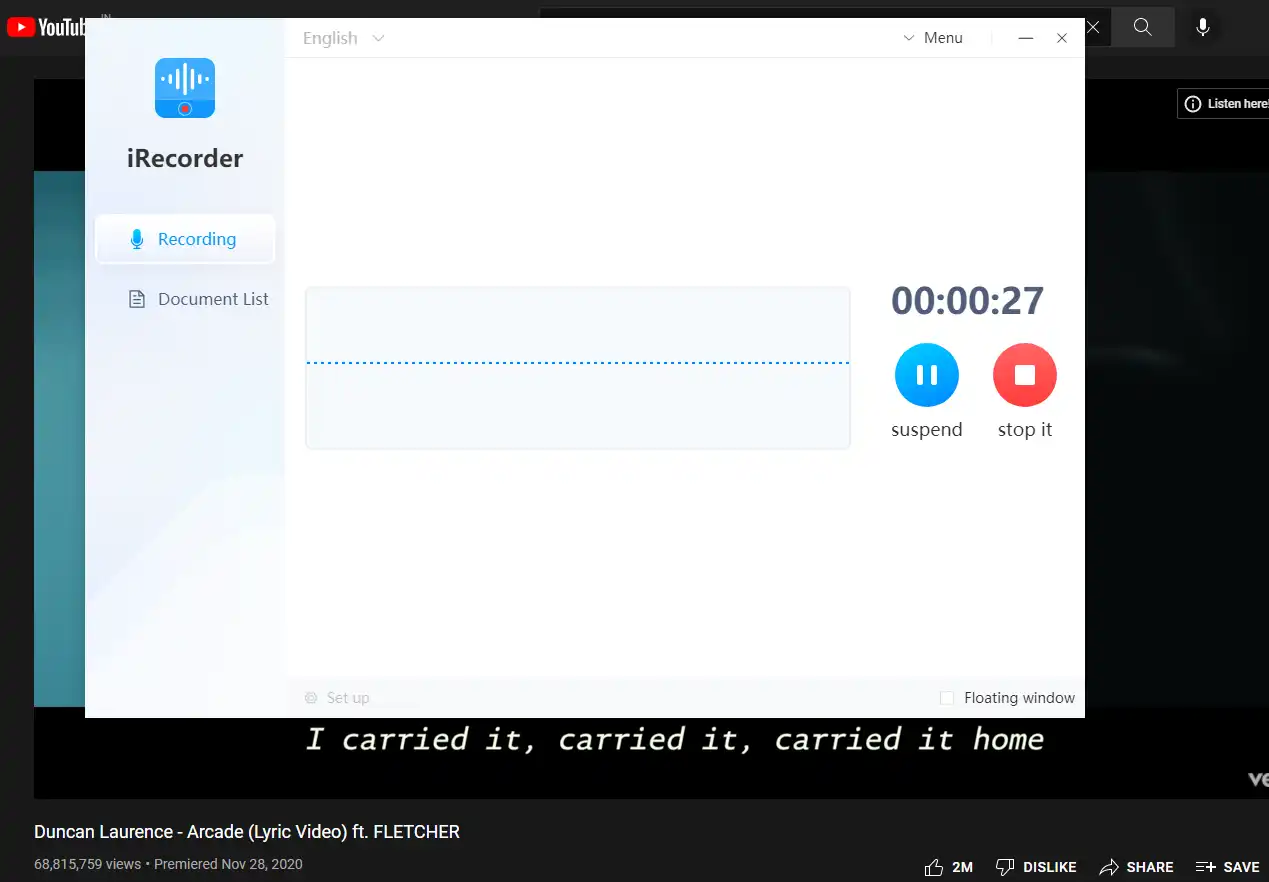 After finishing the recording, you can edit the file to add the title, artist, album, and other details about this recording.
More Information about Audio Recorder
Why is an audio recorder for YouTube essential?
Due to some copyright issues, you cannot download YouTube videos directly, which means it's hard to view them offline. So the easiest way to play the background music you like is to record it in the first place. You can only play the song on your device without watching the video if you have a recorded file.
Are there any limitations on the audio recorders?
The answer is no. As long as you permit it to record audio from YouTube on your device, you can start the recording without any limits. And you can customize the settings for the recordings. The WorkinTool team offers you absolute authority to use this software.
Is it safe to use an audio recorder on YouTube?
There's no need to worry about any threats to your device or privacy. Audio recorders are very safe to use. Take WorkinTool Audio Recorder as an example. It won't back up your files or steal any information, and it won't request any extraneous permissions. They are committed to practically addressing users' needs and never stealing any private information. Of course, it won't get launched automatically to steal your information, as promised by the WorkinTool team.
Is there an alternative way to replace audio recorders?
Yes. You can download the YouTube video with the YouTube Downloader first and then convert it to MP3 format. However, it's a little more troublesome than recording directly. So, if you have an audio recorder for YouTube videos on your device, it would be much easier to get offline music.
Final Thought
With the development of technology, it's easier to solve those professional problems. Whether you want to watch YouTube videos offline or record the background music to add it to your playlist, you can achieve them with a few clicks.
As the article has suggested, WorkinTool Audio Recorder is the software to help you record voice on your device. You can use it under any circumstances without any limits. It is never too much to say that it is the best audio recorder for YouTube. Not to mention that it asks for no fees from users. I'm sure there's no need to tell you how difficult it is to have free voice recording software. So don't be hesitant anymore. Just check the official website and download it now! And make sure to share WorkinTool with your friends and colleagues. I promise you that it won't let you down!