4 FREE Voice Recording Software for Beginners in 2023
In this article, you will be introduced to the following four FREE voice recording software for beginners in 2023, including WorkinTool Audio Recorder, Audacity Audio Recorder, Thundersoft Free Audio Recorder and Apowersoft Audio Recorder. Not only will you be informed of the brief introduction of these tools, but also you will know how to record audio through them and the specific information for having or declining it. Please continue your reading now.
4 FREE Voice Recording Software for Beginners in 2023
Admittedly, the swift development of smartphones has made a PC voice recorder less important. However, I believe a voice recorder built in a smartphone may fail to present high-quality audio when it comes to the sound recording of your computer systems.
Therefore, a voice recorder proves to be still useful presently. Today, we are going to introduce you to 4 FREE voice recording software for beginners in 2023:
WorkinTool Audio Recorder
Audacity Audio Recorder
Thundersoft Free Audio Recorder
Apowersoft Audio Recorder
Now, let's start our journey.😎
---
Things to Know Before Your Voice Recording
There is something that you should know before using a voice recorder.
📝What is voice recording software?
Voice recording software, also known as a voice recorder, is a handy tool to record both the sounds of your computer systems and your voice through a microphone. Normally, you will expect a good-quality audio file in the format chosen by you.
📝Why do you need voice recording software?
Suppose you are an audio editor. In that case, a practical voice recorder will help you collect any audio file and resolve all your audio recording issues. If you are not related to the professional audio world, you may need it to record the important dialogues undertaken in a Skype or Zoom meeting, or make a voice note enclosed in an E-mail attachment.
More significantly, with voice recording software, you save the trouble of holding a microphone or your phone to record the sounds from your PC. Hence, it remains a significant tool in modern society. To know which software you should try, please read on to see four free voice recording software for beginners in 2022.
---
4 FREE voice recording software for beginners in 2023
1. WorkinTool Audio Recorder
WorkinTool Audio Recorder is a piece of new voice recording software this year. As a lightweight, offline tool, it is designed with an easy-to-use interface which makes it friendly for beginners to operate.
Before your recording starts, you can check your sound status in the section of Sound Source. Then supporting both computer system and microphone recording, it allows you to easily and instantly record the system sounds, your voice or the audios of both sources by clicking Recording and you can pause or stop your recording at any time. Your files will be exported to the formats of MP3 and WAV, which are all of high quality. Besides, there are some useful features inside its setting, such as sound quality, noise reduction and automatic save.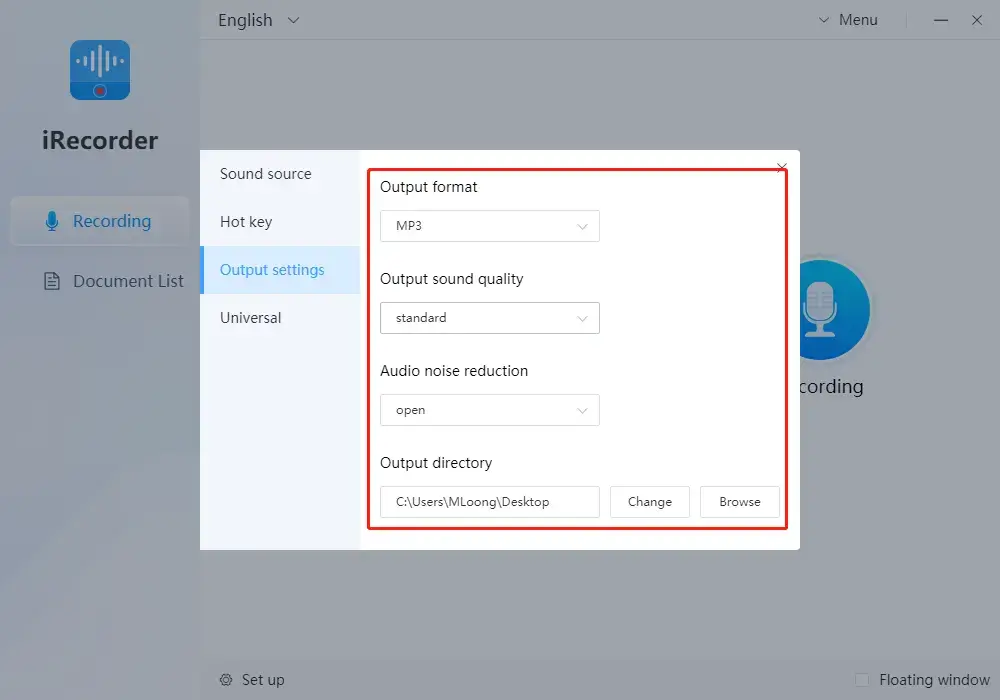 More importantly, WorkinTool Audio Recorder is utterly FREE for users currently. Therefore, you are entitled to all its features without any license payment.
Here is some specific information for your reference.
😃Reasons for Having It
😒Reasons for Declining It
💻Supported OS

Lightweight to take up little PC space
Simple-to-use interface with clear navigation for beginners
Three audio choices possible
Sound source check available
Sound quality optional
Audio noise reduction and automatic audio save supported
Completely FREE currently without personal registration
Guaranteed data privacy and information security

Windows
Online version (coming soon)
2. Audacity Audio Recorder
Audacity Audio Recorder is a free and open-source digital audio editor and recording application software. Suitable for both beginners and professionals, it boasts many features, including sound plug-ins, sound effects and sound analysis.
As for its recording function, it is less challenging for a beginner to use. Pressing the recording button, you can record the sound with ease. Also, you can click Play to listen to your recording before exporting it. Uniquely, you can drag the progress bar to choose and lock the sound range for further operation like editing and effect adding.
However, the interface is a bit complex for beginners since so many features might be useless for them, especially the editing sectors.
A guide for recording sound via Audacity Audio Recorder.
Open the tool and press the Recording icon.
Click the Stop button to end your recording and choose the Play icon to listen.
Find File and then choose save project to export your recording.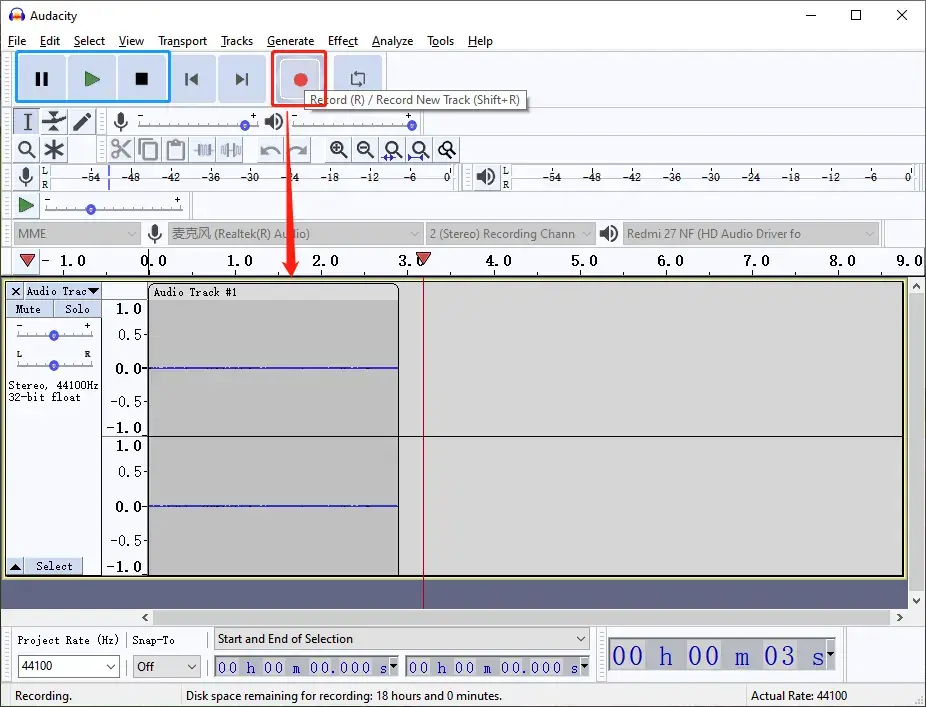 Please refer to the following summary.
😃Reasons for Having It
😃Reasons for Declining It
💻Supported OS

Easy operational procedures for sound recording
Multiple audio recording and editing features
Sound range selection operable for further processing
Various audio formats exportable
High-quality recording

Unnecessary features for beginners
3. ThunderSoft Audio Recorder
ThunderSoft Audio Recorder is a lightweight voice recording tool with a simple interface. With its help, you can effortlessly record system and/or microphone audios, and then export them in nine formats. Additionally, the recording quality is optional.
Moreover, it is endowed with a powerful feature–auto recording. You can add an auto recording plan in this software to start or stop your recording automatically. That is to say; it can help you with a regular recording in the chosen duration after you complete the relevant settings. It is extremely beneficial to those who have a daily meeting or session to tape.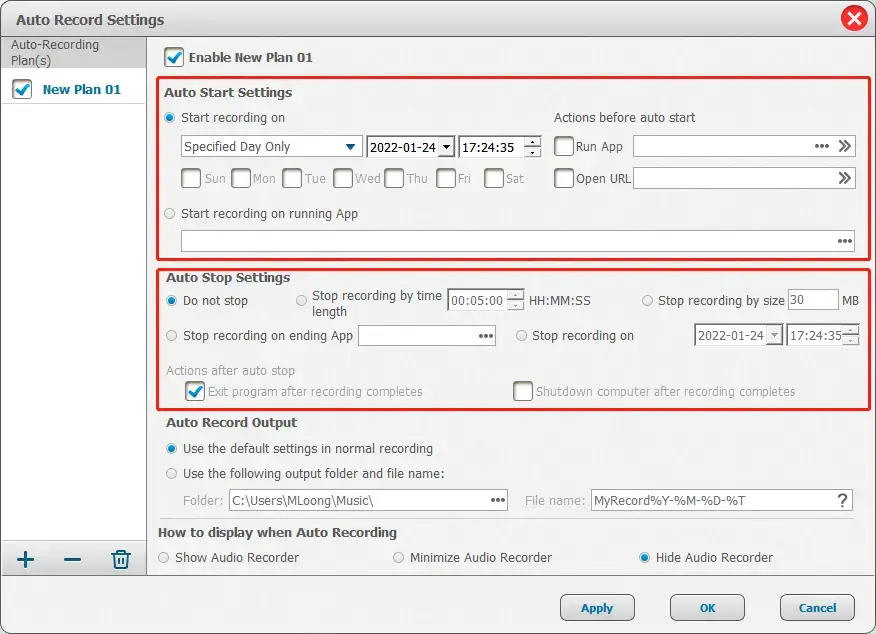 Meanwhile, there are other valuable settings built into the program. For instance, you can suppress the noise, amplify the volume, and set up the time for automatic pause or stop. However, you are only allowed to record audio for less than two minutes with its free trial version.
A tutorial on voice recording by ThunderSoft Audio Recorder.
Open the tool and adjust the settings, including recording source, output format and output directory.
Press the Record button to start your recording.
Click Stop to save your audio and then choose the magnifying glass to retrieve it.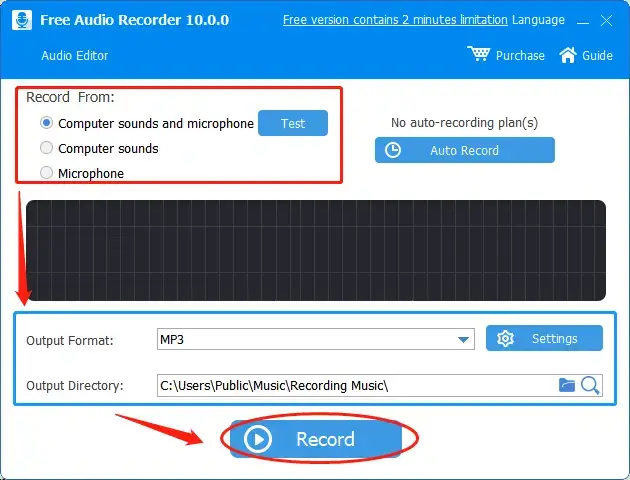 Here come the findings undertaken by us.
😃Reasons for Having It
😃Reasons for Declining It
💻Supoorted OS

Lightweight with a simple interface
Three recording choices available
Auto recording plan available
Auto pause and stop settings optional
Multiple output formats
High-quality outcome

Audio pre-play unavailable
Limitation on recording time applies to its free version
4. Apowersoft Streaming Audio Recorder
Apowersoft Streaming Audio Recorder is developed by a HongKong-based tech company called Wangxu Technology (HK) Co., Ltd. Driven the company's commitment to creative and easy-to-use software, Apowersoft Streaming Audio Recorder is designed with a user-friendly interface with some practical audio features like audio recording, audio to text and a built-in radio. Meanwhile, there are some additional features, such as audio converter, audio editor and CD burner. It is a powerful audio tool to meet almost every need of users.
In want of recording a sound from your computer systems, microphone or both sources, you just need to make a certain choice in the Audio Source icon and then press the Recording button. You can listen to your recordings in the Library section and retrieve them there easily by clicking the Open file button. Furthermore, the option-Schedule Task will enable you to plan an automatic recording at the scheduled time.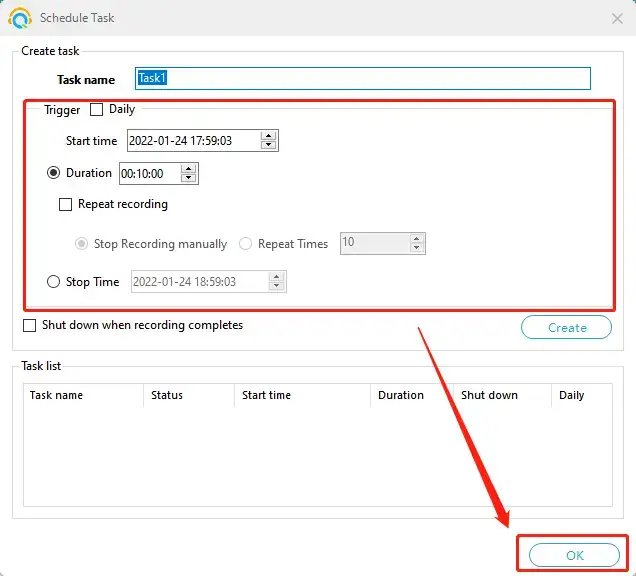 However, there are some strong limitations to its free trial version. For example, you are merely allowed to record audio for less than one minute; you can make up to three identifications for your music and merely download one piece of music at a time.
Instructions on voice recording in Apowersoft Audio Recorder.
Open the tool and find Record.
Change the settings if you want to and then click on the Recording button.
Press the Stop button to save the file.
Open Library and then click the Open file icon to get your recording(s).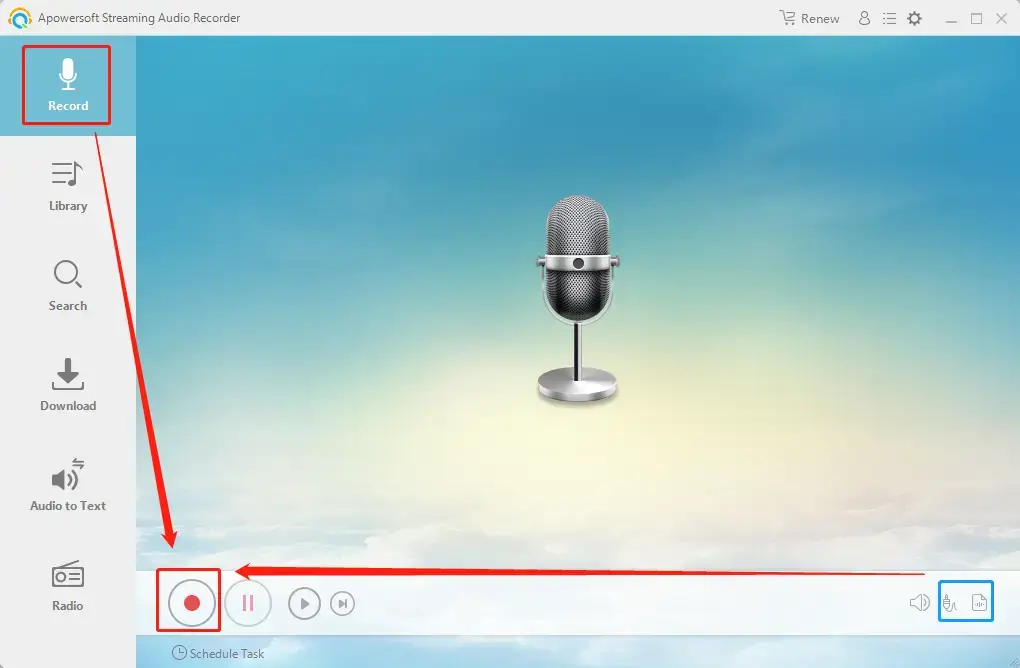 Please read our summary for specific information.
😃Reasons for Having It
😃Reasons for Declining It
💻Supported OS

Exquisitely designed interface with easy operation
Powerful all-in-one audio features
Three audio-recording choices
Five output formats optional
Automatic recording settings available in Schedule Task
Good-quality recordings

A license payment required to unlock the full version
Time limit for audio recording for its free version
Music information identification limit for its free version
Only one piece of music downloadable at a time
---
Something More to Say
📌Can I make my recording without a third-party tool?
Yes. You can resort to a built-in program in Windows–Voice Recorder. It is simple to record your voice with its help. But recording from your PC system is impossible by this method.
📌Why should I choose WorkinTool Audio Recorder rather than another product?
WorkinTool Audio Recorder, new in the market, is designed to resolve nearly all your common issues with audio or voice recording in various contexts.
These are the specific reasons for making this option:
💡Simple And Convenient
WorkinTool Audio Recorder is a lightweight desktop tool designed with a simple interface. Since there are not so many buttons inside the software, beginners will find it extremely easy to operate.
💡Powerful And Useful
WorkinTool Audio Recorder allows you to record the sounds from your computer system, your voice from the microphone or both sources without any hassle. Also, the recording can be turned into mainstream formats like MP3 and WAV. Hence, it proves to be a great help in your daily life, school or the workplace.
💡No Ads And Personal Registration
Completely FREE as it is currently, WorkinTool Audio Recorder will never force you to watch any advertisement or undertake a compulsory personal registration. Also, no license payment will be required to enjoy all its features currently.
💡Secure and User-Oriented
Your safety is our priority. Therefore, we will spare no effort to protect your data privacy and information security. Please rest assured to try WorkinTool Audio Recorder.
Your voice matters. We will listen carefully to what our customers say, doing our utmost to satisfy all their needs and upgrade our products accordingly. Hence, you will find some surprising new features in WorkinTool Audio Recorder.
---
Final Thought
These are the four free voice recording software for beginners well researched by us. No matter which one you will try, we sincerely hope you can find an ideal solution after finishing our article.
However, it is strongly recommended that you give WorkinTool Audio Recorder a try. Please leave a comment to share your experience with these or other tools.
Looking forward to your reply.