How to Save a PDF as a JPEG for Free Online and Offline
In just three steps, you can save a PDF to a long JPEG file with this free PDF converter. It is feasible to convert all pages of a PDF to a picture or extract the pictures in PDF and convert them to JPEG. An online version is also available here. Apart from JPEG, it can also convert PDF from/to fillable Word, Excel, PPT, etc. Furthermore, this converter combines multiple PDF editing tools as well.
How to Save a PDF as a JPEG for Free Online and Offline
Many online websites or PDF converter software can convert PDF to an image in the field. However, I tried it out and found a problem with most of the conversion tools: the clarity of the PDF is lost after being converted into an image, and the content is blurred as well. And those who can convert in high quality, like Adobe, are not designed for free. If you are looking for a free tool that can turn a PDF into a JPEG/JPG file without losing the formatting and clarity of the original file, you are in the right place. Three free solutions on how to save a PDF as a JPEG are available here, including offline and online ways. I hope this guide is helpful to you.
PDF vs. JPEG 
The PDF file is often used in the daily office. It is popular among office workers in various industries. The JPEG file (same as JPG) is also one of the most compatible image files. Saving a PDF as a JPEG can not only save storage space on a PC but also make it more convenient to transmit. Convert the integrated PDF to a long JPEG file; then you can easily save or send it to others. Moreover, as the JPEG file is a scanned image type, the content of the picture is not easy to be modified or copied, so its information security is higher.
How to Save a PDF as a JPEG Offline
✅ Turn the PDF into a JPG with WorkinTool PDF Converter
This free and comprehensive PDF processor – WorkinTool PDF Converter, can easily and quickly save a PDF as a JPEG/JPG file. It is available on the Windows system, like Windows 11/10/8/7, etc. What makes it prominent is that it combines nearly all PDF processing tools into one. As for the conversion, the feature can convert PDF from/to Word, Excel, PPT, JPG, and other images, etc. Moreover, you can select single PDF file within 2 MB for free without time limits in all its functions.
Let's see how to save a PDF as a JPEG with it in just three simple steps.
Step1. Download and install the software from the WorkinTool official website. Please open it and upload a PDF file under the Convert to/from PDF> PDF to JPG column.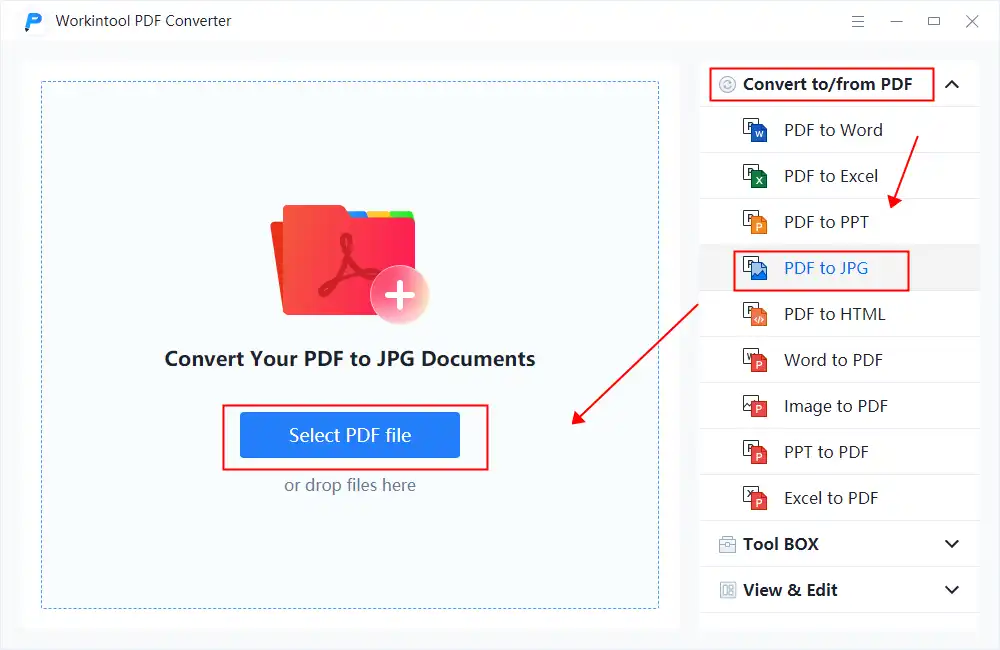 Step2. Batch conversion is feasible here. Import more PDFs by clicking Add File. Then select conversion mode. As for Page to JPG, you can convert all the pages in your PDF file to JPG. As for Extract JPG, it can only save the embedded image in the PDF file as a JPG file.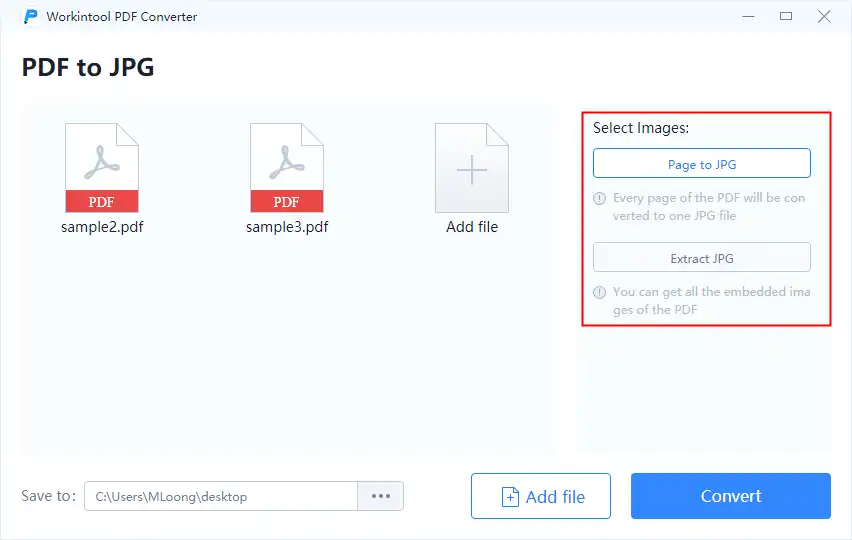 Step3. Press Convert and open the converted image file to check.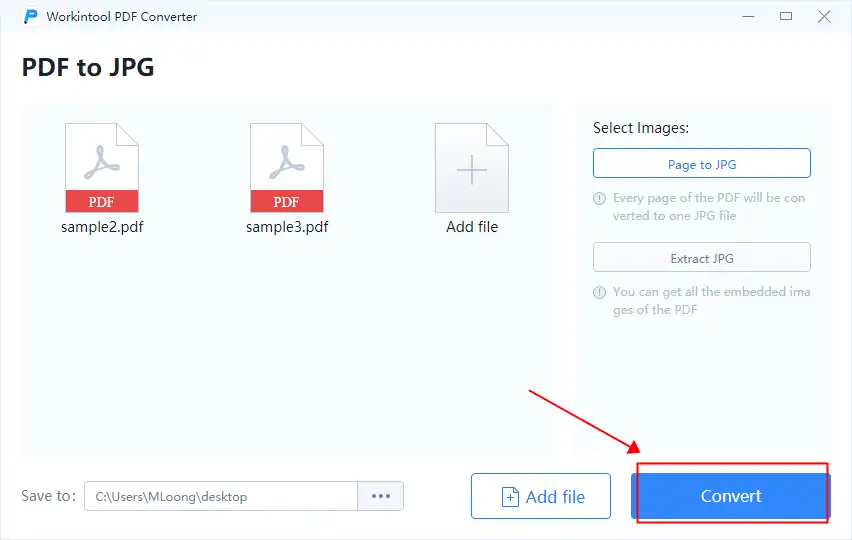 Features of WorkinTool PDF Converter
Support conversion among nearly all mainstream file formats.
Save PDFs as JPEG files in bulk at a time; no restrictions on the uploaded file number.
View and Edit PDFs with highlighters, notes, text, signatures, lines, etc.
Convert PDFs into fillable, editable, and searchable file formats.
Reduce PDF file size; add watermark, password to PDF, etc.
✅ Convert PDF to JPEG in Microsoft Word
With Microsoft Word, you don't have to rely on extra software to save a PDF as a JPEG picture. But in Microsoft Word, you need to convert PDF pages to images one by one. In addition, depending on the PDF file's layout and content, Word's recognition effect is also different. Sometimes the PDF is converted into an editable form and is directly recognized as a picture. You can have a trial if it acknowledges your PDF for the image.
Step1. Launch Microsoft Word. Click File > Open, then select a PDF file. What you need to pay attention to is that if there are too many pictures in the PDF, Microsoft Word may not be able to recognize the file well.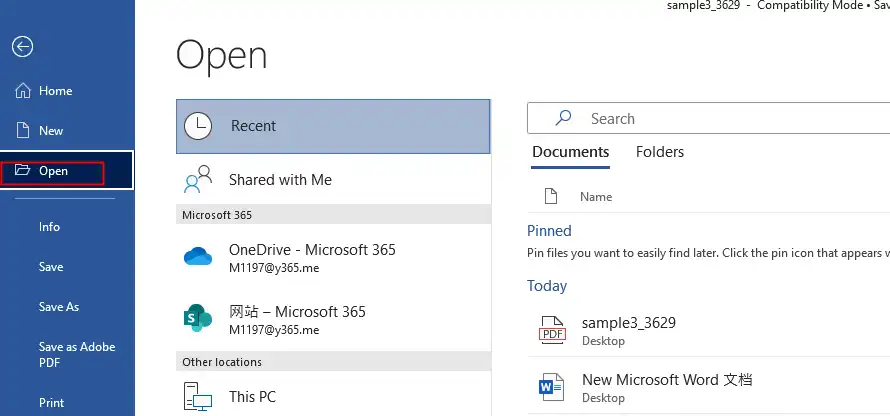 Step2. Right-click on one page, then pick Save as image.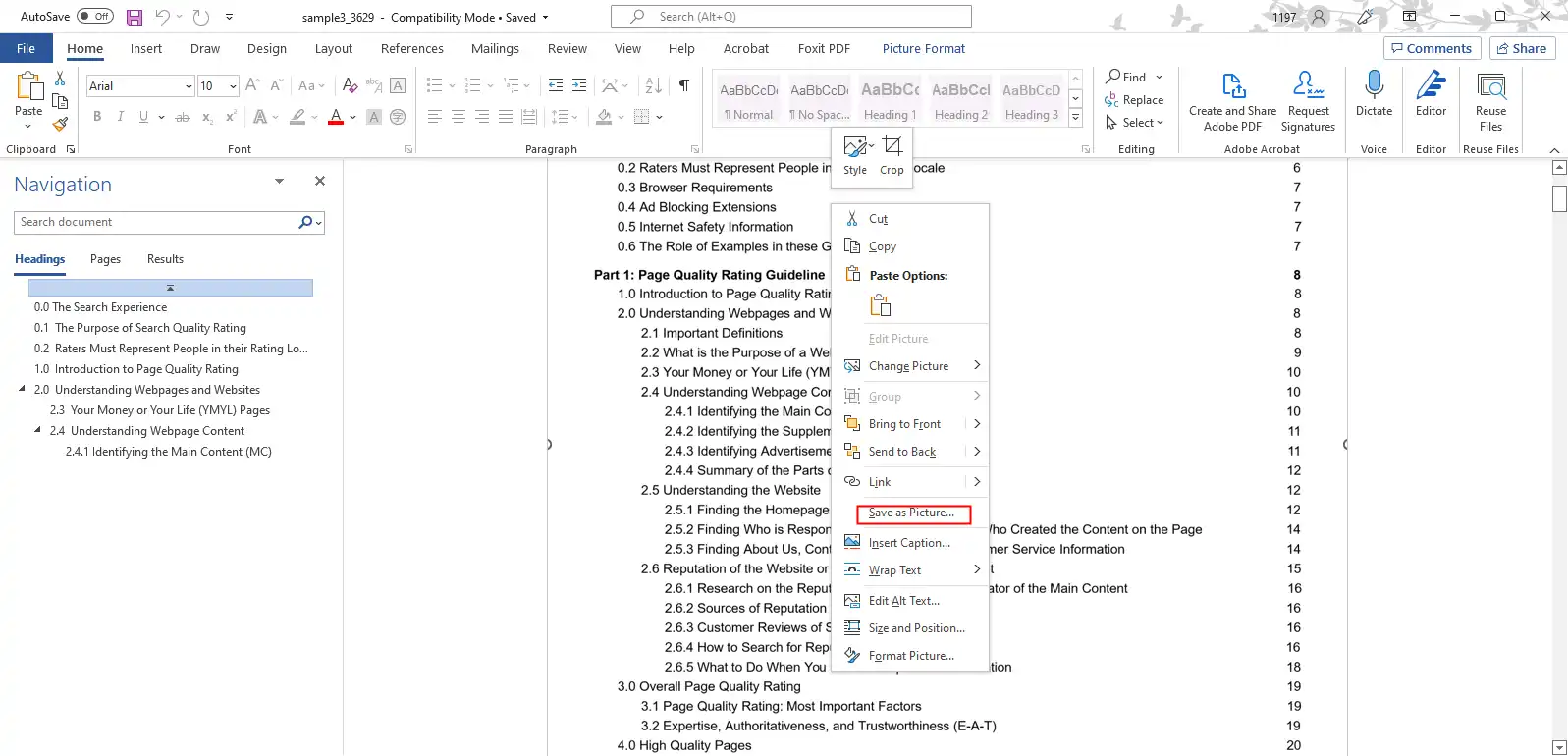 Step3. Select the output file type as JPEG.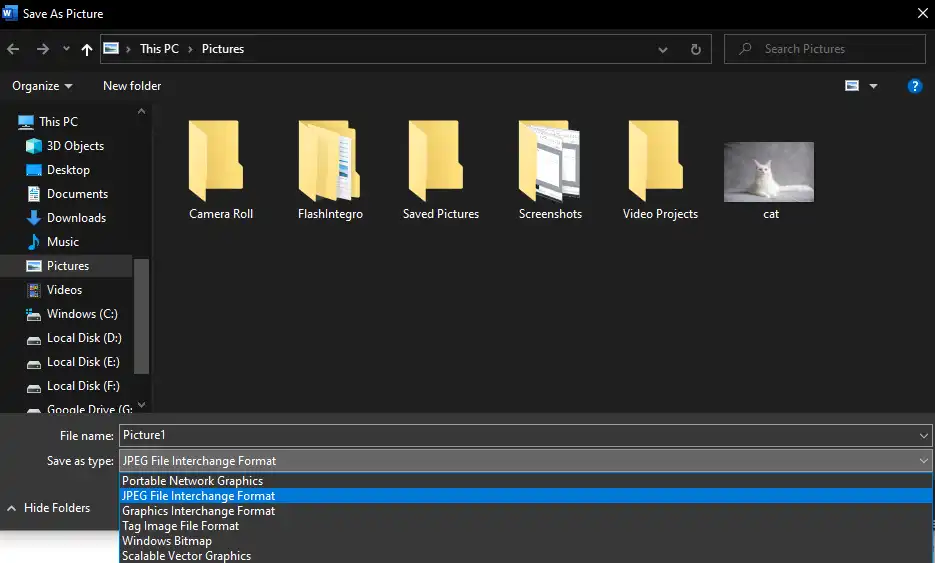 How Do I Save a PDF as a JPEG Online
Plenty of online converters can turn a PDF into a JPEG file. It is time-consuming to find a truly free one. Some limit downloading a converted image, and others may add a product watermark to the JPEG if you are not their pro user. WorkinTool also explored an online tool that can convert a PDF to JPG. There are no limits or hidden costs at all.
In comparison, it is easier and faster to fulfill the conversion between PDF and JPG. It also supports any device and system, like Windows, Mac, iPhone, Android, etc. You can save a PDF as a JPEG no matter when and where. The only thing needed is the network. In addition, you need to know that the maximum size of the PDF file you can upload to convert is 2 MB at a time, and you can upload up to 4 files in one go for the online version.
Step1. Open WorkinTool Online PDF to JPG webpage. Then upload a PDF document.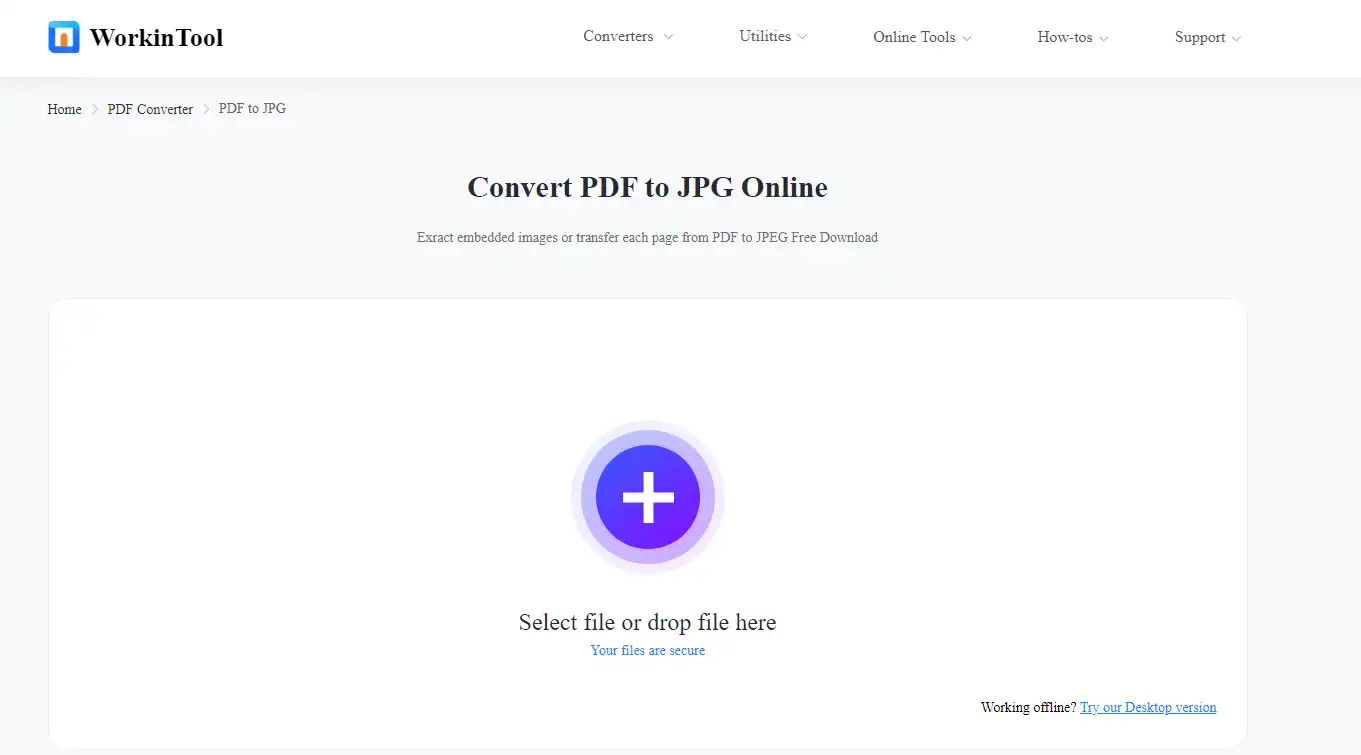 Step2. Add more PDFs if necessary. Then select all pages to JPG or extract JPG from PDF. Click Convert to start.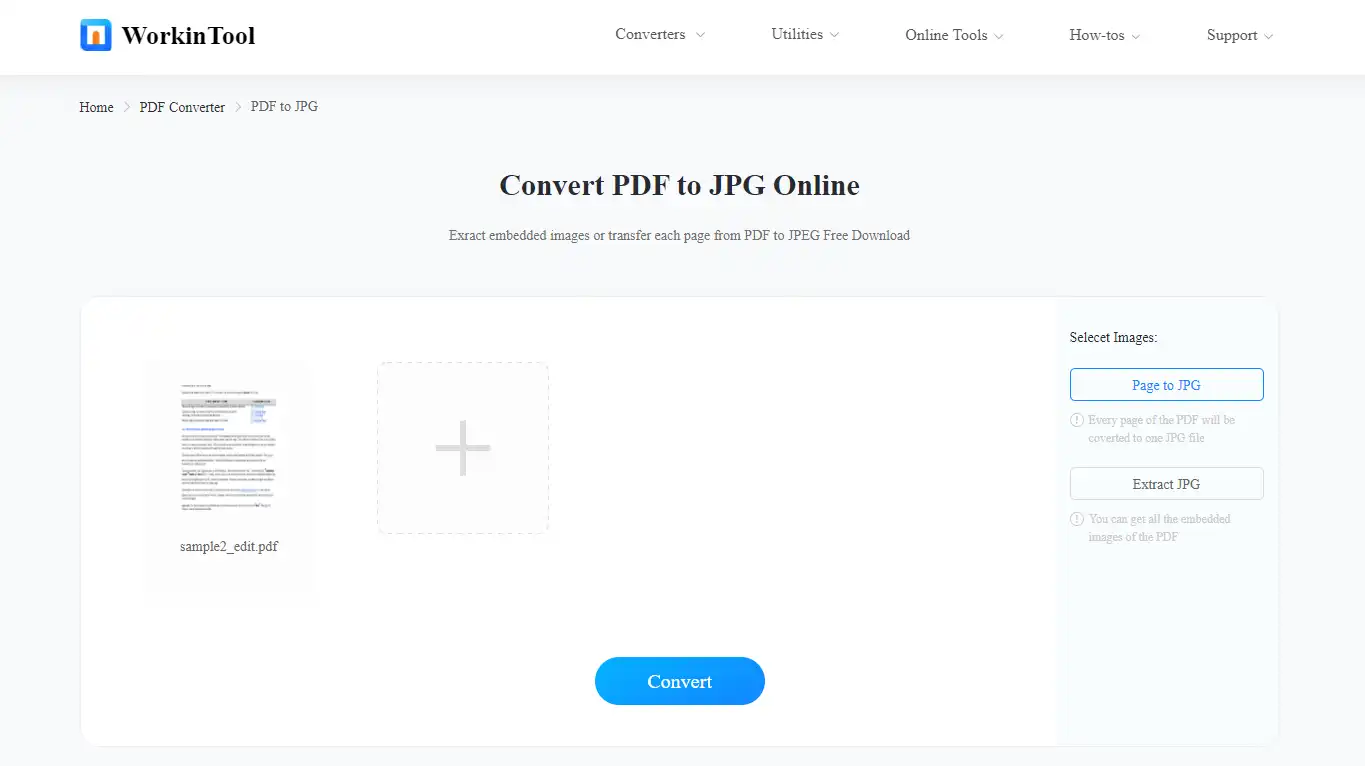 Step3. Paste the download button to save and check the converted file.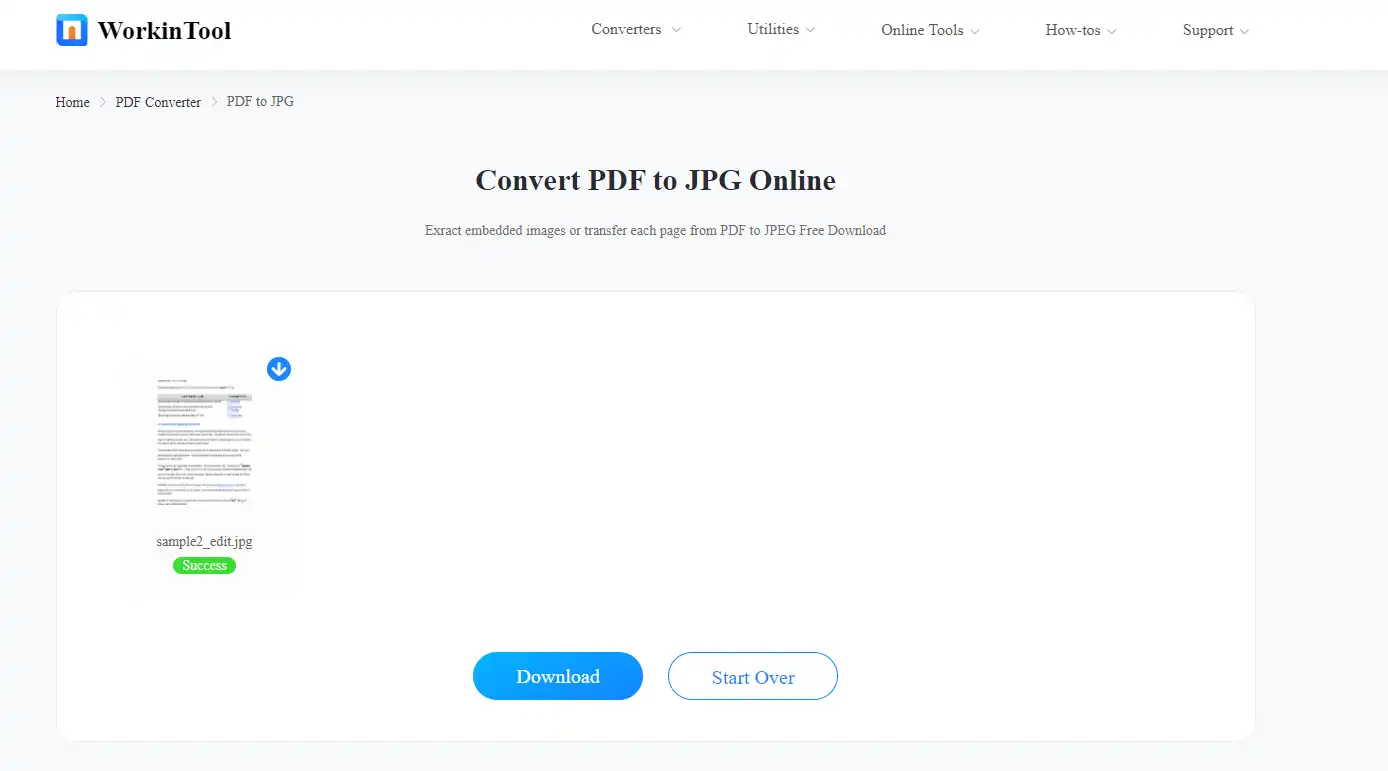 Other Online Converters
Summary
This guide mainly teaches you how to save a PDF to a JPEG online and offline with free and efficient converters. Another thing to share with you is the comparison of the online and desktop tool. An online tool is more convenient and compatible, but the conversion speed may not be as fast as the desktop software. The desktop tool can complete the conversion of multiple PDF files in seconds. There are no limits on the file number or use time as well. All the tools I recommended today are free of viruses and ads, so you can install or use them with your mind at rest. Have a trial first.
I'm looking forward to your feedback on the solutions and your evaluation of our converters.