How to Download Audio from YouTube: Detailed Information that You Must Know
Downloading videos offline do bring great convenience for watching. Though YouTube doesn't offer any built-in tool to allow users to download its videos directly, there are a great number of YouTube downloaders on the market. And I have written all the detailed information about one of the most outstanding tools: WorkinTool Video Downloader. It's totally free and requires no registrations. So download it now and start using it whenever you need!
You can find almost all types of videos on YouTube, such as your favorite music, historical videos, cooking and baking videos. Sometimes, you may even be surprised at how powerful it is. In a sense, it is the second-largest search engine in the world after Google. And it has over 122 million active users daily. It is known to all that you cannot watch YouTube videos when there's no network connection, but what if there's no access to the network? What if you are on a long train trip with your mobile without any signal? The first thing you need to know is how to download audio from YouTube.
Downloading audio from a YouTube video is not as difficult as you may think. It offers you the ability to listen to the videos offline, which helps kill the boring time a lot. And those who are learning a second language can listen to the audio without subtitles, and their ability to listen and speak will improve greatly in this way. So if you are wondering how to download audio from YouTube music and even do it for free, just keep reading. You will get all your answers after reading this article.
Download Audio from YouTube Easily – WorkinTool
WorkinTool Video Downloader is brand-new software on the market, and that's why you may feel a little unfamiliar with it. But you can trust it for sure. WorkinTool helps users solve the problem of how to download audio from YouTube in a super-easy way, and all WorkinTool software is free. It requires no registration to use it, which guarantees privacy to a large extent.
Though WorkinTool Video Downloader only supports downloading YouTube videos, it's constantly developing. And in the upcoming new release, it will support more platforms for video downloads, which brings more convenience to users.
How to use it?
I've cleared up all the operation steps in this part for you:
Step 1. Download WorkinTool Video Downloader on Windows and launch it.
Step 2. Open YouTube and copy the link address. The software will read your link automatically.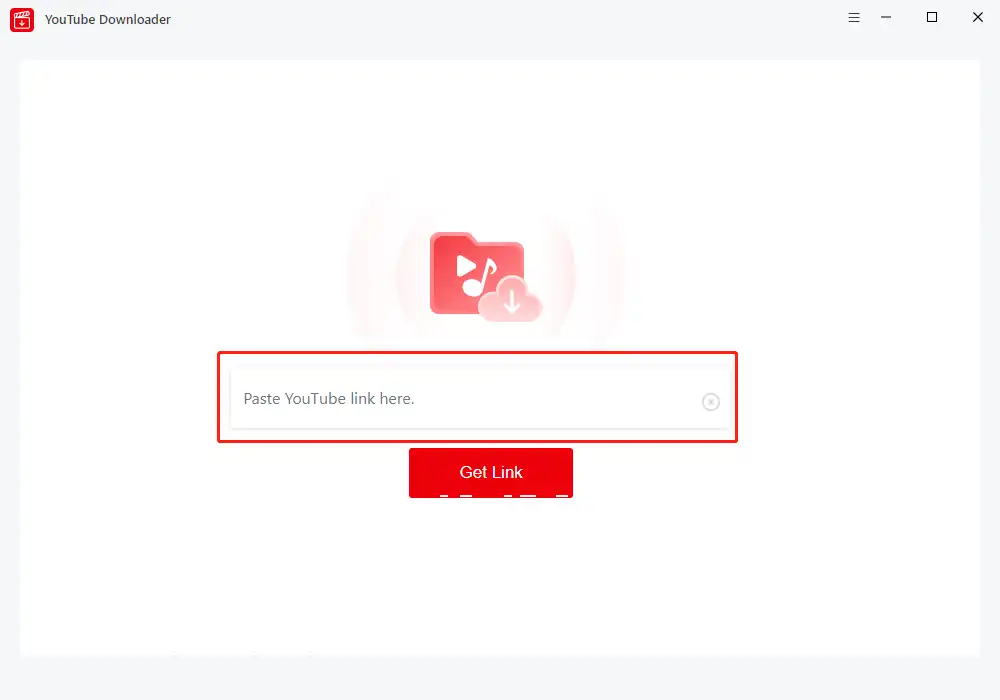 Step 3. When it gets the link successfully, choose the output format as MP3, and then press the download button.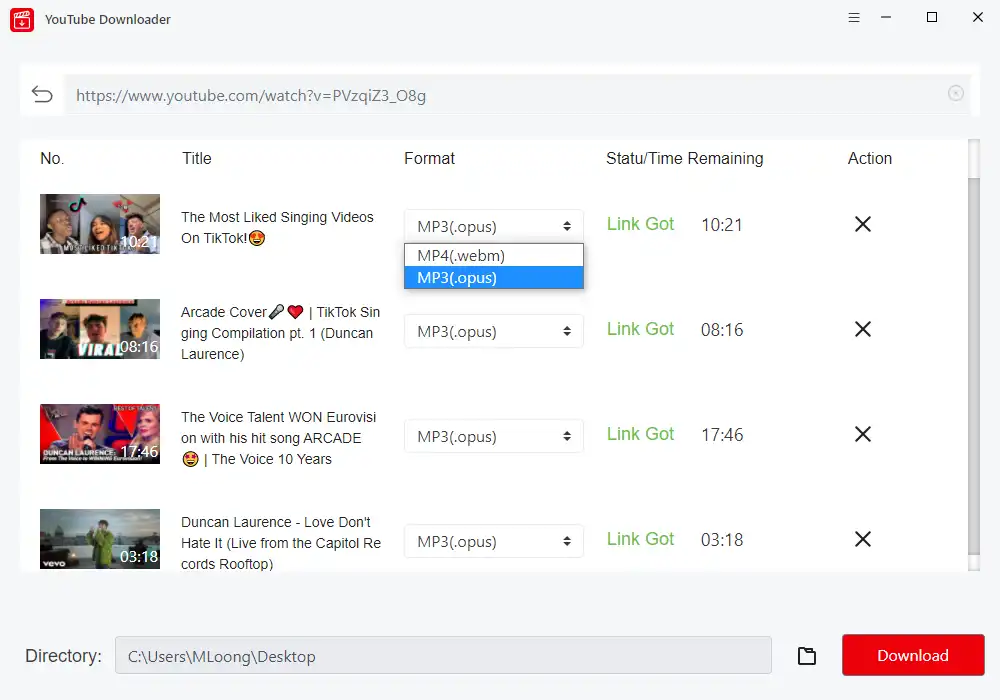 There are only three steps you need to take to download audio from a YouTube video, and you can listen to them offline without any limits on networks. In fact, you don't even need any guidance for WorkinTool. All of their products offer direct commands, which makes it much easier to process all issues.
An Alternative Way to Get Audio from YouTube
Except for downloading audio from a YouTube video, WorkinTool also offers you an alternative to get YouTube audio. That is, you can record audio from YouTube with the help of WorkinTool Audio Recorder. It allows users to record audio both on their system and through a microphone on any media platform. And MP3/MP4 are both supported as output formats on its recording. With the clear interface design and simple commands, you can get the audio files by simply single-clicking the record button. Like Video Downloader, Audio Recorder is also free software, so you don't need to make any payments for using it.
FAQs About Downloading YouTube Audio
Why do you need a YouTube downloader?
YouTube official does not support users' ability to download videos directly. However, you can't avoid it. Sometimes you can't watch videos online. An offline video makes it easier for you to watch it whenever you want.
Is it legal to download audio from YouTube?
Yes, of course. You can download almost all of the YouTube audio as you want. However, it only applies to those that are open to everyone. You are not free to download those copyrighted videos. And likewise, you may not use the videos for any commercial purpose, and you are not allowed to modify, sell, or distribute any video unless you have written permission.
What's the best YouTube downloader?
In fact, there are many criteria to judge whether the software is the best or not. And sometimes, the one that everyone thinks is the best is not the right one for you. So you need to find the most appropriate one according to your actual needs. And make sure to take all factors into consideration, such as download speeds, output formats, video quality, prices, etc.
Is it possible to download the playlists?
Yes. There is indeed some software that supports you in downloading the playlists and channels. In this way, users are able to watch the same kind of video in categories.
If you have any other questions about YouTube, you can check its terms of service, and I'm sure most of your problems will get perfectly solved.
Final Thoughts
YouTube can not only be used for killing boring time, but can also be used to upload videos created by yourself. If you run a private channel well, you may obtain a lot of traffic and even get an unexpected wealth. And a brand channel would gain a great brand effect as well as get more customers. 
Learning how to download audio from YouTube would make your life more convenient. And WorkinTool Video Downloader, one of the best free YouTube downloaders, happens to help you accomplish this without a hassle. No registration, no payment. Plus, it offers you a fast download speed, so you don't need to worry about that you might wait for a long time. Moreover, if you want to know more YouTube downloaders, here's also a detailed guidance of 5 best free YouTube video downloader software.