Top 2 Discord Audio Recorders You Must Know
Do you know how to record Discord audio? Actually, it is not as difficult as you may think. And I have given you all the detailed information about the top two Discord audio recorders. And, of course, WorkinTool deserves a try! Just download and use it now.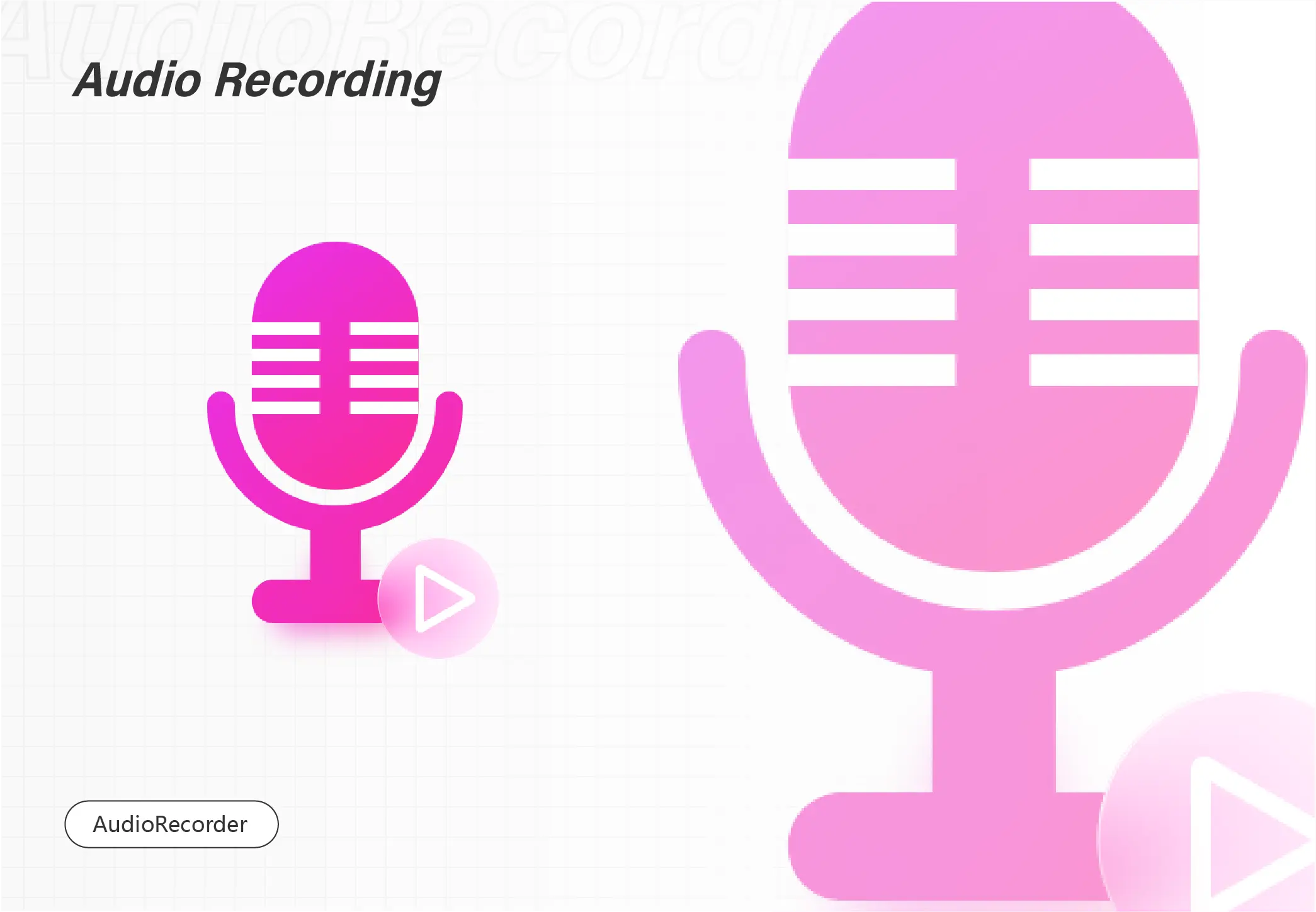 At its very beginning, Discord was a virtual meet-up platform for gamers exclusively. But with its constant development, it has produced countless communities for people who share the same interests. And Discord has been a perfect place to exchange ideas and chat with those who have common tastes. The most outstanding feature of Discord is that users can make a voice call on it. Meanwhile, the tracks can be recorded freely, which helps you check the details whenever you want. And you may be wondering now: how to record Discord audio?
Actually, recording audio on Discord is not as difficult as you may think. The first thing you need to do is to get a proper audio recorder. The right recorder can help you solve almost all the recording demands on any platform on a PC.
How to Record Discord Audio – WorkinTool
As an experienced team, WorkinTool has produced much practical official software for free, with which people can solve all their problems easily. WorkinTool Audio Recorder, with its simple interface and clear operation steps, provides users with a super-easy way to record audio on Windows. What's more, there are no limits on platforms, which means you can use it wherever you want. WorkinTool Audio Recorder works well on Windows 11/10/8/7, and it supports both MP3 and WAV as output formats.
How to use it?
Step 1. Download and install WorkinTool Audio Recorder, then launch it.
Step 2. Configure the audio source and other parameters accordingly, then start recording.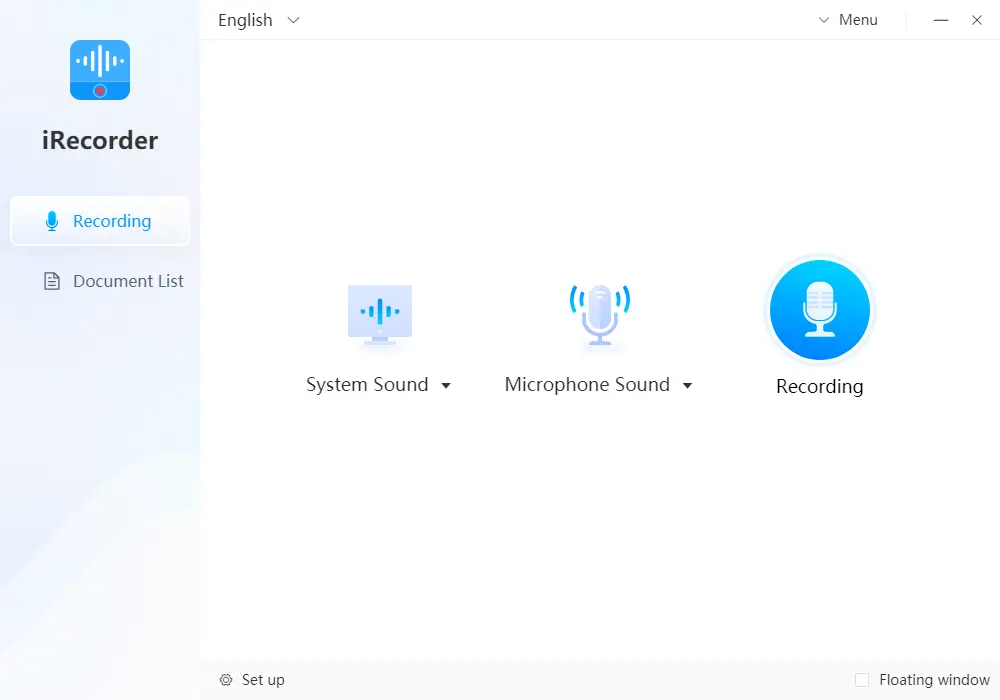 Step 3. End the recording when it's finished. Your file will be saved automatically.
Warm Notice: Make sure that you have opened the audio noise reduction and set the output format as high because both of them can help you to improve the quality of your Discord audio.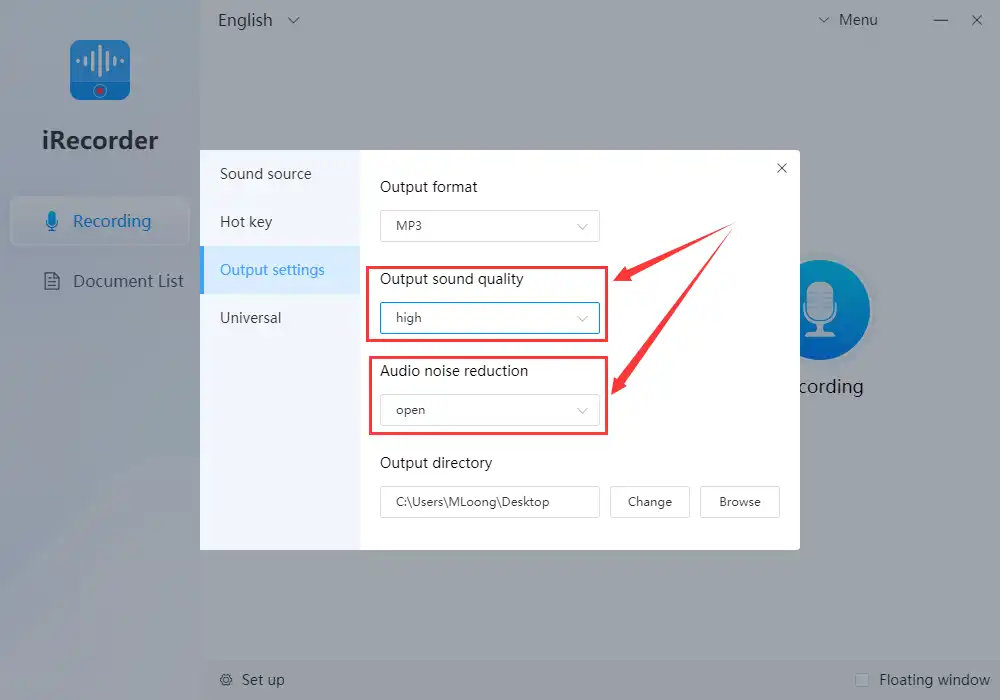 WorkinTool Audio Recorder is definitely simple, even for a new user, and it solves the problem of how to record Discord audio perfectly. As it requires no charges or registration, you can start recording at any time as long as the installation is successful. What's more, it supports users' recording both on the system and through the microphone.
Reasons why you should try WorkinTool:
Autosave.

 There are settings for saving files by time length or size automatically.

Hotkey recording.

 Users can set hotkeys to start/end the recording with ease.

Hover window recording.

 Users can hide the software interface when recording as they wish.

Unlimited duration.

 There's no need to worry about any time limits because it offers a constant recording.

Customized audio quality.

 Audio output formats and sound quality can be adjusted to meet the special requirements.

Intelligent audio noise reduction.

 It can reduce all the noise on tracks intelligently and improve the quality of the audio.
How to Record Audio on Discord – OBS
OBS (Open Broadcaster Software) is a free and open-source software for video recording and live streaming. It's available on Windows, Mac 10.13+, and Linux. As a professional recorder, OBS provides many advanced settings and effects. It can realize capturing and mixing video/audio in high-performance real-time and create scenes consisting of multiple sources, including window captures, images, text, browser windows, webcams, capture cards, etc.
Follow the guidance below to record Discord audio with OBS:
Step 1. Download and install OBS on your device, then launch it and sign in.
Step 2. Click plus (+) at the button of the navigation, then select Audio Output Capture.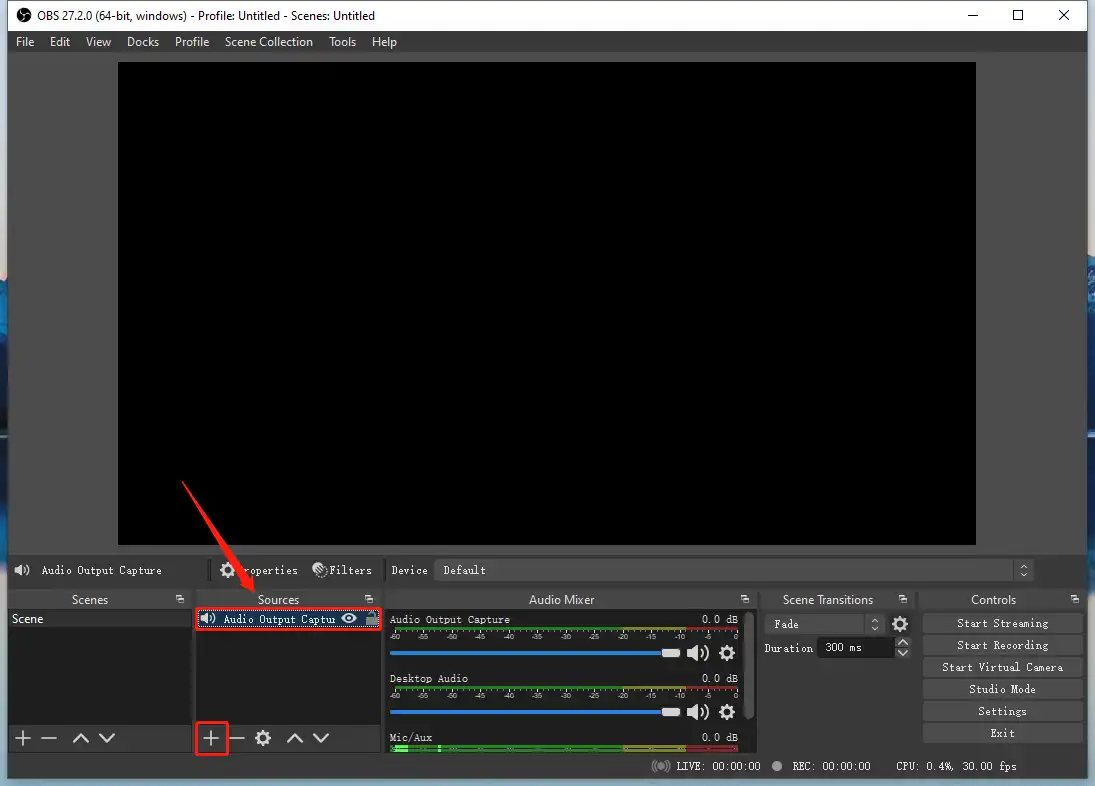 Step 3. Name the file, then click OK. Leave the Make source visible option checked.
Step 4. After getting all configurations settled and parameters corrected, press the Start Recording button in the lower right corner of the navigation bar, inside the control part.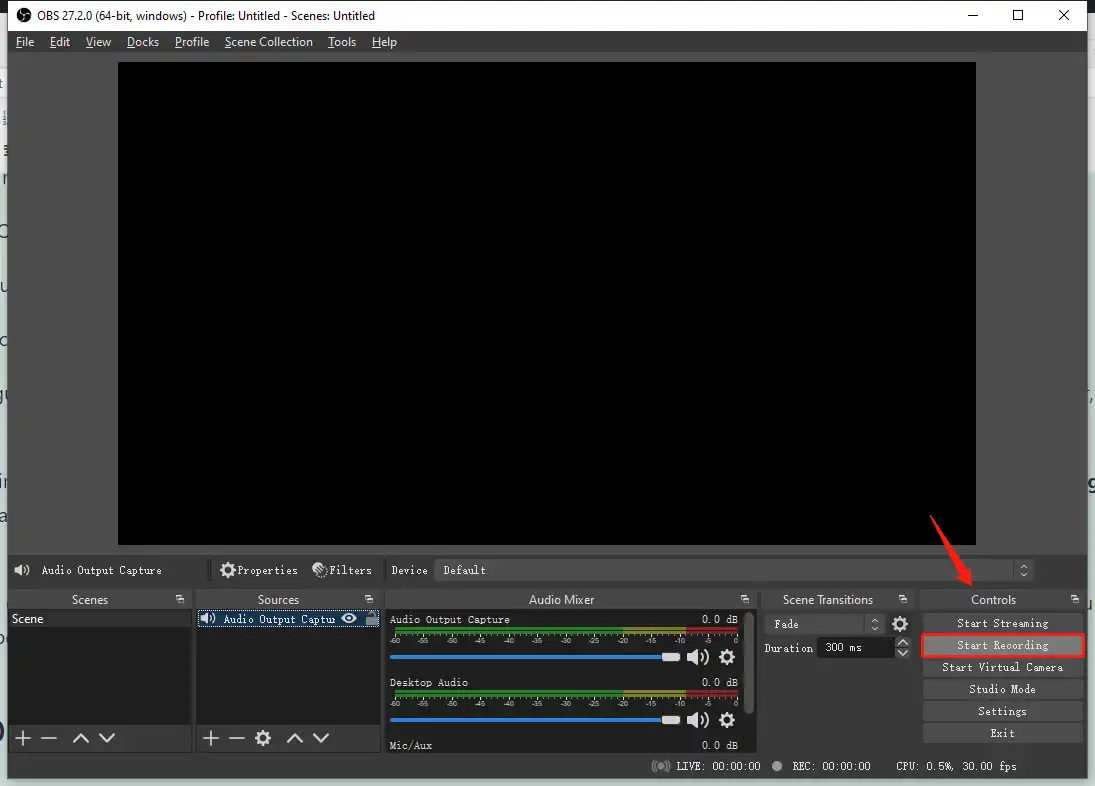 You're able to stop the recording whenever you want, and the file is in MKV format by default. However, if you need it in a different format, you can find Recording Format in Output and select an alternative form as you wish. Of course, you can find the tracks in Show Recordings inside the File section at the top of the navigation.
If you want to solve the problem of how to record Discord audio on a Mac, OBS is definitely the preferred choice. It's free and easy to use without any difficult commands or advertisement pop-ups.
How to Record Audio on Discord Efficiently?
The tracks may get unrecognized when someone records audio for the first time. So I'm going to provide you with some advice which can be a great help in recording better tracks.
Close all the irrelevant windows. Different windows have pop-ups that make unnecessary sounds to add noise to the tracks. So you need to turn off all the unrelated pages before recording to make sure there is no interference.
Ensure the settings are in the right place. If you only need to record the system sound, please make sure to turn off the microphone access. In the event of a mix-up between system and microphone sound, there would be plenty of noise to reduce the quality of the tracks.
Make sure the Internet connection is good. An environment with a good quality network connection ensures a smooth operation process. As a result, no lagging or discontinuity problems will appear on the tracks.
Get a quiet environment prepared. If you need to record the microphone sound, please make sure that there's no music or noise in the background to make your tracks unrecognized. A quiet environment is indispensable for a high standard of recording.
Final Thoughts
How to record Discord audio is not as difficult as you may think. Since I have given you all the detailed information and operation steps of the two recorders, you can use them on Windows and macOS directly. They are both free and useful, and there are no limits on the media platforms or time duration. With the detailed guidance mentioned above, you can get familiar with them easily. And it's highly recommended that you have a try with WorkinTool Audio Recorder, for its great convenience and easy-to-follow steps. It's also one of the best online audio recorders, which is definitely worthy of use!
Products Reviews:
TrustScore
4
|
323
reviews