[2023 Updated]How to Record Audio from YouTube
It happens all the time when you are watching a YouTube video and you want the audio from it so that you can listen to them anytime you want to. Some YouTube videos are not allowed to download. The best solution here is to know how to record audio from YouTube. In this article, we have provided you with four different methods to solve this problem on Windows, Mac, and Chromebook. Among them, WorkinTool Audio Recorder works best. It is a multi-function pro audio recorder. Users can customize all the features for free without any time limit. Go download and try the magic yourself now!
[2023 Updated]How to Record Audio from YouTube
YouTube, as the top video streaming and sharing platform, has always been loved by people. Elite universities like Harvard and Cambridge have uploaded their courses on YouTube for those who do not have access to them. Game streamers make videos of their strategic experiences on YouTube for everybody's reference. There are also various entertainment programs, life tips, and so on. You can find any information you want on YouTube. It's literally a video platform version of Google. So as a user, is there any other way to keep the video, other than watching it? Also, do you know how to record audio from YouTube?
These questions come to mind from time to time. Whenever we see a catchy video with a piece of background music on YouTube or a pre-leaked video, we wonder how we can extract the audio and record it into the audio file to play directly. Also, some videos don't support downloading. And that is why many people seek the solution of how to record audio from YouTube. In today's article, we will cover several free methods to deal with the audio record from YouTube thing. You will find at least one approach on Windows, Mac, and Chromebook.
In this article:
How to Record Audio from YouTube on Windows
Record Audio from YouTube on Mac
Capture Audio from YouTube on Chromebook
---
How to Record Audio from YouTube on Windows
After cross-referencing the various recording software available on the web, we've come up with two free and useful tools that can help us solve our current problems. They are WorkinTool VidClipper and WorkinTool Audio Recorder. Both software work equally well on Windows. Well, let's get down to it.
Method 1: WorkinTool Audio Recorder
WorkinTool Audio Recorder can be a very handy helper when it comes to recording YouTube audio. It is a professional audio recorder with multiple audio setting features. This software allows users to control the sound source, set a hotkey and timer, and customize the output format, quality, and noise reduction, which includes different requirements for each user. We can definitely say that it can truly work recording sound from YouTube and other social media platforms without effort.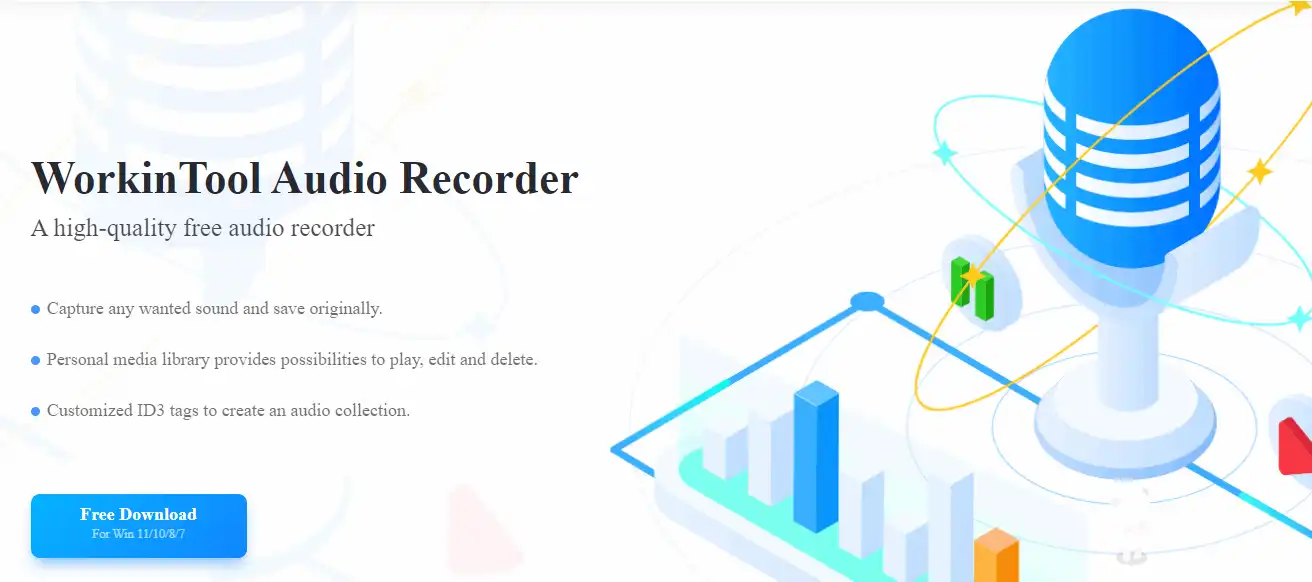 1. First, go to download and install this audio recorder and open it.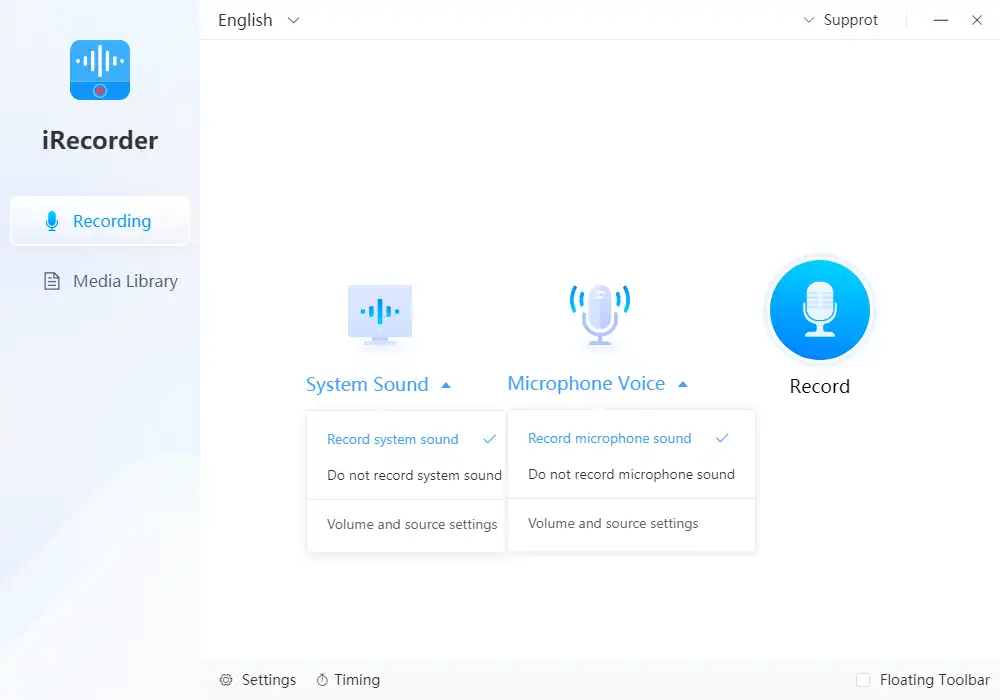 2. Configuring sound settings. here you can simply click on these two buttons to get a quick check or choose Volume and source settings to set these accordingly.
📌 Basic Settings 📌
Of course, not only the input sound of these two settings, on the home page below the user can select basic settings and timing settings. Here users can customize the complete input and output as well as noise reduction function and so on. Multiple options are here for users to apply.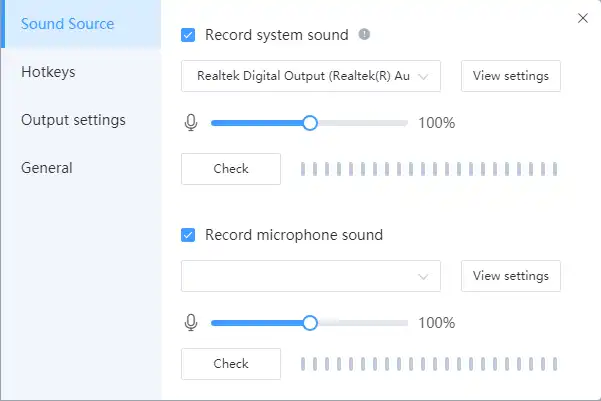 Sound Source

Record system sound: To determine if you want to record an audio file with the computer system sound in it.
Record microphone sound: To determine if you want to record sounds from your microphone.
Check: Test whether the audio input is correct.

Hotkeys
You are allowed to set two different hotkeys:

Start, pause/continue recording hotkey: (Alt +F1 by default)
Stop recording hotkey: (Alt + F2 by default)

Output Settings
Format: Change your audio file format.

Audio Quality: From high to low you can decide what your audio quality is. You can also customize it by adjusting the channel, sample, and bitrate.

Noise Reduction: You are allowed to turn on/off noise reduction mode.

Location: Find a saved location for your recorded audio file.

General
Auto-save: You can set up an auto-save program with time or audio file size.

Autoload: Decide if you want this software to load at a Windows startup.

Closing settings: When losing software, you can exit directly, or hide it from the taskbar.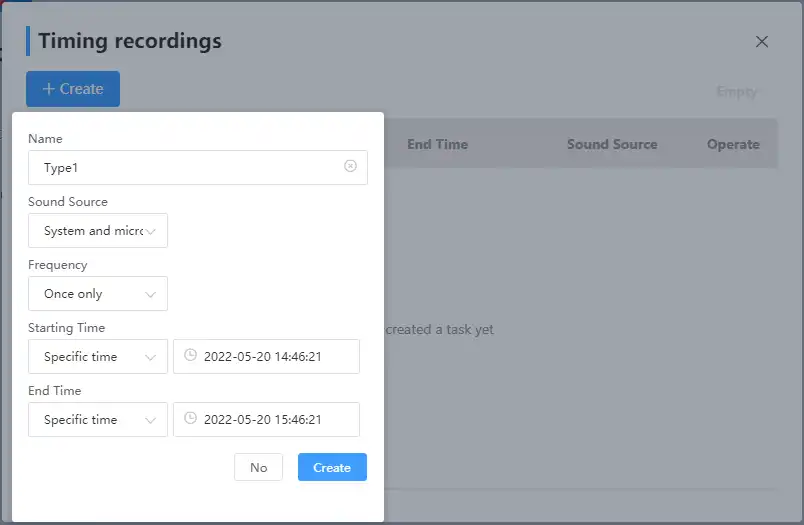 Timer
In addition to the basic settings, we are here to see the Timer option. It offers us:
Name: The audio file name.
Sound Source: Where the input sound source comes from.
Frequency: You can set how often this program will run.
Start and End Time: You can set a specific time to start or end the program.
3. Once you have made this audio recorder right. You can start recording.
Click on the "Record" button. Then, depending on your situation, pause or stop the audio recording.
4. You can check the complete audio files in the Media Library or the preset saved folder.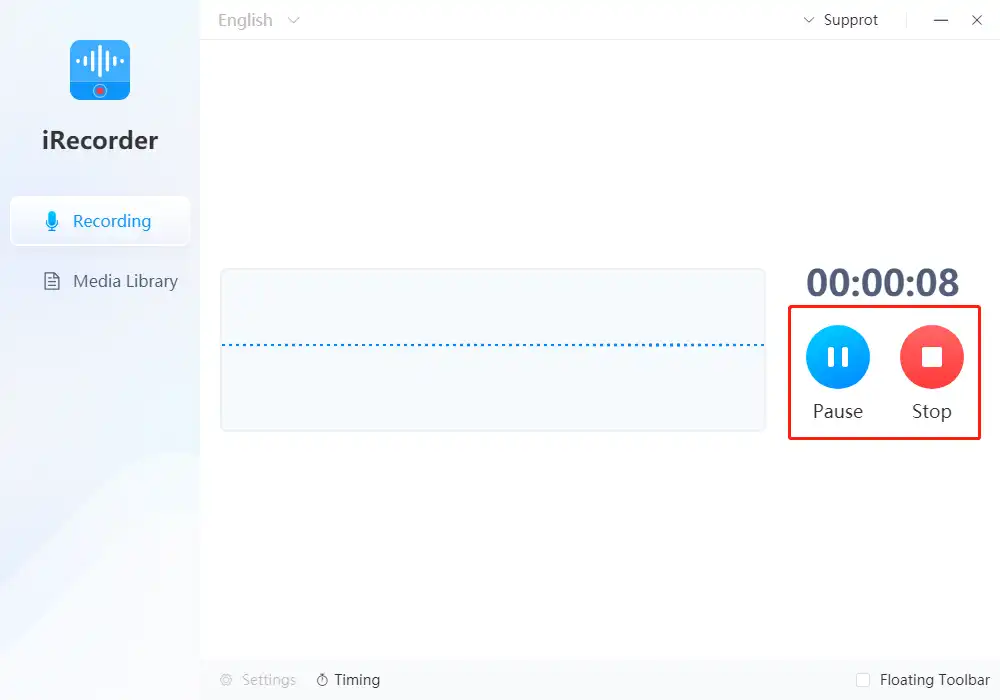 Method 2: WorkinTool VidClipper
Another piece of software we'd like to recommend for Windows is WorkinTool VidClipper. Strictly speaking, it is not a recording software, but more like a comprehensive video processing software. The reason we want to bring this to the list is that it can also convert videos to audio format. You can record the video first and then convert it to audio to get the desired effect. This multi-bit software is completely trouble-free. One step to the end.
It is good at converting audio. The conversion can also be based on user needs and custom modification of various audio settings like format and audio quality and so on.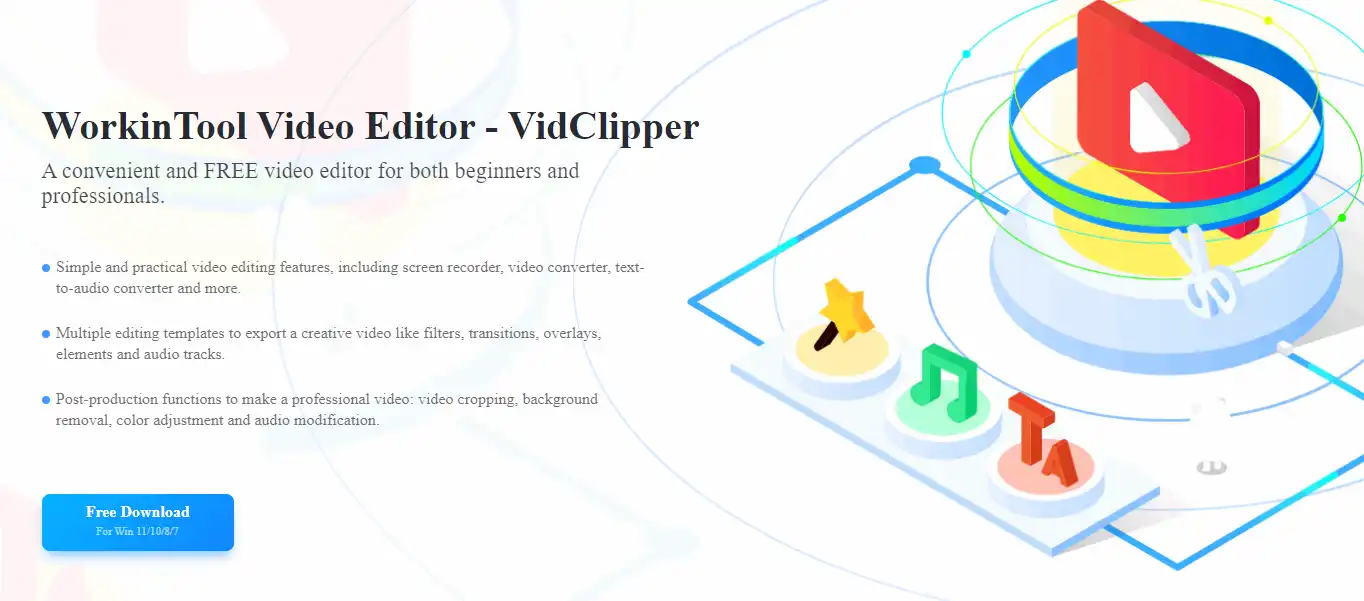 1. Go to install the software and click Screencast on the home page.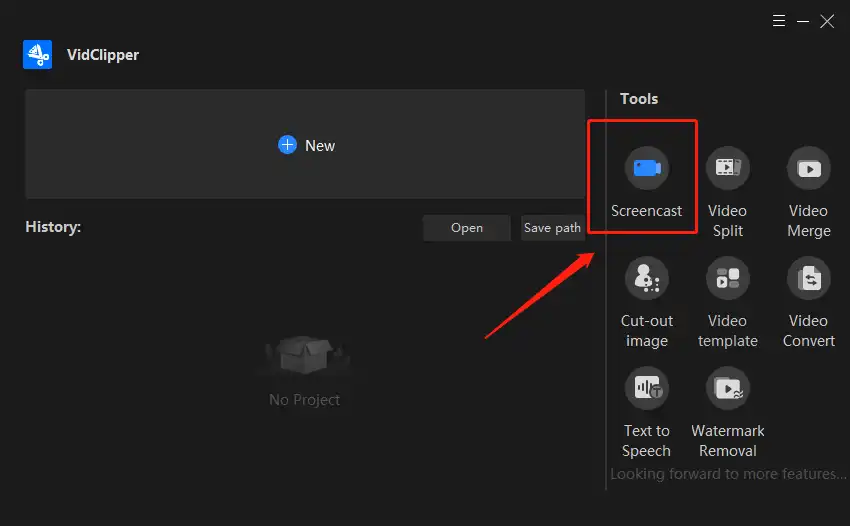 2. Because our purpose is to record audio from YouTube, we only need to pay attention to the Audio setting. If interested in video recording you can also use this video recording software to capture the screen with audio.
Audio:
Record all sounds: The video recording will include all the sound input.
Computer sound: Only the computer system will be covered in the video.
Microphone: Only the audio input from the outside is recorded in the video.
No sound: Will be completely muted during the video. (Not suitable for audio recording from YouTube.)
3. A Tips window will pop up letting you know that the video has been saved. Note that this is the time to select Add clips. This option transfers your recorded YouTube video directly to the edit function and converts it to audio format.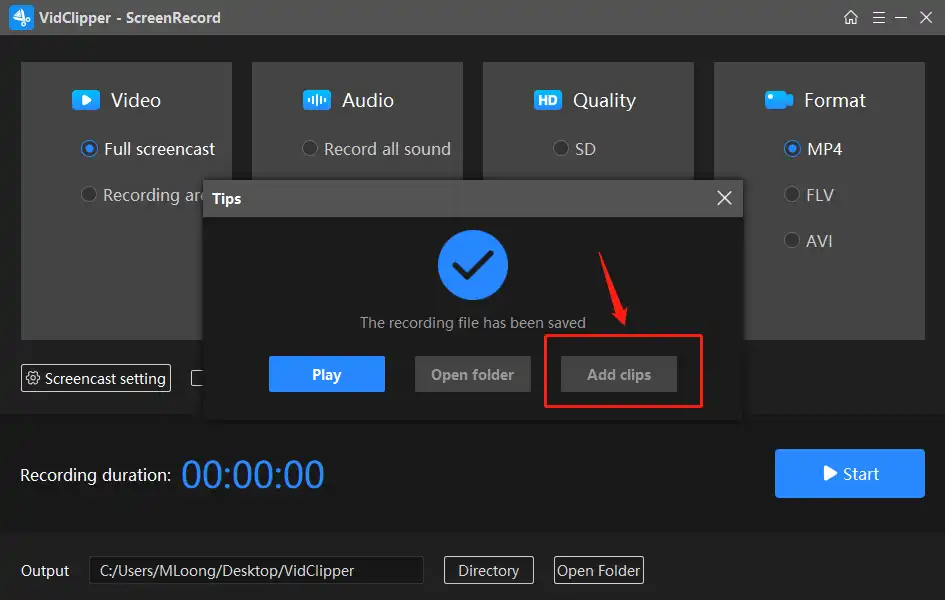 4. Go to the video editing function and drag the video to the timeline and click on Export.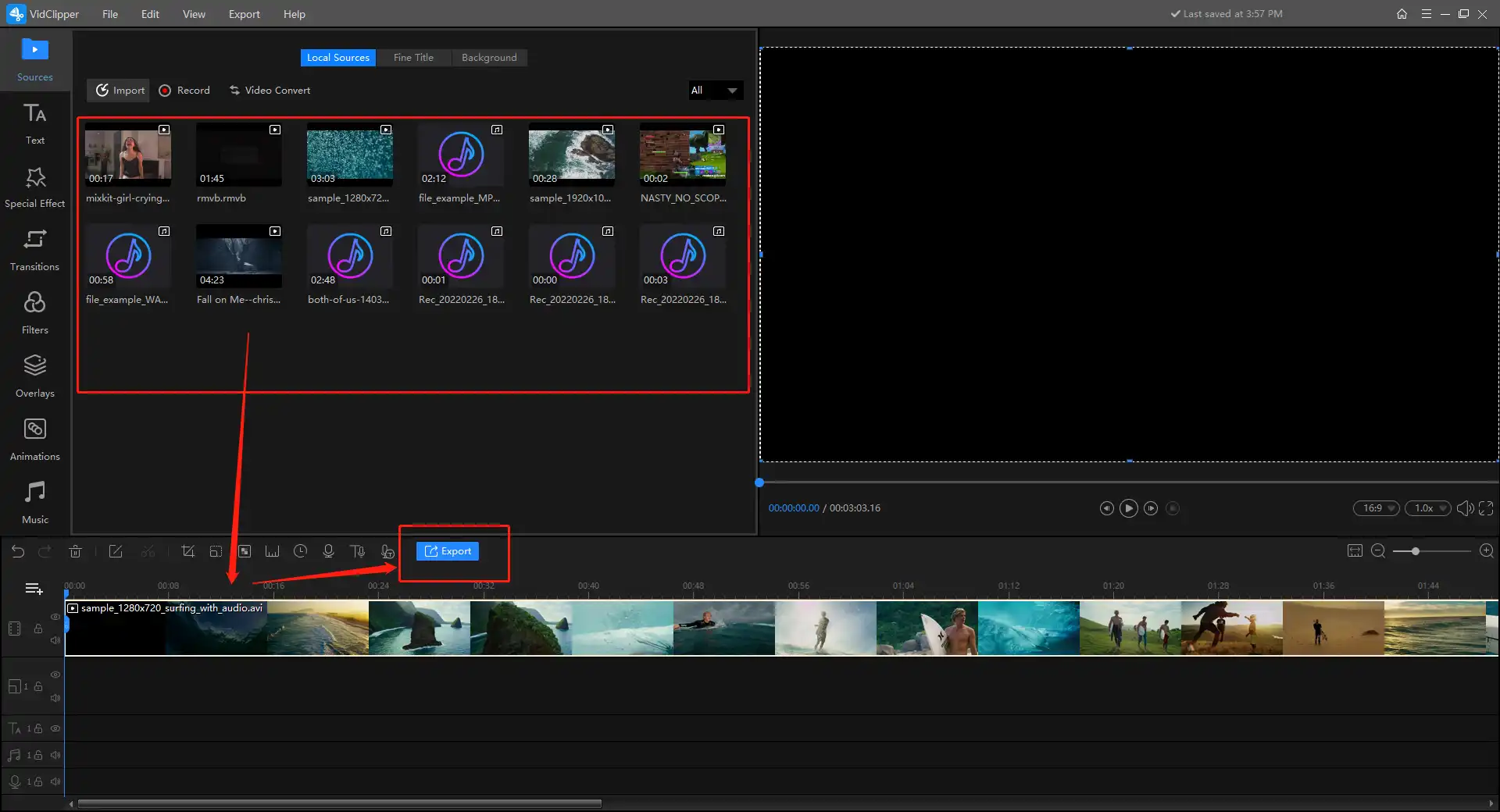 5. Here you need to swipe it to the Audio and select the audio format.
6. Lastly, hit Export to get your desired YouTube audio.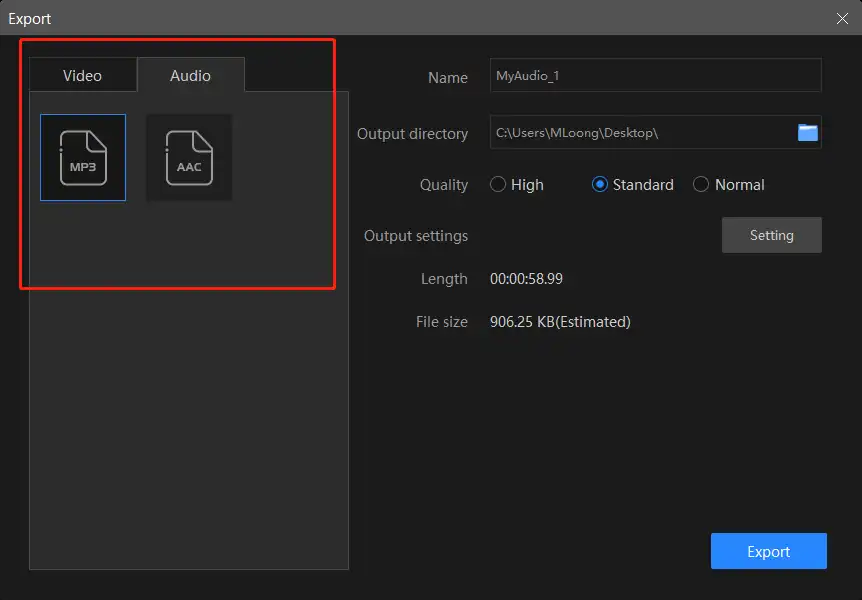 📌 Additional Settings 📌
It also offers users an additional settings page for a better experience of converting video to audio.
Quality: From option high to normal to determine the audio quality.
Audio encoder: Users can select the encoder of the audio.
Sample Rate: Higher sample rates can have advantages for professional music and audio production work.
Audio Channel: A representation of sound coming from or going to a single point.
Bit Rate: The amount of data being transferred into audio. A higher bitrate generally means better audio quality.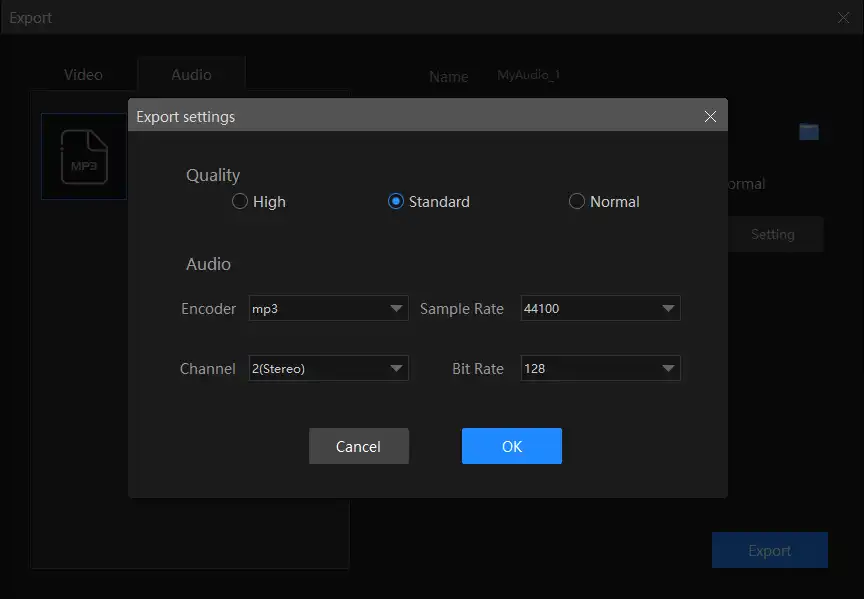 🎉 Why Choose WorkinTool Video Editor – VidClipper 🎉
---
Record Audio from YouTube on Mac
Method 3: QuickTime Player
To solve the problem of how to record audio from YouTube is also available on Mac. All you need is only the built-in program QuickTime Player. This software can help you with the basic needs of recording a YouTube audio file. Come follow these steps to find out.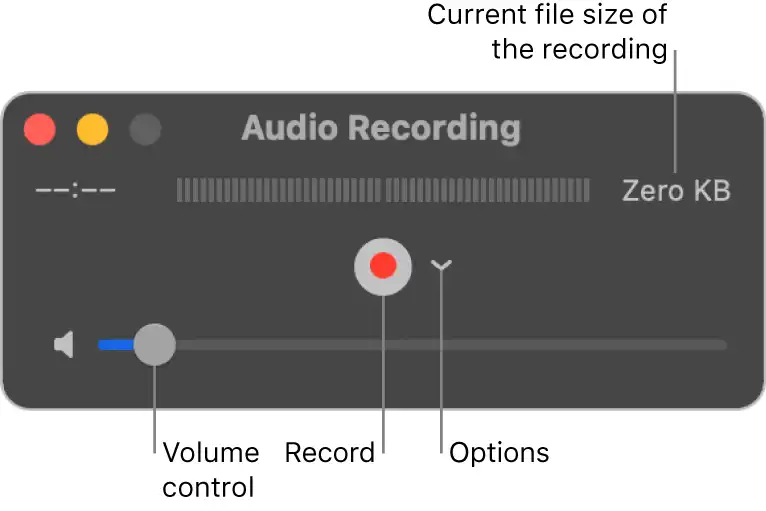 Open the QuickTime Player app > File > New Audio Recording.
Options > Choose one of the following options: Microphone, Quality.
Adjust the volume > Click the Record button > Click the Stop button.
File > Save to save your audio recording file.
---
Record Audio from YouTube on Chromebook
Method 4: Audacity
Audacity is an open-source screen recorder. This software provides users with a multi-platform experience. You can use it on Windows, Mac, and Linux. You can record YouTube audio on your Chromebook using it. As a practical audio recording software, users are allowed to modify the settings of the microphone, mixer, and digital recording from other media as well.
Here is a simple tutorial on how to use it to record audio from YouTube.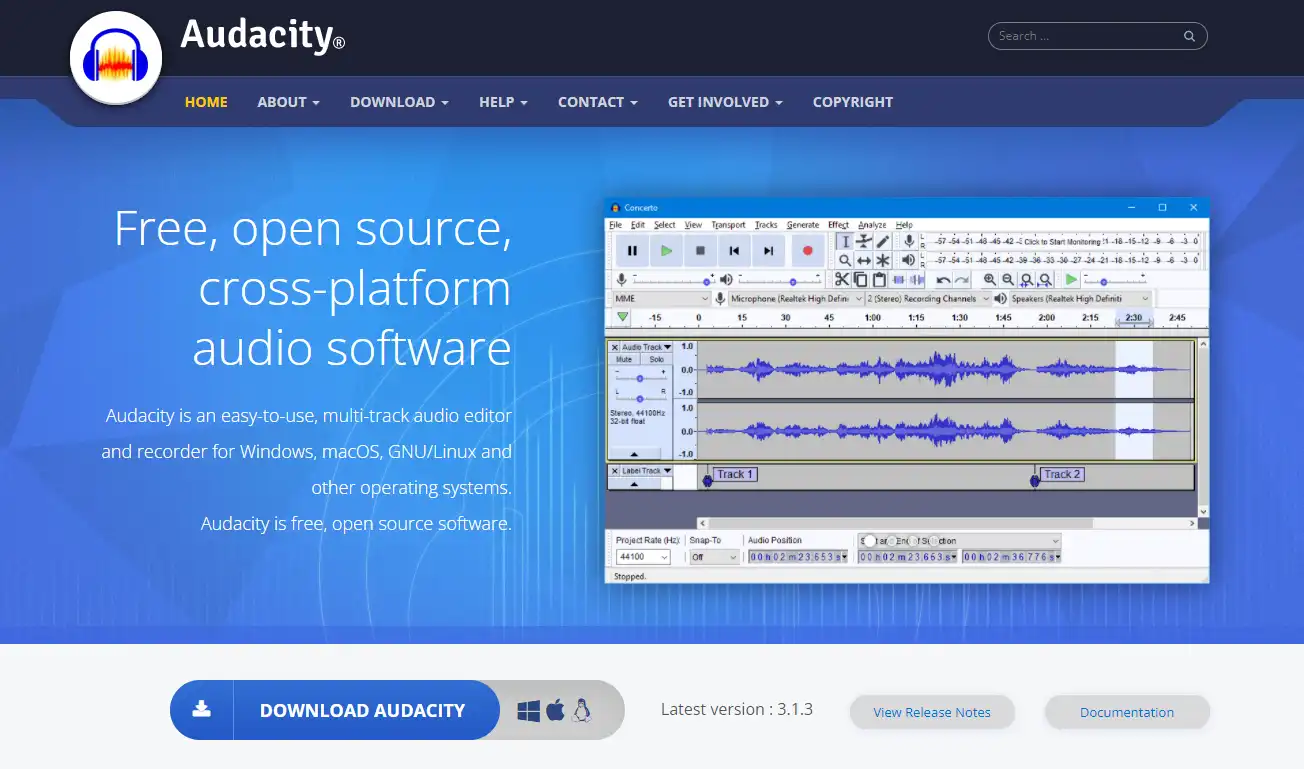 Open Audacity > Edit > Preferences > Recording.
Enable the Stereo Mix option (Control panel > Hardware and Sound > Sound > right-click > Disabled Devices > Stereo Mix Device option)
Hit OK to save the new sound settings. Open Audacity again.
Open the YouTube video page > Hit the Record button > Hit the Stop button.
Check the audio file results in the saved folder.
---
More to Share
Want to extract audio from YouTube videos so you can play it whenever you want? You can do this in any of the four ways we've described above. Four free, simple, and tested methods that are guaranteed to work can help you solve the problem of how to record YouTube audio. You can choose the corresponding method according to your different computing devices. We promise that you won't regret this.
If you have any great suggestions or encounter problems, feel free to contact us any time.