How to Create Zelda Characters Using AI Image Generator
Don't worry if you don't know how to use AI image generator. Rest assured that these tools are designed to be user-friendly and accessible, catering to individuals of all technical skill levels. We enthusiastically recommend exploring the remarkable WorkinTool Image Converter, which we believe is the ultimate choice. This exceptional tool empowers you to unlock your creative potential and immerse yourself in a world overflowing with limitless possibilities.
😍 1. FREE AI Image Converter try-out.
🤩 3. Easy operating steps with AI technology.
😎 4. Multiple customized options to generate AI images.
🥳 5. Cover all the features that you can on the market and interesting filters.
😊 6. Available for image conversion, compression, matting, watermark, and more.
How to Create Zelda Characters Using AI Image Generator
The Legend of Zelda is one of the most popular franchises in the game world, providing a rich and vibrant world full of iconic characters. Even more, the release of Breath of the Wild in 2017 and the release of Kingdom of Tears in 2023 pushed the Zelda series to a new height. These two works not only received high praise in the game industry from the world's players. They have also attracted the attention of non-game groups, making Nintendo a new success. So, as players, we feel the infinite creativity brought by the game and explore the unknown world of excitement at the same time. Have you ever thought about bringing the game characters to the real world? Have you wondered how to create Zelda characters?
Now that we have the help from AI technology, all of those fantasies have the chance to become real. AI image generators can help you create unique Zelda characters that provide an exciting new dimension to your game and fan art efforts. Therefore, this tutorial will show you how to create Zelda characters of your own using the AI image generator, making magnificent artwork.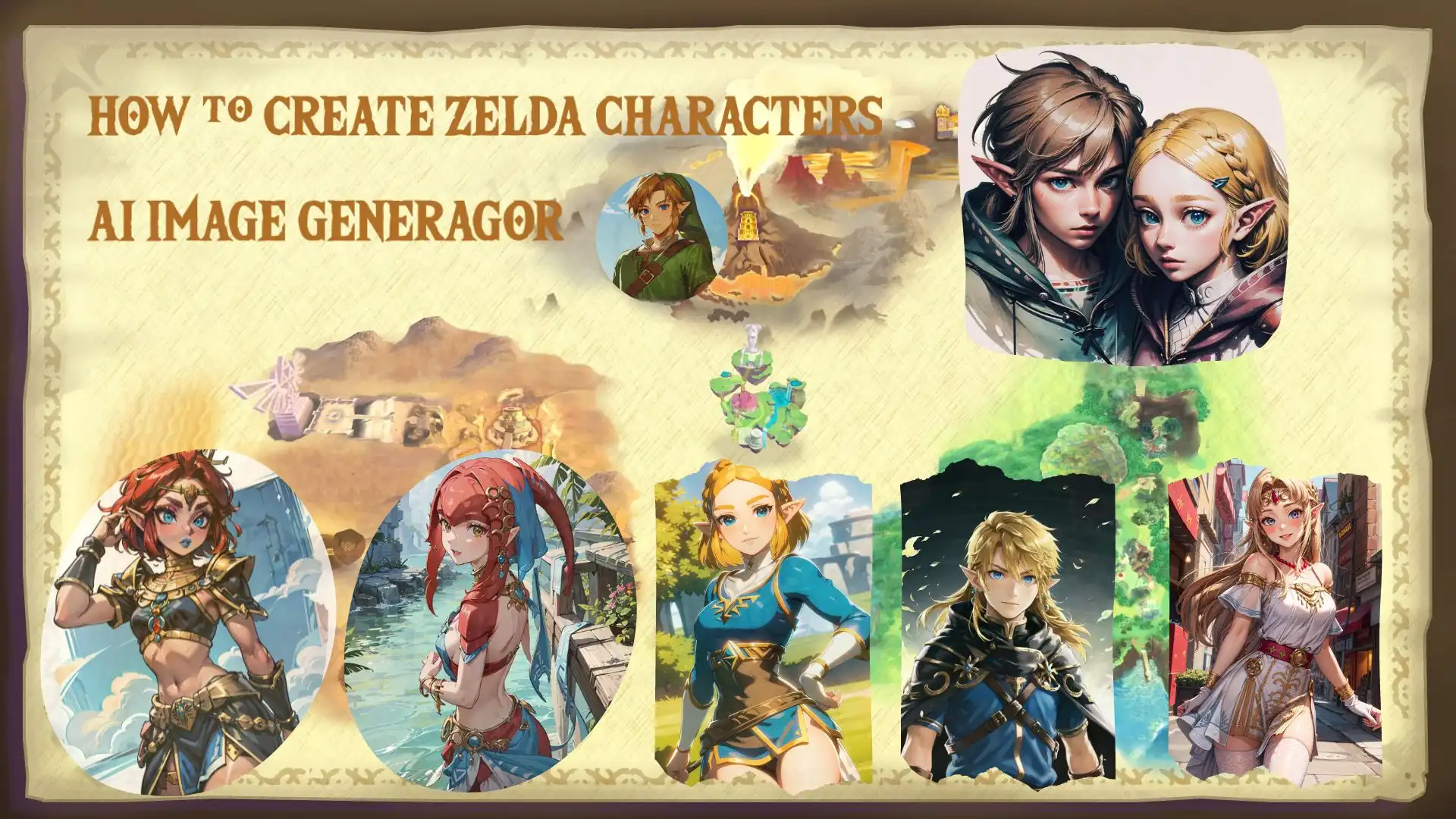 ---
The Legend of Zelda Introduction
Welcome to the world of extraordinary The Legend of Zelda! With over three decades of rich history, this iconic video game series has become a cornerstone of the gaming culture. Since its launch in 1986, The game series has evolved and attracted players.
The unique artistic style of this game is one of its decisive aspects. From the pixelated glamour of the early series to the breathtaking cellular shadow visuals of The Wind Waker and the Lush, immersive landscapes of Breath of the Wild, each game presents a unique and fascinating artistic direction. The 2023 release of the Kingdom of Tears takes the story and its setting to new heights. Its attention to detail and imaginative design bring Hyrule's world to life, creating a visually stunning and immersive experience.
When it comes to the gaming environment, Hyrule is a vast and diverse land of mystery and adventure. From lush forests to steep mountains, vast deserts, and magical temples, each offers its own challenges and secrets to discover. Furthermore, the game world is crafted to reward exploration and invite players to discover refurbished characters and meet memorable characters. Don't forget about the unforgettable character, Link. His signature green coat and hat embody the spirit of heroism and courage. From his humble beginnings as a young adventurer to his epic mission to rescue Princess Zelda and defeat the Vicious Ganon, these character designs capture players' hearts.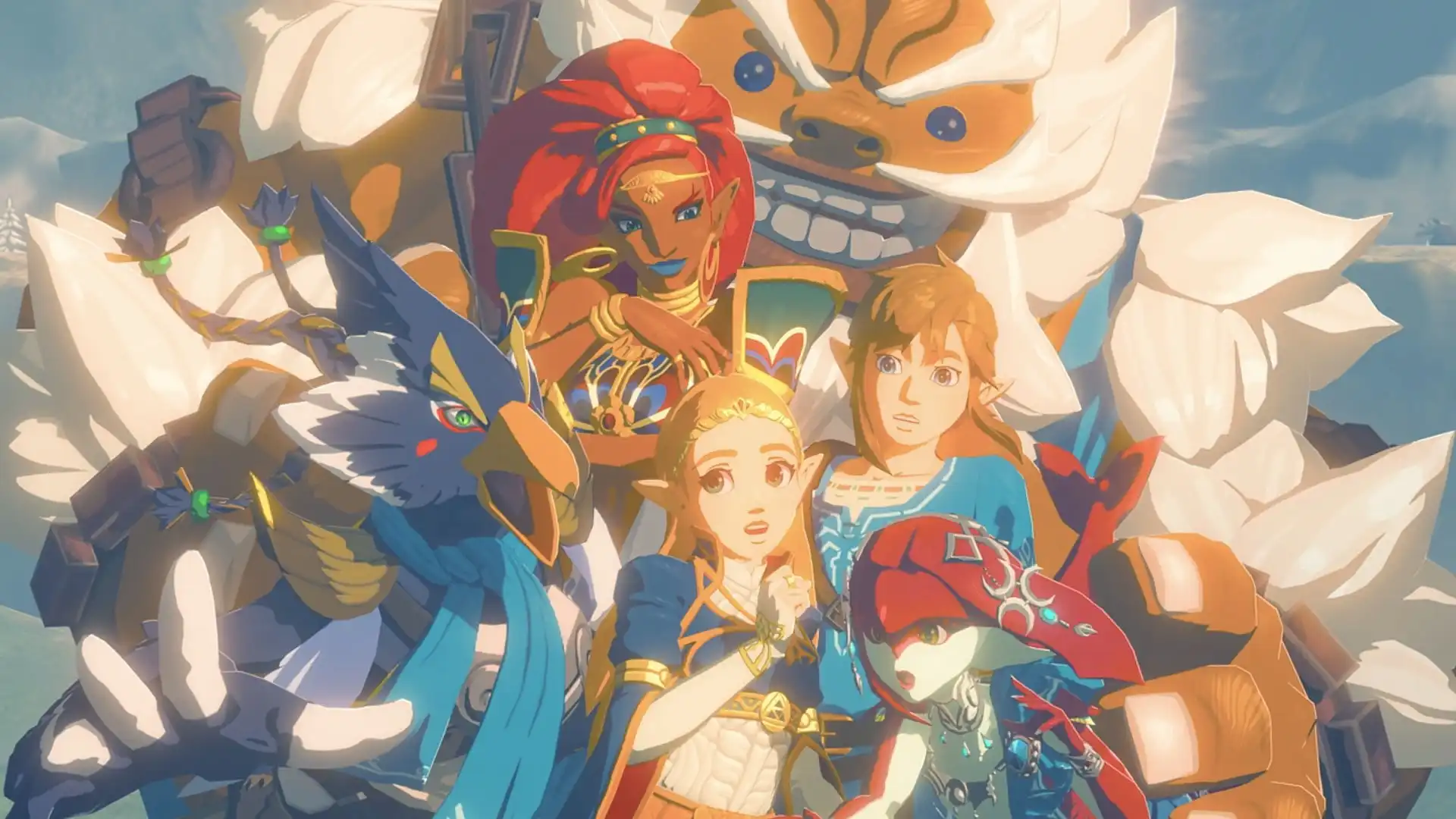 ---
AI and Gaming: An Innovative Intersection
Undoubtedly, AI technology has become a powerful tool in the game industry. These tools help designers enhance gameplay, environmental design, and character creation. When it comes to character creation, AI has the potential to create highly detailed, diverse, and realistic characters. Meanwhile, as fan gamers, AI image generators also open up a world of possibilities for fan art creators. Give them a chance to create their own version of Link, Princess Zelda, and all sorts of characters.
The Advantages of AI Zelda Image Generator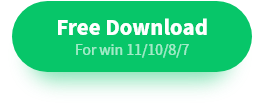 ---
How to Create Zelda Character Images: AI Image Converter
In particular, there are already a variety of AI image generators on the market. And they are not just for the benefit of professional artists. Even amateurs can easily get help from them to create their own work. Plus, these advanced AI tools are very user-friendly. Also, you only need to find a model that matches Zelda, and based on your detailed input of the text you want to generate, it can immediately process and generate the work you want. WorkinTool Image Converter is such an AI image generator we would like you to have a try.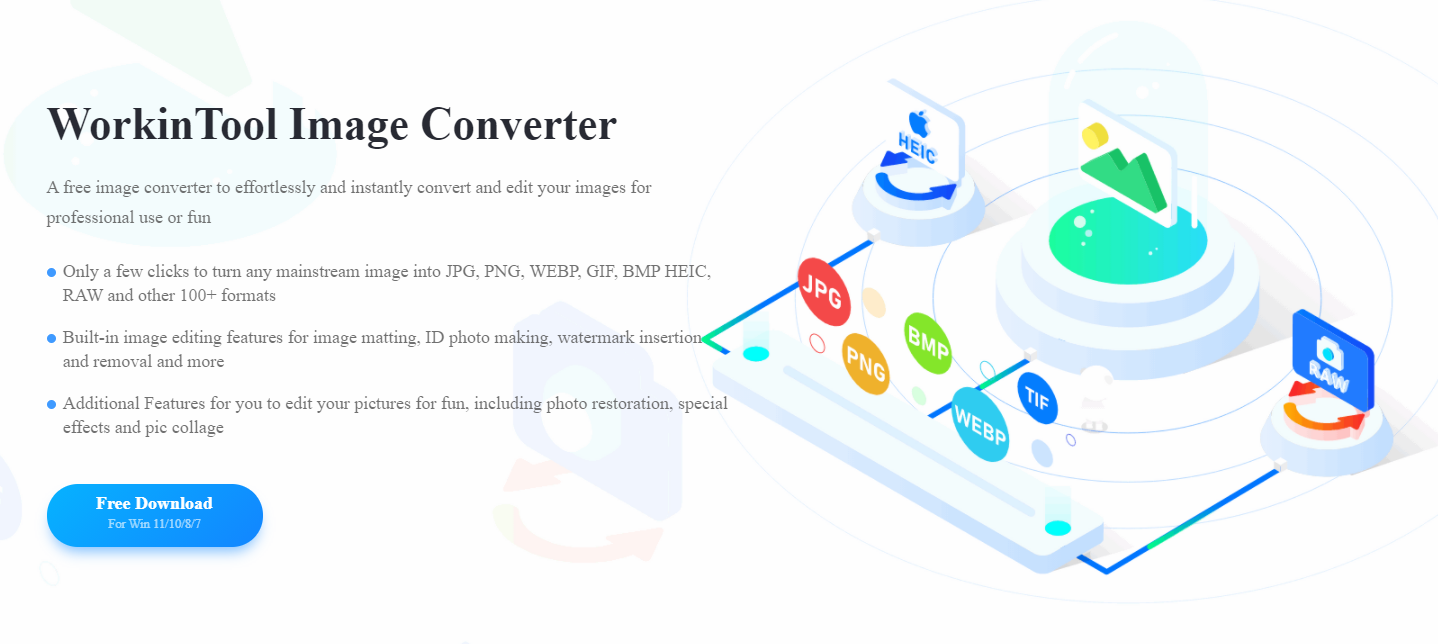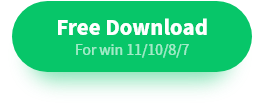 WorkinTool Image Converter is a comprehensive photo editing tool. It integrates various image processing functions with AI technology to help users deal with image problems. Since the software is able to meet the needs of a variety of people. And there are no learning barriers. Users of any age can easily use it for photo editing. The built-in AI image generation function makes it more vibrant and alive. You only need to provide a simple text prompt, and it will produce a work of art as good as pros. Whether it's a game CG, real photos, animations, or even a 3D model, the tool can produce satisfying results quickly.
Moreover, it's not like other online AI image tools. You can process and preview the generated images without any additional credit. This feature puts the user first and gives them the power to decide whether to save or discard the generated image. Its flexibility allows users to evaluate the results better.
Video:
📒 Generate a Zelda character by yourself
1. First, download and open WorkinTool Image Converter and select the text-to-picture or picture-to-picture AI Generator.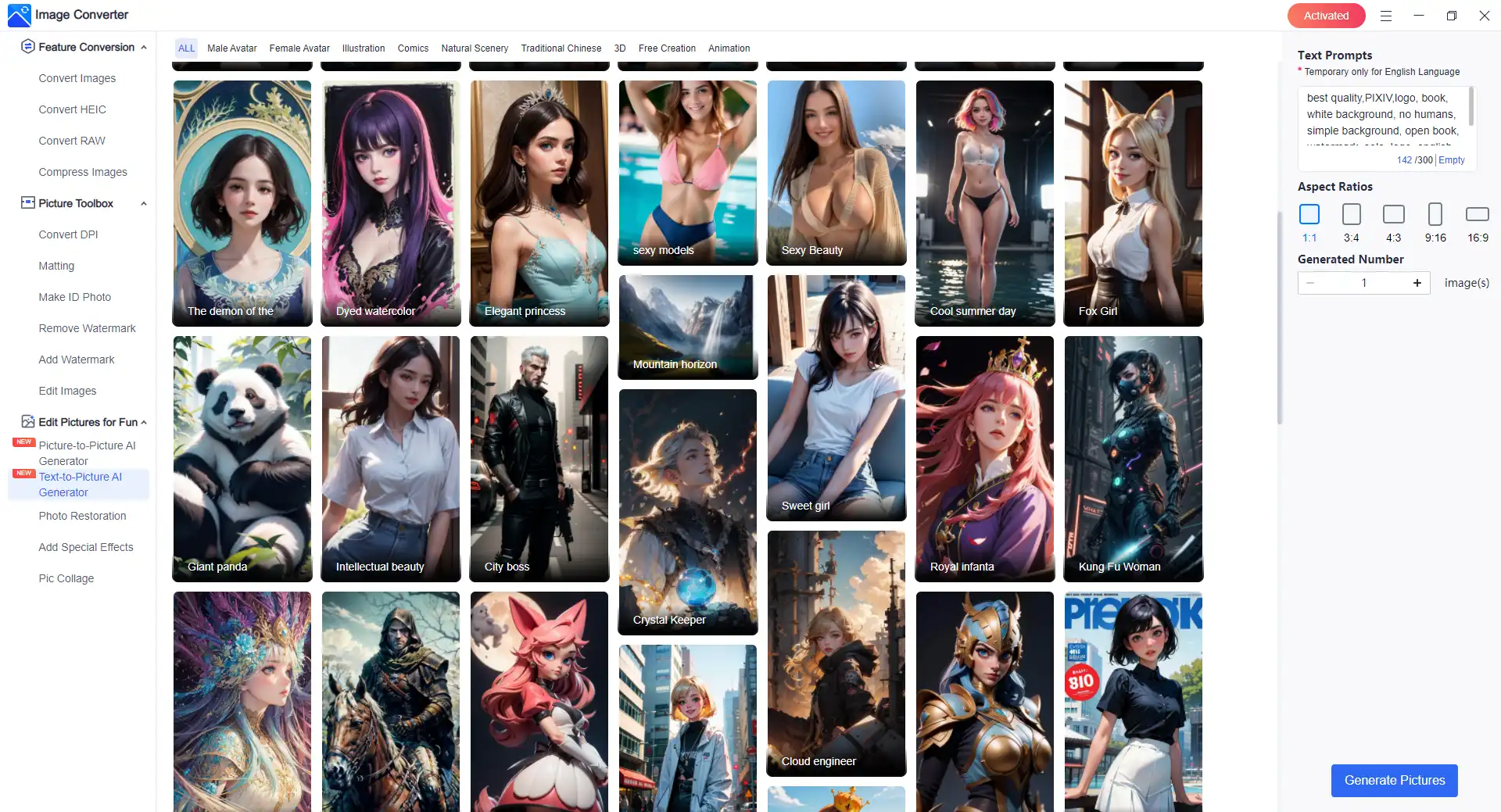 2. Afterward, pick the Zelda-style model. Then, enter the proper text prompts to describe your Zelda role. For instance, the prompt should include The Legend of Zelda style, vibrant colors, and Switch game Zelda fantasy.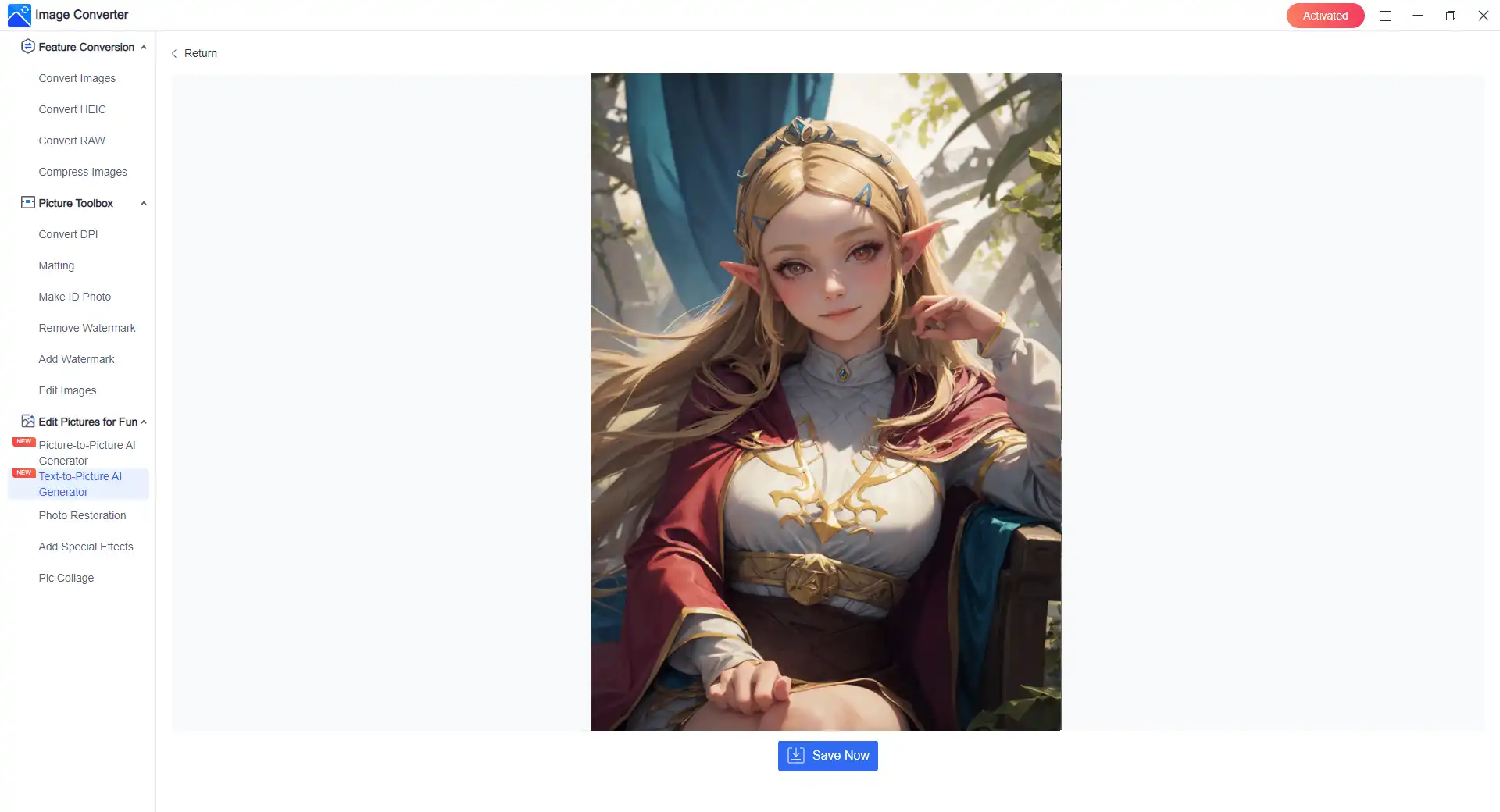 3. Finally, tap "Create" and check the generated Zelda role picture.
💖 More Features for WorkinTool Image Converter 💖
---
More to Share
In conclusion, AI tools can help you create your own Zelda adventure world in an innovative and efficient way. In addition, the AI Zelda character generator provides users with more than just a few hours of fun time to create art. Also, the resulting images can be shared with like-minded friends as avatars and even DIY cups, T-shirts, and so on. Therefore, this tool is only meant to stimulate your inner creativity. Because there is no need to be afraid to try it and let your imagination fly. So, come and bring all your fantasies to reality.