Four Best PDF Password Remover for Windows in 2023
In this article, we will be cover four different methods of the best PDF password remover. For free editions, we have WorkinTool PDF Converter and WPS. And for Paid editions, we get Soda PDF and Adobe Acrobat DC. However, with all the four PDF tools, we recommend WorkinTool PDF Converter as the number one. Because except that it can solve the problem of removing passwords, it also has all the functions that users need. Plus it is totally free to use compared with the other three. I mean, how is that not enough? Go and try it right now.
Four Best PDF Password Remover for Windows in 2023
In order to keep PDF files safe, it is universal to put a password on those PDFs. Due to the specialty of PDF format, once they are locked by password, you can protect them from opening, editing. On another side, it can be pretty annoying that you have to enter the password every time you open your PDF documents. Then the best way is to remove unwanted passwords from PDFs. After thoroughly selecting and comparing each tool, we'll introduce four different but best PDF password remover for Windows this year in this post. There will be two free tools and two charged tools.
After reading this amazing article, you can choose one from them that suits you best. Of course, among these, the WorkinTool PDF Converter is the most recommended one. Because it owns the freshest interface and the easiest operation for users to unlock a protected PDF. Please be aware that it is illegal to remove the password from a PDF without the creator's consent. And that is why all the software that we suggest is legit, which means you can't remove the code without knowing it.
💖 WorkinTool PDF Converter
🧡 Soda PDF
💚 WPS PDF to Word
💙 Adobe Acrobat DC
---
Best PDF Password Remover – Free Editions

Works on: Windows 11/10/8.1/8/7/Vista/XP,  or later.
The tool that we strongly advise our readers to try is the WorkinTool PDF Converter. Let's face it, none of us is a tech pro. Otherwise, we won't google to find a tool for unlocking PDF. Most people are finding a tool that is easy enough for people of all ages to use. The best-case scenario is that it is suitable ranging from kids at primary school to grandpa and grandma if they need to. WorkinTool has put all the effort to develop this software. With that goal in mind, WorkinTool has developed this amazing software. To set simplify every step of removing PDF passwords as the number one goal, of course, we put this one on top of the list.
It got the most friendly interface compared with other similar software. It can save you a large amount of time from unnecessary operations. Basically, you only need to make three operations and you can get an unlocked PDF file. And there is no doubt that it keeps the file safe. all of these users' files and operation history won't upload to any server. I can promise you that. Actually, once you have downloaded this software you can disconnect your network. It won't affect anything. Except removing, you can also use this tool to put a lock on your important PDF as well. All the functions in the tool won't change the content and layout, only to optimize not to falsify.
Here Is What You Do:
Go to open the WorkinTool PDF Convert and tap "Unlock PDF".
Normally, after you put your targeted PDF into the box, you will be asked to enter the password like below: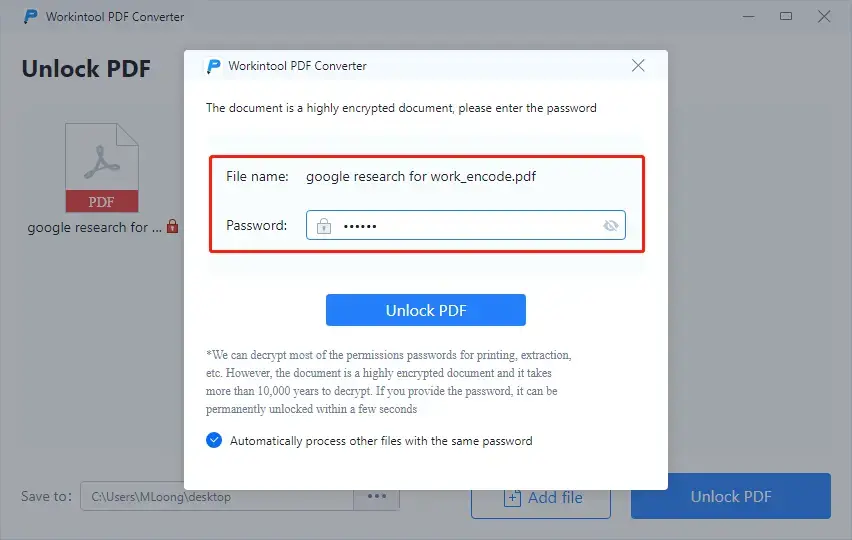 You may hit the eye-shaped icon to show your password. It also supports multiple files with the same password to unlock together.
Once it is done, hit "Open the file" to get your decrypted PDF file.
🚨 Note: This tool doesn't support decoding the password. Since you have read here, we have the obligation to tell you that no matter what tool you use, if you crack the code without knowing the password or the file owner's permission, then you commit a crime.
😍Pros:
Fresh interface.
Very friendly to users.
Free to unlock single file within 2 MB.
Network disconnected to protect files.
Batch conversion is supported.
😢Cons:
Can't crack highly encrypted PDFs.
---

Works on: Windows 10/8.1/8/7/Vista/XP, macOS & Linux or later.
Without doubts, WPS Office is the best choice when you ditch Microsoft Office for its price or other reasons. And for all those years' market experience, WPS knows best what users need. Though it is more used as a substitute for Microsoft Office, all the function in it is far more advanced than any other similar software. In my perspective, it is one of the most useful tools.
It is great, but it has its shortcomings as well. Without logging in to your account, some functions like editing and converting are limited to use. Plus, as a guest, the Cloud disk is also unavailable either.
Let Me Show You How It Works:
First, enter the password to open it with WPS.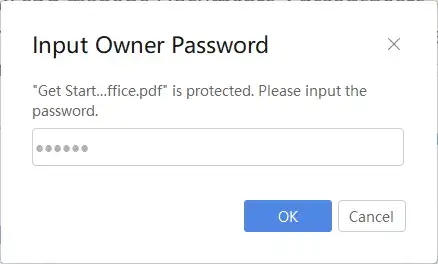 Then, go to the "Protect" button in the Ribbon, hit "Encrypt".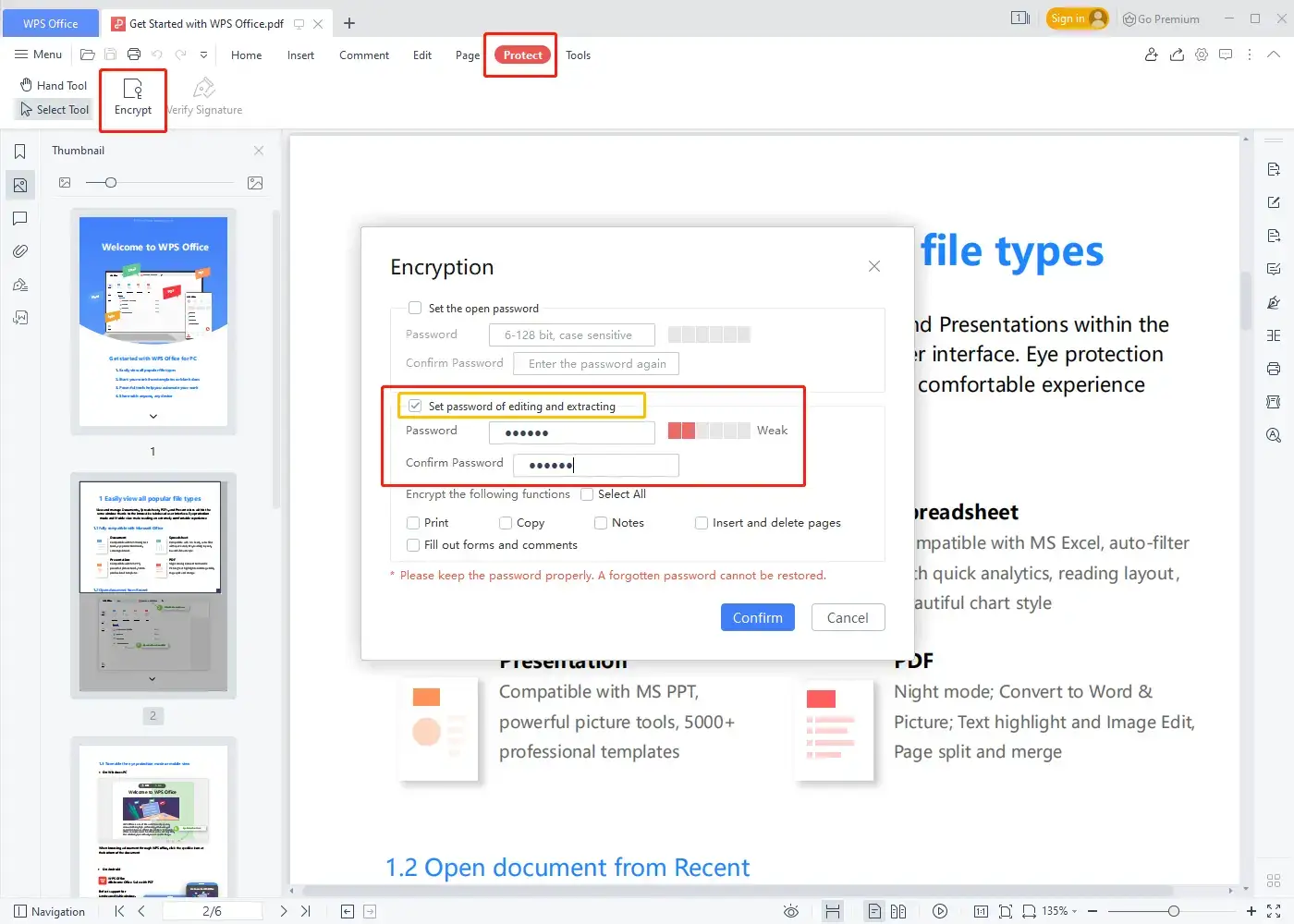 In here you will see this window, delete the yellow box for password setting.
Last, hit "Confirm" and save this password-free PDF file to get what you want.
😍Pros:
Multiple encryption options.
All-in-one software.
Support other office format editing.
😢Cons:
Require premium to unlock some functions.
Its plug-ins are difficult to delete.
---
Best PDF Password Remover – Paid Editions

Works on: Windows 10/8/7/Vista/XP, macOS & Linux or later.
Here we are going to introduce another exceptional PDF password remover, which is Soda PDF. It can help users to remove the restrictions from PDF so that you get to get in. It can decrypt a password-protected PDF file very quickly. Not to mention the speed, you can multi-operate a PDF with this one PDF tool. After removing the password in PDF documents, you can edit them by inserting pictures and tables, changing the content. Converting to other formats is also embedded in this tool to help users save time.
However, even though it is a powerful tool, most of the functions are needed to be activated by upgrading to be a premium user.
Here Is What You Do:
Open your PDF file with the Soda PDF tool. (You need to know the password)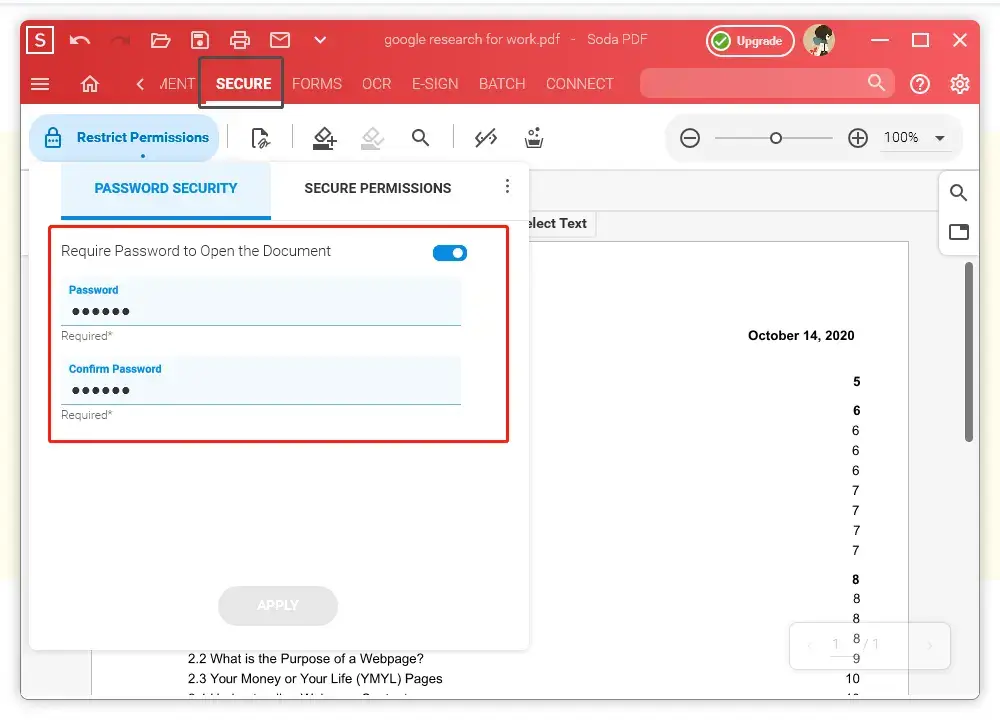 Go to the "SECURE" button right in the toolbar.
Then tap "Restrict Permission" to close the PASSWORD SECURITY.
Click APPLY and save it to replace the old PDF file.
😍Pros:
Diverse PDF optimizing options.
Support batch operation.
Support two modes to restrict permissions.
😢Cons:
Premium users only.
Force modification of the default PDF reader.
The interface is too blurry.
---

Works on: Windows 11/10/8/7/Vista/XP, macOS & Linux or later.
As the creator of PDF format, there is no reason we leave Adobe outside this list. After all, even many years have passed, this tool is still ascending among all those software products, others are just imitating him. I mean, just to see the encryption function alone, besides password, it allows you to set the certificate to lock, select document components to encrypt. Even the removing passwords function is different. It tells you straight to remove all the security operations. See how magical is that! Definitely, it is the king when speaking to the PDF optimizer tool.
King as it is, many users have still been turned away for the highly charged fee for activation.
You Want to Do This:
Put in the password to get it open in Adobe Acrobat DC.
Find the "Protect" function in the "Tools" section.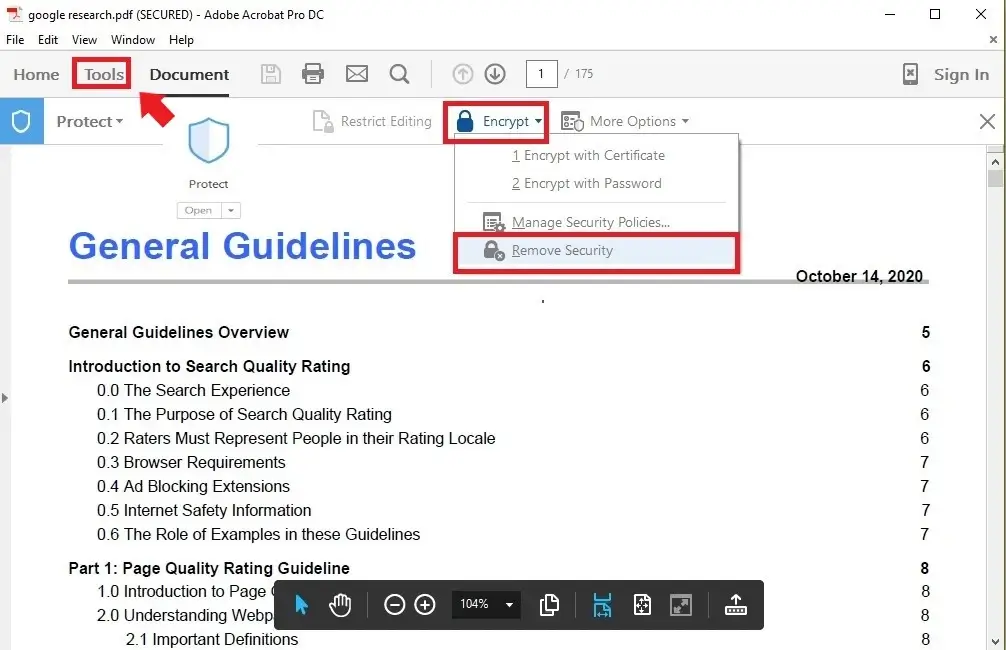 Click Encrypt to Remove Security from the PDF.
Save the PDF file to recover the old one.
😍Pros:
Multiple encryption options.
Works on Windows and Mac, desktop and Online.
One button to remove all restrictions.
😢Cons:
Not suitable for beginners.
It is a little pricey.
The interface is not clear and easy.
---
More to Share About Best PDF Password Remover
As you can see from above, every tool has its advantages and shortcomings. It really depends on what you need in the current circumstances. But seriously talking here, if you have an extra budget, go to Adobe Acrobat DC. If you don't want to spend that money, try WorkinTool PDF Converter to enjoy all the amazing features for free. It is far more than enough for basic use.
We hope you can find the best one for your condition and may all the good luck with your work.