How to Convert MP4 to AVI on Windows [FREE Tutorial]
If you want to grab the available method on how to convert MP4 to AVI, then you come to the right spot. Here in this post, we provide the best two free ways for you to try. One of them is to use WorkinTool Video Editor – VidClipper. It is a professional video processor. except for the basic video format conversion, users are also allowed to customize resolution, video quality, frame rate, and bit rate. More importantly, it is totally free without any limit. Come and experience the magic now.
 How to Convert MP4 to AVI on Windows
Even though the MP4 format is the most common video format we have used in our daily life, we can say it is the perfect format for videos that play on mobile devices like phones, and iPods. However, because MP4 is a compressed format, the image quality becomes lossy. If you're looking for a more extreme HD experience, then AVI video will suit you better. AVI format contains larger data and owns a higher resolution video, which is also why many DVDs choose to use. But how to convert MP4 to AVI on Windows? Don't worry about it, here comes your best solutions.
How to Convert MP4 to AVI – By WorkinTool
Unfortunately, on the Windows system, there is no built-in functions or media player that can help you to convert video format. So you have to seek assistance from third-party software. But with so many different kinds of video format converters on the Internet, it's harder than reaching the end of the sea to find software that's both convenient and useful. Lucky you, in order to spare unnecessary efforts and time, we are here to offer you the best tool you can use. And that is WorkinTool Video Editor – VidClipper.
VidClipper is a very professional video editing software. Let's just put it this way, you can use it for anything that relates to video operation. One little software is more than enough to get you to be a vlogger. With it, you can edit your videos, add subtitles to videos, add music, and even transcribe audio to text. So, converting MP4 to AVI is also available in use, of course. More importantly, it is totally free. Now, let's see how to make it work.
📕 Simple Steps to Get a Good Result
1. First, go download and launch this video converting tool, click + New to get into the editing page.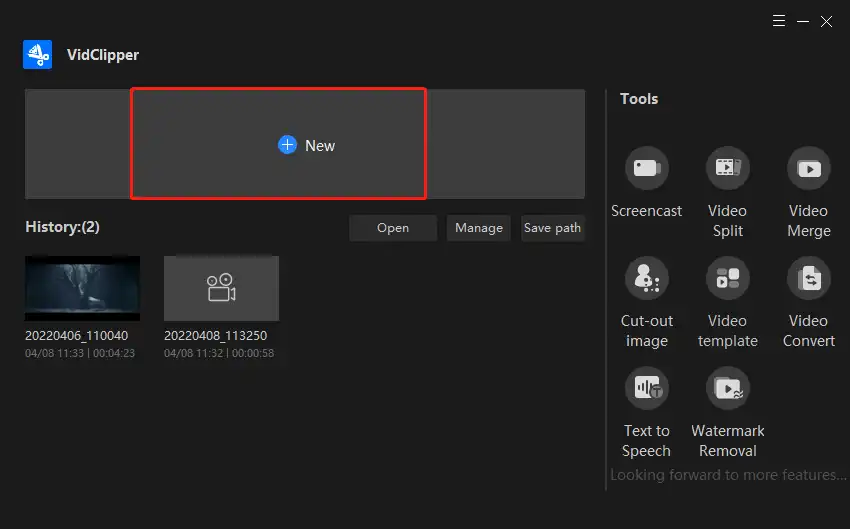 2. Then, hit Import to upload your favorite MP4 videos into the source media library for a later process. Drag one of them to the timeline. Tap the Export button to get into the next operation – convert video format.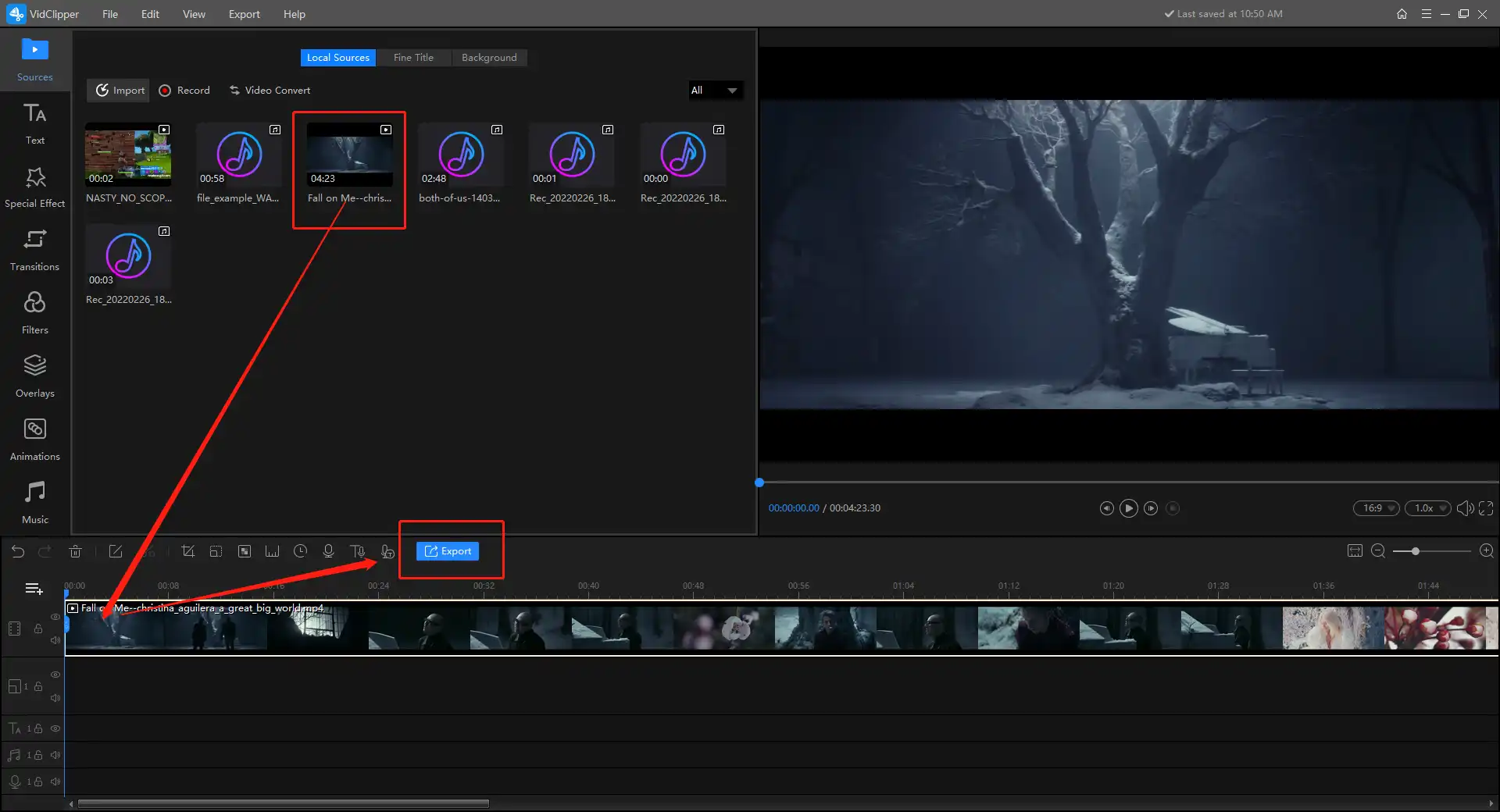 3. After hitting the export button, you will see a window below. Here you can choose six video formats and two audio formats to export. So, you need to pick AVI and check the video quality, resolution, video length, and file size. When you are done, once again, click the Export button, then it will start to convert the format.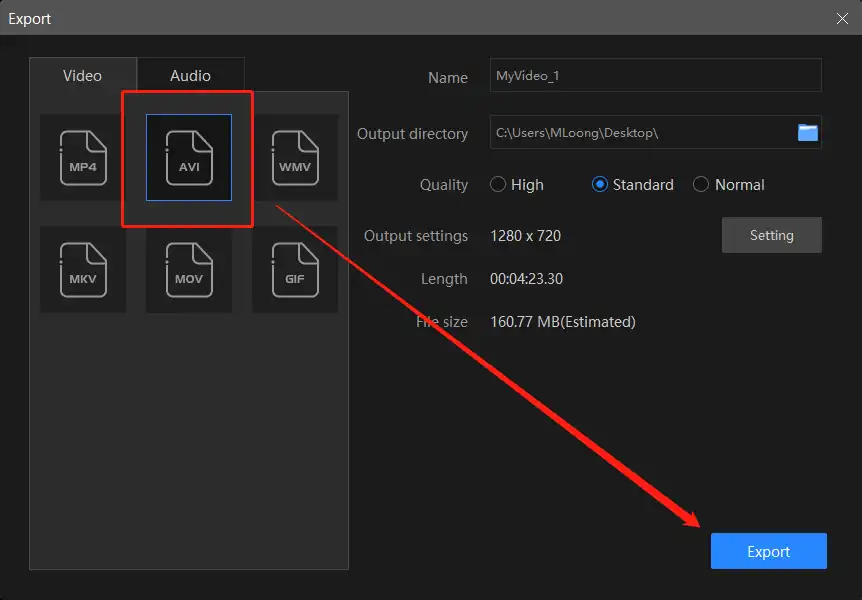 📣 Additional Settings
As you can see, there is another setting button for users to modify. In the advanced window, users are allowed to adjust more details of the video. like video quality, resolution, and bit rate. That is also one of the reasons I recommend this tool.
| | | | | |
| --- | --- | --- | --- | --- |
| Quality | Frame Rate | Sample Rate | Bit Rate | Resolution |
| Controls the export video effect when displaying on the screen. Three quality options are offered: High, Standard, and Normal. | Controls the speed to process images per unit of time. Usually, the higher the frame rate is, the better quality your video will get. | It means the number of samples of audio carried per second. The higher, the better. | Controls the number of bits that will be processed per unit of time. The higher the bit rate is, the better the quality will be. | Controls the displaying screen size of your video. The normal setting is 1080P. However, the higher it is, the better your video will be. |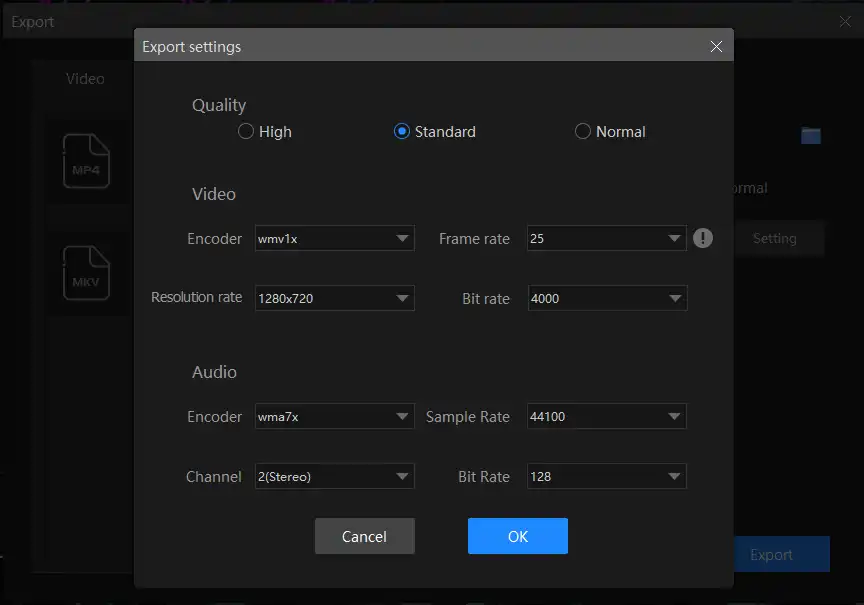 ---
How to Turn MP4 to AVI – By VLC
Except for the professional video converter, there is another free tool that you can use to convert MP4 to AVI. The VLC media player is an open-source multimedia video player. It is very popular for its powerful video format compatibility. And as a video player, it has its own video format conversion function. However, this is method is not very suitable for new beginners. Because the converting function is hidden right in the deep menu. If there is no instruction, it might take you one hour to find the button, which is totally unworthy.
📙 The Alternative Solution to Transform MP4 to AVI
First, open VLC > Media > Convert / Save…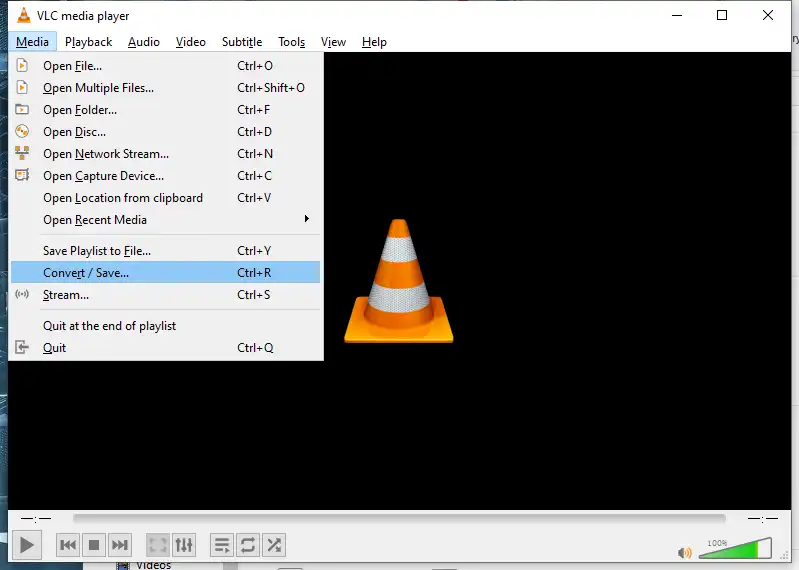 Click + Add… to upload your MP4 videos > Convert / Save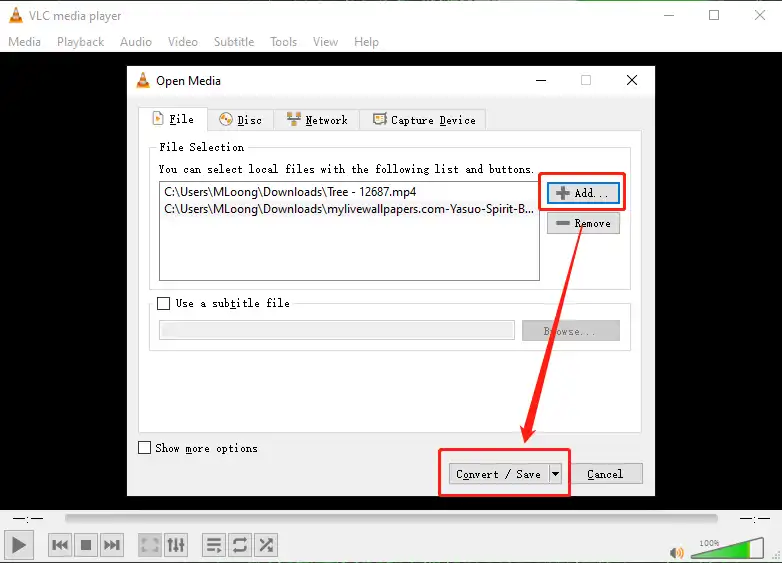 Then hit the wrench button to the profile edition, here you need to choose the AVI format and save.
Last, hit Start to begin the conversion.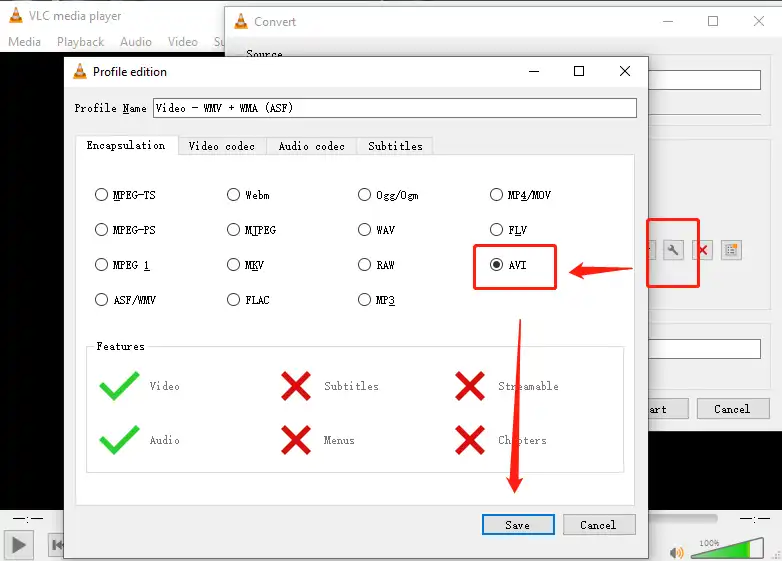 Something You Should Know Before Converting
🚩

What Is AVI?
AVI, short for Audio Video Interleaved, is a multimedia container designed by Microsoft in 1992. You can think of it as one of the earliest cross-platform video and audio formats. Its advantages mainly focus on the high image quality. But in turn, it will grow in size to meet the demands of high-quality video. At the same time, because it's an old video quality-based format, it doesn't support as many devices.
🚩

What Is MP4?
MP4 is the most popular format for its wide compatibility. It is a multimedia container for audio, video, and even subtitles. Later than AVI, it was made for more devices to transmit. However, it is a strongly compressed video format, so the quality might be a little bit lossy.
🚩

What Are The Benefits of The AVI File?
Because Microsoft designed the AVI video format, it works perfectly on all the devices for the Windows system.
It is a better video format to contain higher quality and better resolution videos and audio.
DVDs are usually burned in AVI file formats to keep a better result.
Even though cannot compare with MP4, AVI is also available for many devices like mobile phones, smart televisions, and so on.
AVI format has a very flexible compression feature, which leads to more codecs supporting this video format.
---
More to Share
Now that this article has been explained in detail, you should also know that it's not hard to master how to convert MP4 to AVI, you just need to find the appropriate video converter tool. And the two software mentioned in this article are 100% available after we test them, you can feel free to try to use them. I promise you will not be disappointed.
It's time for you to jump on the train to the conversion town, so hurry up.