How to Convert MOV to MP4 on Windows Free
If you are troubled with how to convert MOV to MP4, this article will give you some aid. It will elaborate on a practical solution with a free and effective tool – WorkinTool Video Editor. It contains a brief introduction, a detailed tutorial, and a list of features of this tool. Hope you can benefit a lot after your reading.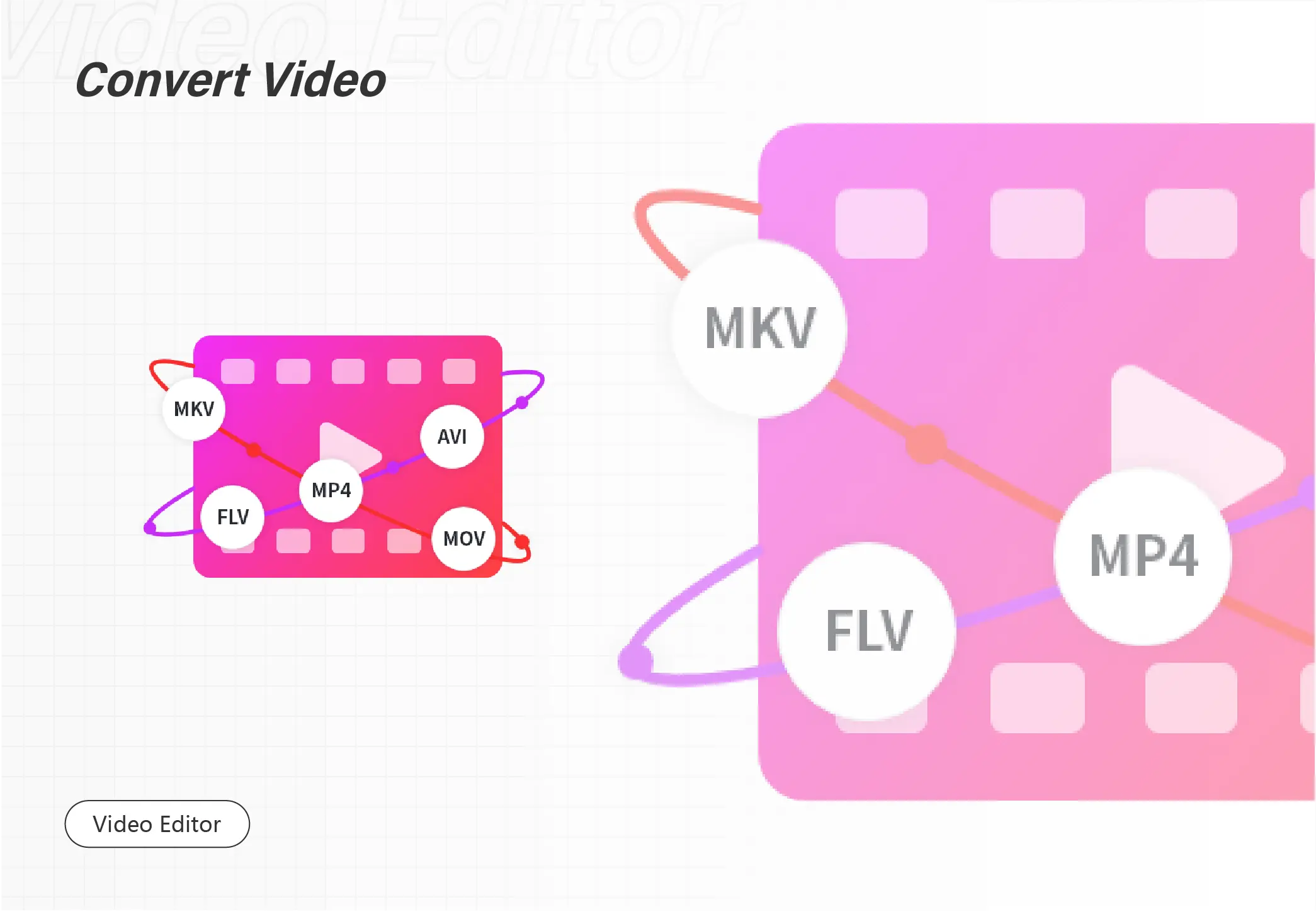 How to Convert MOV to MP4 on Windows Free
This article will mainly discuss how to convert video format from MOV to MP4 free. If you have this kind of trouble, hope this article can benefit you a lot. I will present you with an effective and free video editor – WorkinTool Video Editor, and introduce it from the following aspects: a brief introduction, a step-by-step tutorial, and key features of it. It may cost you 10 minutes to read. It will be appreciated if you read it with patience.
👀 What Is a MOV File?
MOV stands for Quick Time File Format (also called Movie Format), which is an audio and video file format developed by Apple to store common digital media types. When you select QuickTime (*.mov) as the saving type, you will get movies in MOV format. MOV files have higher quality and larger file sizes than MP4 files. So, if you want to get a file in a smaller size, you need to convert MOV to MP4. Moreover, MOV files are not as widely supported as MP4 files. Many platforms are not in favor of uploading videos in MOV files. Therefore, if you need to send videos to your friends on some platforms, you have to convert them first.
🔔 Convert MOV to MP4 with WorkinTool Video Editor
WorkinTool Video Editor is an all-in-one video processing desktop tool that is recently released. It can fulfill converting, splitting, and merging videos, casting screens, altering the text to speech, etc. One of its outstanding merits is that it is totally free for all functions without any request. What's more, it is friendly to new users, only in a few steps you can get the converted video that maintains its high quality. It is light to weigh as well, so don't worry that it will occupy too much of your PC. What's more, there are no ads throughout all operations.
🧐 How to Convert MOV to MP4 with WorkinTool
Now you may have a basic grasp of MOV files and WorkinTool Video Editor. It is time to find out how to convert MOV to MP4 with this tool. Here is a step-by-step tutorial that you can refer to.
There are two options for you to alter MOV to MP4 with WorkinTool.
🧡 Option1. First, you can find the "Video Convert" button on its home page.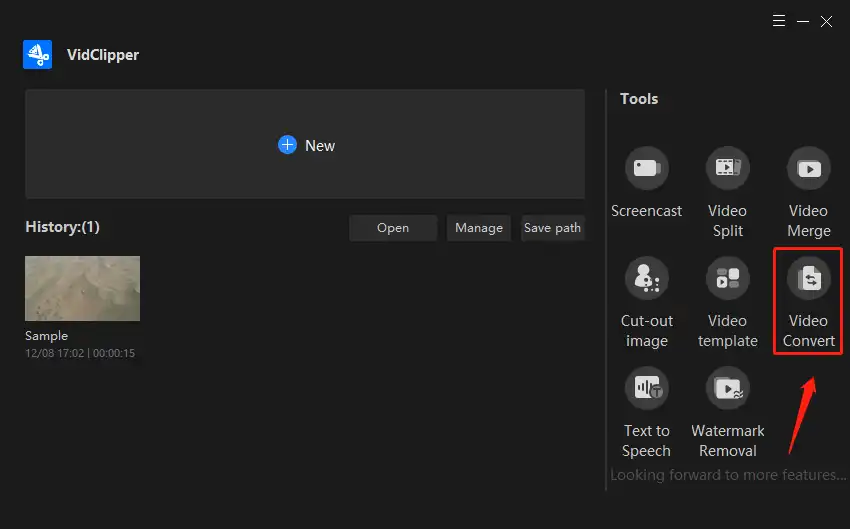 Second, upload your MOV video by clicking add file or dragging it directly. It is viable for you to change the save path of the new video. Just choose "Directory" or "Open Folder" to alter it.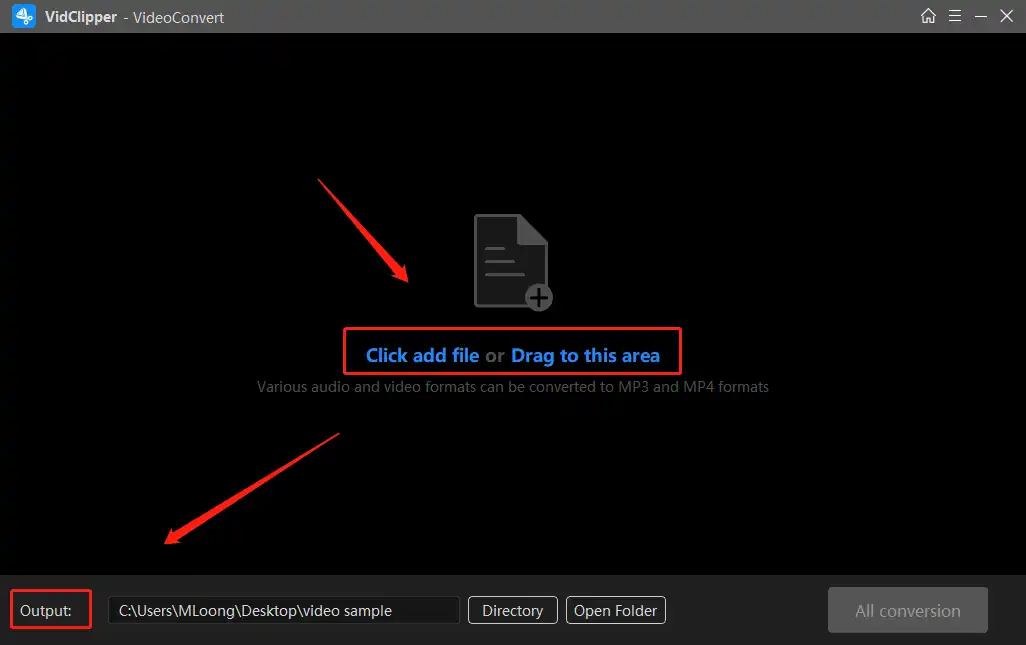 It supports batch processing. You can add more files or add folders to upload other videos. It is available to check the output information after uploading. Then click "All conversion" or click "Convert Now".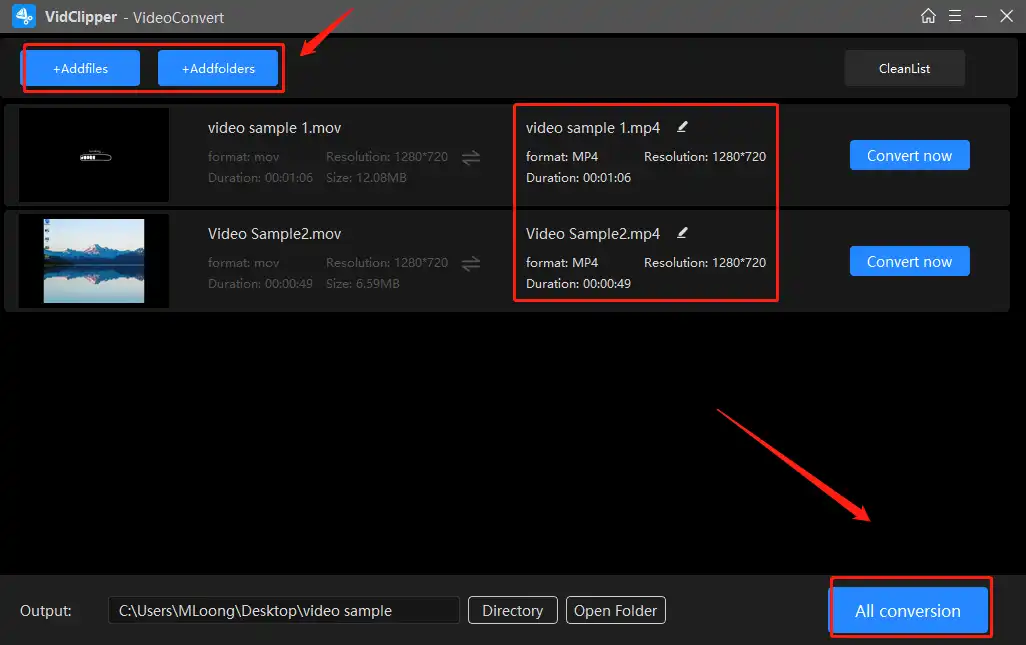 Finally, after conversion, you can examine it by tapping "Play" and get the file by clicking "Open folder". If you want to re-edit the video, you can add it to clip footage.

As you can see, just in a few seconds, you can realize the conversion from MOV to MP4. Even for batch conversion, the converting speed remains fast, and the quality of the video is still high.
🧡 Option2. Another way is to upload your MOV video to edit, then export it to MP4 format.
Step1. Click "New", then import the video from your folder.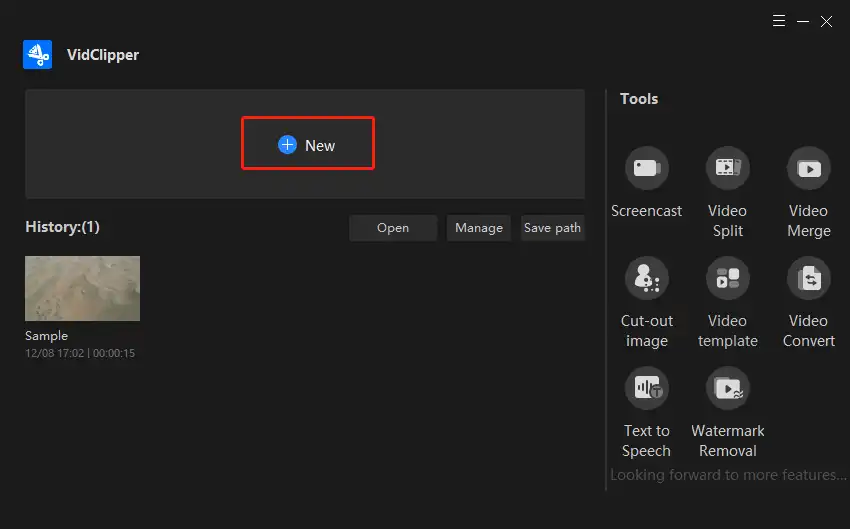 Step2. Add video to edit by clicking the plus sign. Then export it to other formats.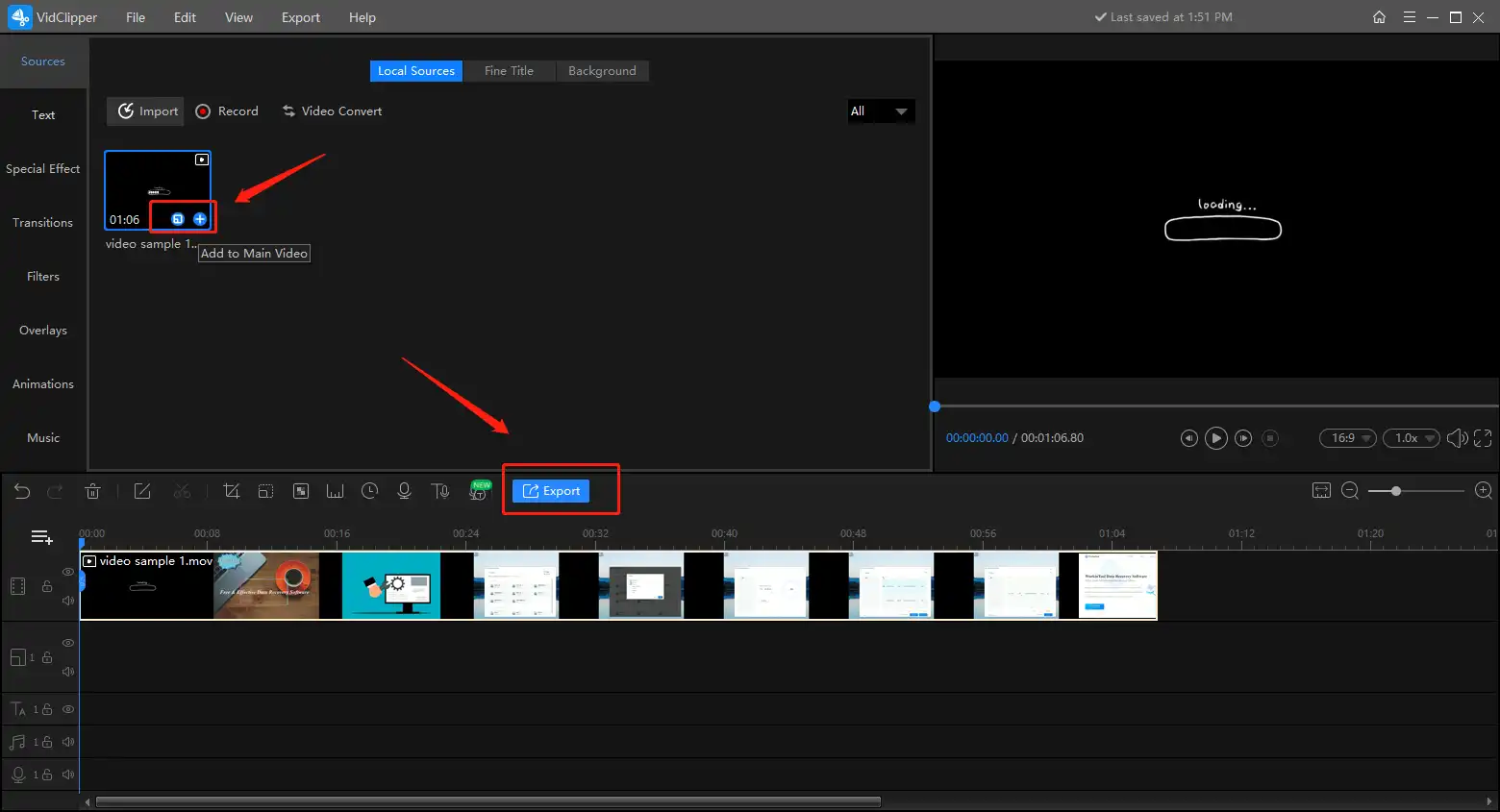 Step3. Choose the MP4 form. It is feasible to pick the output quality. As for high quality, it will make sure your video remains the original quality. As for Standard and normal quality, it may lose quality but reduce the size of the video to an extreme extent. You can rename it or alter the save path on this interface. After your setting, click "Export" to get the converted one.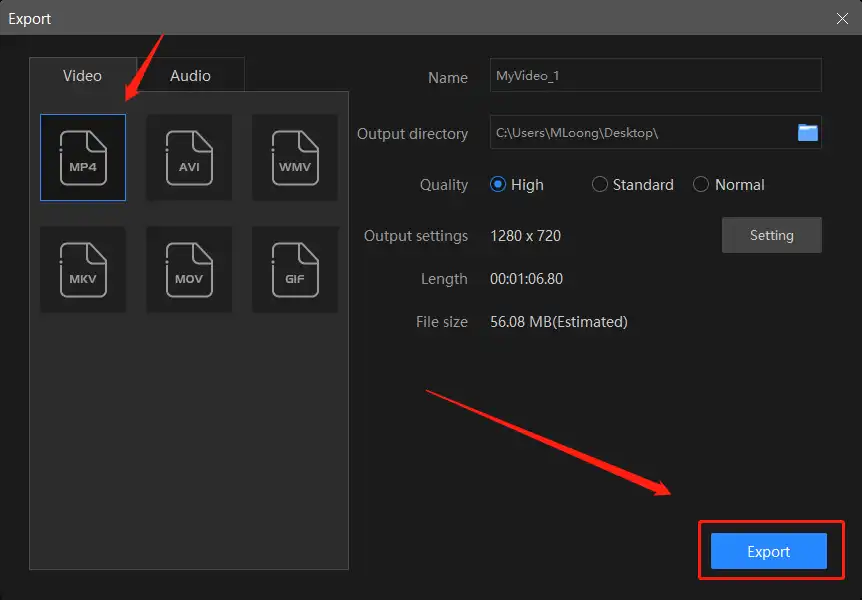 Both two ways are easy and fast to operate. If you need to convert many files, then I recommend the first option. If you want to select the output quality and other formats like AVI, WMV, GIF, and MKV, the second way of operation is a better choice.
✅ Key Features
WorkinTool Video Editor is definitely a powerful and professional video professor. It proceeds with countless windfalls. Here is a conclusion of its key features for you.
Pros & Cons of WorkinTool Video Editor
😊 Pros
😕 Cons

Totally free; all functions are currently free for users.
Easy to use; its operation is friendly to beginners.
Powerful; it combines many mainstream video editing functions.
No ads on its interface.
Safe; it asks no registration.

Need to download it. Its online version is still exploring and will be available very soon.
The functionality of WorkinTool Video Editor is out of your imagination. With it, you can deal with almost all video editing problems. If you are a YouTuber, vlogger, or video producer, you can choose it to make videos as well, for it is professional and powerful. Here is a list of other functions of it.
🔶 Wrapping Up
After your careful reading, you may have figured out how to convert MOV to MP4. Both the two video formats have their advantages. If you come into contact with videos frequently, indeed, you have to learn an easy and free way of video conversion. WorkinTool Video Editor is one of the best video editors available for Windows, which is packed with many benefits. This effective and free tool can realize converting video to many formats. And also, if you need to make videos, it will give you some aid as well. You don't have to spend any coins or accomplish an extra task quota. All functions are costless for you without limit. I will be grateful if you pick it as your personal video assistant. If you are looking for more office software tutorials, you can visit WorkinTool.
Products Reviews:
TrustScore
4
|
323
reviews