How to Recover Unsaved Notepad Files FREE on Windows
This post explains how to recover unsaved Notepad files with three workable free solutions, including two built-in tools and a free data recovery tool. You can also learn how to restore permanently deleted TXT documents with this free third-party software. It stands out from the competition for the following features.
1. 100% Free without ads and hidden costs
2. No special techniques are required, suitable for everyone
3. Fast scanning speed and well-organized results
4. Multiple supported file types and storage devices
5. High privacy and safety guarantee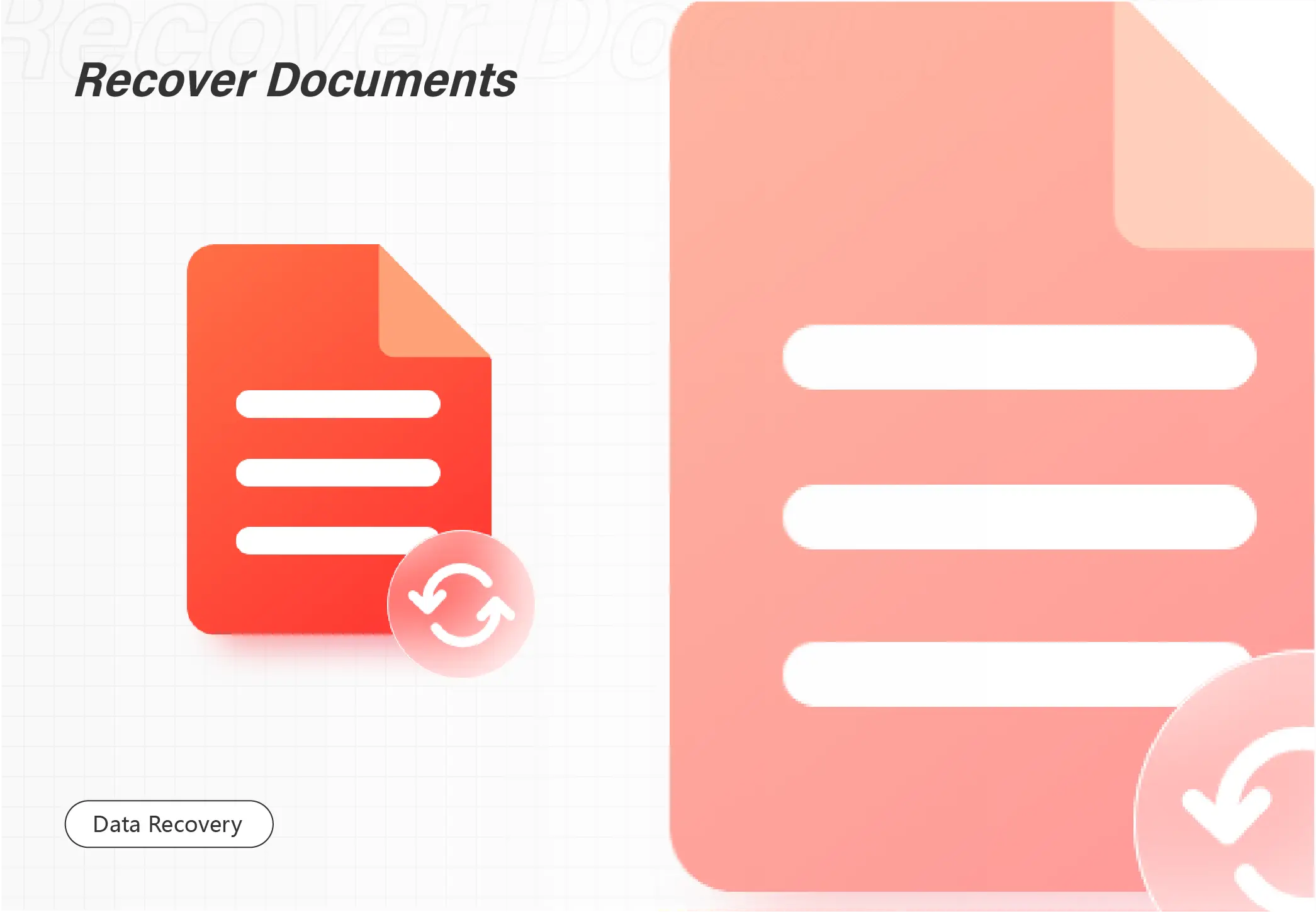 How to Recover Unsaved or Deleted Notepad (TXT) Files for FREE
Notepad is a Windows built-in text editor specializing in editing plain text. Many users use this tool to note temporary ideas, work schedules, meeting minutes, and even source code. It is frustrating when a TXT document accidentally disappears, especially when you almost finish editing and the file is urgent. Many people are desperate to know how to recover unsaved Notepad files or how to restore Notepad files after accidentally deleting them.
No worries! This post covers everything you need about Notepad recovery. Whether it is unsaved, disappears after a restart, crashed, or is permanently deleted from your Windows 11/10/8/7 computers, you can find workable solutions to get the text document back in a few clicks.
Where are Notepad files saved on Windows?
To begin with, we should know where Notepad files are saved in Windows 10 and whether it will autosave the text you are editing. Notepad doesn't have a backup feature. So you can only check the file where you store it.
Usually, users create a TXT document directly on the Windows desktop. In that situation, the default save path is 

C:\Users\Username\Desktop

.

If not, you can check the default Notepad storage directory: 

C:\Users\Username\AppData\Roaming

.
---
How to recover unsaved Notepad files with Windows built-in tools
Since Notepad does not have an autosave functionality, it is nearly impossible for you to recover unsaved Notepad documents. But you can give a chance to the following methods.
Check the default storage path
It is the first pick and also the most straightforward way. You still can find the unsaved Notepad files in the temporary files. But it will not work when your restart your computer because all the roaming data will be erased. See how to recover unsaved Notepad files from the roaming folder.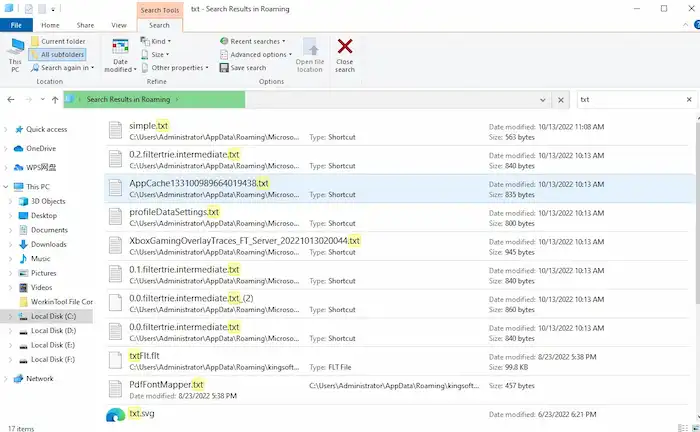 Type 

%AppData%

 in the search box on the taskbar, and press Enter to open the roaming folder.

Search 

.txt

 in the folder and look through the Notepad text documents to find if there is one you need to recover.
Restore unsaved TXT files with backup
Suppose you've activated the File History feature for TXT documents on Windows 11/10 operating system. In that case, you might restore unsaved Notepad files through computer backup even though you've gone through a computer reboot. And this method also only takes a few seconds.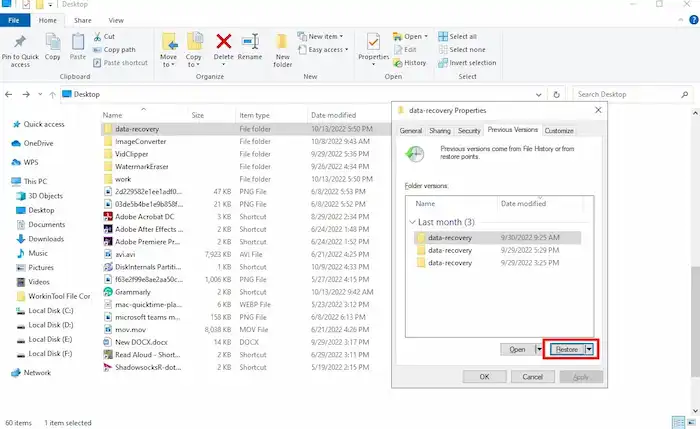 Find the folder that would have been storing the original Notepad file.

Right-click on it and select 

Restore previous version

.

 (The previous versions come from File History or from restore points.)

Pick a previous version and select 

Restore

 

to

 so you can keep a copy of the original folder instead of overwriting it.
🧿How to recover unsaved Notepad files with free software
If the above two solutions don't work, you can resort to third-party software like WorkinTool Data Recovery. It is the most reliable solution that I highly recommend. Because this FREE file recovery program can detect all existing data and show all searched results by file type. It also can effectively perform unsaved Notepad file recovery after a restart on Windows 11/10/8/7.
In addition to Notepad .txt files, WorkinTool Data Recovery can quickly detect and recover Office documents, videos, photos, audio files, compressed documents, and other unknown, hidden, and invisible files. It packs many features into a lightweight tool with a straightforward interface.
And this data recovery software does not require any expert skills. It turns what could be a technical file recovery process into a series of bite-sized steps. Check the below info to learn how to recover unsaved Notepad files on Windows. 11/10/8/7 after a restart.
100% free

 without ads, hidden costs, or locked features

No technical skills are required

.

A wide range of supported 

file types

 and 

storage devices

Fast scanning speed

 and

 well-organized results

High safety and privacy guarantee
1. Click the button to download this freeware and launch it. It doesn't require registration.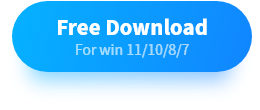 2. Select Deletion Recovery mode and start a quick scan on the original disk partition of the unsaved text document.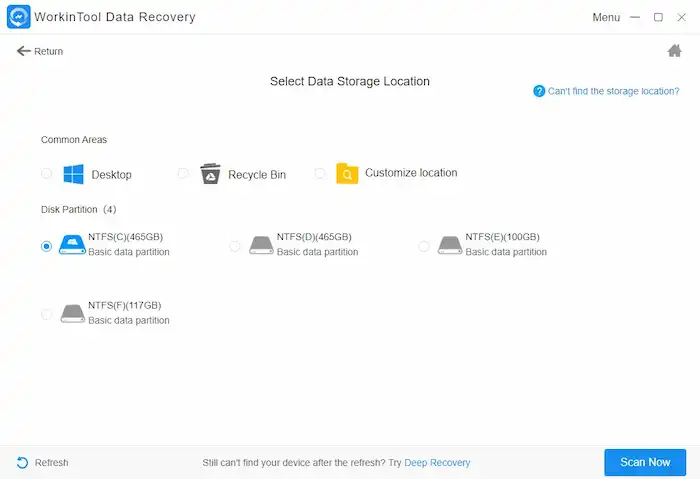 3. Go to File Type > Document > txt. You can sort the detected results by modification date, making the list clearer.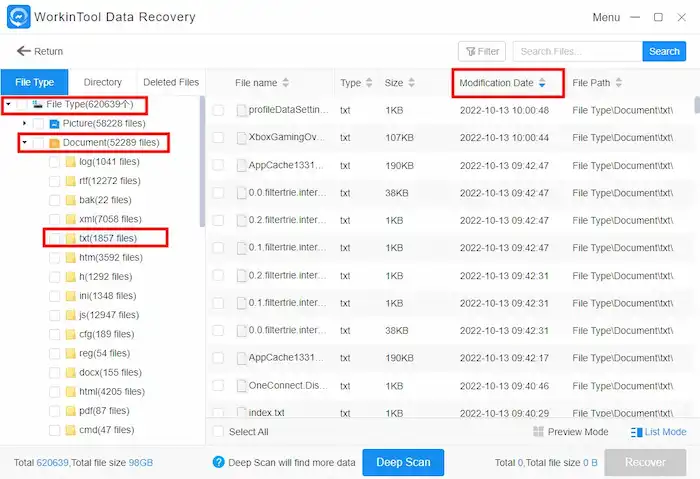 4. Tick the files might-be and hit Recover to bring them back to a new path.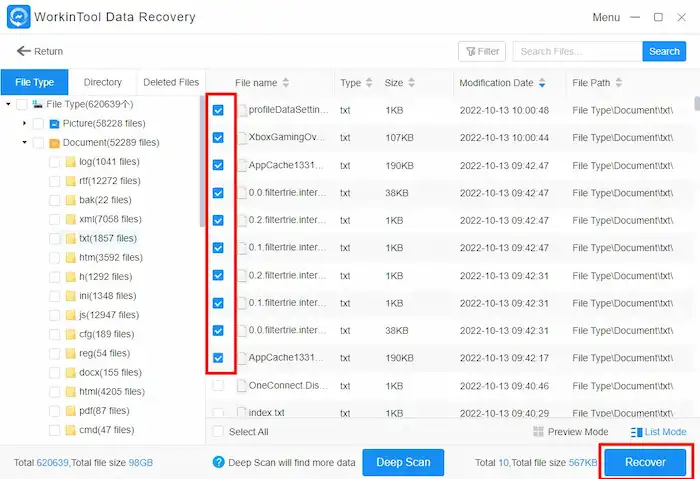 You May Also Need
📢Bonus Tip: How to recover Notepad files after deleted
Notepad freezing, crashing, and corruption happen very often. If you accidentally turn off your computer or have not created a backup, your Notepad files might be permanently deleted. But you can also apply WorkinTool Data Recovery to recall intentional or unintentional deletion. Just repeat the operation steps above to get your Notepad text files back on Windows.
Remember to stop using Notepad immediately after the deletion. Otherwise, the data might be overwritten and cannot be restored anymore.
---
FAQs on How to recover unsaved Notepad documents
1. How to protect Notepad files from missing?
Since Notepad doesn't have an autosave feature, we recommend you manually press Ctrl+S regularly while editing TXT documents. Or you can download a Notepad autosave program to assist you with regular storing and protect the files from accidental missing.
2. What is the difference between Notepad and Notepad++?
Notepad++ is an advanced version that integrates Notepad's simplicity with richer functionalities, like spell checking, encoding conversion, rectangular block selection, etc. And this free source code editor supports more languages and has IDE features. It allows users to edit files with various file extensions. And it is more suitable for skilled users like web designers, IT professionals, and programmers.
3. How to recover notepad++ unsaved files?
Unlike Notepad, Notepad ++ has a built-in backup feature, which is usually on by default and will back up the content you edit at regular intervals. So you can restore unsaved Notepad++ files with the default backup path (C:\Users\UserName\AppData\Roaming\Notepad++\backup) or recover the temp files with third-party software like WorkinTool Data Recover.
Final Word
In conclusion, system backup and autosave features are not always effective, especially when you reboot a computer or experience a software crash. In that case, we sincerely recommend professional file recovery software like WorkinTool Data Recovery to help you get back unsaved, deleted and lost files. It only costs you a couple of clicks to make a try.
You must know how to recover unsaved Notepad files now. We will be so glad if you've successfully restored unsaved or deleted Notepad files after reading this article. That proves this post is intuitive.
Products Reviews:
TrustScore
4
|
323
reviews