How to Recover Deleted PST File in Outlook on Windows
Have you ever lost or accidentally deleted PST files in Outlook? If you are trying to recover an accidentally deleted Outlook data file, here are four solutions that might be helpful. These practical methods enable you to recover any deleted or lost files on a computer or an external hard drive.
1. Recover a deleted PST file from Outlook (within 30 days)
2. Perform PST file recovery from Recycle Bin
3. Recover a PST file from previous versions
4. Use PST file recovery software
How to Recover Deleted PST File in Outlook on Windows
Have you ever deleted a critical PST file that contains essential email information by mistake? Don't panic. There are effective ways to recover deleted PST file. Check the following instructions to get the data back. Here you can learn about:
What is a PST File?
How to Recover Deleted PST Files in Outlook
How to Recover Deleted Outlook PST Files from Hard Drive
FAQs on Recovering Deleted PST Files
---
What is a PST File?
The .pst file is an outlook data file containing all the related data in Outlook, including received mail, sent mail, contact information, and other information. If you want to open the PST file, you must install Outlook software, but there are many versions of Outlook. Although the suffix of the PST file exported by each version is the same, there is still a compatibility problem. 
Where Are Outlook PST Files Saved?
Apart from checking the PST file in Outlook, there is also a local folder on your computer that saves these PST email files. Therefore, two ways you can use to recover deleted PST files. One is to restore them from the Outlook backup. Another is to recover the desktop folders. Check the following tutorials if you have this kind of need.
---
How to Recover Deleted PST File in Outlook
Luckily, Outlook will save the recently deleted emails and files in it within 30 days. If you just deleted the file for a while, you can recover it in the Outlook backup. However, if you cleaned the backup or exceeded the deadline, then this method may not work. 
How to Recover Deleted PST Files in Outlook Backup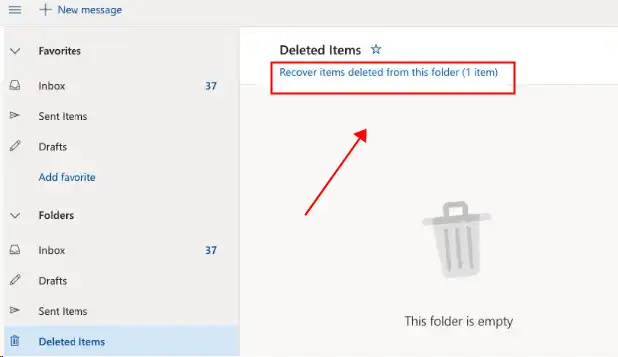 Step 1

. Open Outlook, log into your account, and select the deleted items folder on the menu bar.

Step 2

. Pick the deleted item you want to recover, then click it and press 

Restore

. This way, the deleted.pst file will appear in the original folder again.
Also read: How to Recover Emails from Outlook PST File in/after 30 Days
---
How to Recover Deleted Outlook PST File from Hard Drive
Usually, Outlook PST files will also be backed up on your hard drive. You can go to File Explorer to check if they exist. The general save path is C:\Users\YourUserName\AppData\Local\Microsoft\Outlook\Archive .pst. (Reference: Microsoft answers about deleted PST files). If you also delete the local folder, check the Recycle Bin first. If the files are permanently deleted, ask data recovery software for help.
Recover the PST File from Recycle Bin
The Recycle Bin will preserve accidentally deleted files on your PC. You can easily retrieve files from it. However, if you regularly clean up the recycle bin, the deleted files will be permanently removed from your computer. In addition, shift-deleted files will be deleted directly instead of being removed to the Recycle Bin. In that case, you need to depend on data recovery software or service to recover those files. If needed, skip to the fourth solution to learn how to recover permanently deleted PST files.
How to recover deleted PST file in Outlook from the Recycle Bin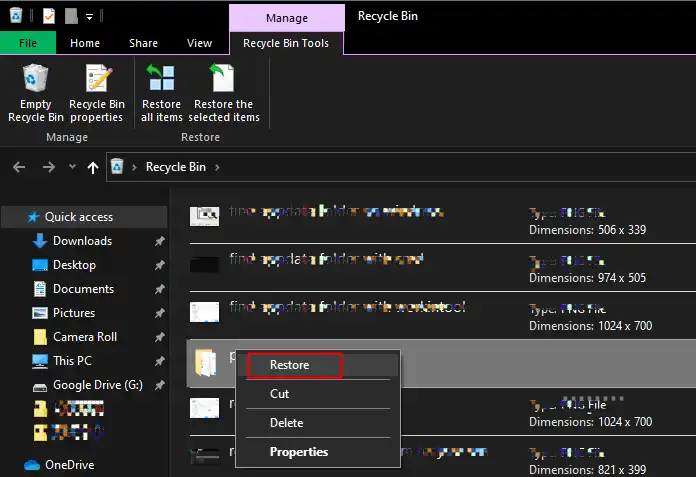 Step 1

. Click the Recycle Bin icon on the desktop or press

 Win + R 

to open it. Search for pst or outlook on the search bar to find the target files.

Step 2

. Right-click the file you need to recover. Press 

Restore

 to get it back to your desktop. For batch recovery, press

 Ctrl 

and click on all files, then right-click and choose

 Restore

.
Recover Deleted PST file From Previous Versions
The Windows built-in tool File History takes periodic snapshots of specific files and folders. If configured, you can recover deleted, corrupted, or missing files in Windows 8 and later versions without a backup or third-party software. Since it takes regular snapshots, you can find several different versions of the deleted files or folders. It enables you to pick a version and easily recover the file to the state of that point. But the premise is that you should enable this File History tool in advance of the deletion of the file.
How to Recover a Deleted PST File via File History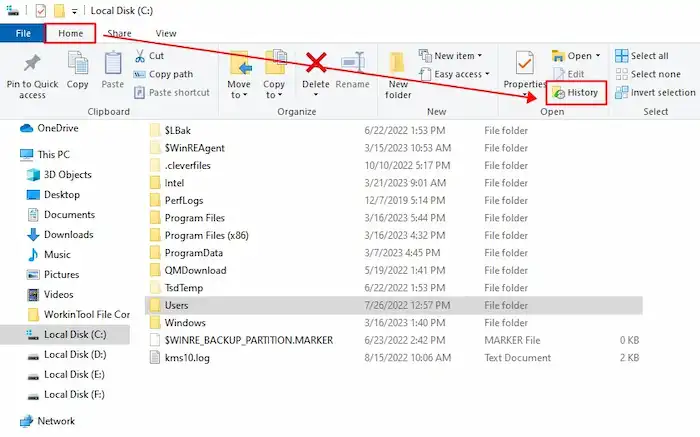 Step 1

. Navigate the folder that contained your deleted or corrupted PST file. In the upper navigation pane, click 

Home

 and select

 History

.

Step 2

. Select the file you need to recover and click the green Restore button.
📢Note: If there are no previous versions, the folder might haven't been backed up yet. You can add it to future backup lists.
Recover the Permanently Deleted PST File with Data Recovery Software
Don't get disheartened if you clean up the recycle bin and find the crucial .pst file on your computer nowhere. Professional data recovery software allows you to retrieve your hard drive's permanently deleted and lost PST files.
Among various data recovery software, you can give preference to WorkinTool Data Recovery Software. This data recovery is efficient in restoring deleted, lost, and formatted files from your computer and external hard drives, like SSD, HDD, USB, SD card, Memory card, etc. You can recover PST file from formatted hard drives without pressure. Moreover, powered by AI algorithms, it has a rapid file scanning and recovery speed (within seconds). If you are not satisfied with the recovery results of the quick scan, you can also select the deep scan mode to seek more files.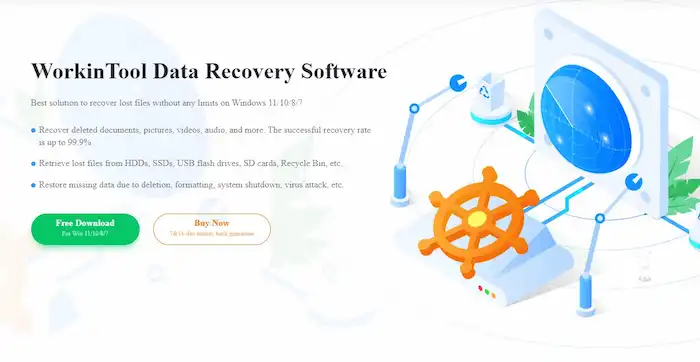 Furthermore, batch recovery is possible. You can select all the files and recover them simultaneously. No restrictions on the total recovered data and no watermarks on any of your files. Primarily, it offers 500MB of free recovery space. You can free download this deleted PST file recovery software and recover 500MB of files without hidden catches. Its premium versions, cheaper than many competitors in the market, are also worth a try. See how to recover permanently deleted emails from Outlook PST files via WorkinTool.

How to Recover Deleted PST File with WorkinTool
Step 1. Download and install the data recovery software from WorkinTool. Open the software and select a drive that once held the deleted PST files (usually the C drive).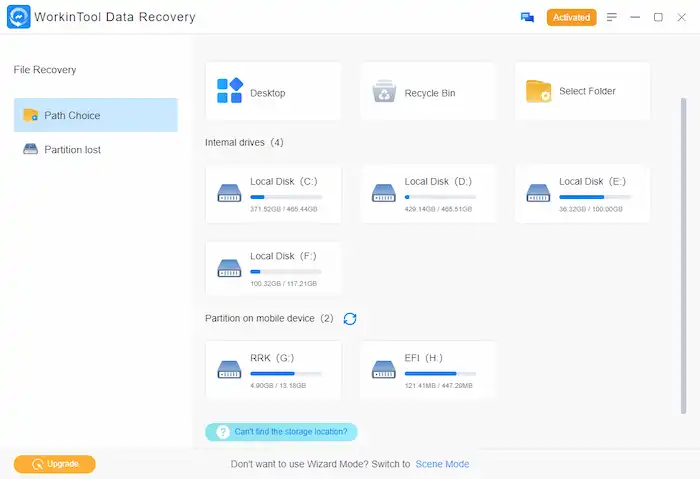 Step 2. Select a scan method from Quick, Deep, or Formatted Recovery and press Scan Now to start scanning.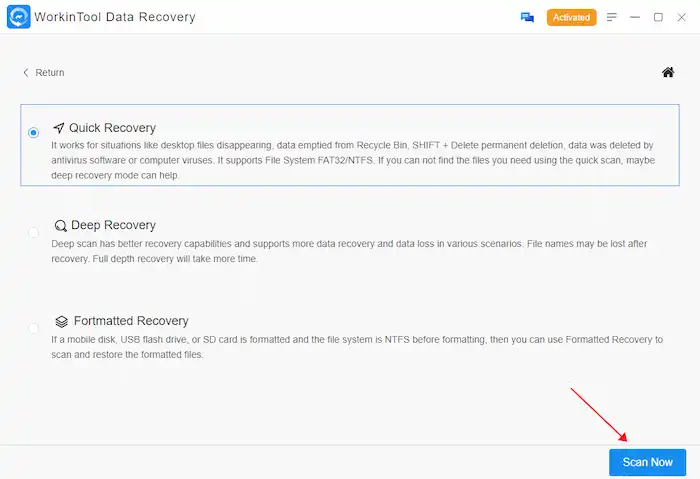 Step 3. Locate and pick all the .pst files you need to retrieve and press the blue Recover button. Select the new save path and press Sure to start recovering and downloading.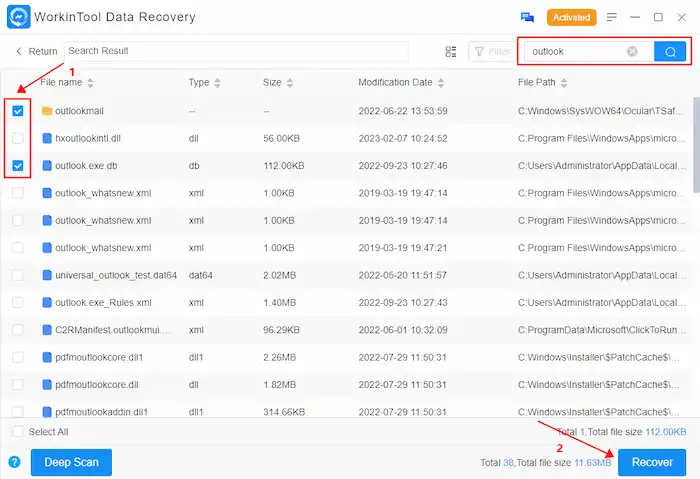 📢Note: You can filter the scanned files by file type (.pst), name, size, deletion time, etc. You can also search for files with their original save path: C:\Users\YourUserName\AppData\Local\Microsoft\Outlook\Archive .pst.
Recover Other Files with WorkinTool Data Recovery
---
FAQs on Recovering Deleted PST Files
⭕ Where is my PST backup?
On the Windows system, the PST files are saved in C:\Users\YourUserName\AppData\Local\Microsoft\Outlook\Archive .pst.
As for Microsoft Windows XP, you can check the following: C:\Documents and Settings\YourUserName \Local Settings\Application Data\Microsoft\Outlook\Archive .pst.
⭕
How can I recover permanently deleted PST files?
The permanently deleted PST files are those you didn't back up and cleaned from the recycle bin. You can try data recovery software like WorkinTool Data Recovery to recover them.
⭕ Can you recover a deleted Outlook data file?
Yes. Aside from the PST files. The PST file recovery software can also help you recover other file formats, but only if a local folder is preserving the file.
---
Wrapping Up
Now you may have an idea to recover deleted PST file on Windows. To avoid accidental deletion, you'd better back up critical emails and other data in Outlook in the cloud and be careful when you clean the local files.