iMyFone AnyRecover Crack – Free License Key/Alternative 2023?
Are you still searching for the iMyFone AnyRecover cracked version or free registration codes? Many people feel that the licensed version of iMyFone AnyRecover Data Recovery Wizard is not a small sum. However, whether you are searching for iMyFone AnyRecover crack or free license keys, you can benefit from this article. We share:
1. Why is it not recommended to download iMyFone AnyRecover crack?
2. The best alternative to cracked AnyRecover data recovery software or its crack
3. Common attributes and differences between the two data recovery tools
4. Comparison of their free and advanced versions
Keep reading and find what you need now!
iMyFone AnyRecover Crack – Free License Key/Alternative 2023?
Overview
iMyFone AnyRecover Data Recovery Software is an all-in-one data recovery solution that allows users to retrieve data from computers, Android devices, and iOS devices. It stands out from the market due to its wide compatibility because most rivals in the market currently only support recovery from a single operating system. However, perfect service needs to be exchanged for equivalent compensation. This inevitably leads to the emergence of cracked iMyFone AnyRecover software, and many users also have a demand for cracked AnyRecover at lower prices.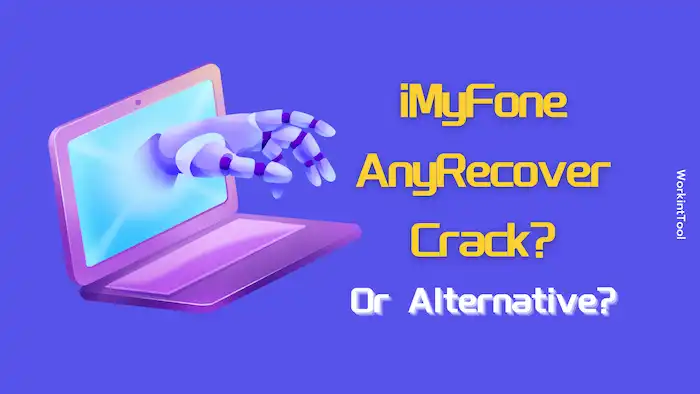 Therefore, this article aims to analyze the concerns and worries many people face when dealing with cracked software, while also providing a more secure and reliable data recovery solution for users who are hesitant to use cracked software.
Table of Contents
Pote

ntial Risks of Using IMyFone AnyRecover Data Recovery Crack 

An Alternative Option for ImyFone AnyRecover Crack

Shared Features and Variances of AnyRecover & WorkinTool
Conclusion on AnyRecover Crack/Alternative
Conclusion
Potential Risks of Using IMyFone AnyRecover Data Recovery Crack
Want to free download AnyRecover Data Recovery crack? Well, there might be a safe and free AnyRecover registration code available. But it is time-consuming and risky to find one. In most cases, you may encounter tricky issues when searching for or running cracked iMyFone AnyRecover, such as:
Malware and viruses: Unknown software coming from untrusted websites or links may contain viruses that can attack your computer and system security.
Poor performance: Compared to the genuine version, cracked iMyFone AnyRecover may fail to run properly or may have function issues such as lags, unstable performance, sudden crashes, system instability, as well as software incompatibility issues.
Lack of updates: You will not receive any updates from the official AnyRecover data recovery software provider, making it hard to fix bugs, download security patches, as well as try new features.
No customer support: The software provider will not offer customer or technical support to address the issues or inquiries you might encounter when using AnyRecover crack.
Legal consequences: Distributing or using cracked software infringes on copyright laws and terms of use of the software provider, which may result in legal penalties such as fines and even criminal charges.
Data security issues: AnyRecover Software crack without bypassing security measures may expose your private data and system security to potential breaches. It also may damage the original data integrity.
Therefore, think twice before you download iMyFone Crack AnyRecover data recovery. It is always advisable to use genuine, safe, and official data recovery software. If you are concerned about the costly price, refer to the next section for a cost-effective alternative.
An Alternative Option for ImyFone AnyRecover Crack
iMyFone AnyRecover Data Recovery stands out for its wide compatibility and multiple features. It supports data recovery of disk partitions, external HDDs, specific locations, as well as iOS devices. In addition, it can enhance photo quality, prevent data loss, and repair corrupted files. Speaking of data recovery alternatives in the market, few options are equipped with as many features as AnyRecover. But you can pick a cost-effective one from those well-performed options, among which WorkinTool Data Recovery is a reliable one.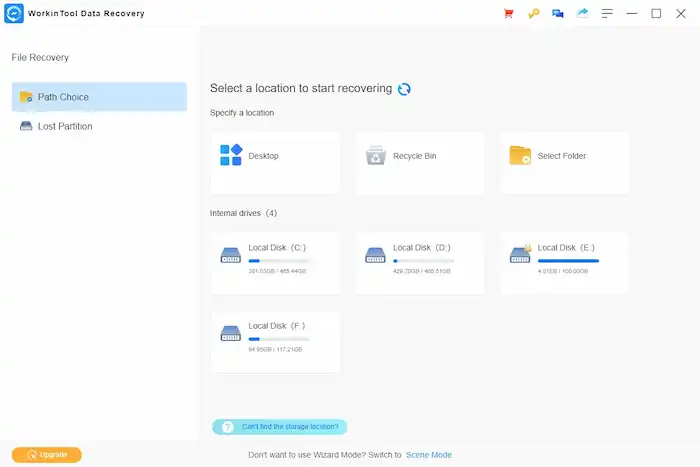 File Types, Devices & Scenarios
Needless to search for the iMyFone AnyRecover for Windows crack, WorkinTool Data Recovery Software can complete nearly all data recovery tasks on Windows. This AnyRecover alternative is able to recover lost data from disk partitions, Recycle Bin, desktops, specific folders, external HDDs, USB drives, as well as SD cards. It can recognize and recover various types of files no matter whether the data loss is caused by accidental deleting, formatting, system crashes, software corruption, power outages, or even virus attacks.
Pricing & Free Trial
Unlike the AnyRecover Pricing, which ranges from $59.99 a month to $99.99 lifetime, WorkinTool Data Recovery is much less costly. You can get this file recovery tool at $29.99 monthly, $39.99 yearly, or $49.99 lifetime. In addition, there is also a 20%-off coupon you can easily get when placing an order. Furthermore, WorkinTool offers 500MB of free data recovery capacity without any restriction. It is convenient for users who want to experience all the features before making the final payment. Compared with AnyRecover, which only enables free scan and preview, WorkinTool is more advisable for daily use.
Users who want to recover small files for free and need only simple data recovery features instead of additional sophisticated functions can pick WorkinTool for a try at first. Here are more details about this AnyRecover crack alternative.
👑 WorkinTool Data Recovery Software👑
500+ supported file types
Suitable for all data loss scenarios
Attainable on Windows and Mac
Preview and filter files specifically
High data recovery success rate
Cheapest price among intuitive data recovery rivals ($23.99/Month)
Three distinctive scan methods: Quick, Deep, and Formatted Scan
Intuitive interface and three-click recovery operation

Shared Features and Variances of AnyRecover & WorkinTool
Common Attributes
Recover data from Windows & Mac computers
Safe and authorized data recovery software
Able to preview scanned files
Powerful scan algorithms
Monthly, yearly, as well as lifetime plans are available.
Major Differences
iMyFone AnyRecover
WorkinTool Data Recovery

AnyRecover Pr

icing: $99.99/Lifetime, $79.99/Year, $59.99/Month
No recovery space in the free iBoysoft Data Recovery trial
Two scan modes: Quick and Deep
Filter files by date modified, status, type, and path
Slower scan speed
30-day money-back guarantee
Additional features available (File backup, file repair, etc.)

WorkinTool Pricing: $49.99/Lifetime, $39.99/Year, $29.99/Month, 20% off coupon available
500MB of free recovery space
Three scan modes: Quick/Deep/Formatted
Faster scan speed
Filter files by date modified, status, type, as well as path (custom intervals available).
7&14-day money-back guarantee
Source from AnyRecover Data Recovery as well as WorkinTool Data Recovery Websites
Comparison of iMyFone AnyRecover and WorkinTool Pro
iMyFone AnyRecover Data Recovery
WorkinTool Data Recovery
Free

Scan data
No free recovery space
Lost file preview
Remote expert service (1 time)
No access to PC/External device data recovery, iOS/social app data recovery, corrupt file repair, or iOS system repair

Scan and recover data
Unconditionally free recovery within 500MB
Lost file preview
PC/External device data recovery
Bitlocker-encrypted drive recovery
Access all features with ease

Pro

$99.99/Lifetime, $79.99/Year, $59.99/Month
Lowest price: $59.99
Monthly/Yearly plans: 3 Devices +2 PCs
Lifetime plan: 5 devices + 3 PCs

$49.99/Lifetime, $39.99/Year, $29.99/Month (20% off coupon available)
Lowest price: $23.99 (20% off coupon inc.)
All plans: 1 license for 1 PC
From the table above, you can understand the specific difference between the free and pro plans of the two data recovery programs. If you are looking for a data recovery tool that is equipped with versatile features, and do not mind pricey plans, AnyRecover is a nice option. However, if you only need a simple and less costly data recovery tool that can meet most of your needs on computer data recovery, WorkinTool Data Recovery will be better. Its 500 MB of free recovery capacity enables you to retrieve small files without any restrictions, such as watermarks, registration codes, or limited features.
Conclusion on AnyRecover Crack/Alternative
Remember that it is hard to get the AnyRecover full version or registration code for free from an unknown source. Be careful and think twice before you can free download iMyFone AnyRecover crack. Always ensure that you can get the iMyFone AnyReover licensed email and registration code from a safe source. Otherwise, severe data security and legal issues could happen. If you are not sure about the authenticity of the crack software you are going to download, it is better to try iMyFone AnyRecover alternative—WorkinTool Data Recovery. It is cheaper and also can do most of the things that AnyRecover can do.

You May Also Need