How to Undelete User Profile that I Accidentally Deleted [Windows 11/10/7] 
We may accidentally delete our default user profile folders while cleaning the C drive. It is a tough issue to undelete user profile. Luckily, WorkinTool Data Recovery can help you a lot with profile recovery. With only three clicks, you can easily restore your deleted/lost user profile. Just download it and take a free trial!
🏆 Various data loss scenarios are supported.
🤩 Multiple file types are supported.
🏆 High success rate and fast processing.
🤩 User-friendly interface and easy to use.
How to Undelete User Profile that I Accidentally Deleted [Windows 11/10/7] 
After buying a new Windows laptop, we often need to create a new user account which is an excellent tool to set in our preferences and identify different users. Moreover, this Windows account will contain our user profile like wallpaper, username, app settings, etc. However, users may accidentally delete their default user profile folders while cleaning the C drive. It's a pity to delete these distinctive folders. Luckily, this post will expound on three ways to perform a profile recovery and undelete user profile in Windows 11/10/7.
How to Recover Deleted User Profile without Backup
🔎 Fix 1. Restore Deleted User Profile Manually with Registry Editor
Registry Editor is a Windows built-in tool for storing related setting info of systems and applications. Hence, we are likely to edit and find the deleted user profile. Because the tutorial is quite long and a bit difficult, the editor divides it into three parts, and you'd better follow all the parts step by step.
🟢 Part 1: Copy Your SID
1. Press the win icon on your keyboard and enter "command prompt" in the pop-up search box. 2. Then enter whoami/user and touch the Enter key. 3. Next, copy the SID of the Windows account. (SID, short for security identifier, is used to identify users, user groups, or other security principals.)
🟡 Part 2: Open and Modify the Registry
1. Right-click on the Start with the win icon. 2. Click Run to enter regedit in the search box. 3. Then tap on OK to launch Registry Editor. 4. Follow the path HKEY_LOCAL_MACHINE > SOFTWARE > Microsoft > Windows NT > CurrentVersion > ProfileList. SIDs will then appear in the ProfileList folder.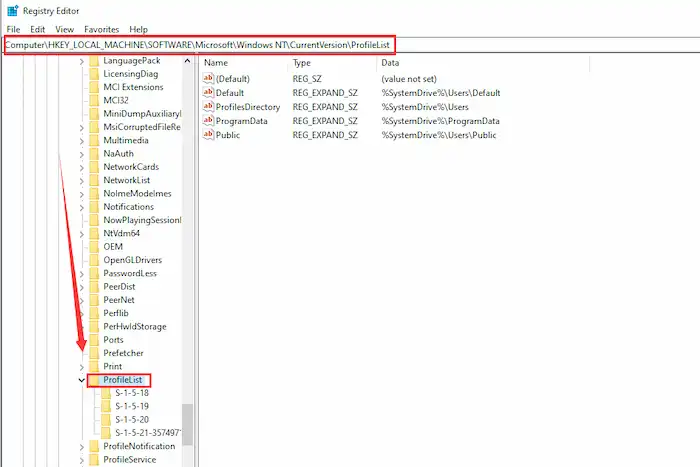 🟠 Part 3: Restore User Profile in Three Ways
Way 1. Suppose you notice a SID repeat twice. In this case, you can delete the SID, which doesn't end with the .bak.
Right-click on the unwanted SID, and then click on Delete > Yes to remove the redundant folder.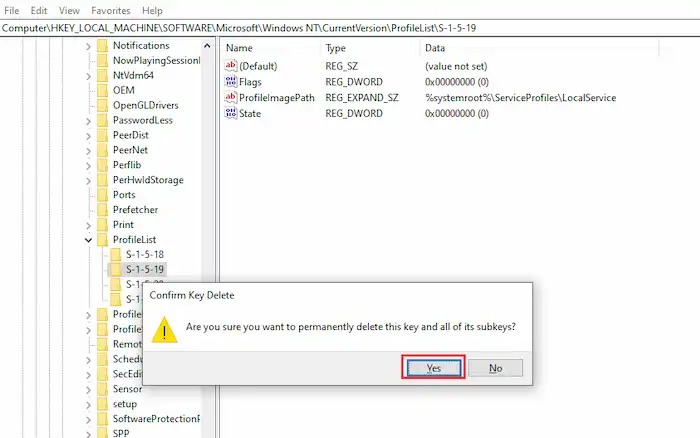 Way 2. Remove the BAK extension suffix.
Right-click on the SID, which ends with BAK, and tap on 

Rename

. Then erase the .bak and press Enter to keep the modification. Lastly, you can undelete user profile.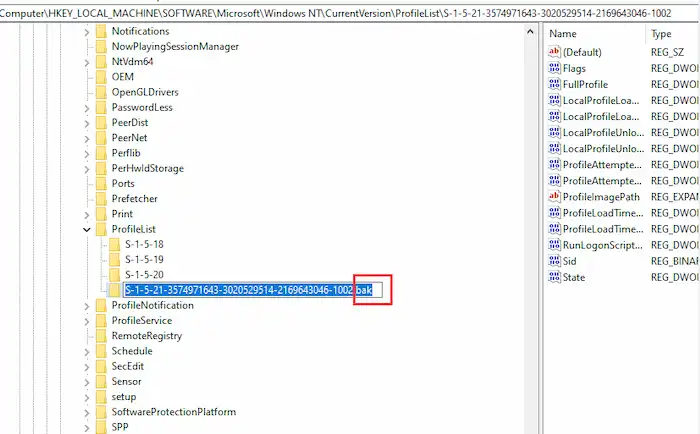 Way 3. Modify the SID path and state.
Choose the folder with the same SID as your account in the ProfileLlist. Then look at the right pane and double-click on the ProfileImagePath. Next, enter your user profile path in the Vault data, like C:\Users\Betty, and tap OK to keep the change.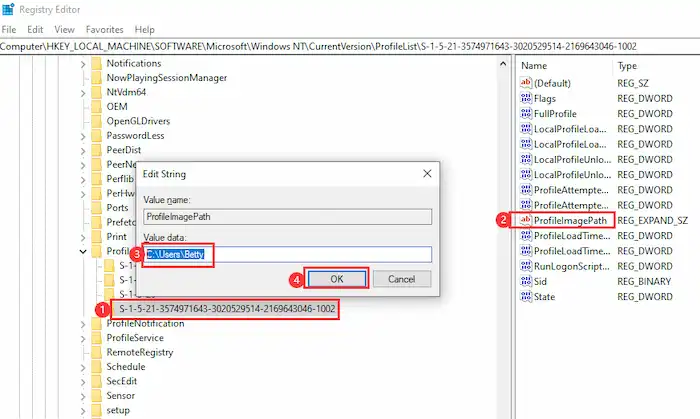 ⛔ Warning:
You need to be extremely careful when modifying or using the Registry Editor because a slightly incorrect operation will even lead to reinstalling Windows systems and cause file loss. You'd better make a copy of the registry data. To save time, you can find a detailed backup tutorial on
Microsoft Support
. 
🔎 Fix 2: Undelete User Profile with Data Software
Suppose you have no confidence to follow the above steps precisely or consider it troublesome. In that case, you can attempt to use professional data recovery software to restore deleted user profiles with minimal effort. Fortunately, WorkinTool Data Recovery, your best assistant, is ready to help you settle all recovery problems.
It is a free and comprehensive user profile/data recovery tool compatible with all Windows systems. You can easily recover deleted/lost user folders or profiles within three steps. Besides user profiles, it can recover other 500+ file types like emails, Excels, Words, videos, photos, etc. Additionally, all users can have 500 MB of free data recovery for free.

📑 Steps to Undelete User Profile with WorkinTool
Step 1. Download and launch this free software. Then select the partition you store the user profile. (It is usually held in the C drive.)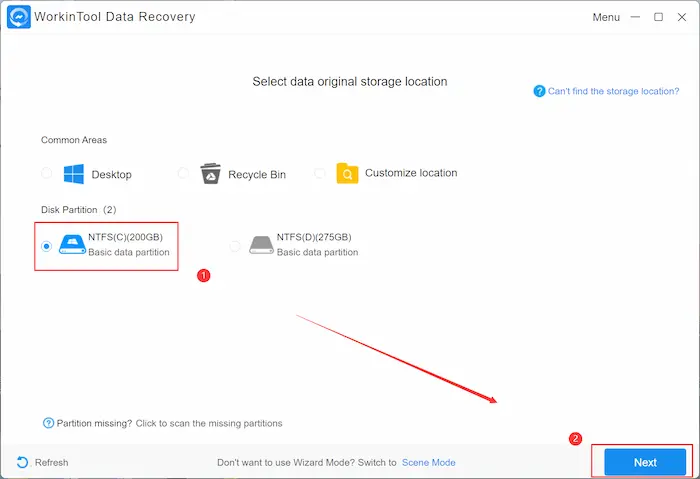 Step 2. Choose either Quick Recovery or Deep Recovery, and click on Scan Now.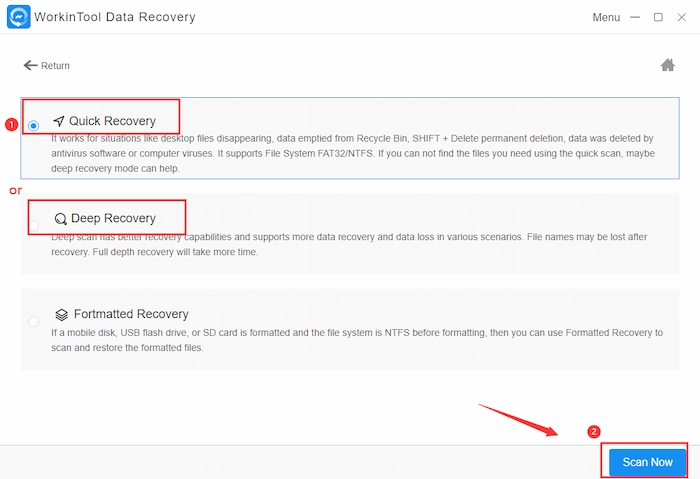 Step 3. All the scanned results will appear in front of you and select the wanted files. Lastly, your desired files will be returned to your computer by clicking on Recover.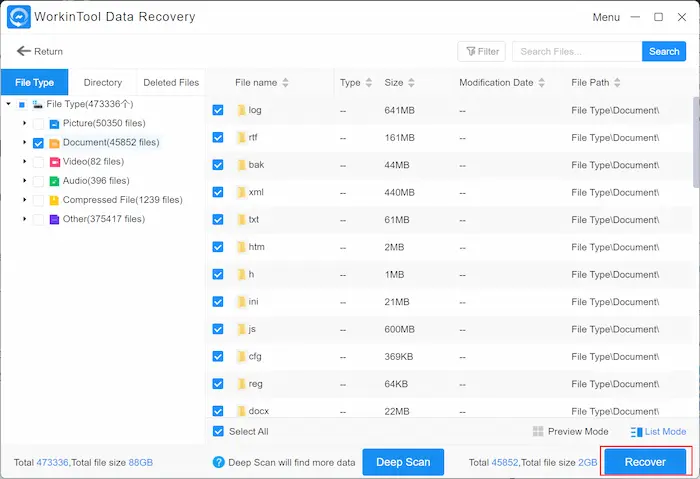 🔊 Note: If your old user account is corrupted, you can create a new user account and transfer the recovered user profiles to the new account. Firstly, go to Settings > Accounts > Family & other users > Add someone else to this PC. Then you can easily have a new user account.
More Tutorials You Probably Like
How to Undelete User Profile with Backup
🔎 Fix 1. Perform a Profile Recovery with File History
File History is a free built-in tool for backup and restoring files in Windows 8 and later systems. Provided that you have opened the Windows backup tool, you can easily find and undelete the user profile in File History. If you are the lucky guy, just follow the steps to make a user profile recovery without breaking a sweat. However, suppose you have yet to turn on this function in advance. In this case, you can try the other two methods.
Step 1.

 Enter "control pane" in the search box next to the Star button. Then click on the Control Pane.

Step 2.

Tap on System and Security > Save backup copies of your files with File History > Restore personal files. Then you will see all the saved copies of folders.

Step 3.

Hit the right/left arrow to find your desired folder in the correct version. Then click the green Restore to original location button to bring your user profile folder back.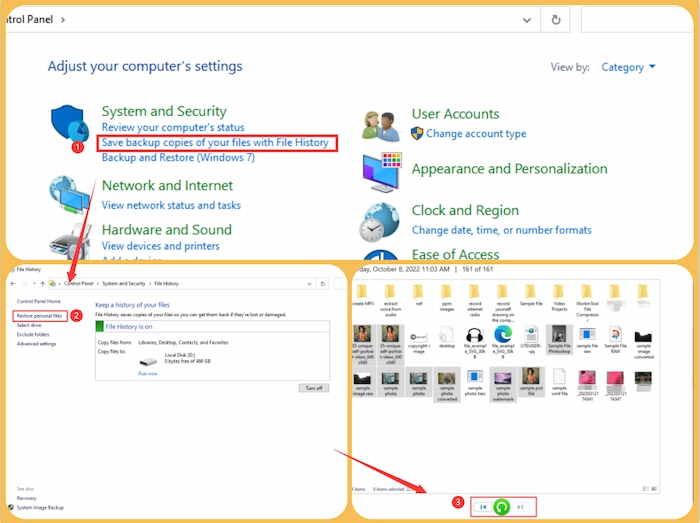 ---
Words after Knowing Profile Recovery
Common Reasons for Deleting User Profile
Various causes will lead to User Profile data loss. However, below lists the common reasons for deleting a user profile.
🤐 Unintentional Deletion:

When your Windows computer is out of memory, you will likely delete some folders without thinking twice. Therefore, this will lead to your user profile folder loss.

😒 Format Partition:

If you format a partition without knowing what files it contains, it will permanently remove all the files in this partition, undoubtedly including the user profile folder.

😫 Virus Attack:

 When you click on one unknown link or download malware, the annoying virus will intrude on your laptop and delete your device files. Hence, your user data will be erased by viruses.

😈 Incorrect Update:

 As we all know, the Windows system will update once in a while. However, you interrupt the updating process, which will also cause the user info and folders to be missing.
Tips for Protecting User Profile
It's better to learn more about these valuable tips to protect your Windows user profile from being lost. Hence, there are four practicable tips for you.
🕗 Think Twice: Before you click the Deletion or Format button, you'd better slow down and think carefully.

💾 Backup Files Regularly:

Regularly backing up essential files makes recovery easier. So without taking the time to scan files, you can directly find the same user profile folders.

📳 Install Antivirus Software:

You can use professional antivirus software to check and clean files with viruses regularly.

🖥️ Non-Disruptive Updates:

 When you decide to update your computer, you need to reserve the time for updating in advance and do not force your computer to be switched on or off at will.

---
The Bottom Line
In brief, this post provides three fixes for you to undelete user profile in Windows 11/10/7. However, the most effective way is to employ WorkinTool Data Recovery to recover deleted user profile folders. Moreover, you can retrieve up to 500 MB of files for free, which is enough for you to make a user profile recovery. Just download it and have a free trial!