How to Restore Accidentally Cleared Data on Kodi 2023
This post shares a free Kodi data recovery tool and explains how to recover accidentally deleted data on Kodi using this software. You can restore disappeared videos, pictures, skins, add-ons, music, and more without backup after you reset Kodi with this effective tool. Check its features below.
★ Easily recover all kinds of files.
★ Easy to use with no special skills required.
★ Guarantee your data privacy.
★ 500MB of free recovery capacity.
★ Highly cost-effective
How to Restore Accidentally Cleared Data on Kodi 2023
"Oops! My TV shows and movies on Kodi suddenly don't work. And the same problem occurs when I go to check the uploaded pictures. I didn't know what to do but followed the advice to reset it and cleared data on Kodi by accident. And there is no local backup for these files. Now, I only get the most basic version, with no add-ons, skins, applications, or media files. That's so terrible! Is there a way to recover accidentally deleted Kodi data?"
Never mind. This post will explain what Kodi is, what accidentally cleared data on Kodi means, and how to restore cleared on Kodi in detail. You don't need to worry about unintentional data loss.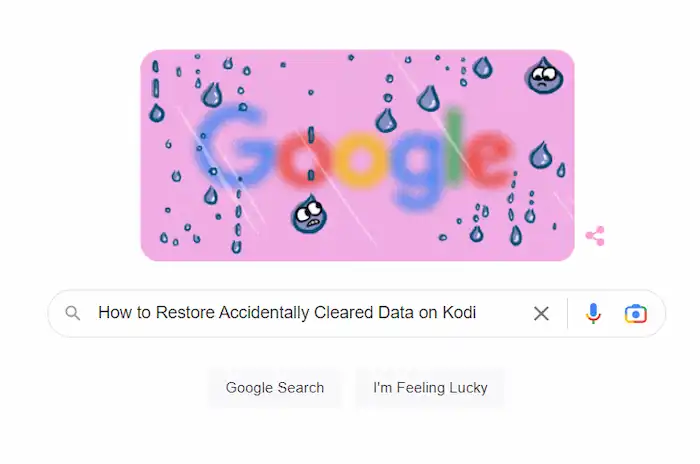 ---
What is Kodi?
Kodi, also known as XBMC (Xbox Media Center), is a 100% free and open-source media player application for movies, videos, pictures, games, and music. This multimedia player software is developed by a non-profit consortium XBMC Foundation.
Their developers have worked hard to make it compatible with an extensive range of operating systems and devices. Users can get this program free on Windows, Mac OS X, Linux, iOS, Android operating systems, and multiple hardware platforms. It is also available for televisions and remote controls, enabling you to watch and record live TV shows from an easy-to-use interface.
---
What does accidentally cleared data on Kodi mean?
Kodi data include a bunch of settings, add-ons, repository files, file cache, etc. If you clear data on Kodi, this application will erase all the settings and imported media files installed. Therefore, think twice before you make this operation. Resetting and getting started with it require lots of tutorials.
But if you have already cleared data by accident, you can try the following methods to recover them. There are possible ways to turn the situation around if you act quickly.
How to Restore Accidentally Cleared Data on Kodi?
It is a breeze to restore accidentally deleted data on Kodi if you have backed up important files before resetting. But things become complicated if you don't have a backup. You may need to accept the risk of losing the cleared data permanently from Kodi.
However, there is still a chance to get the deleted data back. When you delete something from your computer or other digital storage devices, the data does not disappear entirely until new data overwrite it. As long as you stop using Kodi and do not write new data, you can retrieve lost or deleted files with effective Kodi data recovery software like WorkinTool Data Recovery Software.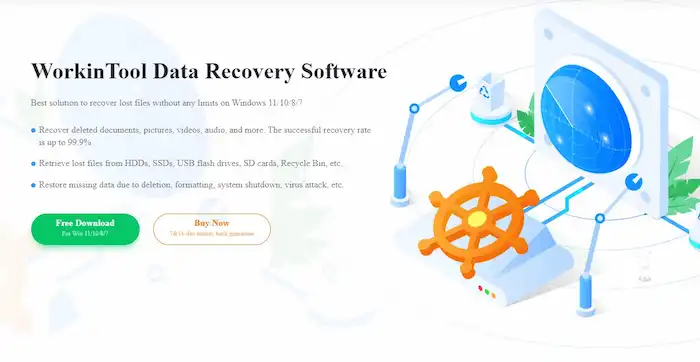 It is a practical tool to recover all kinds of lost and deleted data on Windows computers, external hard drives, memory cards, USB flash drives, and other storage places. Here are parts of WorkinTool Data Recovery features.
500MB of free recovery capacity and cost-effective Pro versions for limited recovery.
Two-level scan modes, quick and deep, support all recovery demands.
Cover all types of files, including videos, pictures, documents, archives, databases, etc.
Easy to use without special techniques required.
Allow users to recover data for various reasons, such as formatted drives, accident deletion, file transferring interruption, software corruption, etc.

🧿Recover Accidentally cleared data on Kodi with WorkinTool
You should start recovery as soon as possible. Or the removed data may be overwritten and permanently erased. Let's see how to recover accidentally cleared data on Kodi in Windows 10.
Step 1: Download and open the Kodi Data Recovery Tool
Click the blue Free Download button above to download and install this freeware to your Windows computer. This Kodi data recovery software is compatible with Windows 11/10/8/7.
After installing, you will see an interface showing the path choice, including common areas (the recycle bin, desktop, and selected folder), internal drives, and partitions on mobile devices (if connected). You can click one of these options to initiate a scan.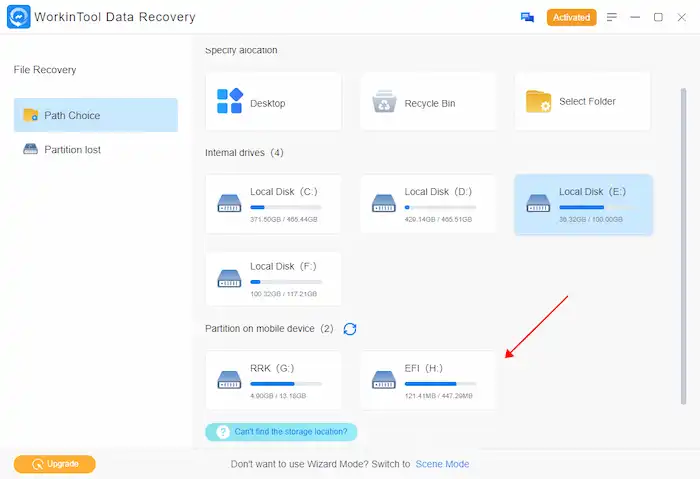 Step 2: Select a recovery mode to scan
After clicking a drive (C drive or Kodi SD card usually) or selecting a folder, a window will appear, enabling you to select a scanning mode among quick, deep, or formatted scan. After that, press Scan Now to start detecting.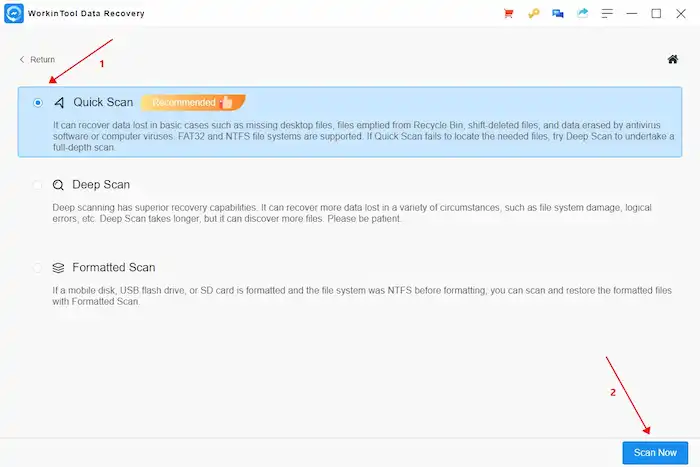 Step 3: Recover accidentally cleared data on Kodi
When the scanning is over, you will see an interface showing all the searched files by file type. To quickly get the cleared Kodi data, you can look for Kodi files directly in the search box or use the Filter feature. After finding the needed files, please tick the checkbox before them and press Recover to save them on a different path.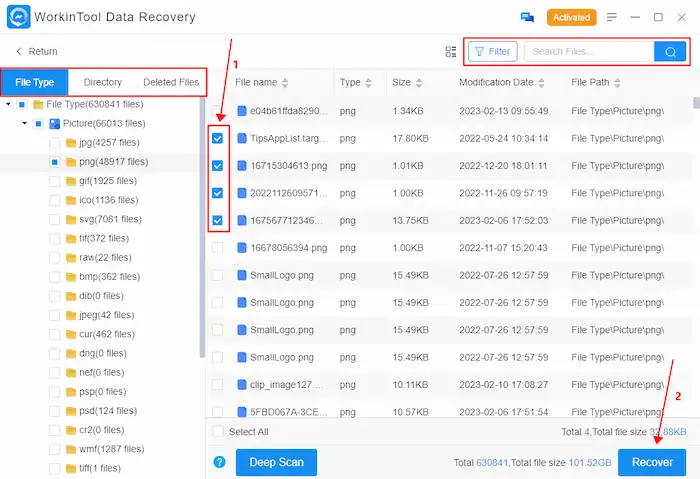 📢You may also like:
---
More about Accidentally Cleared Data on Kodi
You probably want to know more related information about Kodi data recovery.
How to Clear Kodi Data to Reset it?
Kodi is a preferred media resource manager for Windows and Firestick. Sometimes users would like to reset Kodi, trying to boost its performance or fix errors. It is just like restarting computers and phones when unknown problems appear.
To remove problems by resetting, you'd better keep a copy of the important data you want to restore later. Otherwise, all the add-ons, builds, skins, and other resources will be erased. See how to clear data on Kodi on Windows and Firestick to keep it running at peak performance below.
Windows
Firestick

Quit Kodi on your computer.
Find the folder that stores the Kodi data. Usually, it is in the AppData folder. You can enter %appdata% in the Windows search bar to open it.
Type Kodi in the search box, navigate to the Kodi folder, select the whole Kodi folder, and delete it.

Select the gear icon in the top right corner of the FireStick home screen.
Go to Applications > Manage Installed Applications > Kodi.
Click the 'Clear data' option twice to confirm your choice.
After that, all data on Kodi is removed. Next time you open this application, you will see a completely new and clean interface.
But what if users accidentally cleared data on Kodi and lost all essential files, which they don't mean to do? In this case, professional Kodi data recovery software like WorkinTool Data Recovery will help restore the accidentally cleared data on Kodi.
How to Restore Kodi on Firestick?
Users may want to know how to recover Kodi on Fire TV if the software is deleted. But since Kodi is unavailable in the Amazon app store, you must enable these options first.
In the Fire TV home screen, click 

Settings

 > 

System/Device

 (for newer systems)

 

> 

Developer Options

.

Switch on

 ADB Debugging

 and 

Apps from Unknown Sources

 options.

Then go to 

System/Device

 (for newer systems) > 

About

 > 

Network

, and take note of your Fire TV's IP address.

Redownload and install Kodi.
---
FAQs
🚀1. What happens if I clear Kodi data?
If you clear Kodi data, all the settings, builds, plugins, add-ons, and repository files will be erased. It takes lots of tutorials to restore these removed data.
🚀2. Can cleared data be recovered?
Yes. You can restore Kodi data from backups, recover saved data from Kodi (XBMC) SD card, and retrieve deleted Kodi files by data recovery software like WorkinTool. There are possible solutions to perform Kodi data recovery if you act quickly.
---
Bottom Line
Kodi is a popular and influential multimedia manager which applies to various systems and devices. Sometimes it is necessary to reset Kodi for better performance. However, be prudent when you reset it, or you might lose all critical data. If you don't have a backup, you can try Kodi data recovery software like WorkinTool Data Recovery to retrieve cleared data.