Best Free Ways of How to Blur a Photo: 2022 Guide
Learning how to blur a photo can be easy as cake once you have mastered the correct tool. However, even though you can find dozens of image editors on the Internet, you cannot guarantee the quality or the safety of your input image. So, I am here strongly suggesting you try this amazing image tool – WorkinTool Image Converter. Unlike the famous Photoshop, which is expensive and super hard for amateurs, WorkinTool has offers maximum brevity and convenience. Only three steps can make a proper blurred image as you like. Moreover, it is totally free to use the whole function. Download and get the magic yourself now.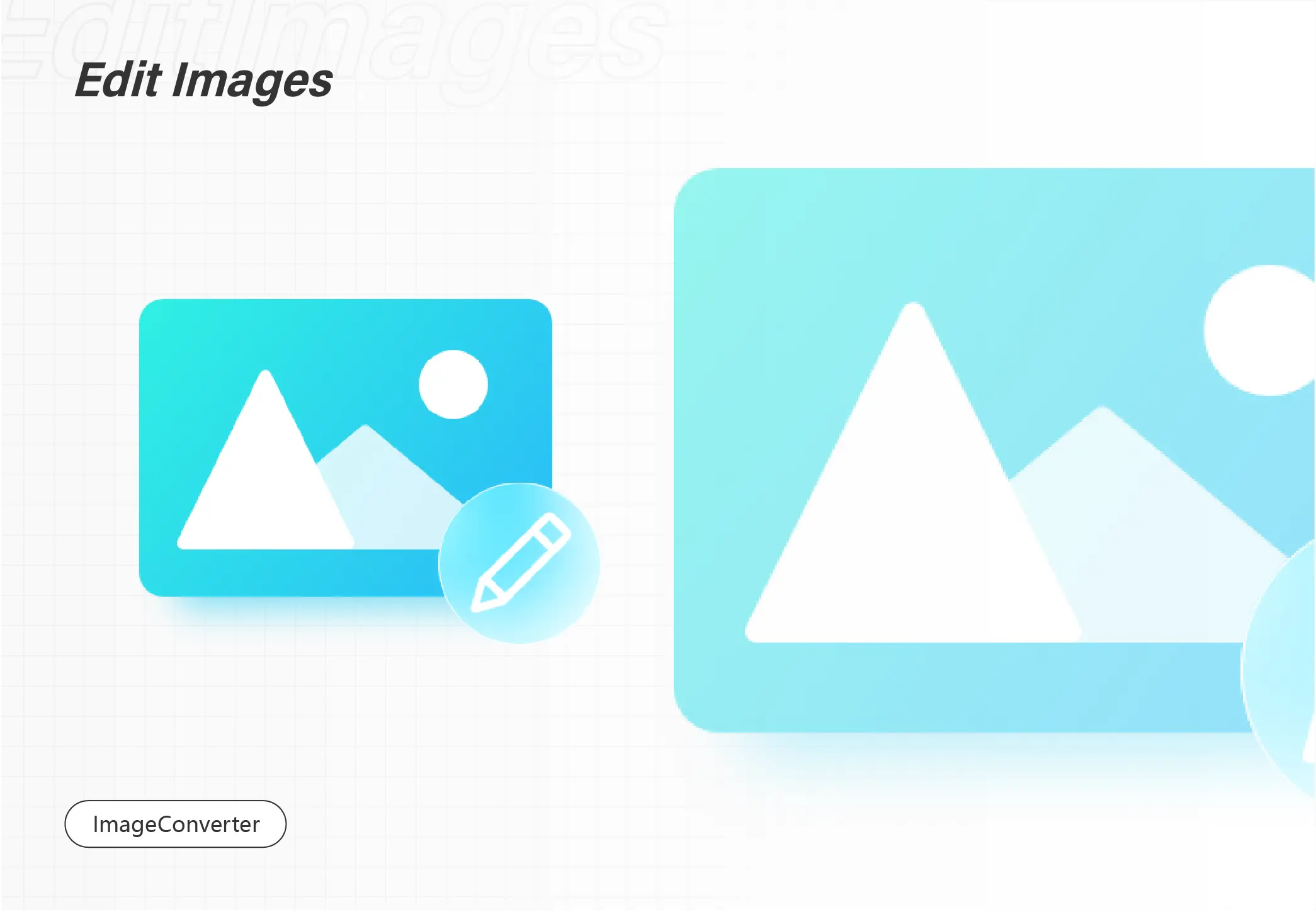 Even though most sharp and focused images tend to be more welcoming for photographers' choice, a picture that blurs the background can be a new robust visual effect way for posters. A background blurred image can bring focus and emphasis to the subject and add another artistic element to the new photo. So, how to blur a photo has become a lesson people want to learn.
Let's imagine this. You have come to a beautiful place with a good view, and then you decide to take a photo as a souvenir. Then you find that you are OK in that picture, but there are too many tourists in the background. The place is too nice to be cut out. Therefore, the need to blur the background of your photos comes. If you need to make the messy scene disappear, you can try to edit photos to get rid of the picture, remove the picture background, or change it into another image. Or, like this, blur an unnecessary background that adds depth and mystery to your photos.
---
How to Blur a Photo – WorkinTool
To properly blur a photo, you need a professional tool. I know that once speaking of image tools, people tend to think about Photoshop. However, its cumbersome processes and high user fees keep out many non-professionals. Otherwise, no one would be searching Google for a free image editing tool. Well, lucky you, my friend. Here I will introduce this powerful image editor – WorkinTool Image Converter. It has four modes for blurring a photo, which can be customized to meet users' needs before and after contrast. Adjusting the blur intensity ensures the user's desired effect and avoids modifying the picture twice.
You may think of it as an all-in-one image editor. With this fantastic tool, you can edit your photos however you want. And since it is called an image converter, you can also change the image format into any popular kind. Surprisingly, it is 100% free to use all these functions within. What more to expect?
Let me show you how to blur a photo with WorkinTool now.
First, 

download and install this tool

 on your computer.

Then hit "

Edit Image

" and put your target photo in it.

Find the water drop icon and here you will see four different modes of blurring function.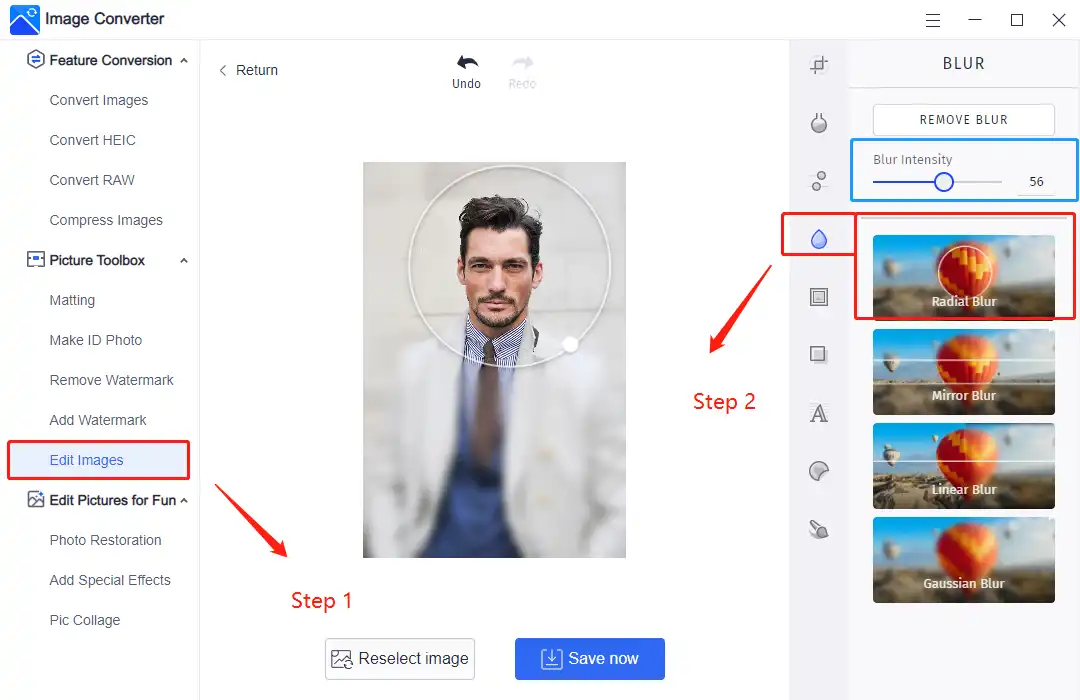 As you can see from above, a radial blur in the image can emphasize the important content of the picture against the background of heavy shadow. Plus, it provides a button to adjust the intensity.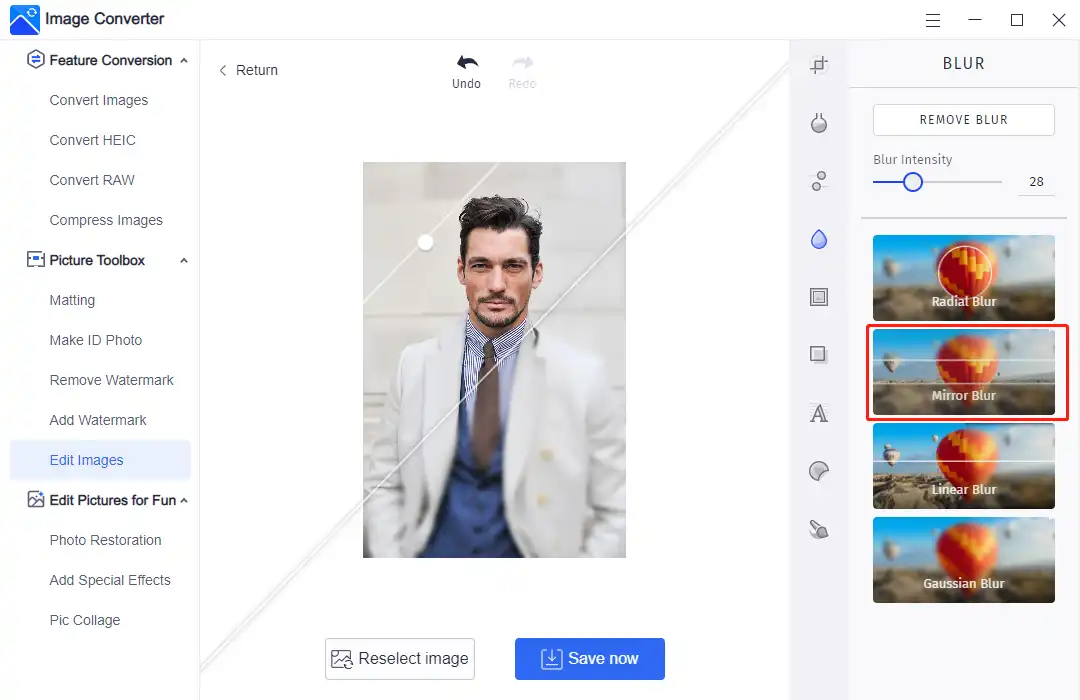 Also, a mirror blur can help users focus on a linear part of the content and blur the rest. Of course, you can modify how many places you want to keep or blur by the mid-button in the picture. It supports users to customize a personal mirror to reflect what they want.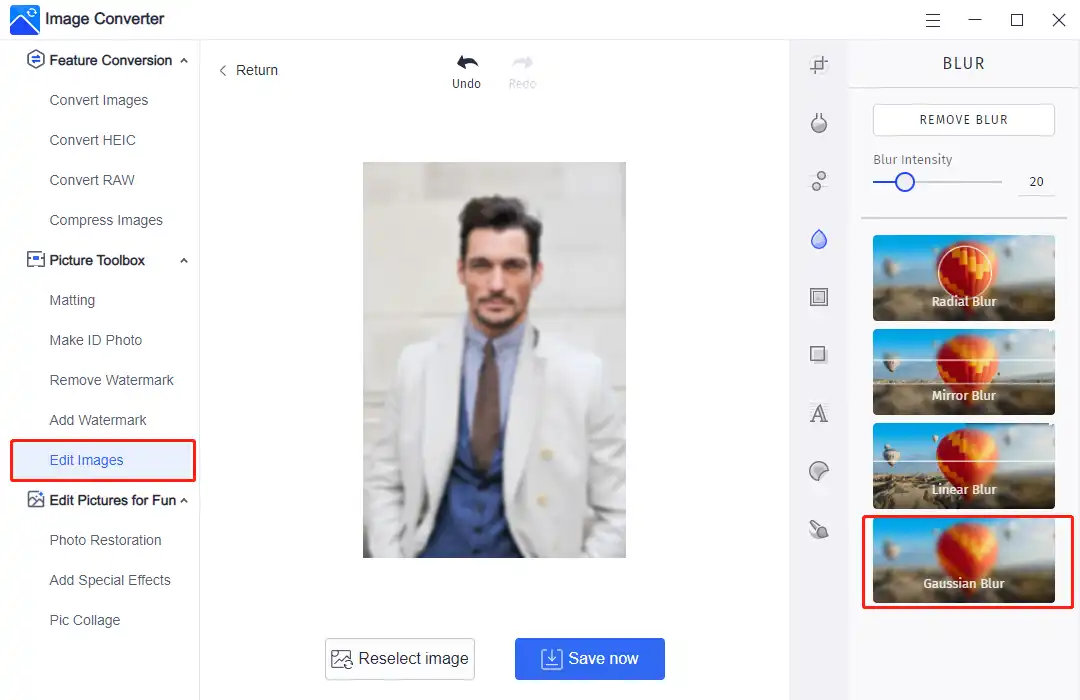 The last mode is to blur the whole picture if there is a need. It creates a very hazy image texture. Surely you can still adjust the blur intensity as you like.
Lastly, after you have appropriately blurred your photos, you can hit "

Save now

" to keep the image on your computer for later posting.
---
How to Blur a Photo – PowerPoint
Suppose you don't want to download any software on your computer. Maybe you can try to use Microsoft PowerPoint to blur your photo. It is a built-in artistic effect of the inserted pictures. However, it is still available to make it work. In the meantime, you can also use PowerPoint to change the image background if you need a further process of your photo.
Blur a Whole Image
After opening a PowerPoint slide, insert a picture you have prepared.

Then here, you can directly find "

Artistic Effects

" on the head banner and see the "

blur

" effect.

Or you can right-click the image and hit "Format Picture" and then the same steps. Go to

 Artistic effects

 and the

 blur effect

.

PS. if you want to adjust the intensity, you can move the "Radius" button. It will work.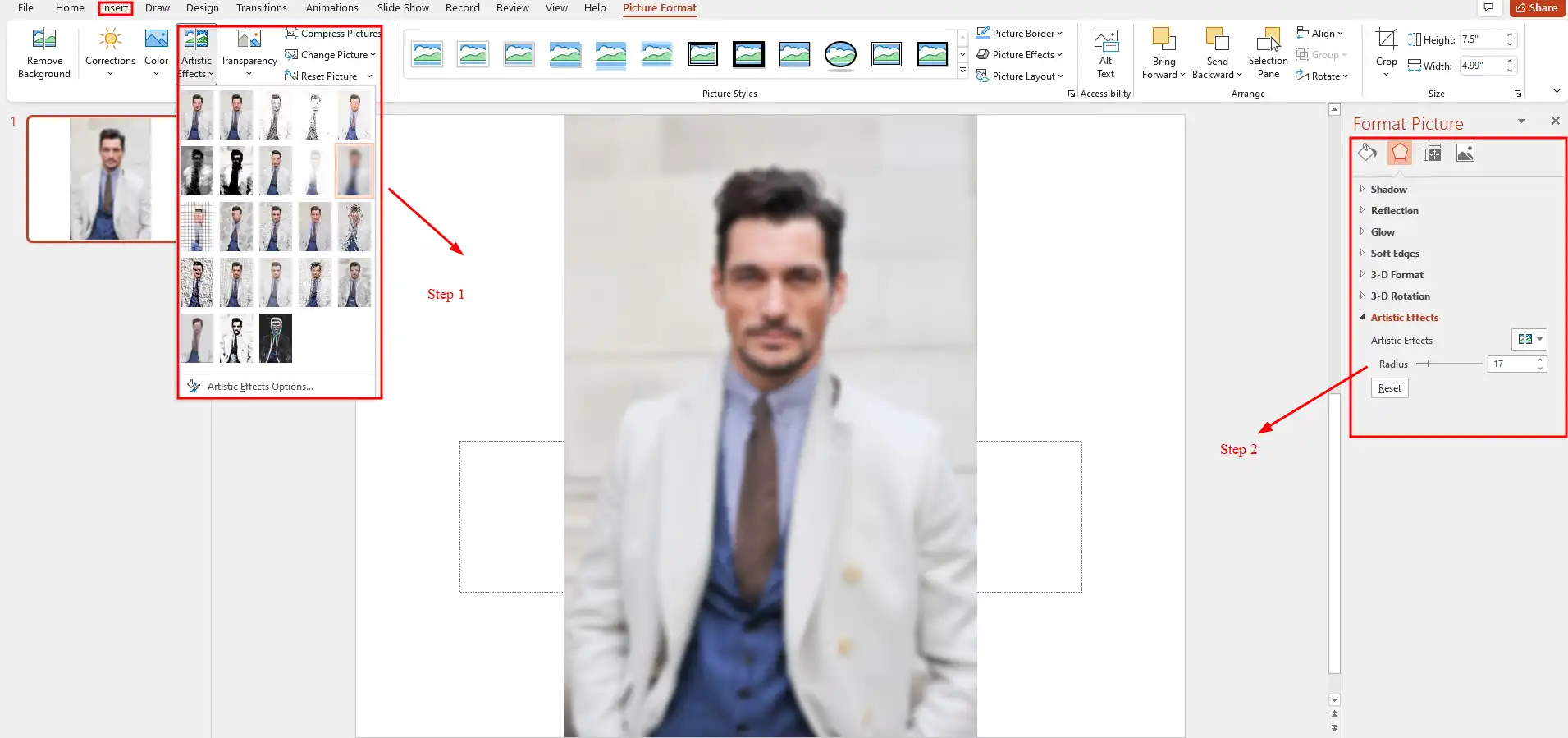 Blur Parts of an Image
Unfortunately, as Microsoft said on the official website, you can't find other buttons to blur certain parts of the insert image. In order to achieve that, you might need to rely on other auxiliary functions to achieve this effect. You can do it as the official website has said. It is a bit complex, so I will leave it to you here.
As you can see, if you use PowerPoint to blur your photos, you need to have Microsoft PowerPoint in the first place. Plus, it is much more complicated than doing it with WorkinTool. The primary function only supports users to blur the whole picture. So you cannot make a visual focus picture unless you go even more brutal to guide to make it right.
---
More to Share About How to Blur a photo
Since I have entirely taught you two ways to blur a picture for free, you must know one thing or two about the pros and cons of each software. But I have to mention it one more time. To be fair, WorkinTool offers many conveniences with only a few sacrifices of downloading time. However, if you use the method of PowerPoint, not to mention the primary blur option, you have to do more steps to get a partially blurred picture. If I had the time to learn those, I'd instead know the professional Photoshop software. So, in contrast to the two free methods, the WorkinTool Image Converter will be better. Don't hesitate any longer. Just go download and experience it yourself. Trust me, and you won't regret your decision.
Products Reviews:
TrustScore
4
|
323
reviews