How to Easily Make a Picture Collage in 2023 [Free Guide]
It is very common to make a picture collage. People tend to do it on the cellphone by Instagram's built-in function. However, when it comes to the PC desktop, Photoshop becomes the first tool they can think of. However, it is famous for its expensive fees and difficulty to operate. So here I am going to introduce another convenient but very practical image software – WorkinTool Image Converter. It is an all-in-one image editor. For picture collage, there are more than 25 templates for users to pick. And many other options to apply. Moreover, it is totally free. So, go download and experience it yourself.
What if you want to see all of your shining photos in one place so that you don't have to go through each one by one every time you think of the good memories and experiences of the past? Well then, the best solution for it is to make a picture collage. Picture collages can be a great way to tell your story through photos and pictures. It is a combination of love and memories. No matter you're about to create a photo album of your recent trip, recapture the warmth and beauty of the family union, or simply make a photo wall for decoration, a picture collage can give people more visual moving in a way that a single picture cannot.
However, with today's technology, it is easier than ever for you to make a picture collage. Actually, you can find many collage templates on hit social media platforms like Instagram and TikTok when you try to upload for sharing. But it is not always that convenient when using their functions. More people tend to use other software and apps to create their own collage pictures before uploading them to social media. So here I am going to introduce two simple and free ways to make a picture collage. After this, you can easily make most photo cards and ad boards. Come and get started.
---
How to Make a Picture Collage with WorkinTool
In order to make better versions of picture collages on PC Windows, the first tool I want to share is – WorkinTool Image Converter. It is a newly published image editing and converting tool. We all know that Photoshop, as the professional image editing software, is famous for its exorbitant fees and high barriers to mastering. However, when it comes to that, WorkinTool has the freshest and most user-friendly interface and super-easy operation. With its powerful image process function, users can do all kinds of stuff. Editing images is its basic function of it. And since it is called a converter, you can convert many popular formats into others. What's more, except for the conventional feature, you can also use it to do fun actions. Like changing the photo background and turning yourself into a cartoon character.
Making a picture collage, it offers an extraordinary effect. You can find more than twenty-five different collage layouts, each one can be set for a unique occasion. Other than that, according to users' needs and habits, the WorkinTool Image Converter can adjust every cell's space, frame, and filled corner. You even can find the background settings for the color and frame. Moreover, after filling in the pictures that you want to do the picture collage, First, they will automatically get into the cells. However, if you are not satisfied with the order, you can manually adjust the picture size and place just as you like.
Steps of Making a Collage
The first step always goes to download and install the amazing WorkinTool Image Converter on your computer.
Next, open it and go to "Pic Collage" to add some pictures that you like. Here I find some cute dog pics for example. You can add one pic each time, or directly to a folder. Both ways are fine. If you don't like the previous inserting picture, or you want to add some more, don't worry, the left section bar can help you with all of those problems. And you only need to drag the pictures to change the placing order and size, it is a very easy operation.
Then you can choose the collage template. As we mentioned, there are more than twenty-five different kinds. Depending on the number of images you have, you can pick the one that works best for you. There are special templates for INS, as well as special templates for teaching tutorials. So each different user group can find the picture collage template they want here.
From the picture below you will also see the "Style" section. That's right. WorkinTool supports users to adjust the collage cell's shape. You can change the space, frame, and filleted corner just like I did.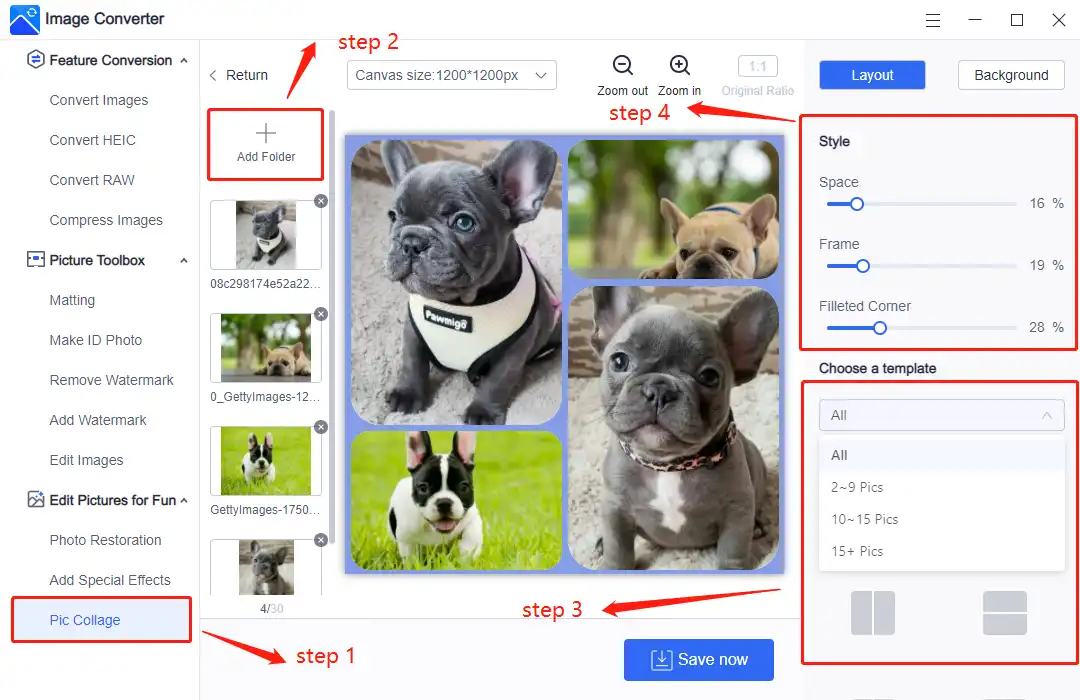 After setting the layout part, you may also check the background part. There are five creative background frames for users to try. And if you want to get your picture collage a different vibe, you can always customize the color.
One more function I have to say is that if you have a strict output picture size rule, you can operate it in the canvas size. With it, you can change it however you like.
Last, click "Save now" and you are done.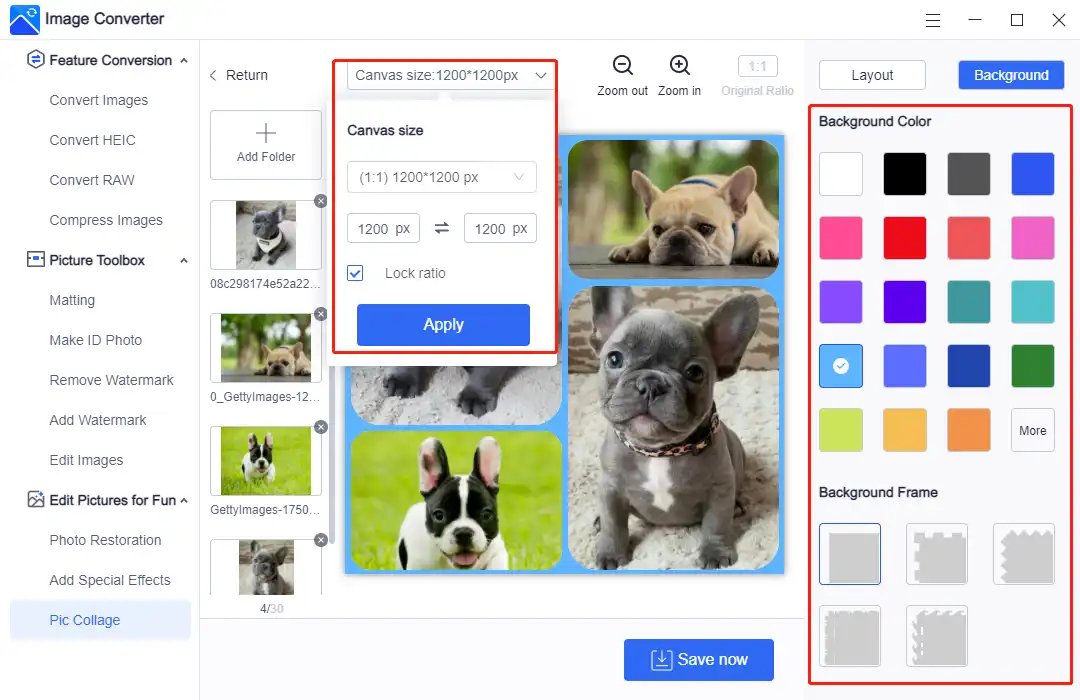 ---
How to Make a Picture Collage in Word
Microsoft Word is the most common office software in people's life. People use it every day to deal with documents and files. However, random has people know that it is more than editing text. Even though people know Word supports adding tables and images, rare will use it to make a picture collage. Can it work?
Of course, it can. Microsoft Word might not be a professional image editing software, however, it is more than capable to do a family reunion photo album. With some tips and tricks, you can do a beautiful photo collage and it is very simple, trust me.
It is by using the built-in Smart Art feature to add photos to various layouts.
Let's see how to do it in Word.
First, open Microsoft Word and go to the "Insert" section and find "Smart Art".
Next, in the left bar, pick "Picture". then you can choose a template. Here I select "Spiral Picture" as a demonstration.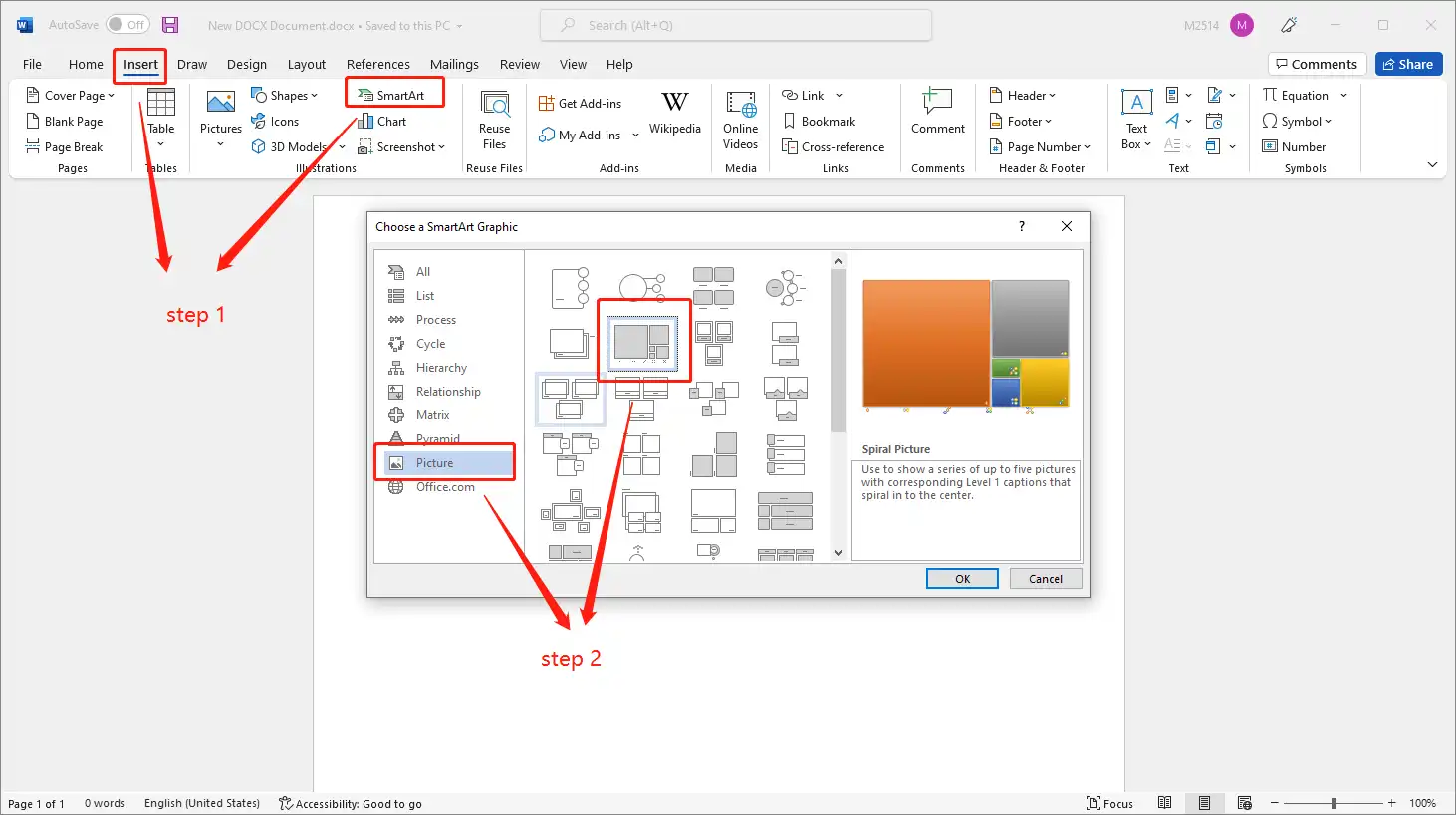 Then there are boxes in the text place waiting for you to fill in the picture you want to use. Just click in the middle of the box to add.
Surely, if you feel that the template is not good enough, you can always change it to something else. You can alter the template you want to change from the Toolbar. Word also offers 3D styles. Needless to say, you can also change the colors and adjust the orientation. You can find all of these features in the Toolbar above.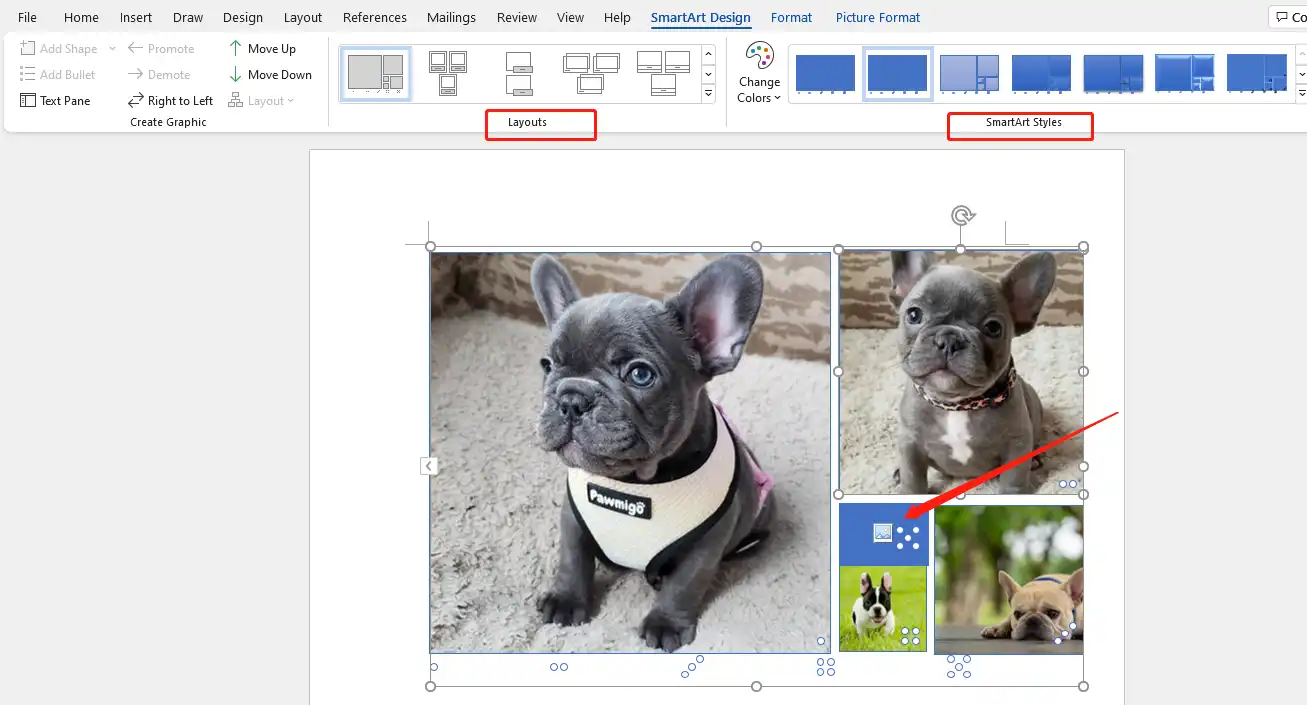 ---
More to Share
As you can see, making a picture collage cannot be simpler than ever if you apply my method. During our testing, it only needs five to ten minutes to make a beautiful picture collage. And you can spend more time making it as perfect as possible. What I am saying is that everyone's situation is different. Some people like it on Instagram, and some like to do it on TikTok. But if you want to make a picture collage on PC. You have to try WorkinTool. It can help you with basically all the image-related issues, let alone picture collages. Since it is newly published, users can use all the functions with zero charges. So, don't hesitate and go to experience the magic yourself now.