4 Best PDF to Word Converters in 2023 – Free and Paid
PDFs are widely used in business and daily lives. Of course, Word is another one. Normally everybody would edit the content in Word before converting it to PDF format. But what if you want to converse the process, which is turning PDF back to editable Word document. After comparing PDF tools from the internet, we present you the four best PDF to Word converters 2022 – Free and Paid.
4 Best PDF to Word Converters in 2023 – Free and Paid
PDF has been becoming an essential format in sharing and displaying documents in people's work and daily life. But also as people know, PDF is hard to do any modification or editing work. When the time comes to this, you may find yourself looking for ways to convert PDF to Word. Luckily, there are literally unaccountable PDF-to-Word converter tools you can find on the internet. After thoroughly selecting and comparing each tool, here we present you four of the best PDF to Word Converters in 2023, including free and paid editions for Windows.
WorkinTool PDF Converter
Soda PDF
WPS PDF to Word
Adobe Acrobat DC
---
Best PDF to Word Converters – Free Editions

Works on: Windows 11/10/8.1/8/7/Vista/XP,  or later.
Normally people want to find a tool that is simple enough for everyone to operate. Like people with no experience can achieve the effect just by a few clicks. To make that happen, WorkinTool has put all the effort to develop this software. With all things considered, for the purpose of exporting PDF to Word on Windows, this handy piece of software naturally comes out on top one.
It got the simplest interface. Without any other redundant options, you can only change the number of PDF files you want to convert and the saving location. If you think since there is no button to select other options, this tool must not be worthy to try. Then you are wrong. "PDF to Word" is the number one function of the tool, I ensure you that everything you want in this function has all. Because WorkinTool believes those options like restoring layouts, images, and comments are not supposed to be options. They are more like a necessity of this converting tool. However, there is no doubt it does an amazing job at retaining all the images and text where they should be at DOCX documents. So, you don't need to worry about the quality of the after-converted Word files. And of course, the PDF to PPT function is equally powerful.
Only a three-move operation makes a satisfying  Word conversion. Besides, it is free to use all its functions if you upload single file less than 2 MB. All of those give me reasons to put this PDF converter on the top list of the best PDF to Word converters this year.
Open this tool and go to "PDF to Word" in the right column.
Click on "Select the file" or drop the file in this section. Change the saving path if you need and click "Convert".
Wait patiently till the "Open file" popped-up window shows you the successful conversion.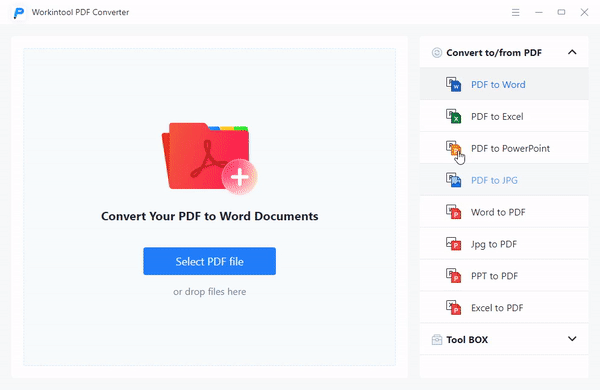 😍Pros:
East to use with a clean interface.
All the content is retained when exporting.
No charge is needed.
Secure output protects all files.
Batch conversion is supported.
😢Cons:
Not many options to choose from.
If you are intrigued by this amazing PDF converter, please go to WorkinTool PDF Converter for more interesting and handy features and functions.
---

Works on: Windows 10/8/7/Vista/XP, macOS & Linux or later.
SodaPDF is a multifunctional software with a number of useful tools that work from editing PDF to Merging and Splitting PDF. Most importantly, in terms of "PDF to Word", it has its sparks. Except for its desktop version for download, there is also an online browser service available to use. Supporting OCR tech helps users pre-process images to improve the chances of successful recognition. Batch conversion becomes easier and more efficient once you mastered this software.
However, it has its shortcomings. If you download Soda PDF for the first time, you'll get a 7-day trial. But you still want to use it after this limited time, you have to pay your bill then. Besides that,  it will change the default PDF reader of your computer without noticing you. Unavailable language selection also can be a barrier for users to name it one of the best PDF to Word converters.
Here Is What You Do:
Open your targeted PDF file in Soda PDF.
Go to the "PDF to Word" right under the "CONVERT" Ribbon.
Change your saving path or select other options that may help you, then click "Export".
A few seconds later your exported Word document will be available.
PS: If you want to convert in batch, go to the "Batch" list on the top ribbon and choose the "Convert" button.
😍Pros:
Diverse converting options.
Support batch conversion.
Support OCR tech.
😢Cons:
Only free for seven days.
Force modification of the default PDF reader.
Only support selected language.
---
Best PDF to Word Converters – Paid Editions

Works on: Windows 10/8.1/8/7/XP, or later.
WPS is a wonderful tool in the Windows system. We have to say that WPS Office is really the best second choice of office software when you don't want to use Microsoft Office. For a successful company like this, their PDF to Word Converter cannot be bad. The interface is easily-understanding. Because of its early experience, the company knows what users need. So, with this converter, users can customize the language, page range that they want to export. It even has the timeout setting which allows you to set a specific time to stop the converting process no matter if it's finished. That is why I'll put it in the list of the best PDF to Word converters this year.
Despite all the strengths, it isn't perfect.  It requires users to register, otherwise, it cannot work. And the Sign-in function is a little bit slow.  The OCR function isn't built in this converter and the transforming speed isn't stable.
Let Me Show You How It Works:
Drag your wanted PDF file into the "PDF to Word" area, you can also choose other format changing on the right.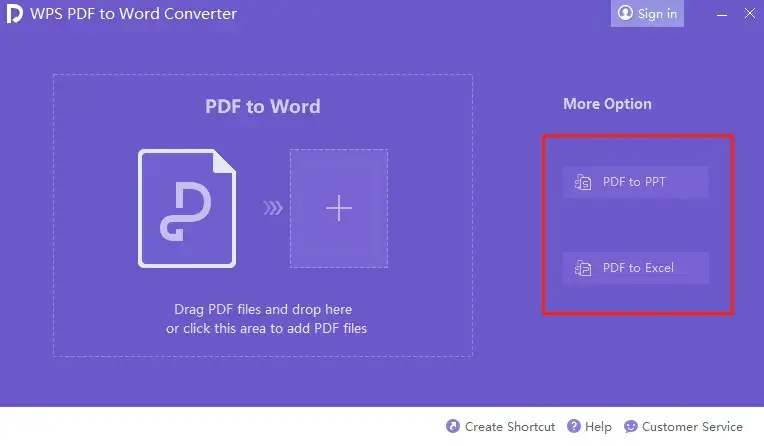 Customize your transforming file by pages, language, and saving location. Then tap "Start".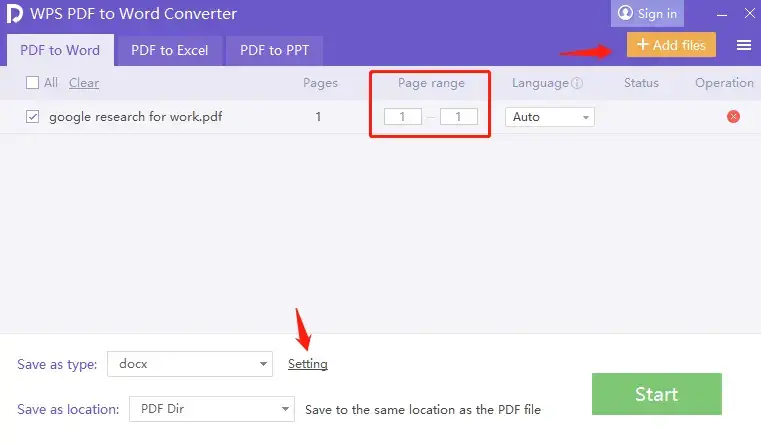 Notice: you can add more files to export together or to change Convert Mode and Timeout Setting in the "Setting" button.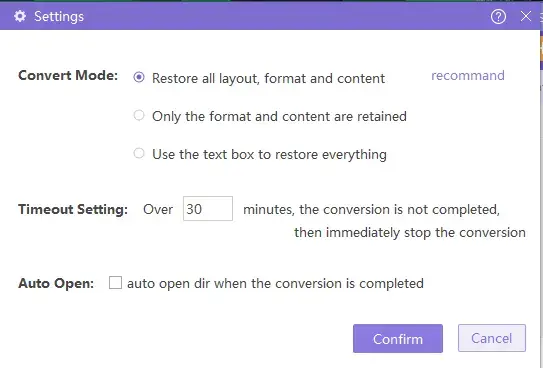 Then all you need is to wait for the converting process to finish.
😍Pros:
Support language selection.
Timeout setting to protect files.
Page Range to convert a specific part of PDF.
😢Cons:
No OCR.
Unregistered users are limited to use.
The speed isn't stable.
---

Works on: Windows 11/10/8/7/Vista/XP, macOS & Linux or later.
When speaking of converting PDF to Word, it seems inappropriate not to include Adobe Acrobat DC in the list of the best PDF to Word converters. Since Adobe has invented PDF in the 1990s, PDF becomes the most popular format in the office and class. As for now, even though there is a great number of PDF converters on the internet, Adobe can still take a seat for its amazing all-in-one PDF tool. Basically, every function you have thought about in software like this has them all. Not just the latest DOCX format, it can convert PDF back to the old version DOC format. Besides that, The most eye-catching thing is the editing feature. It allows you to add and delete text and images right in the PDF content. Literally using it like you are using Word before converting.
Therefore, a professional business PDF tool like this does set the price higher than any other PDF converters. And the interface of it seems a little bit too serious, even out fashioned if I may.
You Want to Do This:
Drag your PDF files into this tool and find the "Export PDF" tab in the list of right Toolbar.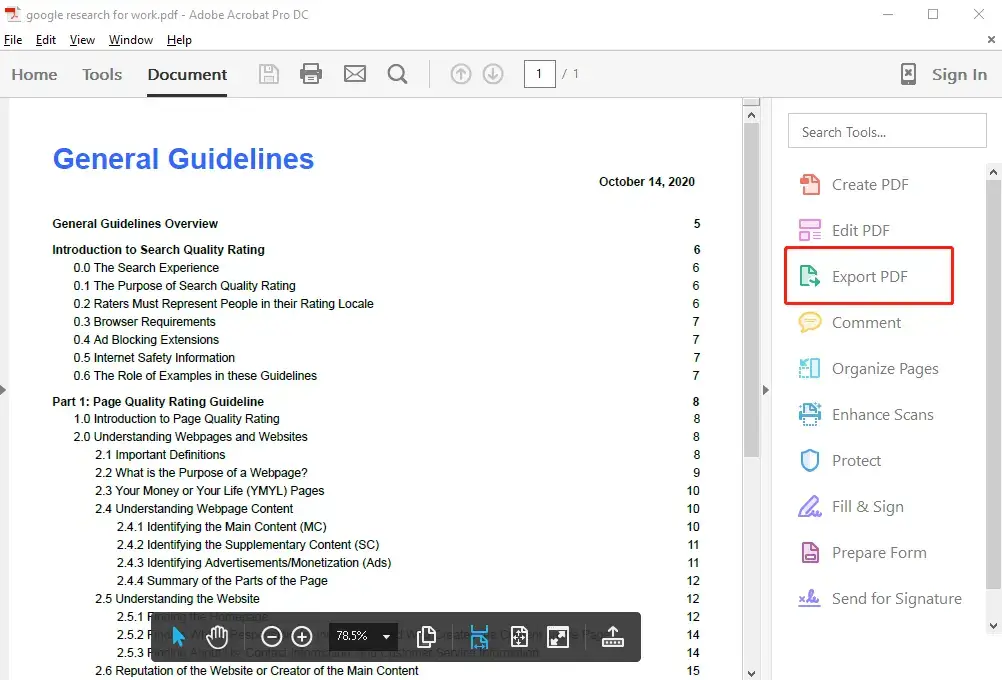 Decide on DOCX or DOC format of Microsoft Word you want to convert to. (click the gear button for more options).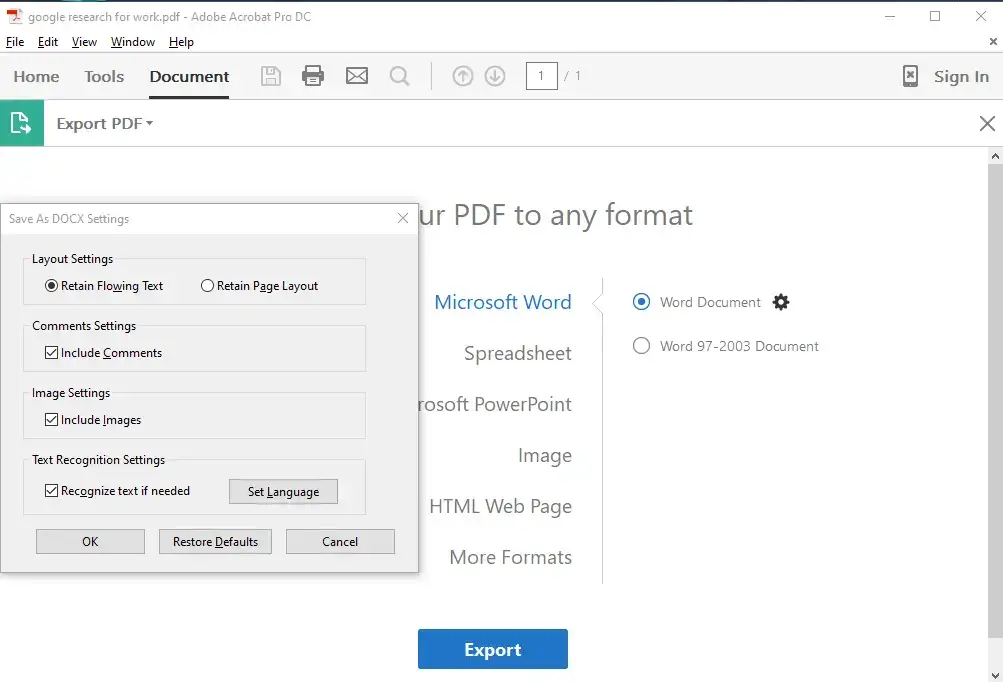 You can choose layout and language settings if you want comments and images included.
Hit "Export" to set your saving path, then your converted Word document will be in your hand within seconds.
😍Pros:
Multiple conversion formats.
Works on Windows and Mac, desktop and Online.
Edit before converting to other formats.
😢Cons:
Not fast to launch.
It is a little pricey.
The interface is old.
---
More to Share about the Best PDF to Word Converters
When selecting a suitable PDF converter, the situation may differ according to your specific needs. In this article, we have picked four of the best PDF to Word converters and listed them based on the price, speed, safety, quality, and of course our user experience.
We hope you can find the best one for your condition and may all the good luck with your work.