How to Convert Multiple Files to PDF on Windows 10
Not one or two, if you need to convert piles of files, without the help of batch PDF converting, there is no way to get the job down one by one within hours. Lucky you, this WorkinTool PDF Converter supports this multi-files converting feature with all its functions. Ranging from "PDF to Word" to "Water PDF", you can make it work in a few seconds, minutes tops. It saves a lot of time for users to more important matters. Besides that, this tool is free of charge to use if you select single file size less than 0.5 MB. Come to try.
How to Convert Multiple Files to PDF on Windows 10
PDF format has been wildly used since it was first created in the 90s by the funder of Adobe. After then, it basically becomes a standard format to save important data or to present documents files in meetings for its feature of easy-sharing and high security. However, if you wanna increase your way of work efficiency, you ganna need to learn the trick of how to convert multiple files to PDF at the same time. Regardless of your file format(Word, Excel, PowerPoint, Image), all can be exported to PDF format as many as you want. With the magical WorkinTool PDF Converter's multi-file mode, you can create PDF files from any PC format, turning them all into PDFs in one second.
---
Scenarios of Batch Processing PDFs
Well, that sure sounds like an amazing method to deal with numerous problems in one step, right? I guarantee that you are intrigued by now.
Let's imagine this together. One day you are at work, and there are only about ten minutes to finish today's work and come home. You must be very happy right? After a long day at work, you finally have time to enjoy your life. But suddenly, your boss calls you to his office for a small, next thing you know is you have a folder full of more than one hundred Word files ready for you to organize. Each contains different company classified data that cannot be leaked. Right now, you have to use your way to turn them all into PDF format. And your boss won't agree to have them in the next day. What are you gonna do now? you don't have the time to go through them one by one. If you do that, your whole night will go to nothing but painful memory of working overtime.
Now, this is the time to show the magic of batch conversion. You will have a bunch of files that are eager to turn to PDF format and make them transformed at once.  It can also save you from the heavy work of organizing the yearly tax bill of individuals and families.
🚨 Notice: Convert multiple files to PDF doesn't mean combining them all into one single PDF file. Instead, you will get each unique PDF document from the original one. However, if you do have the need of merging PDFs together, no worry to find another software, you can always try the built-in function in the WorkinTool PDF Converter.
---
Convert Multiple Files to PDF: Selection Mode
Without doubts, one of the greatest features is that the WorkinTool PDF Converter is able to achieve all format file batch conversion. From the basic "PDF to Word" to "Watermark PDF", you name it, it has its corresponding batch conversion function. Actually, it just appears right in front of the main software window. Once you have downloaded this software, you are ready to enjoy the journey of fast multiple files processing.
Here is what you gonna do, so watch carefully.
First, of course, you need to download this fabulous software. Lucky you, WorkinTool PDF Converter is free to convert to PDF if the selected single file size is less than 0.5 MB. So don't you worry about your money in your pocket, ok?
Then, open it! See for yourself all the functions and optional buttons you can choose from it. Let me take the most used "Word to PDF" as an example to demonstrate:
Hit the "Word to PDF" button and go to "Select PDF files" in the middle.
Here a popped window will show up, and you need to find all the files you want to convert at the same time. Then hit "Open".
Now, it's time to convert all the files you select. Wait patiently for the process to complete.
With our multi-files conversion feature, you will have a bunch of files that are eager to turn to PDF format and make them transformed at once.  As you go through your computer you'll see any file that can be converted, regardless of format, like anything. Just easy as that.
---
Convert Multiple Files to PDF: Drag & Drop
You ganna admit it is pretty cool right? Here is the thing, you can even simplify one step further. How? You can drag and drop multiple files into WorkinTool PDF Converter to achieve batch scan multiple pages into PDFs. This option is also available with any functions in this software.
Once you have opened this PDF tool, you will get a window like this: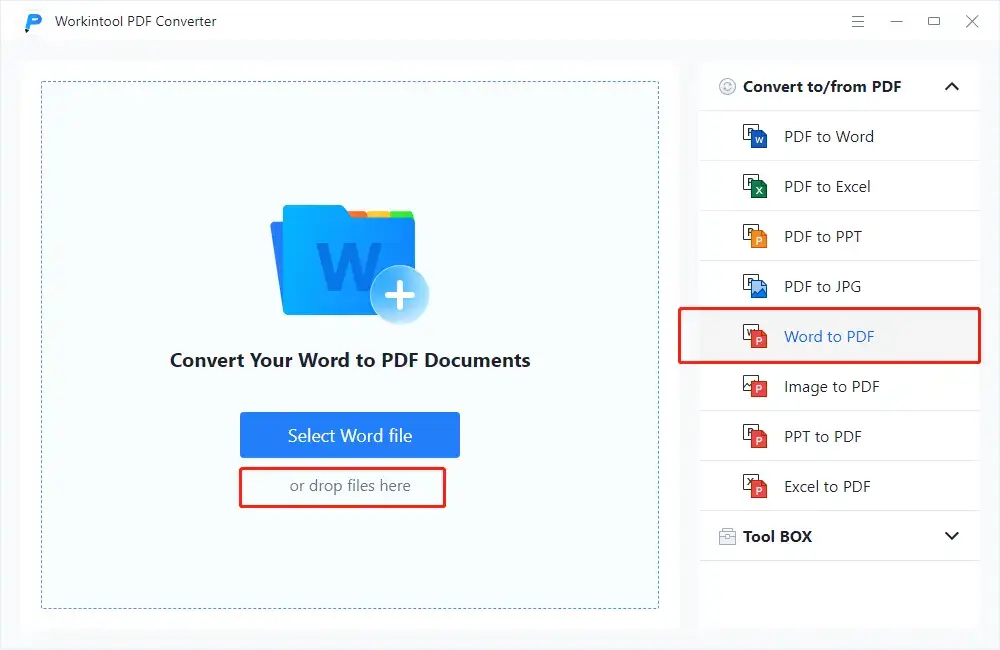 Let me still use Word to PDF as an example:
After opening it, you will notice the gray characters tells you to "drop files here". And this is what you need – Drag & Drop.
Number one, open all the folders that contain the files you want to convert together, and select them all.
The most important step: drag them into the WorkinTool PDF Converter that you have opened.
After that, you can hit convert to start your transforming operation.
A Little Tips:
You can always add more files after you have selected how many you want to convert. Kindly, this tool has placed two entrances for users to put them into the ready-PDF-turning group.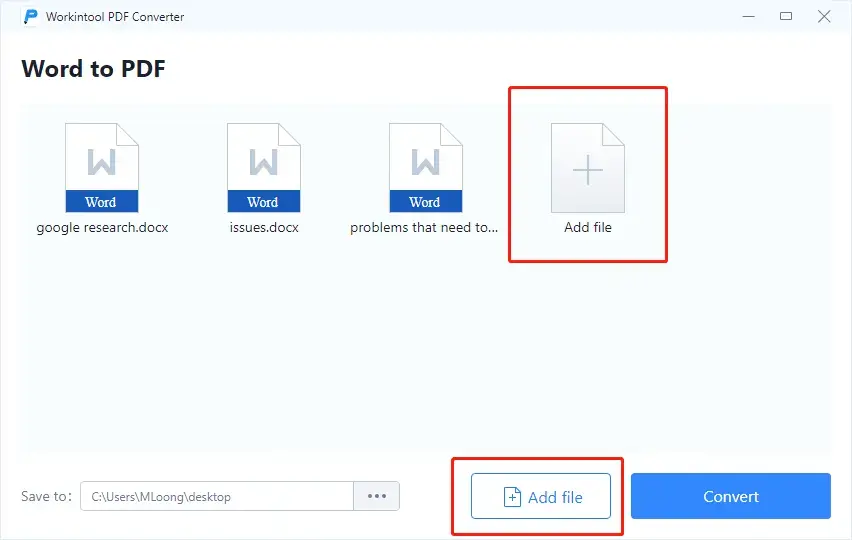 As you can see here, one of the entrances is behind the files you add, and another one is at the bottom. Of course, you can still use drag and drop to put other files into this window. both methods are accessible. It's absolutely up to you.
But we have to say one last time, this multi-file conversion function doesn't support the combining feature. After exporting, you still get the same number of files as the original ones. If you want to merge these documents after transforming, the "Merge PDF" function is in the ToolBox waiting for you.
---
More to Share
Now, after introducing it, you must have a thorough comprehension of the importance of the batch converting function and how to achieve it. Except for its converting function, you can use other practical built-in tools to organize your PDF files with ease, even to watermark your PDF files. I mean I know Adobe Acrobat DC is powerful too. But it requires some money to support it. Plus, it is free of charge to use if you select single file size less than 0.5 MB. There is no reason why not to try this tool.