How to Convert PDF to DWG with(out) AutoCAD Free | 3 Ways [2023]
Want to convert PDF to DWG/DXF? Or want to re-edit the PDF drawings again? However, it is not a cinch to find a handy PDF for AutoCAD converters in this market. No worries. This post will give you three proven ways to solve how to convert PDF to DWG in or without AutoCAD. And you can find the right solution in this post whether you want to perform PDF to DWG conversion online or offline.
😉 #1. AutoCAD [Apply for AutoCAD 2018 and later versions]
😆 #2. WorkinTool PDF Converter [Easy-to-use and faster PDF to DWG converter offline]
😘 #3. PDF to DWG Converter Online [Accessible tool to convert PDF to DWG]
How to Convert PDF to DWG with(out) AutoCAD Free | 3 Ways [2023]
4 Min-Reading *Easily Perform PDF to DWG/DXF Conversion 
Do you want to convert PDF to CAD and re-edit the DWG/DXF drawing design again? Unfortunately, it's not a cinch to find a handy PDF for AutoCAD converters in this market. Don't worry. This post will be centered on this question and give you three proven ways to solve how to convert PDF to DWG in or without AutoCAD. Both online and offline approaches will also be covered. After reading, you will easily convert PDF to AutoCAD (DWG/DXF) within several clicks.
💙 Words before PDF to DWG Conversion
🤍 How to Turn PDF into PDF in AutoCAD

 

💙 How to Turn DWG into PDF without AutoCAD

WorkinTool PDF Converter [Win]HOT
PDF to DWG Converter Online
---
Words before PDF to DWG Conversion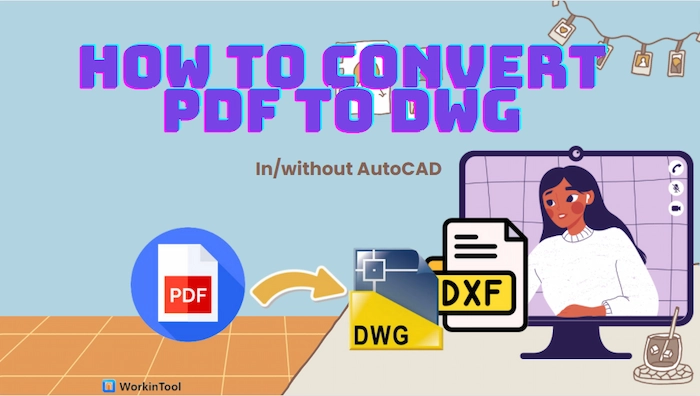 🙋‍♀️ What are DWG or DXF formats?
DWG (from drawing) is the image vector format developed by Autodesk, compatible with AutoCAD (Auto Computer Aided Design) and other CAD products. And it can maintain both 2D and 3D modeling, data, and metadata, which significantly facilitates designers and architectures to draw a precise sketch.
AutoCAD DXF can also be called Drawing Exchange Format, as one of the image vector formats launched by Autodesk. It is created for better processing interactions between AutoCAD and other design programs.
🙋‍♀️ Why Need We Convert PDF to AutoCAD (DWG/DXF)?
There are many reasons leading to PDF to CAD conversions. And the following summarizes the most common three causes for this transformation.
💾 Re-Edit the Drawing:

 As we all know, a PDF file keeps the original formatting and content without any change due to its non-editable feature. However, when you want to refine or modify the design sketch, you need to convert PDFs to editable DWG files to alter the details in AutoCAD.

📝 More Accuracy and Precise:

 When you want to enlarge and observe the drawing details, changing PDF to DWG/DXF format is the fastest and easiest way to show more complex lines or modeling in CAD software.

📲 Compatible with More CAD Tools:

If you want to open a drawing file in Auto CAD or other CAD/drawing software, you should select DWG over PDF. Because DWG, as the industry-standard format for CAD, has wider compatibility than PDF format.
🙋‍♀️ Can I convert a PDF to AutoCAD DWG/DXF?
Certainly, you can export PDF to DWG/DXF files in most situations. And professional AutoCAD or PDF to DWG converters can streamline the conversion and save much of your effort.
---
Part 1. How to Convert PDF to DWG in AutoCAD
Released by Autodesk company, AutoCAD is qualified and acknowledged drafting software for professional designers to draw complex graphics, designs, models, etc. DWG/DXF is generated from AutoCAD so that you can import PDF into AutoCAD and change it to native DWG/DXF format.
However, suppose your PDF is an image-based or scanned file, in other words, the raster file. In this case, you cannot change the raster PDF directly to DWG with editable lines or elements. Don't give up. You can use the other methods in this post to make it.
✨ Convert Vector PDF to DWG in AutoCAD
This method is applied for the latest Auto CAD versions, such as 2023, 2022, 2021, 2020, etc.
Step 1.

 

To make PDF drawing more compatible with AutoCAD canvas, you'd better change the Drawing Units parameters by pressing U + N and Enter keys.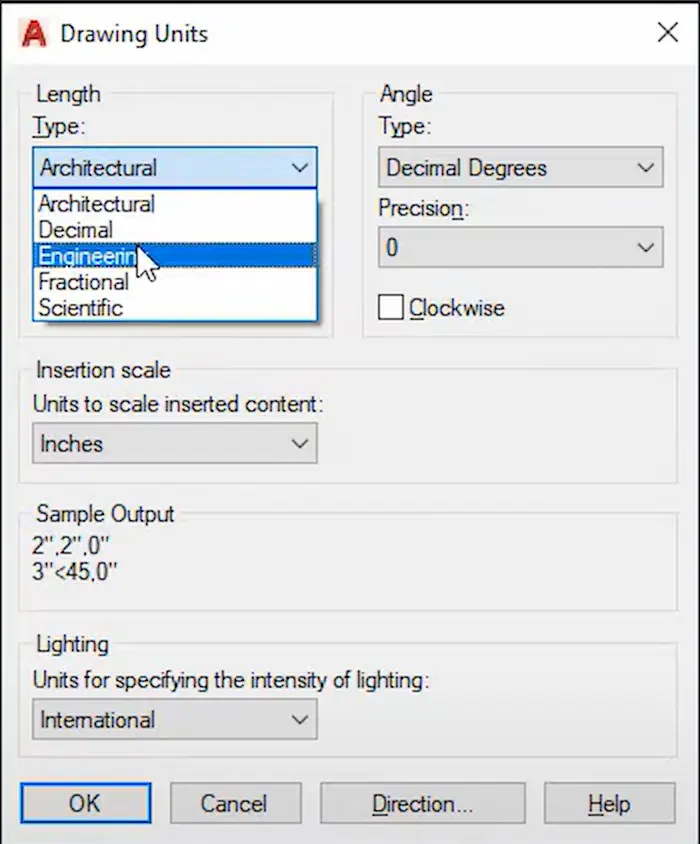 Step 2.

 

Click Inset > PDF Import in the tool ribbon to select the wanted PDF drawing file.

Step 3. Check the options you want to import into AutoCAD in the Import PDF panel. Once you finish, click OK, and the PDF file will become the editable DWG file in AutoCAD.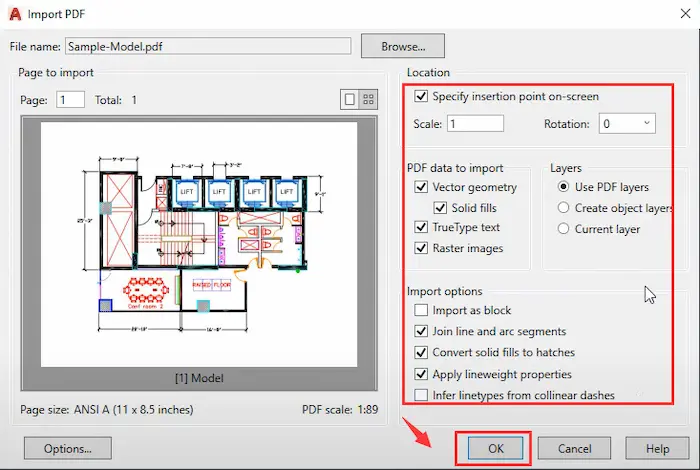 Reference to: Autodesk Support
🐰 Note:
 AutoCAD 2017 and older versions fail to have this function to import PDF into Auto CAD. So if you are using these AutoCAD versions, you can resort to the following two methods to make a PDF to DWG conversion and open the PDF in AutoCAD successfully.
---
💡 Knowledge Card: Raster PDF vs. Vector PDF
Vector PDF contains the image files using mathematical formulas (also called vectors). And vector photos can be enlarged or shrunk without losing any quality. Generally speaking, the PDF is a vector file when you convert PDF from DWG using the AutoCAD Ploter function. So you can easily return this kind of PDF to editable DWG with minimal effort in AutoCAD 2020/2021/2023. And the vector
Raster PDF maintains images in pixel form. So it also indicates that you can only zoom in on it without any blur. However, when you zoom out the raster PDF, you will see the pixels clearly, and the PDF image will lose clarity. And the scanned PDF or the screenshot PDF belongs to this kind, which still cannot be modified in AutoCAD.
Reference to: Adobe Support
---
Part 2. How to Convert PDF to DWG/DXF without AutoCAD
If you want to simplify the PDF to AutoCAD conversion on Windows, you can make it using WorkinTool PDF Converter without Auto CAD. It is a professional but accessible-to-use PDF to DWG converter for all Windows users. With it, after clicking the Convert button, the PDF to DWG/DXF conversion will be started automatically and finished in seconds.
Moreover, you can simultaneously convert multiple PDF drawings to DWG without quantity limits. Furthermore, you can convert DWG to PDF, turn DWG to DXF, change AutoCAD versions, edit PDF, merge PDF, and more. All you want about PDF conversion or editing is in WorkinTool software. Just download it and take a free trial.
📌 The Best PDF to DWG/DXF Converter Offline – WorkinTool

 Support Each File within 2MB for Free | $10.99/Mon, $19.95/yr, $25.95/Lifetime

🥇 Only three moves to easily save PDF as AutoCAD (DWG/DXF).
🥈 Instantly convert PDF to DWG, DWG to PDF, and DWG to DXF.
🥉 Batch transformations without losing quality.
🏅 Unlimited times to use all 20+ PDF tools.

🏅 No ads, junk email, or watermarks in WorkinTool.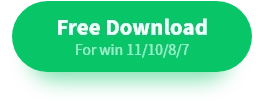 ✨ How to Convert PDF to DWG in WorkinTool Offline
Step 1.

 

Free download and install WorkinTool PDF Converter on your desktop. Next, go to Convert to/from PDF > PDF to DWG to select your PDF drawing file.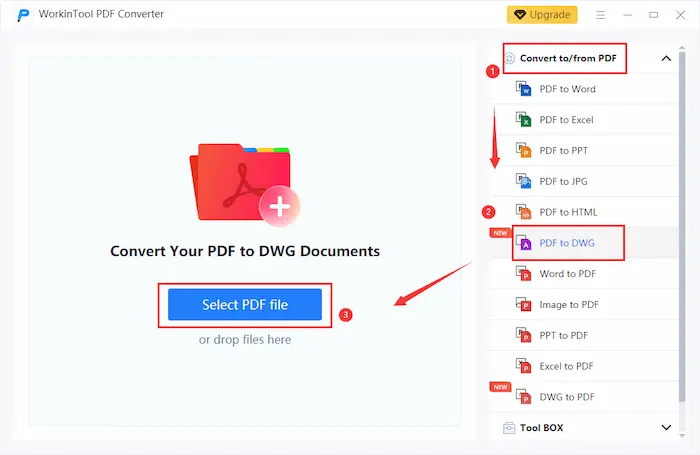 Step 2. Press the Add file button to add more PDF documents as needed. Then select one export format: Convert to DWG or Convert to DXF.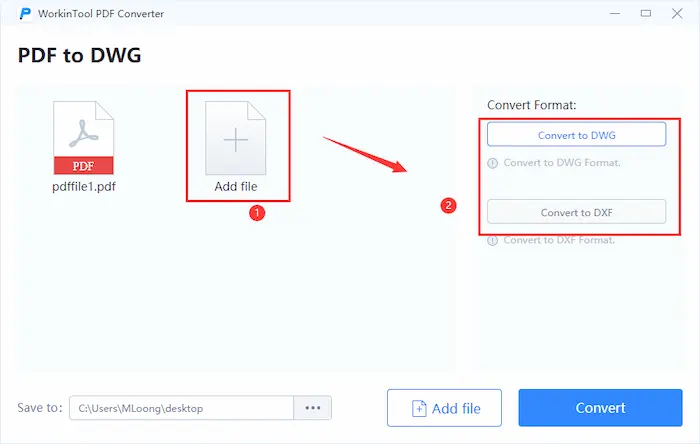 Step 3.

 

Click the Convert button to begin the process. Within seconds, you can open your modifiable DWG files on your CAD software.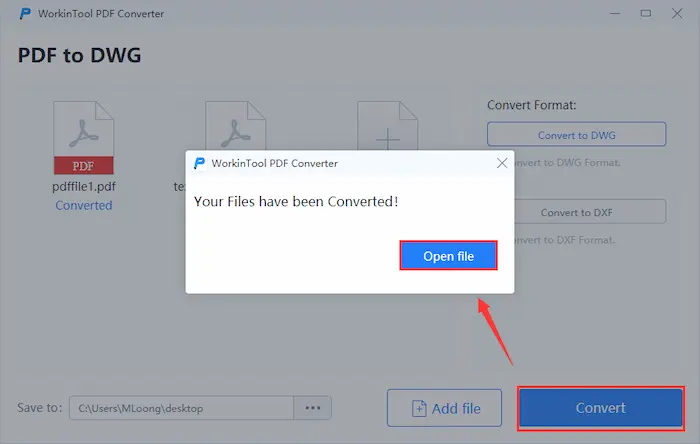 💗 More Guides of WorkinTool
Want to make a PDF to DWG/DXF conversion without downloading any third-party software? An online PDF to AutoCAD converter can help you achieve it. Among various online converters, WorkinTool PDF to DWG Converter Online stands out for its 100% free price, easy steps, and powerful conversions.
As long as you can access WorkinTool online page, you can smoothly and successfully turn PDF into DWG/DXF online for free without registration on any device. Then you can custom edit and delete lines, copy and paste the drawing, modify the data text, etc. Moreover, WorkinTool online program provides 40+ other tools without charge, such as DWG to JPG, DWG to PDF, Change AutoCAD Version, etc.
🐰 Notes:
The uploaded files will be deleted from WorkinTool online server after 24 hours. Moreover, you can only upload at most four files at a time, and each file should not exceed 2 MB. If you want to enjoy unlimited conversion, you are suggested to upgrade to the Windows version pro with $10.99/Mon, $19.95/yr, $25.95/Lifetime.
✨ How to Turn PDF into DWG/DXF Free with WorkinTool Online
Step 1. Jump straight into WorkinTool PDF to DWG Converter Online page. Then touch the + icon or drop your PDF file to WorkinTool online server.
Step 2. Click the

+

 button to import more PDF files to convert to AutoCAD. Next, choose the desired export format from DWG and DXF.

Step 3. Hit the Convert and Download button to get what you want in a flash.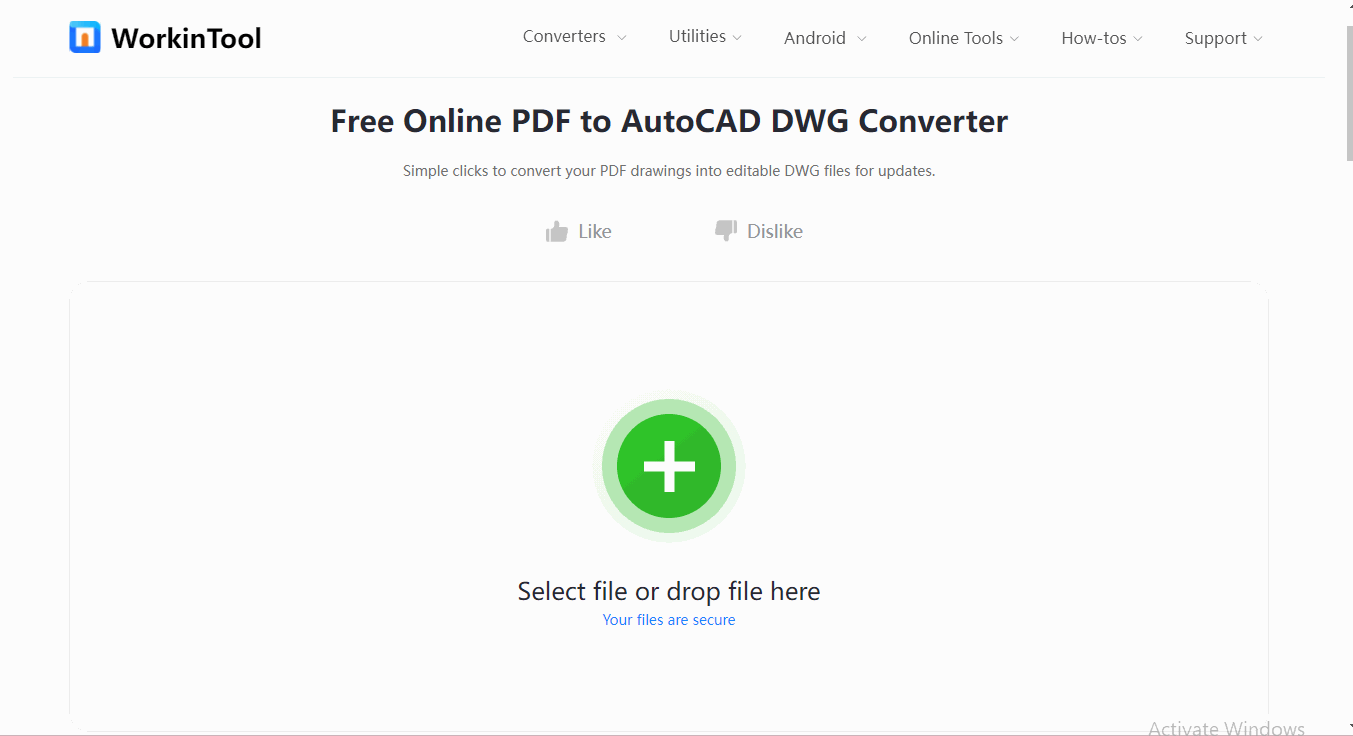 FAQs – How to Convert PDF to DWG/DXF
🧐 How do I convert Adobe PDF to DWG?
If you want to convert Adobe PDF to DWG, you cannot make it in Adobe, but WorkinTool PDF Converter can do it with several clicks. Let's check the easy tutorial together.
Firstly, navigate to Convert to/from PDF > PDF to DWG to insert your PDF files.

Secondly, select one output format: DWG or DXF.

Finally, tap the Convert button to start the process.
🧐 What is the best PDF to DWG converter?
It's hard to speak out the name of the best PDF to DWG converter since different people have different selection considerations and criteria. However, there are some qualified and well-performance converters, both online and offline, which you can reference.
WorkinTool PDF Converter [Online & Offline]

Zamzar [Online]
CADSoftTools [Online]

AutoCAD [Offline]

…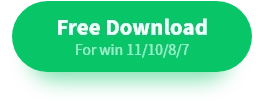 ---
The Bottom Line
In a word, converting PDF to DWG/DXF will not be a problem that troubles you a lot if you find a suitable tool. And this post explains how to convert PDF to DWG in or without AutoCAD for free. And you can find the right solution in this post whether you want to perform PDF to DWG conversion online or offline. Let's turn your PDF into DWG/DXF and edit your drawing files together!