How to Print a Password Protected PDF in Easy Ways
If you wonder how to print password protected on a computer, you can try effective PDF editing software here. It helps you remove the password from a PDF file in a few steps. As a powerful PDF reader and viewer, you can use it to print the unlocked PDF directly.
How to Print a Password Protected PDF in Easy Ways
With the rising copyright awareness and the increasing alertness of data security, office workers prefer to add passwords to their critical PDF documents. Although passwords in a PDF guarantee file safety, it also makes the file more difficult to transmit and print. If a PDF file is password secured, you may need to remove the security code and then print the PDF. In this article, I'll show you how to print a password protected PDF in the most straightforward ways on both the Windows and Mac systems. You can obtain effective PDF password processors here.
How to Print a Password Protected PDF on Windows
There are two options for you to print a secured PDF document if you know the password. On the one hand, you can choose to remove the password from the PDF and then print it with expert PDF processing software. On the other hand, you can use the built-in web browser, which can also open and edit PDF files. The solutions below are under the premise that you know the password in the PDF file. In detail, see how to print a secured PDF in these two ways in the following instructions.
📌 Print a Locked PDF with WorkinTool PDF Converter
WorkinTool PDF Converter is a multifeatured PDF processor. It is capable of giving you free and easy solutions to cope with PDF issues. You can use it to protect and unlock PDFs, convert PDFs to other fillable formats, compress PDF file sizes, process watermarks on a PDF, remove signatures from a PDF, view and edit PDFs with various tools, etc. With its straightforward user interface, beginners can effortlessly process PDF files. Most importantly, it is free to use, even for the advanced features. No watermarks on the converted PDF, not to mention other hidden catches. This software ensures your file security and personal information by deleting the uploaded file directly and asking for no registration throughout the usage. However, except PDF Reader and PDF Edit, you can only upload single file within 0.5 MB for free.
How to print a password-protected PDF with WorkinTool PDF Converter
To print a PDF with a password, you must first remove the security code from the PDF.
First, open the WorkinTool PDF Converter and navigate to Toolbox>Unlock PDF. Select your secured PDF from the folder or drag and drop it.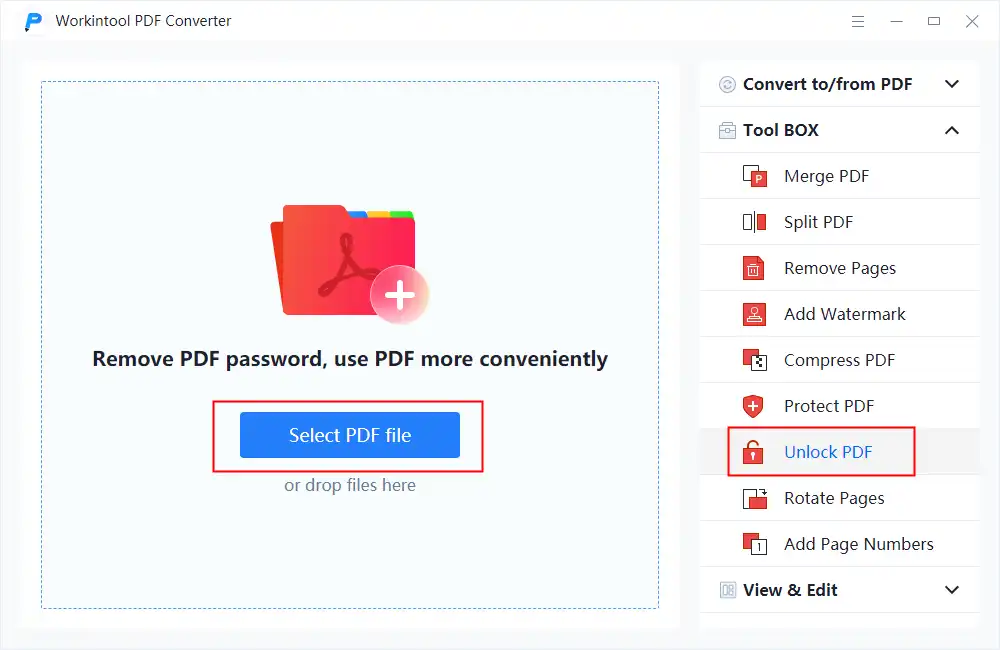 Next, input the password in the PDF, then press Unlock to remove it.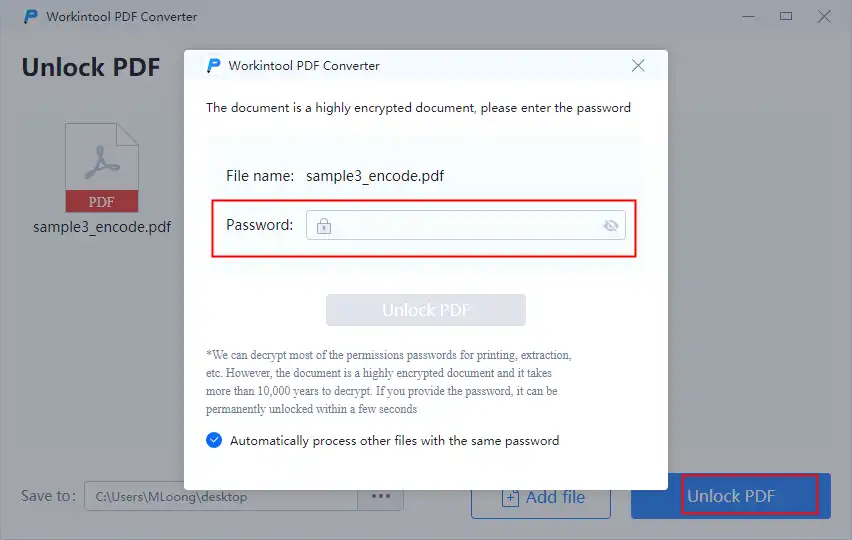 Step2. Print the unlocked PDF.
Go to the View & Edit menu bar, then select PDF Reader to upload the unlocked PDF.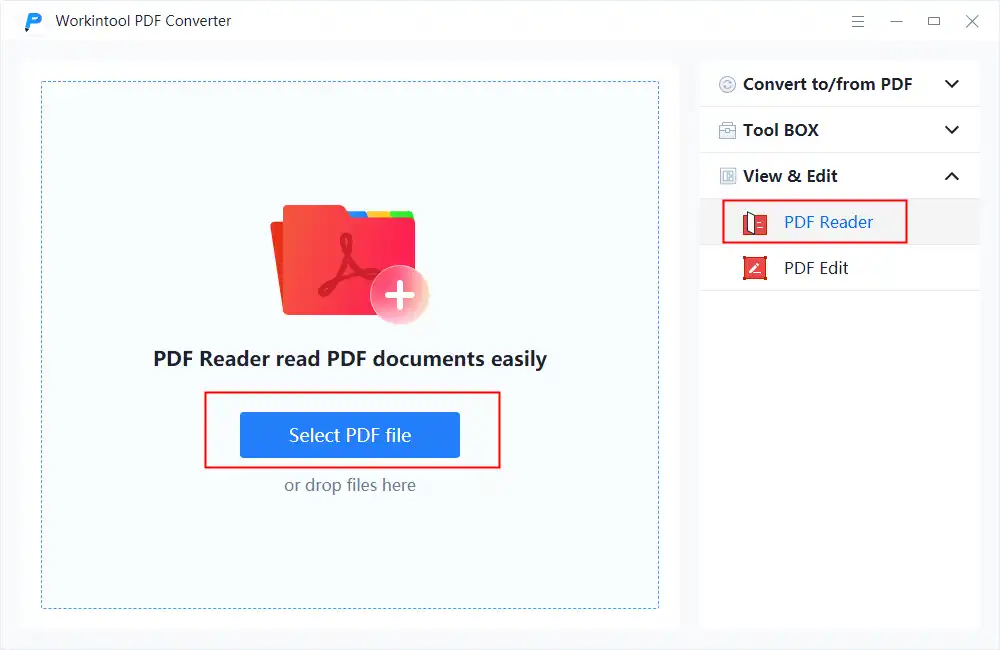 Click the Print button on the toolbar, decide on the printer and PDF pages to perform, and press Print to start.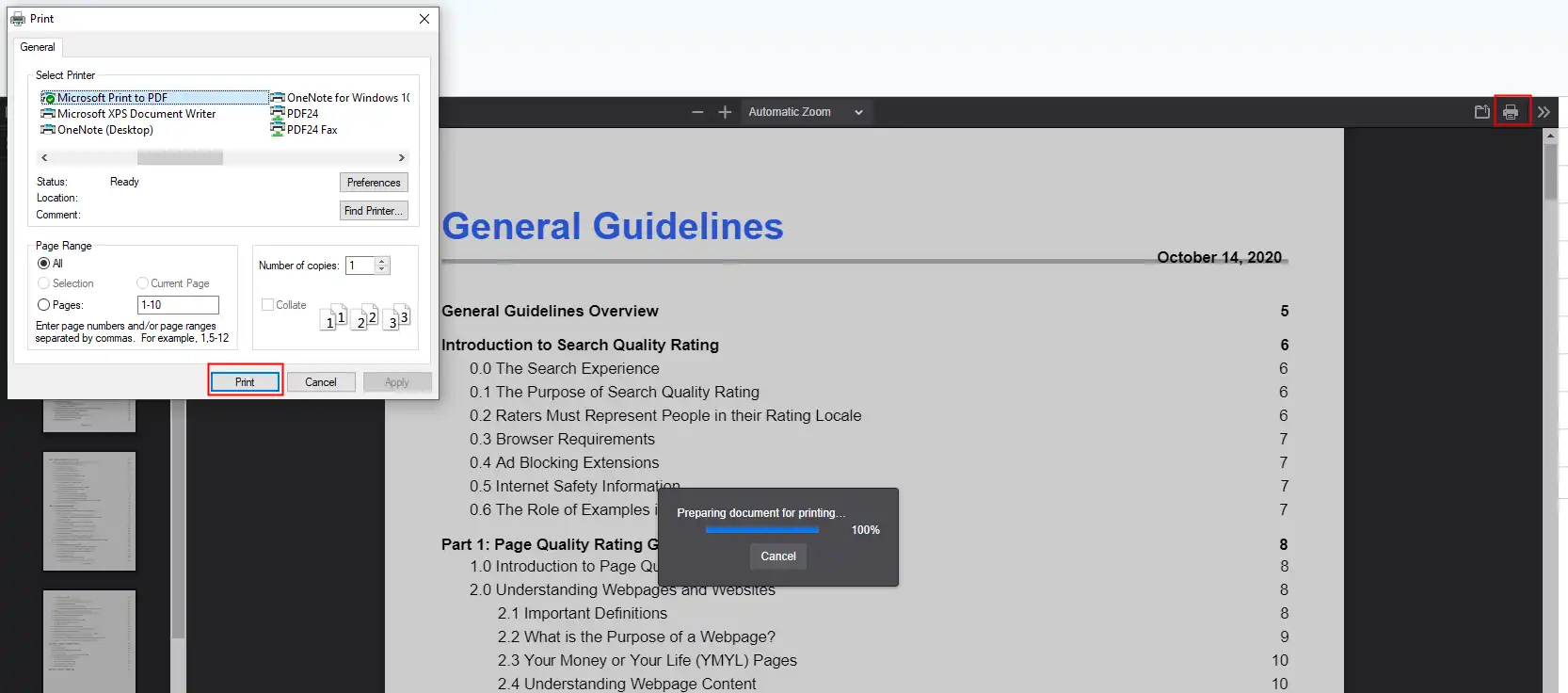 More to Share: Unlock and Print PDF Online
If desktop software is cumbersome, you can try to unlock and print your PDF online. WorkinTool PDF Converter also has its online counterpart. It is more accessible and available on any device than the desktop version. However, there are some limits on the uploaded file for the online version. In the first place, you can upload a PDF within 0.5 MB. In the second place, you can import up to four PDF files in one go. If you are careless about these restrictions, you can have a trial to print a password protected PDF online.
How to Unlock PDF Online and Print It
Step1. Navigate to the WorkinTool Online PDF webpage. Then select the Unlock PDF feature to upload your file.
Step2. Enter your password, then click Unlock to remove the code. Then download it to your PC.
Step3. Go to the PDF Editor online page, then import the recently unlocked PDF. Click the Print button on the menu bar to print it.
📌 Print a Password Protected PDF Using Microsoft Edge
Microsoft Edge is one of the best web browsers with Windows systems, which can also cope with PDF and image editing troubles. As for the PDF documents, Microsoft Edge allows you to edit PDFs with texts, drawers, highlighters, etc. One of the benefits of using it to print a secured PDF is that you don't have to install other programs. It is free to use and available on Windows, Mac, Android, iOS, etc.
How to print a password-protected PDF file with Microsoft Edge
Step1. Right-click on your locked PDF, then choose to open it with Microsoft Edge.
Step2. Type in the PDF password, then click on the More button>Print.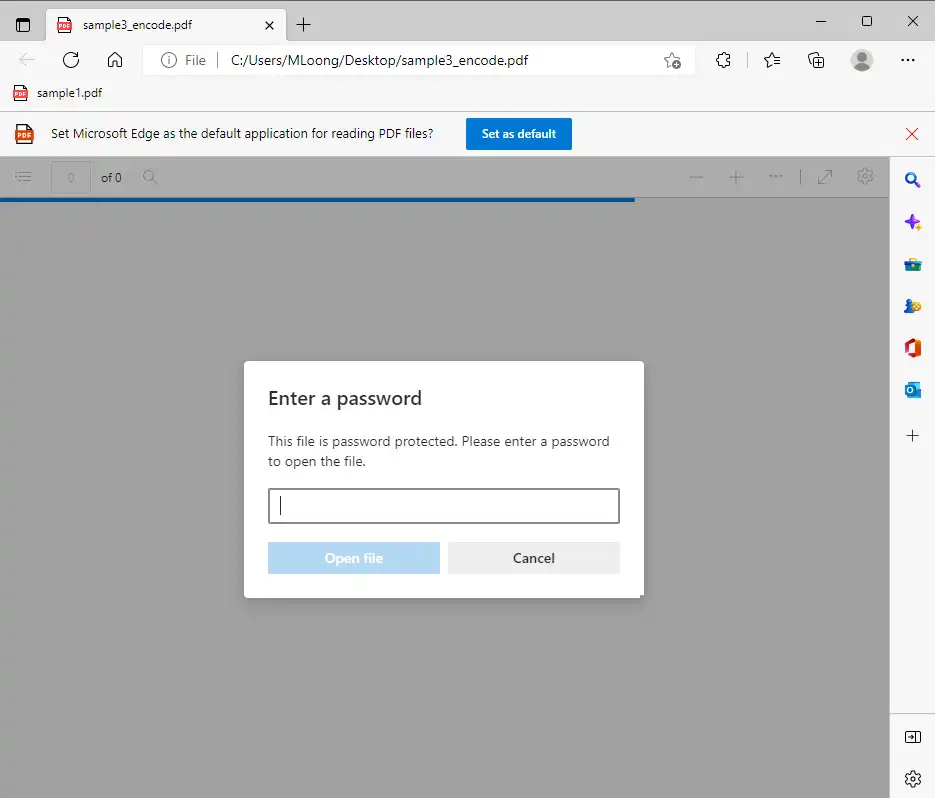 Step3. Set up the printer and the PDF page parameter, then press Save.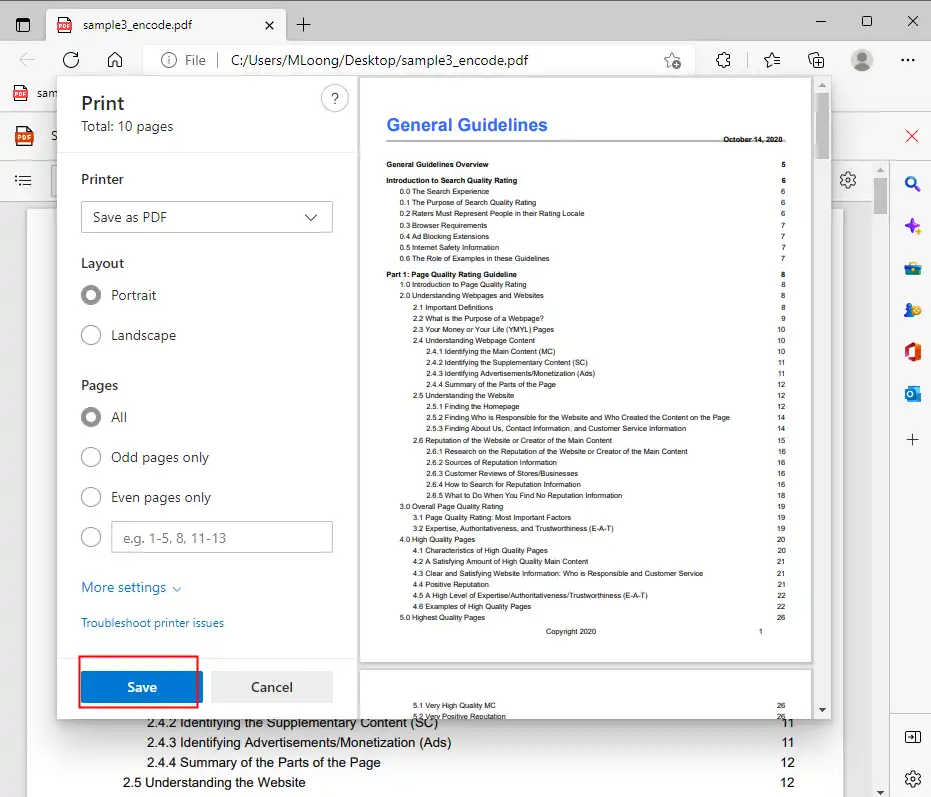 How to Print a Secured PDF on Mac
Things become more manageable if you want to print a secured PDF on the Mac system. With the default PDF processing software on Mac, you don't have to be bothered with various PDF unlocking software.
Print a PDF with Password with Preview
Preview is a built-in file processor on the macOS system. It is an offline PDF, image viewer, and editor. Many users seek it because it supports as many file formats as possible. Except for viewing and editing PDFs, it is also endowed with multiple PDF editing tools. Although it is not as extensive as a professional PDF editor like Adobe, it can effectively meet the needs of ordinary officers.
Check how to print a password-protected PDF with Preview on Mac
Step1. Open the Preview, then select File>Open to upload your PDF document with a password.
Step2. Type in your password, then click the print button to print the secured PDF.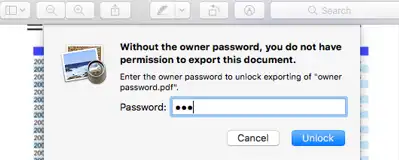 Wrapping Up
In this post, I talked in detail about how to print a password-protected PDF. Considering the data security, you need to know the password first, then make it unlocked. Nearly all PDF editors in the field ask for the password, and then they can remove it. Just imagine if these tools can easily print encrypted PDFs without passwords. What file security and personal privacy are there? Therefore, you must first enter your password and remove it if you need to print a locked PDF. PDF editors recommended here can effectively and efficiently tackle PDF passwords. You can select one to figure out your problem.