How to Strikethrough in PDF for Free 2023
We need to learn how to strikethrough in PDF in case we have to delete unnecessary information, correct errors, and cross out what has been done before. Speaking of PDF editing, the first PDF editor that comes to mind must be Adobe Acrobat among a number of people. It is indeed the leading PDF editing software. However, this article introduces another free and multifunctional PDF editor as well. Head further and you will know how to add a strikethrough in PDF with the free PDF editing software and in Adobe Acrobat.
How to Strikethrough in PDF for Free 2023
Do you know how to strikethrough text in PDF? This is not the same as redacting a PDF file, which deletes the original text and formatting permanently. Sometimes we need to delete unnecessary information in a PDF document or tweak incorrect data when examining a file, but keeping the original content for comparison. It also works to strike out missions that have been completed.
In this case, we should learn how to redline in a PDF by using powerful PDF editors. It is not rocket science. This article explains two simple but practical ways on how to strikethrough in PDF with a free method included. Head further to learn more!
How to Strikethrough in PDF for Free
WorkinTool PDF Converter is a multifunctional PDF processor based on the Windows system. Its long-term free plan makes it stand out from other PDF annotators in the market. You don't have to make a license payment or pay a high service fee to enjoy its tools in WorkinTool PDF Edit. The free browser version of WorkinTool PDF editor also enables you to strikethrough PDF online, bringing convenience to those who don't own a Windows device.
Speaking of its features, you can strikethrough, underline, squiggle, and highlight in PDF documents with no hassle. Other than the basic functions, it also covers everything you need. It is a powerful PDF editor that provides versatile features. You can annotate a PDF, batch convert PDF to and from Word, Excel, PPT, images, and HTML, and use other tools to edit PDF pages, size, password, and so on.
How to strikethrough in PDF with WorkinTool PDF Converter
The steps are easy to follow. In this process, you can learn how to underline, squiggle, and highlight text in a PDF document as well.
1. Open a document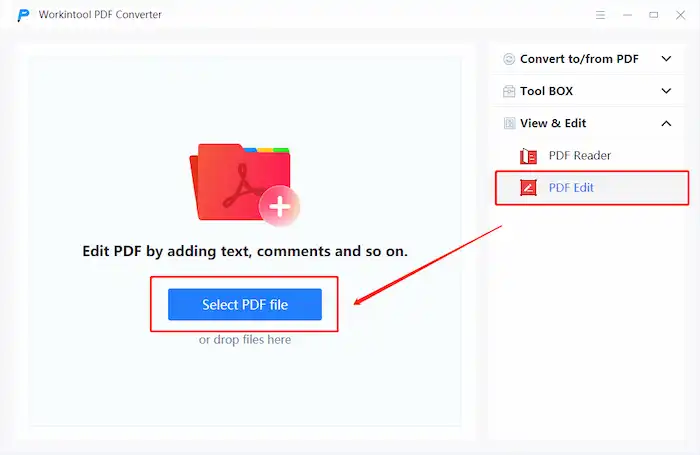 Open WorkinTool PDF Converter, and you'll see a clean interface with three sections on the right panel: Convert to/from PDF, Tool BOX, and View & Edit. You need to click on View & Edit first and choose PDF Edit to upload a PDF file. Then you'll step into the editing panel, where you can add or remove whatever you want on a PDF file.
2. How to Strikethrough in PDF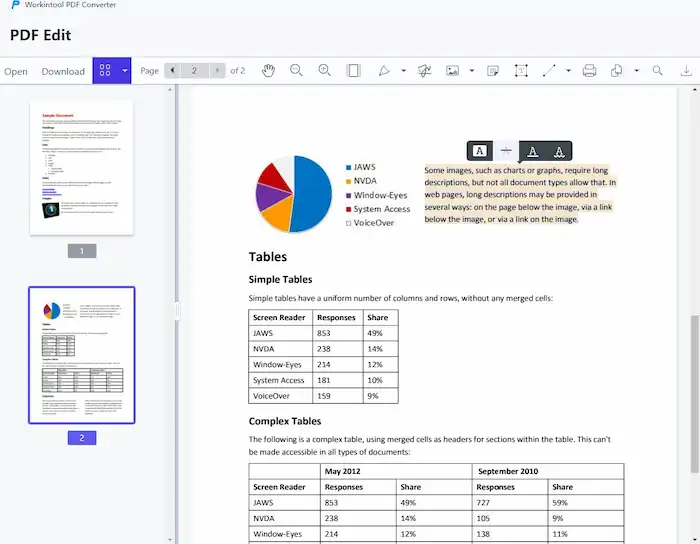 After getting into the editing panel. You can read and edit it without any hassle. Just scroll down to find the text you want to cross out, click and hold on your cursor to select the content, and a tool pop-up will appear reminding you to add styles to a PDF. Choose the second icon where there is a line in the middle of the letter A, and you've scratched through a PDF successfully. You can change the line color if desired. This pop-up tool also allows users to underline, squiggle, and highlight text in PDF.
3. How to remove strikethrough in PDF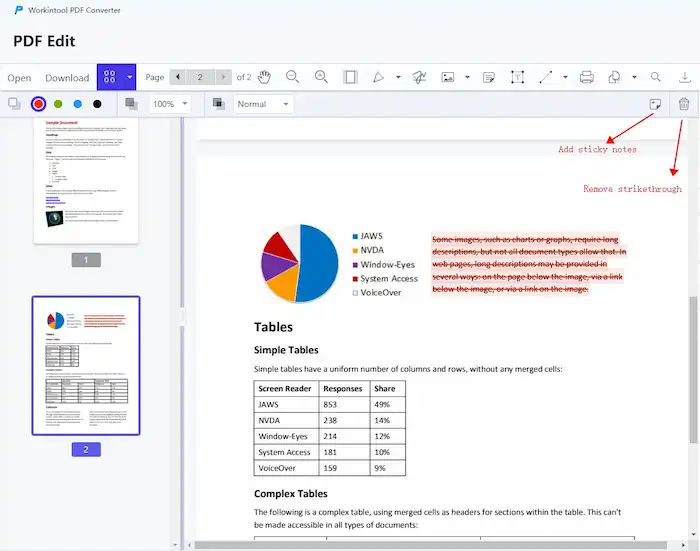 When the text is crossed-out, click on the red line and press the Delete button, so you can remove the strikethrough in PDF. You can also add sticky notes by pressing the top right Note icon to explain your reasons to do a strikethrough in PDFs.
4. Save the edited files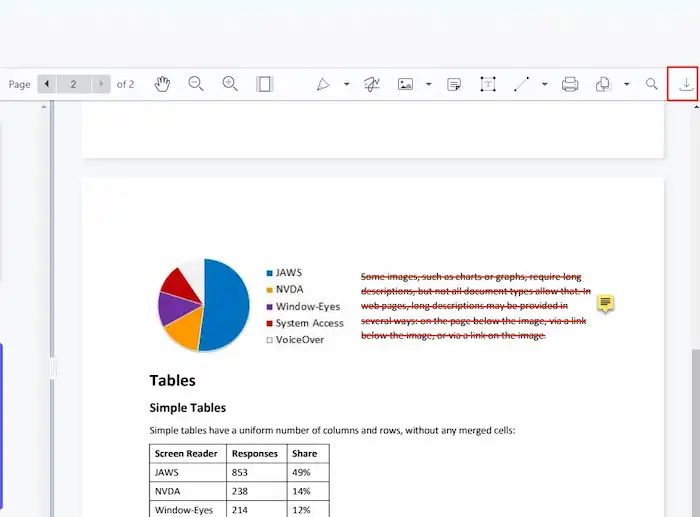 There is a row of tools including drawing, signing a signature, adding images and stamps, adding sticky notes, inserting text, drawing lines and shapes, cropping PDF pages, and so on. You can use all the features utterly free if desired. When editing is done, press the top right downward arrow icon to save a copy of your PDF file.
How to Strikethrough in PDF with Adobe
When we speak of PDF editing, the first tool that comes to mind is Adobe Acrobat. This is indeed an industry standard for PDF editing, creating, converting, and so on. Adobe Acrobat Pro DC is a strong PDF annotator which allows users to strikethrough text in a few clicks. Other than the basic editing and marking tools, it also supports adding new attachments such as files and audio, which is concerned as the most staring privilege meanwhile Adobe Acrobat strikethrough.
However, all the features come at a cost. It charges $14.99 monthly, which makes people who don't want to cost or can't afford that flinch from Adobe strikethrough. But it is indeed a wonderful choice for those who are willing to pay for it.
How to use strikethrough in Adobe Acrobat Pro DC
1.  Upload a PDF document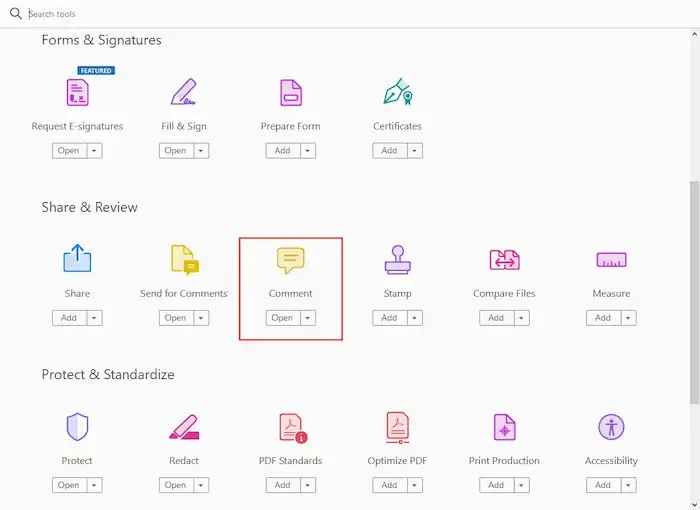 How to strikethrough in PDF with Adobe Acrobat? After installing, open the software and click on Tools at the top. You'll see an interface with multiple features. Scroll down to the Share & Review menu and click on Comment to upload a PDF file for strikethrough.
2. How to cross out text in PDF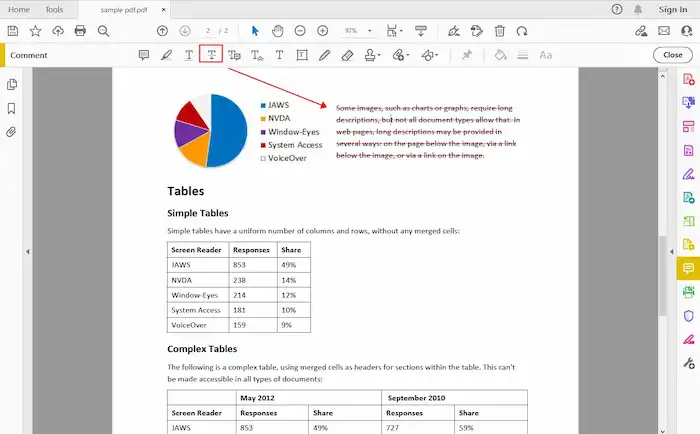 In the Comment panel, choose the Strikethrough text icon from the toolbar, and click to select the content you'd like to strike out, then the text will be successfully deleted without redacting the original content. You can also click on the crossed-out text to adjust the line colors.
3. How to remove strikethrough in PDF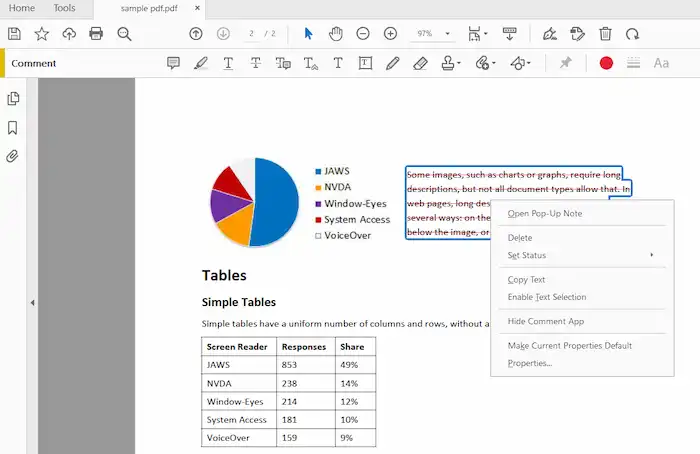 You just need to right-click on the strikethrough you added and you can successfully remove it in no time.
4. Export the edited files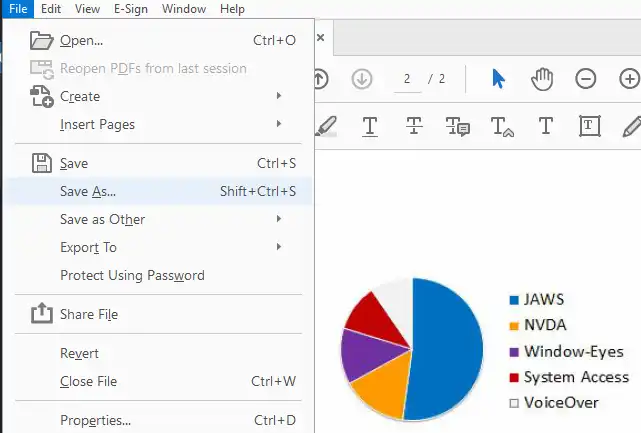 The Adobe Comment tool enables users to add sticky notes, highlights, text boxes, stamps, and attachments as well. You can use them flexibly if desired. When the work is done, click on the top left File then select Save as to export your PDF files.
Comparison of the Two PDF Editors
WorkinTool PDF Converter
Adobe Acrobat Pro DC
Free to upload single file within 2MB (But PDF Edit and PDF Reader are free without limits.)

Paid ($10.95/month, $19.95/year, 25.95/lifetime)

A 14-day free trial

Paid ($14.99/month)

Multiple features
Multiple features
Easy to use
Easy to use
Windows
Windows and Mac
Free online version available
Free online version available (Denied in some browsers)
Bottom Line
This article explains how to strikethrough in PDF with the free PDF editor WorkinTool PDF Converter and an industry-standard but paid PDF editor. Each of them is multifunctional, fast, and easy to use. I believe you already have a clear understanding of how to cross out text in PDF. Now pick one and start editing the PDF strikethrough at your disposal.