How to Remove Text from PDF for Free [2023 New Methods]
Use this PDF Converter to eliminate unnecessary or sensitive words, links, and other kinds of text without spending any penny. This tool allows you to remove the existing text in a PDF or the later annotations added to a PDF. It can automatically recognize and delete the text in a PDF without making the background blur.
How to Remove Text from PDF for Free [2023 New Methods]
PDF has become one of the most popular file formats in the office. The reason is that it is convenient to transform and won't lose the formatting on any device or platform. However, it is not easy to modify. If you need to make some PDF changes, you must rely on professional PDF editors. When we process PDF files in the daily office, we may encounter the case that we need to delete some wrong words or sensitive texts in a PDF file. This post explains how to remove text from PDFs for free offline and online. You can access an effective PDF converter and detailed instructions here.
How to Remove Text from PDF on Windows
In fact, there are plentiful PDF editors for Windows. However, most of them are paid. As for some claimed free software, either of them only provide a short-term free trial or have several hidden catches for free users. It is time-consuming to install a genuinely effective and costless one.
This WorkinTool PDF Converter is what I'd like to recommend to you. New to the field, WorkinTool offers all users a long-term free trial without any limits. It provides nearly 90% PDF solutions. For instance, you can use it to convert PDF to/from Word, PPT, Excel, JPG, etc., reduce PDF file size, edit PDF with text, brush, annotation, bookmark, highlighter, etc. It provides a simple user interface so that novices can use it to process PDF files without effort. No login is required to have a free trial of this PDF converter as well. So, you can finish the PDF conversion in seconds.
How to use WorkinTool PDF Converter to remove the text over a PDF?
If the text is a comment added to the PDF later, it is easy to remove it. The inbuilt PDF editor in WorkinTool PDF Converter can effortlessly erase it off.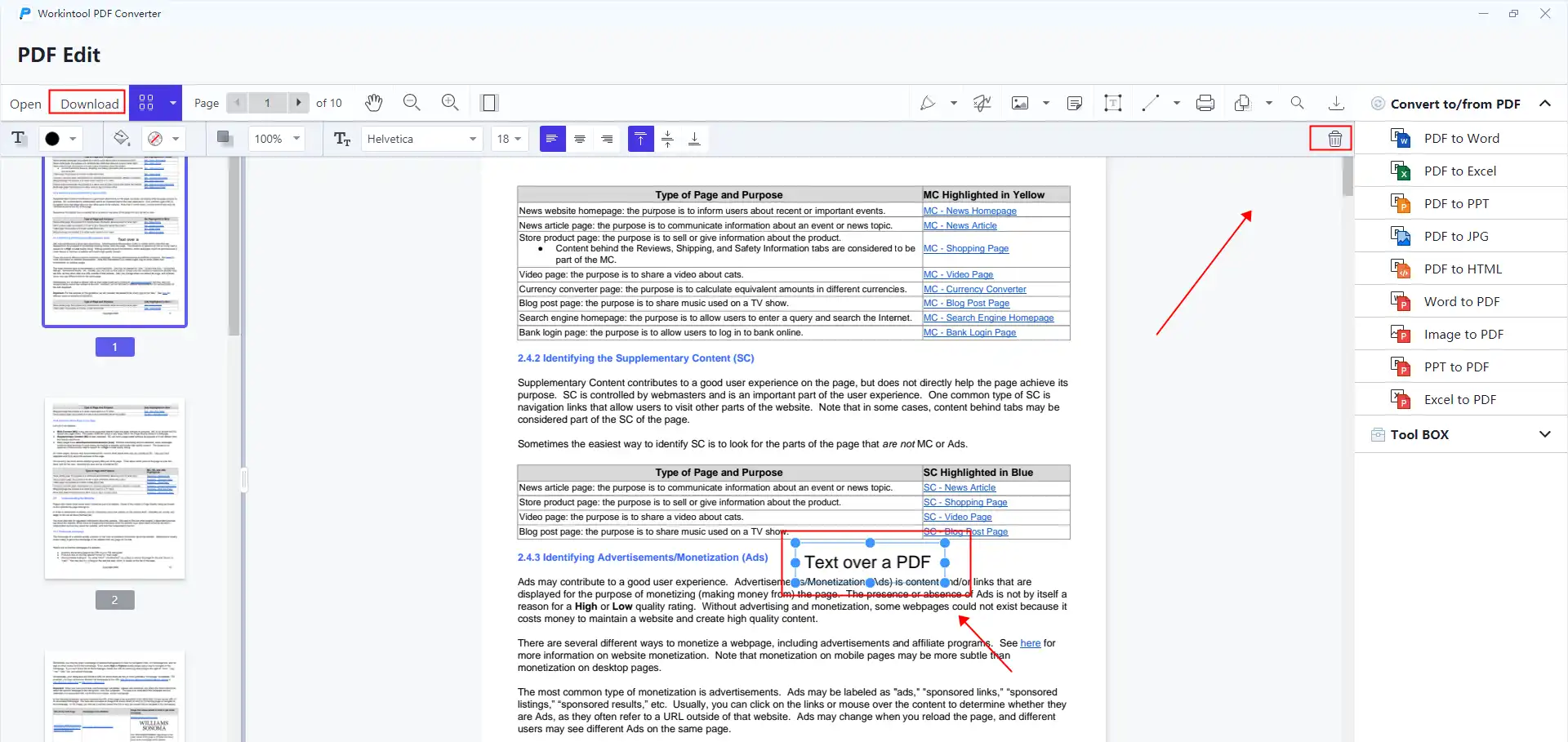 Open WorkinTool PDF Converter and select View& Edit to upload a PDF file with text.
Click on the text box in the PDF and hit the delete icon.
After removing the text over the PDF, press the Download button to save the edited PDF.
How to delete the existing text in a PDF with WorkinTool?
If you need to change the existing words in a PDF, you can choose to convert the PDF to a fillable Word document. To do so, you can remove any text from a PDF file. WorkinTool also allows to you convert the edited Word file to PDF.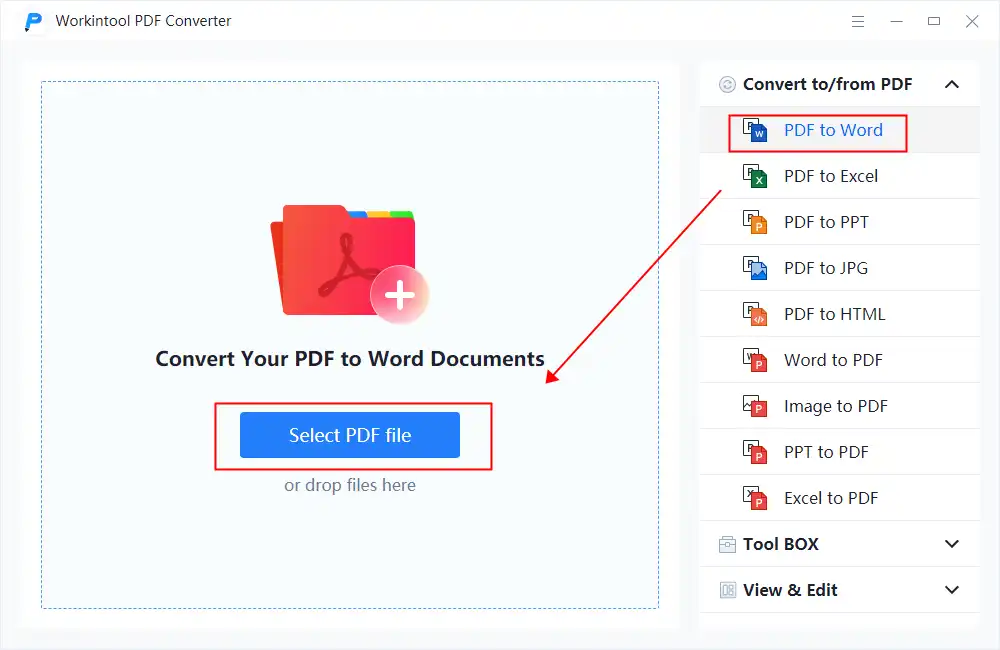 Run the software and find PDF to Word under the Convert to/from PDF category.
Upload a PDF file, and press Convert to change the PDF to Word.
Edit the text in Microsoft Word and convert the file to PDF with WorkinTool PDF Converter.
More Tutorials of WorkinTool PDF Converter
How to Delete Text in PDF Online
If the program is cumbersome for you, you can try online PDF converters to delete text from the PDF. WorkinTool PDF Converter also explored its online counterpart that can directly delete text from PDF. It is easy and fast to operate. You only need to add the exact word. It will automatically recognize the text you want to delete and remove it without losing the PDF background. Batch operating is also feasible. You can upload up to four PDF documents simultaneously and extract text with only one click.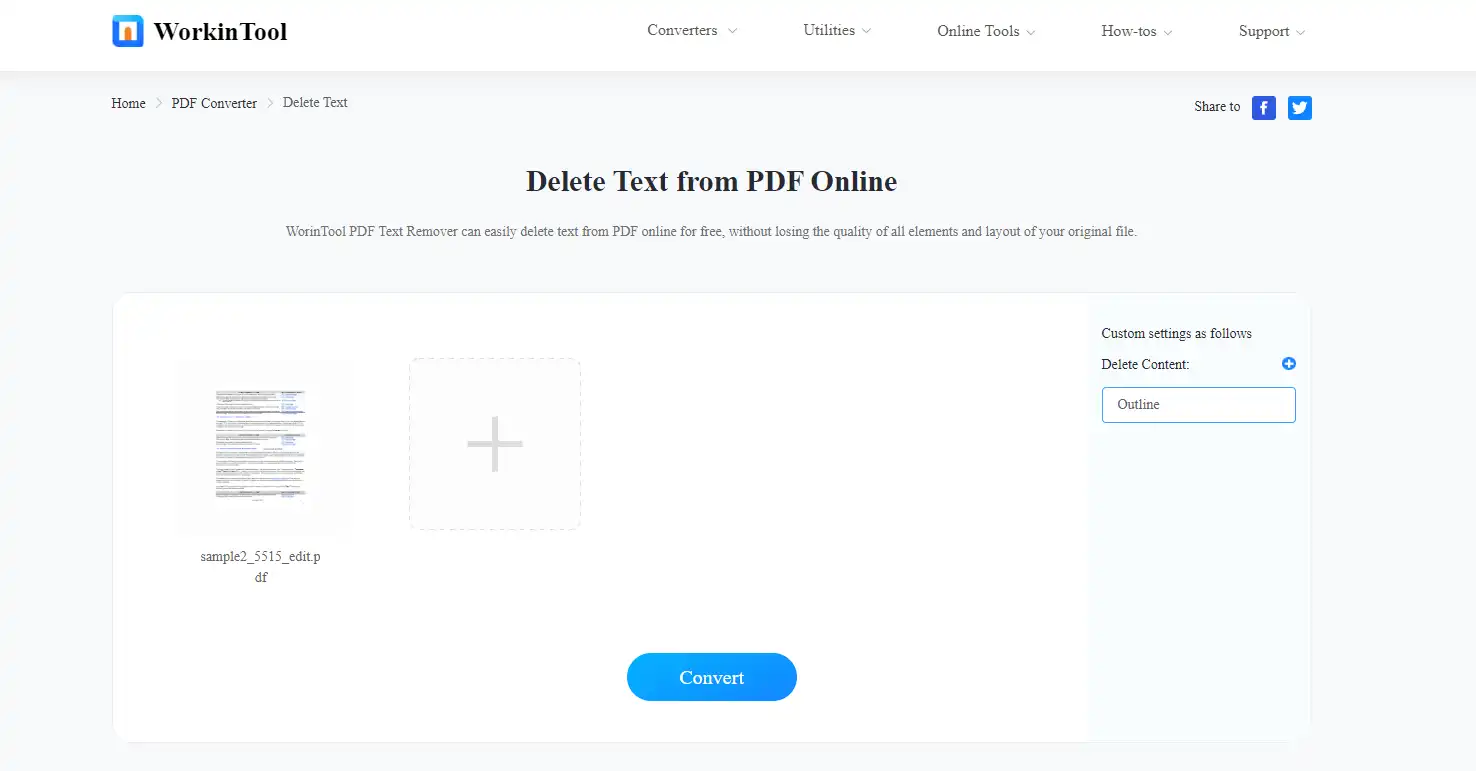 Go to the WorkinTool PDF Online Tools and find Delete Text from PDF.
Import your PDF document by selecting it from the folder or dragging it.
Type in the text you want to remove. Then click Convert; it will automatically remove the text from your PDF.
Bonus: How to Delete Text in a PDF with Adobe Acrobat
Adobe Acrobat is a well-known PDF editor available on any system, such as Windows, Mac, Android, and iOS. It can effortlessly cope with all PDF editing and conversion issues. But it is not for free, and its license payment is relatively high. If you are a new customer of Adobe, you can possess a seven-day free trial. In that case, you can use Adobe to figure out PDF issues. But to get the free trial, you need to fill out the payment information. And after seven days, you will need to determine whether to cancel or continue the subscription.
See how to remove PDF text using Adobe Acrobat step by step.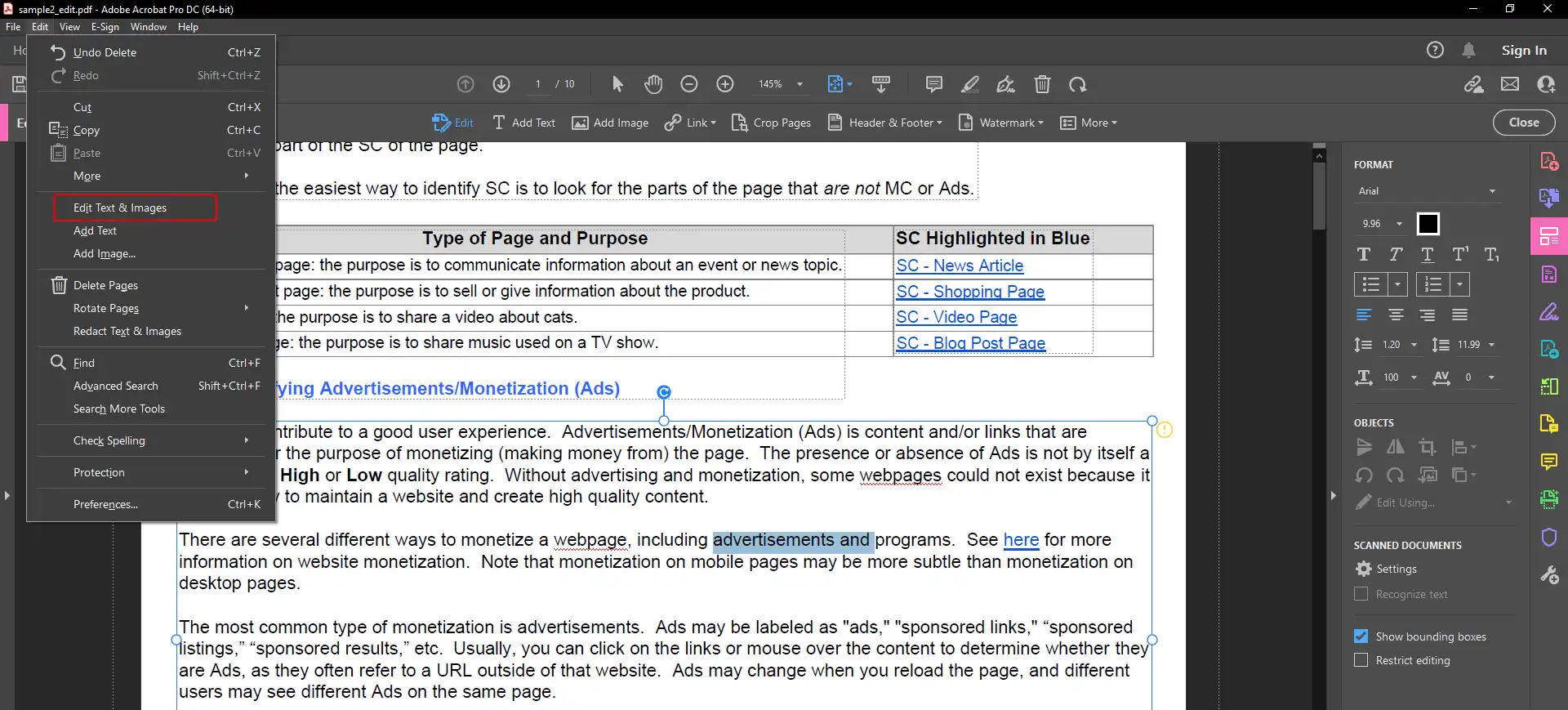 Open the PDF file in Adobe Acrobat. Find File in the top left menu bar and select Open to upload a PDF.
Select Edit> Edit Text & Image, then recognize the text automatically. Then erase or replace the text in a PDF as you like.
Choose file> Save to export the edited PDF file.
Comparison of Three Methods
All three methods introduced here can help you effectively and quickly remove text from a PDF. Here is the concluded comparison of the three ways.
WorkinTool PDF Converter desktop version: It is comprehensive and easy to operate. It allows you to remove the text over a PDF and existing texts. But the latter needs to convert it to other formats.
WorkinTool Online PDF editor: This tool lets you directly delete text in a PDF without installing a desktop program. But in contrast, it has fewer features than the desktop file, and it has limits on the uploaded file size and number.
Adobe Acrobat: It is authoritative and powerful to process PDF troubles. And also, it supports all kinds of devices and systems. However, it costs highly and provides only a seven-day free trial for new users.
Wrapping Up
After your comparison, you can select one of them to figure out the PDF issues.