How to Annotate a PDF File for Free 2022
How to annotate a PDF file for free? Marking up a PDF document will enhance memory and improve work efficiency to a large extent. However, many PDF editors lock the PDF annotating features to free account users. It is not that easy to find solutions to annotate PDFs for free. In this article, we summarize two free PDF editors to add annotations in PDF after testing numerous PDF editing software. Each of them is simple and convenient to use!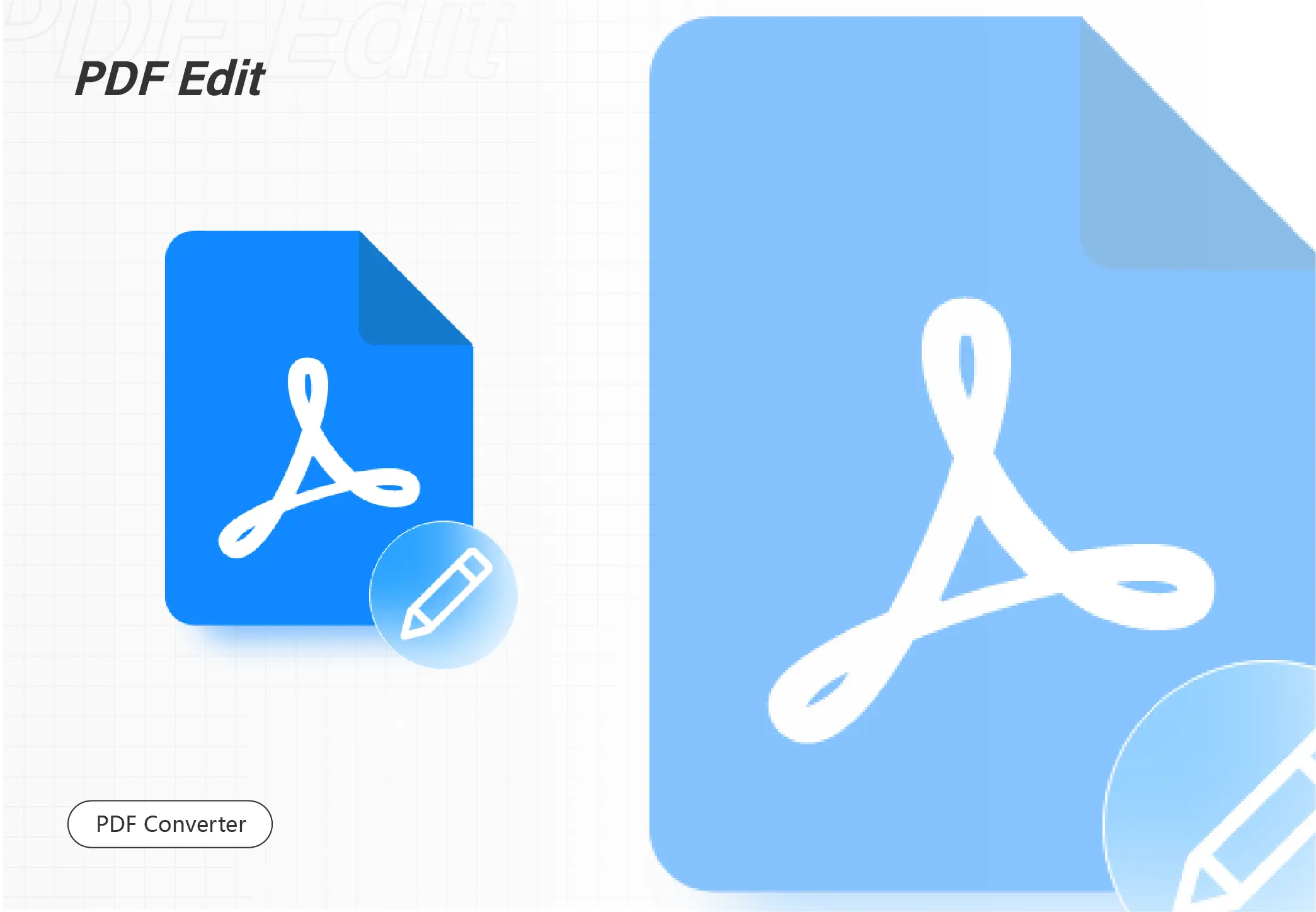 How to Annotate a PDF File for Free 2022
Annotating is a highly efficient solution to help us supplement ideas and organize key information. Adding PDF annotations such as text notes, highlights, signatures, images, shapes, and stamps will be conducive to enhancing memory, facilitating collaboration, and improving productivity. How do you annotate a PDF? Well, annotating PDFs is not rocket science. This article will share how to annotate a PDF file for free on Windows and on Mac. Besides, some frequently asked questions are answered. I believe you'll find what you need in this article after reading it.
---
How to Annotate a PDF Document on Windows
Finding a free, reliable, and powerful PDF editor is not easy. But today you are in the right place! We sincerely recommend an utterly FREE PDF reader and editor to you—WorkinTool PDF Converter. As the name shows, it is software with all-in-one features.  It not only works as a PDF reader and editor but also is endowed with practical converting features. It can convert PDFs to and from any format, including Word, PPT, Excel, Image, and HTML.
As a PDF editor, it allows you to annotate PDF files with text, notes, signatures, images, stamps, shapes, and highlights. So let's have a look at how to mark up a PDF with WorkinTool PDF Converter together. Assuming you've already downloaded this software and gone to "PDF Edit".
1 Add sticky notes
To add sticky notes to PDF files, you should find the "Note" icon on the upper toolbar first. Then change the note style (fill color and note icon), there are five colors available and thirteen icons for different use. After selecting, click on the page where you want to add a note and type in what you want to say to the note box.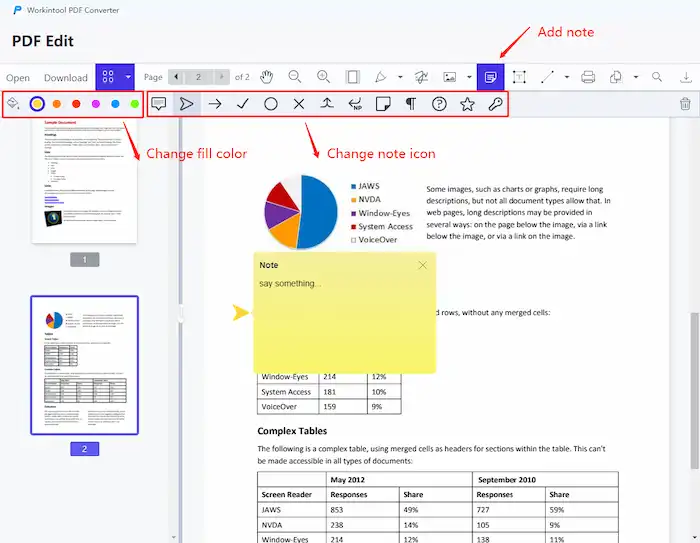 2 Insert images and stamps
To insert an image into a PDF document, find the "Image" icon on the toolbar and click it. Then choose an image on your PC to upload and put it anywhere on one of the PDF pages. You can change the image transparency, add notes to pictures, and drag the frame to resize the picture in this feature.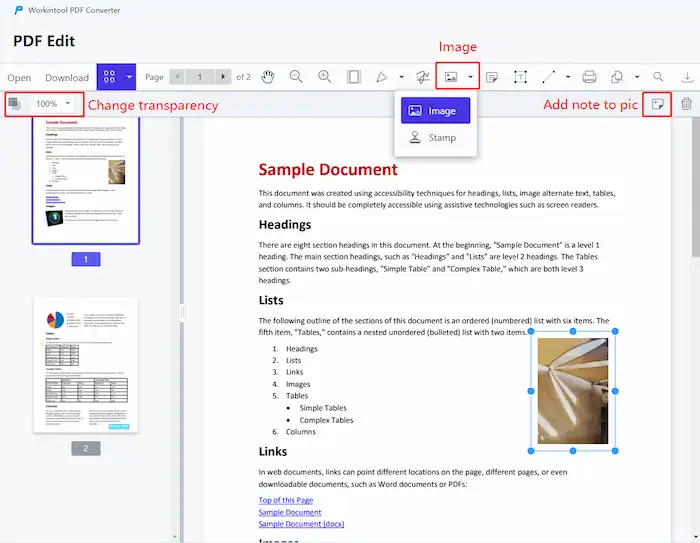 You can also click on "Stamp" in the dropdown menu to add stamps to PDF for free. WorkinTool provides some free existing stamp designs. if you don't like it, it also allows you to custom stamps. To customize a stamp, you need to type in the stamp text first, then choose whether to show the date and time (auto recognition), choose a color you like, and click on "Create Stamp". After creation, adjust its size and location to make it fit on the PDF page.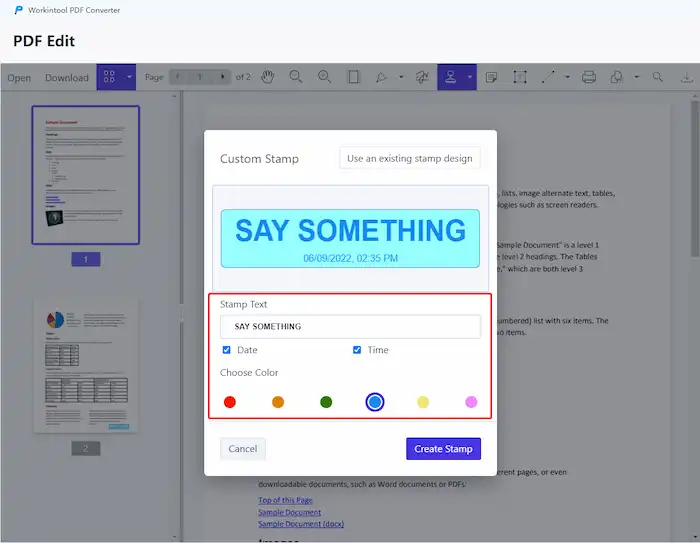 3 Add text annotations
You can type on a PDF document by clicking on the "Text" icon. It allows you to change text color, fill color, and transparency as well. More styles like text font, size, and alignment are at your disposal. After settings, select the area where you want the text to show.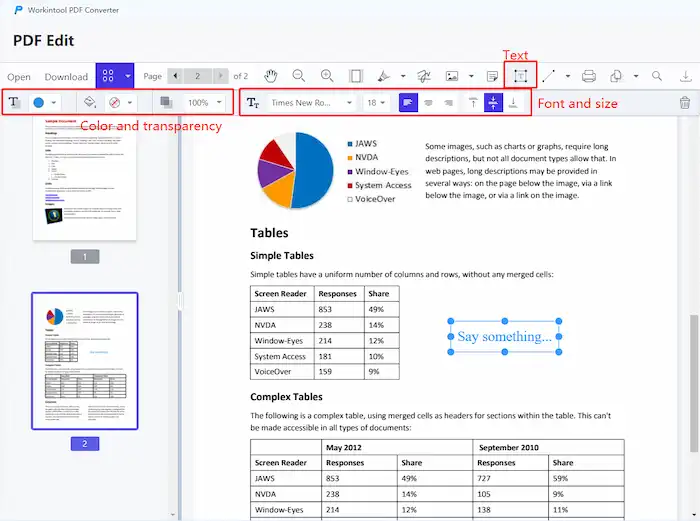 4 Sign a PDF document
You can sign a PDF without printing or scanning. With the "Signature" feature in WorkinTool, you can sign a Portable Document Format online with different colors. Once you add a signature to a PDF document, it will be stored in the cloud, convenient for your next use.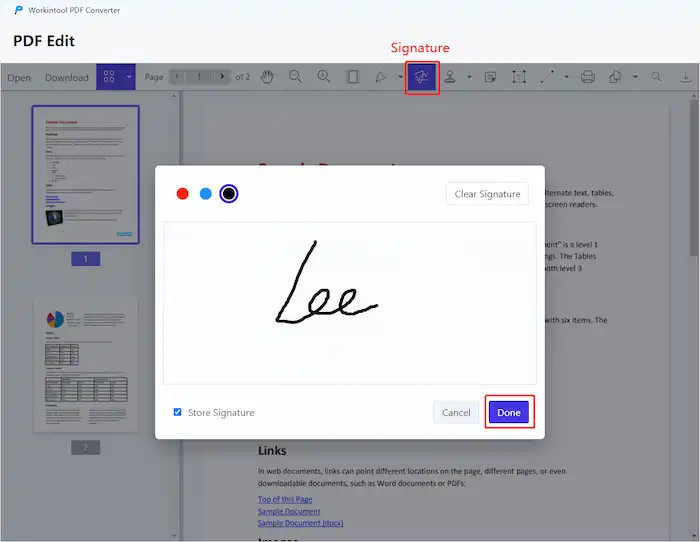 5 Draw annotations on a PDF
Tap on "Drawing", You can select different tools to draw on the PDF. This editor has a free-form drawing brush, a free-form highlighter, and a text highlighter. Click the one you like, and a setting panel will appear, enabling you to configure brush color, fill color, opacity, brush thickness, and blend mode.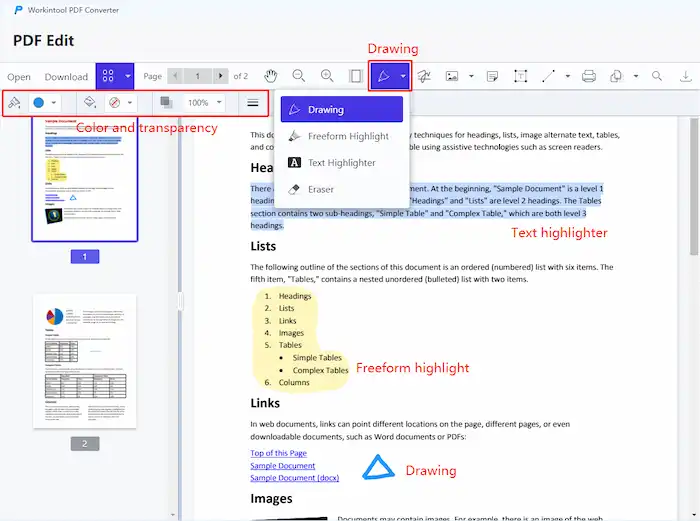 📢Notice
In addition to the above annotation, WorkinTool PDF Converter also entitles users to add watermarks to PDF and draw shapes on PDFs. And these are just the tip of the iceberg. You'll find more surprises when you put it into practical use.
WorkinTool PDF Converter also has its online version, if you want to know how to mark up a PDF without desktop software, head to WorkinTool PDF editor online. The interface and operation steps of the online version are similar to that of the desktop one.
---
How to Annotate a PDF Document on Mac
If you are using macOS, it is easy to mark up a PDF file in Preview, which is a built-in feature on Mac. Therefore, you don't need to download a third-party tool. Now let's take a look at how to annotate a PDF file in Preview on Mac for free.
Firstly, click on "Show Markup Toolbar" in the dropdown menu of "View", or you can press the icon on the top right side.
Secondly, choose tools to mark up on the PDF file. (Preview allows you to type text, create signatures, draw shapes, and add notes and highlights to PDFs.)
Finally, click "Done" to save the annotations in PDF.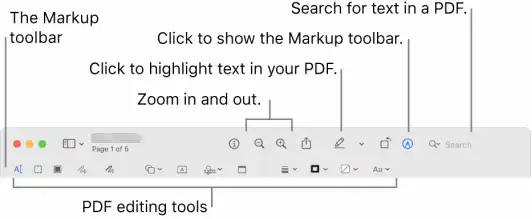 ---
FAQs on How to Annotate on a PDF
Can I annotate a PDF for free?
Yes, you can. With the two free PDF editors mentioned above, you will know how to annotate on PDF without Adobe Acrobat or Adobe Reader, whether you are a Windows or Mac user.
How do I annotate a PDF in Chrome?
In other words, how to annotate a PDF in Google Drive? You can do it through Google Docs or other online PDF editors. As a note, Google Drive only has storage of up to 15 GB, which is quick to run out. Also, opening PDF files with Google Docs may lose the original formatting. In addition, other online PDF editors that can connect to Google Drive usually lock their premium features to free plan users.
---
Conclusion
We talked about how to annotate a PDF on Windows, Mac, and online in this article. I believe this article can answer your questions about PDF annotating/markup. Hope you can find the best way to annotate PDFs.
Products Reviews:
TrustScore
4
|
323
reviews