How to Record Audio on Android with High Quality
How to record high quality audio on Android phones? Read this article, and you will get the easiest and most versatile voice recorders for Android phones, including native recorders and third-party recording tools. If you are searching for an all-in-one voice recorder suitable for any Android device, you can't miss the tool in this post then.
You will get:
1. How to record audio via built-in sound recorder on Android
2. How to record high qulaity audio on Android phones
3. How to record internal audio on Android
4. How to record internal and external sounds on Windows
How to Record Audio on Android with High Quality
Someday you'll need to record audio on your Android phone. This could be for an interview, a conversation, or an important business meeting. In this case, a voice recorder is necessary. You may need to capture internal voice on your device, edit a recording, or take notes during recording.
Therefore, in this article, we will discuss how to record audio on Android phones with ease. Whether you are using Samsung, HUAWEI, Xiaomi, or whatever, you can find perfect recording solutions for any device.
🔎
Quick Look
📝 1. Record Audio on Android via

Default Voice Recorder
📝 2. Record Audio with

All-Featured

 Voice Recorder App 

[HOT]🏆
📝 3.

FAQs

 on Android Audio Recording
---
Record Audio on Android via Default Voice Recorder
The first thing I recommend doing is getting into the built-in audio recorder on your device. Some phones have one, whereas some phones don't. The built-in audio recorders also vary on different Android devices, and so do the operation steps. But you can get the audio recording application on your specific Android phone by directly searching. You only need to get into the search panel on your device and type in audio, recording, recorder, etc. Then you will be able to see a recorder comes up.
Though the specific audio recorder tends to differ from device to device, like the one found on my Samsung Galaxy, these simple steps to find and use it are slightly different and will still work fine. Recording voice on Samsung Galaxy, e.g.
📝How to Record Audio on Android from Samsung Galaxy

Step 1. Swipe up from the bottom of your screen to open the App Drawer. Then tap on the Voice Recorder app to open it. It may be within the Samsung folder.
Step 2. Choose a recording mode from Standard or Interview. Then tap the red record button to start recording audio.
Step 3. You can pause, play, re-record, or insert a bookmark reminder as desired after the recording begins. Once you are finished with your recording, tap the Stop button, give your recording a name, set a category, and save it.
After recording, you can share this recording, edit it, delete it, or do whatever you want to do with the built-in audio recorder.
If you are unsatisfied with the limited features of the built-in voice recorder app, launch the Google Play store to select and install an all-around recording app. A great choice is TransVoice, which is simple to use and equipped with multiple audio recording features. See what you can do with TransVoice in the next section.
---
Record Audio with All-Featured Voice Recorder App
The third-party recorder we highly recommend is the TransVoice app. As an all-in-one voice recorder, TransVoice contains various tools you may need in your work and daily life. In addition to the basic audio recording features that a built-in recorder may include, this tool also allows you to configure recording modes, select sound channels as mono or stereo, customize sound quality from 48kbps to 256kbps, and adjust sampling rate from 22050Hz to 48000Hz. It is not only an audio recorder but also an audio editor. You can type in prompts when recording, play BGM while recording, merge, trim, insert, and split audio files, etc.
Apart from these audio recording and editing features, we find that this versatile app packs various advanced tools together. It combines translation, transcription, video editing, and more. All in all, there are 30+ features you might need. 

📝

How to Record Audio on Android with High Quality via TransVoice App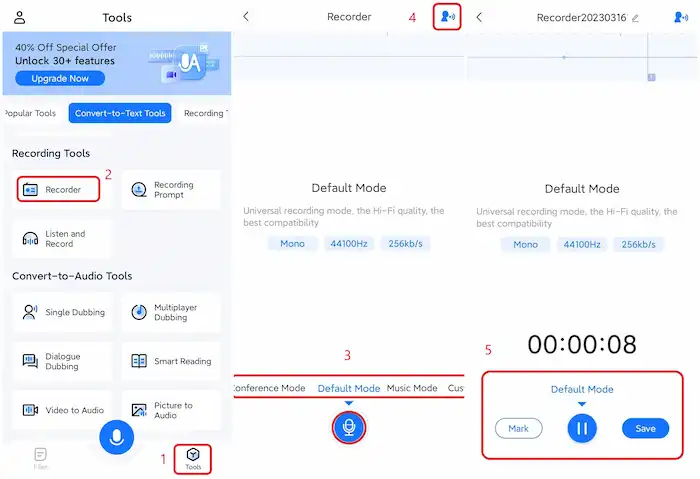 Step 1. Download and open this voice recorder app. Then navigate to Tools > Recording Tools > Recorder.
Step 2. Select a recording mode from Forensics Mode, Conference Mode, Default Mode, and Music Mode. Then tap the blue record button on the bottom to start capturing decent sounds.
📢Note:
These modes differ in the channels, sample rate, and sound quality, Or you can customize the audio quality, channel, and sample rate independently.

The icon on the upper right corner represents Smart Noise Reduction

. Make sure it is on for better audio quality.
Step 3. During recording, you can click the play button to pause the recording and tap the Mark icon to insert a reminder for later listening. Once you are finished with this audio, tap Save to store it on this app.
📢Note:
After recording, an editing panel will pop up automatically, enabling you to directly convert the audio file to text and translate it into different languages.

You can also trim the audio, translate the transcription, copy text from this audio, and share the audio or text content in different formats.
This is the comprehensive operation on how to record audio on Android phones via TransVoice. You may also be interested in the advanced audio editing features after recording.
More Audio Editing Features
Change audio format to AAC, MP3, or FLAC
Shift audio pitch, speed, and tone
Crossfade in or out the duration
Change voice style to female, male, loli, elder, robot, minions, or KTV
Compress audio file size

Mix audio files (up to 3 files at a time)
Extract audio obbligato
Separate or synthesize stereo
Reverse audio files
Reduce background noise
Plans, Pros, and Cons
💰Free trial

:

a 3-day free trial

     Premium Plan

: $3.99/mo, $17.99/yr, $38.99/lifetime



Pros
Cons

More cost-effective plans than many competitors
Multiple convert-to-audio and convert-to-text tools
30+ versatile features containing recording, translation, transcription, audio/video editing
Multilingual transcription and translation are available
Multi-formatted text, audio, and video exportation

Android only
It doesn't support recording internal audio.
---
FAQs
💬Does Android have a built-in voice recorder?
Yes. Most Android phones have a built-in voice recorder. You can type and search audio, sound, voice recorder, recording, and things like that in the search box on your device to find and open the default recording app. The built-in app does simply what you'd expect: It records and plays back audio files. You will know how to record audio on Android with built-in recorders in seconds.
💬How to record internal audio on an Android phone?
Recording internal audio will depend on your specific Android device. Some Android phones have built-in internal audio recording options, but not always. TransVoice allows users to import a stored audio file as BGM while recording. You can download audio files like songs, podcasts, and voicemails at first and use the Listen and Record feature to make a mixed audio recording in real time.
💬Where is the voice recorder on my Samsung/Android phone?
The location of voice recorders differs from device to device. Samsung users can find the default app by swiping up from the bottom on the home screen or locating it in the Samsung folder. Most Android users will also be able to locate the audio recording app using this method.
💬How to record audio on a Windows computer?
Windows 10 has a built-in app named Voice Recorder for recording audio. You can utilize this tool to record, trim, rename, and share voice recordings. You can also download a third-party sound recorder like WorkinTool Audio Recorder, which can record internal and external audio with ease. It is compatible with Windows 11/10/8/7.
---
Final Thoughts
We have discussed two practical audio recording solutions. You must know how to record audio on Android phones using built-in or third-party voice recorders. The built-in audio recorder, undoubtedly, is the easiest and the most convenient solution.
However, as one of the best voice recorder apps for Android, TransVoice provides users with irreplaceable features except for audio recording and editing, including translation, transcription, dubbing, etc. If you are searching for an all-in-one and cost-effective voice recorder for your phone, try TransVoice, and you will not regret it.