How to Translate Audio to English Text/Audio [Real-Time/Recorded] 2023
In this international age, transcribing audio to English text or other languages can help us break the language barrier and save more precious time for other issues. Hence, this post explains how to translate audio to English text/audio/subtitle with three different audio translators, from Google Translate to Android/online tools. And the method of interpreting the recorded audio and a live lecture is also included in this post. You can select the one you need, and translate it accurately and fast!
🤩 Google Translate [Cross-platform audio translator to translate a real-time conversation and lecture accurately.]
😎 TransVoice [Handy voice translator, recorder and editor for Android to translate audio files and live conversation fast.]
😍 VEED.IO [Online audio translator to translate audio to Enligsh subtitles or other 100+ languages without downloading software.]
—————— What Is Your Pick? ——————
How to Translate Audio to English Text/Audio [Real-Time/Recorded] 2023
With the progress of the times, international exchange, travel, and study abroad are becoming increasingly common for us. Hence, translating audio to English or other languages plays a vitally important role in this international age. And we cannot allow language to become a barrier when listening to different lectures or chatting with foreigners.
Fortunately, this post will illustrate how to translate audio to English text/audio/subtitle or other languages easily with three audio translators. Whether you want to translate Spanish audio or other language voice to English and vice versa in real-time or using the recorded files, this article will give you all-in-one solutions.
😎 Quick Look:
1. How to Translate Audio to English Audio/Text Using Google Translate
2. How to Transcribe Audio to English Audio/Text with TransVoice App
3. How to Transcribe Audio to English Subtitle with VEED.IO Online

---
 1. How to Translate Audio to English Audio/Text Using Google Translate
Do you think Google Translate can only translate text to text? You're wrong, and the function of Google Translate is far from our imagination. It can translate your audio conversions to your target language text. And you can touch the play button to immediately convert the text to audio. For example, you can translate Spanish to English audio, French audio to English, Portuguese to English audio, English to Haitian Creole audio, etc. The most significant advantage of Google Translate is that it can realize cross-platforms and multi-app language translation.
🎯 1.1 How to Translate Spanish to English Audio on Phones
Step 1. Download the Google Translate app from your App Store. Open it, Then choose the wanted source language as Spanish and the target language as English. Then click the Conversation or Transcribe button as needed.
Step 2.

[Interpret a Conversation]

If you want to translate Spanish audio to English, tap the Spanish corresponding microphone button to speak and easily get the English translator. To translate English to Spanish, you can click the English microphone.
Step 3. [Transcribe] Click the Transcribe button to start a real-time Spanish-to-English translation task. This mode only supports one-way language translation.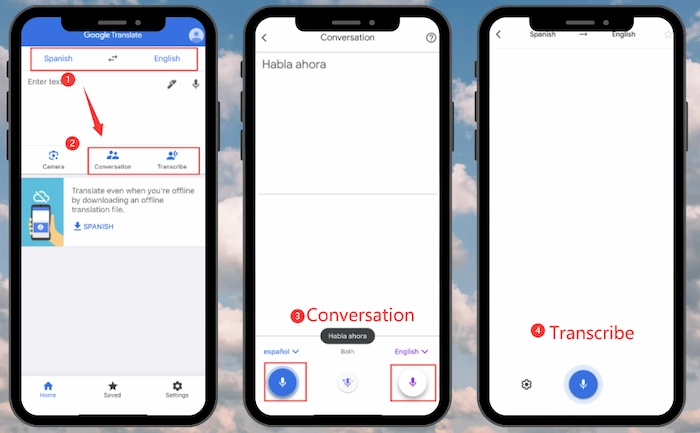 🎯 1.2 How to Use Google Translate to Translate Audio to English on PC
Step 1.

 

Search the Google Translate in your browser. Then change the source language in the left box and the target language in the right box.

Step 2.

 

Click the Translate by Voice icon to play your recorded audio file or start real-time talking.

Step 3.

 

Once you want to finish, press the Stop Translation by Voice button.

2. How to Translate Audio to English Text/Audio with TransVoice App
Another good choice of audio translator Android app is TransVoice. And you might have guessed its main and highlighted feature – translating voice accurately and quickly. Tiny as it is, it can support more various languages for translation and is designed with dynamic sound capturing and intelligent translation technology. So with the AI-powered TransVoice at hand, you can easily and accurately transcribe living conversations to English, Italian, Spanish, or other languages and vice versa.
You will no longer fear language problems with TransVoice. Besides translating audio in real-time, TransVoice still allows users to upload recorded audio files for language translation. And it is compatible with all major audio formats, such as MP3, WAV, AIFF, FLAC, etc. Other than translating tools, it offers 30+ other audio/video editing tools to have fun with your recording files. For example,
✨ Edit the Voice Recordings: With TransVoice, you can effortlessly trim, compress, convert, merge, split, and insert audio files.
🎨 Change Voice:
 You can have fun with your audio files by changing the male to female voice, robot, or other voices.
✨ Convert Video/Image to Text:
 Besides audio to text, TransVoice can help you convert MP4/JPEG/JPG to text with several clicks.
🎨 Extract Audio from Video:
Want to listen to the sound or BGM of YouTube videos? Use TransVoice to extract audio from videos on your Android phones easily.

---
🎯 2.1 Translate Audio to English Text in Real Time with TransVoice
Step 1. Free download the TransVoice app from Google Play Store. Then touch Translate Voice or Translate Dialogue as needed in the Popular Tools.
Step 2.

 

In the top language selection bar, slide the language menu and choose the wanted source and target languages, such as Chinese and English, etc.
Step 3.

Then click the first button to start capturing and translating live conversations to English text in real-time. And if you want to interpret English audio to Chinese text, press the second button to start.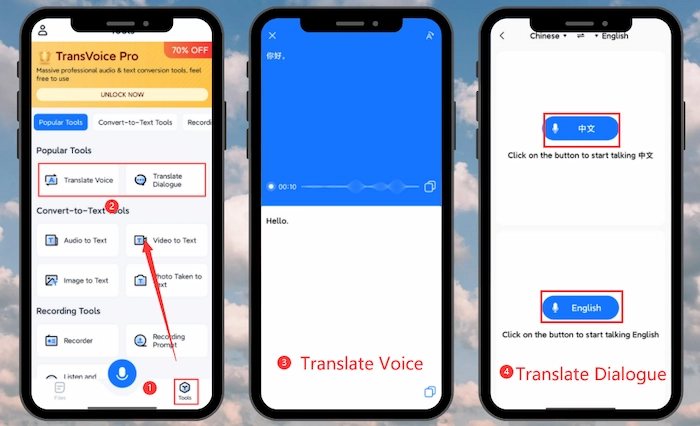 🐰 Supplementary Info:
Source language Supported: Arabic, Catalan, Chinese, Chinese Traditional, Danish, Dutch, Finnish, French, German, GreekHindi, Italian, Japanese, Korean, Norwegian, Polish, Portuguese, Romanian, Russian, Spanish, Swedish, and Thai.
Target Language Supported: Arabic, Catalan, Chinese, Chinese Traditional, Danish, Dutch, English, Finnish, French, German, GreekHindi, Italian, Japanese, Korean, Norwegian, Polish, Portuguese, Romanian, Russian, Spanish, Swedish, and Thai.
🎯 2.2 How to Translate Recorded Audio to English in TransVoice
If you only want to transcribe recorded audio to English text, you can exert the Audio to Text function to make it in seconds. [The methods can have more language choices.]
Step 1. Launch TransVoice on your phone and find the Audio-to-Text tool in Convert-to-Text Tools.
Step 2.

 

Select the prepared voice recording and choose the language used in the audio. Then it will automatically convert audio to text.
Step 3.

 

Tap the Translate button and navigate to Translate to > English > Done. Immediately, the text will be translated into English.
🔎 Introduction of the Transcribing Interface:
Share:

The Share button is used to send audio or translated text to friends. And you can share the file in MP3, MP4, Word, TXT, PDF, and SRT formats.

More:

If you are unsatisfied with the transcript result, feel easy to touch More > Retranscribe to do it again. Moreover, you can crop the audio file and search for the specific transcribed words.

Copy:

Copy function is used to duplicate the translated text for your later use.

Supported Languages: Japanese, Italian, Indonesian, German, French, Dutch, Danish, Czech, Chinese, Portuguese, Russian, Spanish, Thai, etc.
3. How to Translate Audio to English Subtitles with VEED.IO Online
If you want to find an online audio translator to translate by speech and get an English transcript immediately, VEED.IO is your ideal tool with over 100 languages supported. Specifically, you can upload audio files or add a real-time voiceover and easily transcribe audio to text without downloading any software. Then choose the target language and get the accurately-translated subtitles in an instant.
Besides translation by audio, VEED.IO also provides multiple video editing tools. It's beneficial for vloggers and YouTubers to make a perfect and accessible video with a perfect transcript. However, you can only enjoy half-an-hour translation for free every month.
🎯 How to Make It in VEED.IO Online
Step 1. Go to VEED.IO Audio Translator web page. Then touch the Translate audio button to start.

Step 2. Tap the Media button to import a recorded audio file or click the Voiceover to record a live conversation.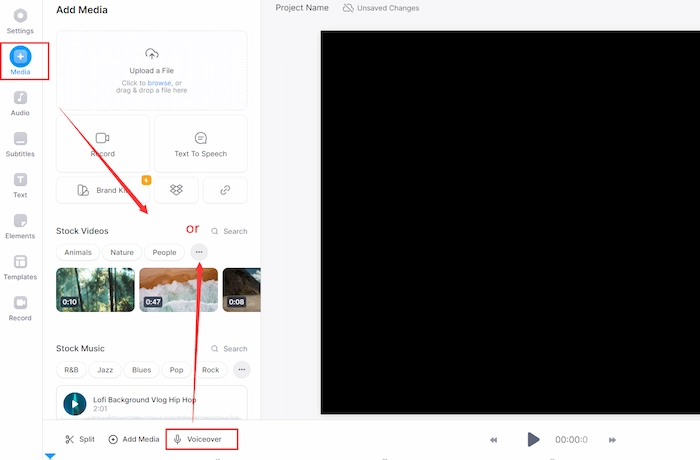 Step 3. Navigate to Subtitles > Auto Subtitle. Next, select the language which is being spoken. Then hit Create Subtitles to transcribe audio to text automatically.

Step 4. After getting a transcript, continue clicking the Translate button and select English as your target language. Lastly, touch the Translate automatically. Within seconds, you can translate audio to English subtitles.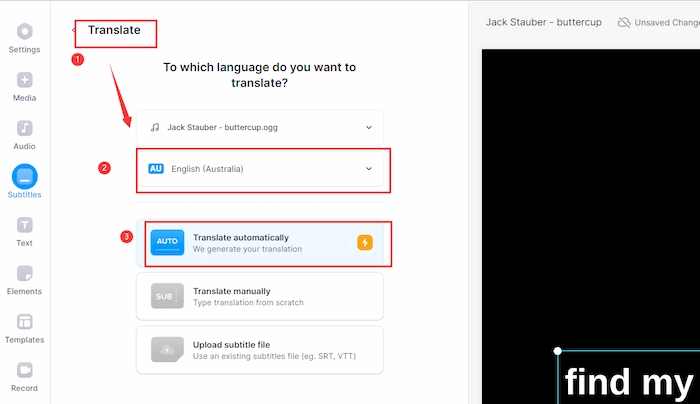 FAQs
🕓 How do I translate an audio file to English?
If you want to interpret audio files to English, use a professional and handy audio translator like Google Translate, TransVoice, VEED.IO, etc. Then use their translation function to get a wanted transcript easily.
🕤 Is there an app to translate audio to another language?
Of course, there are many apps to translate audio into another language, such as TransVoice, Google Translate, Instant Voice Translate, etc.

---
The Bottom Line
Generally speaking, transcribing audio to English text or other languages can help us break the language barrier and save more precious time for other issues. Hence, this post explains how to translate audio to English text/audio/subtitle with three different audio translators, from Google Translate to Android/online tools. And the method of interpreting the recorded audio and a live lecture is also included in this post. You can select the one you need, and translate it accurately and fast!