How to Transcribe Audio to Text on Android and Windows 2023
Using a voice-to-text tool is a smart way to solve lots of troubles. Try the Transvoice app for better transcription features. It helps users understand videos without subtitles. This is also a very convenient function for people with hearing problems. It is easy to use with multiple languages and options to select. You can get the most satisfactory result you want.
😎 30+ different features available
😆 Support multiple languages and dialects
😍 Various audio and video editing functions
😘 Provide instant translation and export
🥰 Intelligent recognition and transcription
How to Transcribe Audio to Text on Android and Windows 2023
With the popularity of smartphones, limitless possibilities are happening. Imagine you're in a public place full of people, and your boss sends you loads of audio files, but you are unavailable to listen. Using a voice-to-text tool is an intelligent way. It won't affect others. In the meantime, you can complete the job your boss gives you. The same scenario goes the same when your family or friends send you a series of audio messages when you are having a meeting. You will definitely need an app to solve the problem of how to transcribe audio to text. Lucky you, here is an ultimate solution for you.
---
How to Transcribe Audio to Text by Transvoice App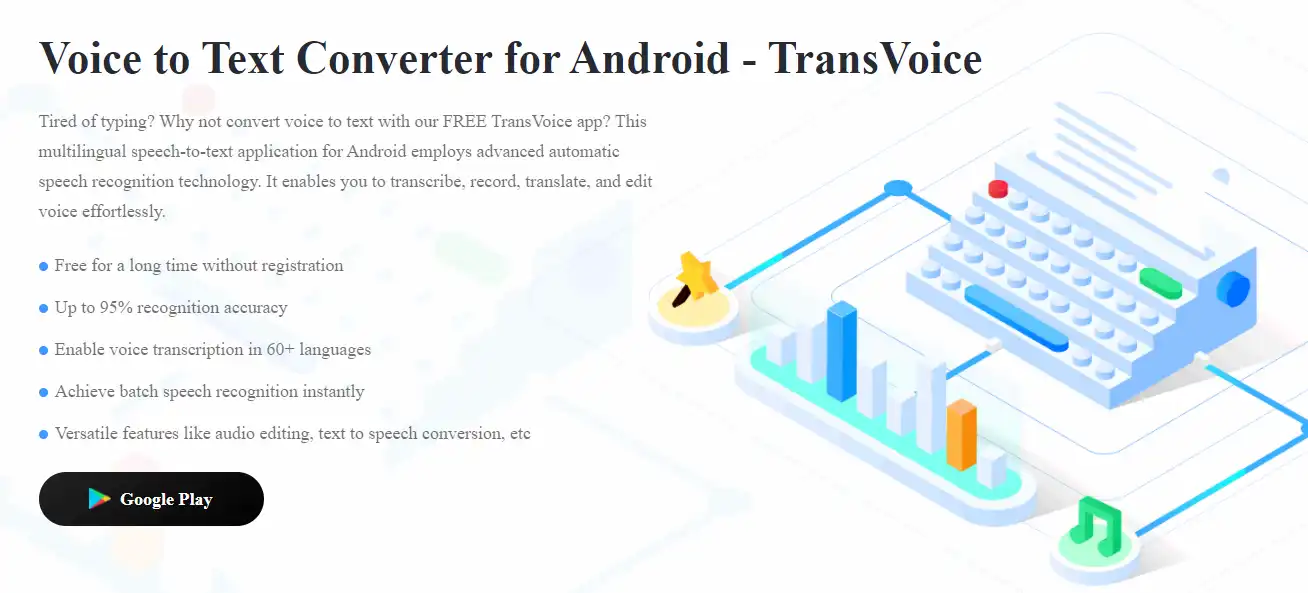 This tool that I highly recommend is the Transvoice app. It is an absolutely amazing all-in-one transcribing tool. It contains all the transcription you might need in your work and life. For example, you can transcribe audio to text, video to text, picture to text, video to audio, picture to audio, and reverse. Except for those transcription features, it also provides various editing and translation features waiting for you to explore.
You can add an audio file or record to transcribe for audio-to-text transcription. It offers to select multiple languages and dialects. When it is done, you can choose to edit, cut and paste, copy, and export to files in the video, word, txt, pdf, and srt format. This feature can be used for a blog, tutorial, instructional video, or any purpose. Of course, one of the most valuable aspects of this tool is its ability to provide visual help to people with deafness. Transcribing audio files into text helps them understand video without subtitles. This is a very convenient function for people with hearing problems. They have the same right to enjoy the beauty of music, even if they can't hear it. By turning them into text, they can also appreciate the energy and tension that language gives us.
30+ different features available

Support multiple languages and dialects

Various audio and video editing functions

Provide instant translation and export

Intelligent recognition and transcription
Now, let's head into the details and see how to make this work.
---
🥇 Transcribe Audio to Text
Just as I mentioned above, this tool offers two ways to input audio. You can either click the Audio to Text button to add existing files or use the blue microphone to record.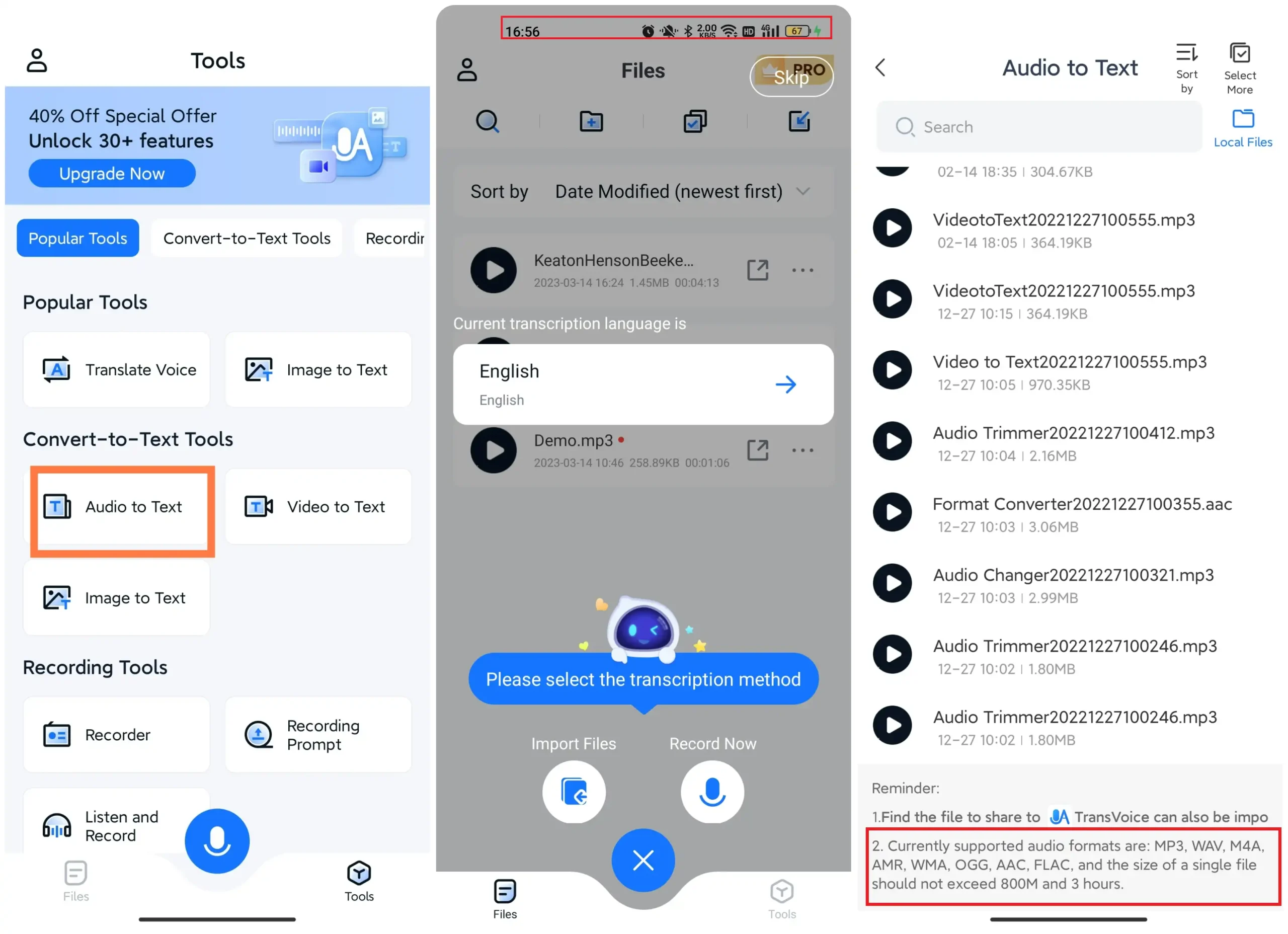 After you have added the audio file you want to transcribe, pick up the language according to the audio file. And it will automatically start to work.

It usually won't last long. But you can still click the "

Remind me when done

" button if you have something else to do. 
(We used a 3-minute song track file to test, and it took about 5 seconds to transcribe correctly.)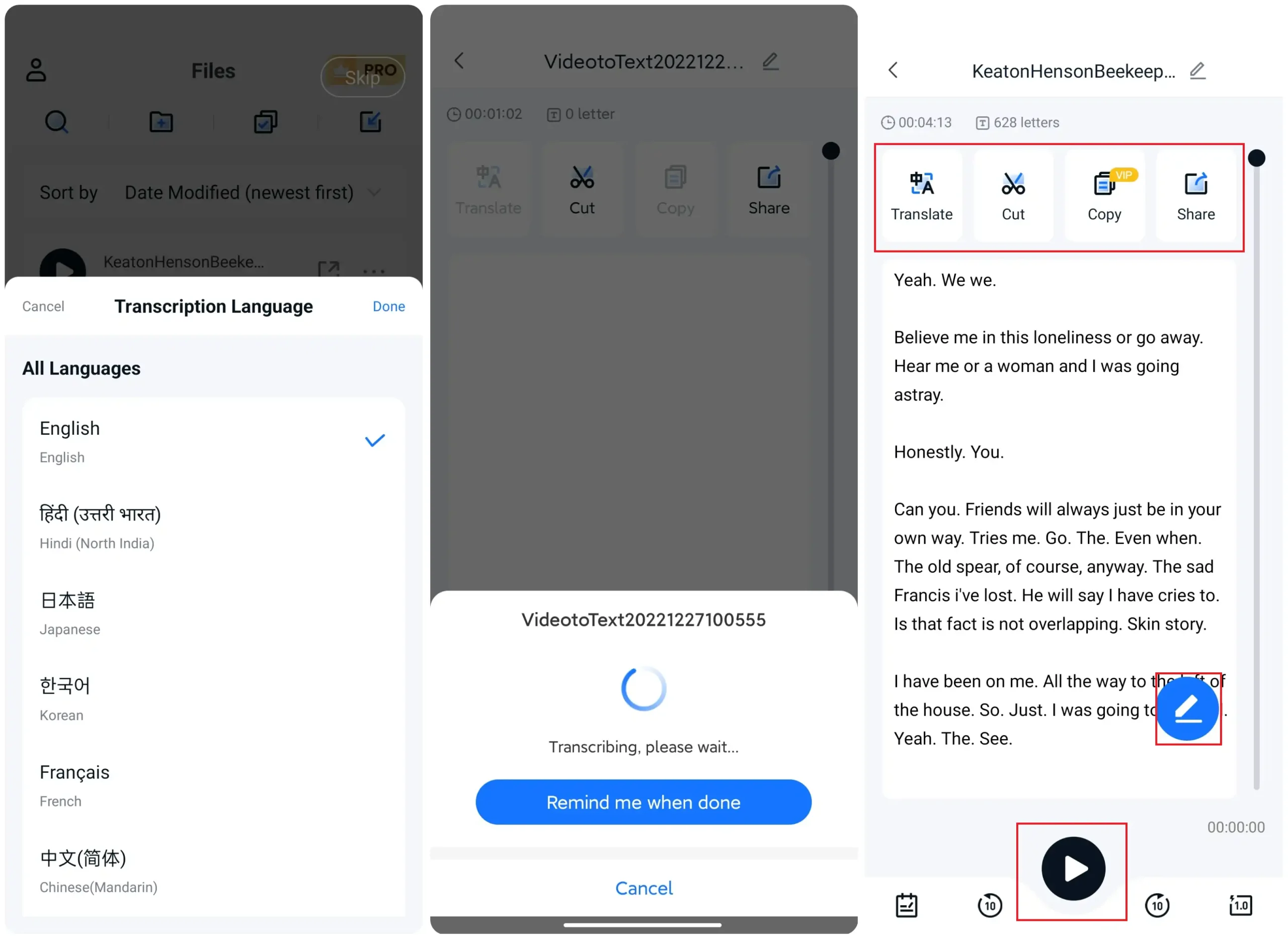 🥈 Additional Features
When you have successfully transcribed your audio file, you will get the image on the right. Except for the transcribed text part in the middle, this tool also provides:
Functions like translation.

Cutting out audio length.

Copying this text file.

Editing the content.

Exporting it with the designated format.

Displaying this text with voices.
And here, we'll walk you through all the features to make sure you get the best possible transcription results.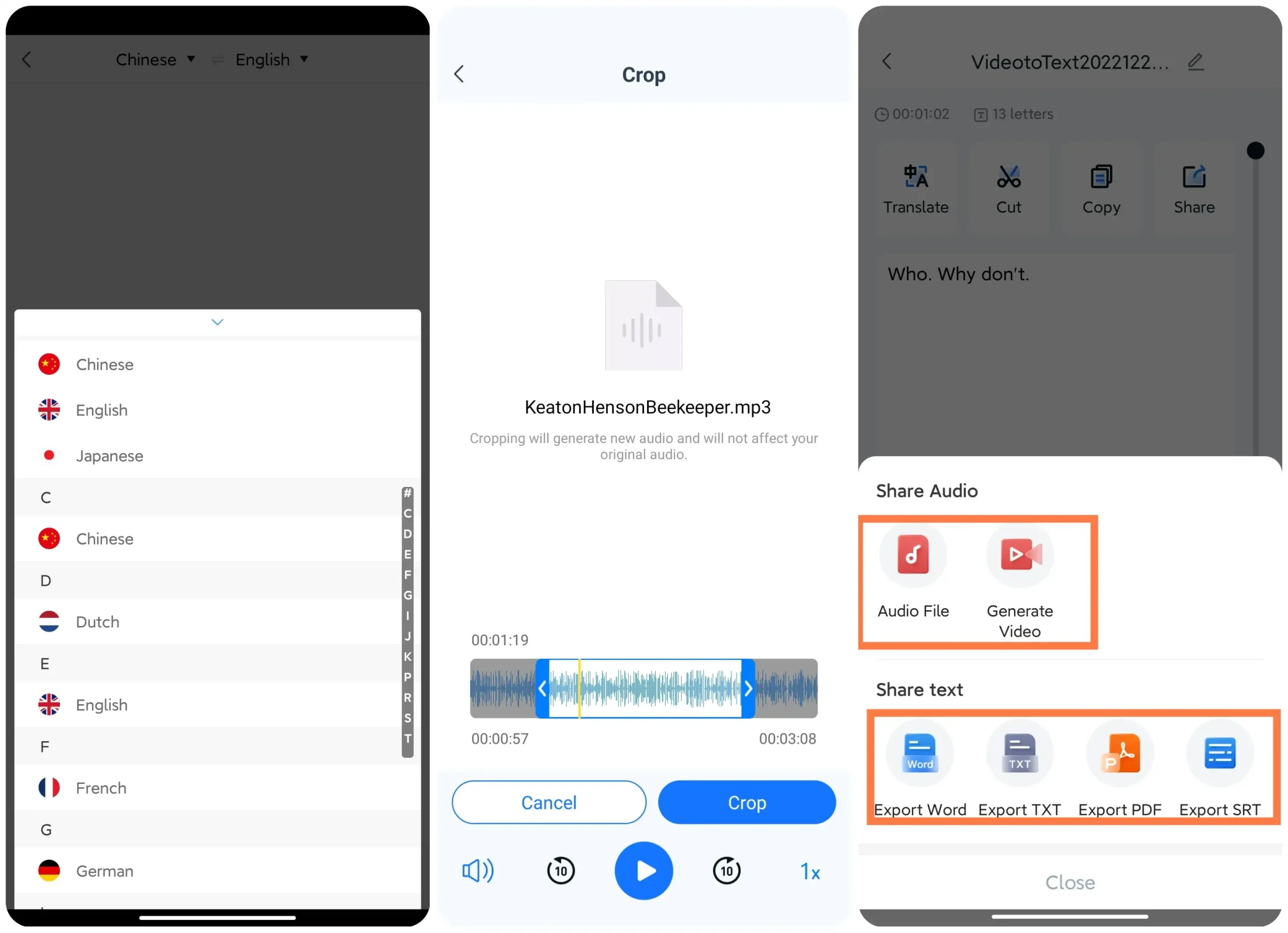 ✨ Spotlight Features ✨
Although the recognition function of this software is already powerful, it is inevitable that external noise will sometimes interfere with the recognition of the content.
---
Alternative Desktop Software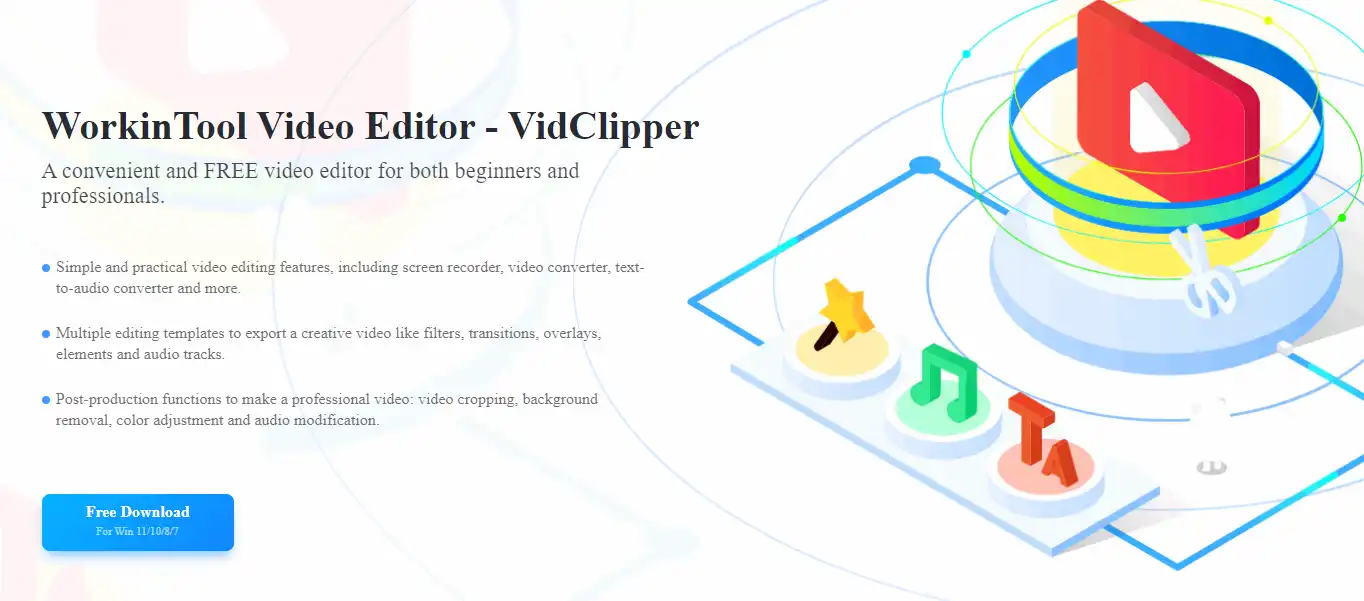 If you don't mind using desktop software for voice-to-text tasks, maybe you should try WorkinTool Video Editor – VidClipper. You can probably tell from the name that it is video editing software, so why would we recommend it here rather than an online page tool?
First, it is simple to use. This tool has the most straightforward interface and a super user-friendly navigation system, which provides users with see-through instructions to make an audio-to-text transcription.

Second, it is safe enough. You often can't trust the online network to upload files. Be especially careful when documents contain your private content. On the other hand, desktop tools don't have to worry about such security issues. All operations are performed on the local computer without network involvement.

Lastly, it covers all the features a user might need. It supports all kinds of file formats to input, even video formats. As for output, there are five options for you to select. Even after transcription, you can customize the text content and design.
All of these are well enough to become the reason for you to choose this software on Windows. It should be the best choice if you need a desktop transcription tool.
---
More to Share
As you can see, for one audio-to-text feature with so many additional tools, I doubt there is another similar app that can do all those at a lower price. It is literally the cheapest and the most feature-rich one among all audio-to-text applications on the market. Let alone it also offers other transcription, audio/video editing, and translation features. That is not it. This tool also allows users to experience all the parts for free for three days before deciding whether to buy. Why else would you say no? Try it now.