How to Transcribe Video to Text on Android and Windows 2023
If you want to find a great way to solve the problem of how to transcribe video to text, you definitely should try the Transvoice app for great transcription features. It helps users understand videos without subtitles without listening. This is also a very convenient function for people with hearing problems. It is easy to use with multiple languages and options to select. You can get the most satisfactory result you want.
😎 30+ different features available
😆 Support multiple languages and dialects
😍 Various audio and video editing functions
😘 Provide instant translation and export
🥰 Intelligent recognition and transcription
How to Transcribe Video to Text on Android and Windows 2023
Have you ever had a video? Maybe it is recorded or from YouTube, but for some reason, it doesn't come with subtitles. If it is your native language, it is not a big deal. Once the language in the video is not your native language, and you have to rely on the human ear to understand each word and sentence, it can be both time-consuming and effort-wasting. It would be a lot easier if the video had subtitles. Therefore, you will need to know how to transcribe video to text. Lucky you, we have just the app you need. Check out this post for the best solution to transcribe your YouTube videos, podcasts, recorded lectures, and interview videos to texts and use them for subtitles.
---
The Basic Routines to Transcribe Video to Text
Transcribing a video to text involves converting the spoken words in the video into written text. The following are steps on how to transcribe video to text:
Keep in mind that while transcription software and services can be very accurate, they are not perfect. It's always a good idea to review and edit the transcription to ensure its accuracy.
---
How to Transcribe Video to Text by Transvoice App
If you are finding a transcribing app for Android to solve your problems, the Transvoice app might be just the one you need. It is a comprehensive tool with the all-in-one transcribing features you need in your life and work. You can use it to transcribe audio to text, video to text, picture to text, and all reverse. After conversion, it also offers the feature to speak those text files in a human voice. How incredible! And in addition to transcription features, it also provides functions like audio editing and translation for you to find out.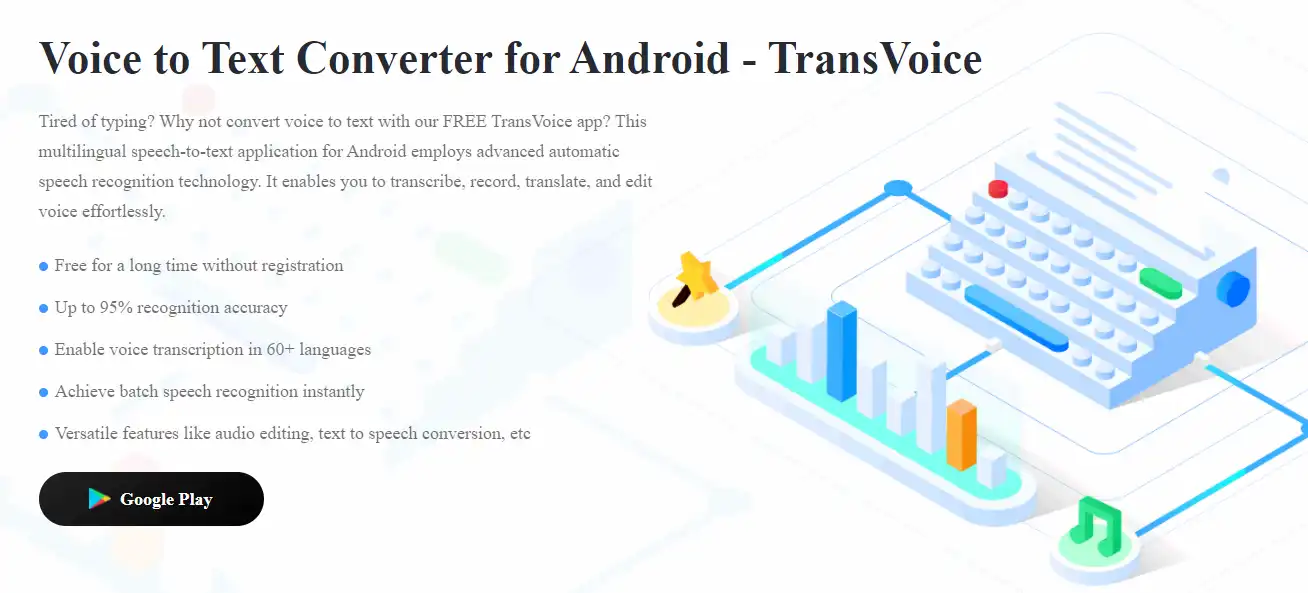 Do you want to automatically generate text for your video and translate the text subtitles? With Transvoice, you can quickly transcribe, translate, and edit the content you want. The software provides multilingual and dialect recognition. You can convert a video to text with just a few clicks and save it in word, txt, pdf, or srt. And when it's done, it has a variety of features for you to customize and modify the text. Whether it is podcasts, tutorials, or videos from YouTube or TikTok, you can efficiently complete the transcription work. Using these texts for video subtitles or re-using them for your blog and other social platforms will surely benefit your life or work. You don't need to spend a lot of time manually transcribing video text. This tiny app can significantly improve your video editing and reuse of your video content workflow.
30+ different features available

Support multiple languages and dialects

Various audio and video editing functions

Provide instant translation and export

Intelligent recognition and transcription
Now, let's head into the details and see how to make this work.
---
🥇 Transcribe Video to Text
Open this transcription tool and click Video to Text to add your videos.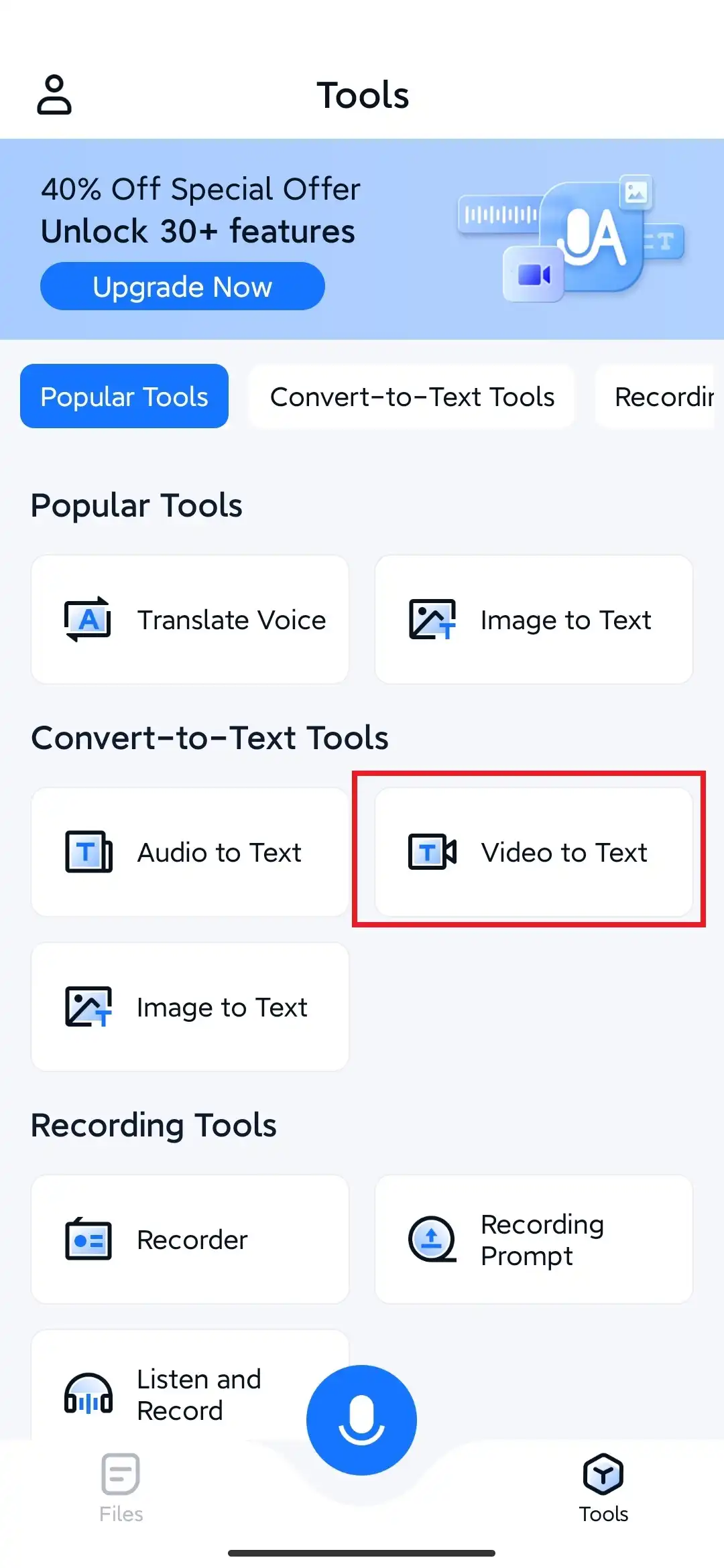 After you have input the video file you want to transcribe, select the language to recognize and transcribe. And it will automatically start to work.

The transcription time won't take long. But if you are other things to run, you can click the "

Remind me when done

" button to get it to the back.
(We used a 3-minute short film file to test, and it only took about 10 seconds to transcribe into text content.)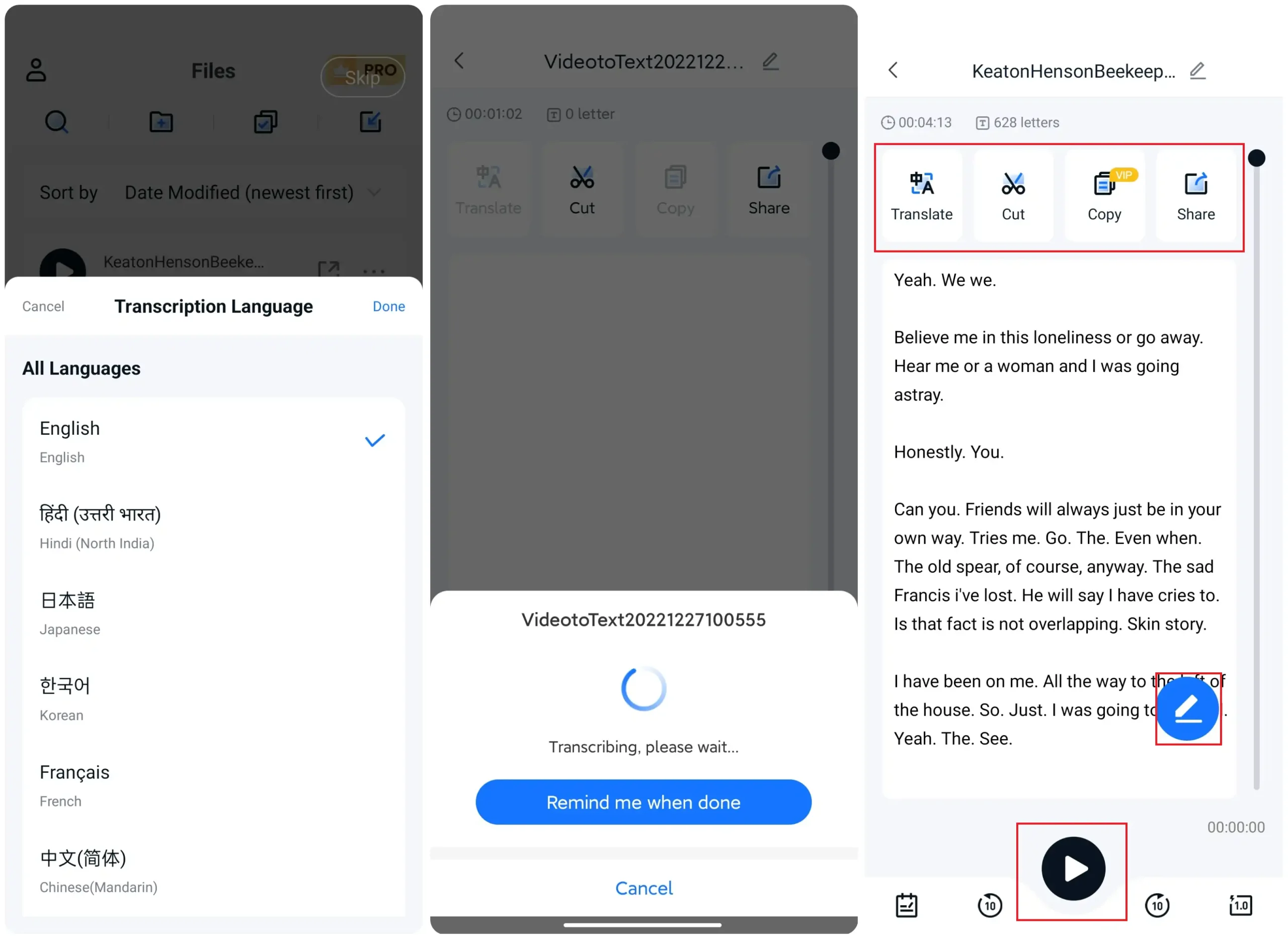 🥈 Additional Features
Now that you have already made your video file become the text content, there are definitely something you want to add or change on the text right? So, if you want to do more editing except for the basic transcription, this tool also provides: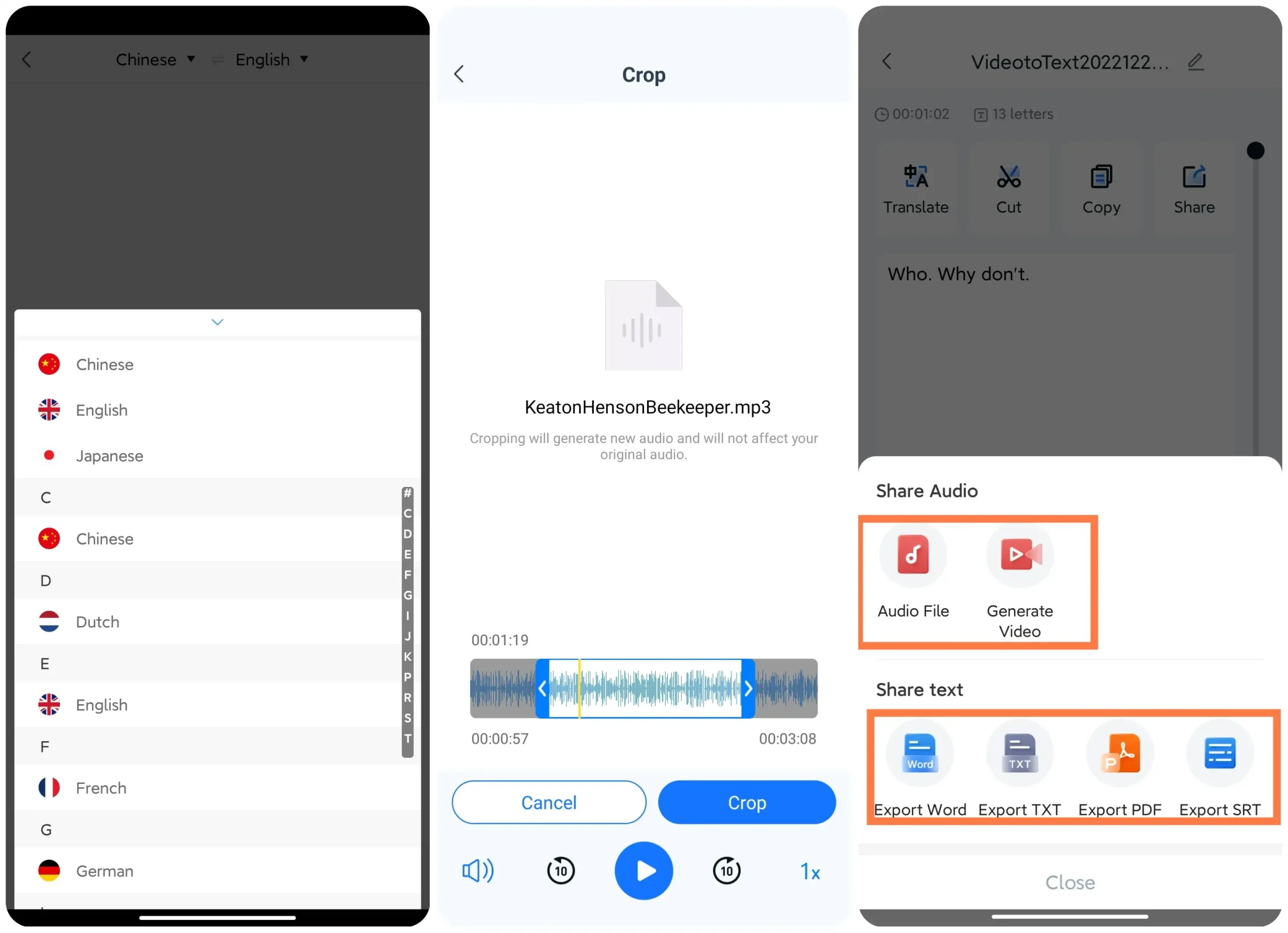 if you don't know what are those features up to, check out this part. We will be providing you every function you can see on the transcription page. And how to use them.
✨ Spotlight Features ✨
Although the recognition function of this software is already powerful, it is inevitable that external noise will sometimes interfere with the recognition of the content.
---
Alternative Desktop Software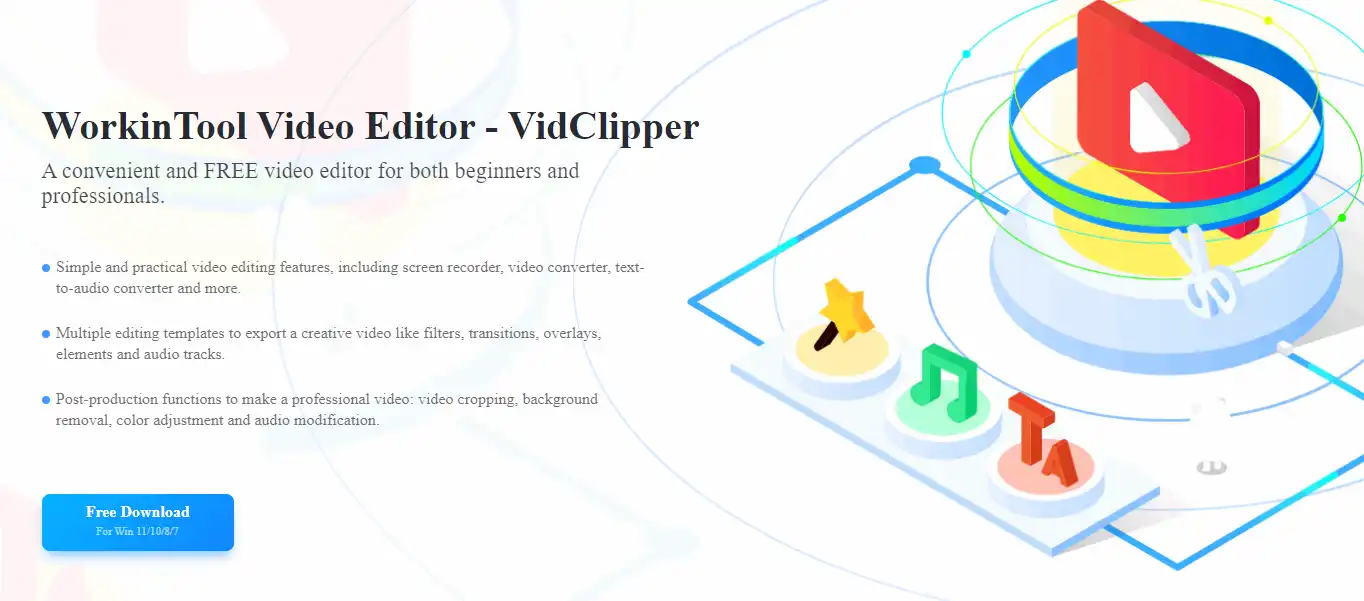 We know that smartphone app is always people's first choice, but it is not a bad thing to have an alternative choice on desktop PC, am I right? For example WorkinTool Video Editor – VidClipper is pretty good when it comes to convert video to text. It is an all-in-one video editor tool for Windows. And you can absolutely use it to transcribing videos to text format you want as well.
Here are some good reasons you might want to try it:
I believe these are already enough for you to try this desktop transcription tool on Windows. After you try it you will know why we would give it such high credits.
---
More to Share
In conclusion, transcription apps have transformed the way we transcribe audio and video files, making it faster and easier than ever before. While there are still some challenges to overcome, the benefits of transcription apps cannot be ignored. With continued advancements in technology, we can expect even more innovative features and improvements to these apps. The future of transcription is exciting and full of potential, and transcription apps are at the forefront of this exciting innovation.