How to Transcribe an Interview on Android and Online
Wondering how to transcribe an interview efficiently for qualitative research or journalistic conversations? This post offers two practical transcription tools, enabling you to convert audio to text in seconds. You can try the all-in-one transcription app on Android in this post. It is an easy-to-use, versatile, multilingual, and practical tool you can't miss.
🔹 Multiple transcription languages
🔸 Quick transcribing speed
🔹 One-click translation
🔸 Instant sharing and convenient output
🔹 High-quality audio with noise reduction
How to Transcribe an Interview [A Complete Guide]
Interview transcription is particularly useful for various purposes, like qualitative research or journalistic interviews. By converting an audio or video interview into written text format, users can perform analysis more effectively and accurately.
However, if the interviewer and the interviewee speak too fast, the speed of recording and writing will be affected. If you don't have a pen and paper nearby, recording can be slower, and the integrity of the conversation lessened. In this case, if there is reliable third-party software to assist you in recording, transcribing, and translating conversations, your work efficiency will be greatly increased. This article aims to facilitate interviews. We provide very effective transcription software, followed by a simple demo and feature introduction, and offer substantive advice on how to transcribe an interview on mobile and online for qualitative research, journalistic interviews, etc.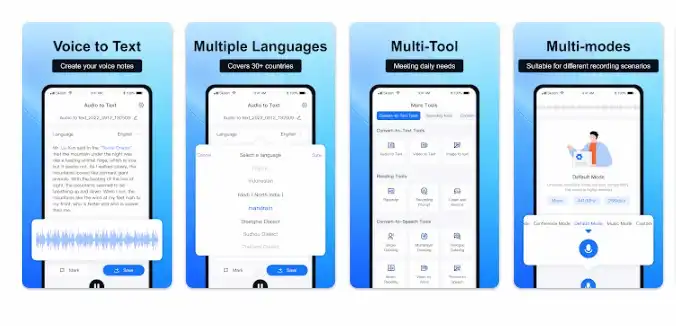 ---
How to Transcribe an Interview via Software [Quick and Accurate]
In our daily life, transcribing is a common practice. It can be finished in minutes or hours, depending on the conversation's topic, content, and number of participants. A short conversation can contain countless pieces of information. If the transcription speed cannot keep up, key information is likely to be missed when analyzing the content of the conversation later. Therefore, the speed and quality of interview transcriptions are very important.
To quickly convert spoken words into written text, you can try transcription software tools or intelligent word processors. There are two practical transcription software tools you can use, including both paid and free solutions.
How to Transcribe an Interview with Mobile App
Finding an effective, accurate, easy-to-use, and cost-effective voice transcription software is a little bit challenging. After searching and trying many transcription products, we concluded that TransVoice is a tool not to be missed. This product combines the latest contemporary artificial intelligence recognition technology, which can recognize speech and convert audio to text efficiently and quickly. It uses advanced artificial intelligence speech recognition technology to recognize what you say accurately. Moreover, it can transcribe, translate, and share voice recordings in real time. Unlike many other speech-to-text software tools, this one is a very feature-rich and all-in-one product.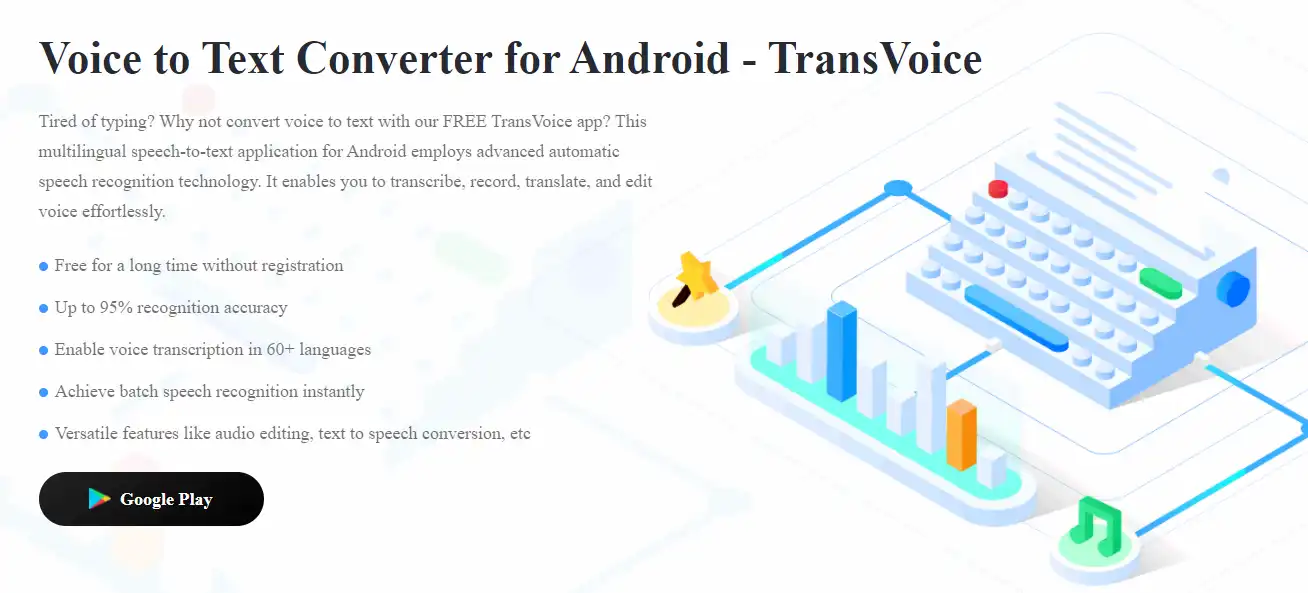 Why Transcribe Audio to Text via TransVoice?
💰Free trial

:

a 3-day free trial

     Premium Plan

: $3.99/mo, $17.99/yr, $38.99/lifetime



Pros

Cons

More cost-effective plans than many competitors
Multiple transcription languages
Support real-time transcription and pre-recorded files
Bookmarks and image marks are supported

Real-time transcription feedback
One-click translation
Playback settings
Instant sharing
Convenient output
High-quality audio

Android only
It doesn't support recording internal audio.

📝How to Transcribe an Interview via TransVoice (Features in Use)
Step 1. Open TransVoice and click the blue mic button on the bottom to select a transcription method and a language. You can upload files from your folders or launch a real-time recording and transcription.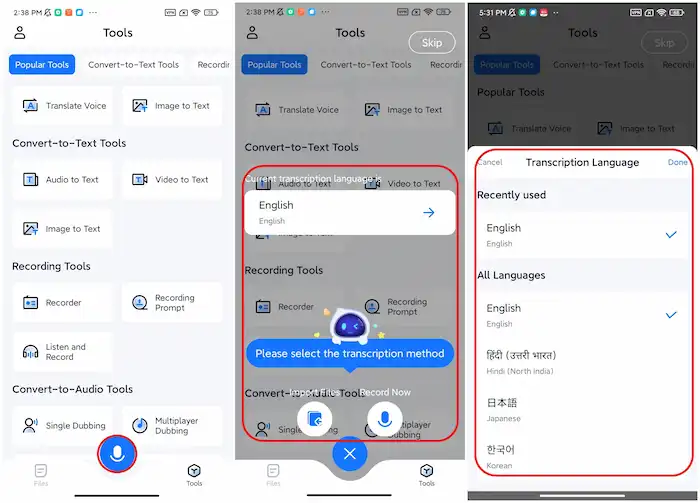 📢Note
Multiple languages. TransVoice supports 30+ input languages and dialects, catering to the needs of users from different countries. You can even regard it as a language tool when traveling and studying abroad.
Import files or Record Now. You can use TransVoice not only for real-time voice transcription but also for transcribing previously pre-recorded voice files. It supports audio files in MP3, WAV, M4A, AMR, WMA, OGG, AAC, and FLAC within 800M and 3 hours.
Step 2. Once you've selected a transcription method and language, this program starts recording automatically. You can start speaking and see the real-time transcription. You can reduce noise, pause, and insert marks or images into the recording as desired. (If you upload files to transcribe, please wait for a while for processing.)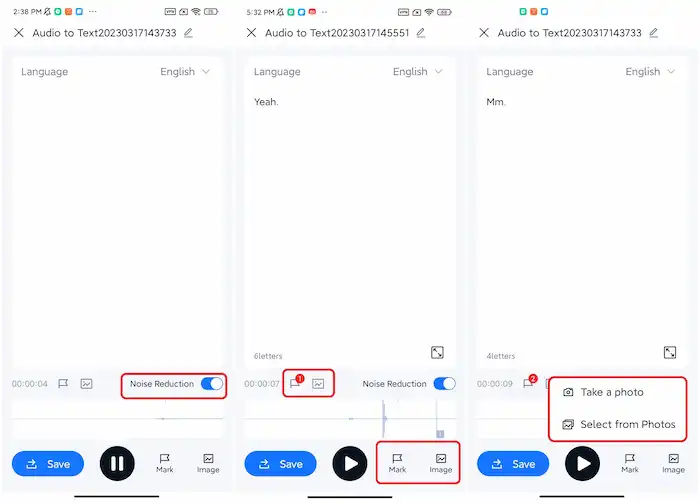 📢Note
Bookmark and Image mark. After you open the software, you can insert tags when speaking. It is convenient for you to locate the desired content more quickly when analyzing the content of the conversation later. It can also remind the key content to avoid forgetting. While recording, you can add simple tags, take photos in real time, or import images for tagging.
High-quality audio: TransVoice provides a noise reduction function and can record high-quality video while ensuring translation speed.
Real-time feedback. With its advanced technology and processing speed, TransVoice can quickly convert voice content into text while you speak, which is very efficient.
Step 3. After recording and transcribing, you will see an editing panel. On this page, you can trim the audio, translate it into other languages, copy the transcribed content, and share the audio and text files as you please. The sidebar on the right side is the progress bar. And the red points on it represent the marks you've inserted. Click on it, and you can quickly locate your marks and go to the corresponding parts.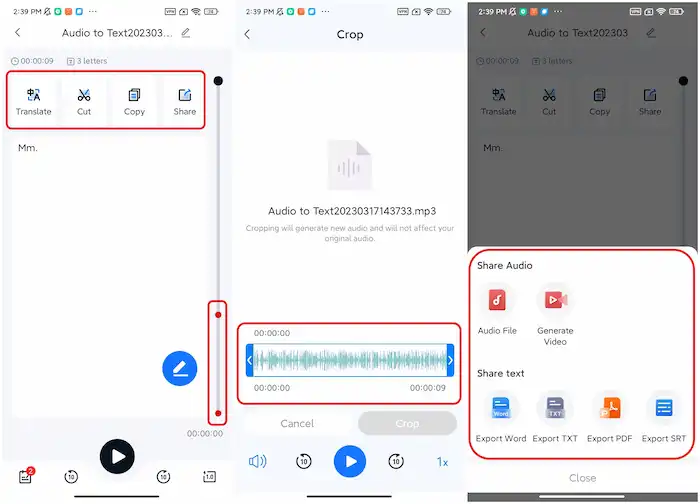 📢Note
One-click translation. After completing the speech-to-text process, you can convert the text to English or Chinese as needed.
Trim audio length. After recording, you can trim the audio length on the editing page.
Playback settings. TransVoice supports double-speed playback. Users can adjust the playback speed from 0.5 times to 2 times and can also set loop playback
Instant sharing. You can share the recording or text to all supported platforms with one click in the desired format.
Convenient output. TransVoice supports a variety of file output formats, whether it is recorded speech or translated text, can be saved or shared smoothly. Supported text output formats include Word, TXT, PDF, and SRT.
More Features
| | | | |
| --- | --- | --- | --- |
| Video to text | Image to text | Picture to Audio | Video to Audio |
| Audio Merger | Voice Changer | Audio Format Converter | Recording Prompt |
| Audio Trimmer | Translate Voice | Voice Recorder | Listen and Record |
---
How to Transcribe an Interview on Word Online
The online version of Microsoft Word also enables users to transcribe interviews. This tool is more suitable for PC and laptop users. You can either record in Word or upload audio files to transcribe. It is able to convert speech to a text transcript with speakers individually separated. Not many people are familiar with the built-in transcribing function in Word. So see the detailed steps below to explore its detailed features.
📝How to Write an Interview Transcript via MS Word
Method 1. Record in Word
Step 1. Go to www.office.com and sign into your Microsoft 365 account. Create a blank Word document. Then go to Home > Dictate > Transcribe. (Make sure the browser has permission to use your mic.)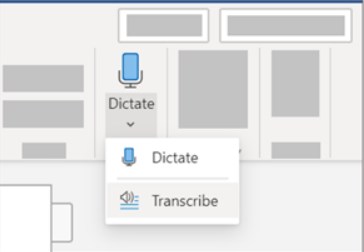 Step 2. Select Start recording, begin talking with another person, and leave the Transcribe pane open while recording.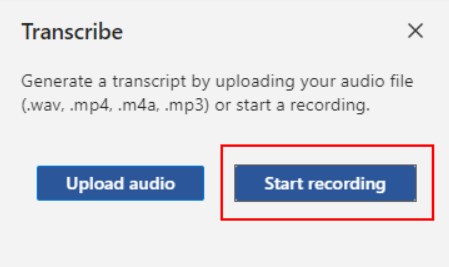 Step 3. You can pause the recording by clicking on the pause icon. When finished, press Save and transcribe now to start the transcription process.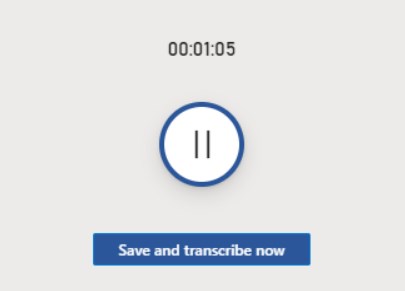 Method 2. Upload an audio file
Step 1. Navigate to Home > Dictate > Transcribe > Upload audio. You can upload .wav, .mp4, .m4a, or .mp3 files to start recording.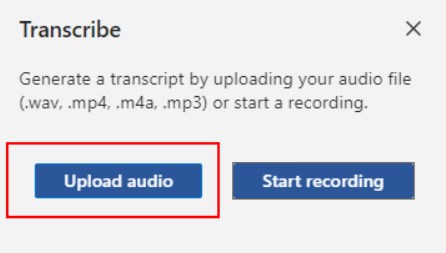 Step 2. Wait for the transcribing, and be sure to leave the transcribing pane open.
Step 3. When finished, press Save and transcribe now to start the transcription process.
---
A Complete Guide to Write a Transcription
Transcribing is a common practice in our daily life. A complete transcribing process usually contains the following steps.
Listen to the interview carefully and take notes of important points such as the interviewee's name, date of the interview, etc.
Transcribe the interview word by word using transcription software like TransVoice or a word processor.
Use correct grammar, punctuation, and spelling throughout the transcript.
Indicate different speakers by using a different font, color, or speaker label.
Include non-verbal cues such as laughter, pauses, and tone of voice, wherever possible to capture the full essence of the interview.
Review the transcription for accuracy and make any necessary corrections.
Save the transcription in a suitable format such as Microsoft Word or PDF.
You must know how to transcribe an interview using different methods on mobile and PC now. By following these steps, you can create a comprehensive interview transcription for different purposes.