How to Transcribe a Conversation on Android and Online
How do you transcribe when people are talking over each other? Want to know how to transcribe words quickly and accurately? You can see the step-by-step tutorial and the comparison table below to pick your tool and start transcribing. You will know:
1. How to record and transcribe conversations on Android and online.
2. Comparison of TransVoice and MS Word.
3. How to transcribe a recorded conversation.
4. How to transcribe phone calls to text.
How to Transcribe a Conversation on Android and Online
Conversations happen every minute in today's digital world. With the boom of information being shared and exchanged between individuals or groups, it is crucial to record, save, and transcribe these conversations for future use. Therefore, this post aims to facilitate conversation transcriptions with practical solutions on both Android and online.
🔎
Quick Look
📝 1. How to Record and Transcribe a Conversation on Android

[HOT]🏆
📝 2. How to Transcribe a Conversation in Word Online
📝 3. Comparison of TransVoice and MS Word
📝 4. FAQs
---
What does it mean to transcribe a conversation?
Transcription is the process of converting spoken words from video or audio files into written text. In terms of conversation transcription, it is an effective way to capture every detail accurately of what you and other people said, pretty convenient for later viewing and analysis. Conversation transcription is a common practice in some fields like the medical, media, and legal.
However, transcribing a conversation can be a difficult task. You must have proficient writing & typing abilities and a solid command of negotiation languages if you are going to transcribe a conversation manually. No worries! Whether you're transcribing an interview, a casual talk, a focus group discussion, or a legal deposition, this guide will provide you with tips and techniques to transcribe any conversation quickly and efficiently using transcription tools.
---
How to Record and Transcribe a Conversation on Android
Is there an app that will transcribe audio to text on Android? Of course! There is an Android app that can make transcription tasks quicker, easier, and more efficient without the following capabilities.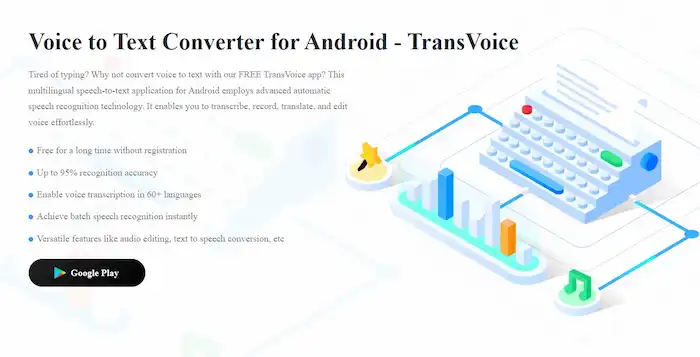 High accuracy: It can accurately transcribe audio and video files with minimal errors.
Time coding: It can time code the files you uploaded or real-time conversation accurately. The transcript is well-aligned with the audio.
Multilingual support: It supports recognizing and transcribing content in 30+ languages and accents,
Easy editing: It allows for easy editing of the transcript, such as adding or deleting text, inserting bookmarks, translating text, etc.
Customization: It has customization options to adjust for different languages, accents, audio quality, speed, and length
Apart from the basic features, this Android app, TransVoice, also packs versatile tools in its intuitive design. It can not only transcribe real-time or recorded audio but also share the audio and text files to different platforms in different formats, such as Word, TXT, PDF, and SRT.
In addition, users can enjoy a one-stop service related to audio, video, and image files. For example, audio recorder, voice translator, video/picture/web to audio converter, text extractor, voice changer, audio/video dubbing, audio editing, and more.
This transcription app is accessible on Google Play. You can free download it and try its trial plan for three days. Its pro editions are competitive as well, pricing at $3.99/mo, $17.99/yr, and $38.99/lifetime.

📝How to Transcribe a Conversation Quickly via TransVoice
1: Launch TransVoice and click the blue mic button on the bottom to select the transcription language from 30+ languages and a transcribing method. You have two options: start a real-time recording & transcribing or upload recorded files.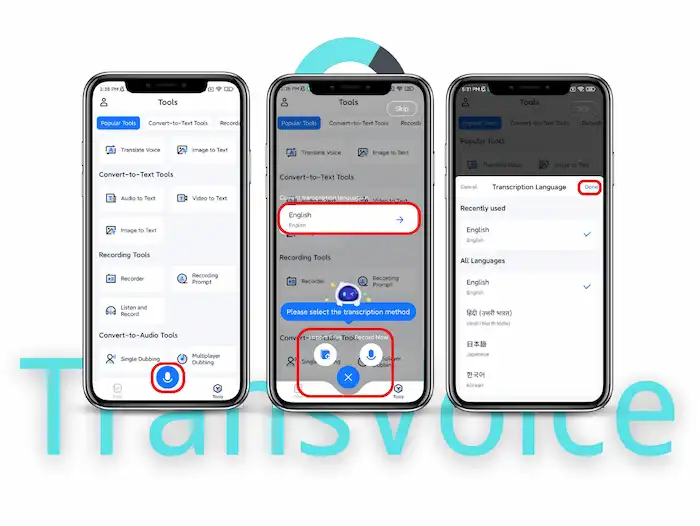 2: When this program begins recording, you can start talking subsequently. There will be in-time text showing on the text panel. You can reduce noise, adjust the recording volume, pause the recording, and add text or image prompts as desired. (If you upload local files, please wait for a while for processing). Click Save when the transcription completes.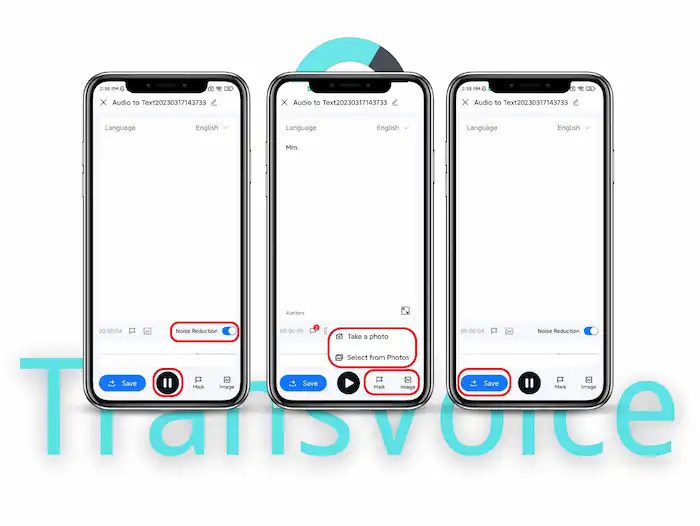 3: An editing panel will show up. On the right side is the progress bar, on which the red points represent the bookmarks you've added. Click on it, and you can quickly go to the corresponding parts. Now, you can cut the audio length, translate & edit the text, and share the audio and text files as you like.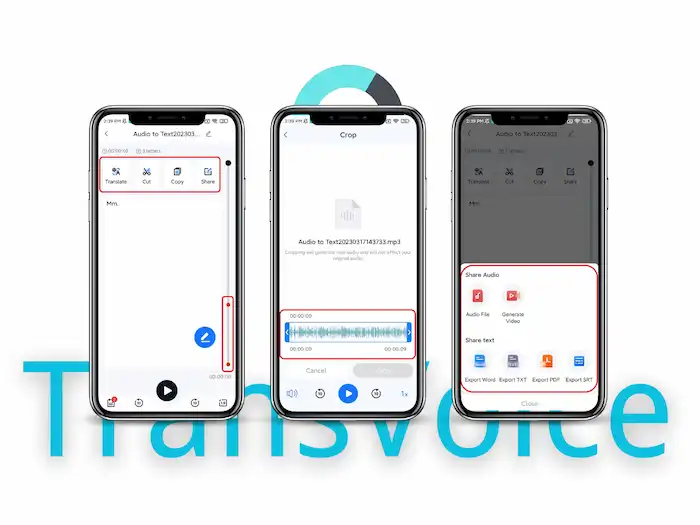 You May Also Need
---
How to Transcribe a Conversation in Word Online
Microsoft Word online allows users to transcribe recordings or real-time conversations as well. This program is more suitable for PC users. It can differentiate between different speakers and assign their dialogue to the correct person. There are two available modes—Dictate and Transcribe. The former will recognize what you have said and convert it into text in real-time.
The latter, starting at $6.99/month, will save the recording and transcribe it into text for later viewing and listening. Subscribers can start recording or upload files to transcribe. After transcribing, they can see what they've said clearly according to the time stamps. This native transcribing tool in Word is not well-known among most individuals. So see the step-by-step guide below to learn how to transcribe audio to text online.
📝How to Transcribe Audio to Text in Word
1: Go to Microsoft 365 online, sign in to your account, and create a new document. Make sure the browser has permission to access your mic.
2: Navigate to Home > Dictate > Transcribe. You can choose Start recording to begin speaking or Upload audio as desired. (Files in .mp3, .wav, .mp4, and .m4a formats are available)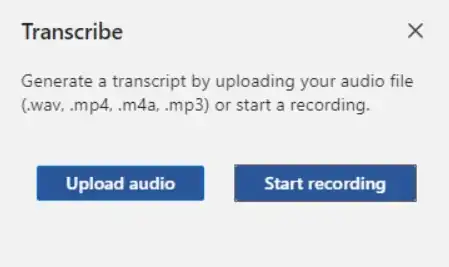 3: When finished, press Save and transcribe now to start the transcribing process.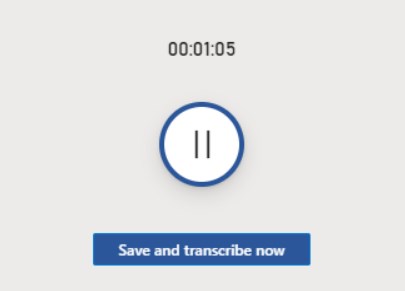 ---
Comparison of TransVoice and MS Word
TransVoice

Microsoft Word

Available on Android
Support multiple languages
Start at $3.99/month
Support real-time transcription
Unable to differentiate speakers
Fast converting speed
Multiple tools for audio editing, recording, transcribing, etc.

Available for Microsoft Edge and Chrome on PC
Only for transcribing English
Start at $6.99/month
Start transcription after recording
Able to recognize different speakers
Average transcribing speed
Limited audio editing tools
---
FAQ
👁‍🗨How to transcribe audio to text manually?
Transcribing spoken words to written text formats requires patience and attention. Here are the simplified steps to convert audio to text manually.
1. Listen to the audio carefully multiple times to be familiar with the content.
2. Type out or write down the words you hear from the audio, pausing or rewinding as necessary.
3. Proofread and edit the text content to improve its accuracy. If required, format it according to the specified guideline.
👁‍🗨How to translate a phone conversation?
To translate a phone conversation, you can upload the conversation recording to a translation service (app, software, or online service). TransVoice is such an app, enabling users to translate text and audio into different languages in seconds.
👁‍🗨How to transcribe a recorded conversation?
Both TransVoice and MS Word support recorded audio transcription. You can refer to the comparison chart above and pick one as desired.
---
Bottom Line
You must know how to transcribe a conversation quickly now. You can effortlessly convert audio recordings into accurate written text using the above tools, saving you time and reducing the risk of errors. Whether you are a professional transcriber, interviewer, journalist, or someone needing a reliable transcription tool, the two transcribing tools are the ideal solution. Try it today and discover the difference for yourself.