How to Add Music to a Picture | 4 Free Ways 2023
Want to make your pictures more appealing? Eager to search for a way to add music to pictures so you can create stunning slideshows? You are on the right page! This post explains how to add music to pictures using four free methods. All of them are easy to use and user-friendly. After reading, you will know how to make dazzling slideshows for presentations, wedding ceremonies, and birthday parties.
How to Add Music to a Picture | 4 Free Ways 2023
A regular picture will become more appealing when you put music over it. In fact, this technique is popular through all social media and social networking services. Individuals and institutions try this way to set the mood and evoke viewers' feelings to drive traffic to their pages. Indeed, Instagram, Facebook, and Snapchat users love this kind of content because it is engaging and interesting. Apart from that, when creating a slideshow, for whatever reasons, birthday parties, wedding ceremonies, class presentations, etc., you also can't ignore the magic of music.
So how to add music to a picture? Well, the thing is pretty easy. All you need is a picture, or pictures, a music file, and a practical tool to put music to pictures. The content below offers four free solutions that enable you to add audio to pictures on any device, including Windows, iPhone, Mac, Android, and online.
4 Simple Methods to Put Music to Pictures
WorkinTool VidClipper (Windows)

iMovie (Mac and iPhone)

BeeCut (Windows, Mac, iPhone, and Android)

Clideo (Online)
---
How to Add Music to a Picture via WorkinTool VidClipper
WorkinTool VidClipper is a Windows-based video editor that anyone can use entirely free. Believe me. You don't need to pay a single penny for this magical tool while using all its features. It does not play tricks to attract users in the name of free pricing. There are no locked features, paid-for plans, watermarks, ads, or video quality restrictions. Whatever you want to add to your pictures and videos, music, animations, text, overlays, filters, transitions, or special effects, you can do that easily with this tool.
Unlike professional video editors like DaVinci Resolve or Premiere Pro, WorkinTool VidClipper presents its features straightforwardly on the interface, which labels every element clearly. So even if you are a beginner in video editing, you will find this tool easy and friendly. You can add keyframes to videos to create a moving effect in seconds, not to mention the basic technique of inserting music into pictures or adding music to Facebook Story.
Read on to learn how to use this free video editor to put music to pictures. The steps are pretty easy.
1. Upload your pictures.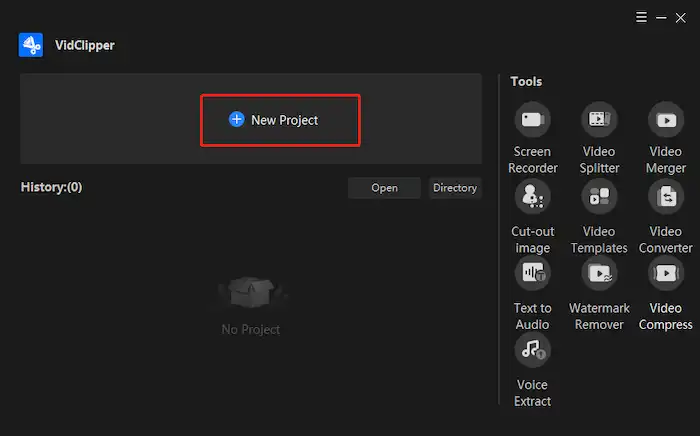 Install and launch this tool on your computer, find New Project in the interface, and click it. You will enter the main editing panel, showing what you can do with this tool. You can drag and drop your pictures and videos in the Media section or press the Import button to import files or folders into the media stock.
2. Add music to pictures.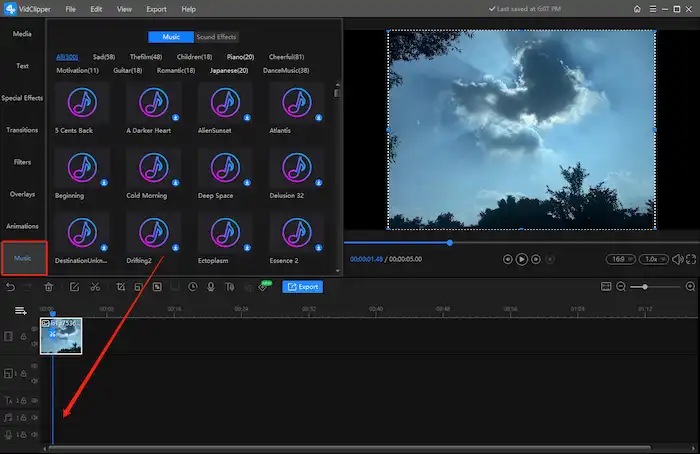 Drag the pictures you need to the video track so you can make edits. After that, open the Music menu in the toolbar on the left. 300+ free music and sound effects are available for you to add to the timeline. Of course, you can upload your music files to this program and drag them to the audio track. At last, adjust the music length to match the picture showing time.
3. Save the overlayed pictures as a video.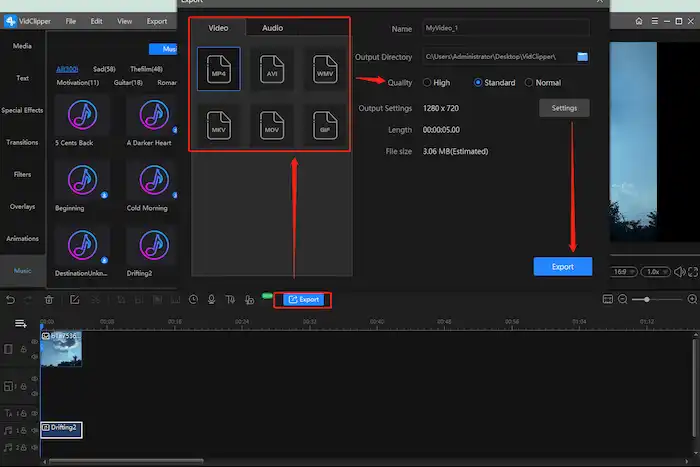 You can also add text and animations to the picture compilation or use any feature you find on the editing panel. After processing, press the blue Export button to save the pictures in MP4, MOV, AVI, WMV, MKV, or GIF format. The video quality, like resolution, frame rate, and bitrate, is up to you.
---
How to Put Music to Pictures via iMovie
iMovie is an easy-to-use video and picture editor that Apple developed for almost all Apple products. Whether you are using iOS or macOS, you can add music to pictures easily using this preinstalled app. It offers three project types: Magic Movie, Storyboard, and Movie. All three modes support adding audio and music to pictures. I prefer the Magic Movie mode because it will automatically create a slideshow with appropriate music after you select photos and clips. After creating, you can share the slideshow directly on Instagram, Facebook, or Snapchat.
Look below to check how to add music to a picture using the iMovie Magic Movie mode on iPhone.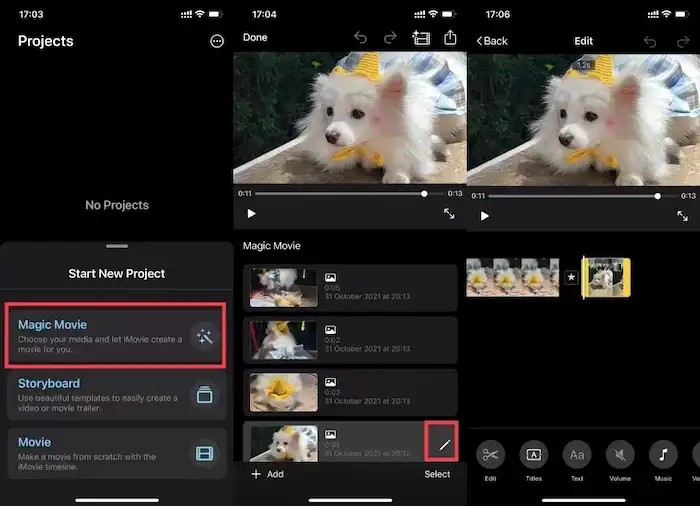 Open iMovie on your phone and click 

Magic Movie

 to start a new project.

Select the picture you wish to add music to.

Click on the play button to see the final effect.

If you want to manually change something in the slideshow, click on the preview window or the film icon in the upper right corner to make further edits.

Click 

Done

 to save the magic movie, or press the share icon in the upper right corner to post on social media or share with others.
---
How to Insert Music to Pictures with BeeCut
If you are looking for cross-platform video editing software, BeeCut is a nice option. This program is compatible with Windows, Mac, iPhone, and Android. It packs practical tools into a beginner-friendly interface like WorkinTool. This video editor enables you to add music to pictures and create a nice video in a few clicks. This tool can easily crop, rotate, resize, and flip videos. If you are an entry-level movie editor, you can't miss this easy tool, which allows you to create an appealing video in minutes.
The only downside is the free version will leave a watermark on the outcome file. If it is acceptable for you, see the operation steps for Android below. Of course, you can download the Mac and Windows versions on your computer, and the operation steps do not differ much from WorkinTool VidClipper. Or visit App Store to download the iOS version.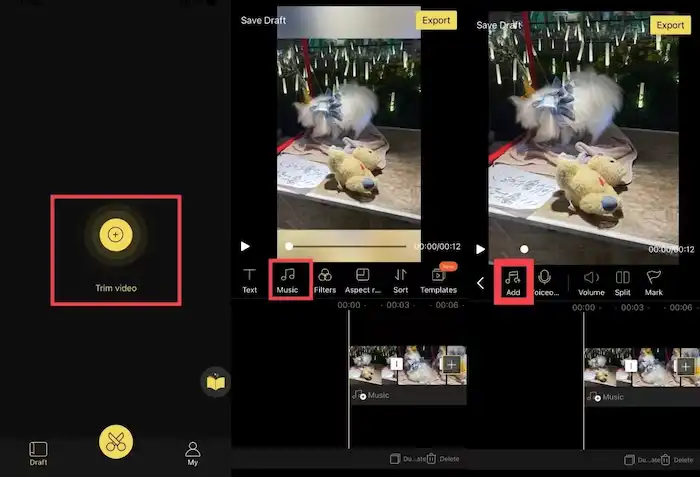 Download the BeeCut app from Google Play Store.

Click on the 

+ 

button to upload your photos.

Select an aspect ratio format that suits your video.

Tap on the 

Music

 icon to add the background music you wish to use.

Hit the Export button in the upper right corner to save your slideshow.
---
How to Add Music to a Picture via Clideo
Clideo's online video maker can produce a short picture film anytime and anywhere. You don't need to download a third-party tool if you want a quick result, and be ok with a small watermark on the outcome file. The free video editor also has a clean interface. You don't need to learn special skills to use it. All the steps are pretty easy.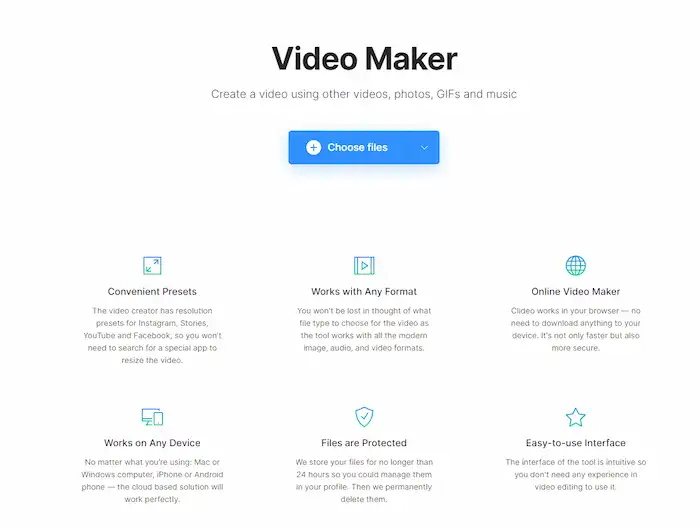 Go to Clideo's online video maker and press 

Choose files

 to upload your pictures.

Press the 

Add audio

 button in the bottom right corner.

After editing, click Export to download the picture video.
Conclusion
All methods we provide in this article are free and convenient to use. Some put watermarks on the final output, like BeeCut (not always) and Clideo. But we can't deny that their functions are practical. If you know how to add music to a picture, select a tool that best suits you and begin the editing journey. It is an easy task to make appealing slideshows and share them on social media like Instagram, Facebook, and Snapchat.