How to Text to Speech for Video Narration Free 2023
Here in this article, you will find the best solution of how to text to speech for video narration. It is fairly easy if you use this powerful video editing software – VidClipper. It is an all-in-one video editor. Basically, all the video-related functions you can find in other software can be found here. For the text-to-speech function, there are hundreds of voice and BGM templates for users to try. And it also supports users to directly insert it into the wanted video. More importantly, it is 100% free to use every function. Come download and try it out now.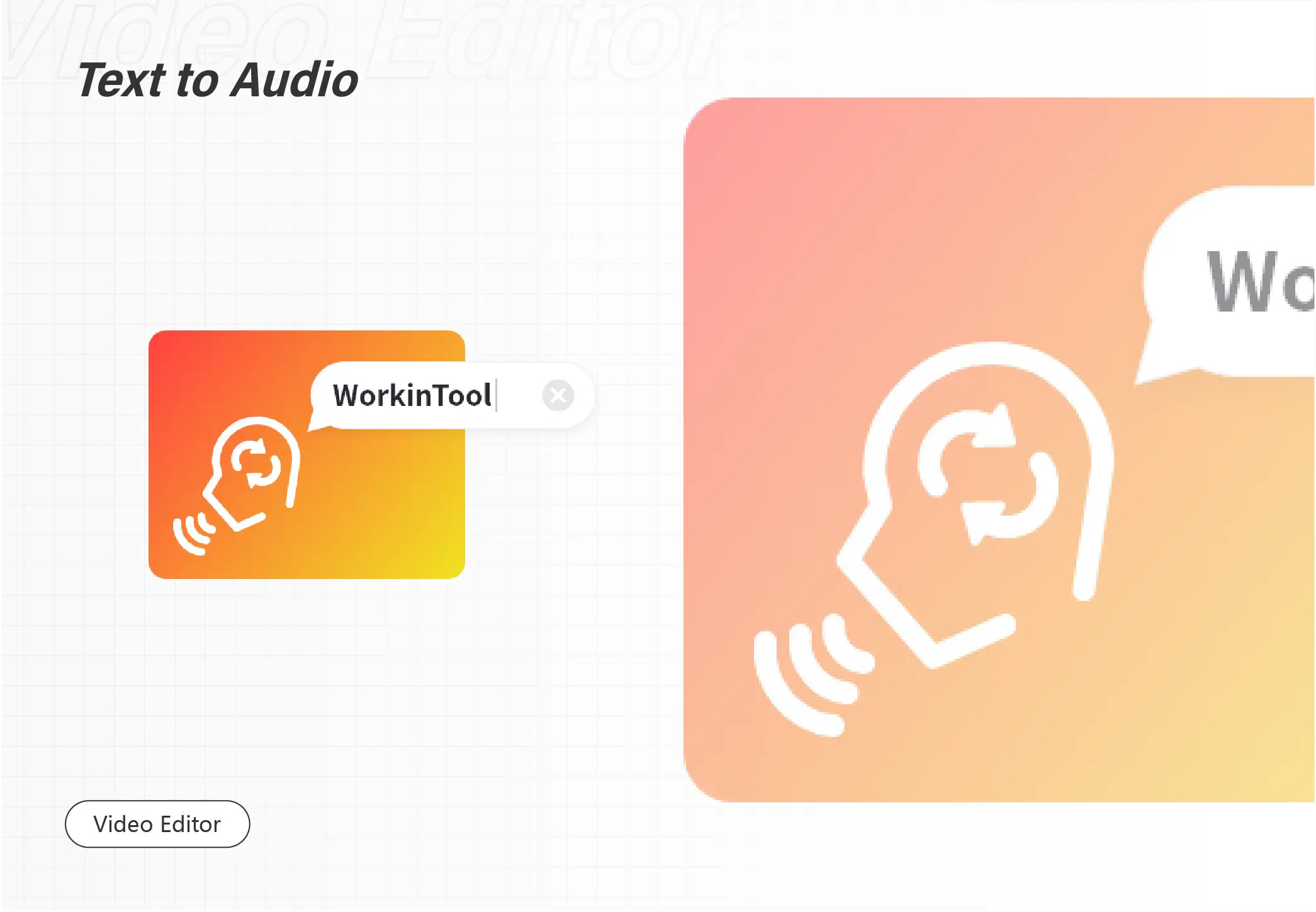 So sometimes when you create a video, you want to have a voice narration explanation of what is going on. But not everybody wants to use their own voice for narration. If you don't have anybody else handy that can record the narration, using software that generates voice from your computer could be a good alternative. You certainly see plenty of YouTube videos or TikTok clips that do this. Especially for explanation or tutorial videos, the narration is a very indispensable part to deliver your messages to others. If used correctly, it can make your video better than your competitors. Well, here comes the question: how to text to speech for video narration?
But don't need to hurry to buy a mic ready for recording. Today I'm going to introduce you to a video editor that doesn't require you any external device. No need for mics to specially record voice. All you need to do is to prepare the script you want to convert to voice and your videos and of course the software. This amazing video editing software is VidClipper. The built-in text-to-speech technology offers you a quick conversion directly from your text to speaking voice audio. Let's see how to pull this off.
---
How to Text to Speech in Videos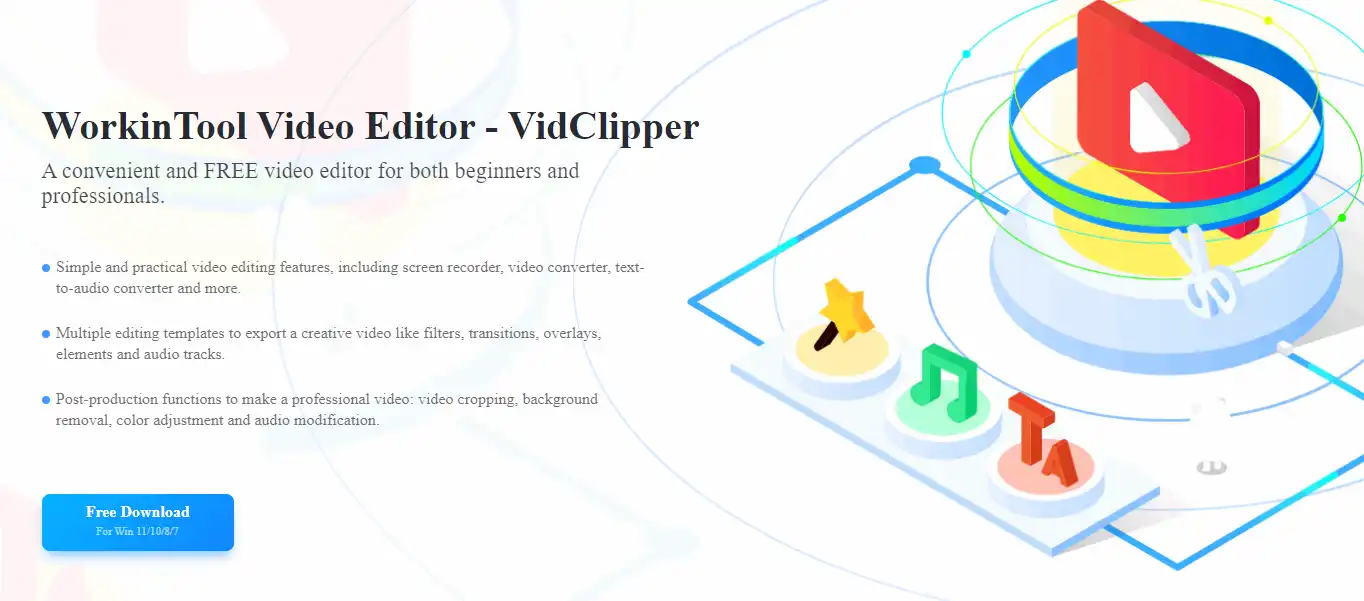 The powerful tool comes from WorkinTool Video Editor – VidClipper. It is a newly released video editing software. But don't underestimate it just because he's new. It can do everything that other video software on the market can. WorkinTool has dedicated to researching the market and adjusting each feature for different needs from actual users. Based on that, you can see the basic function: video editing. And also advanced functions like making a video clip, removing the background from videos, and so on. Moreover, unlike Adobe Premiere Pro, which is hard to process and expensive to use, this video editor is totally free.
Now that we're talking about how to text to speech, let's look at what you can do with this software. First, you should know that this feature is one of the built-in features of the software. This means that you can work together with other features to edit the video. And the voice you are converting can be immediately inserted into the video. Second, there are more than one hundred and fifty different voice templates ready for you to apply. And they are all supported to listen before converting. Last, except for the text-to-speech function, you can even add BGM along with it.
---
📑 Write Your Text
First, go download and install this software on your computer.
Open it and find the "Text to Audio" option on the home page. Then you will get a process window like below.
Enter your text in the black box.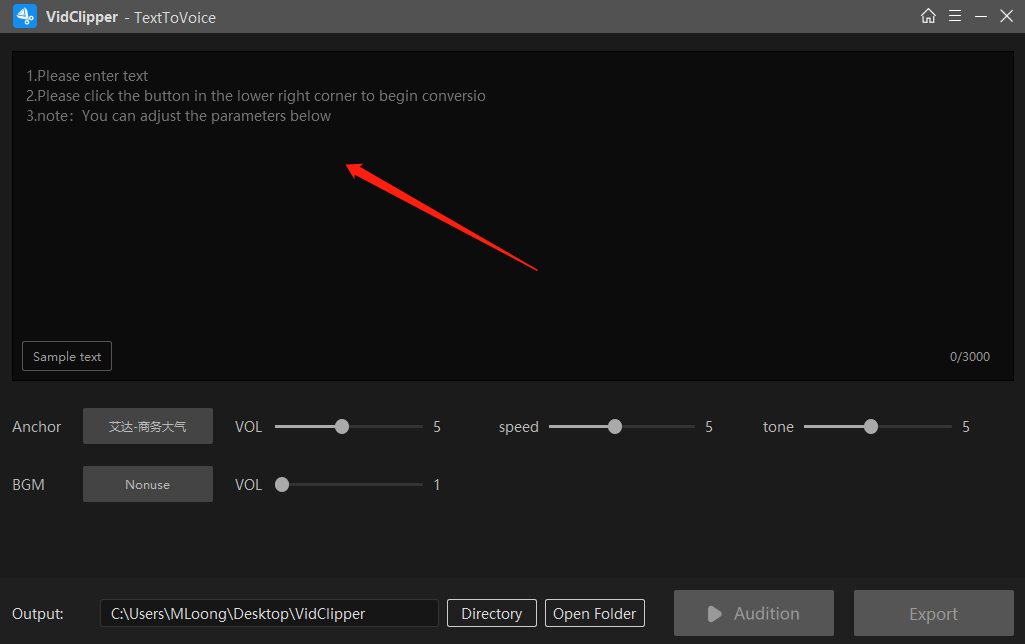 If you didn't prepare any script like I told you from the beginning, or know what to write, you can check the "Sample text". There are four categories for different occasions. You can pick one from these templates and insert it into the text box according to your needs.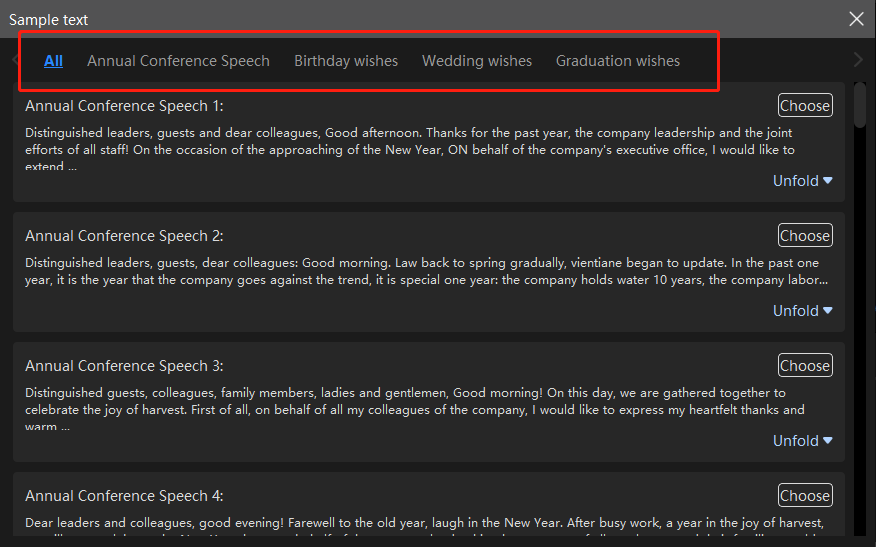 ---
🎶 Choose Voice and BGM
Then it comes to the most important part. You need to convert the text to voice.
Click "Voice" on the process window. You will find out a voice library. There will be more than one hundred and fifty various voice templates for you to try. They are supported to listen before converting. Just hit "Play".
Based on your desire, you can find one that suits your video best. Also, you can find the latest used voice in the "Recently used" category.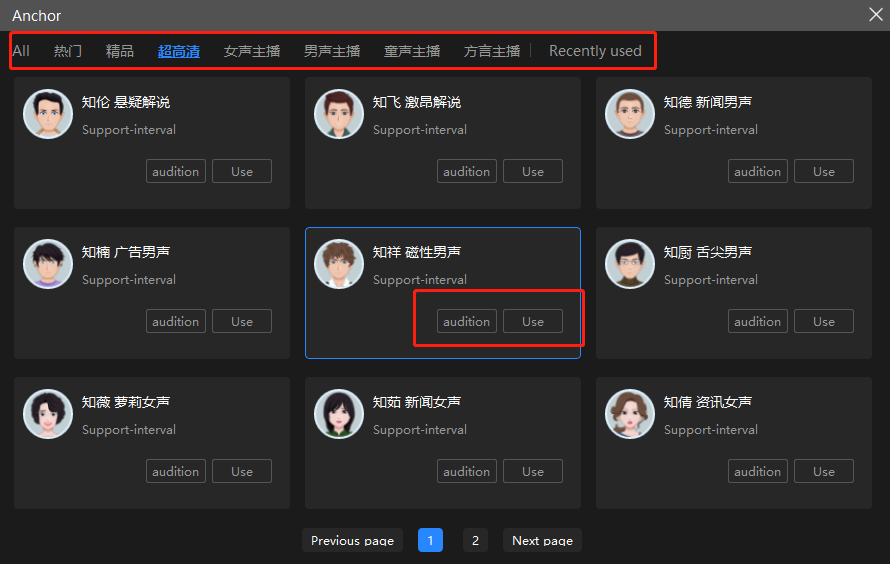 Except that you can turn text to voice, this freeware support inserting background music (aka BGM) as well.
Click "BGM" and you will go to a music library. But here you can upload your own music from the local computer if the library is not satisfying. And of course, it also supports users to listen first before inserting.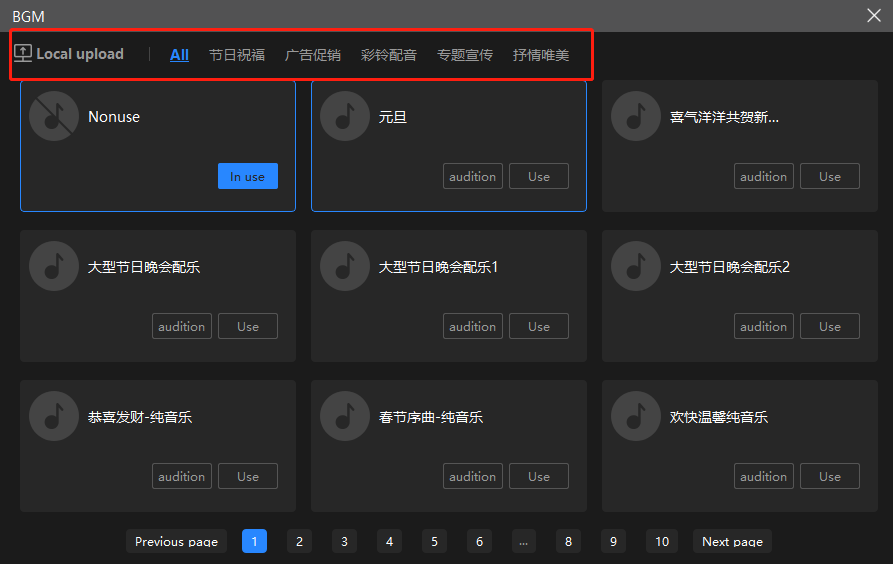 ---
📐 Adjust Pronunciation Details
When you have found your speaking voice and BGM, you can adjust details to make the audio more real. After all, these sounds are made by AI, and they can be tweaked to make them more pleasant to listen to and more human.
You can modify the volume of these sounds, speaking speed, tone. The speaking interval is also available for users to customize. So that authenticity and personality are guaranteed.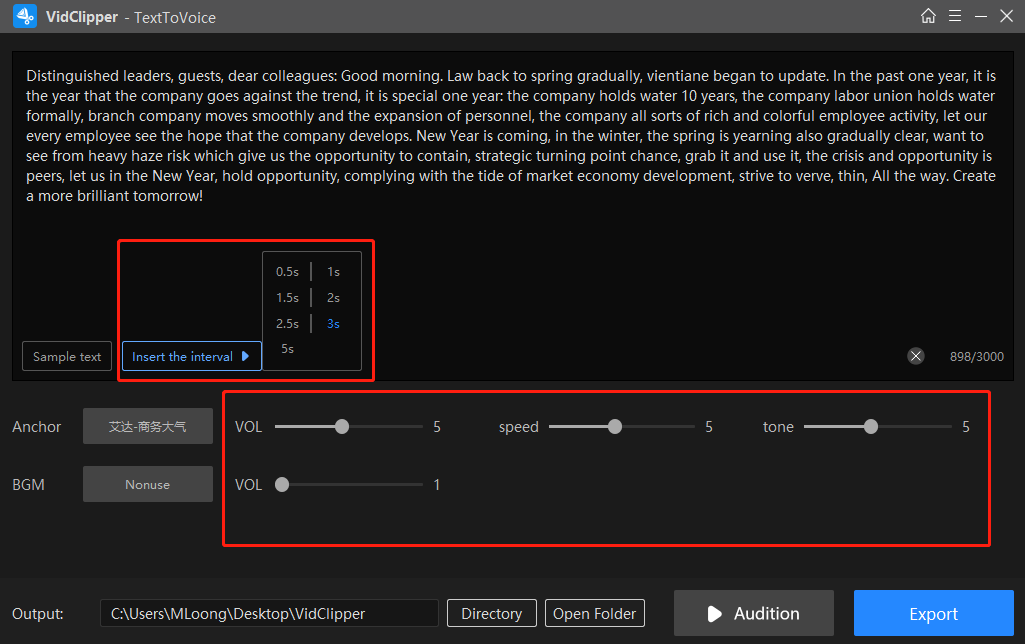 ---
📺

Import Text-to-Speech Files to Videos
After you have made the text-to-speech audio, you need to export it out to insert into the wanted video.  Luckily, it is equally easy by this video editor.
 First, hit "Export" to make it mp4 format for the later insert. The converting time is due to the length of your text. Normally it won't take long.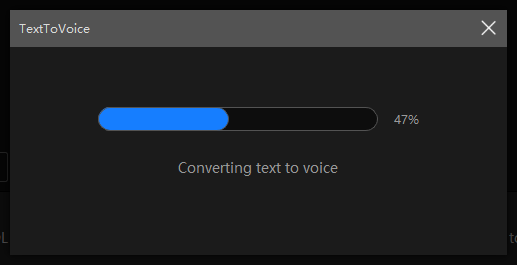 After the conversion is completed, you need to tap "Add to footage". This step can help you directly insert it into the media library so that you won't need to do it again.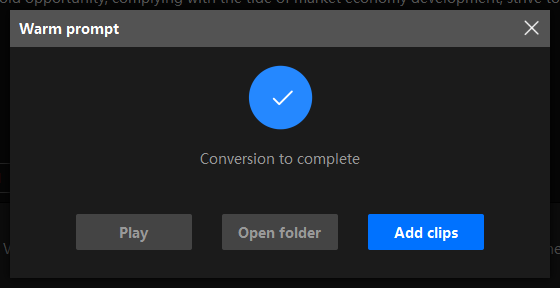 Last, go to the editing page and drag the audio into the music timeline section. Then put your video into the same timeline. Well, my mate, a perfect text-to-speech video is done.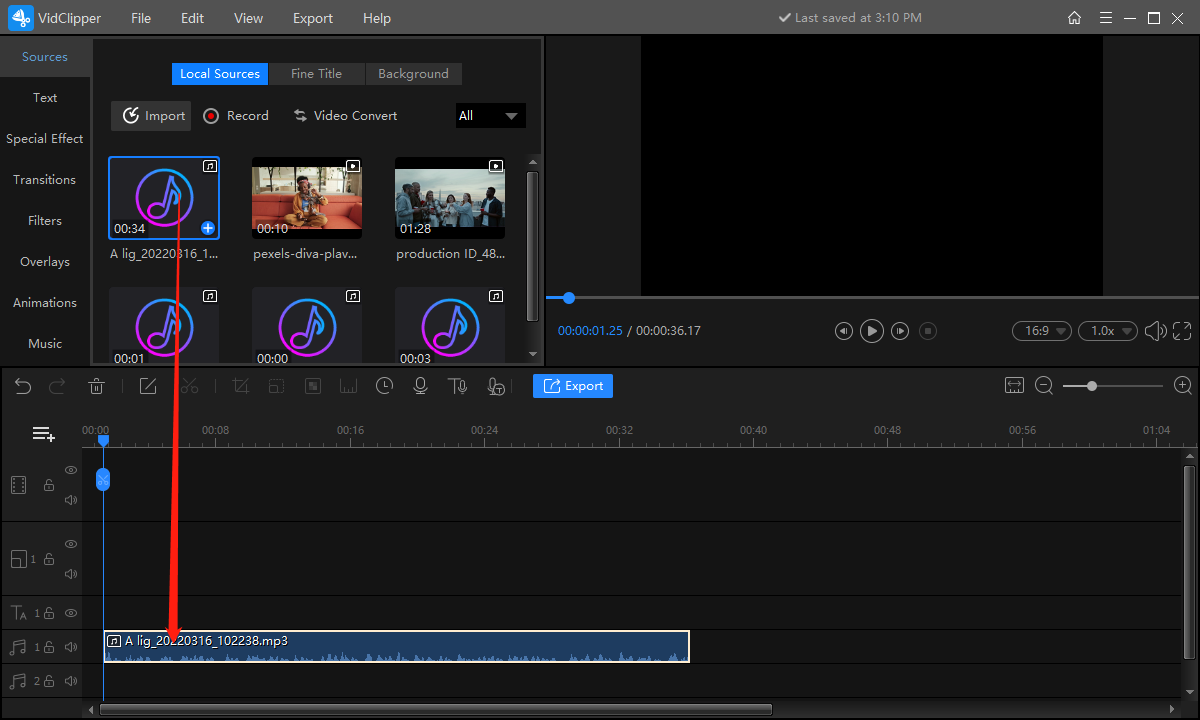 ---
Why Use Text to Speech
So why do more and more video creators choose to use text-to-speech technology when they could be recording themselves? In fact, most people don't speak up to standard. That's right. It can be difficult for creators to use in a video if the pronunciation or tone of voice doesn't match the video. But if you're going to a professional, it's going to be expensive and time-consuming. It's not worth it. And that's where the text to speech comes in. You can change and adjust the sound of the video at any time. All you need to do is to provide the script and a computer that can use video editing software. Isn't that cheaper and more convenient than recording yourself or having someone record it?
---
More to Share
Now, we have covered the detailed information and steps on how to text to speech for videos by WorkinTool Video Editor – VidClipper. I'm sure you already know the benefits of using this video editing software. Just remember that right now it is 100% free to use all the magical functions. And the output video won't leave any watermark. So, don't hesitate any longer. Come download and experience it.