How to Trim a Video on Windows, Android, iPhone, and Mac
Check out this amazing list of different methods to trim videos on Windows, Android, Mac, and iPhone. Among these four tools, the Windows software WorkinTool Video Editor VidClipper works best. It is a powerful all-in-one video editing software with an extremely easy operation interface. No learning curve for users of all ages. The trimming function is better in this tool. You only need to drag both ends of the video to set a new beginning and an end, then export it out. But most surprising of them all, this amazing software is 100% FREE to use all the functions. No limits or watermarks. Come download it and experience it right now.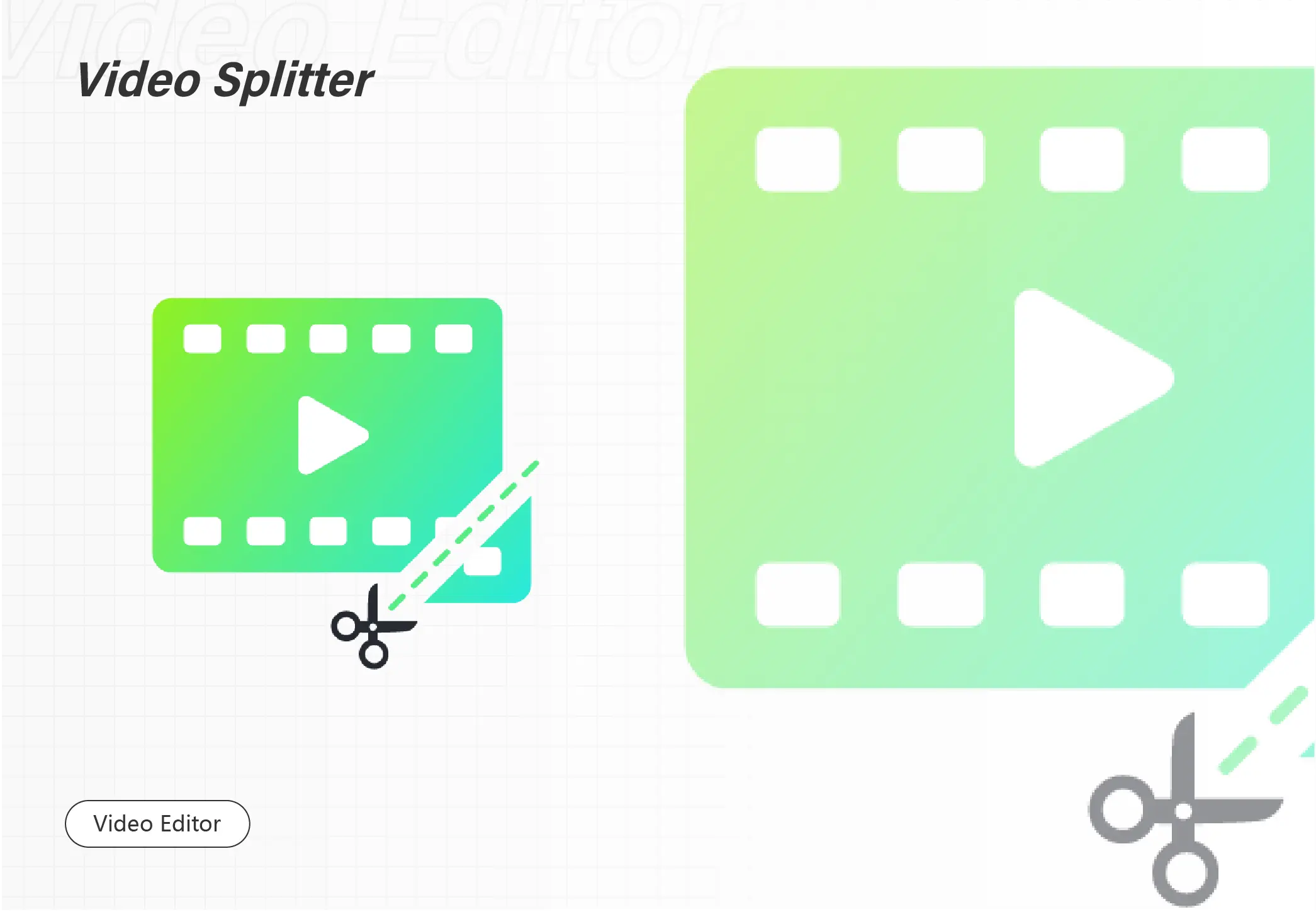 How to Trim a Video on Windows, Android, iPhone, and Mac
Thanks to the flourishing development of technology, now everybody is the director of life. That isn't a metaphor. Now, we all know that social media platforms like Instagram and TikTok have taken people's lives. They upload and share pieces of their lives on the Internet so that people worldwide can see their exciting side. However, most people are not familiar with the skill of video editing, which leads them to look for methods on how to trim a video so that they can get a better video quality.
Well, trimming a video is not something only for experts anymore. Actually, there are tons of video editing tools on the market that can work on most devices. The only problem is that you must find one suitable for you. To save you time here, we have listed the best solutions to work on this video trimming issue on Windows, Android, iPhone, and Mac. All of our methods are through testing and proven to be available for use. Now, check out this list and find your corresponding way.
How to Trim a Video on Windows Free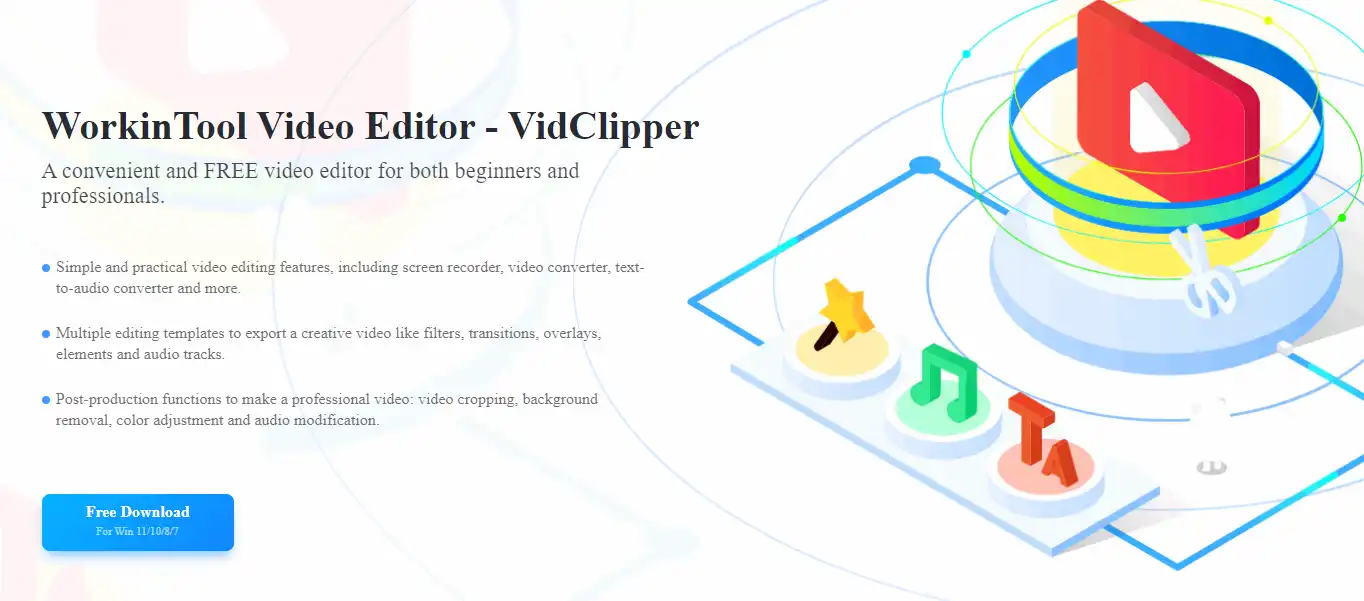 The first tool on the list is WorkinTool Video Editor – VidClipper. It is an all-in-one video editing software. Trimming is a fundamental element of editing. And for that, you can enjoy this function perfectly with it. Simply dragging the timeline can customize and shape the video length you want. Other than trimming, there are tons of edit-related features that you can find here. From cutting and combining video clips to adding various elements to videos, you can experience the whole process of making a movie.
Even with all these excellent features, VidClipper is not complicated at all. We've all been there for the sense of helplessness that comes with getting hold of unfamiliar software. It uses a simple interface and easy operations to avoid other professional editors' common faults. More importantly, this tool is totally FREE. 100% user-friendly for everyone who wants to give it a try.
Detailed steps on how to trim a video using WorkinTool VidClipper: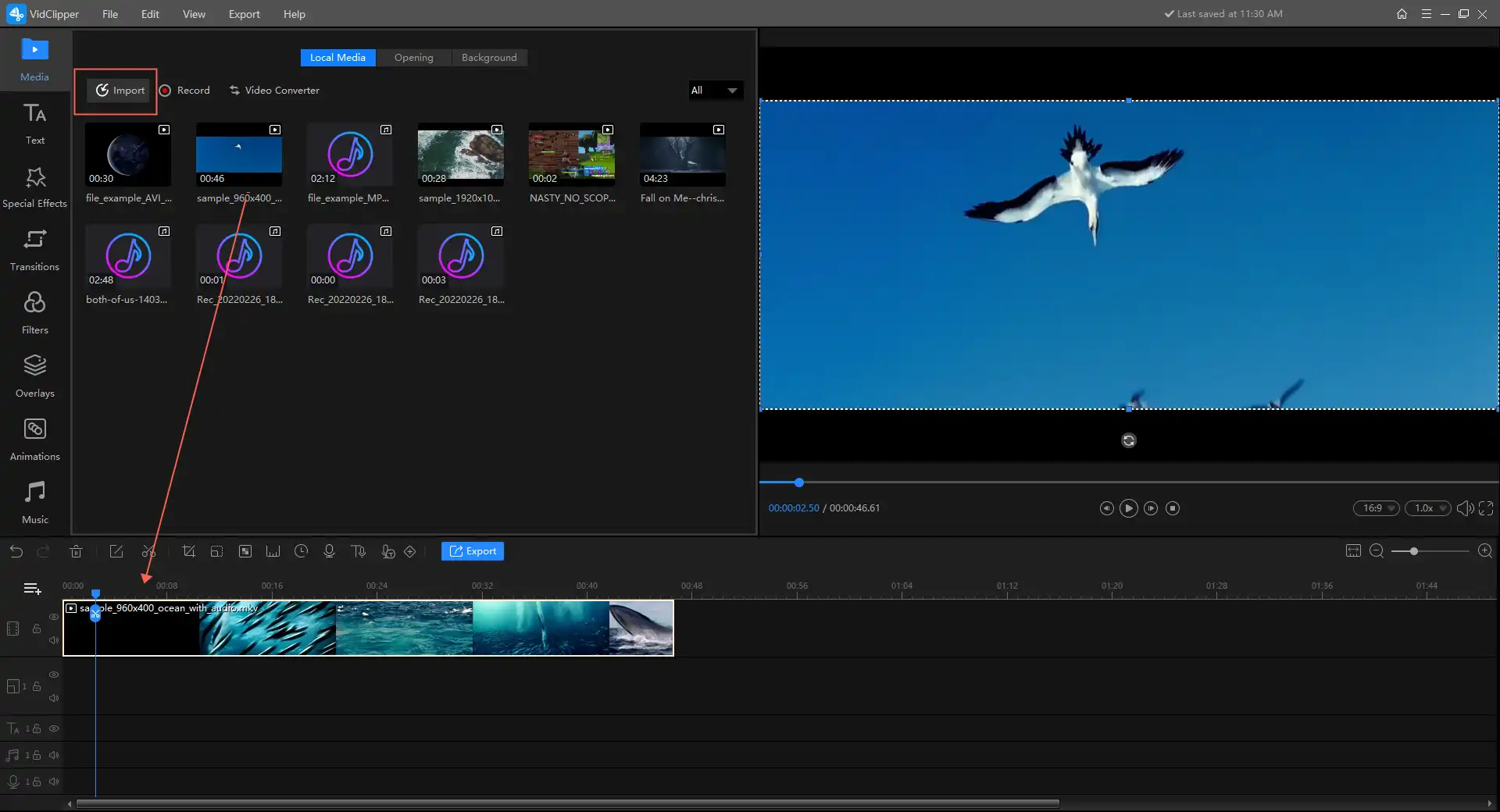 Install this tool and open it to 

create a new project

.

Input your desired video and drag it down to the timeline.

Here comes the critical part. Move the cursor with the scissors icon in the timeline to the beginning of the video that you want to cut, and click on the scissors icon. Repeat for the end of the video. Then delete the unnecessary clips and you will get a trimmed video.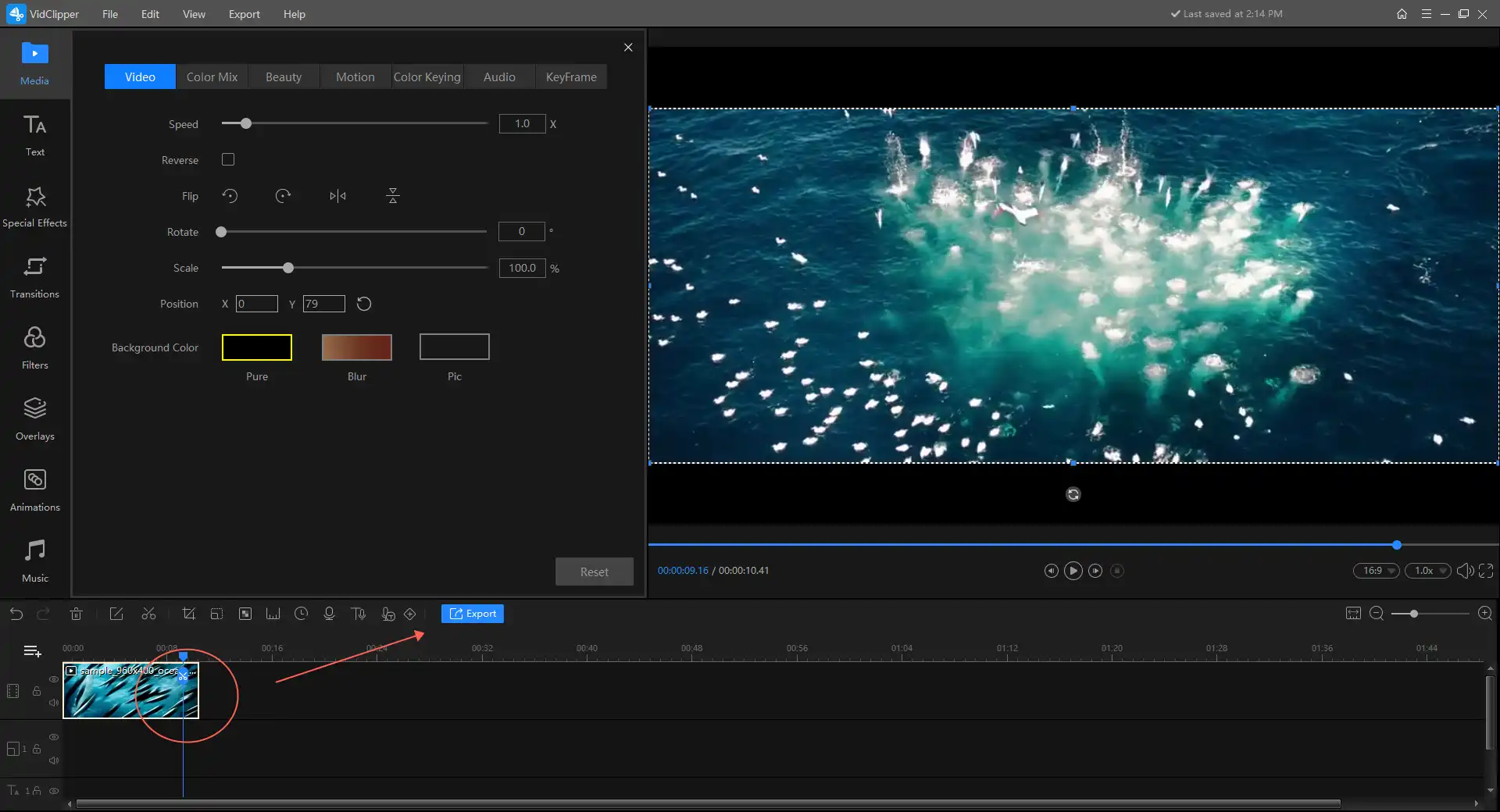 In the last step, click on the Export button to save this edited video clip to your computer.
🎉 Other Features in WorkinTool Video Editor – VidClipper 🎉
Once you have trimmed the video, you don't have to rush to output the video. You can also use more features in this software to improve the video. High-quality videos uploaded to any social media platform can get more attention and likes. The essential thing is that so many features are available for users to try out for free if you happen to be a Windows user, download and try it now.
---
Easy Video Trimmer App for Android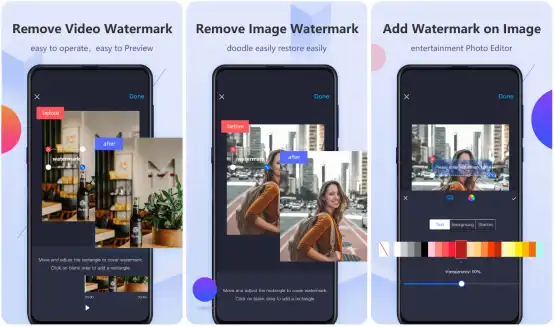 Since Android has the most prominent mobile users to share, our second recommendation on the list is an Android video trimmer app: WorkinTool Video Eraser.
Even though it is called an eraser, it provides basic video editing features like cropping, speed, cover changes, and video reversing, including video trimming. Just like trimming clips on computers, you only need to upload a video and drag the timeline to get the perfect trimmed clip you want. In order to provide the best user experience, WorkinTool offers every user one free time each day for pro features. Of course, if that's what you need after the tryout, you can always upgrade to a pro account for unlimited features.
Instructions for trimming a video on Android: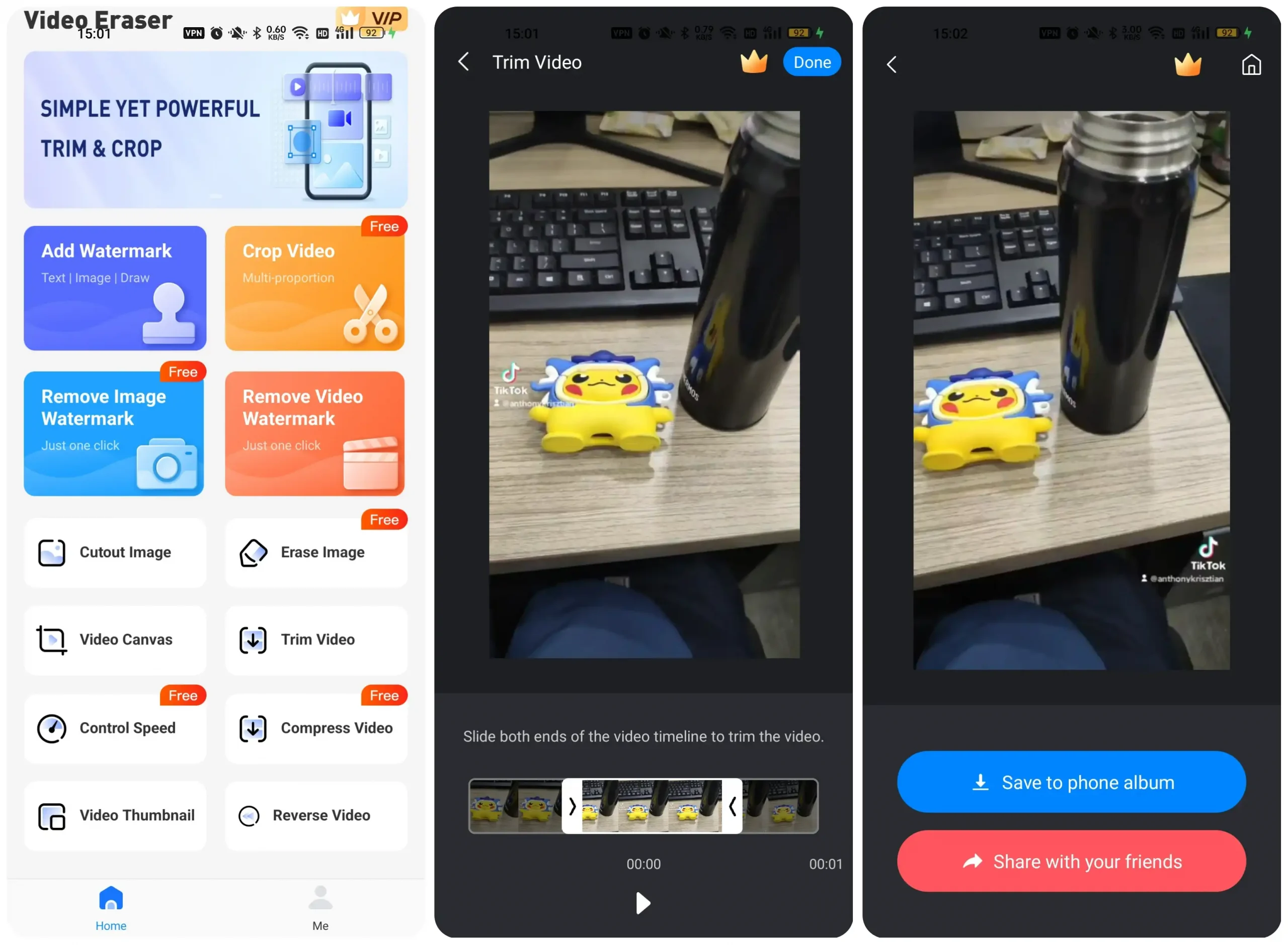 Open the app and find the 

Trim video

 option on the main page.

Upload the target video and slides on both ends to set a new beginning and an end.

Click on Done and decide if you want to save it to your photo album or share it with others.
---
Free Method to Trim a Video on iPhone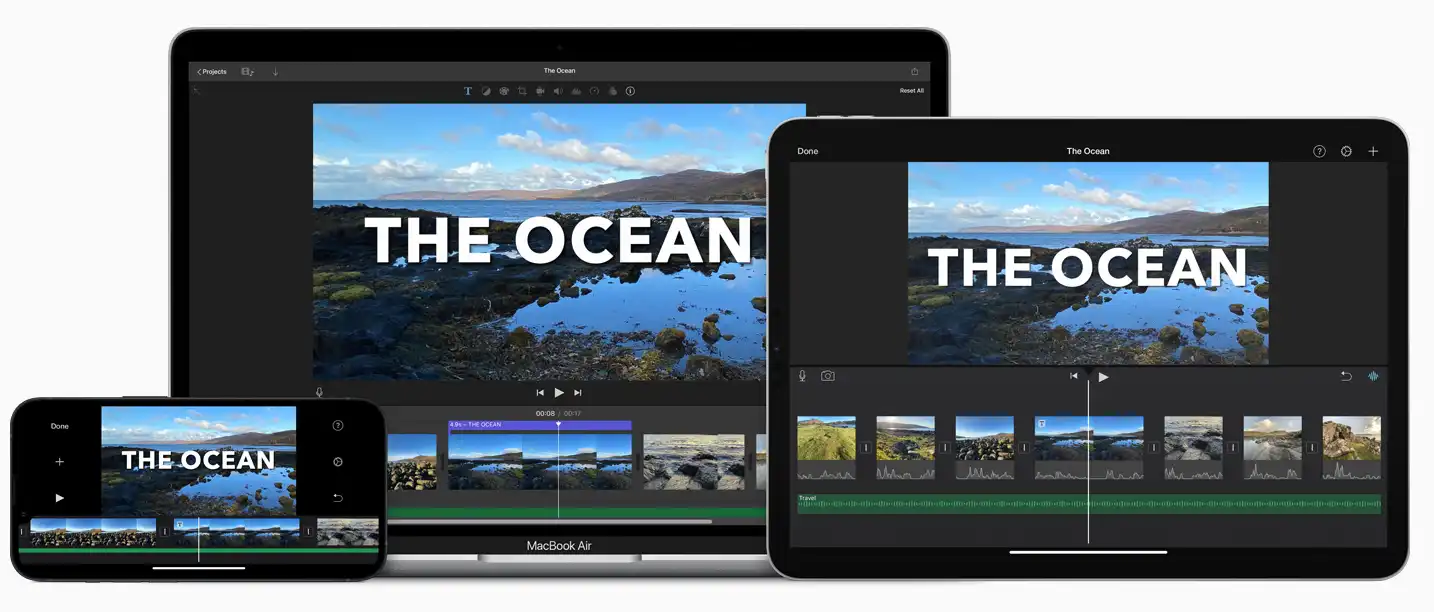 Apart from Android, the iPhone has always been a famous phone brand. It has never lost its popularity since it first came out. Of course, we also list the free method for iPhone to trim a video. 
Here we recommend that you use iMovie for this purpose. iMovie is a free video editing software for all Apple users. It is an excellent place for you to start video editing. It has the same functionality as any other editing software but is very simple for the operational workflow. If you are an iPhone user and happen to require trimming a video, this app is something you should not miss.
Please open it and start a new project.

Upload your video and click on the 

Edit

 button.

So, same as before, drag both ends of the timeline to trim this clip.

After that, tap Done to save it to your photo album.
---
Mac Built-in Video Trimmer
The last free video trimmer tool on our list is for another apple product: Mac.
In theory, the iMovie approach works just as well on the Mac side. But since we are making a list of free trimming tools, here we provide another free software that also provides the trimming feature on the Mac. And that is by using the QuickTime Player. It is a top-rated multimedia player developed by Apple. In addition to video playback, it also provides some basic video editing features for users to use, and indeed trimming is one of them.

Open the video you want to trim on your Mac using QuickTime Player, then click Edit > Trim.

Adjust the yellow cursor in the timeline so that you can cut the video.

You can click and hold the yellow part to see more frames in this video clip.

After adjusting to the right place, click 

Trim

 to finish it.
---
More to Share
As you can see, in order to solve the problem of how to trim a video, we have made this specific list for all four commonly-used devices. Trimming can become a piece of cake for everyone using these special video editing tools. What's more? Except you can use our super-powerful video trimmer, cropping videos to fit any social media platform is also available with this software. You can cut the same video to upload to different social platforms like YouTube, Facebook, Instagram, and TikTok. Plus, WorkinTool is entirely free to use for all the functions now. The only thing you need to do is to download it and experience all the remarkable features right now.
Products Reviews:
TrustScore
4
|
323
reviews