How to Remove Background from Video Without a Green Screen
It is fairly easy to remove background from video and replace it with another one if you are aware of some effective methods. Here, I'll show you three practical ways to realize this goal in Windows.
💡Desktop Video Editing Software – WorkinTool VidClipper
💡Online Video Editor – Cutout.Pro and VEED.IO
Please feel free to try all the solutions mentioned above. However, it is strongly advisable to use WorkinTool VidClipper. It is a specifically developed video editor to address users' daily needs for video editing. With its powerful function, you only need to insert your video and pick the background to replace the old one. You can add BGM to the video if you need it. So, don't wait and go to try it right now, along with other tools introduced here.
How to Remove Background from Video Without a Green Screen on Windows | 3 ways
[Offline and Online]
We can see from many behind the scenes that the most in the case that actors actually act in front of the green screen during the shooting. This makes it easy to change the whole film background, all the tech group needs to do is to create vivid background materials by computer. Then they remove background from video and replace it with a new one. This trick is specifically suitable for popcorn movies like Marvel or historical documentaries.
However, we won't be like those professionals to film our life from a big green screen. It isn't realistic and unnecessary. But sometimes the annoying background just ruins our perfect video clips. Are you willing to give up your sweet memory just because of that? I know most of you would firmly say hell no. But is there a remedy to save it? Well, there are some ways to solve this problem virtually. Today, I will show you how to remove background from video without a green screen by yourself at home. 
💻Desktop Video Editing Software
💡WorkinTool VidClipper [⭐

Hot

]
💻Online Video Editors
💡Cutout Pro
💡VEED.io
Now, let's start our journey.
---
How to Remove Background from Video Through Desktop Video Editing Software 
This chapter will inform you of a handy desktop video editors – WorkinTool VidClipper – to help you with your video background removal.
📌How to Remove Background from Video Using WorkinTool VidClipper?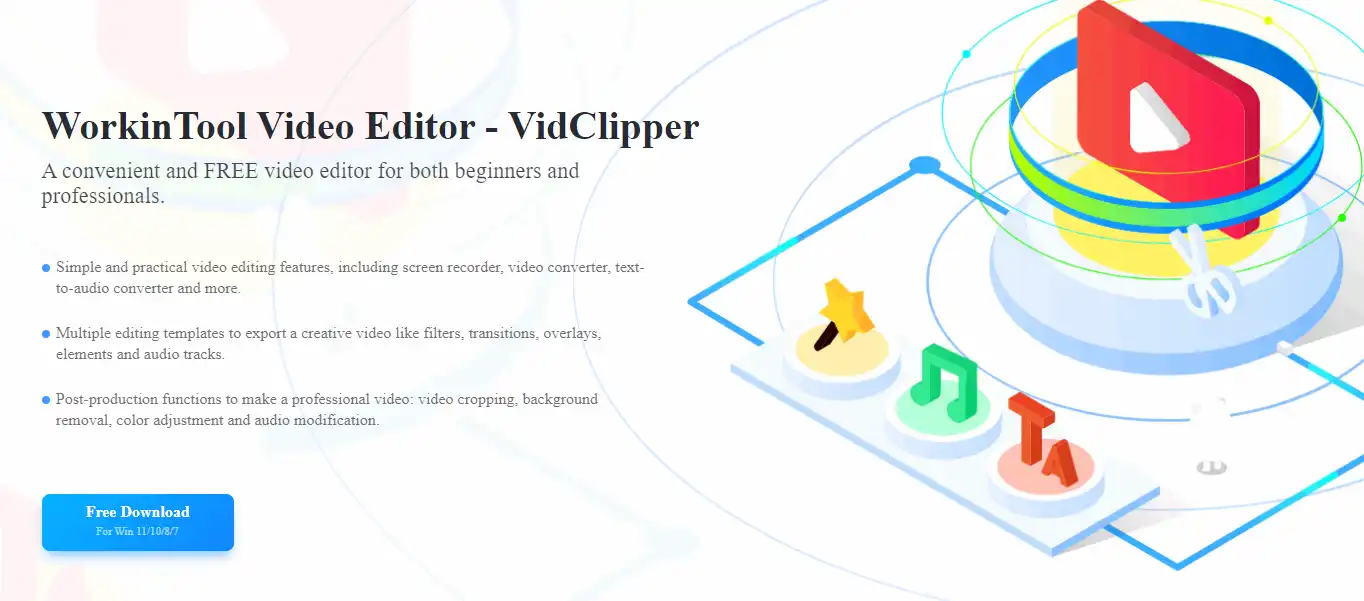 WorkinTool VidClipper is a new desktop video editor tailored to the latest needs of users. WorkinTool has dedicated its heart to making it more user-oriented. It has the cleanest interface and the most informative functions. Compared with Adobe Premiere Pro, it won't leave you with a complex interface and you need to worry about nothing even if you are just a beginner. Intending to get rid of the background from a video, you can resort to its Cut-out image feature and use it as an AI-powered video background remover.
Furthermore, every function is equipped with a detailed introduction for users to understand how to use it. But more importantly, unlike Adobe Premiere Pro, which shuts many people out with its expensive cost, you can experience the same editing service in VidClipper for much cheaper license fees. Also, you can't miss VidClipper video editor for the following reasons:
Now let's dive into the details and see how it works.
🎥
Add Video Materials
First, you need to download and install this video editor on your computer first.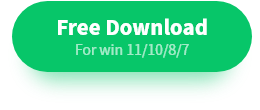 Then open it and go to "Cut-out image" on the main page.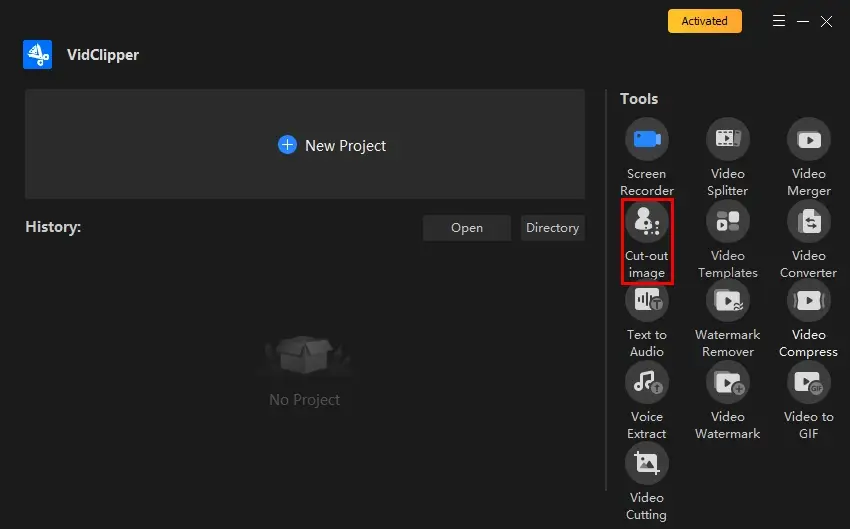 You will see a window like below. This is where you can customize to remove and change the video background. You can click the "Add" button or directly drag and drop your desired video into the button section. After that, you need to wait for our AI-powered video background remover to process it automatically. The processing time is decided due to the video length. However, it won't take long to take your main element out for the next step.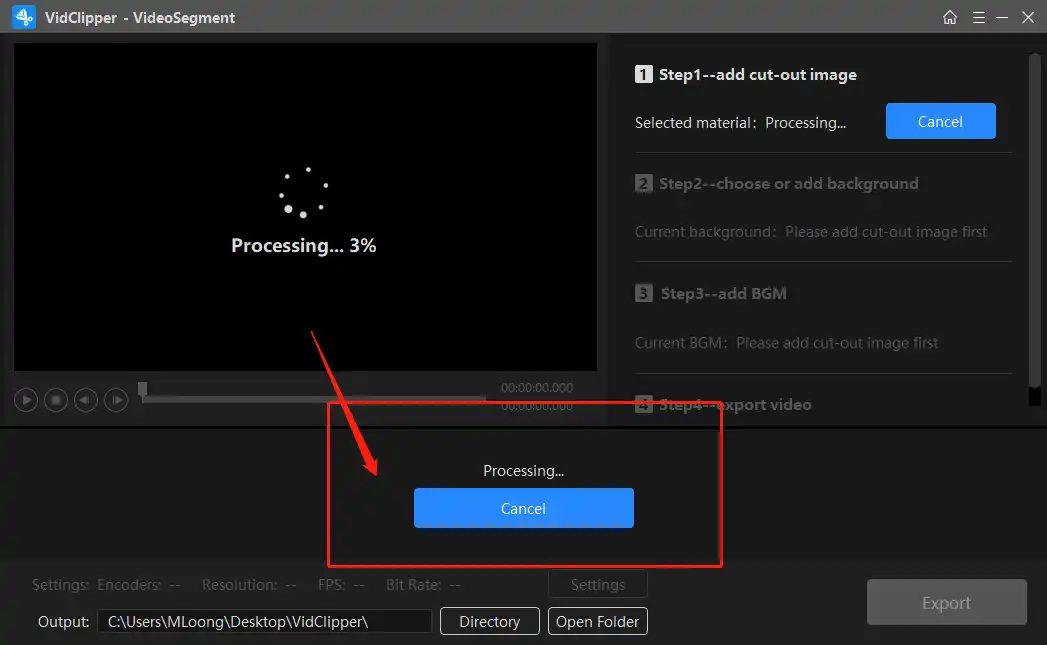 After processing, you can see the main project on a black canvas. There are four different buttons for individual functions. You can delete, copy, mirror, and control the size of the project. Right in the right section, you will see three steps to complete it. A time setting will allow you to trim it as well. If you are not satisfied with the result, you can replace the video by selecting another one.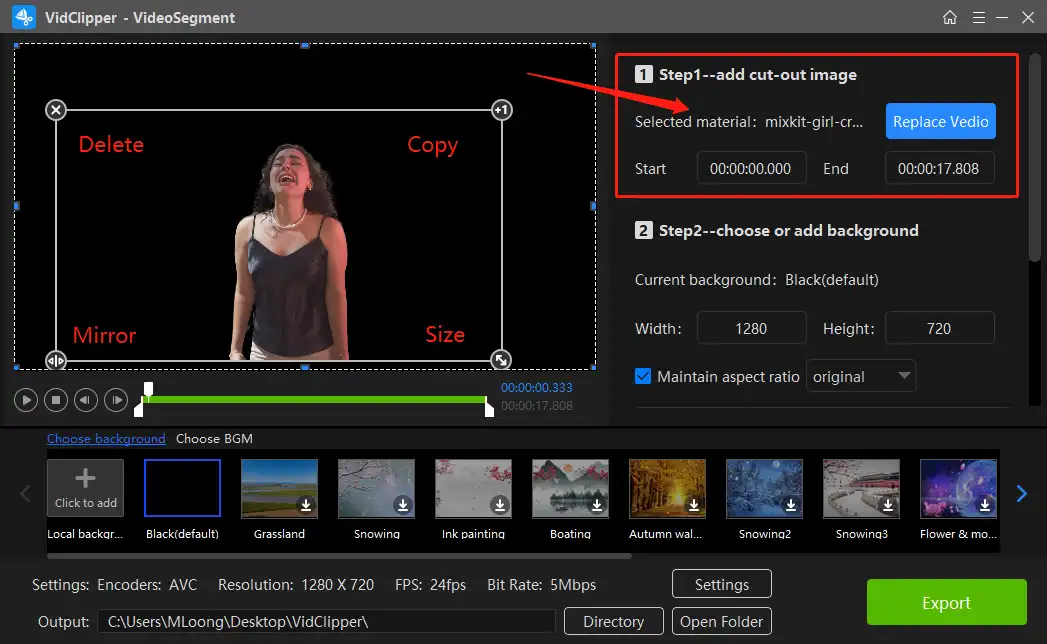 🎠

Remove Background from Video based on AI Technology
The next step comes to the main theme of this article. We need to remove its background and pick a beautiful material template to replace it.
Right on the bottom, you can see many pre-set templates for users to apply to their videos. You can choose any one of your favorite templates and it will adaptively populate your original video. Of course, you can hit the "+" icon to add material templates from your videos. It is totally up to you.
Click play to preview the video after you change the background.
On the right side of the software you can see the background you inserted. If you feel that the size ratio of the template is not good enough, you can set it in the box yourself.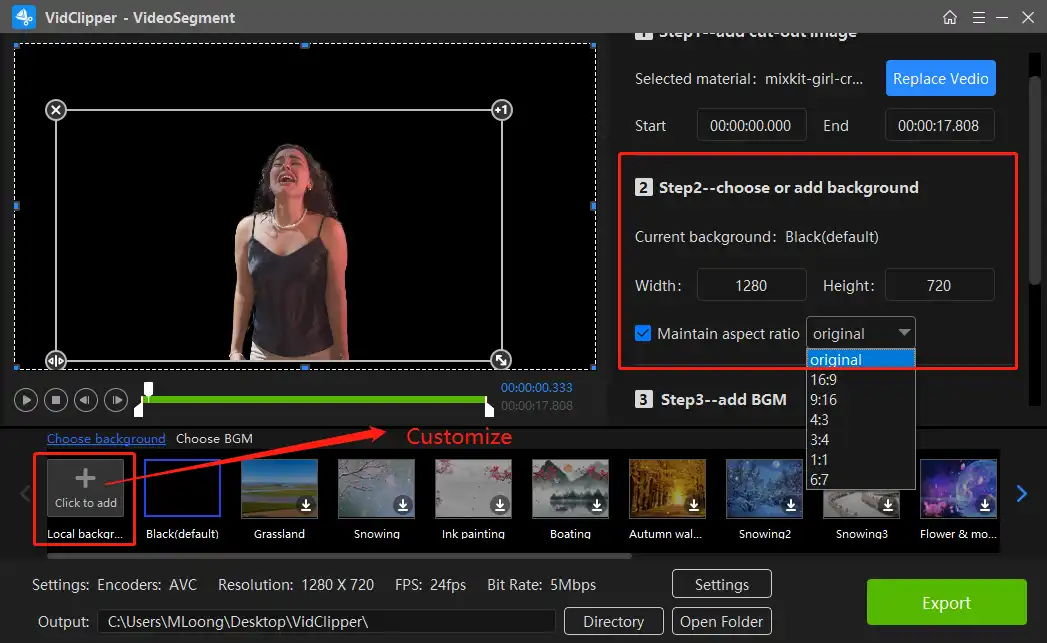 🎼
Add Background Music
The most gratifying thing is that apart from the main function of replacing the background, you can even replace the background music (BGM) for the theme video here. This is a feature that real users can use.
First, we need you to look down at the background template section, there you will see the "Choose BGM" option. Click that and you will be surprised that there are more than three hundred pieces of music waiting for you to decide if you want to add to your video. Same as before, you can add your collection from the local computer as well.
Then go to the right side of the software. It tells you if there is any music in the original video. You can adjust the volume of the music by the two options in the section.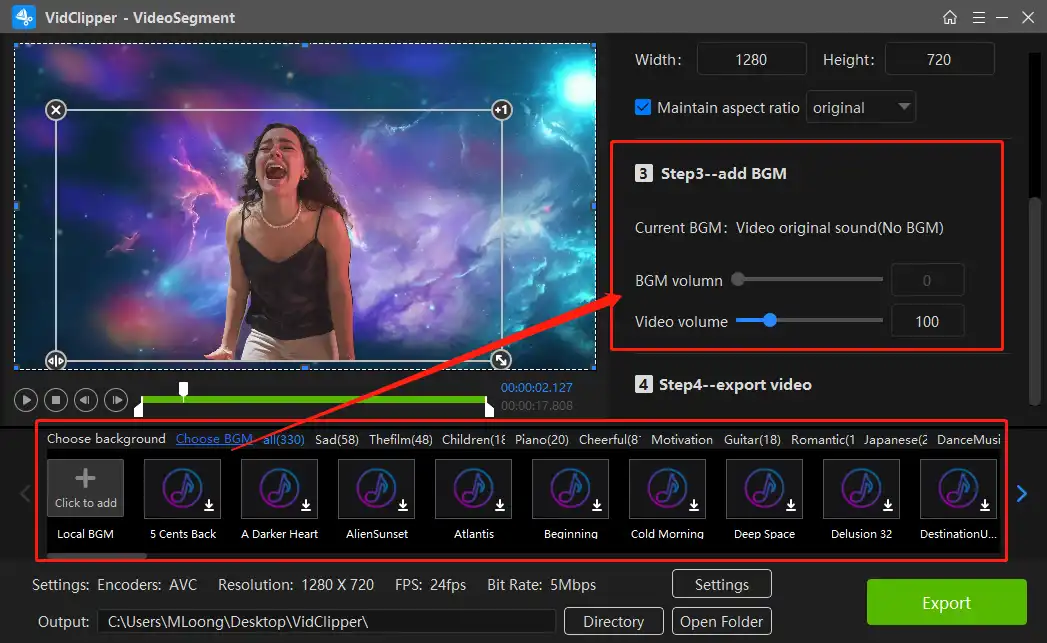 📺
Export
Before you get your hands into real exportation, there are some settings you might want to modify yourself.
Click the "Settings" button, and you can customize the output video and audio. Then change the save path.
Once everything is done, you can hit "Export" to get the processed video now.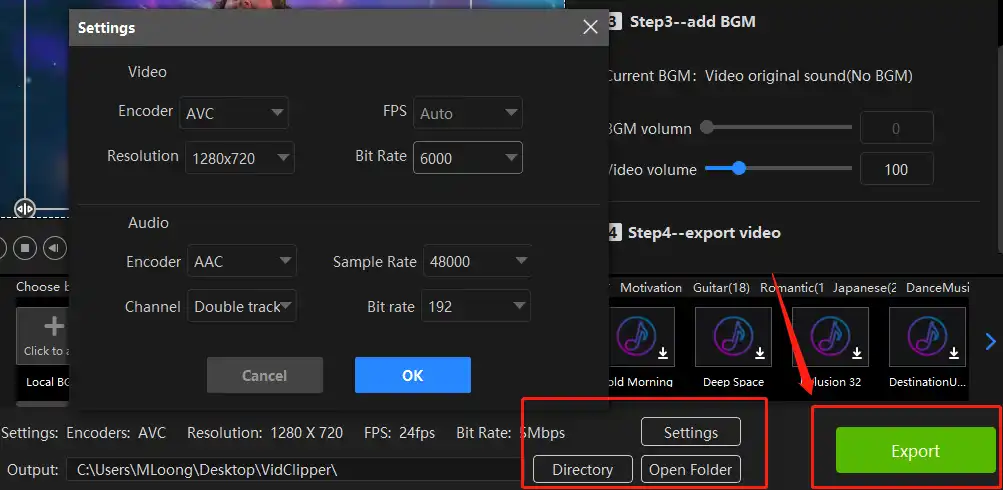 📝Notes of WorkinTool VidClipper Settings
Video 
Encoder
Convert digital video to analog video signals.
AVC
FPS
Short for frames per second, also known as frame rate. It is the measurement of how quickly a number of frames appear within a second.
Auto
Resolution
The number of pixels in each frame determines the amount of detail in your video or how realistic and clear the video is displayed.
From 640 x 480 to 1920 x 1080 to custom
Bit Rate
The measurement of the amount of data used to encode a single second of video.
From 384 to 40000 to custom
Audio
Encoder
An algorithm that compresses and decompresses digital audio data according to a given audio file format or streaming audio format.
AAC
Sample Rate
A measurement of the samples per second taken by the system from a continuous digital signal. It determines the range of frequencies captured in digital audio.
From 8000 to 48000
Channel
A representation of sound coming from or going to a single point.
Single track and Double track
Bit Rate
The amount of data transferred into audio.
From 16 to 320
🙋‍♂️Additional Words for WorkinTool VidClipper
🎯Can I edit my background-erased video further in WorkinTool VidClipper?
Yes, you can rely on VidClipper video editor to
✨The Verdict
---
How to Remove Background from Video via Online Video Editors
A free online video editor will be absolutely helpful for those unwilling to install and use any desktop software. In this chapter, I'll introduce you to two practical ones–Cutout Pro and VEED.io.
📌How to Eliminate Background from Video in Cutout.Pro?
Cutout Pro is an easy and free photo and video editor that specializes in image/video background removers and enhancers. With its help, you can erase the background from your video within seconds. The operation is almost automatic, which saves you the cumbersome process of doing it by yourself. Besides, the tool will give you a free preview once the video background has been removed. Additionally, the default format of your downloaded transparent video is MOV, you can just convert MOV to MP4 in WorkinTool VidClipper after you download it.
Please refer to the instructions on video background removal in Cutout Pro.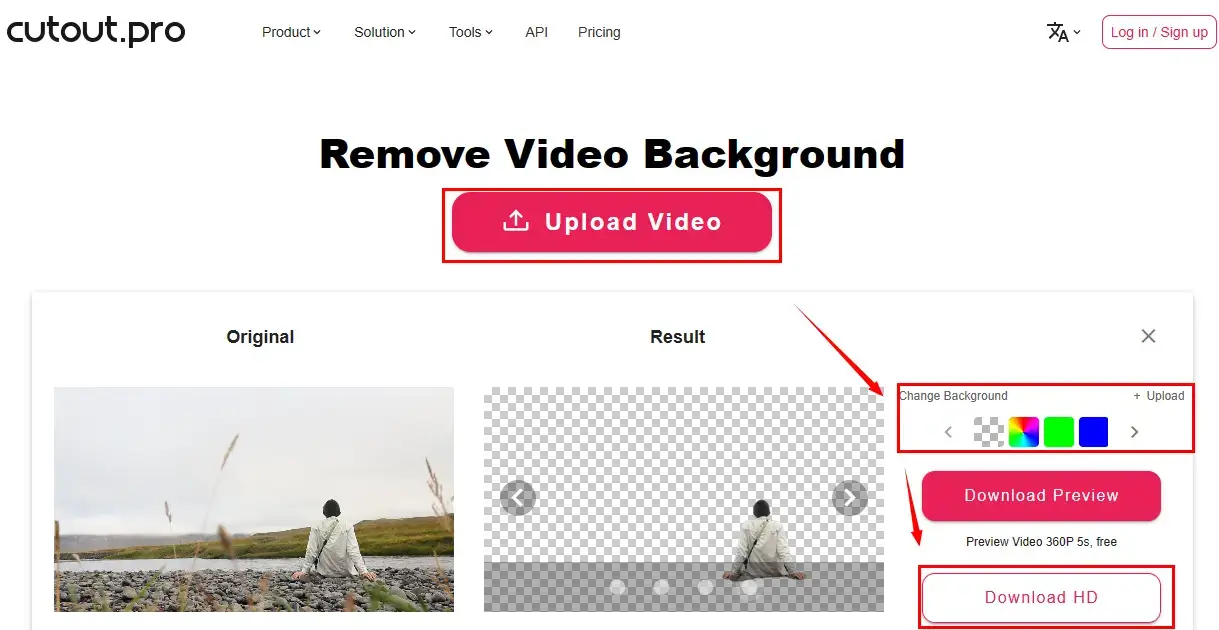 Open Cutout Pro's video background remover and then click Upload video to import your clip.
The background-removal process will start automatically once your video is uploaded.
Preview the effect and then hit Download HD to get your new video with a transparent background.
✨The Verdict
📌How to Delete Background from Video in VEED.IO?
VEED.IO is another free online video solution provider to which you are probably no stranger. It boasts a range of useful online tools, including an online video background removal feature inside its professional video editing console.  Also, you only need a few clicks to complete your background-removal task in it. Like VidClipper, the canvas of your clip will become black when its background is successfully removed.
However, the biggest setback of VEED.IO is that its brand logo will be generated on its output if you choose its free version.
Here is the guidance on video background deletion in VEED.IO.
1). Open VEED.IO's video background remover and then click Remove Video Background Now to activate its editing console.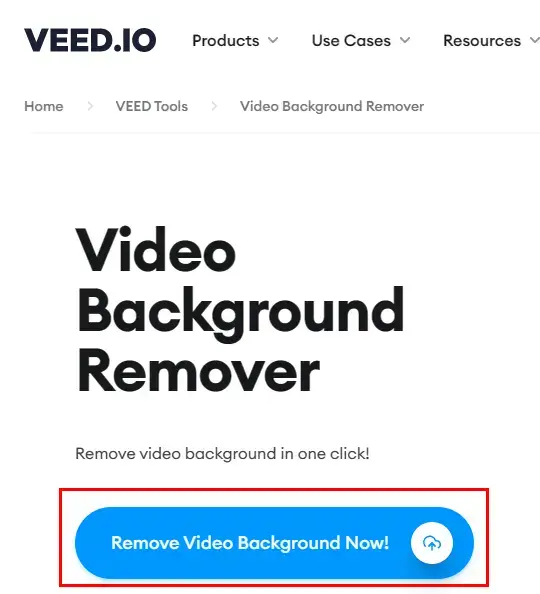 2). Tap Upload a file to import your clip.
3). Single-click your video to open VEED's Edit video feature and then hit Remove Background.
4). The background will be erased automatically and then press Export > Export Video.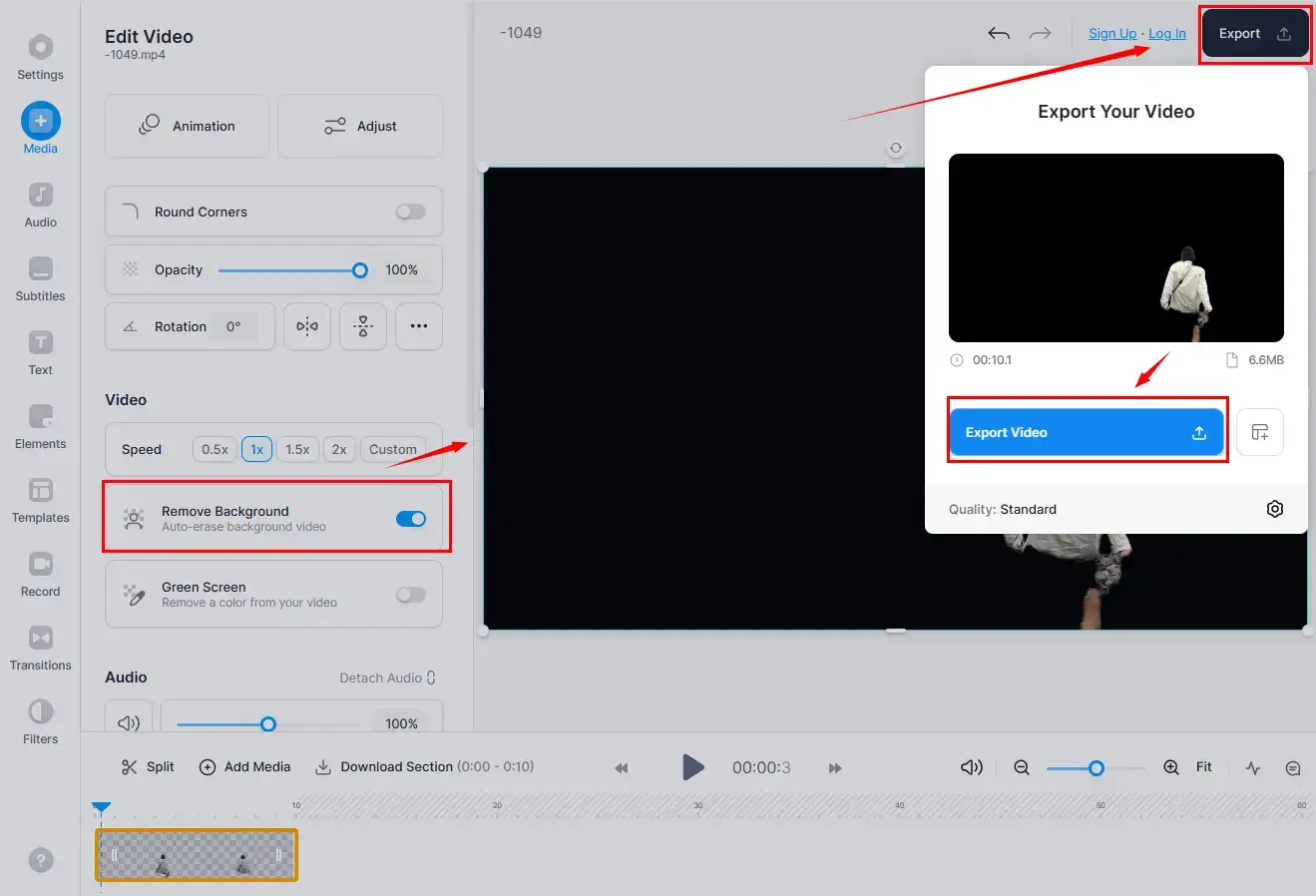 5). Hit the Download icon and then sign in to your account to save your new video with the removed background.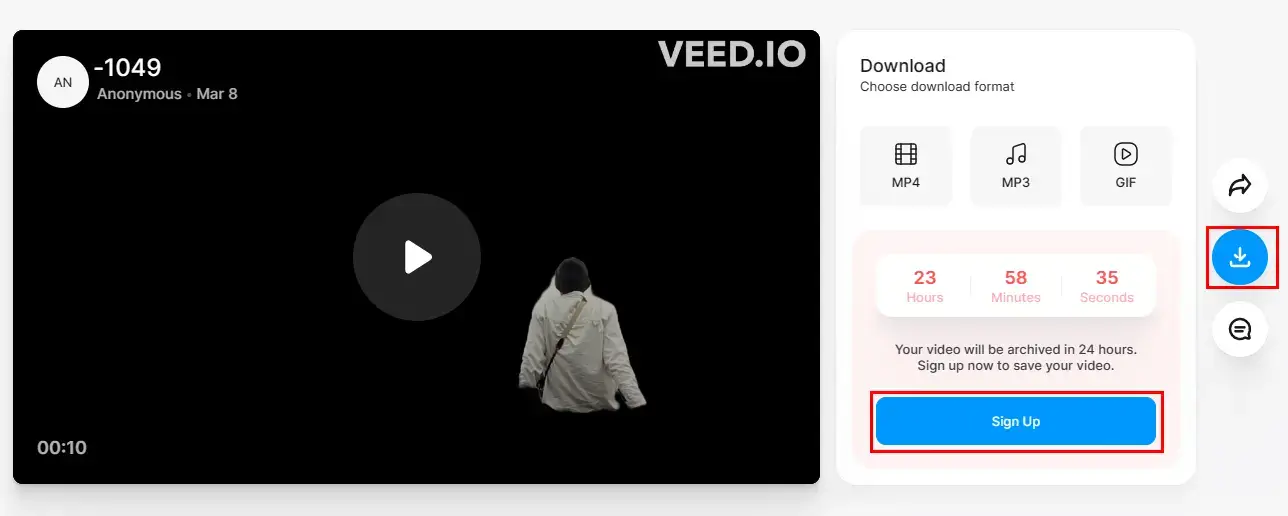 ✨The Verdict
---
More to Share
After this article that discusses different ways to remove background from video, I'm sure you can perform this video editing process by yourself now. And you must know how easy this can be to replace the background if you use all the aforementioned methods, especially WorkinTool VidClipper. Go download and experience its magic yourself. I promise it won't let you down.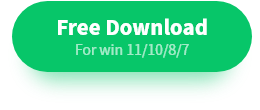 Well, we hope you can have a great journey on the path of video editing. If you have any problems or suggestions, feel free to contact us at any time.